53 Best Graduation Gift Ideas for Friends (2023)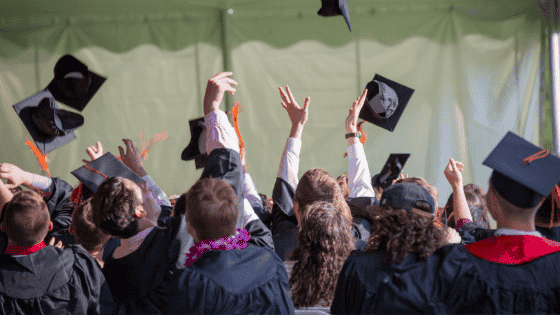 Meaningful gift ideas are right up our alley, so this list of graduation gifts ideas for friends includes ideas from sentimental all the way to super useful.
We teach at a university. This means we hear about the very best and worst gift ideas for both high school and college graduates. We hope this helps you find the perfect graduation gift for a special friend. Check out our list of graduation gifts for guys or 8th grad graduation gifts if you don't find what you're looking for below.
This post contains affiliate links – we earn a small commission if you purchase through our links, and we appreciate your support.
Gift Cards
Both high school and college grads typically need money as they transition to the next phase of life. These gift card ideas make for a thoughtful gift and help young adults who often don't have a major income stream. We also have a list of 50 great gift card ideas for teens if you need other ideas.
I stole this idea from a family member who called me wanting to know the name of a popular local coffee shop or restaurant in my hometown. She was tracking down gift cards to local favorites in the towns where her daughter's best friends were heading to college. This might become my go-to idea. It's personalized and super useful.


Music-streaming service Spotify gives college students an amazing deal at $4.99 a month for both Spotify and partner Hulu. They can stream music and shows from anywhere on all kinds of devices. With a gift card, students can also upgrade to a premium plan to ditch ads or add HBO so they can keep up on Game of Thrones.
Some grads may stay on their parents' Netflix plan, but you run out of devices quickly with the whole family sharing. With their own Netflix plan, grads can get their own five devices and switch between phones/tablets/laptops. They can even share with a roommate to start the year off on friendly terms. You can buy gifts cards online for email delivery or as physical gift cards.
You can just give an Amazon gift card, or you could give a gift card as a way to give an Amazon Prime subscription. I mean, you're officially an adult when you have your own Amazon Prime account. Plus, it's kind of hard to get mom's birthday present delivered to campus when she can track all of your purchases. Many college campuses have locations where students can pick up packages to ensure they get it safely.
Plus Amazon has some really solid original content that teens love on its streaming service.
TIP: Amazon gives students a free 6-month trial through Prime Student with a .edu email address and then discounts membership after the first 6 months. So give an Amazon gift card with a note about Prime and let students set it up on their own to maximize the freebies.
It might be time to add a nice suit jacket or quality dress pants to the wardrobe for internships and jobs.
Dorm Room Gifts
High school graduates who are heading off to college need (and might want) a few things to make their dorm rooms feel like home. The small space is tricky, but these gifts will definitely help your grad settle in to their new digs.
For coffee, tea or hot chocolate drinkers, a small Keurig is a fun addition to a dorm room.
Nothing makes a room feel more cozy than a truly amazing blanket. Saranoni is my very favorite blanket company when you're looking to spend a bit more on a quality blanket.
College women love to decorate with tapestries and prints, and lots of them turn to Etsy to find the perfect thing. Grab an Etsy gift card and tell the grad you'd love for them to use it to pick out some dorm room wall décor.
Give a new grad a nice new set of towels as they set out to live on their own for the first time.
I teach on a college campus, and I see students carrying these everywhere I go. The Stanley Quencher (40 oz) is crazy popular right now.
Most teens have headphones, but it might be time for an upgrade or a replacement if it's been a few years of solid use. AirPods Pro are ideal for wireless headphones because they have "transparency mode" that allows some background noise for safety as students walk across campus. They also have "noise cancelling" mode for study time. Many students also opt for over-ear headphones.
These small but powerful speakers are perfect for streaming music in the dorm room and then taking with for a study session on the college green.
We gave this Beddy's zipper-bedding set to a niece for her high school graduation and she reported back that everyone in her dorm wanted one. This is a pricey gift reserved for a special grad, but these are pretty amazing. Bonus if a student has a lofted bed.
Check out the Beddy's college student page for fabric options and videos on how the bedding works. Their twin sets fit regular and XL twin beds, so it's a great investment even for kids who aren't quite ready for college yet.
Sentimental Gifts
If you're on the hunt for a special graduation gift to show a friend how much you care, a sentimental gift might be a good idea.
A photo album with favorite photos is a gift grads will cherish. Mixbook makes it easy to organize and print memories into a beautifully bound book.
Buy the graduation cap and a mason jar and fill with dollar bills or a gift card or an encouraging note. Note that the jar does NOT come with this Etsy purchase
Maybe the best sentimental graduation gift is a special frame with a favorite photo or a quote that reminds the grad of a favorite inside joke.
Blankets made from old T-shirts are a favorite graduation gift in our area. I've been saving my kids' sports, school and camp shirts for years with the plan to have someone help me create a T-shirt memory quilt when they graduate. Find someone local, or use an Etsy retailer.
A nice or more personalized piece of jewelry, like a birthstone necklace from Kendra Scott, makes a great graduation gift.
Consider gifting a designer purse from a favorite brand to a friend heading into the professional world.
Etsy has some really amazing personalized cards. You can choose hair style, colors and more.
Alma Mater Gifts
For high school grads heading to college, gifts that help them embrace and celebrate their new school are really fun. Certain alma mater gifts like diploma frames or wall art can also make great gifts for college grads heading toward a job.
This is easy for grads who went to a big school, but it's very possible for smaller schools as well. Check college bookstores or do some research on local shops and artists near the college town.
Grads need to start stocking up on apparel and other gear to support their new school. This also applies to grads entering the military.
Finding apparel for larger schools shouldn't be an issue, but even smaller schools usually sell items online if you hunt down their bookstore. Students' top picks are T-shirts, sweatshirts, mugs and laptop stickers and they rave about Redbubble for unique designs.
I'm using a mug with my college logo on it right now, and I graduated more than 20 years ago. I think that qualifies as a great gift.
I gave a close family friend a carryon suitcase with a luggage tag from his university as a high school graduation gift. I ordered the tag from the college bookstore website.
I ordered laptop stickers for a family member heading to Elon University and included them with a gift card to personalize her high school graduation gift. Red Bubble is our go-to for stickers, and it supports independent artists.
New Apartment Gifts
Even though this might not be their first apartment, it's their first apartment as a "real" adult. Time to upgrade from college living.
A nice new pair of sheets means fewer visits to the laundry facility and a better night's sleep now that grads are likely working full-time.
This apartment might be home for more than a few months, so you can add a few more helpful items to the kitchen.
These Etsy prints are super cool, and a great way to celebrate the city where a new grad is starting their new life.
Order this "Pairs Well With a New Apartment" label on Etsy and stick it on a decent bottle of wine for a fun and personal housewarming/graduation gift.
The Nutribullet is perfect for shakes and smoothies. Whip something up on the way to work or for a pick-me-up after a trip to the gym.
Self Care Gifts
Graduates face an exciting but stressful life transition. Gifts that help them lower stress and build confidence come at just the right time.
Ulta is full of spa products, but I have a lot of friends who feel a little better just by walking in to look around so a gift card could have multiple benefits.
Useful Gifts
I'm a sucker for a practical gift, and new grads often have a whole host of new "needs."
Looking for a really cute and trendy backpack for a girl who's headed off to college? I asked my students for help on this list of college backpacks for girls.
Luggage is a favorite useful graduation gift because it's useful for years. We asked a travel planning friend to review the best luggage for teens, and her top luggage picks are now our go-to gifts.
There's not a super way to gift Canva Pro, and you should understand that Canva Pro requires a recurring charge. So you could give money with a certificate (created in the free version of Canva if you like) that notes you would like to pay for several months of Canva Pro. The grad can then decide whether the extra fee for Pro is worth it. Many of our students and recent grads would tell you it is.
It may not feel like the most exciting gift ever, but it will be a lifesaver. This Apollo Tools 135-piece Tool Kit donates to breast cancer research (I still have – and use – the pink tool set I got for graduation).
If your grad won't go for pink, try this Vastar 102-piece Tool Kit.


We're pretty sure college students will never stop bringing laundry home–it's free!–so laundry bags are always a practical gift idea. We saw these at Cute as a Button and were surprised by how large they were. Monogram them in school colors for a more personal gift! You can shop local at this boutique gift store in Powell, Ohio, and save on shipping. You can also order online from Mainstreet Collection.
Fun Graduation Gift Ideas
Graduation is a time for celebration. These gifts add to the festivities.
We're all about experience gifts, and a trip tops that list if timing and finances make it possible. Starting college or a new post-grad job means time will be limited, so sneak in either a quick or an epic trip before they move on to their next chapter.
We also have lots of other great experience gift ideas that aren't quite as pricey as a trip.
We stand at the front of our classrooms staring at a sea of laptops covered in stickers that tell us who our students are and want to be. Quotes from favorite shows, logos of favorite companies, funny quips or motivating mantras.
We already mentioned Redbubble as a place to get college gear, but it pulls designs from independent artists, so it's our students' favorite place to browse for unique laptop stickers. Adding the perfect laptop sticker to your gift shows you really know your grad. Etsy also has a great selection, including personalized stickers.
Grads can host dorm room and apartment game nights to start building friendships and laugh away some of the stress of their new responsibilities. Here are a couple ideas, or you can scan our larger list of the Best Board Games for Teens.