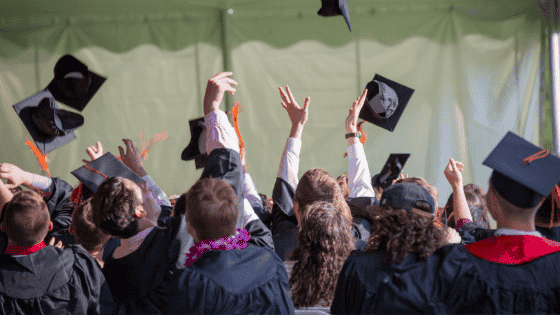 Meaningful gift ideas are right up our alley, so this list of Top 10 Gifts for Grads includes ideas that are both unique and useful. We teach at a university. This means we hear about the very best and worst gift ideas for graduates.
This post contains affiliate links – we earn a small commission if you purchase through our links, and we appreciate your support.
1. Gift card for a local hot spot in the graduate's new town
I stole this idea from a family member who called me wanting to know the name of a popular local coffee shop or restaurant in my hometown. She was tracking down gift cards to local favorites in the towns where her daughter's best friends were heading to college. This might become my go-to idea. It's personalized and super useful.



2. Gear for the new school
Grads need to start stocking up on apparel and other gear to support their new school. This also applies to grads entering the military.
Finding apparel for larger schools shouldn't be an issue, but even smaller schools usually sell items online if you hunt down their bookstore. Students' top picks are T-shirts, sweatshirts, mugs and laptop stickers and they rave about Redbubble for unique designs.
3. The perfect laptop sticker
We stand at the front of our classrooms staring at a sea of laptops covered in stickers that tell us who our students are and want to be. Quotes from favorite shows, logos of favorite companies, funny quips or motivating mantras.
We already mentioned Redbubble as a place to get college gear, but it pulls designs from independent artists, so it's our students' favorite place to browse for unique laptop stickers. Adding the perfect laptop sticker to your gift shows you really know your grad. Etsy also has a great selection, including personalized stickers.
4. Easy (to make and clean) bedding for the dorms
We gave this a Beddy's zipper-bedding set to a niece for her high school graduation and she reported back that everyone in her dorm wanted one. This is a pricey gift reserved for a special grad, but these are pretty amazing. Bonus if a student has a lofted bed.
Check out the Beddy's college student page for fabric options and videos on how the bedding works. Their twin sets fit regular and XL twin beds, so it's a great investment even for kids who aren't quite ready for college yet.

5. Tool Kit
It may not feel like the most exciting gift ever, but it will be a lifesaver. This Apollo Tools 135-piece Tool Kit donates to breast cancer research (I still have – and use – the pink tool set I got for graduation).
If your grad won't go for pink, try this Vastar 102-piece Tool Kit.


6. Laundry Bags
We're pretty sure college students will never stop bringing laundry home–it's free!–so laundry bags are always a practical gift idea. We saw these at Cute as a Button and were surprised by how large they were. Monogram them in school colors for a more personal gift! You can shop local at this boutique gift store in Powell, OH and save on shipping. You can also order online from Mainstreet Collection.
7. Board Games
Grads can host dorm room and apartment game nights to start building friendships and laugh away some of the stress of their new responsibilities. A couple fun ideas are below, or you can scan our larger list of the Best Board Games for Teens:
8. Spotify Gift Card
Music-streaming service Spotify gives college students an amazing deal at $4.99 a month for both Spotify and partner Hulu. They can stream music and shows from anywhere on all kinds of devices. With a gift card, students can also upgrade to a premium plan to ditch ads or add HBO so they can keep up on Game of Thrones.
9. Netflix Gift Card
Some grads may stay on their parents' Netflix plan, but you run out of devices quickly with the whole family sharing. With their own Netflix plan, grads can get their own five devices and switch between phones/tablets/laptops. They can even share with a roommate to start the year off on friendly terms. You can buy gifts cards online for email delivery or as physical gift cards.
10. Amazon Prime (via Amazon Gift Card)
You're officially an adult when you have your own Amazon Prime account. It's kind of hard to get mom's birthday present delivered to campus when she can track all of your purchases. Many college campuses have locations where students can pick up packages to ensure they get it safely.
Plus Amazon has some really solid original content that teens love on its streaming service.
TIP: Amazon gives students a free 6-month trial through Prime Student with a .edu email address and then discounts membership after the first 6 months. So give an Amazon gift card with a note about Prime and let students set it up on their own to maximize the freebies.