72 Must-Read 4th Grade Reading Books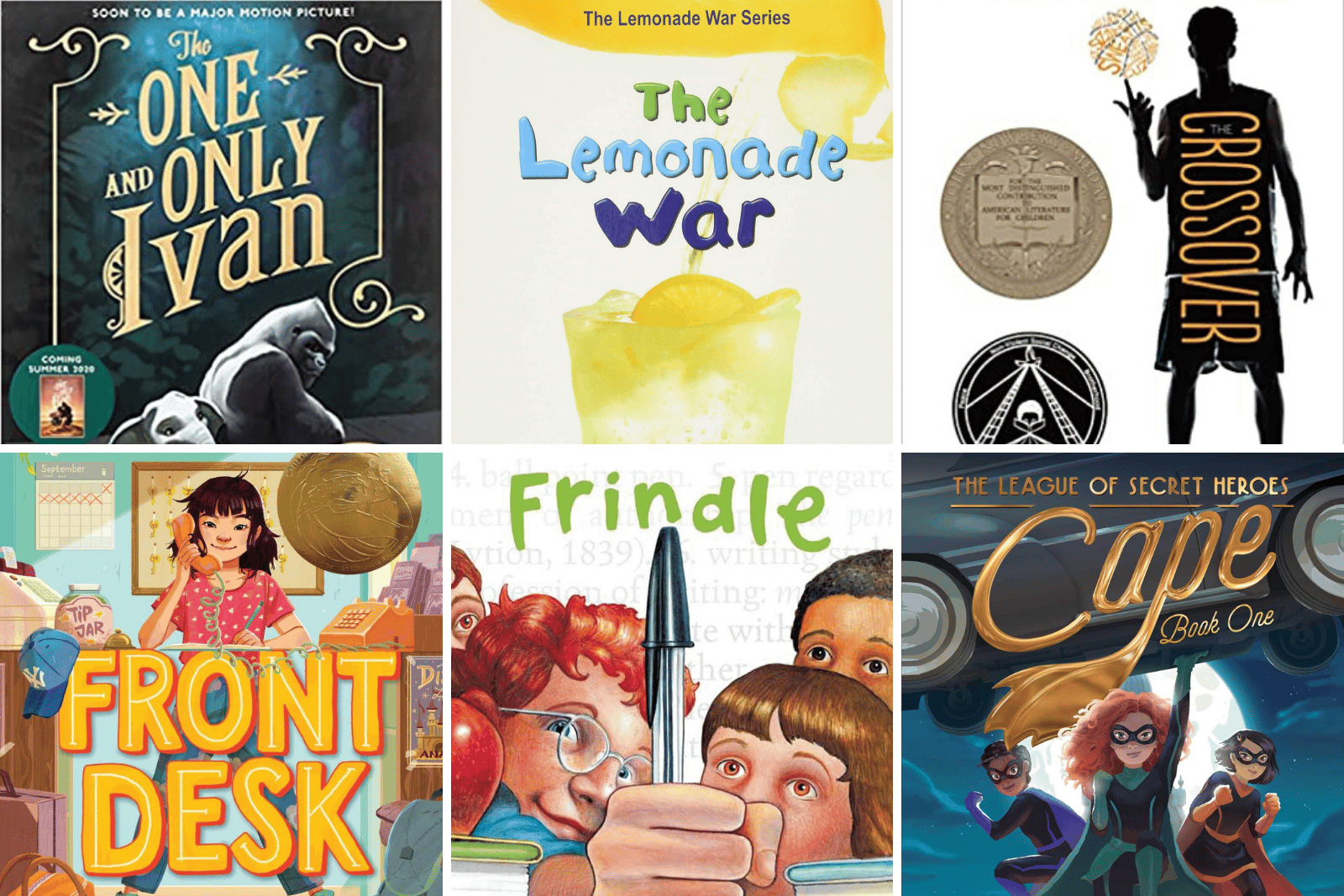 This list of 4th grade reading books gives fiction and nonfiction books for a wide variety of reading levels and topics.
Some of the links below are affiliate links. This means that, at zero cost to you, we will earn an affiliate commission if you click the link and make a purchase. We appreciate your support!
Fourth graders are reaching the end of their elementary school years. Some of the best books for fourth graders tackle the emotions and real life scenarios these kids are experiencing or expect to experience as they enter middle school. Things like life with a little brother or sister or what it's like to be a new kid at school.
The 4th grade reading books list also give options for kids who want to read as a fun and entertaining escape into worlds of adventure or fantasy.
All of the books on this list are good books for the fourth grade level as recommended by moms of tweens as well as elementary librarians and teachers. We also have a 5th grade reading list, 6th grade reading list and a 7th grade reading list.
Chapter Books & Chapter Book Series
Fourth graders can have varying reading levels and different abilities when it comes to reading comprehension. The 4th grade reading books below offer chapter books for students of all different reading levels. Some are a better fit for 4th graders who have a bit of a hard time and others will push readers to the next level as they develop their language arts skills.
The Lemonade War by Jacqueline Davies, 5 books
A frustrated older brother challenges his over-achieving sister to see who can start the most successful lemonade stand. We list this as the first book on our list because it's particularly good for young readers.
Peter and the Starcatchers by Dave Barry, 5 books
Noted columnist Dave Barry authors this new twist on the classic tale of Peter Pan. The books were a fun addition to our home reading collection because we all enjoyed them.
Cape (The League of Secret Heroes) by Kate Hannigan, 3 books
Based on the lives of real women from World War II, these books follow three girls chosen by a government agency to help solve puzzles. The girls transform into superheroes to solve an important mystery.
From the Mixed-Up Files of Mrs. Basil E. Frankweiler by E.L. Konigsburg
A really fun read about siblings who run away and hide out in the Metropolitan Museum of Art. Books are a great gift, but we also have a master list of gift ideas for tween and teen boys.
The Miraculous Journey of Edward Tulane by Kate DiCamillo
From the author of The Tale of Despereaux and Because of Winn-Dixie makes another slam dunk with the Journey of Edward Tulane. It involves a rabbit, a journey and a miracle. DiCamillo never disappoints.
Escape from Mr. Limoncello's Library by Chris Grabenstein
This book reminds me of a modern day Charlie and the Chocolate Factory, with a group of kids working to solve clues and puzzles to escape from the town's crazy new library.
Inside Out and Back Again by Thanhha Lai
Winner of numerous awards, this is the story of family and immigration told through the eyes of a child.
Percy Jackson and the Olympians by Rick Riordan
This best-selling series is full of adventure and friendship. Troubled teen Percy Jackson learns he's son of the sea god Poseidon and life quickly becomes a roller coaster.
The Wild Robot by Peter Brown
In this unique mix of nature and technology, a robot finds herself on a remote island. She adapts to her surroundings and befriends the animals as her past starts to come back to her.
The Boxcar Children Mysteries by Gertrude Chandler Warner
These books aren't new, but kids still love them. The classic story was continued after the author's death. More than 100 Boxcar Children books have now been published.
Matilda, BFG & Charlie & the Chocolate Factory by Roald Dahl
Fourth-grade readers consistently fall in love with Dahl's books, even though they can get a little dark. Books like Matilda, the BFG, James and the Giant Peach and Charlie and the Chocolate Factory help kids process the unpredictability of life.
Treasure Hunters by James Patterson, 7 books
The kids of professional treasure hunters go on an amazing adventure after their parents go missing.
Ghost Boys by Jewell Parker Rhodes
Rhodes writes realistic fiction that impacts tweens in a meaningful way. Ghost Boys is told from the perspective of a young boy who watches the aftermath as a ghost after he is mistakenly killed by police who think his toy gun is real. Towers Falling about September 11 and Ninth Ward about Hurricane Katrina are other moving novels by Rhodes.
Anne of Green Gables by L.M. Montgomery, 8 books
This story about a young girl who goes to live with a new family who expected a very different kind of child is the premise for the Netflix series Anne with an E.
Charlie and Frog by Karen Kane
Living with his TV-obsessed grandparents, Charlie wanders into a village where a frightened old woman gives him a desperate message-in sign language. After she disappears, Charlie wants answers and partners with a deaf friend to tackle the case.
Swindle by Gordon Kormon, 8 books
These series about an unlikely group of kids and a dog solving mysteries in their town captivated both of my sons.
Raising Lumie and Soar by Joan Bauer
We heard strong recommendations for everything written by Joan Bauer. Raising Lumie tells the story of newly-orphaned Olive training a guide dog and wrestling with whether and how to let him go. Soar is another great option by Bauer. Many of these books also appear
Holes by Louis Sachar
Boys in a detention center are forced to dig holes in the desert to build character, but also because the warden may be looking for something.
The One and Only Ivan by Katherine Applegate
A touching novel about a gorilla raised by humans that becomes the main attraction in a mall circus. It's a Newbery Award winner with a major motion picture and a sequel: The One and Only Bob). This books makes many teachers' list of 4th grade reading books.
A Long Way From Chicago by Richard Peck
A story of two siblings spending nine summers with the worst influence…their grandmother. Richard Peck always writes a great one in A Year Down Yonder.
City of Ember series by Jeanne DuPrau, 4 books
This book was on my son's 4th grade reading list. The kids gave it rave reviews. The city of Ember is built as a last refuge for the human race, but the mystery of how to save it needs to be solved.
Gregor the Overlander (The Underland Chronicles) by Suzanne Collins, 5 books
The main character Gregor and his sister fall through the vent in his apartment building laundry room. Underneath is a world with royalty, giant beasts and prophecies.
Sweep by Johnathan Auxlier
A good book for advanced readers, Sweep tells the story of a hard-working orphan saved by a monster and unlikely friends that carve out a life together.


Realistic Fiction
Tales of a Fourth Grade Nothing by Judy Blume
Judy Blume is a favorite author of kids throughout generations, and this is a Teacher's Pick. A must have for any 4th grade reading books list.
A Long Walk to Water by Linda Sue Park
Two stories of children in hardship in the Sudan, a girl in 2008 and a boy in 1985, intersect in a moving way.
The Crossover by Kwame Alexander
Fourth graders who like sports will love the story of twin brothers Josh and Jordan who love basketball and learn the high price that can come with breaking the rules.
First Rule of Punk by Celia Perez
Malú wants to be totally punk at her new middle school, but her Mexican-American mother would prefer she learn to be a proper señorita.
Front Desk by Kelly Yang
Ten-year-old Mia manages the front desk of the Calivista Motel and tends to its guests. Her parents clean the rooms and hide immigrants. They have to hide what they're doing from the mean motel owner, or they're doomed.
One for the Murphys by Lynda Muhally Hunt
A young girl keeps her guard up as a foster child with a new family who works to help her see she belongs. Then she faces the choice of whether to stay. You can get three award-winning novels in the The Linda Muhally Hunt Collection.
Hoot by Carl Hiaasen, 4 books
This Newbery Honor winner showcases kids, a bully and a pancake restaurant trying to open next to a colony of endangered owls.
Clean Getaway by Nic Stone
An 11-year-old hits the road with his G'ma when spring break gets canceled and ends up learning some important lessons about the history of segregation in the American South.
Esperanza Rising by Pam Muñoz Ryan
Esperanza and her mama must suddenly leave their privileged life in Mexico and move to a Mexican farm labor camp in California. A child of the Depression, Esperanza must navigate hard work, financial struggles and what to do when her mama gets sick.
From the Front Desk of Zoe Washington by Janae Marks
A 12-year-old African American girl starts secretly writing letters to her biological father in prison. She sets out to prove whether he's innocent like he says.
Shiloh by Phyllis Reynolds Naylor
A boy decides how far he's willing to go to hide and protect a dog from an abusive owner. This book is a Newbery Medal winner.
Wonder by R.J. Palacio
This is a book to read along with your kids, and then you can watch the movie together. A great story of embracing differences and being a good friend during years when fitting in seems like the most important thing.


Graphic Novels
Teachers across the board will advocate that you find what young readers enjoy to encourage them to develop a love of reading. Consider different types of books like graphic novels, especially if you have reluctant readers. The goal is to get kids reading books, and some of the beautiful illustrations in these picture books make reading a more visual experience. Our list of 4th grade reading books wouldn't be complete without them.
Real Friends by Shannon Hale
A journey about how hard it is to find real friends, but why it's worth all the effort.
Plants vs Zombies by Paul Tobin, 17 volumes
Zany inventor Crazy Dave helps his niece and a young adventurer fend off a "fun-dead" neighborhood invasion.
Knucklehead by Jon Scieszka
The story of growing up in a family with six brothers presented in comic book style.
New Kid by Jerry Craft
The main character charts his experience starting over at a new school where diversity is low as he looks for a way to fit in.
When Stars Are Scattered by Victoria Jamieson
Written by the author of Roller Girl, this graphic novel tells the story of a former Somali refugee growing up in a refugee camp.
Amulet by Kazu Kibuishi
Siblings move with their mother to a family home after their father dies. The strange house ends up to be a dangerous window to an underground world inhabited by demons, robots, and talking animals.
Historical Fiction
Historical fiction books are a wonderful way to teach students about real events and other topics related to social studies and government. Books might focus on historic events or they might just be set during times like the Depression or the American Revolution. Either way, tweens learn about important historical events with these 4th grade reading books.
Island of the Blue Dolphins by Scott O'Dell
A 12-year-old girl lives alone on a Pacific island, finding a way to survive and find peace in her solitude.
The Sign of the Beaver by Elizabeth George Speare
A young teen works to survive on his own in the wilderness with the help of a boy from the Beaver tribe.
Ground Zero by Alan Gratz
This is the latest book written by Alan Gratz, an author students say again and again is an absolute favorite.
I Survived by Lauren Tarshis, 10 book set
These fictional stories make learning about historic events fun for young readers.
The Little House by Laura Ingalls Wilder, 9 books
The story of childhood as an American pioneer with glimpses into life on the American frontier.
The War The Saved My Life by Kimberly Brubaker Bradley
A young girl triumphs against all odds in this book set during World War II.
An Elephant in the Garden by Michael Morpurgo
Two children, their mother and an escaped baby elephant flee their town to escape German troops during World War II. The story is inspired by historical truths and a real-life photo.
Echo Mountain by Lauren Wolk
Recommended by a fifth grade teacher as a grade read for older elementary school students, this story follows a family forced to leave their home in town and start over in the untamed wilderness of nearby Echo Mountain during the Great Depression.
Who Was? and What Was? books
There are hundreds of these books written by a variety of authors, so your tween can choose to learn more about famous people and events.
The Chronicles of Narnia by C.S. Lewis
This classic series about four siblings and their travels through the wardrobe and into Narnia is well known, but be aware that it requires a higher reading than you might remember.
Nonfiction Books
Some young readers find they prefer reading true stories. Nonfiction books can help kids understand social dynamics and human nature. They can use these real experiences to process anything from the right thing to do in certain situations to how to play video games.
Children Just Like Me by Catherine Saunders
This book shows differences in the lives of children from more than 30 countries worldwide.
I Dissent: Ruth Bader Ginsburg Makes Her Mark by Debbie Levy
Young readers can learn how Ruth Bader Ginsburg went from growing up in Brooklyn to becoming the first Jewish woman appointed to a spot on the Supreme Court.
Brown Girl Dreaming by Jacqueline Woodson
The true story of the author's experience growing up in Ohio during the height of the Civil Rights Movement.
The Case for Loving by Selina Alko
The true story of a couple arrested for violating the state's laws against interracial marriage. They fought the law all the way to the Supreme Court – where they won, teaching their three children an important lesson.
Separate is Never Equal by Duncan Tonatiuh
The story of a girl and her parents who helped end segregated education in California almost 10 years before Brown vs. Board of Education.
Funny Books
Kids from reluctant readers to advanced readers can't pull themselves away from a hilarious tale. Laughter makes reading fun.
Frindle by Andrew Clements
A funny book about an ornery kid who creates a new word to liven things up at school and with a crochety teacher.
Big Nate by Lincoln Peirce, 26 books
The words and pictures work together in this hilarious tale about middle schooler Nate.
Wayside School by Louis Sachar, 4 books
These silly books will suck kids right in. Many parents of reluctant readers said this series showed their kids how fun (and funny) reading could really be.
Diary of a Wimpy Kid by Jeff Kinney, 15 books
This realistic fiction series gives such a great glimpse into the weird tween years.
Jake the Fake Keeps is Real by Craig Robinson, 3 books
Comedian Craig Robinson (Daryl from The Office) writes this funny story about a middle schooler who fakes his way into a gifted academy and keeps up the faking so he can try to stay.