Top 10 Summer Things to Do With Tweens & Teens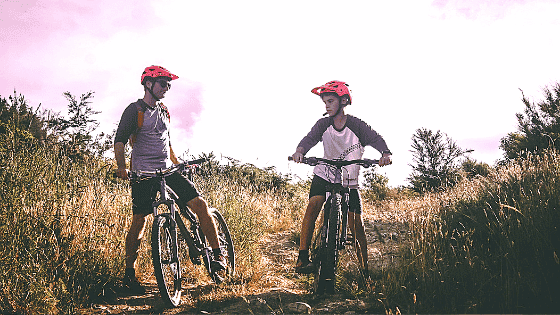 Consider squeezing in some outdoor fun with your tweens and teens during the summer months. All of these suggestions give you a chance to talk – and really listen – to your kids before summer melts into the busy back-to-school season.
1. Creeking
Hiking in a park with water ups the excitement. As you explore, you can skip rocks and try to catch minnows, tadpoles or crayfish.
I finally invested in hiking sandals with strong soles. Tennis shoes just feel gross when they get wet, and water shoes are meant for the beach and don't always hold up to the sharper rocks in a creek bed. I went back and forth before finally buying these Keen sandals for my recent national park trip, but they're making hiking and creeking near home so much more fun. For kids, Merrell and Keen both sell a range of sizes and price points on Amazon.
We saw some others out creeking with small, hand-held nets for catching minnows – genius! Bring a bucket along as well.
2. Geocaching
Grab the cell phones and hunt down hidden geocaches in your area. You'll need to download an app and make sure you have supplies for the type of geocaches you choose. The site www.geocaching.com is a great home base for information. If the whole concept is new to you, REI offers a quick overview video and some helpful resources for beginners.
3. Biking
Think about locations within biking distance of your house or a nearby trailhead. Pack a picnic lunch in a backpack and bike to a park a few miles away. Bike to an ice cream shop. Throw books in your bag, and bike to a shady spot where you can lounge and read for an hour. Picking a destination that appeals to your tween/teen buys you a little more time hanging out.
4. Kayaking/canoeing
Renting canoes or kayaks for an afternoon doesn't require any expert boating knowledge. Liveries in areas with lakes or slow-moving rivers will give you equipment and a few tips and send you on your way – no guide needed. They'll even pick you up at your final destination or offer bikes to get back for a few extra bucks.
If you live in the Columbus area, Olentangy Paddle offers all of these options.
5. Neighborhood kickball game
This might take a little pre-planning and about 50 text messages, but nothing screams summer fun like a friendly game of kickball. Pick a date and time and invite your kids' friends and their families to meet at a nearby ball field. You can order a kickball on Amazon for $11 and review the official rules (which are still super simple) in advance.
6. Concerts
Big name concerts can get pricey, but sometimes it's worth it as a gift or if a tween or teen saves to chip in. There are also tons of smaller, local or throw-back bands playing, especially in the summer at outdoor venues.

My friend Carrie is the queen of going to concerts with her kids.
7. Camping
Camping ranks among the tops ways for families to spend time together. It takes time and preparation, but an unplugged weekend can be worth it. If you're not up for tent camping, Outdoorsy.com is like Airbnb, but with campers. Rent all types and sizes in your area.
This review of Outdoorsy gives more details and includes a link to get $50 off a rental through Outdoorsy.
Travel and Leisure lists its pick for the best campsite in every state. The choice for my home state of Ohio? Hocking Hills. Good choice.

These are the supplies we bring camping – inflatable wrestling rings. Oh, and stuff for s'mores.
8. Amusement Parks
If you have a thrill-seeking teen or tween, block off a day for Cedar Point, King's Island, Six Flags or any other amusement park within driving distance (preferably a week day if you want to ride more than you wait.)
9. Dog Walking
Walking dogs and caring for neighbors' pets during the peak summer vacation season can be an easy volunteer opportunity for your tween/teen. Offer to walk along for some exercise and a conversation.
10. Outdoor Movies
Look up local drive-in movie locations or places showing outdoor movies. Libraries, parks, pools and even outdoor shopping areas often host outdoor movies in the summer. If you're really motivated, host an outdoor movie watching party in your yard.