Best Luggage For Teens 2023: Top Picks from a Travel-Planning Expert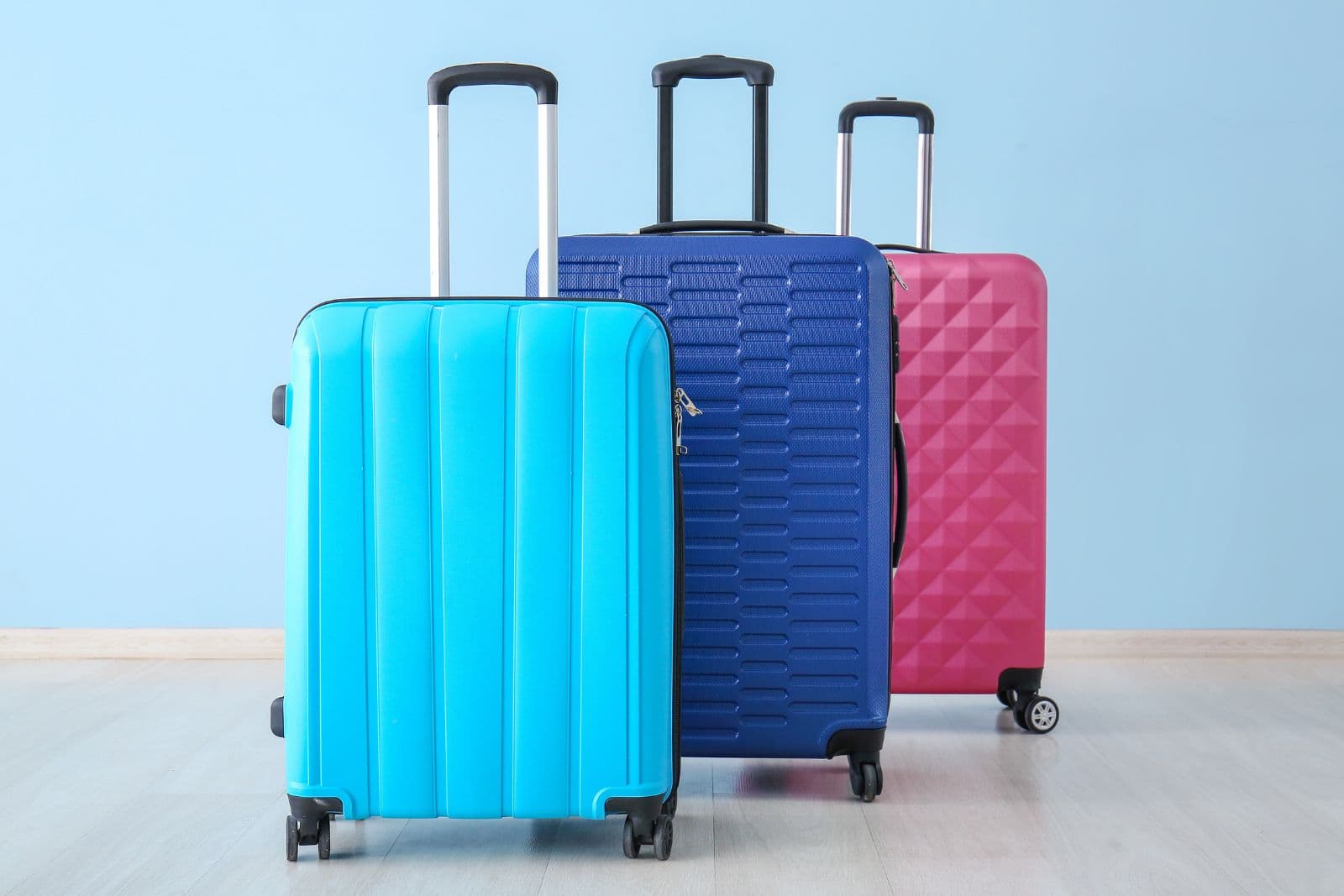 A guide to the best luggage for teens from a travel-planning expert and mom of teenagers. We know that having the right luggage (especially when teenagers are involved) can make a world of difference. We narrowed the choices to our favorite hard-sided, soft-sided, duffle and carry-on options. Plus, tips on what to consider before buying.
This post contains affiliate links – we earn a small commission if you purchase through our links, and we appreciate your support.
Our tweens and teens are traveling! Whether it's an 8th grade road trip to Washington D.C., a Disney World visit with their marching band, or a family trip to the beach, they are on the move and they need the right suitcase.
They may think having the perfect luggage is lame, but we parents know having great gear is really important.
And who knows? They may be more excited about their own bag than you think!
Who better than a professional travel planner to give us luggage advice? We asked Jennifer Kunz, a travel planner who specializes in Disney Destination vacations, for help! (More about her at the bottom of this post.)
We looked for style, luggage that lasts and special features. We even share different sizes that are easy to cart around during those long trips.
I travel a lot with my husband and teenagers. Thanks to countless road trips and flights, I know what luggage works best for teens and what doesn't.

Jennifer Kunz, travel planner & mom of teens
Questions To Ask Before You Buy Luggage For Teenagers
Before you start shopping, ask yourself a few important questions. Your answers will determine what type of luggage you should buy. You'll also get a better sense of how much money you want to invest.
What Kind of traveling will they be doing?
Long family road trips require bags that are more pliable to help maximize trunk space.
Weekend trips for competitions may require specific types of bags for sports gear, instruments, dance, robotics or whatever they're into. They'll still need a duffle bag or small suitcase for everything else.
Do they stay overnight with friends pretty often? Or spend a week at summer camp? If your teens are hard on things, you'll want to pay attention to durability and quality so you're not buying new bags all the time.
Lots of air travel? Look for luggage that fits airline baggage requirements and is easy to carry or pull in the airport. Pay attention to the wheels.
If they have an international flight booked, they'll need something lightweight with lots of space that fits the airline's baggage allowance. Check out the carry-on section for bags that fit in airline overhead compartments and have really cool features.
READ MORE >>> Tips for an Amazing Road Trip With Tweens
How will you store The Luggage?
Keep in mind that whatever you buy, you'll need to store. Also consider that suitcases can be the perfect size to store off-season clothes and linens. They're also Kristie's go-to hiding spot for Christmas gifts.
Hard-sided sets can usually be stored inside one another and stacked which helps in smaller spaces.
Does it need to fit in their closet? Duffel bags or soft-sided luggage can fit in those tighter spots.
How Long Do You Want The Luggage To Last?
Are you making a purchase for an immediate need? Or do you want luggage that will stand the test of time? If it's the latter, we recommend buying high-quality, durable luggage. It's an investment, especially if your family or your teenager loves to travel.
What Matters to your Teen When It Comes To Luggage?
Keep in mind that they'll be using this luggage and not you. If you're buying luggage as a surprise gift, you'll have to do some stealth questioning. Otherwise, just ask them!
Do they want something stylish?
Do they have favorite name brands?
Do they prefer classic or trendy designs?
Do they care about how easy it is to carry?
Do they prefer to be organized and have a space for everything?
Or do they just shove their stuff in minutes before you walk out the door like Kristie's teen?
Seriously, don't spend a lot of money on luggage if they're just going to grab the closest duffel bag. If that's their personal preference, it's probably not worth fighting about.
Teen Luggage: Hard-Sided Options
Hard-sided luggage is waterproof, leaving your stuff inside well-protected. But my favorite part? They're so easy to clean. My family of 2 teenage girls has hard-sided luggage and I love that I can wipe it down once we get home from a trip.
I also love the durability of hardside suitcases. When my very-practical daughter was 7 she asked for purple hard-sided luggage for Christmas.
That luggage has been used for trips to Disney World, Universal, Hilton Head, Holden Beach and Washington DC. It's still in great condition!
Teens probably won't appreciate "easy to clean" or "really durable," but you might get them with "perfect for stickers."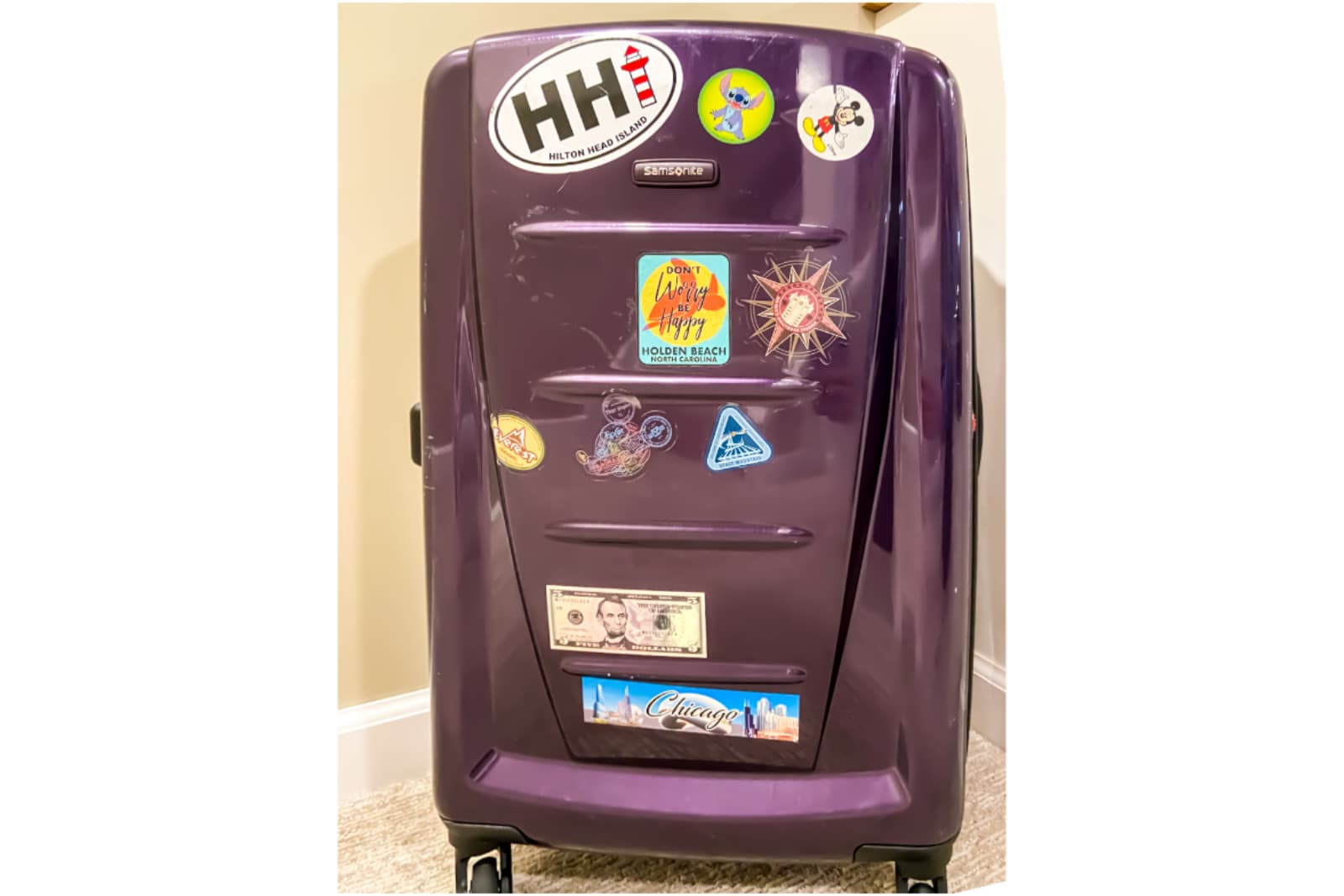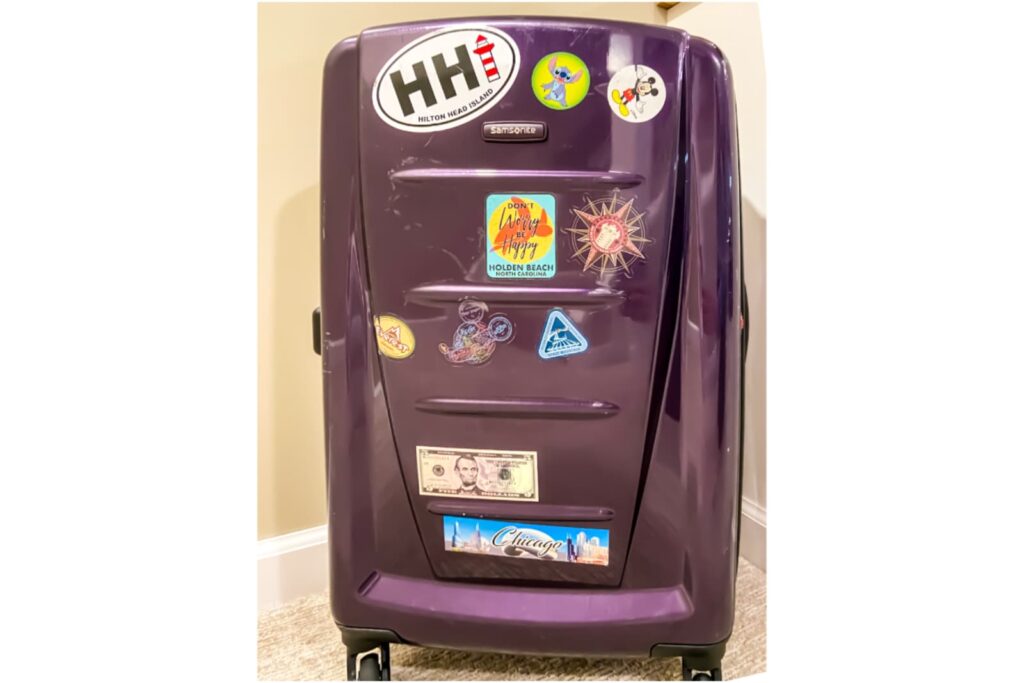 My daughter's souvenir of choice from every trip is a sticker to add to the outside of her luggage. Our whole family is on the hunt to help her find the perfect sticker to add to her collection.
When it's time for another trip, we get her luggage out of storage and the stickers remind her of all the places we've been. That purple suitcase is now part of our family memories!
I really love the marble pattern because it's not something they will outgrow. A good luggage choice from tweens to young adults.
Pros of American Tourister Moonlight
Trustworthy name brand
Offered in various sizes (21, 24 and 28 inches)
4 multi-directional spinner wheels for easy mobility
1.5 inch expansion allows you to pack more (great for the overpackers in our lives!)
Fun pattern
10-year warranty
Cons of American Tourister Moonlight
This model is sold separately and not available as a set
No TSA lock
Pros of Amazon Basics Suitcase
Great value
Available in several colors (black, blue, navy blue, orange)
4 double spinner wheels and a telescoping handle
Offered in various sizes (21, 26 and 30 inches)
Expands up to 15% more space
Cons of amazon basics suitcase
Zippers may get stuck
A little harder to lift when it's full because of where handle is located
The 30-inch spinner exceeds the maximum checked luggage size for some airlines
Soft-Sided Luggage for Teenagers
Soft-sided luggage is typically more lightweight than hardshell luggage.
One important consideration for teens is easy access to their tech, snacks and books thanks to exterior pockets.
Another benefit of soft-sided luggage is that it can also squeeze into tight spaces more easily. It's easier to lift and fit into overhead bins and has more give in a packed trunk than hard-sided options.
But a word of caution from this mom: Keep in mind it can be tougher to clean. We started out with soft sided luggage but switched up to hardshell suitcases set for that reason.
Pros of Travelpro Softside Luggage
Sold individually or as a 2-piece and 3-piece set (see above)
DuraGuard coating is water and stain resistant
360-degree spinner wheels
13 different colors
Carry-on expands up to 2 inches to maximize packing
Offered in 5 different sizes (19, 20, 21, 25 and 29 inches)
Limited lifetime warranty
Cons of travelpro softside luggage
No TSA lock
Some reviews say the 21-inch carry-on is a little larger than what airlines allow, so make sure you're mindful of the carry-on size you choose
Pros for Rockland Softside Luggage
Available in 2 and 4 piece sets
Each set offers a 14-inch tote bag
Inline skate wheels
38 fun print or single color options
Offered in 4 different sizes (14, 19, 24 and 28 inches)
Best bang for your buck
Cons for rockland softside luggage
No TSA lock
The smaller bag is nice but not sure teens will be able to fit all their stuff inside
Only 2 wheels instead of 4
Pros of the Samsonite Solyte DLX
Trusted brand with 10-year limited warranty
Extremely durable
Available in 3 sizes (20, 25 and 29 inches)
Carry-on has a USB port (charger not included)
4 multidirectional spinner wheels for smooth handling
3/4-inch expansion
Privacy ID tag
Cons of the samsonite solyte DLX
More expensive than other brands
Not available as a 3-piece set (does offer a 2-piece set)
Only 5 color options
Duffle Bags For Traveling Teens
If your teen wants something more casual, a duffle bag is a great choice. It also fits in weird packing spaces like an overstuffed car or an overhead bin that doesn't have enough room for a suitcase.
Keep in mind that teens will have to wrangle the shoulder strap on and off when checking it and grabbing it from baggage claim. Been there, done that and it can be added stress you don't need.
Teens can use this Under Armour duffle for all kinds of travel from flights and road trips to quick overnights. It's an excellent choice when traveling by car because it's easy for teens to put at their feet.
Pros of under armour duffle
Water repellant
32 different color choices
Shoulder straps are easily removable for when they're flying
Machine washable
Very roomy
Front zippered pocket
Separate shoe compartment
Cons of Under Armour Duffle
No TSA lock
Doesn't hold as much as a traditional suitcase
No interior pockets
If your teen would like something with a little more style, check out this rolling duffel bag from Rockland. It's great for road trips and comes in so many colors and sizes!
My parents bought me a rolling duffle bag when I was in high school. I used it all the way through college but I definitely found it difficult to move around.
Pros of Rockland Rolling Duffel
34 color and pattern choices including cute polka dots
Available in 4 sizes (22, 30, 36 and 40 inches)
Extra large wheels
Four zippered front pockets
Internal retractable handle
A great value
Cons of Rockland Rolling Duffel
No TSA lock
Rolling duffle bags can be cumbersome when navigating airport crowds
Zippers could be stronger
Not as durable for checked luggage
If your teen likes matching accessories, this is the brand for her. She can get a Jadyn duffel in 3 sizes along with a tote, a makeup cinch and a curling iron case.
Pros of Jadyn Duffel
11 patterns to choose from
3 interior mesh pockets for organization
1 interior zipper pocket for storage
Adjustable strap
Separate shoe compartment which keeps their shoes from touching their clothes
Cons of Jadyn Duffel
No wheels
Doesn't hold enough for a weeklong vacation
READ MORE >>> Our Best Gift Guides
Cool Carry-Ons for Teenagers
Time to talk about the best carry-on suitcases! If your tween or teen travels light they may just need a carry-on for their next flight.
As a reminder, airlines require carry-ons to be 22″ x 14″ x 9″ and that includes the handles and wheels.
We found 6 carry-ons that are really cool! Great colors, easy to navigate and fantastic features you just know will be a hit. Honestly, these carry-ons might just inspire me to pack a little lighter.
Pros of Samsonite Omni PC Carry-On
Trusted brand with 10-year warranty
Incredibly durable and scratch-resistant
14 bold colors
TSA locks
4 oversized multidirectional spinner wheels
Lightweight
Expandable
Cons of Samsonite Omni PC Carry-On
Not as sleek as other hardshell options
Some colors only available as a 2-piece or 3-piece set
I'm kind of in love with this one. Traveling alone with a cup of coffee and need to use the bathroom? No problem. Standing in line forever and tired of holding a drink? Problem solved. No free outlets to charge your dying phone? Consider it handled.
Pros of Wrangler Hardside Carry-On
8 colors
USB port with phone holder
Cup holder
Multi-directional spinner wheels
Lightweight
Expandable
Cons of Wrangler Hardside Carry-On
Some colors only available in a 2-piece or 3-piece set
Wheels could be better
Pros of American Tourister Softside Underseater
Fits under airline seats, including Spirit and Frontier
Trusted brand
Lightweight
3 colors: black/gray, teal, pink
Inline wheels and completely retractable handle
Cons of American Tourister Softside Underseater
Pros of Coolife Hardside Spinner
Double TSA lock
6 colors
Sold separately or as a set of 2
Easy access front compartment
Cons of Coolife Hardside Spinner
Handle sometimes jams
Carry-on is 20 inches, smaller than other carry-on options
Pros of Lily Bloom Wheeled Duffel
Sustainable, eco-friendly brand with 5-year warranty
17 colorful patterns
High quality
Sturdy and durable
Fits in most overhead compartments
Cons of Lily Bloom Wheeled Duffel
More expensive than other duffels
Zipper won't close if bag is overstuffed
Pros of Samsonite Underseat Spinner
Fits under most airline seats
Sleeve on back slides over handles of upright luggage
Multiple interior and exterior pockets
USB port (charger not included)
Ergonomic handle
360 degree spinner wheels
3 colors
Cons of Samsonite Underseat Spinner
May not fit under all airline seats
No bright color options
READ MORE >>> 43 Best Cute Backpacks for College Students