50 Best Gift Card Ideas for Teens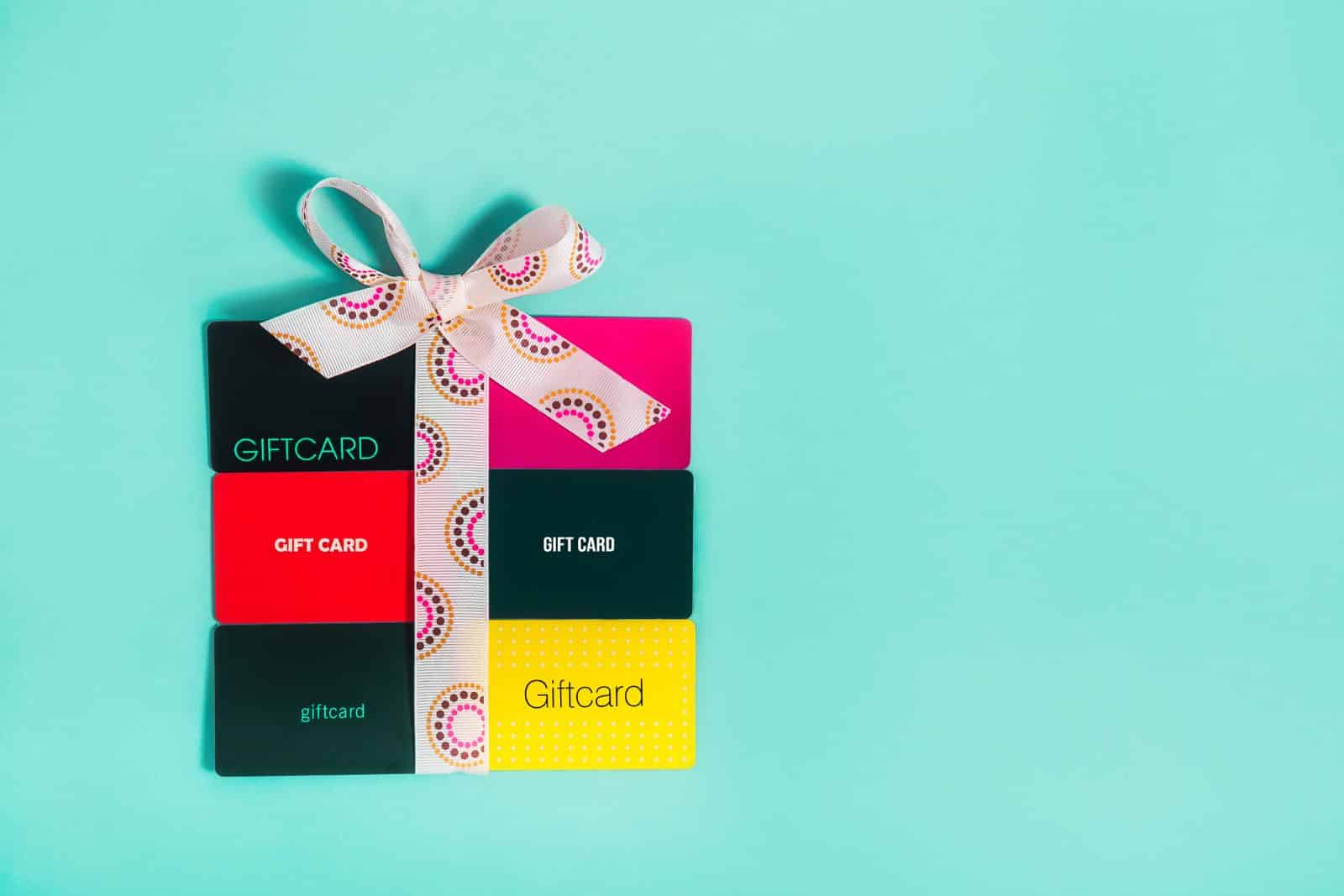 Teens love receiving gift cards, and they are plenty of ways to make a gift card a meaningful and personalized gift. Gift cards are also perfect as a last-minute gift idea or a gift for faraway family or friends.
We consider ourselves gift-giving experts here at SALT effect. Whatever the special occasion, we want to save you time and make it easy for you to find great gift ideas for tweens and teens. Great ideas for the best Christmas gifts, 18th birthday gifts, high school graduation gifts…you get the idea.
Our ultimate goal is to help you give gifts that will be enjoyed and used. And a gift idea that checks both of those boxes for tweens and teens is gift cards. In fact, gift cards might be among the best gifts and are an underrated hero in my book. They're a practical gift that you know will be used, enjoyed, and never returned. They also provide the ultimate flexibility with an endless variety of options and price ranges.
A Solid Last-Minute Gift Idea
Life is busy, and some days, friends, I turn a page on the calendar and realize a special occasion has snuck up on me, and I am without the perfect gift to give. Sometimes I blink, and it's the holiday season once again, and I just need a little stocking stuffer. In times like these, a gift card comes in handy and saves the day.
Those of you who run right up to the last-minute (no judgment here) and don't have time for gift shopping or even shipping, don't worry. Most of these gift card suggestions have a digital gift card or e-gift card option. With just a few clicks, you can send along straight to your teen's phone or inbox a gift they'll be sure to use and enjoy. Gift-giving for teens has never been easier!
A Great Gift for Faraway Friends & Family
Are your family members spread out from coast to coast? Mine are. Distance can often make gift-giving challenging because you aren't quite sure what these teens are into or what they may already have. And there's the added expense of shipping a gift when you aren't sure they will like it. Just another reason why gift cards for teens should be a no-brainer.
Gift Cards Can Still Feel Personal
Gift cards can still be thoughtful and meaningful gifts. A gift card to a teen's favorite place or brand shows you take an interest in what they like. A graduation gift idea we love is a gift card to a store or restaurant that is local to the town where the grad will be going – either for college or to work post-grad. Our list of graduation gifts for guys includes several personalized gift card ideas.
A creative way to personalize any of these gift cards is to slip them into a homemade card. For college students, include a gift card or two in a care package to send them. Bonus points if you include some freshly baked homemade cookies with that care package, too.
Best Sure-to-Please Gift Cards
These gift cards offer the greatest flexibility to teens and adapt to please teens with all kinds of interests.
Instead of cash gifts, a VISA or MasterCard gift card is an excellent way for teens of all ages to pick out precisely what they want. A Visa or MasterCard debit card is essentially a cash gift. But a bonus with gifting a debit card instead of cash is that your teen can make online purchases.
You can guarantee that pretty much whatever teen boys and girls want can be found on Amazon. I like that they can stack Amazon gift cards in their account. So for those teens saving up for a coveted Apple watch or another pricey item, an Amazon gift card is the way to go.
Our family members are spread everywhere and gift cards have been a go-to for us on many occasions, especially when gifting for tweens and teens in the family. It can be hard to know what they want, don't want, or what they already have with all the miles between us. This is where the Happy Teen gift card comes in. Happy Teen is a gift card that teams up with a host of popular teen brands all on one card (think Sephora, Panera, Under Armour). Your teenager can use the card for clothes, food, entertainment, and more at any number of places that are all listed on the card. Genius!
Red Bubble is a go-to site for laptop and water bottle stickers with designs from Star Wars to The Office to sleepy sloths telling you to take it easy. Teens can use a Red Bubble gift card to buy stickers or tons of other fun shirts and gifts. And most of the designs are submitted by independent artists. Win-win!
Best Entertainment Gift Cards
We're a big fan of experience gifts, and one good way to gift an experience is giving a gift card to help fund an experience. Some of these gift cards are truly for experiences, and others focus on at-home entertainment.
During the teen years, as a parent there's a good chance you may find yourself on a college tour. Your tour guide, at some point, will talk excitedly about a musical act that came to campus. While the teens will gasp in awe, you will most likely be clueless about who they are talking about. I say this from experience.
Just purchase your teen music lover a Stub Hub gift card they can use to snag concert tickets to whatever popular act they want (which you won't remember). Or they can use a Stub Hub gift card and purchase tickets to their favorite sporting event.
Yes, we have turned into our parents, so a gift card for a Spotify subscription so teens can play all the music by the artists we have never heard of is another great option.
Many college students opt for Spotify over other music streaming services because of a genius deal Hulu and Spotify offer specifically to college students. The Spotify Premium Student program gives students at accredited higher education institutions access to Spotify Premium, Hulu (with ads) and Showtime for $4.99 a month. Have your teen check this out and consider building playlists in Spotify in high school so they're ready to jump into this program when they head off to college.
lasso ref="amazon-3″ id="88181″]
If there is a location near your teen, a gift card to Dave & Buster's will put a smile on their face. My teens love any chance to go to this food & entertainment venue, and it's lots of fun for the whole family, too! Food, games, and arcades. What's not to love here?
A gift card to a movie theater like AMC Theaters or Regal Cinema to see the latest flicks is always a hit. Teens can use the card to purchase tickets and all the popcorn, candy, and soda they want from the concession stand.
A Netflix gift card is a good option if you are gifting teens who are away at college. They'll appreciate being able to binge-watch Outer Banks in between going to class.
If they are into video games, a gift card for Nintendo is a great idea if they want more fun add-ons or games for their Nintendo Switch.

Gaming with friends? A favorite of my nephew's has been an Xbox gift card. Or a Playstation gift card if that's the console they play on.
A Google Play gift card is a fun gift teens can use to purchase hours of entertainment, such as music, movies, books, games, and TV shows, all from the Google Play store.
I'll be honest, I get a little overwhelmed in the video gaming department as a parent. But I can never go wrong with a gift card to GameStop for any of the teens in my world who enjoy video games.
Even into the teen years, many kids still love LEGOS, and there are some really cool and elaborate LEGO sets for older kids and adults. You want to avoid buying a duplicate a set they already own or giving them a set they don't really like, so go with a LEGO gift card. My mom gifted a LEGO gift card to my son at Christmas, and it was a great move.
You may know teens into crafting and art, but you have zero ideas about what projects they might love to create. An Etsy gift card will let them buy DIY kits – anything from crocheting to cross stitch to painting.
If you have a thrill-seeking teen in your life, a gift card to an amusement park is a great idea. The gift card typically can be used in the park to cover things like admission tickets, food & beverages, and souvenirs. You can purchase a digital gift card or e-gift card right on the website of the amusement park.
I like to gift Disney gift cards to my kids and my nephews so they can have their own spending money and buy whatever Disney souvenirs they want on their next trip. If you want to personalize it, Etsy offers all kind of gift card holders, like this one for a Disney gift card.
Best Food Gift Cards
When my nieces were in college, I would often look to purchase a gift card from a local business near campus that was a popular spot for eats with college students. This was hugely popular with them. And sometimes a gift card from a chain popular with teens did the trick too.
You can never go wrong with a gift card to favorite coffee shops like Starbucks or Peet's, especially for the college crowd.
Jamba Juice or Planet Smoothie gift cards are a popular and healthy alternative for hungry teens.
Panera is a popular teen go-to for its many bites, treats, and beverages. Their cafes are also great places to gather and finish that group project or study with others.
Did you say ice cream? With a Cold Stone Creamery gift card, they can treat themselves (and maybe a few friends!) to delicious frozen desserts.
Teens love to fuel up here with tacos, bowls and burritos, so a gift card to Chipotle is spot on.
If you have decision fatigue with all these food options, then a gift card to DoorDash, GrubHub, or UberEats is the way to go. Teens can decide and get whatever they want to be delivered, thanks to you.
Best Beauty & Clothing Gift Cards
Remember when these teens were toddlers? Oh, how we loved to shop for their little outfits. Yeah, that time has passed. Teen clothing shopping is rough. Unless you want to be adding a trip to the mall or post office to make returns, I would just go with a gift card to one of these popular teen clothing brands so they can select their favorite pieces:
American Eagle – tried & true clothing, including jeans, swimwear, shoes & accessories.
Banana Republic – upscale clothing & accessories for more of an on-point splurge.
Old Navy – anything and everything you could want for clothing, accessories, and footwear
PacSun – clothing, footwear, and accessories, all with a California vibe.
Homage – our very favorite T-shirt/sweatshirt brand. They sell all kinds of college, pop culture and sports gear and their stuff is THE most comfortable.
Huk – performance fishing apparel that is trendy with non-fishing teens too.
Madewell – denim, footwear, tees, bags, and more all made to last.
Hurley – performance swimwear and beach apparel, all with an Australian vibe.
Dick's Sporting Goods – all the sporting gear, goods, and clothing they could ever want.
Under Armour – performance fitness apparel and footwear.
REI – everything outdoors from clothing, footwear, outwear, accessories, and more.
TOMS – ethical, stylish footwear that gives back.
Subscription boxes are super popular with teenagers, and a gift card to our fave Stitch Fix is great for teens looking to up their wardrobes.
If you know teens who love to experiment with makeup and beauty products, a Sephora gift card or one to Ulta is the way to go.
Dollar Shave Club has a digital gift card option for those who shower and shave, so pretty much a gift that can cover all the teens in your life. You're welcome.
Best Gift Cards That Give Back
Gen Z has a passion for giving back, so the following gifts give teens the opportunity to make a difference in the word. Some support a specific charity, and others give the recipient some flexibility in where they give their money.
My teens have several causes they are passionate about. One way to honor their passion and support their favorite cause is with a Giving Good gift card. Giving Good gift cards support various causes, from this one for Giving Good St. Jude Children's Research Hospital to one supporting hunger relief like the Giving Good Feeding America gift card. Teens can use these cards at any of the multiple restaurants/brands listed, and 3% of their purchase will go directly to the charity indicated. Love this!
A Charity Choice gift card is a donation you make, and your teen receives a gift card they can spend on the charity they choose. Another way to help them support causes they are passionate about.
Written by Jennifer Donnelly, mom of twin teens.