Top Christmas Gifts For Your Mom Friends (2023 Guide)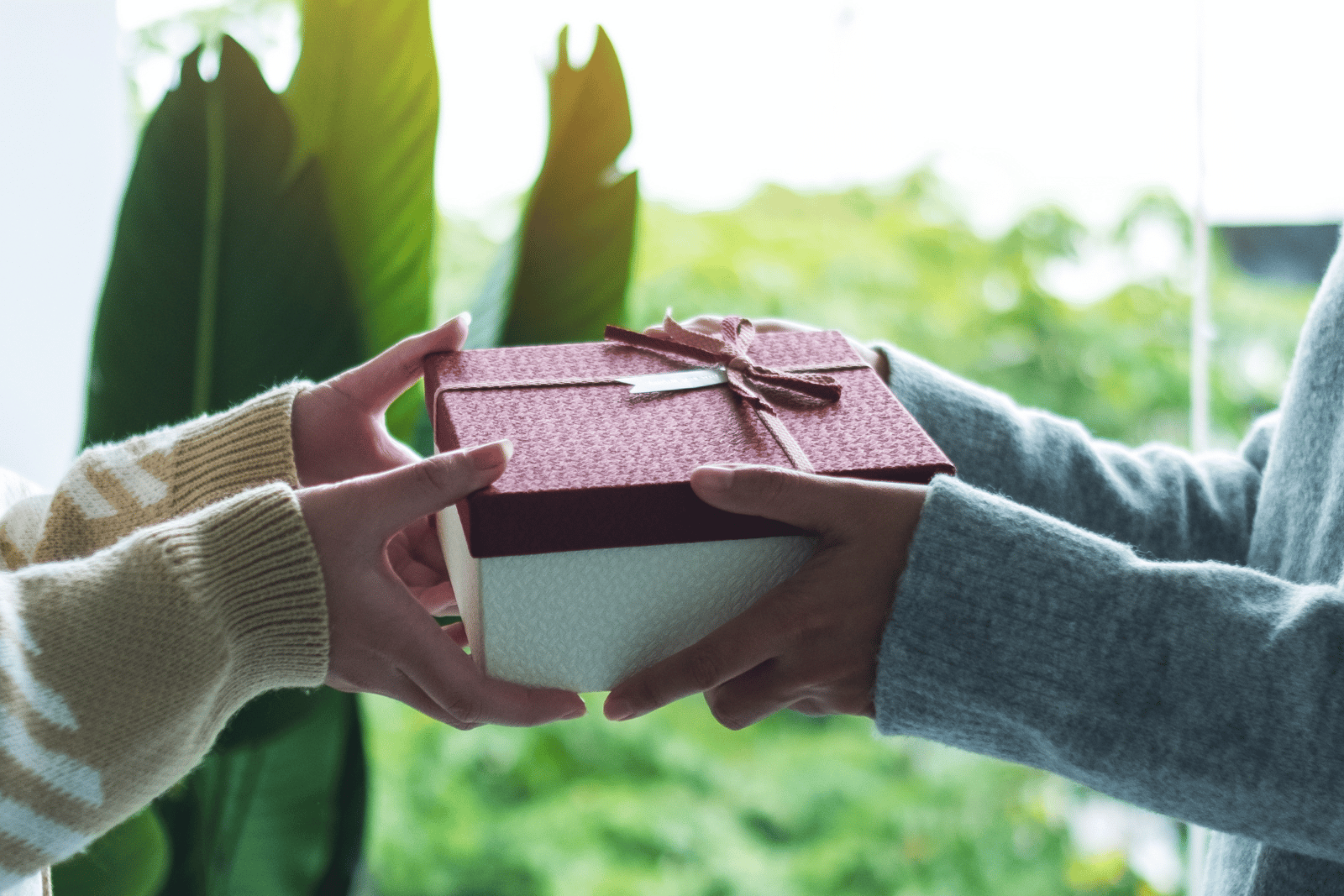 We've gathered great gift ideas for celebrating the special mom friends in your life. The perfect Christmas gift shows another mom that you really know her and appreciate her, which is the best part. Hang on to any of these Christmas gift ideas for mom friends you love but don't need for the holidays, because you can give many of these great gifts for other special occasions.
Some of the links below are affiliate links. This means that, at zero cost to you, we will earn an affiliate commission if you click the link and make a purchase. We appreciate your support!
I exchange gifts with a few special mom friends every year. Some are people I've been friends with for years and years, and now we both happen to be moms. Others are family members (like my sisters and my own mother).
I'll be honest that my love language is not gift giving, but man, I love the feeling of finding the perfect gift for someone I love. It feels like the best gifts sometimes pop up at times of year other than the holiday season or Mother's Day. And it's so fun to surprise someone with the perfect present for no reason at all.
Moms work hard, and they often don't get a ton of appreciation. Funny how kids think that food just magically appears in the pantry and clothes mystically clean themselves and that moms are waiting by the phone for the next call for a ride to/from wherever because they don't have other things to do.
New Moms
It can be special to recognize a mommy friend during her first holiday season as a mom. Etsy has wonderful options for personalized ornaments.
Personalized Ornament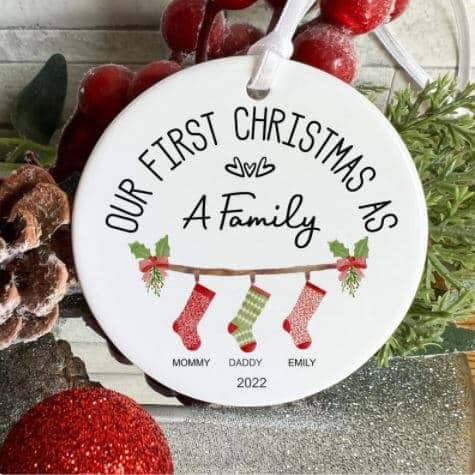 Mama Bear Hoodie

Cute Diaper Bag Alternative
New moms likely already have a diaper bag, but there are lots of cute totes and bags out there that give new moms other options and can double as diaper bags.
Personalized Tumbler
Personalized coffee tumblers or water bottles also make good gift ideas for sleep-deprived moms trying to take care of themselves and a newborn.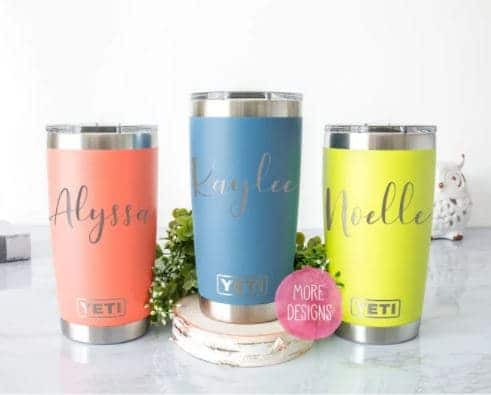 Mama Bear Tervis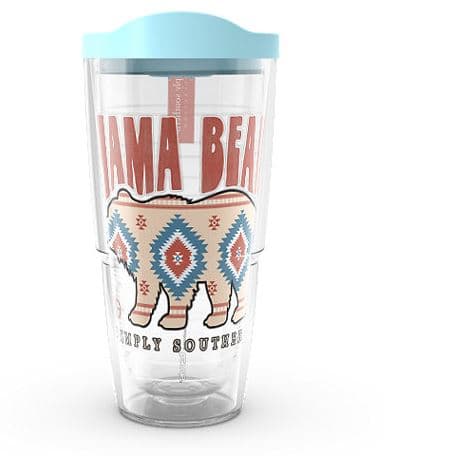 Mom Stickers
Perfect for water bottles, laptops or other gear.
Best Friends
Finding the best Christmas gift for a mom you consider one of your best friends can feel daunting. But the key is being personalized and thoughtful. Whether you've known the friend a long time, or are just really close in your current season of life, start by thinking about their current lifestyle and the things you know they love. We have more personalized gift ideas, but here are a few great ones to consider.
Favorite College, Team, Show Shirts
We love our local brand Homage because the T-shirts are made of the best fabric and fit perfectly. They sell gear for many schools and professional sports teams as well as shirts with lots of fun pop culture references. Use our link to get $20 off your first Homage purchase.
Photo Wine Label
This Etsy retailer lets you upload your own photo for the wine label and overlay text if you choose. You see a final proof and then the Etsy shop owner drops the label in the mail for you to add to your own bottle of wine.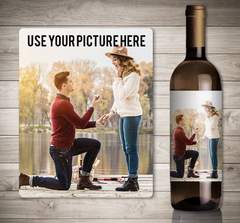 Customized Cuffs
Local (to us) jeweler Red Giraffe specializes in customized jewelry we just love. They sell on Etsy and in 50+ retail locations nationwide. Get names, coordinates, a quote, bible verse or inside joke you know your bestie will love.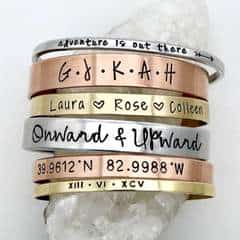 Books
If they love a good book, check out new options in genres you know they enjoy, or gift them a subscription to Audible so they can listen while they walk or drive.
Gifts by Top Brands
If there are specific stores or brands they enjoy, hop online or stop in and see what strikes you. Also consider brands that your friend may not normally buy from that would make for a fun "splurge."
A close friend gifted me this adorable Lululemon belt bag. It's my first Lululemon product, but I absolutely love it and I probably wouldn't have bought it for myself.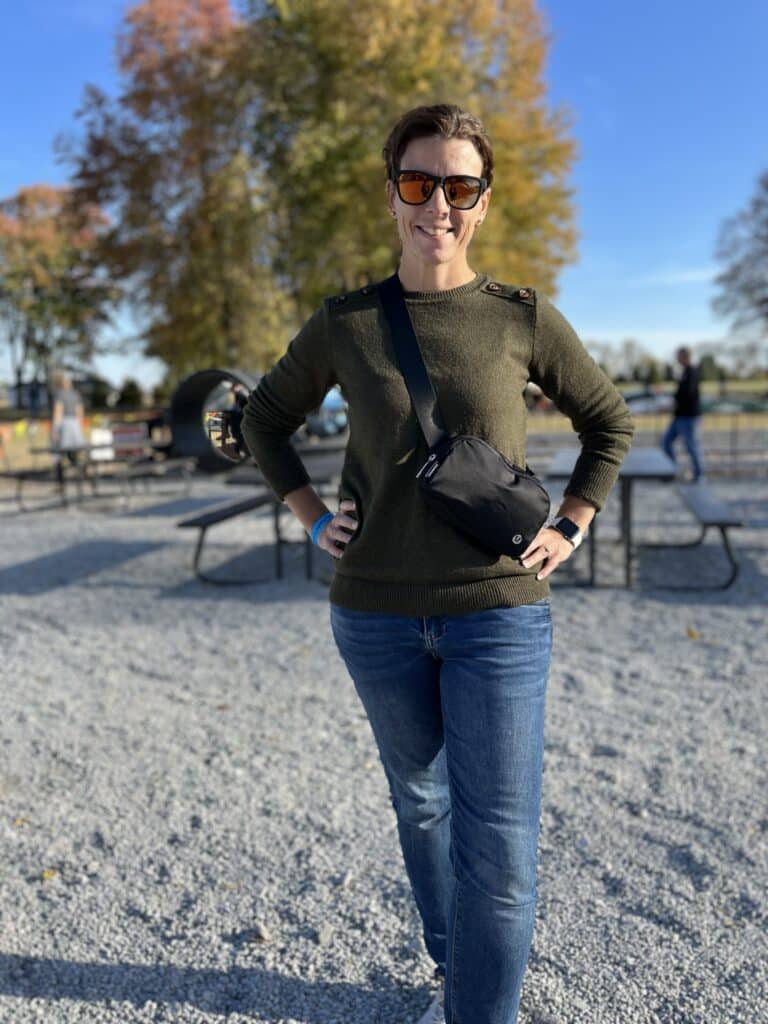 Lululemon Bag

Ugg Slippers

Madewell Cuffed Beanie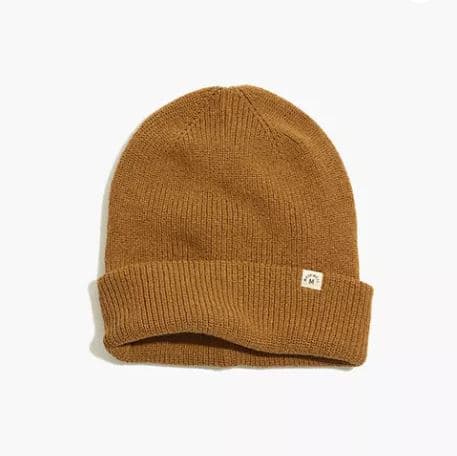 Kate Spade Wallet
Birkenstock Sandals
Hunter Boots

Experience Gifts
Experience gifts always top our list when time and money allow. Could you book an overnight in a hotel room to give you time to finally catch up? Maybe buy tickets to a show you'd both love. Scan our list of the 42 best experience gifts to brainstorm what might work.
Busy Moms
There's a good chance if you're buying a gift for a mom friend, you're buying for a busy mom. This means that they'll love you for:
Gifts that make their lives easier
Gifts that give them excuse for a little breather
Gifts they can immediately put to good use
Mugs That Mean Something
Useful and helpful do not have to equal boring or thoughtless. A coffee mug that makes you think of them with a Starbucks gift card? Yes, please (I'm speaking as a busy mom here). Look at these Ted Lasso and Schitt's Creek mugs from Etsy…I mean, come on!!
Stanley Tumbler
When two friends showed up at a recent girls weekend with these amazing Stanley tumblers, I knew it was a thing. Then I saw how fast they sell out and my suspicions were confirmed. They're amazing and come in multiple colors.
Tote That's Totally "Her"
Find a tote with just the right quote or in just the right color or with just the right features. She will feel the love as she carts it to the soccer field or to her office. This classy leather tote on Etsy comes in several colors and would get 5 stars from me for sure.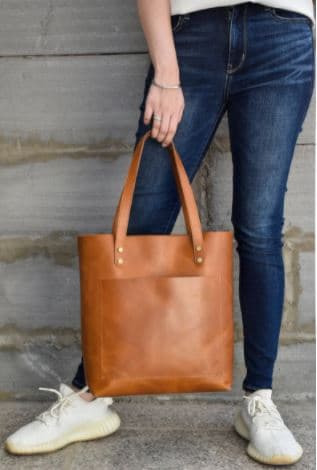 Air Fryer or Ninja Blender
Give the gift of time with an air fryer that makes cooking healthy dinners quicker and easier. Or a Ninja blender for quick breakfast smoothies on the run. 
We have a whole list of fun, useful and even personalized kitchen gear and gadgets if you want more kitchen-related gift ideas.
Relaxation Gifts
Or help her relax, even for a minute, with a luxe candle, a massage gift card or just a good book. For a mom who wants to read on the go, it's possible to gift an Audible subscription to see if this is a way she can actually still read Brene Brown or Colleen Hoover's newest books. (We wrote a guide to Audible with the basics on how it works and answers to other questions we had before we started using it.
Unique Gifts
We're suckers for a unique gift, especially if it's a special gift because it comes from a small or local business or because it's personalized in some way.
Warning: buying unique gifts often requires that you order in advance, spend a little more time or spend a little more money.
Giving gifts to friends isn't meant to feel like a burden, so don't make your goal for every occasion to be an amazingly unique gift.
Perfect Graphic Tee
The perfect graphic tee can be an amazing gift for a mom friend. My friend gave me a shirt that said "I did not wake up to be average." It warmed my heart to know she gets me.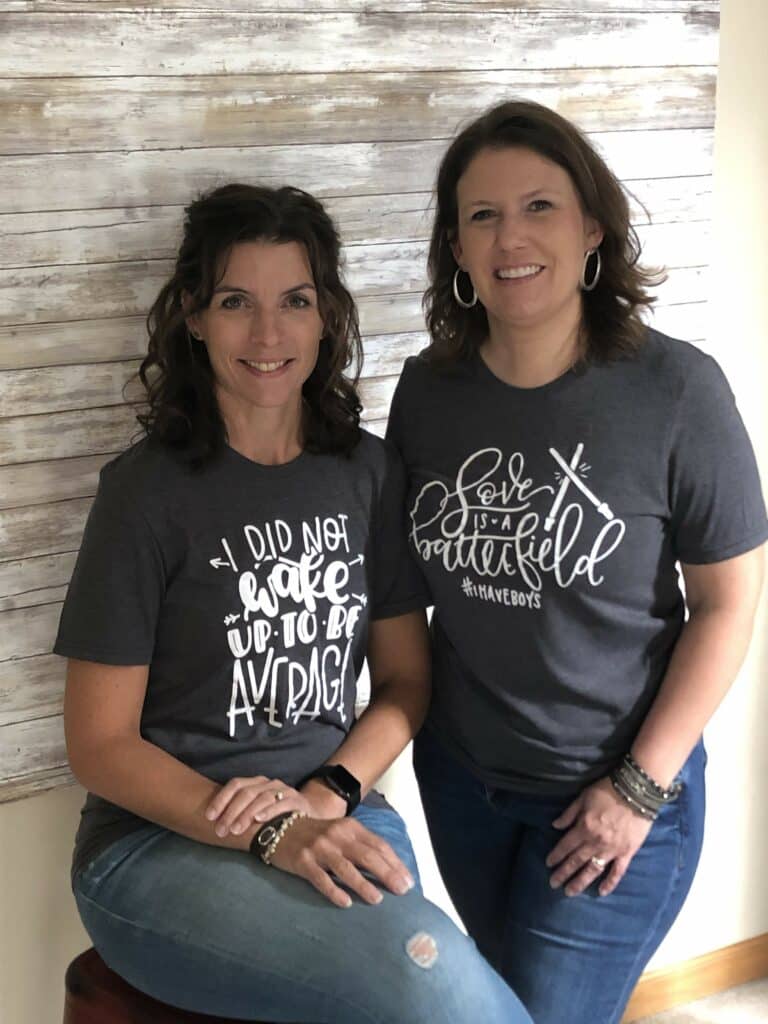 We gathered our Top 10 Funniest Graphic Tees for Moms to get you started.
Gift Baskets
Gift baskets full of multiple little things your friend loves can be a wonderfully unique gift. Put items in a tote with a quote or a new mixing bowl or a decorative basket.
Shop local boutiques because they often have everything from cute mom gifts to hilarious mom gifts. My mom loves things for the kitchen, and a boutique in my area had a beautiful wooden spoon etched with word "Blessed" that she loved as part of her gift. My coworker gave me a beautiful dish towel that says "Throw Kindness Around Like Confetti" along with some cocktail napkins that said "We do not gossip, we distribute vital information." So hilariously perfect considering our years of hallway conversations.
Gifts That Give Back
We also love to promote gifts that give back. If you're giving to a mom friend who would love knowing her gift did good in the world, check out these gift ideas for moms (all under $50) from give-back companies.
Last-Minute Gifts
It's no easy task to stay on top of everything on our list, and sometimes we need a gift for a special mom friend way too late. We want a thoughtful gift without a crazy high price point. That's not too much to ask.
Think about what's easily doable and then consider how you can personalize with a sweet message. With a few clicks, you can text or email a Starbucks gift card for a hot cup of coffee complete with an inspiring message about what the friendship means to you. What a great way to show a friend you're thinking of them, even if you're doing things a bit last minute!
I also have a big stash of these colored note cards with envelopes at home and white gel pens that I try to hide from my children.
Personal Note & Gift Card
I can write a heart-felt note at any time without stopping to buy an expensive card and trying to find one that says just the right thing. I can pair a note with a bag of my friend's favorite snack or candy or even a gift card to a favorite restaurant or store. With even a day's notice, you can add a couple fun treats you know your friend loves or a gift card to your online grocery order and drop them off with your note.
Amazon is also amazing for last-minute gifts. Here are a few of our favorites from all different price points.
Goodr Sunglasses
I freaking love these. They're lightweight and don't slide around on your face, so they're even great for running. They also come in tons of colors.
Hats
Bombas Socks

OPI & Essie Nail Polish
Slippers
Insulated Wine Tumbler

Seasonal K Cups