21 Top Holiday Tees & Totes for Teachers in 2023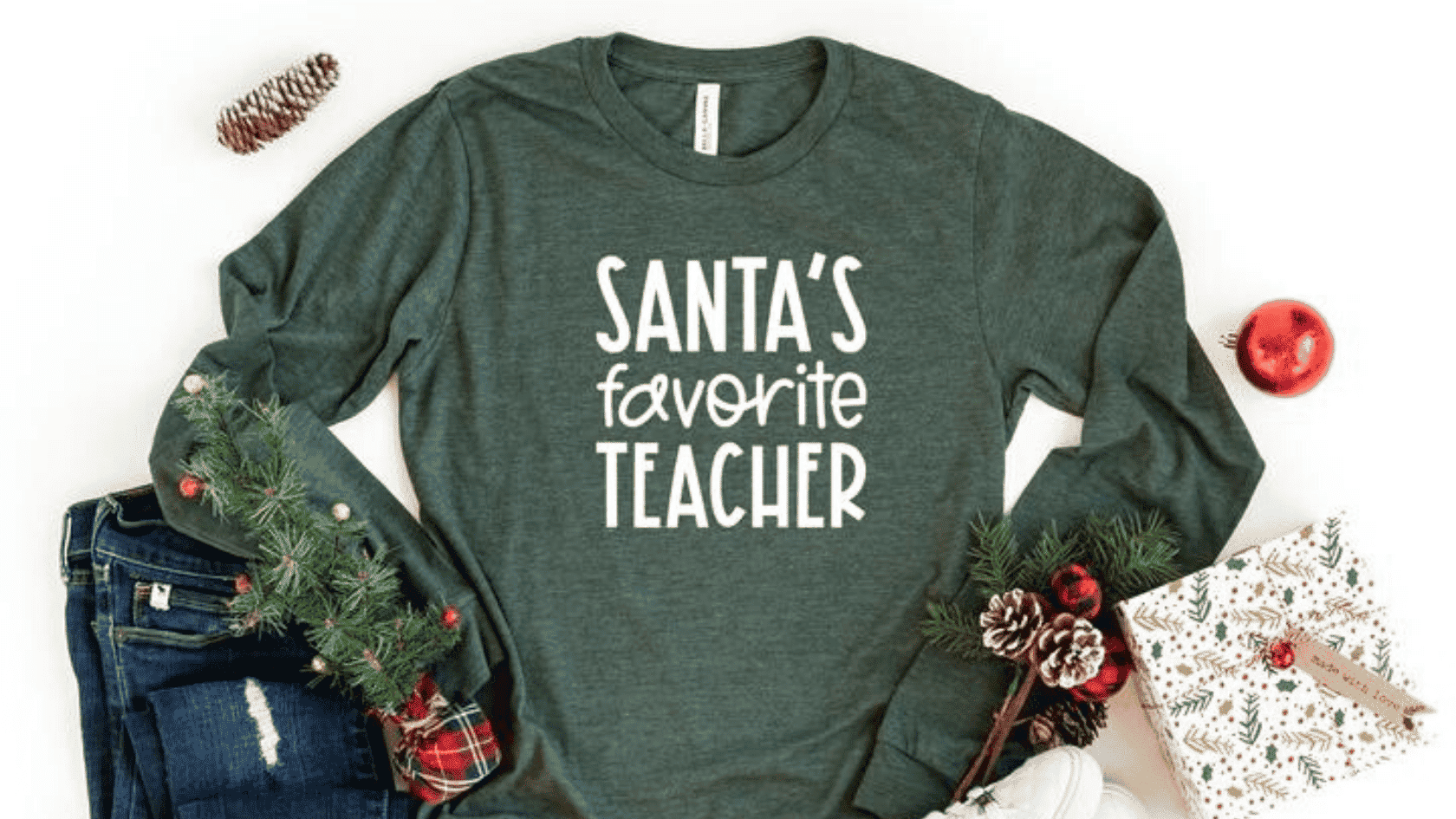 Every teacher needs a cute holiday tee to make it through the last few weeks before break! We gathered our favorite holiday graphic tees for teachers. You're sure to find a favorite in these Christmas, holiday, snow day and winter break t-shirts!
SALT effect is reader-supported. This post contains some affiliate links – we earn a small commission if you purchase through our links, and we appreciate your support.
You can find a teacher holiday shirt for every taste and preference, so it wasn't easy narrowing down our list! But our favorite thing about these graphic tees is that they support small businesses.
So not only is a teacher shirt a great gift idea, it's an easy way to shop small for the Christmas holidays.
Many of the shirts are available as a short sleeve tee, a long sleeve tee, a sweatshirt or even a tank top in all kinds of colors. When you click on a link, you'll find more details about the shirt along with a sizing chart (most are unisex sizing), production time and shipping time (usually 3-5 business days). Free shipping is offered for many of them!
Grade Level Teacher Christmas Tees
Whether you're buying for a team of teachers or one teacher, you'll find really cute tshirt options here!
Personalized Christmas T-Shirts
You can't go wrong with a custom Christmas shirt.
Teacher Teams and Building Staff Shirts
Short Sleeve Christmas Shirts for Teachers
Teaching is incredibly rewarding…but it's a lot of hard work. Especially as the holiday season approaches. The dose of reality on these shirts will make you laugh, even if you're barely surviving.
Short Sleeve, Long Sleeve & Sweatshirt Options for Teachers
If you're in a cold-weather state, you'll be glad for some options with long sleeves!
Snow Day & Christmas Break Tees
For many teachers, humor is the best way to get through those last few weeks before break. And there's nothing quite like a great teacher life design to unite educators from elementary to high school teachers and even college professors.
I teach college students now and believe me…a snow day tshirt has universal appeal.
Order yourself one of these funny teacher Christmas shirts and wear it with pride! Or give one as an early Christmas gift to a favorite teacher so they have time to wear it!
Bonus: Holiday Tote Bags for Teachers
Sometimes the best gift is a really practical one, and tote bags are always useful. And they don't require size charts! If you have other special gifts for your teacher, save time and use the tote instead of wrapping paper.
READ MORE >>> 9 Simple Ideas for Teacher Appreciation Gifts