53 Fun Gifts for Dads Who Want Nothing (2023 Gift Guide)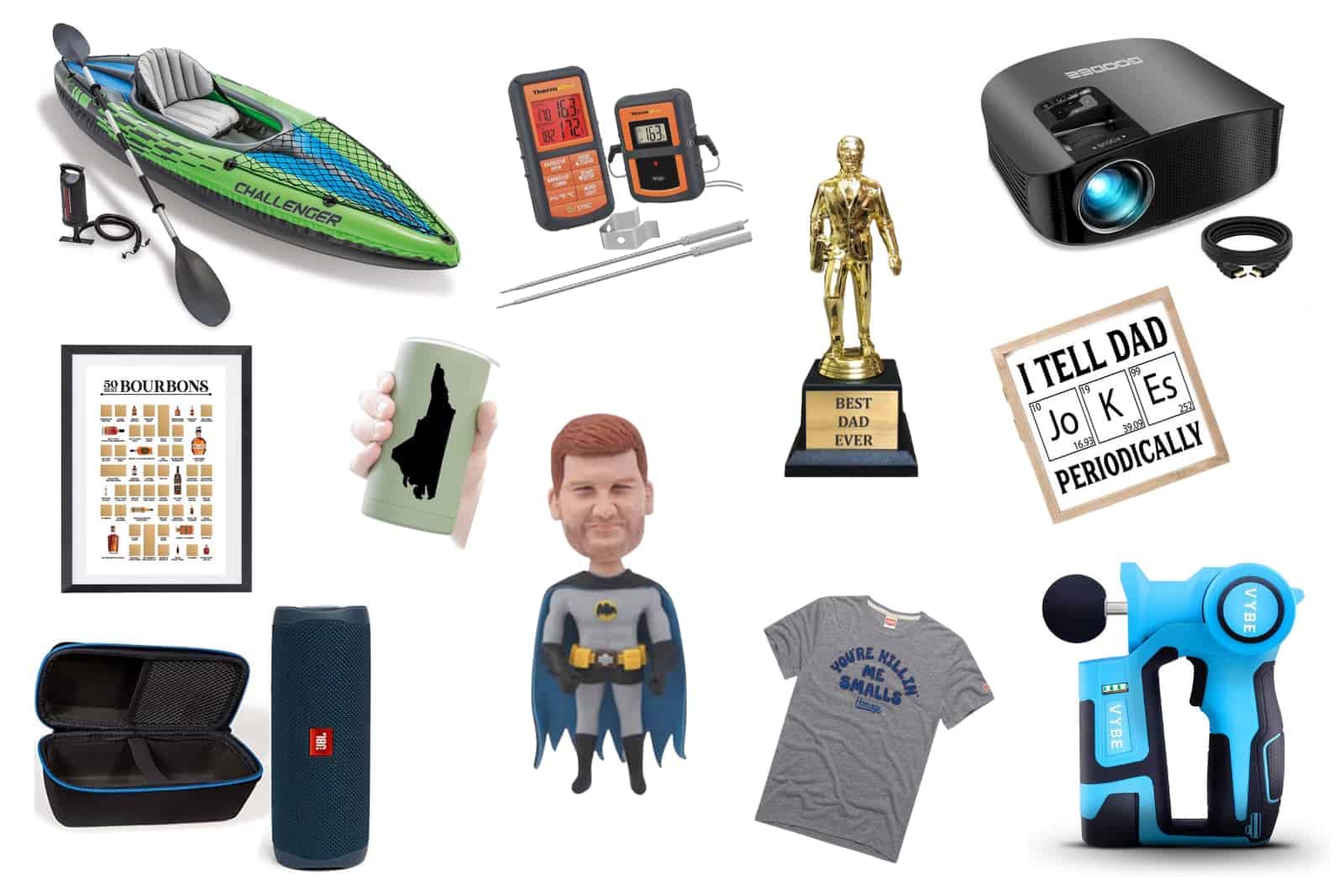 Shopping for dads can be stressful, especially if he says he doesn't want anything. If he loves the outdoors, tech, sports or travel, you'll find the perfect gift here. See more ideas to up his clothing game, funny gifts for his office or perfect additions to his home bar. These fun gifts for dads who want nothing will guarantee your spot as his favorite!
Updated 5/10/23
Some of the links below are affiliate links. This means that, at zero cost to you, we will earn an affiliate commission if you click the link and make a purchase. We appreciate your support!
Are you shopping for Father's Day, his birthday or Christmas? Look no further for inspiration. You'll find our most popular gift ideas here for those hard-to-shop-for dads!
If you're looking for more practical gift ideas, check out our 51 Practical Gifts for Dads (2023 Gift Guide for Men).
Fun Tech Gifts For Dads
These technology ideas are fun gifts for dads who either love tech or merely tolerate it. Shop our top picks for a projector and screen, smart home hub, a waterproof speaker, grill thermometer and smartphone printer.
Outdoor & Home Theater Projector
He can host game watch parties or set up outdoor movie nights for his family with this HD video projector. With nearly 6,000 reviews and a 4.5 star rating, this projector has a giant 230″ display, full HD 1080p resolution and dual stereo speakers. A big bonus with this model is you can adjust the direction for more options to position the projector. Don't forget a screen! We have the Elite Screens Yard Master 2 and love it! It's easy to set up and take down, and the whole thing fits into a bag that's small enough to carry.
Echo Show 10
If he's a tech nerd, the Echo Show 10 is an excellent idea for the dad who wants nothing! It has a 10" screen, improved stereo sound, a smart home hub and is Alexa enabled. The extras include video calling that's designed to move with you and the ability to watch tv, movies, sports and news. You can voice control your home as well as view calendars, to-do lists and step-by-step recipes. Make the home screen a digrital frame with your favorite photos and use the camera to look around when you're away. If you want more privacy, you can disconnect microphones and cover the camera.
Waterproof Bluetooth Speaker
Does he love hiking, camping or spending time on the water? Gift him high-quality bluetooth speakers. We've taken one on a tubing adventure and the sound is incredible! It's also great for parties at home or in the back yard. Our favorite things about this fun gift for dad who wants nothing: it's waterproof, has up to 12 hours of battery life, comes in 11 colors and includes a hard shell protective case. And it floats!
Remote Grill Thermometer
No list of dad gifts is complete without something for his grill. Mary's husband got this grill thermometer from her parents after her dad got it as a gift and loved it. You put the thermometer in the meat, put the meat in the grill or smoker, and then carry around your fancy remote thermometer and know the exact temperature of your meat and grill without opening anything and messing with the perfect grill job. Bring on the ribs, grill master!
This thermometer also makes our list of favorite kitchen gadgets and gear. Check it out if you're looking to add a little something else fun to your gift.
Portable Smartphone Printer
He probably has lots of great photos on his smartphone that will never see the light of day unless you help him out. We bought this HP Sprocket Studio Photo Printer for my in-laws and were impressed by the quality and how easy it is to use. It's an Amazon best seller with over 5,000 reviews! He can connect directly to his phone or with Bluetooth via the app. We chose this printer because it prints 4×6 pictures that can immediately be framed. He can easily edit and print photos, create collages and add frames. Especially perfect for new dads!
Gifts for Dads Who Love the Outdoors
Our list of fun gifts for dads would be incomplete without outdoor gift ideas. We use and love these recommendations for a hammock, inflatable kayaks, tents and a tent-camping alternative.
Hammock
All the guys in my family have a hammock! We love being outside and these are easy to set up and take down. We usually have ours in our backyard, but he can take it camping or hiking. This hammock is big enough for two people and gets near perfect reviews. This is the brand we bought my husband because ENO specializes in hammocks. Choose from 38 colors! And don't forget to get the hammock straps.
Inflatable Kayak
We have some Facebook groups to help moms with gifts for tween and teen boys and girls. This was by far the most popular gift in those groups over the holidays—a lot were bought for husbands and dads! We have the tandem kayak and the best part about inflatable kayaks is they're a lot easier to store. Here's a tandem kayak if you'd rather have two seats.
Coleman Tent
If he loves tent camping with family or friends, this Coleman WeatherMaster 6-Person Tent with Screen Room is a top choice. You can fit 2 queen size airbeds and even tall people can stand up inside because the center height is 6'8". Stay dry in the main part of the tent and enjoy lounging in the screen room. If you want a large tent but a smaller price point, check out the Coleman Montana 8-Person Tent. It doesn't have a screen room and the center height is a foot lower.
Outdoorsy Gift Card
Does he like camping but isn't crazy about tent camping? Or the work it requires to get everything packed and unpacked? Or not ready to spring for a pop-up trailer or RV? Outdoorsy is the solution! Mary's family rented from Outdoorsy and all they had to do was show up. Everything in the camper was ready and waiting for them—the perks of camping without the hassle! You get $50 off with our link.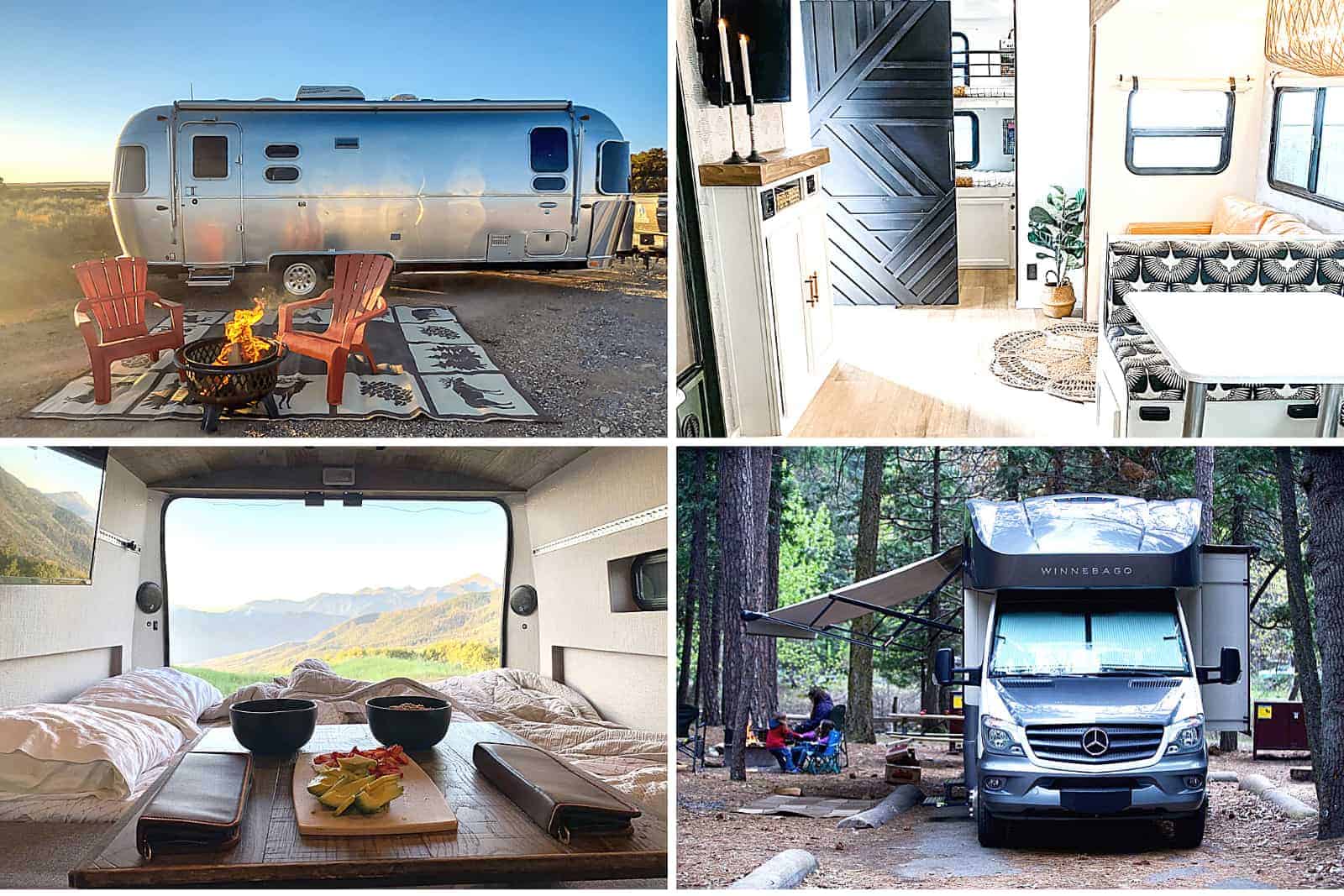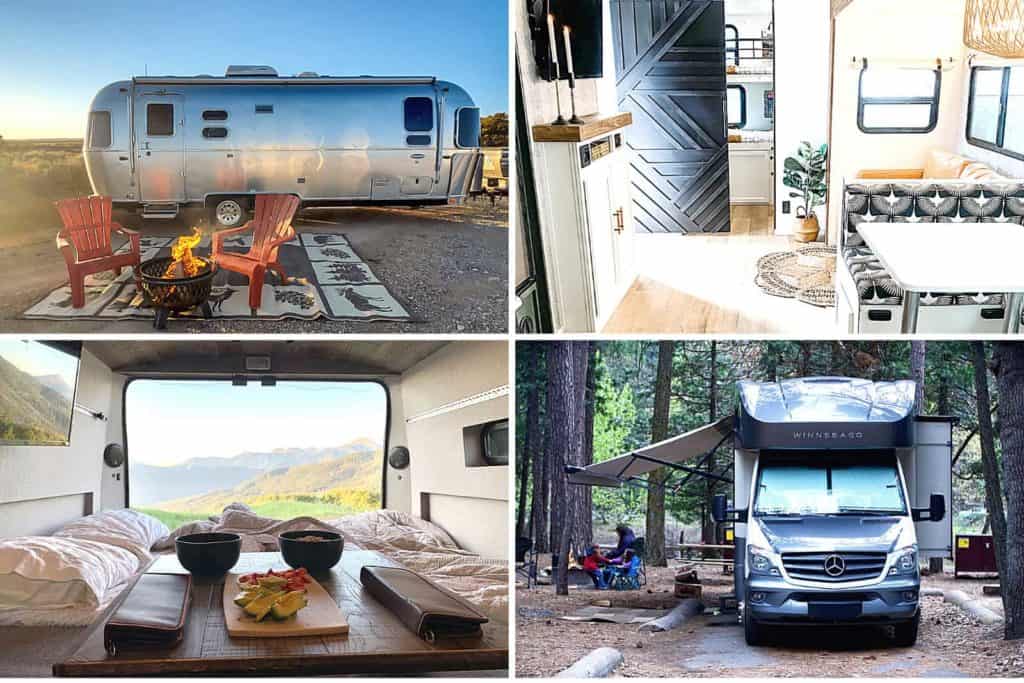 Gifts for Sports-Loving Dads
Sports gifts will always be fun gifts for dads! Shop our favorite frisbees, massage gun, college gear, and personalized golf ball markers.
Aerobie frisbee
So much better than a regular frisbee! It's durable and flies high and for long distances. They're pretty easy for younger kids to catch and great for dogs to chase. If he likes being outside, this frisbee will give him something fun to do. My family and Mary's family have these and love them!
Massage gun
I bought this VYBE massage gun for my husband and it's worth every penny! He broke vertebrae in his back and deals with chronic pain. It's made a huge difference on road trips and after workouts and days of yard work, especially since trips to the chiropractor and massage therapist have been limited during the pandemic. It's easy to use, has a 90-degree adjustable handle, 6 speeds and 3 attachments for different muscle groups. If you want a quieter model for your fitness lover, check out the VYBE Premium Massage Gun.
College Gear
Give him the official sideline gear for his favorite school! Collections from Fanatics include jackets, jerseys, hoodies, t-shirts, hats and more. Or help him deck out his car with a Fanatics Gift Box! He'll get a license plate frame, key ring, decals, magnet and a keystrap.
Personalized Golf Ball Marker
Golf balls are among the best gift ideas, but a custom ball marker is next level, especially if he's an avid golfer. Choose 4 different photos (or logos) for this set of magnetic ball markers from a small family-run business in California. Reviewers rave about this personalized gift and the owners–not surprising from a shop with over 50,000 sales and a 5-star rating on Etsy. Shipping is free!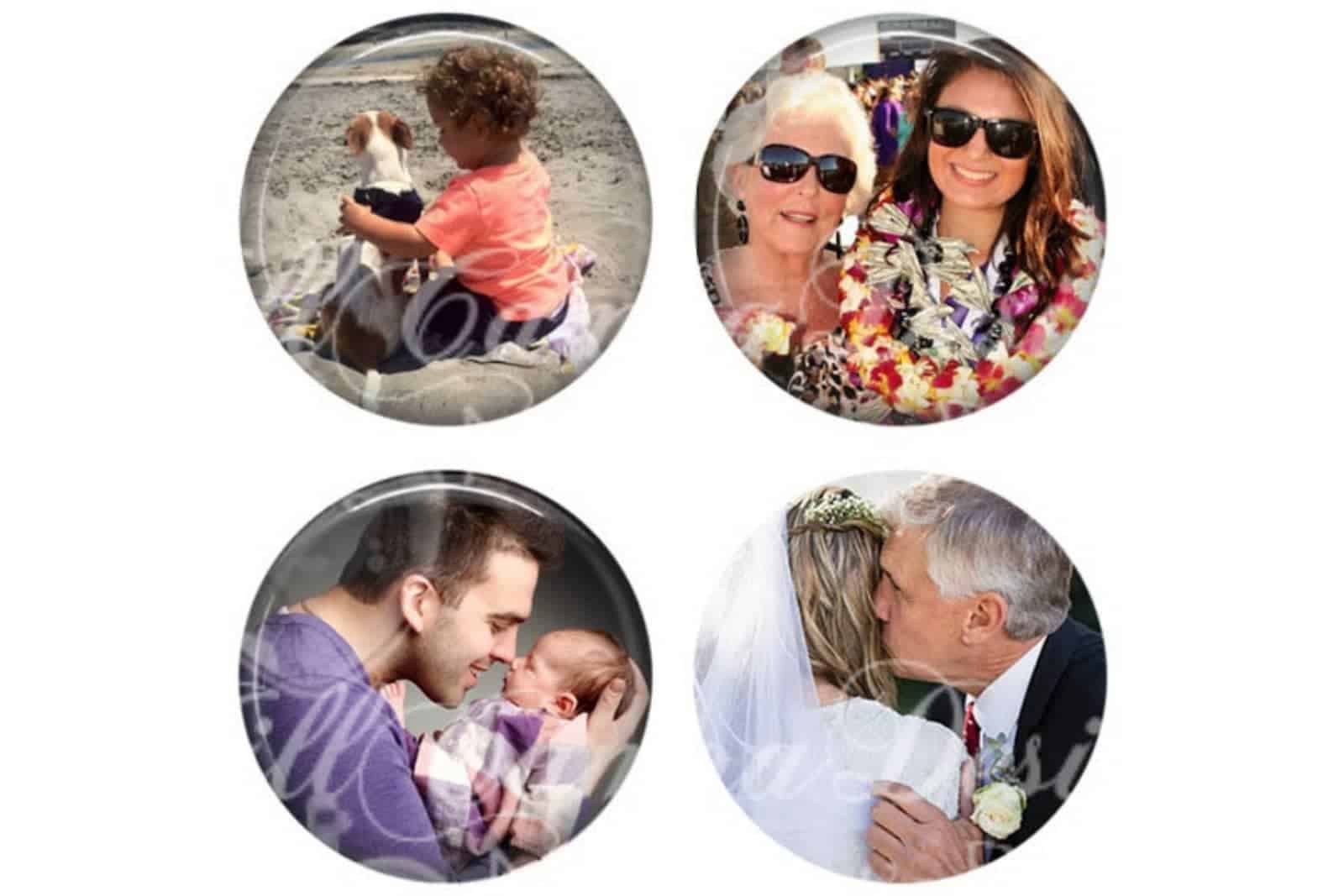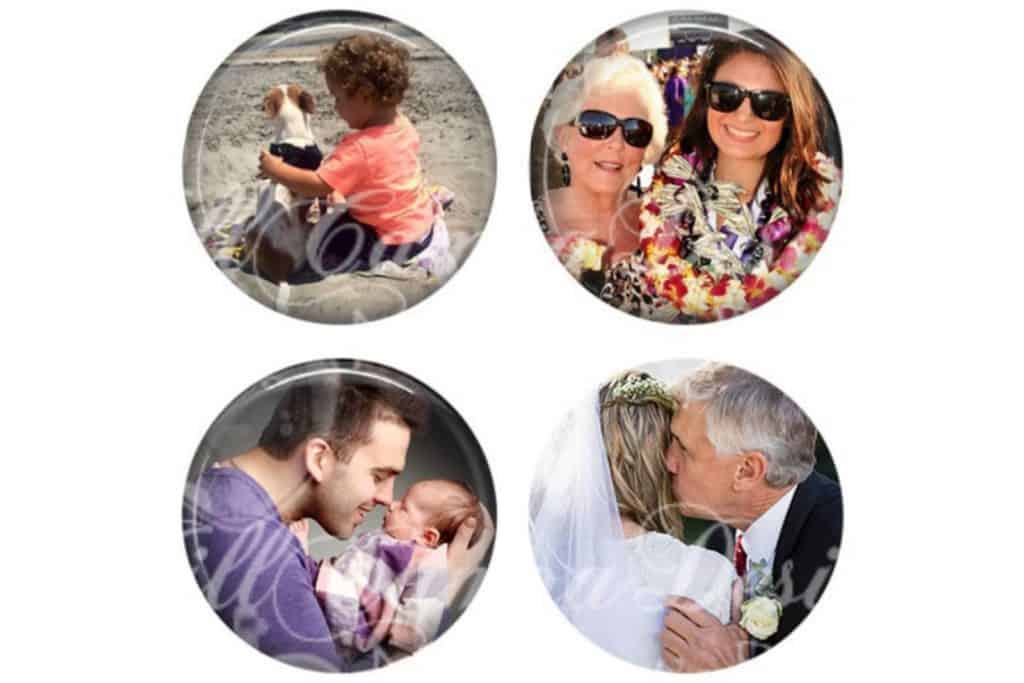 Bucket List Gifts For Dads
These bucket list ideas are fun gifts for dads who love to track their adventures. Shop our top picks for really cool scratch-off posters for national parks, movies, foods and board games, a passport holder and a journal.
Bucket List Fun
These scratch off posters are the best way to track lifetime goals that are both serious and fun! Keep track of every visit to a national park or how many of the 100 best movies he's seen. Get the 100 greatest foods of the world poster for the foodie dad and the board game hero challenge poster for the competitive dad.
Custom Leather Passport Holder
He may not think to ask for this, but it's a perfect present for a dad who travels. We love this custom leather passport holder that's handcrafted by Lifestyle Leather Goods, a small business in Arizona! It holds up to 6 cards, has an extra sleeve for cash or receipts and it can be personalized. Shipping is free!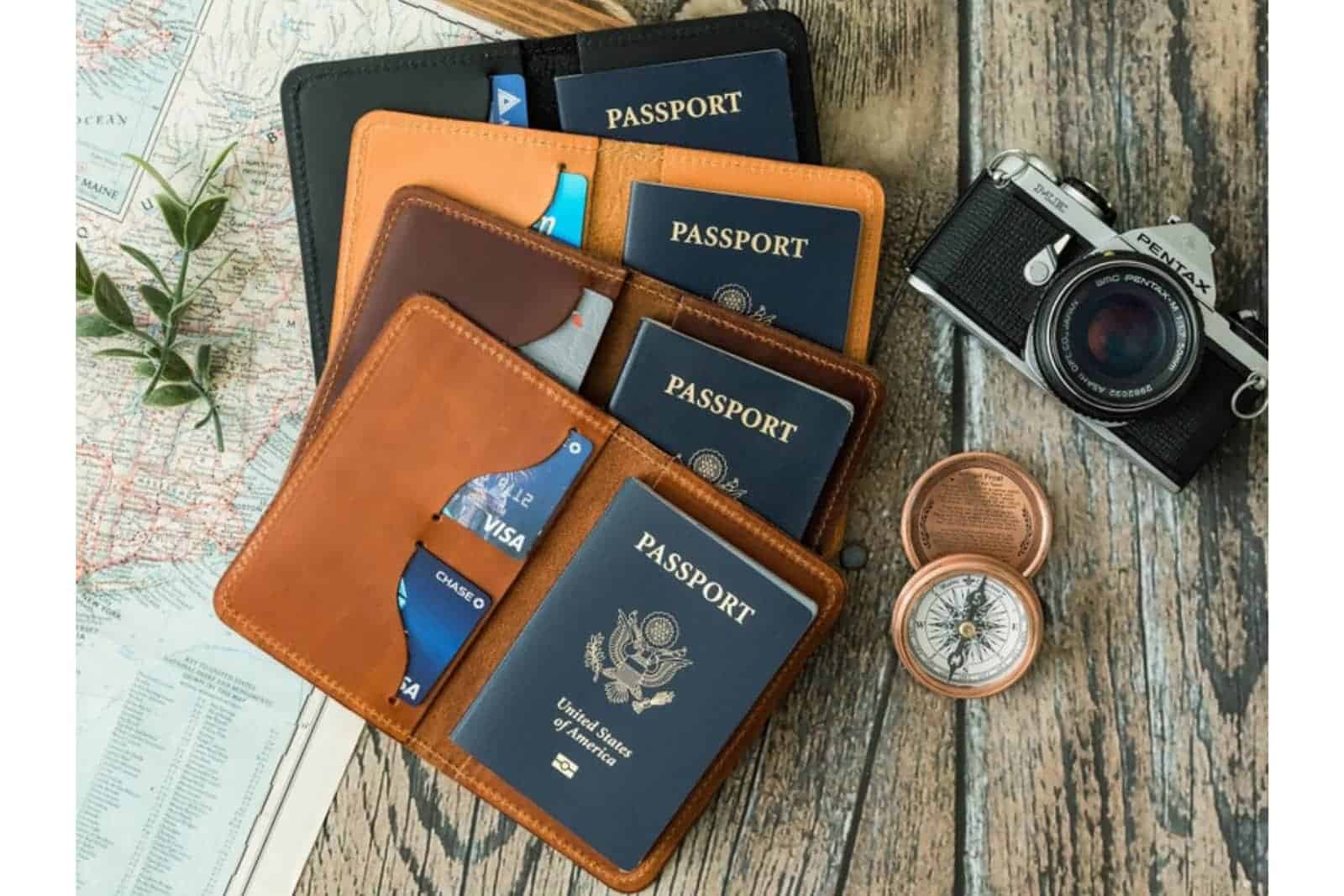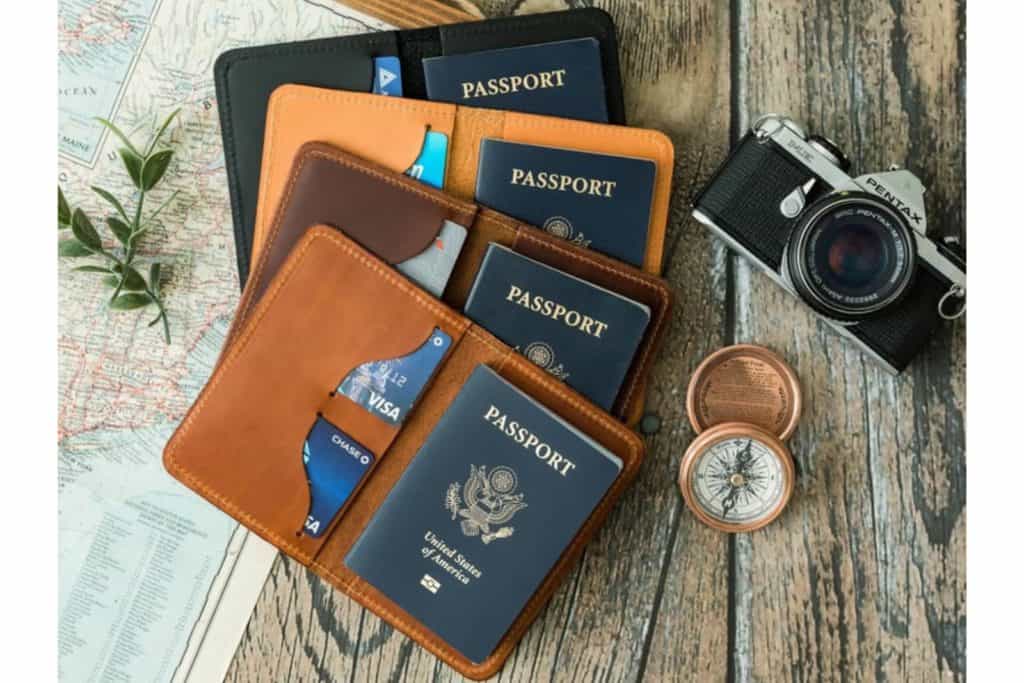 Woodchuck USA Bucket List Journal
We love the mission of this organization, which is to plant a tree for every gift purchased. My favorite part of this Bucket List Journal is that the inside is specifically formatted for a dad to list future adventures and then to break each idea down into the steps needed to make each adventure happen. It also has a space to paste in a picture of each completed adventure. If you're looking for a unique father's day gift from a give back brand, this journal is it.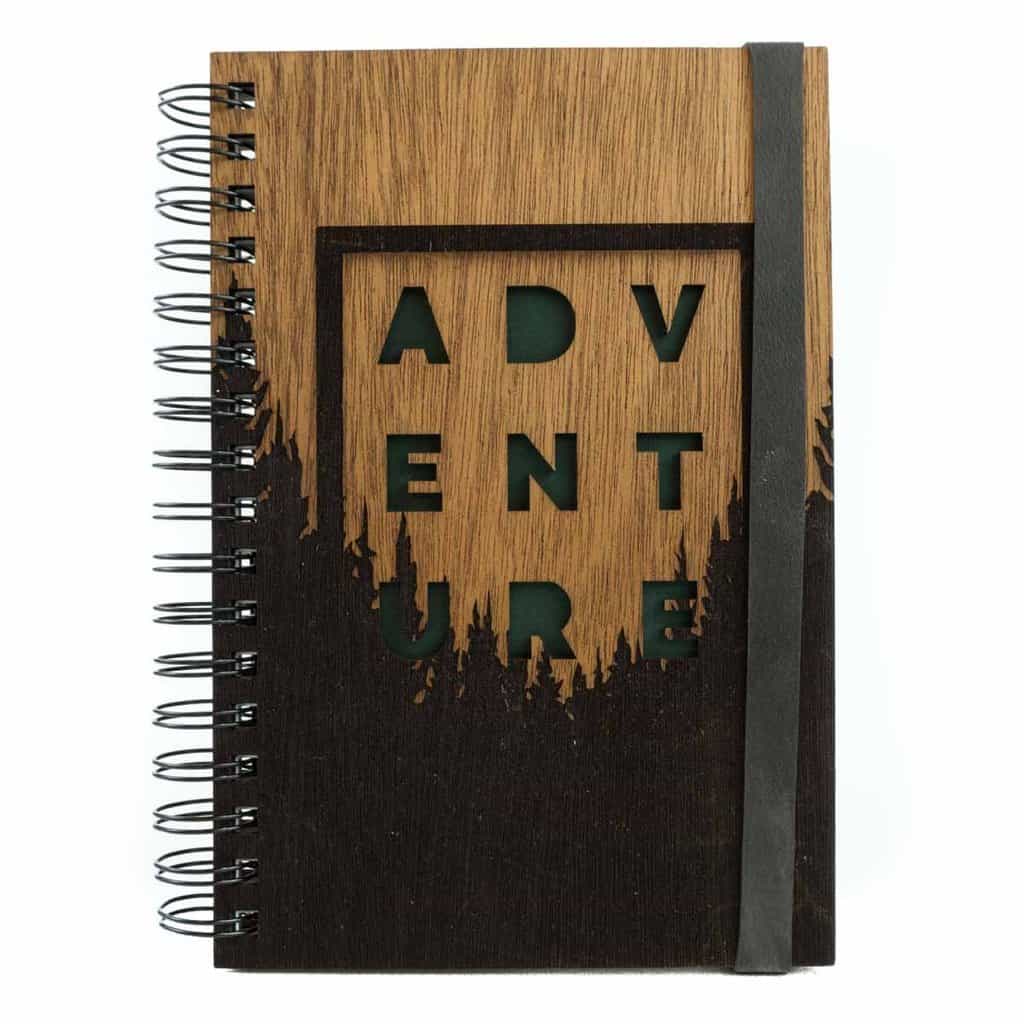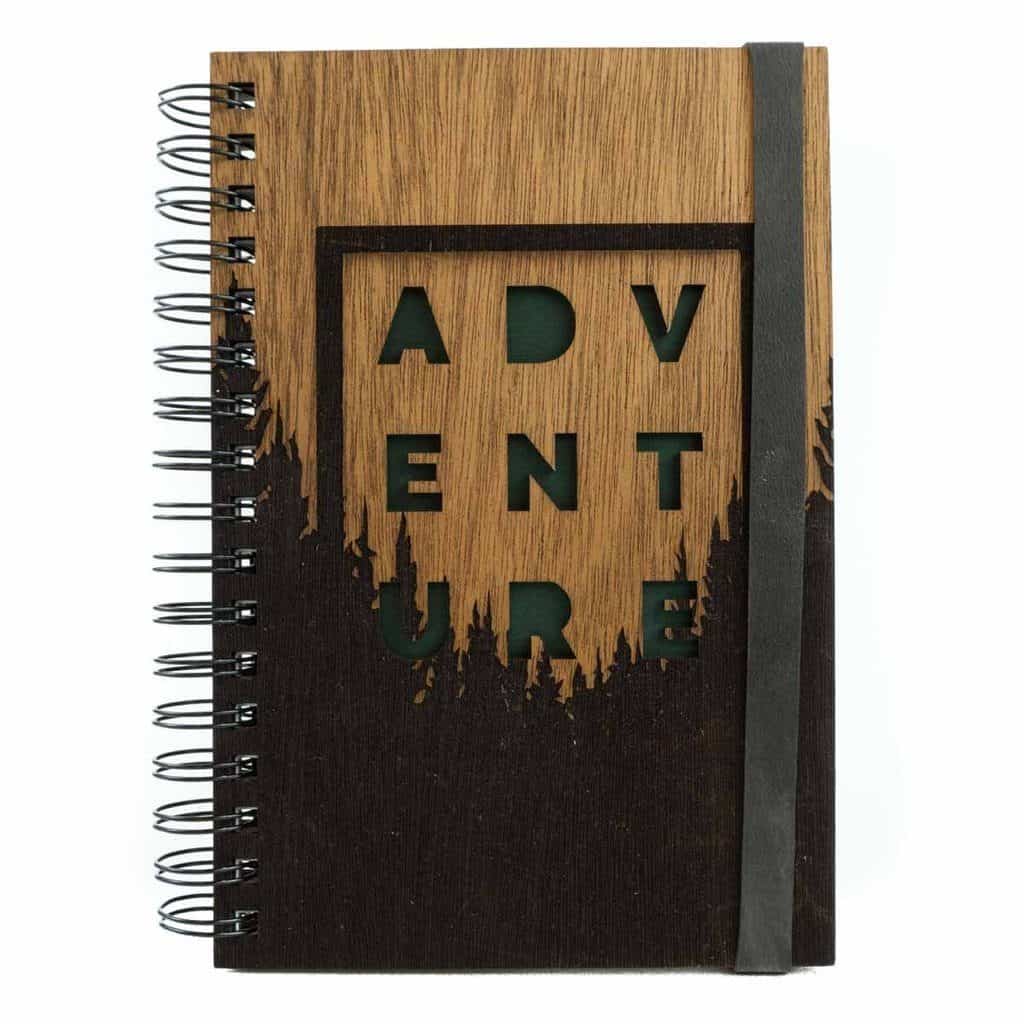 Clothes For Dads Who Want Nothing
These clothing ideas are fun gifts for dads who love a good pop culture reference or have a great sense of humor. If he's not a fan of shopping for clothes, we share our best-kept secret to help dads update their wardrobes.
Homage Gear
If you live in Columbus, this T-shirt company probably doesn't fall under the new ideas category for you. But Mary and I both turn to Homage for amazing gifts for our husbands and dads on a regular basis. The clothes are just so personal and comfortable. Mary got her husband a pair of sweatpants for Christmas that she considers stealing every time they come through the laundry. My husband and I practically lived in our Homage hoodies during quarantine.
The clothes also look really cool, and there are so many options! They offer designs for his favorite sports team–tons of collegiate and professional teams–and throw-back pop culture references.
NOTE: If you're a new to Homage, get $20 off with our referral link.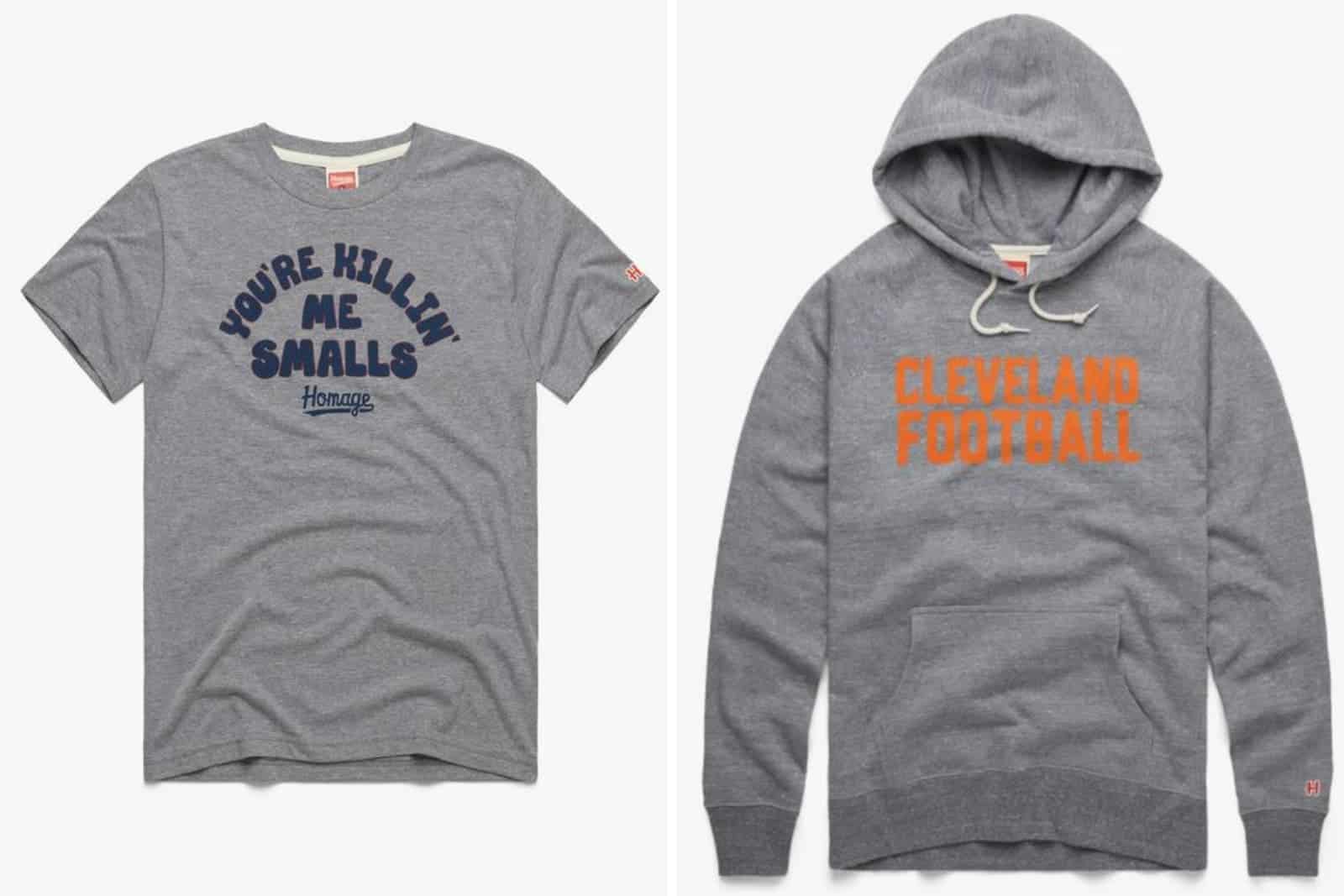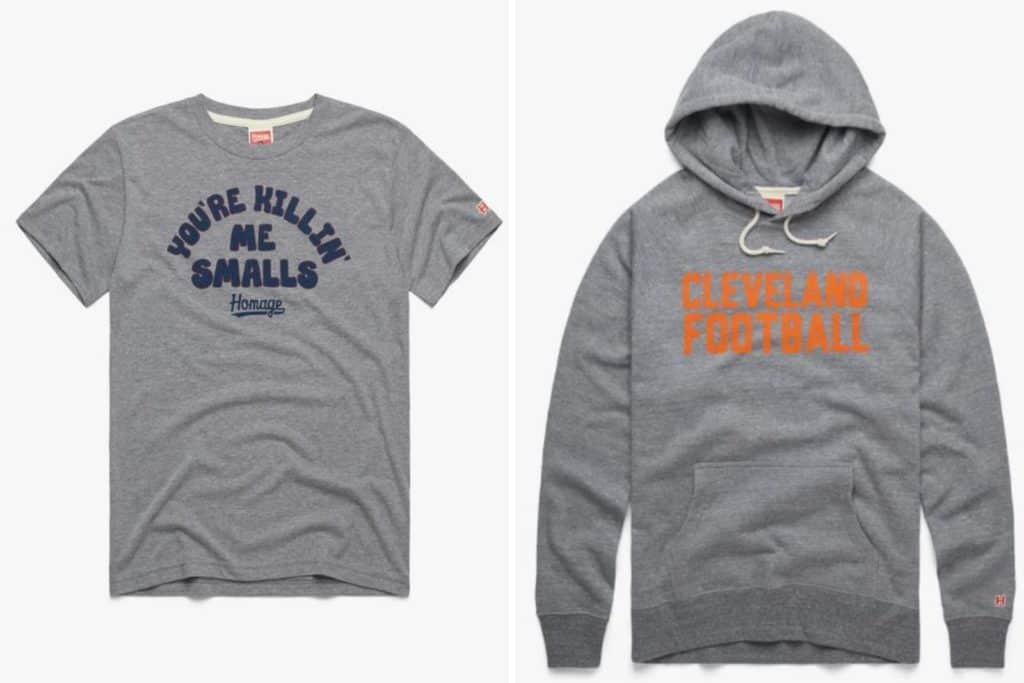 Socks
Fun socks are a great gift and a perfect stocking stuffer idea. We've purchased socks from Goodthreads and we love all the options, including food, sea life, holidays, sports and more.
Stitch Fix for Men Gift Card
A genius gift for a dad who wants nothing is Stitch Fix for men! It's even better if he's not a fan of shopping, if he's hard to fit or if his wardrobe could use an update. Really cool shoes often come in my husband's box and the sport jackets fit him better than what he finds in stores and they don't need to be tailored! Mary's husband kept an everyday winter jacket that gets compliments every time he wears it.

Fill out the brief style profile with his measurements and preferences and he'll get five items to try on. The gift card is applied to whatever he decides to keep. When you purchase a gift card, it's NOT a subscription service so you won't need to cancel anything. He can keep some or send them all back. If you're new to Stitch Fix, use our referral code for a $25 credit!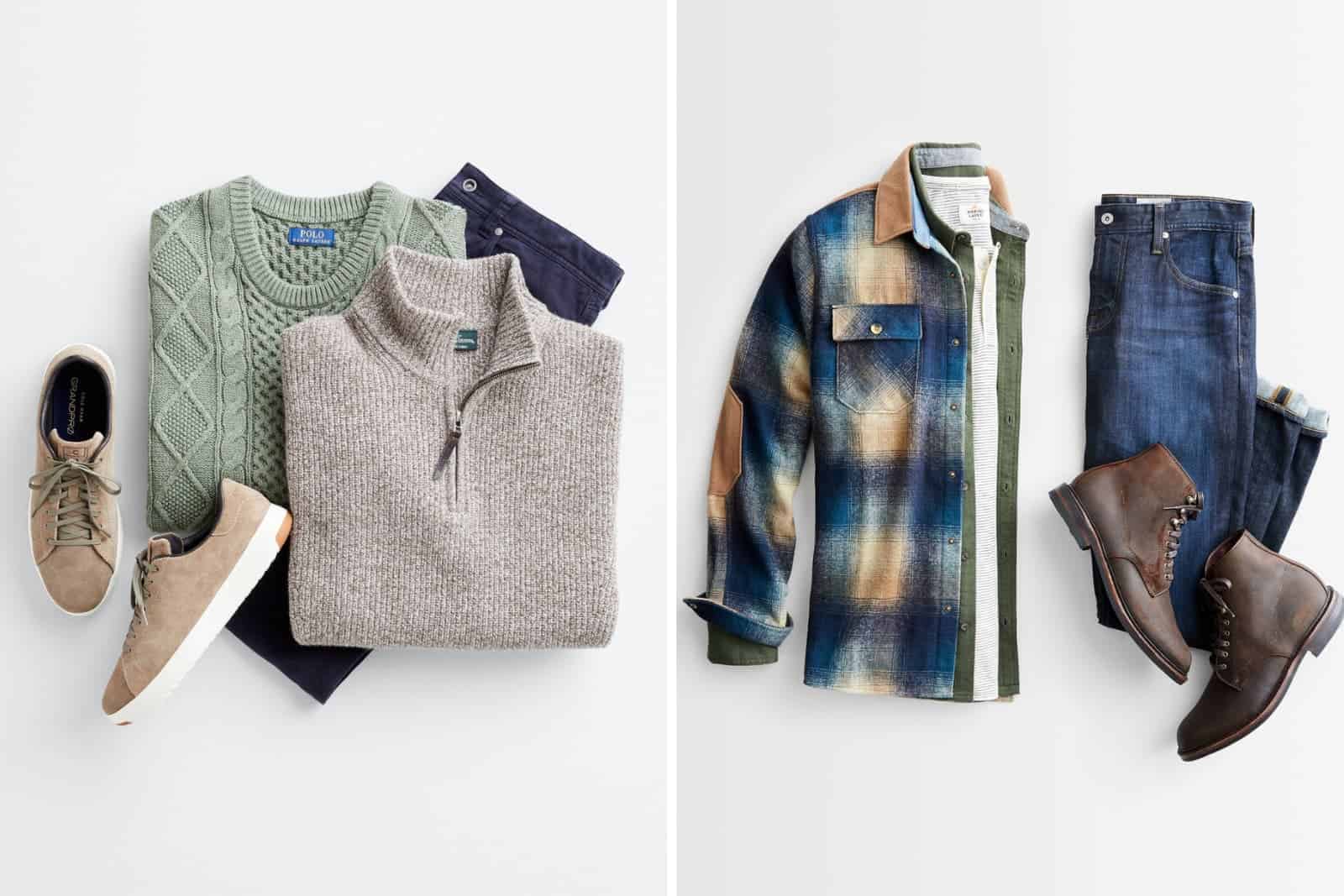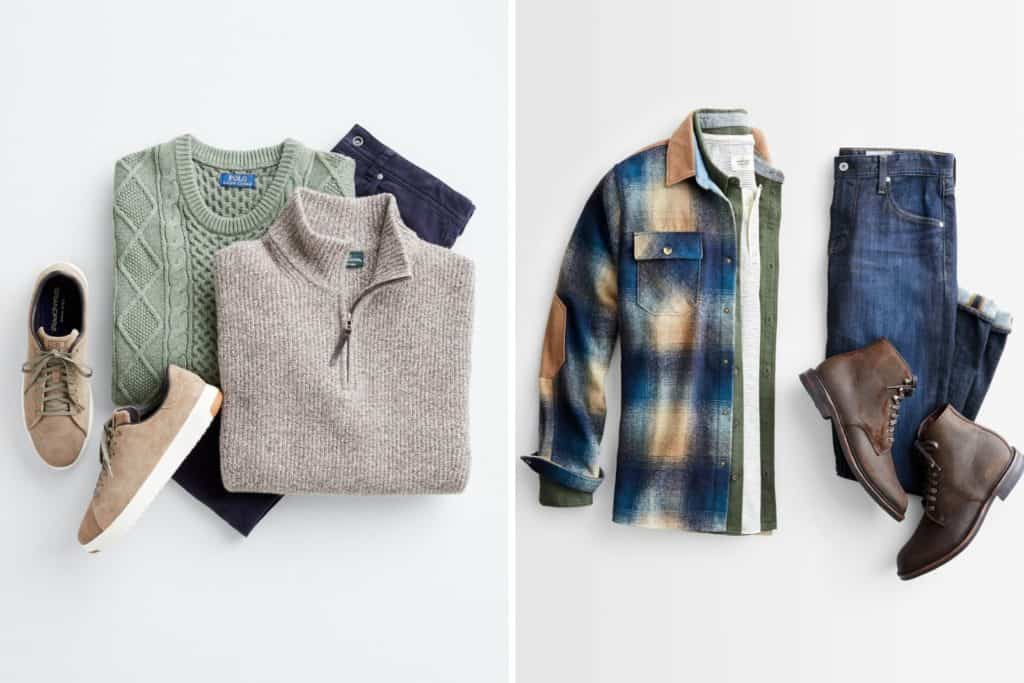 Home Bar Gifts For Dads
These home bar gifts are unique ideas that support small businesses. Check out our favorite kitchen items like rocks glasses, pint glasses, hopsulator, decanter sets, ice cube trays, scratch-off posters, and bourbon or gin.
Skyline etched glasses
If he doesn't need a decanter but could use some new rocks glasses, get him a set to remind him of something he loves. I saw the Columbus skyline rocks glass and knew it was the perfect gift for my husband! He loves them and we both love supporting a small business! If he loves a different city, Urban and Etched offers skylines on over 100 wine glasses, stemless wine glasses, pint glasses (like this Chicago skyline glass) and rocks glasses.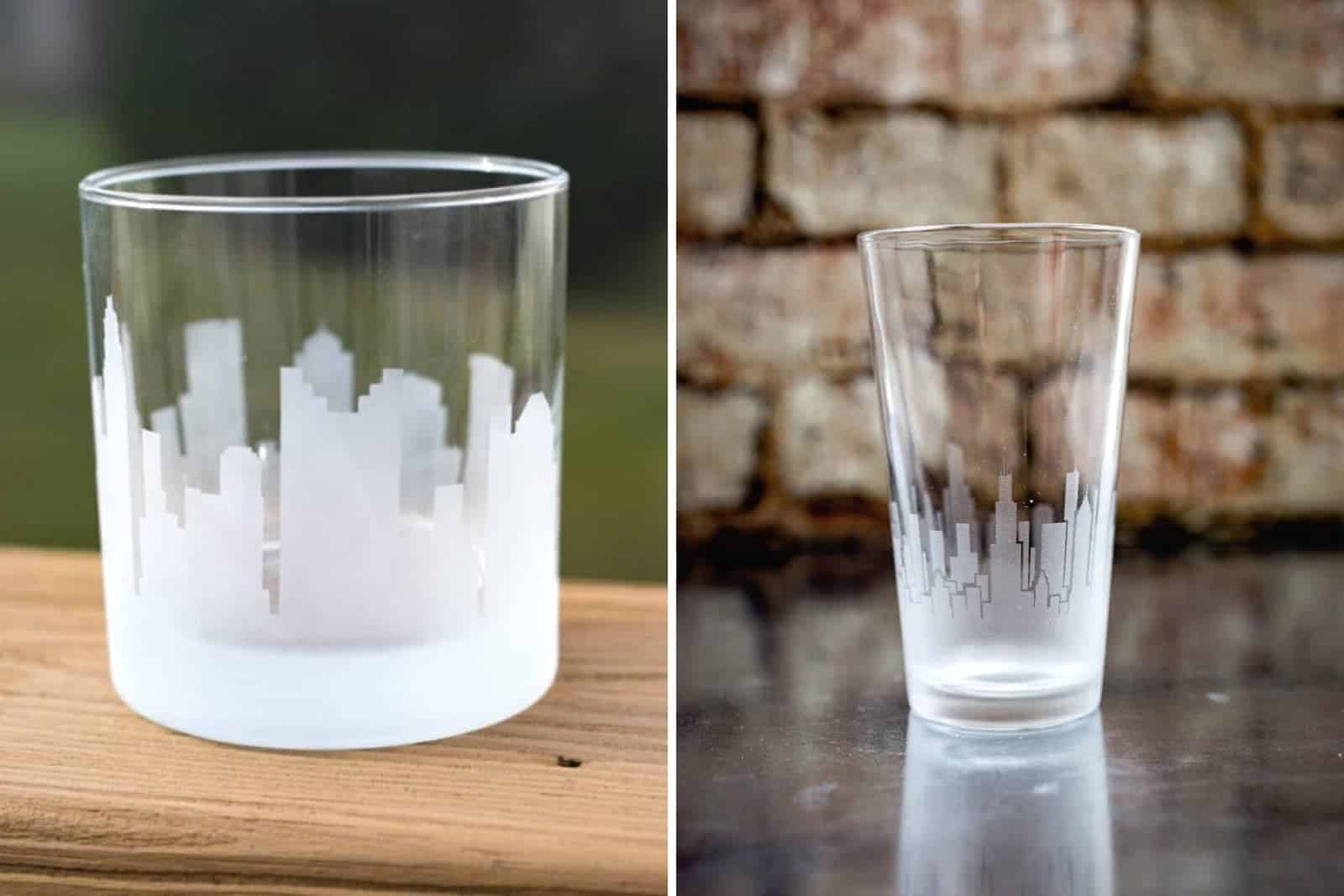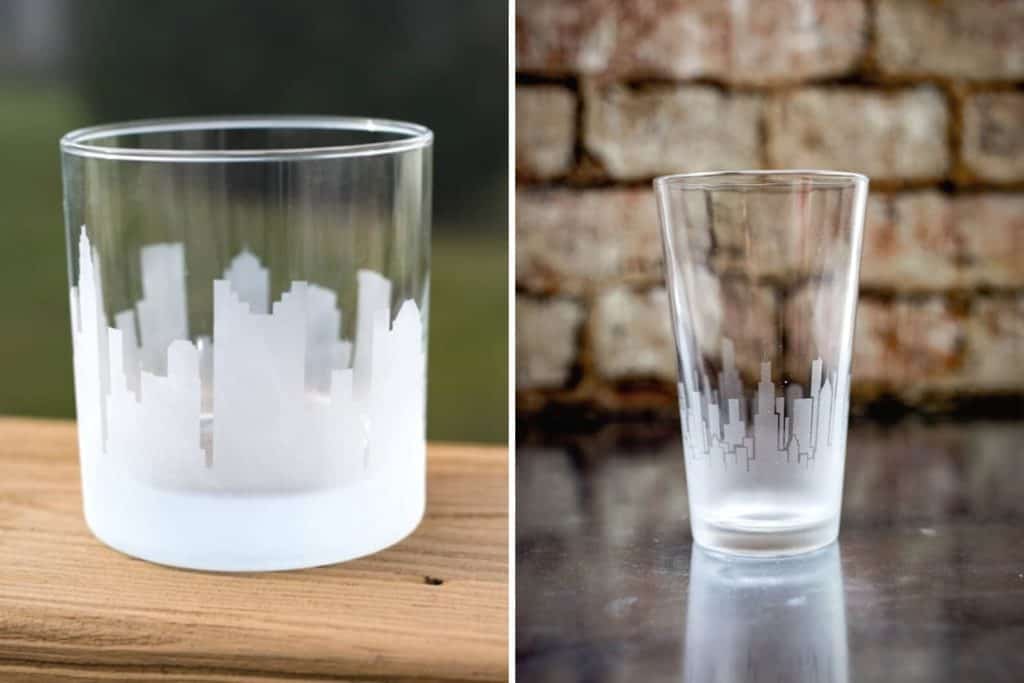 Can cooler (Hopsulator)
Give him an upgrade from the worn-out free koozies he's been using to keep drinks cold. This stainless steel can cooler is a customized Brumate Hopsulator Trio. It fits most 12oz and 16oz cans and converts into a 16oz tumbler! Cans are available in seven colors, and you can choose any state outline–it won't fade or peel off. You can find other customization options from this top-rated Etsy store that offers free shipping!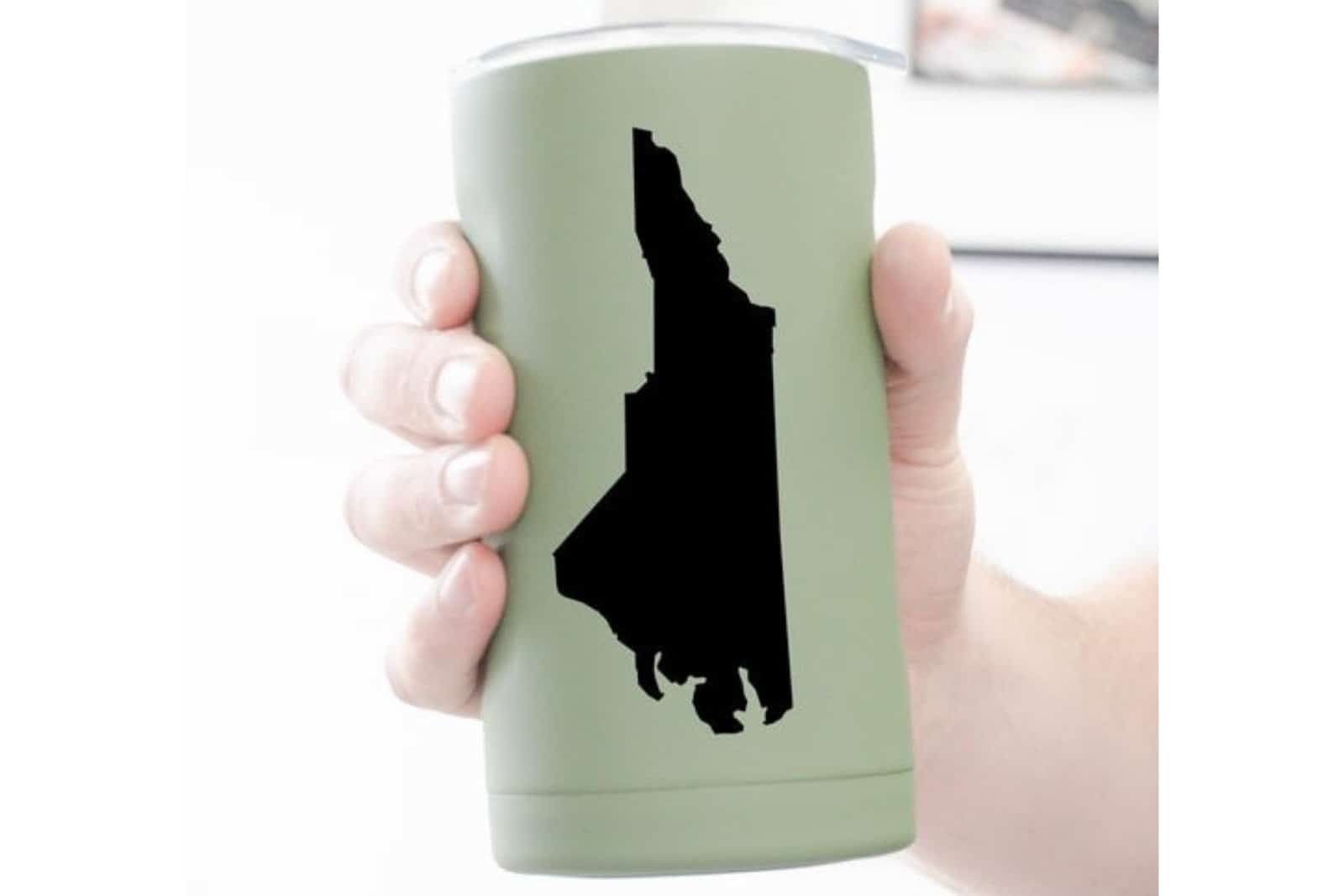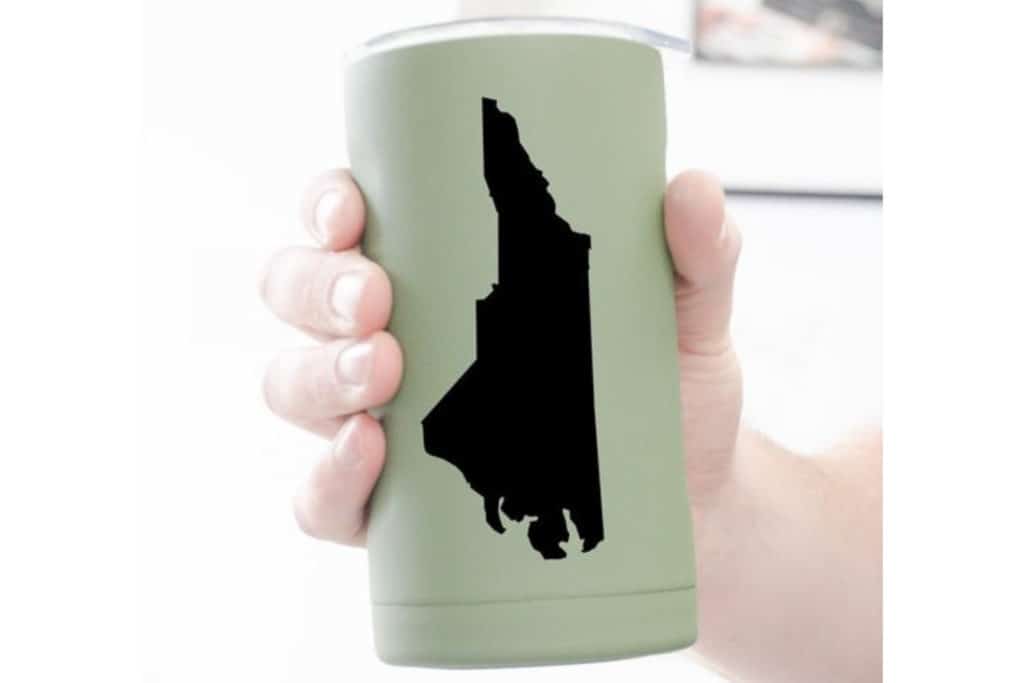 Personalized whiskey decanter set
Here's another gift that dads probably wouldn't buy themselves. This nice, heavy glass decanter set has 6 different customization options and comes in a beautiful gift box. Pacific Customs on Etsy has nearly 30,000 5-star reviews and comments rave about outstanding customer service. And shipping is free!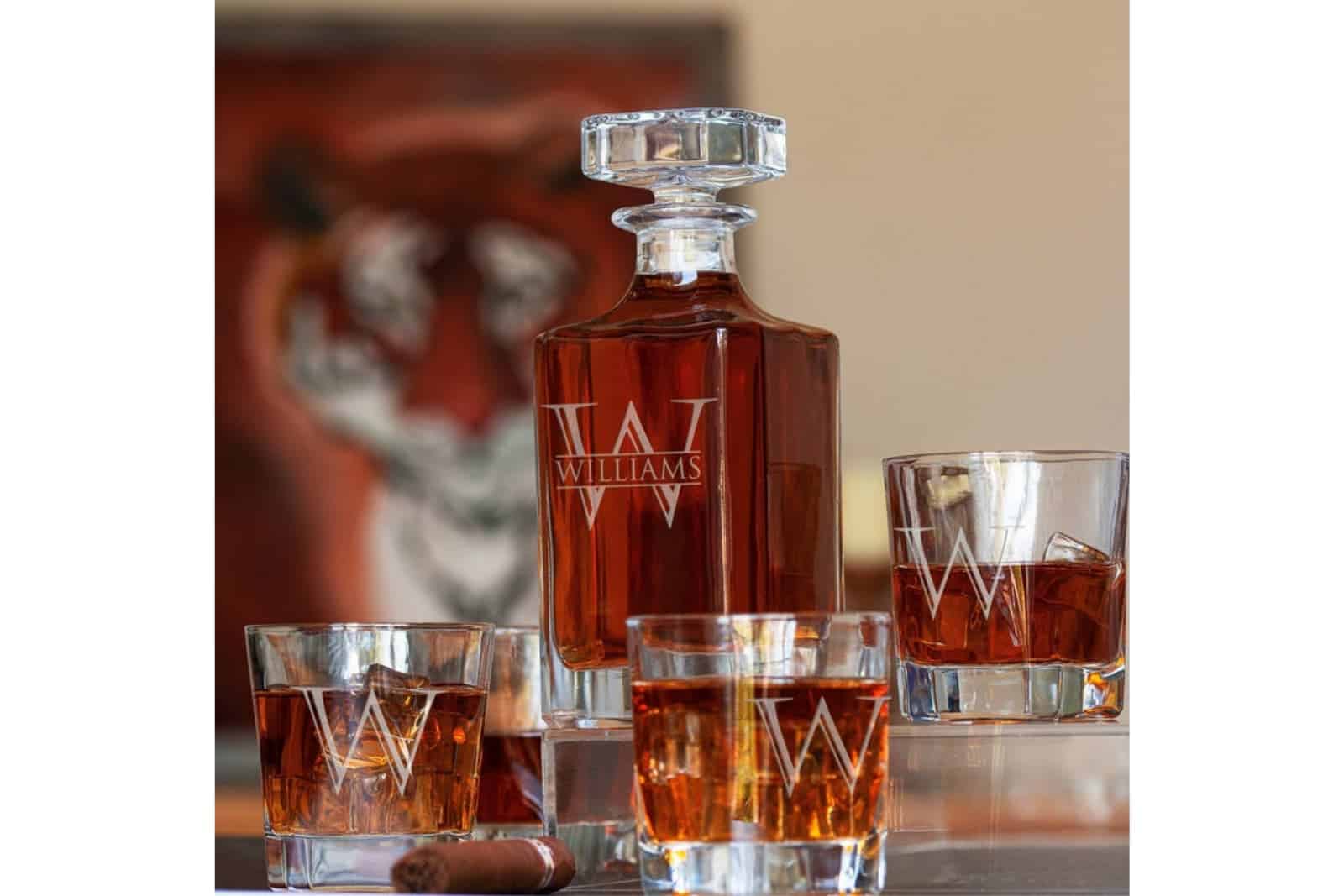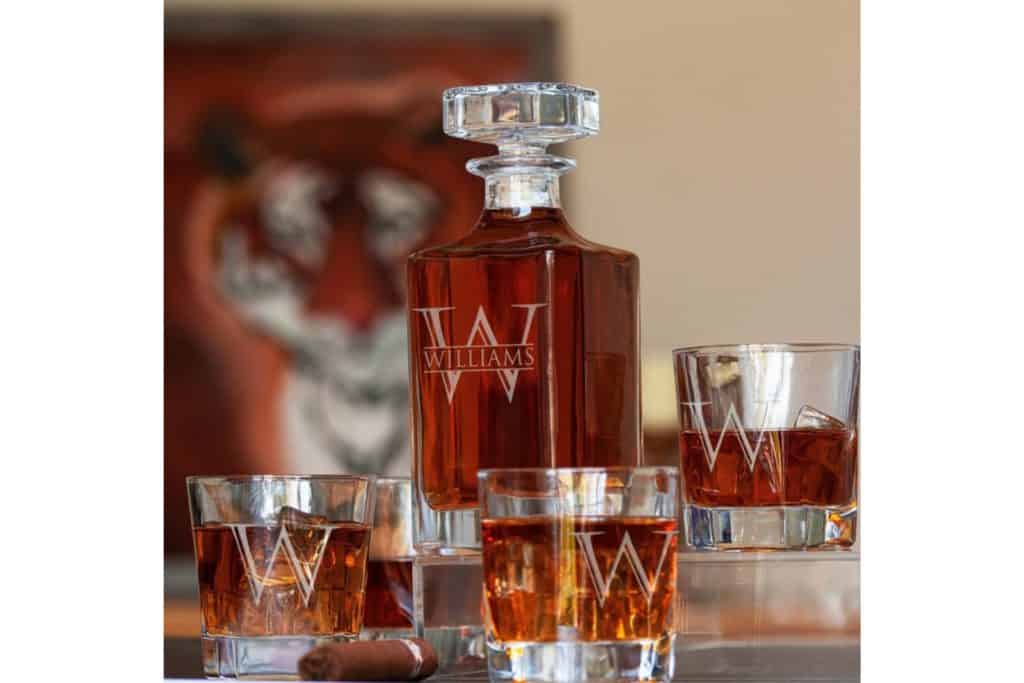 Ice cube trays
If he likes cold drinks but doesn't like diluted drinks from melting ice, these silicone trays will save the day. Two trays of 6 are included: one creates spheres and the other makes squares. These are great for entertaining–use them for bourbon and whiskey, cocktails, lemonade and more. If he's a coffee lover, he can use it for iced coffees too. (I've even used them to freeze homemade pesto.) Trays are BPA free and dishwasher safe. Lots of tips in the reviews for the round molds.
Bourbon
My husband started working for a company from Louisville, Kentucky a few years ago. I had no idea that meant he'd learn so much about bourbon! Even if you're buying for someone who has a favorite bourbon, it's always fun to try new ones, especially when the glass bottles are stunning. A few good gift choices that will look great on his bar are Woodford Reserve, Blanton's and Colonel E. H. Taylor. If you're ready to splurge–like really, really splurge–on expensive father's day gifts, check out Pappy Van Winkle. (Or maybe just get Pappy's bourbon maple syrup.)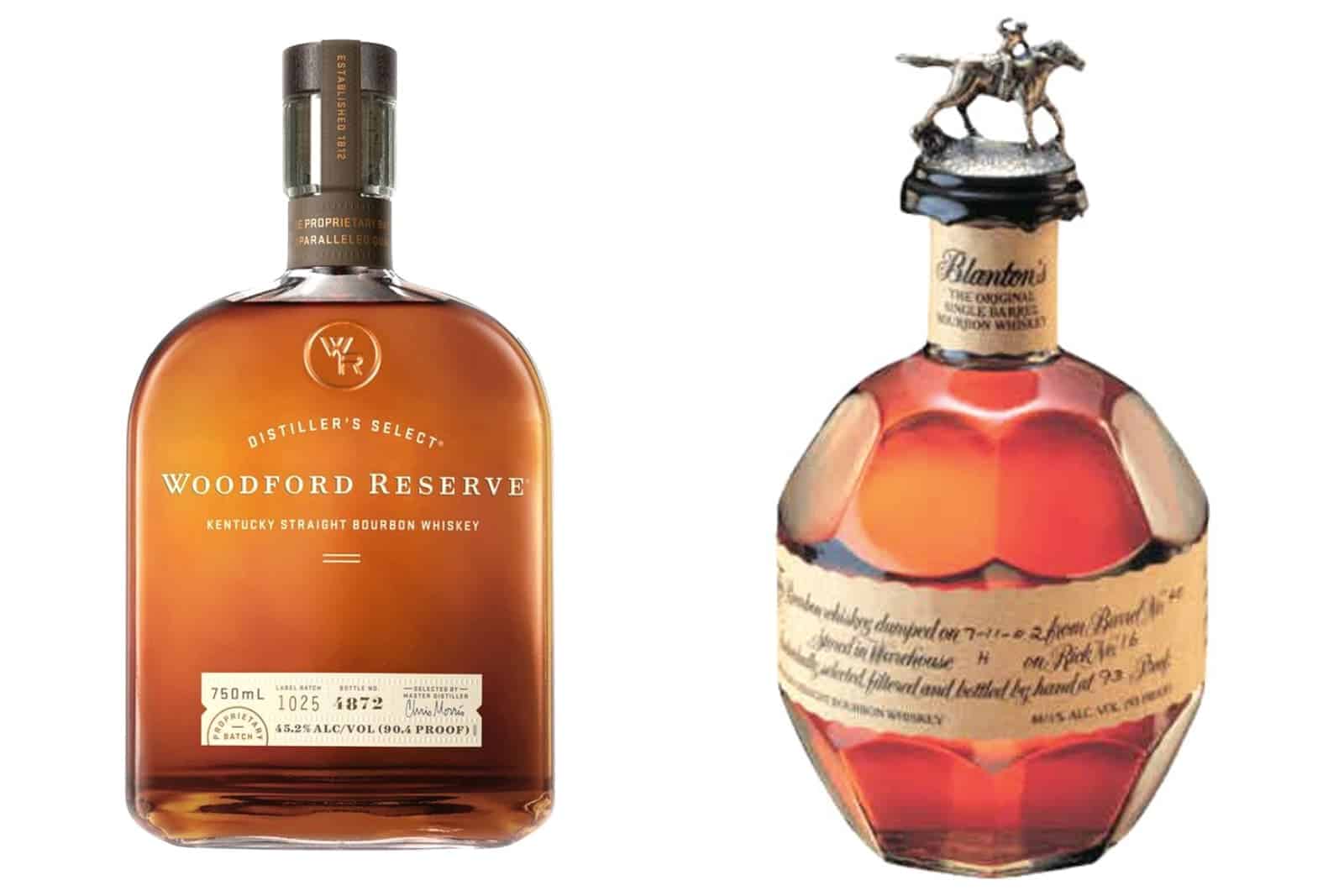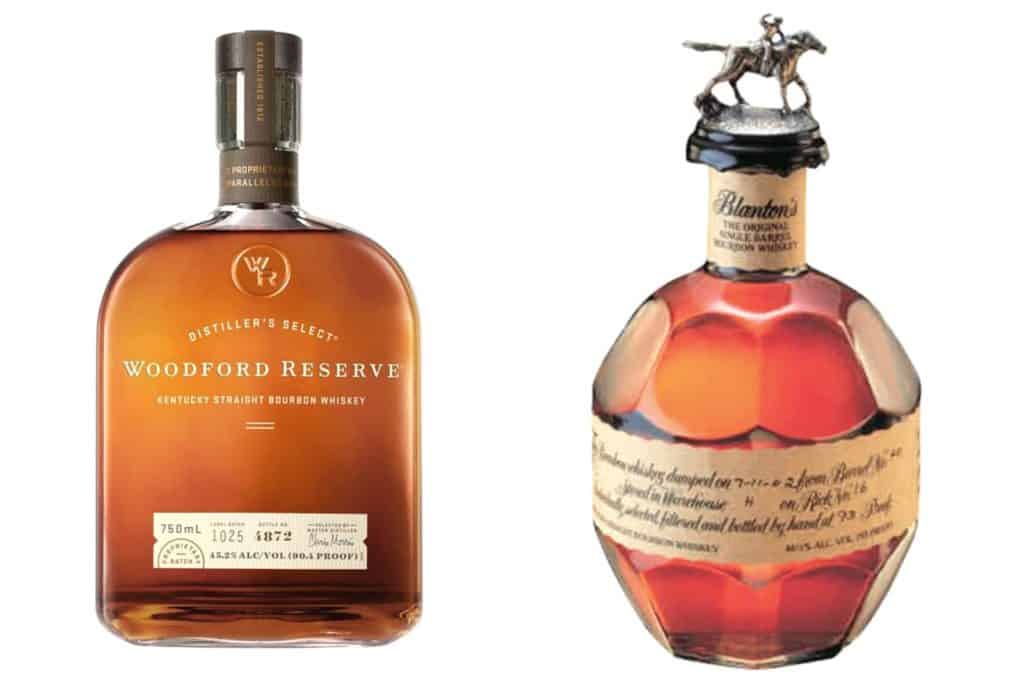 Scratch Off Poster
You already know we love scratch off posters because they're in our travel gift ideas. We love this unique idea from Scratch Off Works for dads who like bourbon, cocktails or tequila. For our fellow Buckeyes, there's even a scratch off poster for 50 Ohio craft beers for the beer enthusiast. This is definitely one of the most unique gifts for dads we've found.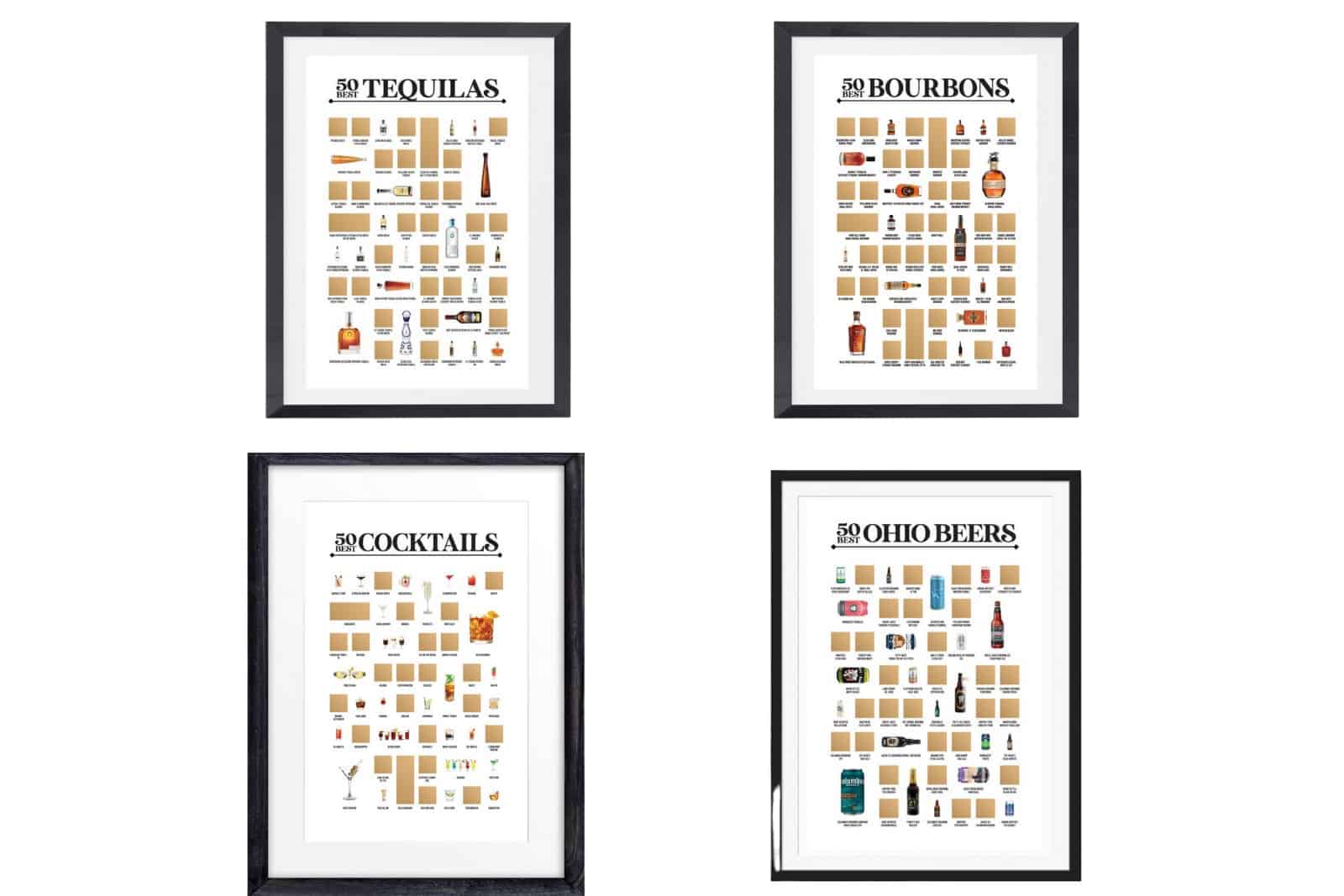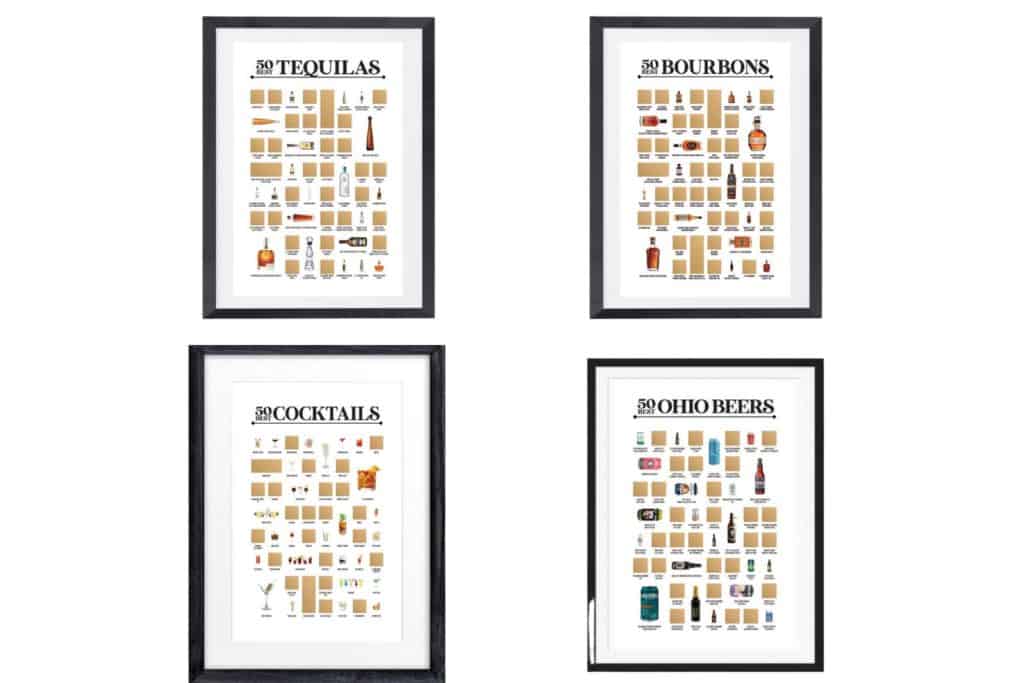 Guild Gin from Watershed Distillery
Guild Gin is a San Francisco World Spirits Competition award winner from one of our very own Columbus businesses, Watershed Distillery. The recipe was created with Guild House, a local restaurant, and earned a double gold medal. The bottle and label are beautiful and would be a great addition to his bar. Check out the link for a martini recipe. Watershed also offers some unique virtual experiences–more fun gifts for dads!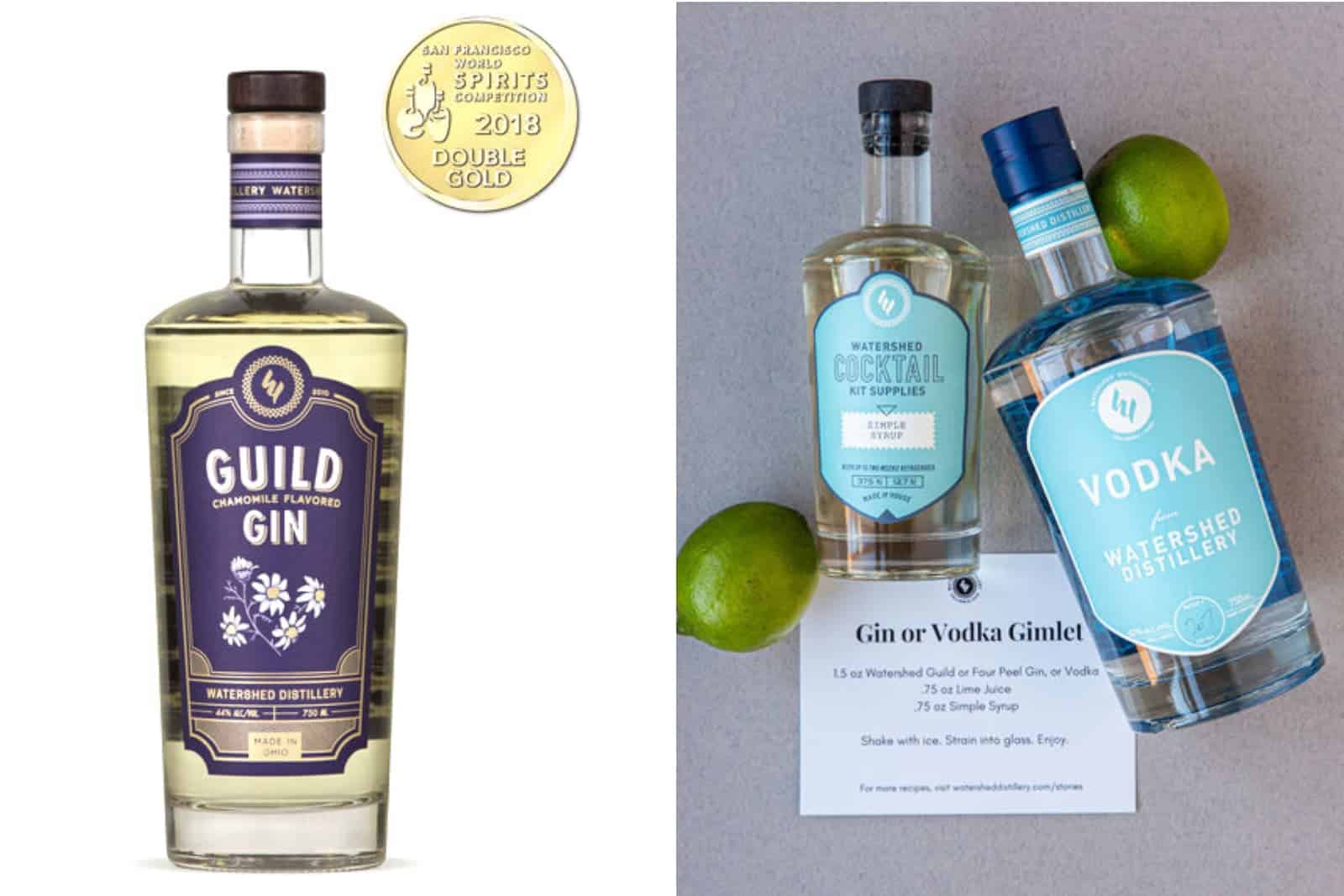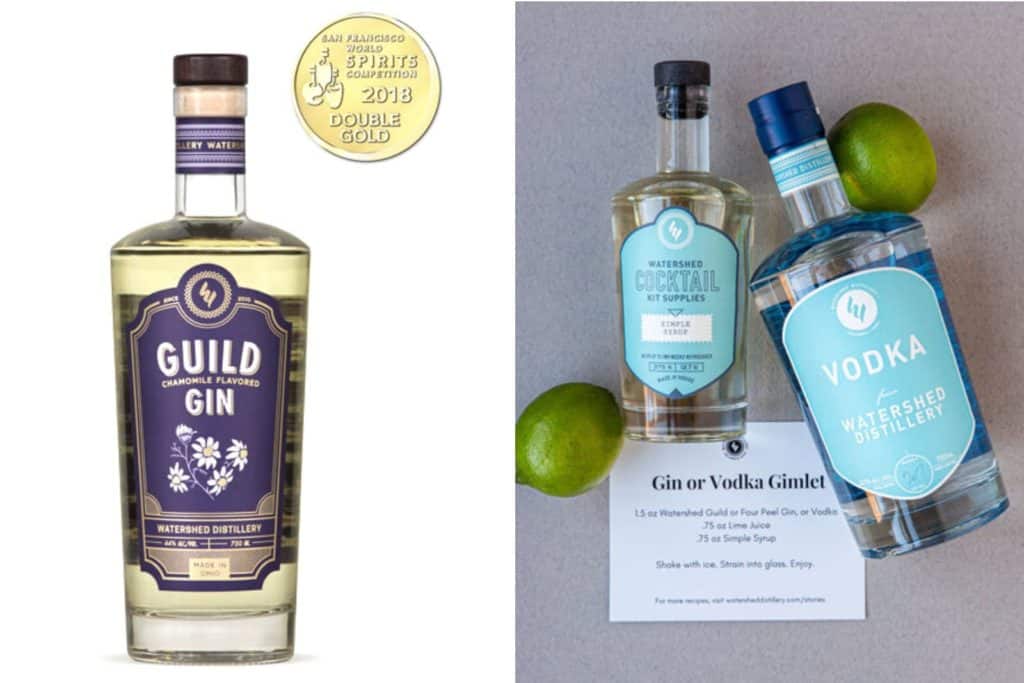 Gifts for Dad's Home Office
Bring a smile to his face with our fun gifts for dads who have a home office or desk at work. He'll love the customized bobblehead, Dundie, dad jokes sign and succulent pots.
Customized Bobblehead
If you're looking for fun gifts for dads, these bobbleheads just might be my favorite. (You can tell because I couldn't pick just one to show you!) Created by a small business owner who worked for a professional sculpting company for 15 years, they're unique and completely customizable–add pets, include hobbies or favorite teams, put him in a superhero costume or work uniform and even add another person.

You can see how closely the bobbleheads look like the original photographs on their Etsy shop. The little details are impressive! This funny gift would definitely put a smile on his face every time he looks at it on his desk. And shipping is free!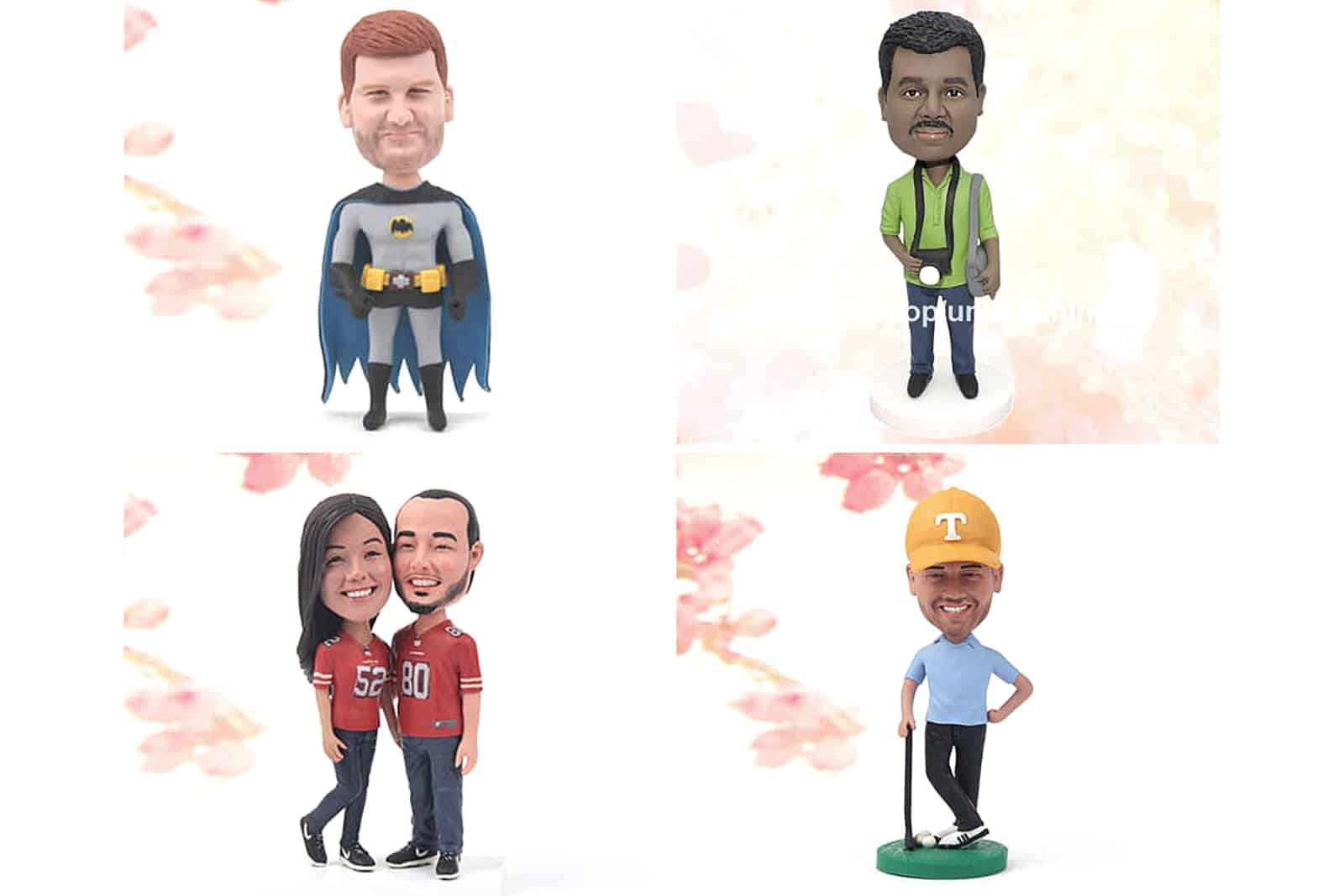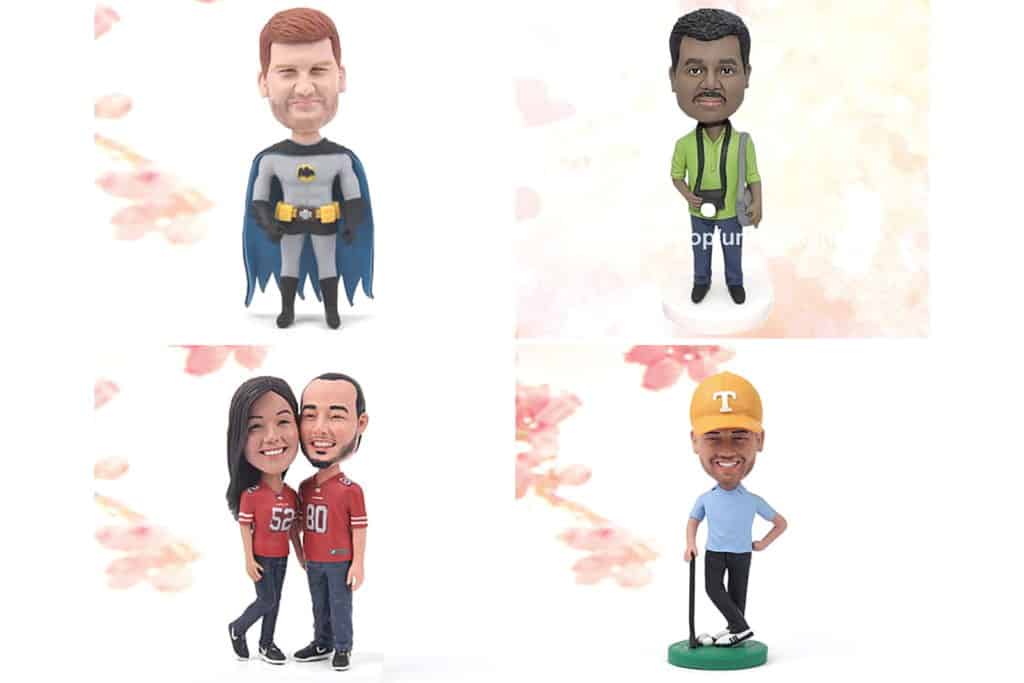 Best Dad Ever Dundie Award
If he's a fan of The Office, he'll love his own personal Dundie! You can personalize the engraving for a funny father's day gift. The 5-star small business that makes these trophies has over 19,000 sales on Etsy and offers free shipping. The pictures in their reviews will give you a good idea about the size and ideas to display this keepsake.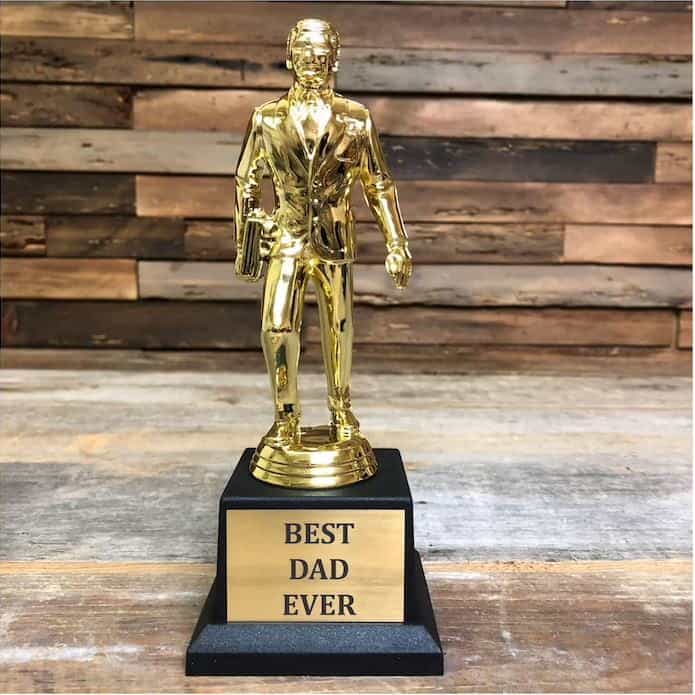 Ergonomic Leather Office Chair
Chances are good he'll tough it out before investing in a good office chair. But the difference quality ergonomic design makes in his comfort, productivity and overall mood is absolutely worth it. This leather executive chair allows you to adjust the lumbar support and ability to rock, can be used with or without arms, has a heavy duty wheelbase (max capacity is 240 lbs) and is surprisingly easy to assemble. Choose from 3 colors!
Dad Jokes Desk Sign
How perfect is this for his desk if he's the kind of dad who loves telling dad jokes! Give him a good laugh with this hand-painted sign a small business in NY that has a 5-star rating. Choose from four sizes (6″x6″, 8×8, 10×10 and 12×12), three frame colors and two font colors. The sign also comes ready to hang if he'd rather display it on a wall.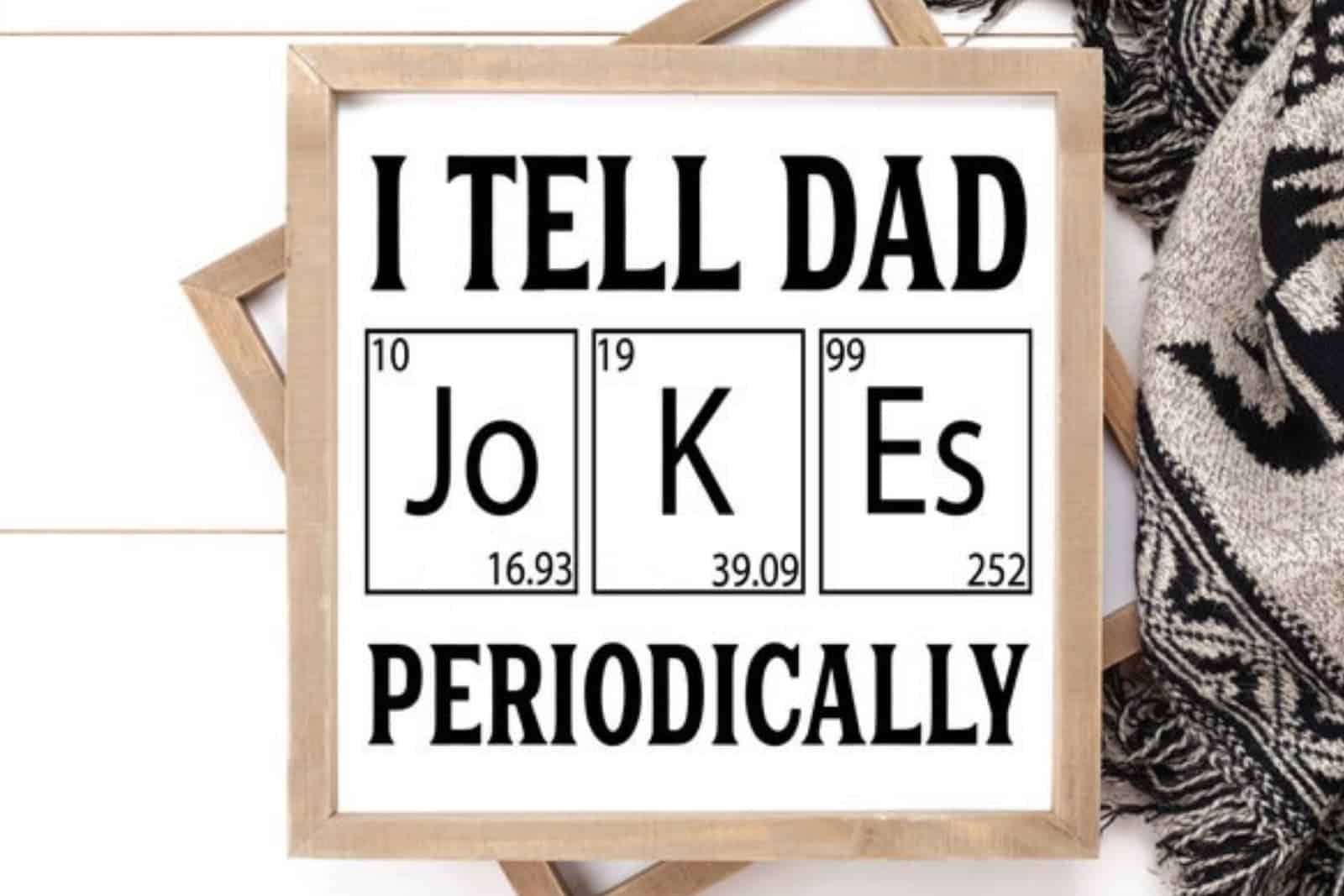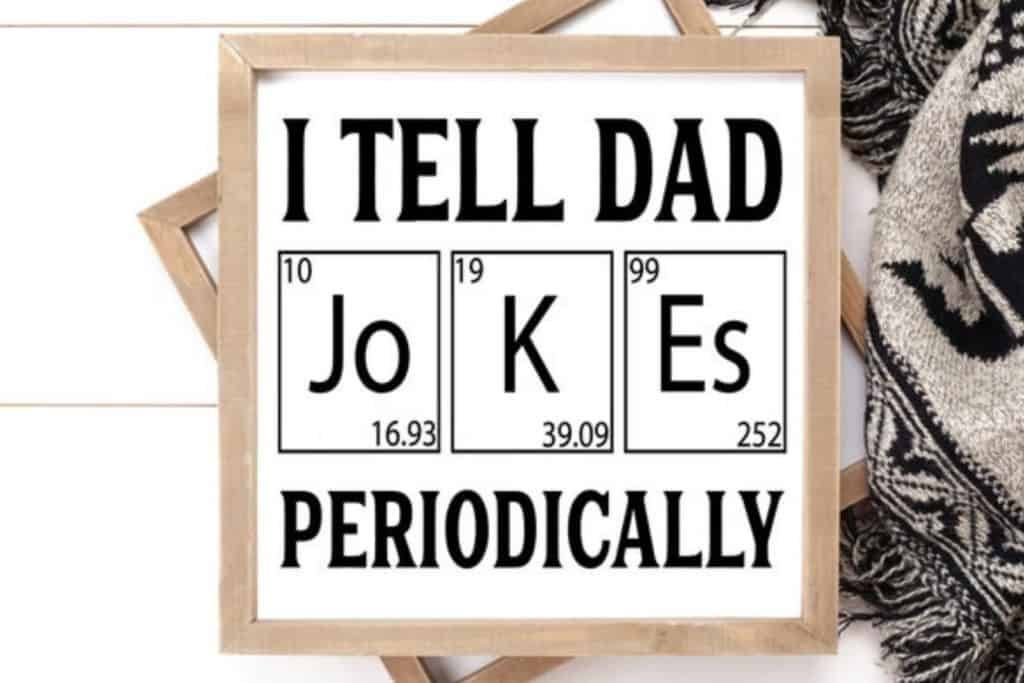 Succulent Pots
Fill these concrete planters with succulents to instantly brighten up his workspace! Plants have a lot of benefits, including reducing stress so they're perfect for the hard work he does at his desk. Plus, succulents don't require as much care as other plants. These pots have a drainage hole and come with a tray (sometimes not included). You'll need to purchase the succulents separately. This 5-pack of live succulents is a great deal!
Experience Gifts for Dads Who Want Nothing
Most of our gift lists suggest some sort of experience because we think it can be such a fun option – especially for people who don't need or want more stuff. Buying gift cards now to use later also support businesses during a difficult time. Here are some thoughtful gifts that are dad-centered:
Find the best sites and hidden gems in your hometown or a nearby city with Scavenger Hunt Adventures. This can be a date activity or fun for the whole family. You get interactive questions, photo challenges, activities and dares texted out during your hunt.
Axe throwing is a great group activity. We were skeptical, but it's a blast. Get a gift card for a dad to take some buddies out ax throwing for a fun guys night, or get a group for a couples' night out.
If he loves to golf, give him a guys' night out at TOPGOLF or take your whole family. TOPGOLF has locations all over the country.

Donation to a meaningful nonprofit
If you take him at his word when he says he doesn't want anything and you know he doesn't need anything, we saved our best suggestion for last! One of the most meaningful gifts you can give is a donation to a nonprofit in his honor. It's also a good last-minute gift.

If he's an animal lover, donate to an organization that rescues animals or trains guide dogs. If he's a veteran, check out nonprofits dedicated to helping veterans with PTSD get access to mental health resources. If he loves music, find an organization that helps underserved kids afford musical instruments. Don't forget to write a note that explains your donation. Many nonprofits will send a card on your behalf, so check on that as well.
Searching for a Practical Gift Idea?
If you didn't find the perfect gift idea in this list, head over to our list of 51 Practical Gifts for Dads (2023 Gift Guide for Men) or find both useful gifts and unique gift ideas on our list of Best Gifts for Your Father-In-Law!