5 Things to Do Now So You'll Enjoy the Holidays Later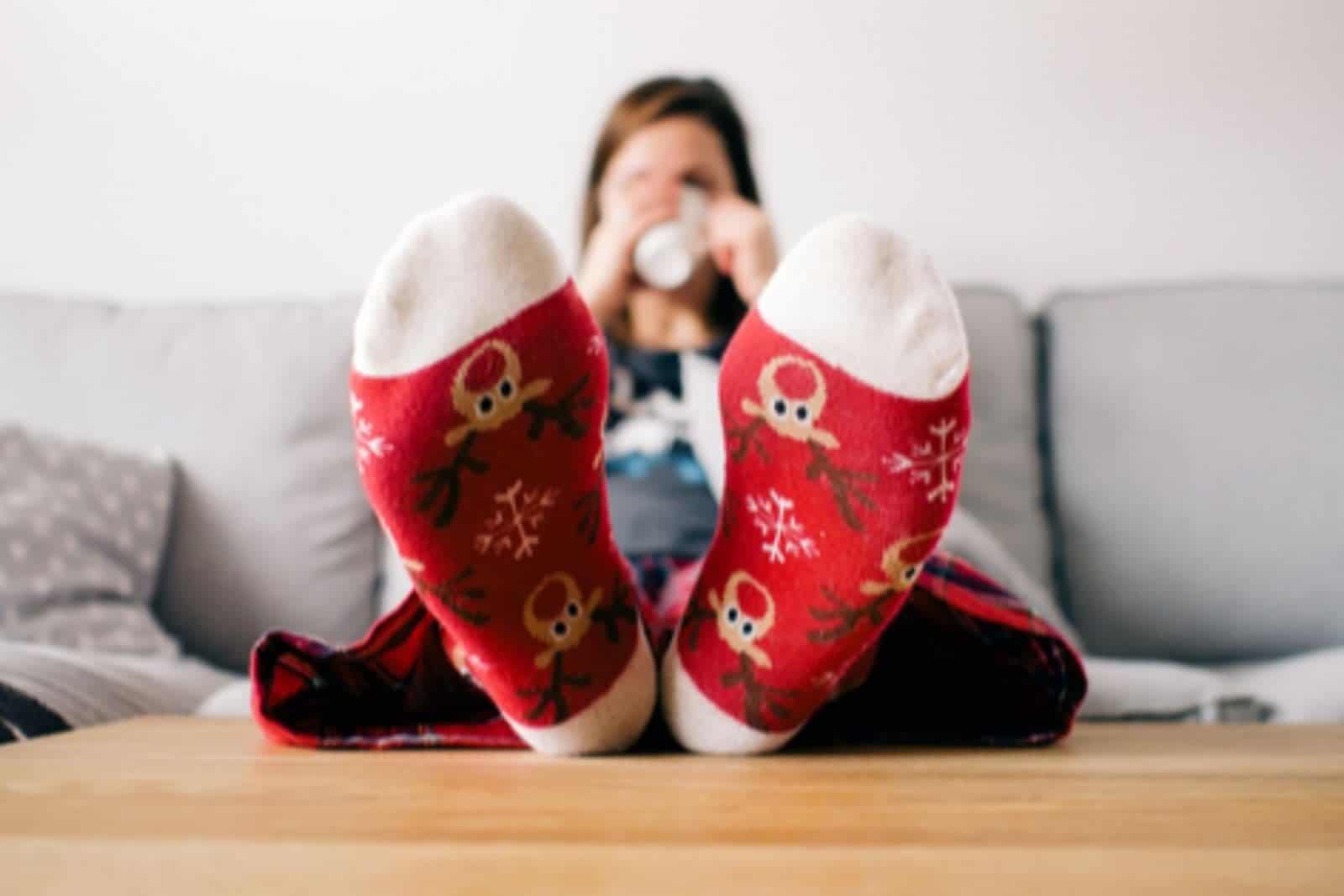 I didn't know when or how it happened. Suddenly I was a frenzied mom looking toward the holiday season with dread. More things to do. More places to go. Less time to rest or even enjoy my family. So I made changes – some big and some small – so I could enjoy the holidays again. I'm still a work in progress, and this year's change includes spending time EARLIER on prepping and planning so I can downshift and just enjoy the ride from Thanksgiving to New Year's. 
This post contains affiliate links – we earn a small commission if you purchase through our links, and we appreciate your support.
I distinctly remember the October day a few years ago when I thought ahead to the next couple months and wished Christmas would just be over already. The thought of shopping, decorating, cooking and hosting on top of my busy day-to-day stuff felt suffocating.
I've always loved Christmas. My birthday is Dec. 26. For my entire life, Christmas has been a two-day festival of family and celebrations. I love Advent and the Christmas Eve service at church. Stockings and Christmas morning cinnamon rolls. My friends' annual Thanxmas gathering. Evenings on the couch with a fire and a Christmas movie. (I'm not a re-watcher, but I love to watch Elf and Love Actually every year – they somehow never get old.)
Then, during what should have been the prime of my Christmas years with my own kids, my holiday magic completely flat-lined. Even in the moment, it made me really sad. I'd lost my holiday joy in what felt like a giant pile of extra tasks.
Since then, I've made a major career shift and other changes for an overall balance that works better for me and my family. I've also learned that planning ahead is a survival skill. This seems to be a pretty universal truth based on an unofficial poll of the other busy working moms I work and hang around.
I was doing a good job planning ahead week-to-week. But I needed to also think ahead season-to-season to reclaim my Christmas spirit and sanity.
I'm back to loving the holiday season again. The information below has me motivated to make this year's holiday my most relaxed ever – a time to celebrate and appreciate my faith, family and friends. 
So the five things to do now so we can enjoy the holidays more later…
1. Knock Out Personalized/Photo Projects
If you know much about me and my SALT effect co-founder Kristie, you know we love finding the perfect gift. This can make shopping fun and personal. It can also make for tantrum-worthy frustration or a crazy expense if we're shopping last minute.
October is the perfect time to find, make or place orders for personalized gifts. Many Etsy shops and other retailers who hand make personalized items need orders early. You'll miss your chance or pay a lot more if you wait.

This customized tote from The Shop Forward lets you choose four words or phrases, but it takes about four weeks to come in the mail (peruse the 4 Things collection).
If you like to send hard copy cards, ORDER THEM NOW. I often use Shutterfly, but I this year ordered from Costco Photo Center and got a great deal. Don't wait to take a perfect picture over Thanksgiving or until the weather gets cold enough to pull out Christmasy sweaters. Grab a photo or two you love from earlier in the year or take a few new photos NOW and get the card order in. Go through your address book and check for needed updates. Buy stamps.
Make personalized photo calendars, ornaments or other gifts and place your orders. These can take time to organize, so do it during a time of year you have a little more time. We have a list of personalized gifts for moms if you want to scan for ideas.


2. Schedule It and Forget It
Most of us don't struggle with getting holiday events on the calendar or making time for things like school concerts or family gatherings. It's the "other" things that sneak up and create late night, last-minute stress: decorating the house, cleaning for guests, ordering favorite cookies from the local bakery.
Blocking out actual time on your calendar for these preparations will take them off your mental list. It also protects against double-booking yourself to go to a holiday party on the same day you need to clean for the in-laws.
Book an an afternoon or evening on your calendar for house decorating. Growing up, my sisters and I looked forward to this almost as much as Christmas day. My mom took requests for appetizers and desserts. We put on Christmas music, hauled out bins of Christmas decor and ornaments and spent an entire Sunday afternoon decorating the house and tree. Dinner was grabbing a pinwheel or a handful of peanut butter M&Ms as we passed the table.
Get some house cleaning help. If you normally use a cleaner once or twice a month, look at the date they are scheduled to come and see if it fits well with your holiday hosting plans. Call early if you need to change the date and time so it helps you have the house ready for guests (or to clean up after guests). If you don't use a cleaner, consider booking a one-time cleaning for December.
Plan out advent calendars. If you buy a new one each year, order it now. I have a wooden advent calendar, but couldn't resist getting this 

Harry Potter Lego calendar

this year. I love the daily Christmas countdown. Ok, and Harry Potter.

If you fill a reusable advent calendar every year, buy the candy or supplies to fill it now. I put notes in my wooden advent calendar with something we will do each day of advent. Now's the time to update my list of 24 things to fill that calendar. Here's my master list of Advent calendar ideas if you're looking for some new ideas.
Another fun tradition is putting notes in lunchboxes for the holiday season. Grab our instant download of 24 Christmas lunchbox note cards for $4.99. We designed them with tweens and teens in mind (because so many out there look little kid-ish). Many of them focus on gratitude. Print them at home or a local print shop, cut them out and stick them in lunches, books your kids are reading, or coat pockets.


Make appointments for other time-sensitive tasks. If there are baked goods or meats you want to order for holiday meals, set a reminder in your calendar for the day you want to order.
3. Stockpile Some Necessities
For moms who host over the holidays, we've got a Top 10 Things to Stockpile Before the Holidays list just for you. Yep, sit down with your shopping buddy Amazon. Think through all the junk it takes to have people over and keep your house running, and stock up. 
Gathering needed supplies in advance doesn't just apply to household items like toilet paper or coffee. There are also things we know we'll need (because we need them every year) that we could take care of in advance:
Teacher gifts. Yep, need them every year and usually end up buying them the night before the last day of school. You know what teachers want? Gift cards. Notes written by the actual kids in their class saying something heartfelt and personal. So here's my tip. Go to Etsy and search

"Teach Thank You Cards"

and then scan for instant downloads like the one below.
You'll pay about $3 for a cute design that lets you tape a gift card to the front and have your kid write a note on the back. Personalized, cute and ready to go way before the last day of school.
The geniuses on our PTA last year sent a questionnaire out to every teacher in the building asking things like favorite restaurant, food and color. Then they compiled the responses and posted a link in the PTA newsletter. Turns out my son's teacher didn't like coffee (sorry Starbucks), so we pivoted to a gift card to a place she really likes to eat.
If you don't want to go the gift card route, look at these holiday T-shirts for teachers. Order early so they're ready to give before school lets out.
Wrapping paper. Kristie has a genius idea for gift wrapping in her house. She buys one design of wrapping paper per son and wraps all of that son's gifts in that single paper. She puts one wrapped gift in each stocking so each kid knows "his" wrapping paper for the year. They look forward to discovering which paper, and gifts, are for them.
Gift exchange/hostess gifts. You will likely attend at least a few holiday events where you feel like you shouldn't come empty handed. A couple families in our neighborhood threw an amazing holiday bash last year – you guys, they had a for-real magician for the kids. We did a white elephant gift exchange and I took this Santa Claws T-shirt. Big hit.
I got this hilarious Guzzle Buddy wine glass that fits directly into the top of a wine bottle – but it got stolen in the last round of the gift exchange.
My plan for some exchange this year is to bring this Die Hard Christmas book as official proof that Die Hard should qualify as a Christmas movie.
Holiday Outfits. My husband and I attend a holiday party with his co-workers every year. Last year I requested that my Stitch Fix box include a couple possible dresses. They sent a great option and I avoided a shopping trip. (If you want to try Stitch Fix for the first time, use my referral link to get a $25-50 credit.)


4. Make Some Early (But Final) Gift Decisions
If you're interested in proposing a new gift-giving strategy for your family this year, you need to broach the topic early. As in way before Black Friday.
You could suggest experience gifts. (See our list of 42 best experience gifts for everyone on your list) I usually ask that my parents give my kids one experience gift to reduce the amount of new stuff coming in to our house. I know other families who decide to only gift experiences. See that a Broadway show all your kids might like will be in town over the holidays? Make that decision early enough to scale back some other gifts and spending.
Kristie and her brother and their spouses give donations instead of gifts. They exchange names and choose a nonprofit that has significance to the person based on the year they've had. The gift is a personal note explaining what nonprofit they chose and why.
Our coworker Nancy has adult children. One year, she and her husband told the kids they were gifting money for each child and his/her spouse to choose their own gift. But it was a contest (with a prize) for the best gift purchased. It was fun to watch that competition roll out over the next month! 


5. Make Giving Back a Non-Negotiable
The best way to enjoy your holiday might actually require ADDING something to your calendar. Yep, you heard me right. Making time to volunteer or give back as a family might be the key to your favorite holiday ever.
Look for ways to volunteer as a family over the holiday. Things like filling Operation Christmas Child boxes to brighten the holiday for other kids. I just picked up our boxes at church, and they're due back in early November.
Schedule time to take your kids shopping for other family members. Make it a fun event – maybe grab hot chocolate or a dessert after shopping. I have three kids, so it takes some advance scheduling. I plot out dates with each kid to protect that "date" with all of the other holiday things going on.
Look for random acts of kindness opportunities. Make small gift/treat bags or cards and leave them in friends' mailboxes. Or take them to a fire station or nursing home.