20 Easy Appetizers That Will Please Any Crowd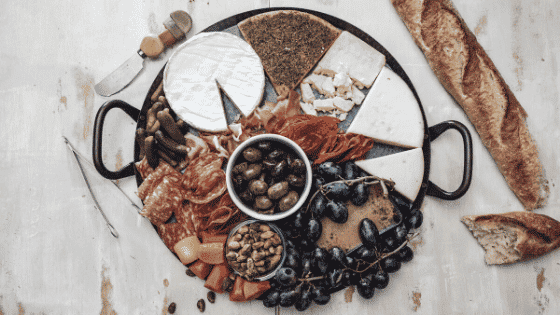 My parents always hosted an open house on Christmas Eve – it was one of our holiday traditions. We would hustle home from the Christmas Eve church service to beat the guests. Crockpots fought for outlets along the back countertop, and hot cider simmered in a pot on the stove. Meat, cheese and cookie platters spilled across any remaining counter space.
I don't host a holiday open house (though maybe I will once I get my new kitchen table – it's scheduled to be here next week and I cannot overstate my excitement. The new table is an Amish work of farmhouse table art, and I'm planning to let my kids demolish the hazards we currently call chairs as soon as it arrives.)
But with a couple standing holiday gatherings each year and a few other invites, I feel like I'm constantly hitting my tired Pinterest boards for crowd-pleasing appetizer recipes and coming up empty.
I live in the Midwest, and we like our "everyone just bring a dish to share" gatherings.
Reason #1: We love Paula Dean and Ree Drummond — The Pioneer Woman — as much as the next hostess, but we want to hang out with our friends and not spend all night in the kitchen single-handedly producing a feast. The Midwest has a well-earned reputation for being friendly and hospitable. We gather, we eat, we talk and we often play euchre (it's a card game. If you're from the Midwest, you know.)
Reason #2: We love food, and when every guest brings food, you end up with a LOT of food. And with strong agricultural roots here in the Midwest, we tend to create mouth-watering and ever-changing combinations of cheese, bacon and carbs. I've started bringing veggie platters just to ensure there's produce on the table and reduce my guilt about the cheese and carb intake.
I'm all about getting together with friends and family – and the smorgasbord of food – but choosing an appetizer that's easy to make, sure to please and a good fit for each event hurts my head. I understand this isn't the biggest problem we, or the world, face right now, but it's a problem I can help fix, and sometimes that just feels good.
So I set out on a mission to create a master list of appetizers that could please any crowd. The rules of engagement:
Nothing could be beyond my culinary skill level. Which is low. My kids eat frozen waffles for breakfast and had Trader Joe's chicken fried rice for dinner tonight. It's been a heckuva week at work, so please don't judge.
Options must include appetizers for nicer adult gatherings AND family free-for-alls with picky kid eaters.
Options must include recipes I can cook myself, and options I can straight up buy and either serve immediately or, at most, heat and serve.
All recipes must come highly recommended. Nothing but love for you, Pinterest, but I want actual recommendations from real people saying they love these apps (or I've served them before and would do it again.)
Rules firmly in place, I then reached out to some foodies I know and trust. Our friends and food experts at Real Mom Nutrition, Kitchen Stewardship, The Beard & The Baker and Biscuits 'n Crazy came through with some great recommendations.
I wove their ideas and recipes together with the best of my appetizers and recipes shared by our readers and classiest friends. The result is the following list of 20 easy and amazing appetizers that will please any crowd.
Share Platters
I thought this was called a charcuterie board, but apparently there are fancy new terms I need to be using like share platters and food boards. Whatever you want to call them, these platters topped the list of "what to bring" for several of our food experts.
Sally at Real Mom Nutrition loves share platters because they can be prepped in advance and there's something on it that everyone likes. She suggests including a wide variety of foods, from fruits and veggies, to nuts, meats, cheeses, spreads and crackers. She also says not to sweat it if you don't have a fancy board. Just use a large cutting board or rimmed baking sheet. Added bonus: they're fun to assemble and create show-stopping centerpieces for the table.
1. Create your own share platter
Use details from Sally's post on How to Make an Epic Aldi Cheese Board (Affordable and beautiful. I'm in love.)
If you want to put a serving platter on your holiday wish list, Amazon has all kinds of options. I liked this one with grooves for fruit or nuts.
2. Let an expert prep your share platter
A friend clued me in to the source of the beautiful platters at her recent holiday toy drive event: PetryPlatters. The Columbus, Ohio-based company uses Amish meats and cheeses, local veggies, fruits and colorful garnishes, and personalize each platter or box to the customer's needs. Prices range from $42 for a box that feeds four grazers to $62 for 10 grazers and $82 for 15 grazers. They will also travel to you to create a graze table or island.
Mouth-Watering Specialties
3. Bacon-Wrapped Stuffed dates
Our busy mom dinner-expert at Biscuits 'n Crazy says when she's bringing an appetizer to a gathering, there are a few things she looks for in a dish: something different, something easy, and/or something that travels well.
"Give me two out of three and it's typically a winner."
She shared a couple of go-to party appetizers. The Bacon Wrapped Stuffed Dates (recipe below) check the "different" box and the Crockpot Spinach Artichoke Dip (under Delicious Dips below) checks the "easy" box. Both dishes travel well, are crowd pleasers and are a great accompaniment to any holiday spread.
Bacon Wrapped Stuffed Dates
24 Medjool dates, pitted
12 slices of bacon, halved
4-ounce goat cheese log (cream cheese or feta will work if you're not into goat cheese)
½ cup balsamic vinegar
2 tbsp sugar
Wooden skewers
Preheat the oven to 375 degrees. Place bacon pieces on a parchment lined baking sheet and bake for 10 minutes.
Slice the goat cheese (or other cheese) into 24 chunks.
Stuff each date with cheese and wrap with the partially cooked bacon piece. Place a skewer through the date to secure the bacon.
Place dates on another parchment lined baking sheet and bake for 10 to 15 minutes, or until bacon is fully cooked.
While the dates are cooking, add balsamic vinegar and sugar to a small saucepan, and stir until the sugar dissolves.
Bring to a boil then reduce heat to low. Simmer for 10-15 minutes, or until vinegar is reduced by half and thickens.
Drizzle the balsamic over the dates and serve.
4. Goat Cheese Phyllo Bites
Kristie made these for a recent family gathering and gives them a big thumbs up. Grab a mini-muffin tin, pre-shaped phyllo cups (in the freezer section usually near the frozen fruit), some goat cheese, honey and fresh thyme.
– Preheat the oven to 350
– Put the pre-shaped phyllo cups in your mini-muffin pan
– Place 1 teaspoon of goat cheese in the phyllo cup and gently press the goat cheese down in the cup
– Bake 10-12 minutes or until cups are golden and crisp. Take them out of the oven and let them cool a couple minutes before transferring to a serving platter.
– Drizzle with honey and garnish with fresh thyme
5. The Best Deviled Eggs
Hannah at The Beard and the Baker says it really isn't a party without deviled eggs. Here is her recipe for the Best Deviled Eggs, and she recommends adding some fresh dill to the mix to take them up a notch.
6. Grilled Crostini + Bellisari's Spreads.
The Beard & The Baker recommends this Grilled Crostini with Bellisari's Spreads as a "wow" appetizer if cooking just isn't your thing. You slice a baguette, spread each piece with olive oil and grill for a couple minutes on each side. Then layer each crostini with the Bellisari's Blistered Jalapeno & Fig Spread and top with a slice of Machebo cheese and a slice of good salami. Her recipe walks you through all of the steps and has some great advice on choosing quality ingredients.
Delicious Dips
7. Swiss Cheese Bacon Dip
A friend brought this dip to a party and I swooned. It has all the comfort of cheese and bacon, yet somehow still looks and tastes classy. Serve it with any type of pita chip or cracker.
8. Crockpot spinach artichoke dip
When Jess with Biscuits 'n Crazy gave her rules for crowd-pleasing apps, this dip got best in show for the "easy" category.
Crockpot Spinach Artichoke Dip
10 ounces frozen spinach, defrosted and squeezed to remove all liquid
8 ounces cream cheese
1 14-ounce can artichoke hearts, drained and roughly chopped
¼ cup sour cream
¼ cup shredded parmesan cheese
2 tbsp minced onion
1 tbsp minced garlic
Place all ingredients in a small crockpot and turn to the high setting.
Stir periodically to ensure all ingredients are incorporated together.
Cook on high for 90-120 minutes, then turn to warm as you serve it.
Serve with tortilla chips
Notes: When cooking for a crowd, she typically doubles this recipe.
9. Probiotic Avocado Dip
Most of the recipes on my list aren't what you would call…healthy. But this recipe for Probiotic Avocado Dip from Kitchen Stewardship tastes great and carries no guilt. You had me at "avocado."
9. Cheesy Creamy Creamed Corn Dip
This Cheesy Creamy Creamed Corn Dip from The Beard & The Baker is best served hot with crackers or veggies. You can easily serve in a crock pot to enjoy throughout the whole party.
10. Shishito Pepper Dip
Shishito peppers are super trendy right now and they're milder than jalapenos, so this Shishito Pepper Dip is definitely a crowd pleaser.
11. Bruschetta Dip
A friend shared this recipe with a note that she gets requests for the recipe every time she brings it to a party. It also involves NO COOKING.
– Pour olive oil (the better the olive oil the better) into a shallow dish so it covers the bottom and about ½ inch up the sides.
– Add 1 bunch chopped scallions, 2 cups diced tomatoes (canned/drained or fresh), about 6-8 ounces of feta cheese.
– Sprinkle 2-3 t Greek Seasoning on top
– Mix all ingredients until well combined
– Serve with toasted Italian bread slices
12. Cracked Out Corn Dip
I had this at a neighborhood last year gathering and fell in love. I've brought it to at least four other events since. Another friend gave it a second opinion – sending it to me as one of her go-to party appetizers.

Easy Favorites
14. Sausage Stars
Easy, tasty, pretty. 'Nuf said.
15. Meatballs
Bringing meatballs ensures there will be actual protein at an appetizer-heavy event. It's not ideal to graze on appetizers all evening, consume thousands of calories and leave feeling hungry. I'll give two solid and easy meatball recipes, and both start with frozen meatballs from Costco or your favorite grocery store. Put the frozen meatballs in the crockpot with:
Option 1: a 16-ounce can jellied cranberry sauce and 1 cup bottled BBQ sauce. Double if needed to cover the meatballs.
Option 2: a 18-ounce jar of grape jelly, a 12-ounce jar of Chili Sauce, 2 T of Dijon or yellow mustard
Grab and Go
Ok, so I promised appetizers that crowds will love, but I never said they would all be recipes. Sometimes there's just no time to cook or even prep. The last five ideas on the list are for those times.
16. Sub Slices
Pre-order subs from the grocery and slice them into smaller pieces for a party platter.

17. Cranberry Jalapeno Dip
Find this festive dip in the center freezer aisle at Costco by the salsa and hummus.

18. Edamame with Soy Dipping Sauce
Grab a few bags of frozen edamame to boil and salt. Serve with soy sauce.

19. Trader Joe's Frozen Apps
The Mini Brie en Croute (brie wrapped in puff pastry and baked – delish!) at Trader Joe's were calling my name today, but I'm holding off until I can claim they're for Christmas. They also have bacon-wrapped scallops and mini quiches. Warm and tasty appetizers with no prep required. This Trader Joe's article gives more details on all three.
20. Peppermint Bark
Peppermint bark makes a great addition to any holiday table. Bring it as a dessert or just as a hostess gift. Grab it at Costco and package however you like.