Unexpected Ways Reflection Can Make Your New Year Better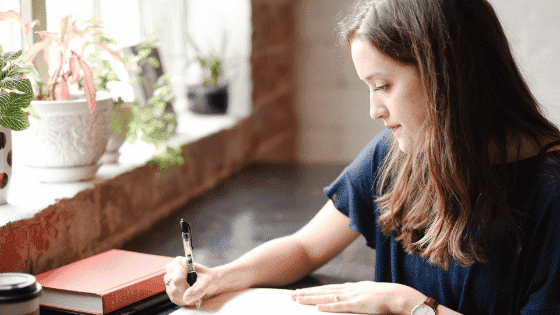 Reflection requires slowing down, and I much prefer to keep charging forward than hit the brakes and take a look back. The new year knocks and I have plans to make, travel to do, people to see and things to accomplish. But one thing I learned this year is that I need to make it a priority to stop, look back and process, or I really am missing something. Failing to reflect – consciously consider what I did, what happened, and what I can learn from it – will cost me growth not only as a person, but as a teacher, daughter, sister, entrepreneur, friend, wife and mom.
This Harvard Business Review article written by an executive coach says the hardest leaders to coach are those who won't reflect, on experiences and on themselves. I love her explanation of why it matters:
"Reflection gives the brain an opportunity to pause amidst the chaos, untangle and sort through observations and experiences, consider multiple possible interpretations, and create meaning. This meaning becomes learning, which can then inform future mindsets and actions. For leaders, this 'meaning making' is crucial to their ongoing growth and development."
The phrase "pause amidst the chaos" rattled around my brain, because that's the choice I need to make if I'm as committed to growing and getting better as I want to be.
Looking Back Isn't Slowing Down
Confession: I'm a first-born child. When I read those birth order profiles, I just nod my head at how predictable I must be because it is SPOT ON. Psychologists say I'm reliable, conscientious, structured, cautious, controlling and achieving. Yep. I am. But 100% of astronauts who have gone into space, many presidents and Oprah were first-borns, so I'm in good company. (Check out this infographic on the Birth Order Effect to see for yourself.)
And to be honest, I see those first-born traits as positives most of the time, so I'm really not apologizing or feeling bad. Maybe "confident" should also be on that first-born character trait list. I was an only child for almost five years before my next sister was born, and I was 10 when my youngest sister joined the fam. My parents also boosted my confidence by giving me a lot of life experiences and support. I like to joke that my mom's a hippie at heart because I went to Montessori for preschool and kindergarten because when mom visited another preschool and the kids were all sitting together around a table doing a single activity, she was appalled at how their "creativity was being stifled."
My "on to the next thing" mentality works great for getting a lot done and letting go of grudges, but failing to look back costs me. It means I sometimes move forward in the wrong direction and have to double-back. Or I miss opportunities to catapult forward rather than walk because I don't learn enough from past experiences. Or I just plain miss out – on being grateful or happy or satisfied.
What am I missing
I took a teaching job at a large university eight years ago with 0% experience in teaching. It was terrifying. I lost 15 pounds and my hair was falling out. I am hard wired to achieve, so I put enormous pressure on myself to immediately win at teaching when I was walking in without knowing the rules of the game. It turns out I'm a really good teacher, and I absolutely love teaching. I've been a finalist for the top teaching award at the university. But you know what? My SALT effect co-founder Kristie WON that award.
She's an amazing educator in many ways – a Yoda to me and many others in our department – and a huge part of that is her dedication to intentional reflection. Let me give you an example of what I mean.
Me: Our online student evaluations are available. I might get some negative comments, so maybe I'll read them later. Or never. [As a first-born, I often don't welcome constructive criticism because it feels like a knock to my achieving nature. Ugh. Selfish and embarrassing.]
Kristie: Our online student evaluations are available, do you need help finding them on the website? Mine had some really helpful suggestions and I'm considering changes for next semester. [Kristie claims she's got some ugly character traits somewhere, but this isn't one of them. She's a Jedi master. For other teachers out there, this United Federation of Teachers article talks more about how to use reflection to be a better teacher.]
Kristie also added a reflection paper assignment to the course she designed, and the comments she gets from students are often amazing. The graded assignment forces students to stop and reflect on what they've learned through the class about social issues and how nonprofits address these issues. It makes them consciously consider how they've grown, how their opinions have changed and what they might do differently as a result.
Our classroom experience mirrors a whole lot of existing research, and that's why we built SALT effect service-learning experiences around a national model that includes reflection. We think volunteering and giving back are important, but reflection helps service impact not only the people you serve, but YOU.
2018 reflections for a better 2019
Ok, so I'm officially making a New Year's resolution to spend more time reflecting this year. Sometimes this might happen at the end of a full day, and other times not until the end of a season or semester, or even after a stressful or important experience. I'll start by taking a look back to see what I can take away, or share, from the past year.
Things Kristie and I learned from…
Books We Read
– Podcasts (a tiny audio-book, right?)
I discovered podcasts this year, and the big part of me that obsesses with efficiency fell in love. I can listen in my car, then plug in my headphones and keep listening as I walk to my office. I can listen and learn when I run. I hear some of the true crime podcasts are amazing, but this year I primarily relied on podcasts to tackle life as a first-time entrepreneur.
Reflection: Podcasts are a great resource for real-time information and for my drive- and run-time. I need to take time after good episodes to jot down notes and put them in a place where I'll actually look at them again or I'm losing 90% of the great stuff I'm learning when I listen.
– Girl Wash Your Face & Of Mess and Moxie
If you haven't seen or heard of these books this year, you're clearly not an American women between the ages of 30 and 50 who reads or uses any form of social media. Authors Rachel Hollis and Jen Hatmaker are Christian women, but these aren't really religious books. They're more about life as women.
Reflection: I don't think I'm a typical woman, because I often don't identify with things that seem to be common female themes. I definitely share some similar experiences and points-of-view with these female authors, but reading nonfiction that's a pep talk for women ultimately didn't give me a lot of food for thought. Instead of reading books that make me laugh and feel better about just being who I am, next year I'm going to read nonfiction that makes me uncomfortable and challenges me. The book The Price of Privilege tops the list since I'm raising upper middle income kids in America.
– Giftology & Building a StoryBrand
I'm an avid reader, but I typically only read fiction, and I use reading as a way to escape the stresses of life. I branched out this year because starting a business required a lot of information I didn't have.
Reflection: These ideas make SO much sense that I'm annoyed I didn't come up with these concepts and make the best seller list first. I can and will keep in mind the importance of thoughtful gift-giving and this framework for telling a story, and I'll keep my ear out for other nonfiction that will challenge the way I do business and life.
I love reading to myself and to my kids, and talking about books and reading. A student recommended this book and I hesitated because it didn't fit my usual genres and seemed like one of the "popular" books, which I sometimes rebel against. But I thoroughly enjoyed blasting through it on vacation and then immediately watching the movie.
Reflection: Reading is a necessary relaxation for me, and I need to make time for it. Oh, and I will always love reading a book, watching the movie and then analyzing and judging all differences.
Movies/Shows We Watched
I likely wouldn't have ever watched either if I didn't happen to get recommendations.
Reflection: Just when it seemed like Hollywood had no new plot lines or formulas, this movie and show amazed me. I shouldn't look around and whine that every good idea has already been taken. I'm re-inspired that there's room for my thoughts and actions to make a difference in cool new ways. I should look at new things, and look at old things from different angles. I can do better than making today a sequel to yesterday.
– The Crown (and everything royal, including weddings, babies)
This is Kristie's mostly secret fascination.
Reflection: It's ok to have guilty pleasures and follow news items that make you feel happy rather than terrified.
Places We Went
– Relaxation vacation
I had a big birthday and a big anniversary this year, and my husband surprised me with the gift of a relaxing vacation for just the two of us. I looked around at people laying in the sun all day, and it looked lovely, but I just couldn't do it all day. I felt like I missed the manual on how to relax.

Reflection: For my husband and I, relaxing looks like playing tennis and then laying around for a couple hours. Or reading and writing not because I'm on deadline, but because I actually love to do those things. That being said – I also need to get better at relaxing here and there. A couple days into vacation, when I finally detoxed from my usual crazy pace, I realized how great it felt to refuel. I should find small ways to relax more than I do.
– Family events
We traveled to visit out-of-state family for a graduation, a birth, a funeral and a reunion.

Reflection: It can feel tricky in the moment to clear work, school and activity schedules, but being there for family matters. Time spent together builds relationships, and it helps preserve the shared history and memories. A previous post about traditions that are truly worth your time talks more about why to make these things happen when we can.
– Trip in lieu of gifts
My sons traded their birthday parties/gifts this year for a long weekend at the Wizarding World of Harry Potter at Universal Studios.
Reflection: Even at 8 and 11, my kids recognized that this experience trumped typical presents. This won't be an option every year, and they probably wouldn't choose it every year, but it was a good reminder to all of us that stuff comes and goes while memories tend to hang around. We pulled together a list of 26 experience gift ideas for others interested in going this route.
Changing Family Dynamics
– Having pre-teens in the house
Kristie and I both have pre-teen sons in our house for the first time. Conversations became more complicated, attitudes got snarkier, frustrations ramped up. It feels like the stakes got higher because their decisions have bigger consequences and they're only under our roofs and influence for a limited time (gulp).
Reflection: This will not be easy, and we better get prepared. We need to remain stable and set a strong example as our kids enter the turbulent waters of adolescence. And to do this, we'll need help. We're talking a support network of friends and family to lean on and a strong faith. We're talking counseling. We're talking relationships with our spouses that don't get put on the back burner.
– Dealing with aging parents
Kristie's year included the long process of helping a parent transition from independent living to a nursing home, including a move to government health care. She has a master's degree and a sibling to help, and she still struggled to navigate the red tape and obscure rules.
Reflection: Dementia sucks, and it's so much harder to get government help when you need it than she ever imagined. She realized that without her help, her parent would be homeless and without needed meds. This put into perspective the privilege and access she has that so many others don't.
– New pet, no pet
Kristie's family added a second dog to their house and Mary reneged on a loose promise to get a dog after a few pet-free years.
Reflection: I won't speak for Kristie on this one, but the jury's still out with my reflection here. I'm honestly torn. One of our children cares 0% about pets, one would live in a zoo and the other is in between. I love animals and always had pets growing up. But we're gone a lot, so I truly fear the guilt and expense of leaving a dog home more than I would like or making all kind of arrangements if we're at sports games or family gatherings. I'll take any and all advice on this one.
Risks taken
– Becoming entrepreneurs by starting SALT effect
SALT effect is Kristie's brainchild. She invited me to lunch last winter to talk about "an idea she had." Two teacher moms with no time to spare decided to embrace that idea and start a business. Kristie chooses a word of the year, and for 2018 her word was: Brave.

Reflection: Kristie feels like she lived out her 2018 word. She started a business. Wrote about things that were personal and real (even when it was uncomfortable) and learned more than she ever felt possible in a short time. For me, I'm thankful for this new challenge because I was starting to feel comfortable. Being an entrepreneur constantly reminds me of how much I don't know and how much I simply cannot plan. And that opens wide the door for 2019.