Top 10 Cool Things Moms Can Do with Amazon Echo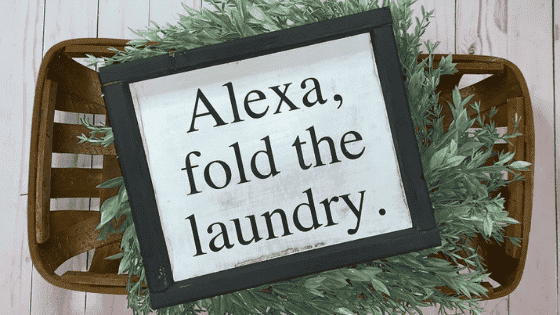 Ok, so Alexa can't meet every need, but she can do some pretty cool and helpful things beyond playing songs and answering questions. We've started exploring the possibilities now that we have two Amazon Echo Dots in the house. Here are 10 cool new things Alexa can help you do.
To find more things on your own, dig into the Skills & Games function on the Alexa app. There are categories like Business & Finance, Food & Drink and Productivity. You can enable different skills or learn more in the app.
This post contains affiliate links – we may earn a small commission if you purchase through our links. Thanks for supporting us!
1. Make donations
Hundreds of organizations now accept donations via Alexa Donations. It's as simple as: "Alexa, donate $20 to A Kid Again." (Had to highlight a locally-based nonprofit that does awesome things.) Here is a complete list of organizations that accept voice donations from Alexa. To donate, you need to set up an Amazon Pay account with a credit card on file and enable voice purchasing. You'll receive a confirmation via the Alexa app and email for any donations.
2. Finish lingering daily exercise goals
If your Fitbit or Apple Watch stares you down by the end of the evening with almost-finished goals, use Alexa to help you polish them off. Say "Alexa, start 7-minute workout," and get your choice of a low-impact, standard or advanced mini workout. The 7-Minute Workout gives you a couple music choices and pulls from more than 45 randomized exercises.
3. Order pizza
Pizza Hut, Domino's and Papa John's all let you place your order via Alexa. Again, you'll need to authorize your Amazon Echo in advance to allow it to make purchases. In the Alexa app, enable your favorite of the three pizza places and make sure your credit card and delivery info are in the app or saved on the company's website. If you have a favorite pizza order, you can save that as well. Now you're set up for commands like "Alexa, open Domino's and place my Easy Order" or "Alexa, tell Pizza Hut to place an order."
4. Place a Starbucks order on the fly
Alexa can place your Starbucks order on your way out the door in the morning
Step 1 – Enable the Starbucks Reorder skill
Step 2 – Link it to your Starbucks account (you'll see the prompts after enabling the skills)
Step 3 – Place a mobile order with the Starbucks app so Alexa will know your usual.
Then Alexa can then take the reins and order any of your previous five orders from one of the last 10 Starbucks you've visited in person. "Alexa, tell Starbucks to start my usual order."
5. Block explicit songs
My husband enabled the explicit filter on Alexa, and suddenly I can listen to the Hamilton soundtrack in front of my kids without screaming "beep" over the swear words. In general, the filter doesn't bleep out words. It just won't play certain songs. Some music services also don't support it, in case you're running other music programs through your Amazon Echo. To turn on the explicit filter:
Step 1 – From the menu, select Settings
Step 2 – Select Music and then Explicit Filter
Step 3 – Use the toggle to turn Explicit Filter on or off
6. Enjoy trivia and learn random interesting stuff
Some favorite commands that will give you new questions or info daily:
"Alexa, play Jeopardy!"
"Alexa, start Song Quiz"
"Alexa, play Harry Potter quiz"
"Alexa, launch This Day in History"
7. Create ambiance
If you love falling asleep to the sound of rain, or hearing the beach in the background while you read, Alexa's got you covered. "Alexa, open Sleep Sounds" gives you access to everything from white noise to the ocean to rain on a tent. After you queue up your sound, ask "Alexa, set a sleep timer for two hours" if you want the sounds to go off after you're asleep.
8. Get special Amazon deals
If you ask "Alexa, what are my deals?" you'll hear a series of Prime member-exclusive deals that you can get only by ordering through voice command. On Amazon Prime Day, they offered a smart plug for under $5 and a video doorbell for less than $100 on to shoppers who asked Alexa about deals and ordered directly through her.
9. Call home without a home phone
If you don't have a home phone and aren't ready to activate a separate cell phone just to leave at home, Alexa lets you call home from your phone using your Amazon Echo devices. Using the app on your smartphone, you can call or drop in on your Amazon Echo devices or the devices of other contacts on your phone who have an Alexa app or Echo device.
10. Order from Amazon hands-free
If something comes to mind that you want to order from Amazon – even laundry detergent or tissue paper – you can tell Alexa to add it to your cart. If it's available, she'll tell you the name and price and then ask you to confirm or cancel. She can just put it in the cart for checkout later, or she can complete the order. It's up to you. You must have a credit card and shipping address on file and enable voice purchasing. You can also add a PIN so your kids don't start ordering items through Alexa.
Need an Echo or Echo Dot? Or want another one? Click the images below.