Personalized Gifts for Mom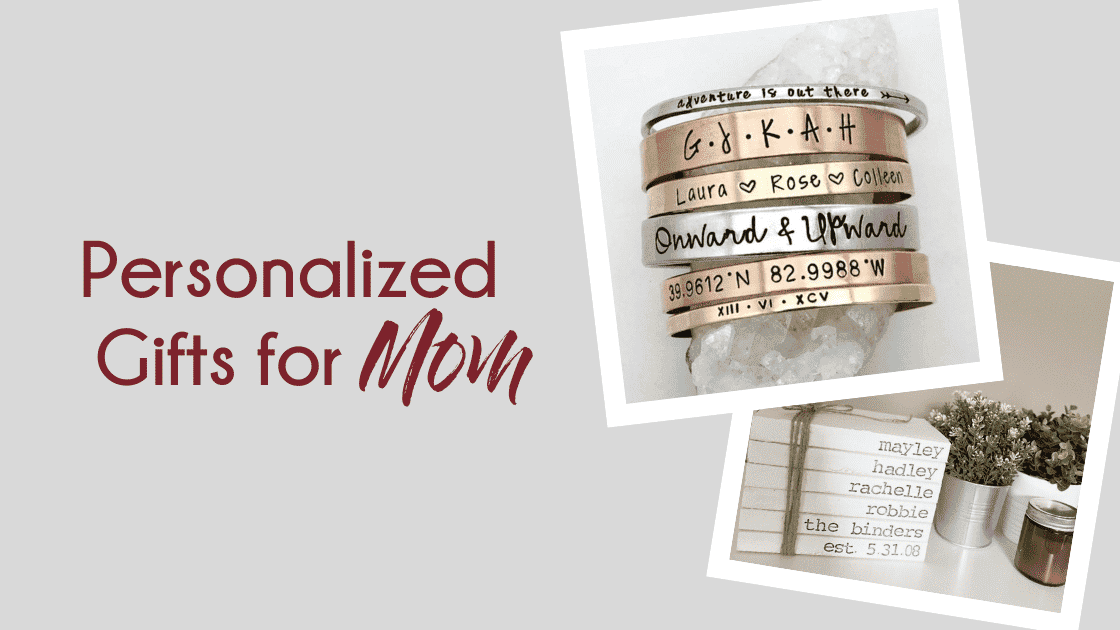 Finding meaningful gifts for moms – especially moms who don't need anything or gifts for moms who "don't want anything" – can be a challenge. These personalized gifts for mom are truly thoughtful ways to show that you know them, love them and appreciate them. 
I have two sisters, so my dad spent years in a house full of women. He grew up as one of three boys and lettered in four sports in high school and then raised three daughters. I'm sure my childhood home was a never-ending shock to his system. Bathroom outlets exploding with curling irons and flat irons and hair dryers. Squealing packs of girls in the basement and constantly clogged phone lines (please tell me at least some of you remember calling friends on phones, getting busy signals and then redialing over and over).
God gave my dad girls because that's what he needed – and what my mom needed. My dad coached my softball teams and intimidated my boyfriends and moved me in and out of at least eight dorm rooms and apartments during my late teens and early 20s. He's amazing at a lot of things, but he would tell you himself that gift-giving is not his love language.
And my mom loves…no strike that…is obsessed with giving gifts. Mom also appreciates receiving meaningful gifts. That's where my sisters and I come in. We were trained in the art of thoughtful gift giving by a seasoned pro, and we're pretty darn good at sniffing out meaningful gifts for mom. Personalized gifts for mom that she'll really like and actually use. Thoughtful gifts for moms who don't necessarily need anything, and gifts for moms who "don't want anything."
Below are some of my favorite personalized gifts for mom:
I recently discovered the affordable and personalized world of custom wine labels that celebrate different occasions. This label lets you upload your own photo and overlay text if you choose. You see a final proof and then the Etsy shop owner drops the label in the mail for you to add to your own bottle of wine.
This label ships to you on flexible, moisture-resistant paper, but if you start looking around at other options, watch carefully because some retailers charge for the label design and require that you print at home on your own adhesive paper.  
These beautiful book displays are made by a woman in my area and sold on Etsy. I have a set with my three kids' names sitting on my shelf, but you can also request meaningful phrases and change the number of books and type of ribbon to get just the look and message you want.
For moms on the go, Yeti tops the charts for tumblers that keep hot drinks hot and cold drinks cold. This Etsy retailer customizes Yeti tumblers, and we're talking 13+ color options and 18 designs – anything from a first name to a monogram inside a pineapple. Personalization is laser engraved rather than a vinyl sticker, so designs are permanent.
These bags, from give-back company The Shop Forward, will get your creativity going as you come up with four heartfelt or hilarious words or phrases. Give a teacher mom: Caffeinate, Educate, Sleep, Repeat. Or let a mom know how well you really know her: Coffee. Soccer. Friends. Books.
A "So Her" Shirt
When we want a unique and meaningful gift for mom, sometimes the perfect T-shirt or sweatshirt hits the spot. Etsy and Simply Sage Market let you find unique and personalized gifts for mom.
For a little help with brainstorming:
Think about things and places they love (the beach, the cabin, Disney, the mountains, pumpkin spice, caffeine, wine, tacos)

Think about their stage of life and motherhood (endless hours chasing littles or watching kids' sports)

Think about their jobs and hobbies (nurse moms, teacher moms, outdoorsy moms, runner moms)
(Get $10 off when you use this link)
(15% discount with code "SALTEFFECT")
(20% discount with code "salteffect")

This is an art print that visually captures the sound waves of a voice, several voices or a favorite song. You choose the colors and size and then send an audio recording (up to eight voices) or the favorite line you want from a certain a song and artist. Opt to print a message below the wave or even request a QR code label to attach to the back so mom can scan and hear the actual recording. The Etsy retailer gives simple and clear instructions for getting and submitting recordings.
Want more gift lists?