A fun new place – Play: CBUS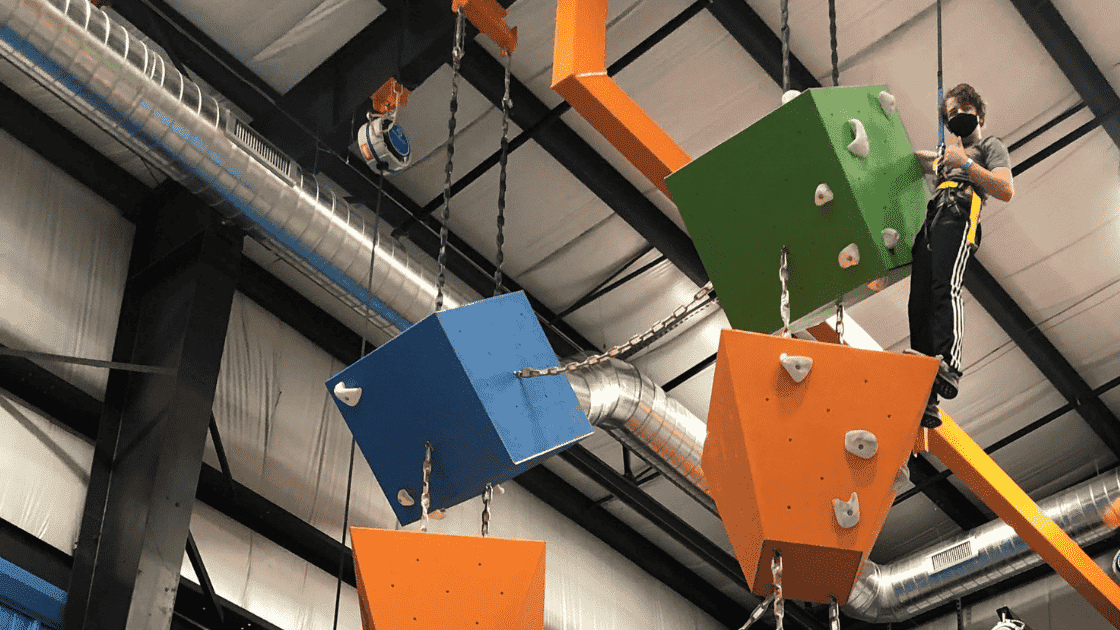 We've had a blast exploring the indoor adventure park Play: CBUS over the past month or so. My family bought a one-month pass, and some friends and neighbors also joined.
The 52,000-square-foot warehouse houses a two-story high ropes course, a zip line, multiple climbing walls, ninja warrior features, a bouldering wall, a basketball hoop and more.
It's been a great place for my tweens and teens to safely get some exercise and do something new and fun after so much time at home. The large space not only includes room for kids to play, but a kitchen and bar. The hot food and drinks available for purchase on site are a lifesaver when you don't have time or just forget to bring snacks. (The giant soft pretzel is our favorite – it will feed a few hungry teens.)
We also love that Play: CBUS is an Ohio-based and family-owned business. Based in Cleveland, the original Play: CLE was the brainchild of an 8-year-old and her dad several years ago. Play: CBUS is the second location and we're excited to have it in our area.
COVID/Safety Policies
Our first questions when we considered buying the one-month pass were about safety.
Play Cbus is a 52,000-square-foot indoor warehouse that allows ample space for social distancing.

They are limiting capacity within the facility, enforcing social distancing measures and requiring masks at all times unless seated while eating/drinking.

Obstacles/activities are inherently socially distant as only one guest is allowed on each element (platform to platform) or climbing wall at a time.

Guests are asked to put on their own harnesses with the assistance and guidance of staff members to limit close co

ntact

. Additional help is available upon request and staff check that harnesses are safe before climbing.
There is a dedicated staff member to clean throughout the facility during his/her shift.
Play: CBUS is closed on Mondays and Tuesdays to deep clean and perform any needed maintenance. This is a brand-new facility with a state-of-the-art HVAC system and industrial fans to provide proper ventilation.
What Ages Can Play

My kids are 7, 10 and 13. My two older kids can do anything in the park on their own. My youngest daughter needs an adult or her teenage brother with her on the high ropes course to help her move her carabiner between elements because she's just not quite tall enough. There is a smaller ropes course for younger kids, and adults can climb and play as well!
My tween and teen and their buddies love it. They wander for hours doing the ropes course, scaling the climbing walls and shooting hoops.
A Play gift card might be the perfect thing to put on your family's wish list, or to give as a gift. See more experience gift ideas!