Best Smartwatches for Tweens 2023 (Reviews from Moms of Tweens)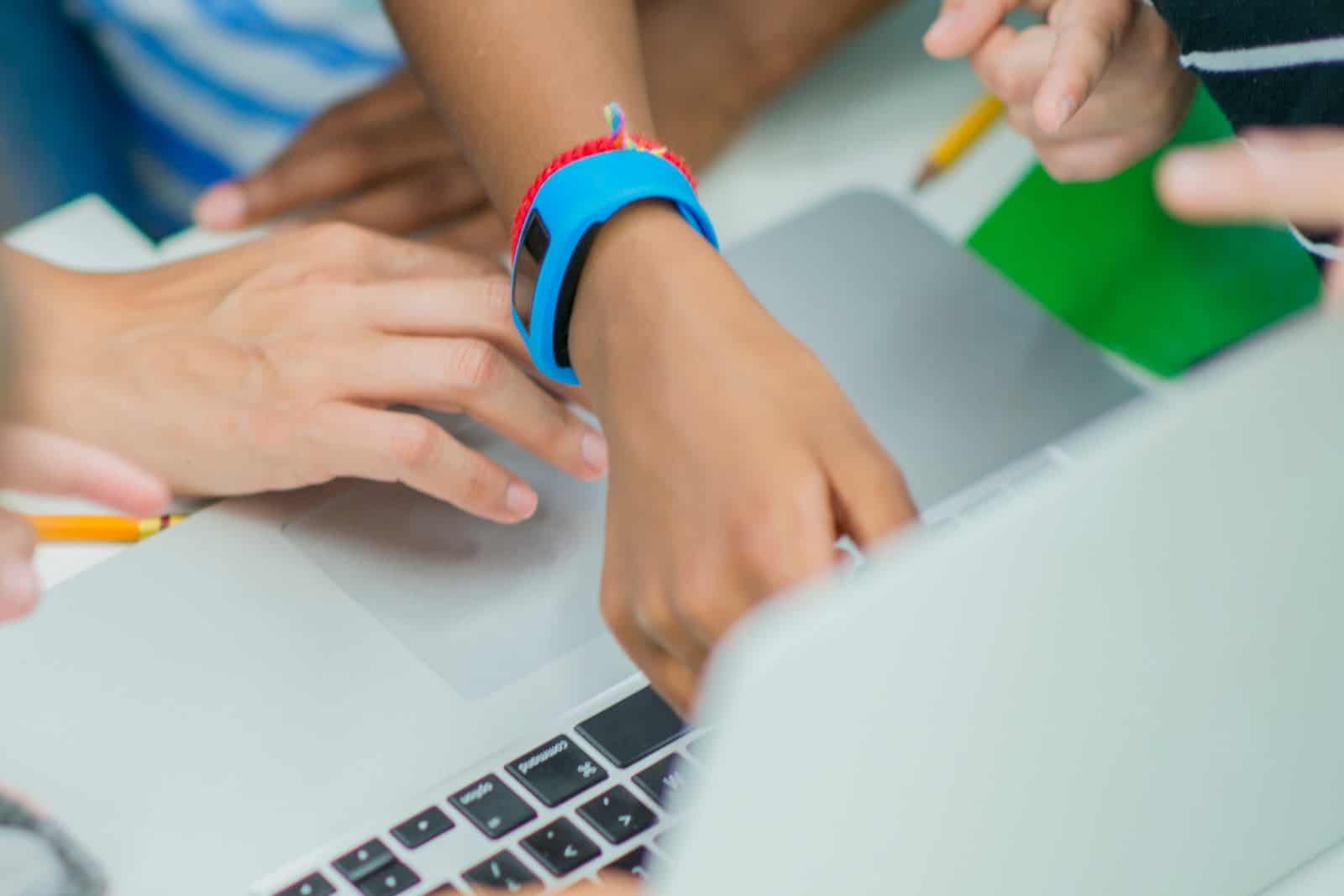 Choose the best watch for tweens. with detailed reviews of smartwatches for kids from Fitbit, Garmin, VTech and Apple. Moms of tweens share the most important features, style preferences and differences between top brands that helped them decide on the smartwatch for their tween.
Some of the links below are affiliate links. This means that, at zero cost to you, we will earn an affiliate commission if you click the link and make a purchase. We appreciate your support!
Updated 1/1/2023
While you may love lots of choices when you're looking for gift ideas (we've got you covered with amazing gift guides), it's helpful to have only the best options when it comes to purchases like a smart watch for tweens.
When we're faced with a technology purchase, especially for our kids, we do a lot of research. The amount of information out there is overwhelming, and we know you don't have time (or energy) to sort through all of it!
Fitbit Ace 3: A Fun & Interactive Watch for Tweens
One of the best watches for tweens is the Fitbit Ace 3. It's really easy to use and it's designed specifically for kids to be lightweight, comfortable, durable and swimproof (water resistance to 50 meters).
What does The Fitbit Ace 3 do?
We rated this a best watch for tweens because it has some really fun and interactive features. Kids can earn virtual badges and track their activities all day long.
Tweens can set up custom challenges with family members or friends, and then exchange messages or send cheers within the app.
If you're worried about who they might be contacting, parental controls are available so you can approve who they're connecting with.
Sleep tracking isn't the most exciting feature for kids, but parents will appreciate some insight about the quality of sleep their kids are getting. One of my teen boys has always had trouble falling asleep, so the bedtime reminders and sleep monitor would have been really helpful when he was a tween. You can also set silent alarms.
If your tween has a smartphone, they'll be able to get notifications on the watch. You can sync the Fitbit Ace 3 to nearly all Android phones and iOS devices.
How often will I need to charge the Fitbit Ace 3?
The battery life is an impressive 8 days — charge it only once a week! A single charge is a full 3 days longer than the Fitbit Ace 2.
What Band Colors and Watch Face Styles Are Available?
It's available in 3 color combinations (blue/green, black/red and special edition Minions yellow).
The touch screen is very responsive and the watch face is animated with images like plants or rockets. As kids are more active throughout the day, they can make the plants grow or the rockets lift off.
If your tween isn't crazy about those options, you can buy replacement bands for the Fitbit Ace 3 in different colors. The silicone band comes in sets of 5 so tweens can change the color whenever they want.
What age is The Fitbit Ace 3 for?
It's for kids ages 6 and older.
Fitbit Ace app
There's a special Kid View on the Fitbit smartphone app that's protected.
Tweens will love checking their virtual badges and stats every day! It's a great way to encourage them to be active and get enough sleep–important habits that will improve their overall health for a lifetime.
If tracking is important to you and you want a Fitbit, the Ace is the only model that connects a kid account to a parent account. Other Fitbit models require a separate account for the wearer.
You're already a Fitbit family
You can set up a Kid View account on the Fitbit app
You want a smartwatch that has a great fitness and activity tracker
Slimmer design and plain color bands look a little older
Your tween has a smartphone and would be able to get notifications
Some reviews complain about the silicone strap breaking too easily
It lacks some of the additional features found on other smart watches


Garmin vivofit jr. 3: Best Gamified Activity Watch for Tweens
If you're looking for a smartwatch that goes beyond fitness tracking, the Garmin vivofit jr. 3 is our recommended pick.
What does a Garmin vivofit jr do?
More than any other smartwatch for tweens that we reviewed, the Garmin vivofit jr 3 really gamifies fitness goals and activity. Meeting daily activity goals unlocks adventures, quizzes, games and icons. If you're looking for something to motivate your tween to do more more often, this is our pick–especially if they're Marvel or Disney princess fans.
This smartwatch allows kids to compete in 2-minute step challenges when they sync with friends or family wearing a compatible Garmin watch (vivofit jr. 2, vivofit jr. 3, vivofit 4, vivomove 3 series and vivosmart 4). You'll need the Toe-to-Toe mobile app for this competition.
It's compatible with iPhone and Android devices.
How often will I need to charge the Garmin Vivofit jr. 3?
A huge plus for this watch is long battery life that lasts up to one year! Yep, you read that right. No charger needed. In a house where chargers go missing all.the.time, this alone might sell me on the vivofit jr. It's also swim-friendly, so you don't have to worry about water issues either.
What Band Colors and Watch Face Styles Are Available?
The Garmin vivofit jr. 3 comes in 7 colors and a color display. Choose from Marvel, Disney princess and Garmin options with no difference in price point. (The Garmin vivofit jr. 2 has Star Wars watches, but that's not available for the vivofit jr. 3.)
If your tween is a Marvel fan, they'll love the Black Panther and Iron Man options that unlock Marvel Avengers icons, games and adventures. When they meet daily activity goals, they earn Infinity Stone points that can be redeemed for new images. Plus, Captain America's fitness challenge is a great motivator!
The Garmin vivofit jr. 3 also comes in Disney princess and Disney The Little Mermaid options with adventures, games and icons of their favorite princesses (Ariel, Belle, Jasmine, Mulan and Rapunzel). Tweens can explore magical kingdoms and reveal more sections of an adventure map when they meet their daily activity goals.
Three great colors of the Garmin vivofit jr. 3 are available for tweens who don't want a character watch (blue stars, digi camo and lilac flower). They can learn about famous places around the world and throughout history, and they can do some sleuthing. Fun games and quizzes are available, and a scrapbook of adventures is revealed when they collect gems for meeting daily activity goals.
If your tween wants a different color or needs a replacement band, you can get plain colors and fun patterns in packs of 3.
What age is The Garmin vivofit jr for?
The Garmin vivofit jr. 3 is for kids ages 4 and older.
Garmin jr. app
Parent monitoring is available with the Garmin jr. app. Use it to view activity and sleep, as well as connect with family members to compete in challenges. There's also an ICE (In Case of Emergency) widget where you can input emergency contact information.
We love the chores and rewards feature because kids don't need their own smartphone to check off their chores when you enable the limited access Kid Mode. This is a big bonus for parents who like the convenience of chore apps but aren't ready for their tween to have a phone. You can even schedule alerts and reminders–let the watch be the nag!
What do I do when my vivofit battery dies?
If you're wondering how to replace the Garmin vivofit jr. 3 battery, it's surprisingly easy and affordable. You can get replacement CR2025 batteries on Amazon and Garmin's clear instructions on replacing the battery are easy to follow.
You're already a Garmin family
The battery lasts up to a year and is easily replaceable
You can set up parent monitoring on the Garmin jr. app
Your tween loves Black Panther, Iron Man or Disney princesses (Ariel, Belle, Jasmine, Mulan and Rapunzel)
You can set up multiple child profiles in the app
You want to encourage fitness and activity in a fun, gamified way
You're looking for something to help with chores and reminders
You'll need to download the Garmin Jr. app on your parent phone and pair it to the watch
You'll need to download the Toe-to-Toe app for timed step challenges with friends (who also must have the Toe-to-Toe app)
Some extra adventures and themes are an additional cost
Some reviewers say it's hard to read in the sunlight
No GPS
Syncing may have to be done manually at times


VTech KidiZoom Smartwatch DX3: Best Watch for Younger Tweens
We rated the Vtech KidiZoom Smartwatch DX3 as a best watch for tweens because it's user-friendly for both parents and kids. It's also one of our top picks for younger tweens.
What does Vtech KidiZoom Smartwatch DX3 do?
If this is the first watch for your tween and you're primarily focused on safety features and security, the Vtech KidiZoom is your best option. There's absolutely no Bluetooth or wireless capability, so there's no need to worry about content security or who your tweens might be connecting with.
Three activities called action challenges encourage kids to move for a period of time using the stopwatch, but the watch has a basic pedometer so it will only work as a step counter. If your tween has a friend who also has a DX3, they can scan the code on their friend's screen to play games together.
Parental control is available for game options and time limits. You can decide what games are available and set limits on how long your tweens play. There's also a Switch to School mode that turns games and animations off so it's just a watch to tell time.
If your tween needs some help with daily routines, they can choose from over 60 activities and set daily reminders. They can also set one alarm that has an audio alert; a silent or vibrating alarm clock isn't an option. This watch also has a countdown timer, stopwatch, calendar, simple calculator and an LED that works as a flashlight and camera flash.
From your tween's point of view, the best thing about this watch is the camera and voice recorder. Kids can play around with voice-changing effects on an audio recording and record short videos. They can also snap pictures (including selfies) and play with effects, stamps, frames and filters. Parents can connect the watch to a computer to transfer and save the pictures and videos.
How often will I need to charge the VTech KidiZoom Smartwatch DX3?
The rechargeable battery can last up to 2 weeks. For heavy usage, however, it may need to be charged every day.
What Band Colors and Watch Face Styles Are Available?
The shape of the watch looks more like adult watches than the Garmin or Fitbit, but the watch face and color options are definitely kid-focused. It's durable and has a rubber cover over the micro-USB port, but it's not water resistant or waterproof.
It's available in 3 solid colors (blue, purple and pink) and there's a pink glitter option. This watch has so many watch face options! Tweens can choose from over 50 animated faces or they can create one of their own. They'll also be able to tell time on both analog and digital clocks with the options available.
What age is Vtech KidiZoom Smartwatch DX3 for?
The Vtech KidiZoom Smartwatch DX3 is for young children and kids ages 4-12.
Reasons to choose the Vtech KidiZoom Smartwatch DX3:
You have younger children (ages 8-10)
You want a completely secure watch with no wireless capabilities
It's easy to use and doesn't require any apps (unless you want to turn pictures into watch faces)
You want your tween to be able to take pictures and video, but you're not ready to get them a phone
Concerns about the Vtech KidiZoom Smartwatch DX3:
The fitness capability is limited to tracking steps
Watch can look big on smaller tweens because the watch face is shaped like an adult watch
Apple Watch SE: Best Smartwatch for Older Tweens
If you have a responsible, older tween who has an iPhone and wants a more grown-up watch with GPS, your best option is to get the Apple Watch SE. It's a big jump in price compared to the other kids smartwatches we've reviewed, but you do get a lot for your money.
What does the Apple Watch SE do?
The Apple Watch SE has the best fitness tracker of the watches we've reviewed. You can track virtually any activity, including move, exercise and stand goals.
Choose from tons of workout options in the workout app and keep track of time, calories burned, heart rate and more. It's water resistant to 50 meters, so your tween can use it in the pool or lake.
One of the best features of the Apple Watch SE is cellular availability which means your tween's phone doesn't always have to be with them. This is a great feature for kids who run or bike outdoors and don't want a bulky phone. Or when they're swimming, tubing, skiing, boating, or at amusement parks or water parks.
The cellular option also allows them to stream music, podcasts and audiobooks.
The Apple Watch SE also includes the Mindfulness app, something that may be really helpful for tweens who need help reducing stress and preparing for things that make them nervous.
It also tracks sleep habits and is the only watch on our list with a heart rate monitor. Tweens can use the information to help establish healthier bedtime routines so they get enough sleep at night.
If you want to compare the Apple Watch SE to the Apple Watch Series 3–another best watch for tweens but they're harder to find because they're older models–the display is 30% larger and the processor is 2x faster on the SE.
For increased parental controls, you can set up the Apple Watch SE without an iPhone. Each watch has a phone number and parents can manage the watch for kids through Family Setup (not available for the Apple Watch Series 3).
Tweens can make phone calls and stay connected via text messages, social media and email. They can access Siri and Apple Pay, find other devices and locate friends, see a map and get directions, contact emergency help and use the watch as a viewfinder for their iPhone camera.
If your tween takes a hard fall or needs emergency help, they can press and hold the side button to be connected with immediate assistance.
How often will I need to charge the Apple Watch SE?
It needs to be charged daily.
What Band Colors and Watch Faces Are Available?
Choose from two sizes (most tweens will want the smaller 40mm) and three finishes: silver, gold or space gray.
Tweens have literally endless options when it comes to watch faces and bands. They can choose from watch faces that are already created or they can customize their own. It's easy to change the watch band if they want different colors, styles or materials.
The nylon loop band is especially popular because it's so easy to get on and off, and it's easily adjustable.
What age is the Apple Watch SE for?
Most information and reviews of the Apple Watch SE suggest that it's appropriate for older kids, starting at age 10.
Reasons to choose the Apple Watch SE:
Your tween already has an iPhone
Your tween wants a watch but isn't crazy about watches for younger tweens and kids
You want a lot of choices for apps and extra features
You're looking for a watch with a GPS tracker and a SIM card so your tween doesn't always need their phone
You have an active tween who wants to track steps, exercise, workouts and other activity
Concerns about the Apple Watch SE:
The price point is much higher than other smartwatches for tweens
Tweens may keep track of their phones, but may not be ready for an expensive watch
The bottom line on the best watch for tweens? You can get lost in all the options out there. To avoid the overwhelm, determine the most important features for your tween and choose the smartwatch based on that list.