61 Best College Graduation Gifts for Guys (2023)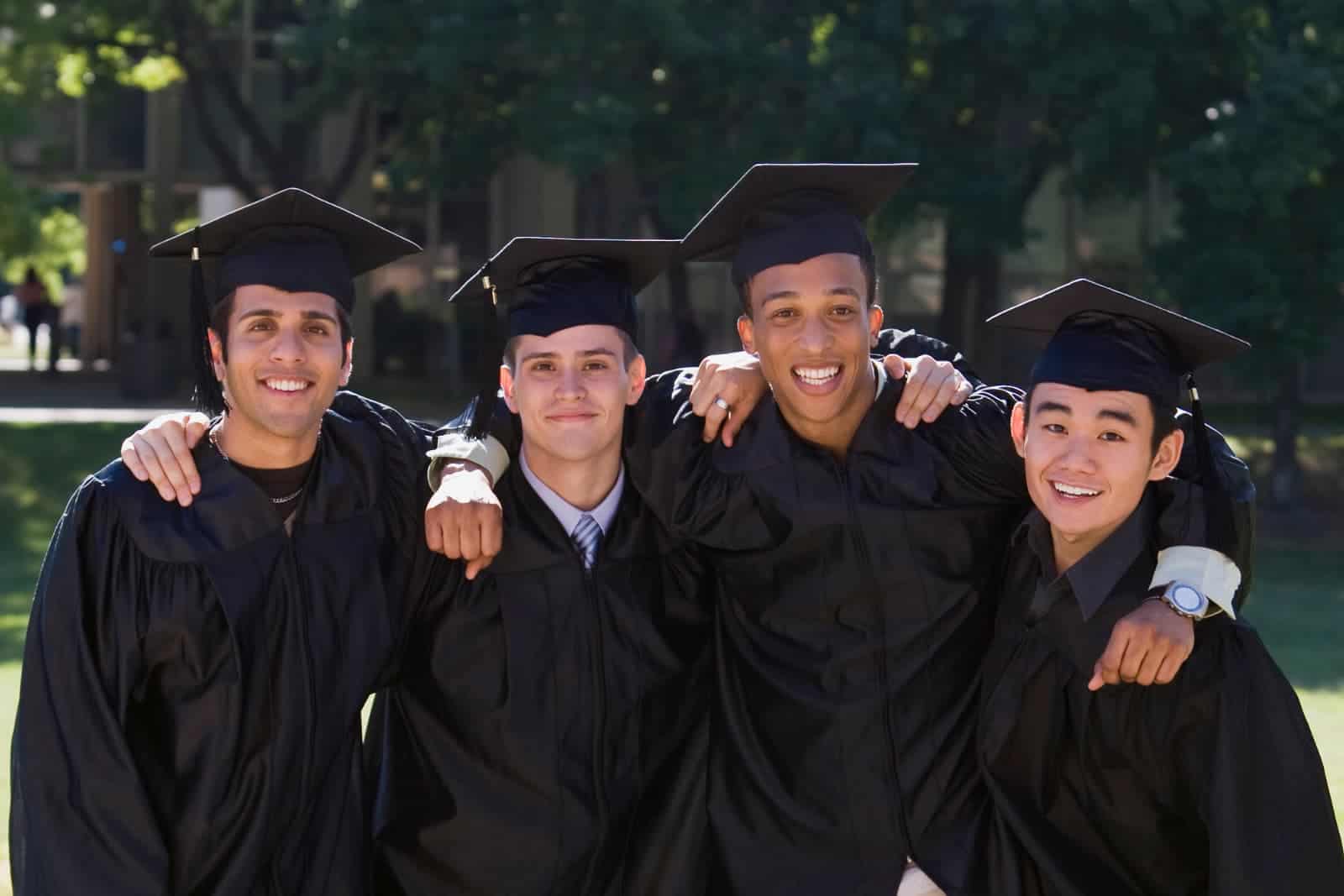 After years of hard work, his college graduation day is finally here! Our curated guide of the best college graduation gifts for guys will help him get started in the real world. From practical gift ideas to unique graduation gift ideas, you'll find the perfect present for him.
Some of the links below are affiliate links. This means that, at zero cost to you, we will earn an affiliate commission if you click the link and make a purchase. We appreciate your support!
If you don't find what you're looking for below, check out our list of the best graduation gifts for friends.
Updated 3/21/2023
Work Gifts For College Grads
Custom Business Card Holder
Business cards may not be as universal as they used to be, but they're definitely still relevant. They're an easy way to exchange information when you're in person and they add credibility to a position or business.
A personalized leather business card holder will help him keep some of his own cards on hand, and keep track of cards he receives.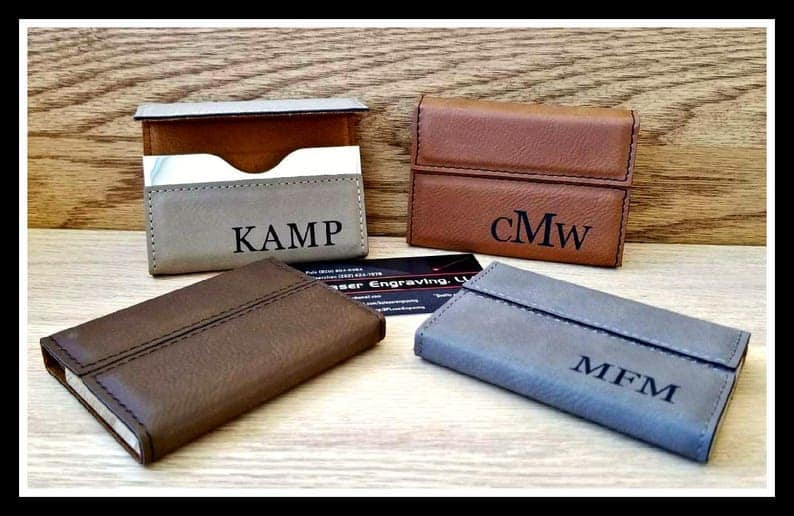 Backpack for Work
He definitely needs to upgrade his college backpack to something more professional. If he wants to stick with a backpack, give him this eBags pro slim laptop backpack. My husband has an eBag and the design and functionality are incredible.
It's been recently redesigned and updated based on extensive customer feedback–eBags listens to their customers! This backpack holds more than you'd expect and has a compartment for absolutely everything.
AirPods Pro
If he's doesn't have AirPods Pro yet, now is a perfect time to give him a pair. The noise canceling alone will make his life easier–he can tune out extra noise on public transportation or inside the thin walls of apartment buildings.
Don't forget a protective case so he doesn't lose track of his AirPods!
Quarterly Planner
We're fans of productivity expert Michael Hyatt's Full Focus Planner, so we weren't surprised to find it on the New York Times list of best planners.
It's a unique quarterly planner that's built on the Full Focus System, "the goal achievement framework that's helped over 200,000 achievers accomplish more in less time." Young adults absolutely need planners to stay organized and plan for their futures.
Digital Planner
If he'd prefer a digital planner, Rocketbook is our go-to recommendation. With over 40,000 reviews on Amazon, this smart reusable notebook will make him the envy of his coworkers.
He can write, draw, sketch, or doodle on the 42 pages and then scan to whatever cloud service he already uses. Then erase and start over!
The Rocketbook Fusion comes in several sizes and lots of colors, and the pages include calendars, to-do lists and notetaking layouts so it's perfect whether he wants a daily planner or a weekly one.
Apple Watch
An nice watch is something he'll use all day long and wear for years. You already know that an Apple Watch does practically everything, so you just need to decide which model is best for him.
The Apple Watch Series 7 is the latest release and the biggest updates are a slightly larger and much brighter display that's always on and more scratch-resistant, a few additional color options and faster charging which matters if you want to consistently track your sleep.
If those updates aren't terribly important, the Apple Watch SE is a fantastic deal! My college students who have the SE love it.
Blue Light Blocking Glasses
Give him a trendy pair of glasses to give his eyes a rest from all the hours he'll spend staring at a screen. These filter the high energy blue light rays to help improve screen viewing and lessen eye fatigue.
They come with a cleaning cloth, microfiber pouch and case. Choose from many different colors and combinations of packs of two, three or four pairs.
Wallet
Is he still using the wallet he got in high school? Or maybe it was one of his high school graduation gifts. Either way, it's time for an upgrade!
An RFID wallet is a necessity, and he'll also want something that's not too bulky for his credit cards and cash. He'll like the carbon fiber of this slim leather RFID minimalist wallet. Available in 6 other colors.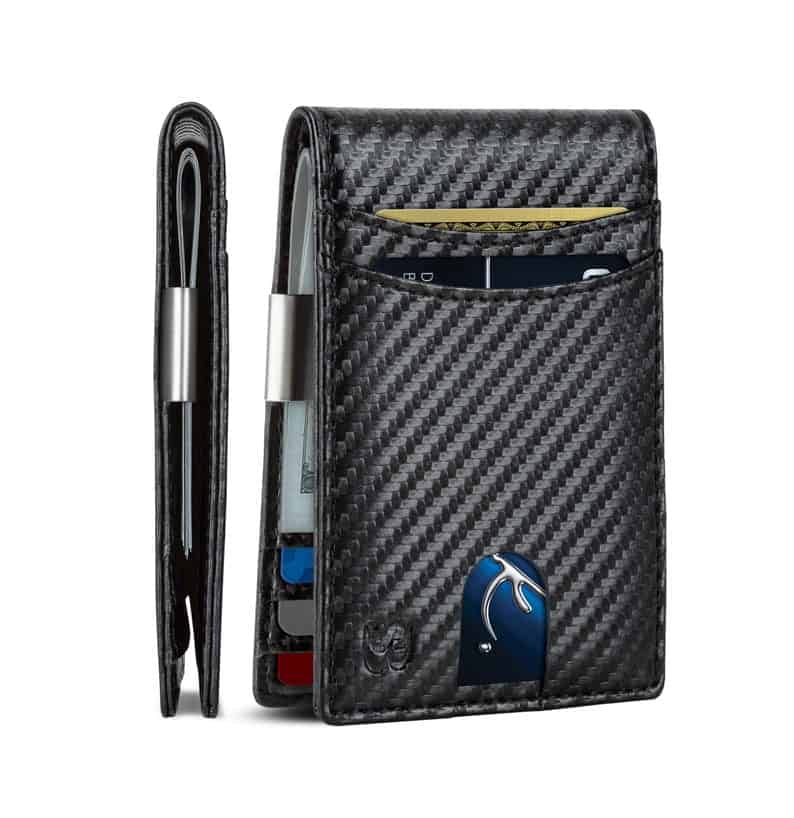 Ring Light for Zoom Calls
This unique gift idea might surprise you, but trust me, he needs a ring light. I've spent a lot of time on Zoom meetings with college students and they almost always need better lighting.
I teach communication classes and we spend a lot of time talking about presentation skills and the importance of professionalism online. Whether he'll spend most of his time on video conferences or just a little, a ring light will help ensure a strong impression and presence.
This one is easy to use with a laptop, tablet or phone and has an adjustable stand.
iPad Pro
My college students get a university-issued iPad when they're freshman and they love them! It's also a great idea for the working world because it's so easy to carry back and forth.
The latest iPad Pro is available with an 11-inch or 12.9-inch screen. Make sure to get a cover with a keyboard and pencil holder and an Apple Pencil–he'll be so grateful for the versatility.
MacBook Pro or Microsoft Surface Laptop
If he's off to grad school or taking a job that doesn't provide a computer and you're able to swing a big purchase, this is a perfect gift because he'll use it every single day.
Our students prefer laptops that are lightweight and have a touch screen, along with a fast processor and plenty of storage. For Apple fans, the MacBook Pro is a go-to option and for PC fans, the Microsoft Surface Laptop is a no-brainer.
Stainless Steel Travel Mug
The two brands I buy when looking for stainless steel travel mugs are Contigo and Yeti. The Contigo Autoseal West Loop does not spill or leak–I toss mine in my backpack and my lunch bag all the time and it has never leaked.
It also has one-handed drinking so it's perfect when he's driving. If you get the plain stainless steel, it's also dishwasher safe. I do love the Yeti Rambler travel mugs too, especially because all colors are dishwasher safe and they won't crack or peel.
Important note: both of these options will fit in a cup holder and most Keurig machines if you remove the drip tray!
Stitch Fix Gift Card
Clothes that fit well are an absolute must for fresh graduates. I know what a lot of my students wear for presentations in my class and for most of them, it's time to invest in a professional wardrobe.
But buying clothes for guys is not easy, especially if they don't like to shop or don't know how what size dress clothes fit best.
We're huge fans of Stitch Fix for guys because they curate styles that fit well based on his needs and price preference. Shipping, returns and exchanges are free! And this gift card doesn't commit him (or you) to a subscription.
My husband and Mary's husband use it and they get ton of compliments on shoes, jackets and other clothes they've purchased from Stitch Fix.
Socks
There are so many options for socks–everything from traditional dress socks to crazy patterns. Your choice here will probably depend on the kind of work he'll be doing.
If he's headed to the office, give him black socks that have a little personality. If his office is more casual, have some fun with more colorful options.
Kindle Paperwhite
For guys who like to read for personal or professional growth–or just for fun–a Kindle Paperwhite is perfect, especially if he likes to travel or doesn't want to spend a lot of money on books.
The Kindle Paperwhite 11th Gen has a 6.8″ display, adjustable warm light and is waterproof and glare free. Choose without ads or ad-supported which displays ads on the lockscreen. Don't forget to add a cover!
This leather cover is our favorite–it's available in nearly 20 colors and has a hand strap, card slot, foldable stand and auto sleep wake.
Kitchen Gifts For His New Place
He said goodbye to his dorm room and maybe even his first apartment off campus. Now it's time for his adult life to begin which means cooking, cleaning and hosting.
Keurig Coffee Maker
Many of my college students have a pretty serious Starbucks habit. I don't know how they fund it, but unless he hits the jackpot and gets an amazing salary plus low cost of living and no debt, he'll be looking for ways to save money.
A Keurig coffee maker is one of the best gifts to help him do that. The Keurig K-Elite has a strong brew, dedicated iced coffee setting, 5 cup sizes and it brews in less than a minute.
Add a set of mugs and some K-cups to round out your gift.
Instant Pot Duo Mini
An Instant Pot is so easy to use and he can just about last-minute his meal. The Duo 3-Quart Mini is the recommended size for singles. He can cook for up to 3 people or do some batch cooking for himself.
This Duo Mini has 7-in-1 functionality (pressure cooker, slow cooker, rice cooker, steamer, sauté, yogurt maker, warmer and sterilizer) and 13 customizable smart programs for favorite dishes.
Cookbook
Yes, he can look up everything online. But sometimes it's nice to have one or two go-to cookbooks within reach. Our favorites are cookbooks that also have practical tips, conversion charts and ingredient substitutions.
If he's basically a beginner cook, give him How To Cook Everything by Mark Bittman.
If he likes to cook but wants to get better and be more efficient, try Cook this Book by Molly Baz–complete with QR codes to short technique videos hosted by the author. Perfect for Gen Z grads who love video!
If he'll be using an Instant Pot, our top pick is The Instant Pot Electric Pressure Cooker Cookbook.
Ninja Digital Air Fryer Oven
This will be life-changing. Seriously. My college students who have them in their off-campus apartments swear by them and my teen boys use ours at least once a day.
He can prepare everything from snacks and appetizers to roasted vegetables and entrees. I love this one for so many reasons: it's a Ninja, it flips up to store against kitchen backsplash for more counter space and it fits a 13-inch pizza!
It could honestly replace his oven–plus it heats up so much faster. He may still eat pizza rolls for dinner sometimes, but at least you'll know you're helping him be a grown-up.
Bar Cart
Setting up a bar cart is a pretty adult thing to do, so it's a great graduation gift. Add a little style to his space with an industrial style cart that has a wine rack and hanging glass storage, plus brakes on two of its wheels.
It can also double as a side table or kitchen island, and the top shelf can be removed to use as a food tray. He can even use it to set up a great coffee bar!
See the Keepsake College Graduation Gifts for Guys section below to pair this gift with a bottle of wine and custom label.
Bar Tools & Cocktail Recipes
Is he the guy who always organizes get-togethers with his friends? Help him step up his hosting game with a set of bar tools and a cocktail cards for great recipes.
This Mixology set is made of heavy-duty stainless steel, is easy to use and is dishwasher safe. The star of this gift is definitely the cool deck of cocktail cards!
Ninja Creami Ice Cream Maker
I can't say enough amazing things about this ice cream maker. It is unquestionably worth the price and will allow him to make delicious desserts without all natural ingredients.
My teen boys love using this to make ice cream, lite ice cream, gelato, milkshakes and smoothie bowls. The recipe booklet even has ideas for boozy milkshakes.
It makes some of the best ice cream we've ever had–and we're a big ice cream family.
Best College Graduation Gifts For His New Apartment
Setting up a new apartment for the first time is both exciting and daunting. Choose the practical route and give him things he'll need or help him bring a personal touch to his new space.
Tool Set
If he doesn't have a set of tools, he needs one and at some point, he'll be really grateful. This Black + Decker 60-piece set is a great way to get his tool collection started. It includes a storage bag and pretty much everything he needs for small jobs.
If he already has the basics, gift him a power tool like the DEWALT 20V max cordless drill/driver kit.
Echo Show
The Echo Show 10 (3rd generation) does so many things to make life on his own a little easier: video calls, recipes (even hands-free with step-by-step directions), streaming shows, music, premium sound and a digital frame.
It can also act as a smart hub for security cameras, lights, thermostats and more. I mean, really…this thing does it all. You can get just the device, the device with 6 months free of Amazon Music Unlimited or the device with the Blink Mini indoor camera.
Record Player / Turntable
Vinyl is back and Gen Z is much of the reason why–which means a resurgence in turntables. With so many options now, it's hard to choose.
We've gifted this Victrola record player and we know he'll love the vintage suitcase vibe that makes it portable. This turntable plays 33 1/3, 45 and 78rpm records and has built-in Bluetooth speakers so he can also stream music from his phone. It's available in 39 colors and styles!
Roku Streaming Stick or Amazon Fire TV Stick
If he doesn't have a smart TV, a streaming stick is a must-have. My family has both the Roku and Amazon Fire.
The Amazon Fire TV Stick 4K Max has a faster loading speed along with a better remote and voice control. If he has other Amazon devices like an Echo smart speaker, it seamlessly pairs to those.
The Roku Streaming Stick 4K wins for home screen navigation (easy search!) and available apps. It doesn't push content or ads on the home screen or screensaver. It also has an AirPlay option to connect Apple devices at a reasonable cost.
Snake Plant
Bob Vila calls the snake plant the "ultimate entry-level houseplant." That should be enough to convince you that he can keep this thing alive and reap all the benefits!
It's a natural air purifier that boosts oxygen at night, it's low maintenance and hard to kill–it will thrive in indirect light (helpful for those sometimes-dark apartments) and requires infrequent watering.
With tons of research about the connection between plants and good mental health, it's the perfect gift idea. And Costa Farms is a trustworthy brand for live plants.
Portable Bluetooth Speaker
If you look at our other gift guides, you'll find this JBL Flip 5 speaker over and over again. It's a personal favorite and it's always our top recommendation.
It has exceptional sound quality and is portable–he can move it to different rooms in his first apartment, use it for an outdoor party or take it to the beach. It's waterproof and really durable. Trust us, this one's a winner!
Emergency First Aid Kit
Is he going to stock up on first aid supplies on his own? Probably not. So make sure he's prepared for the inevitable emergency with a compact high-quality kit.
Surviveware offers a variety of kits, but this one is perfect for apartment living and travel. This water resistant and rip resistant bag will hold up over time and it's portable thanks to the straps and clips. He'll also get a first aid guide.
Steamer
He'll need to be more put together than many of my students who roll into morning classes in wrinkled shirts and pajama pants.
Whether he dresses business professional or business casual, a clothes steamer can save the day because he's unlikely to have the budget for regular dry cleaning. Steamers are so much easier to use than an iron, so they're a practical and useful gift–especially for future job interviews when he needs to look his best.
This handheld steamer is easy to use and store, and it's the perfect travel size.
Gifts For The College Grad Who Loves To Travel
He may not have as much free time now that he's working long hours, but he'll find a way to squeeze travel into his post-grad life. Or maybe travel is part of his first job. Anything to make travel more fun is a great college graduation gift idea.
Leather Dopp Kit / Toiletry Bag
It's time for him to stop tossing loose toiletries in his suitcase and start using a dopp kit. A monogrammed leather toiletry bag is a fantastic gift that he'll use for years to come.
This is the best-selling toiletry bag on Etsy since 2011 and is handcrafted by a small business in Arizona. It's durable, water resistant, lined with high quality nylon and comes with a lifetime warranty.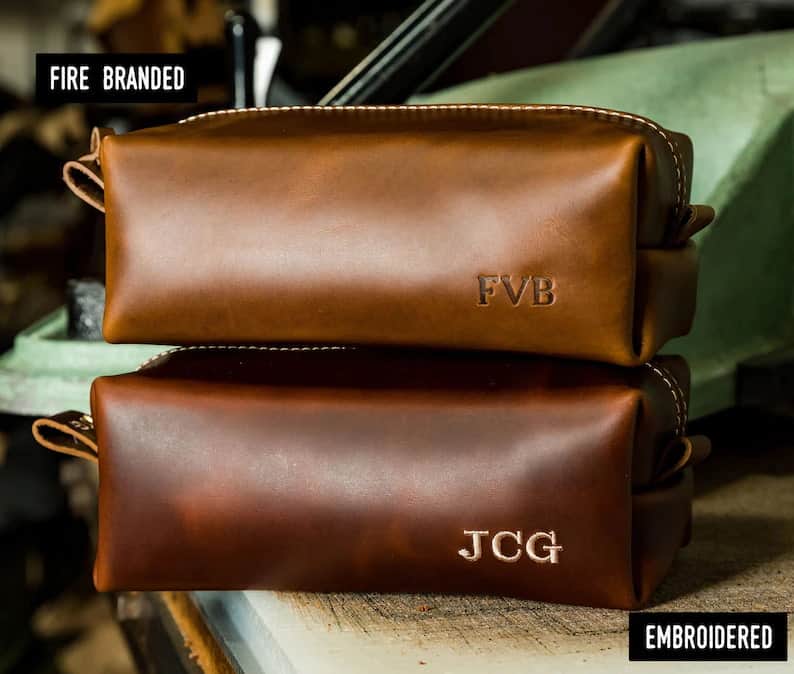 Carry-On Suitcase
This is one of our favorite grad gifts because it will be used often and forever. We recommend a hard case on multi-directional spinner wheels and Samsonite is a trusted brand.
This one has side-mounted TSA locks and comes with a 10-year limited warranty. Choose from 13 colors. Add some unique luggage tags to help him easily identify his suitcase when he travels.
Rolling Duffel
If he prefers a duffel bag when he travels, this is the perfect grown-up version. It's large enough to hold everything he needs and the heavy duty wheels are a game changer.
This lightweight bag is water and tear resistant. It's easy to store and won't take up much space in his apartment because it rolls up to fit in a small bag.
Passport Holder
A quality leather passport holder will help him stay organized for international trips. This one has room for cards and cash, and you can customize with his name or initials.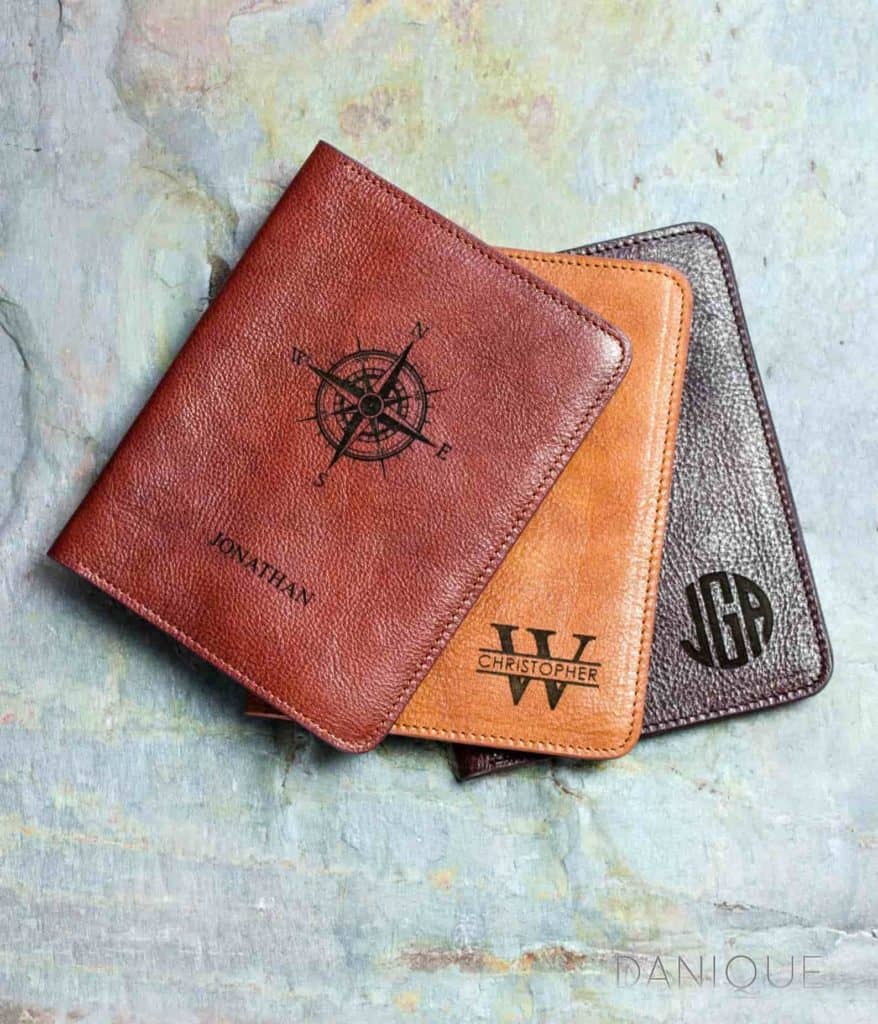 Keepsake Graduation Gifts For Him
3D Wood College Town Map
Art as a conversation piece AND a keepsake? Yes, please! We love this idea because it's timeless, unlike all of those "congrats grad" or "class of 2022" prints.
A 3D laser cut wood map of his college town or city will help him hold on to those college memories long after graduation. The craftsmanship and attention to detail are incredible, and the small business owner is extremely helpful and responsive.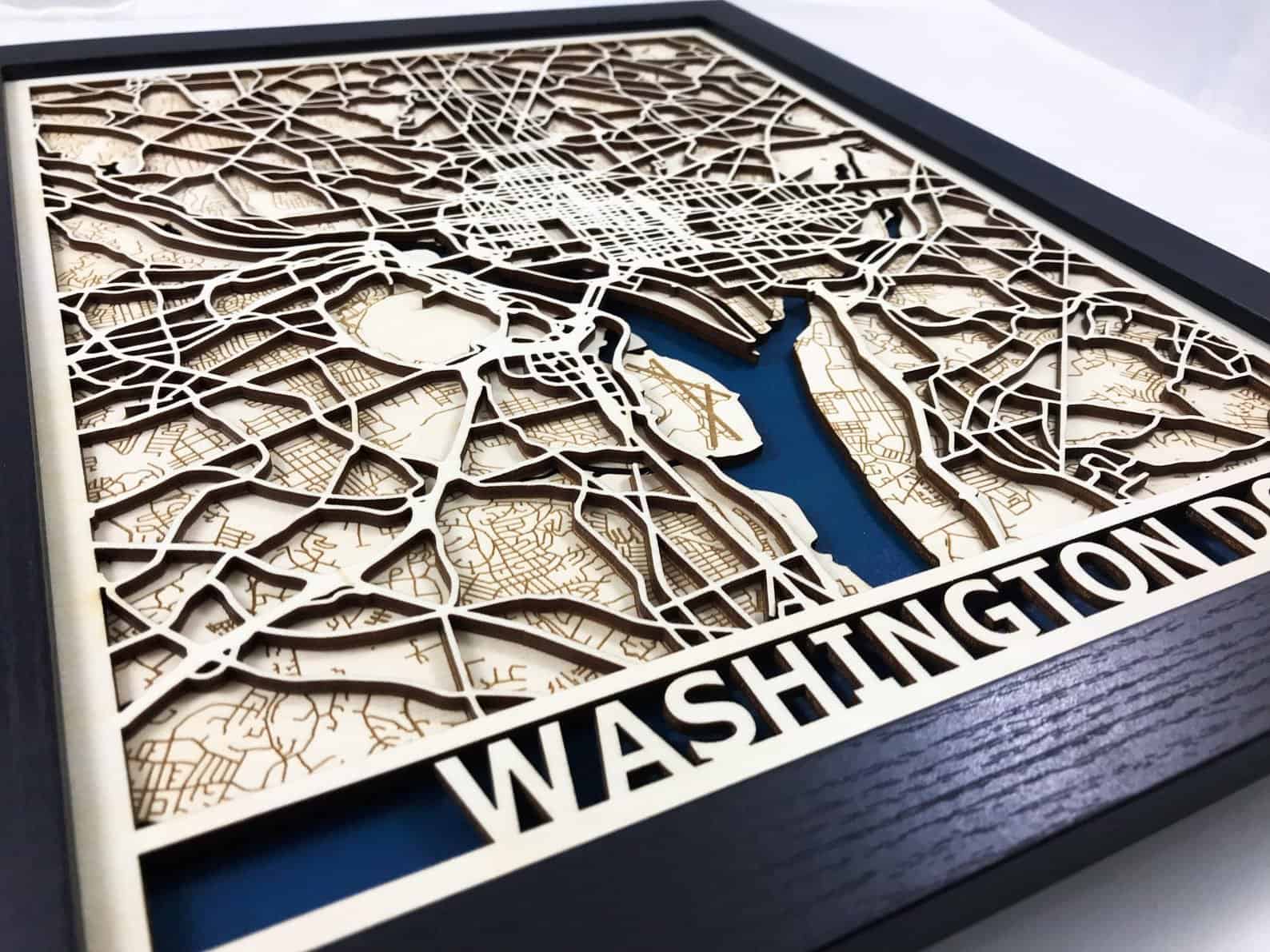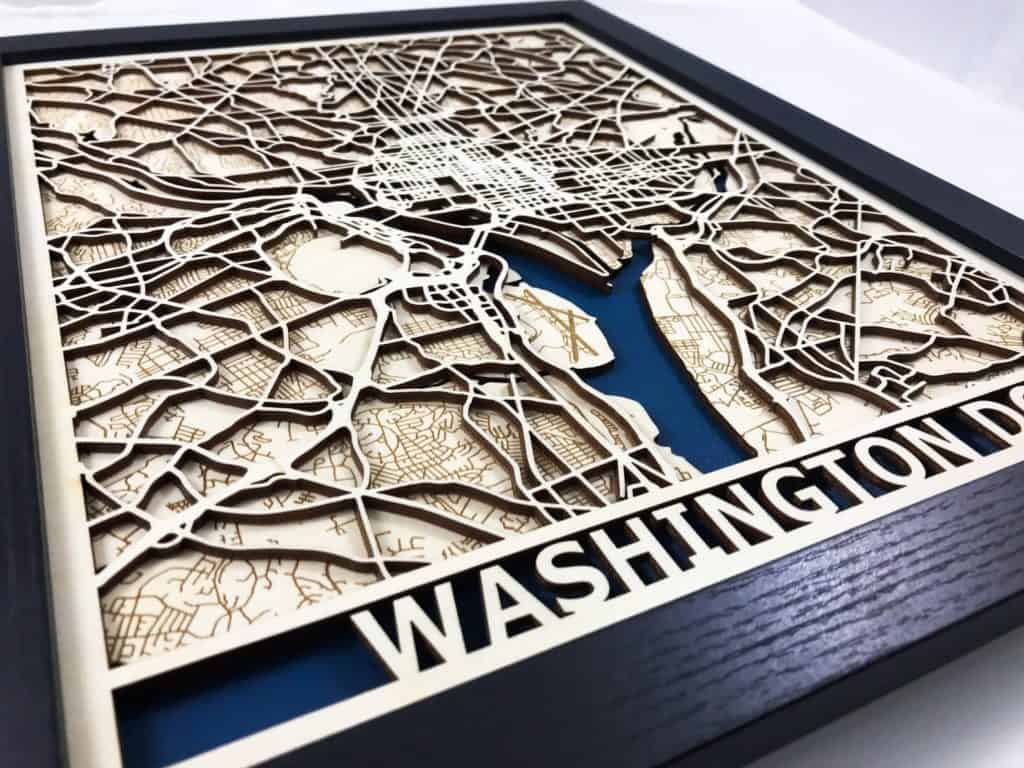 College Town Map Print
If you love the college town map idea but want to spend less, order this black and white custom map print that includes the city, state and coordinates. You could also give him a map of the city he'll be living in after he graduates.
This museum-quality poster is available in 7 sizes.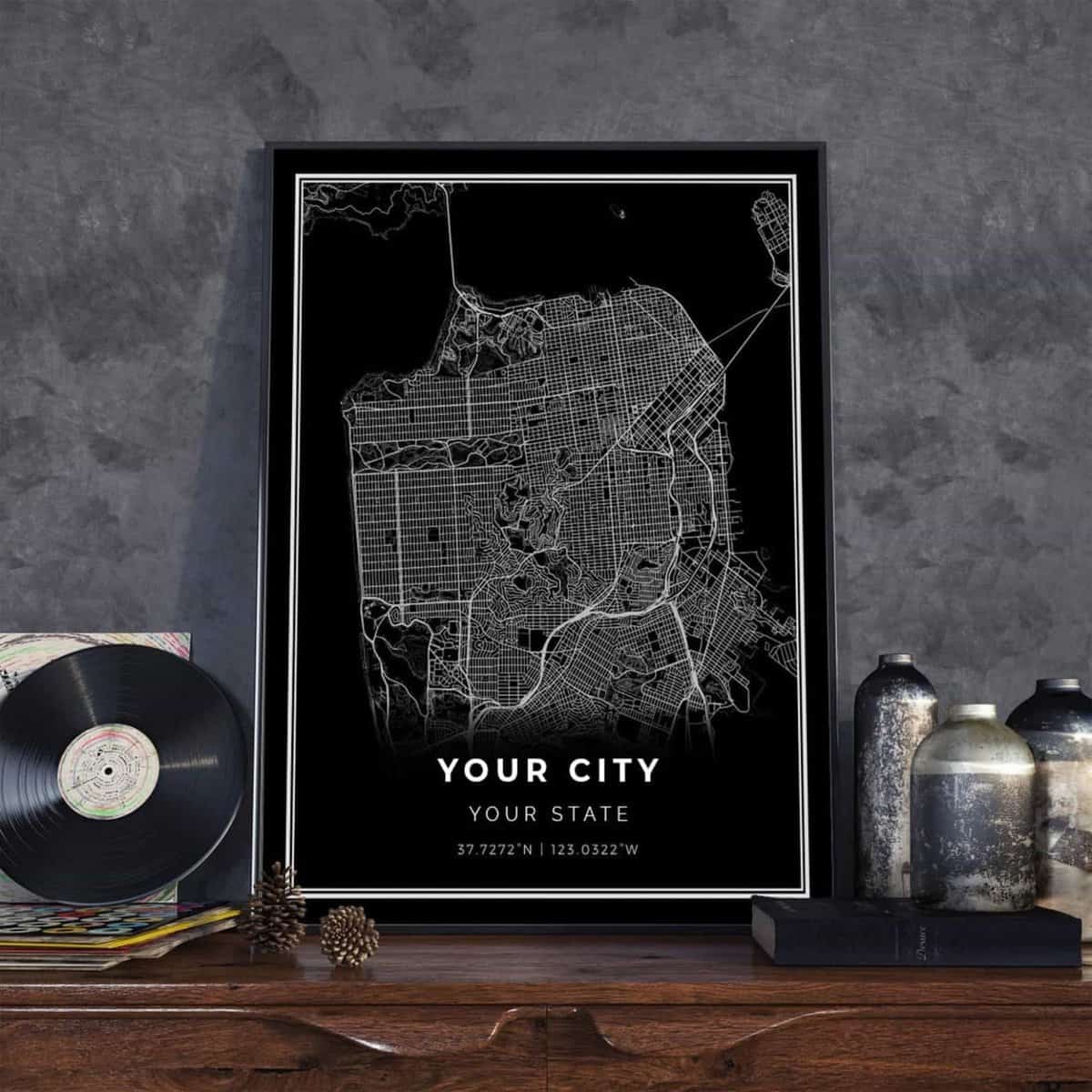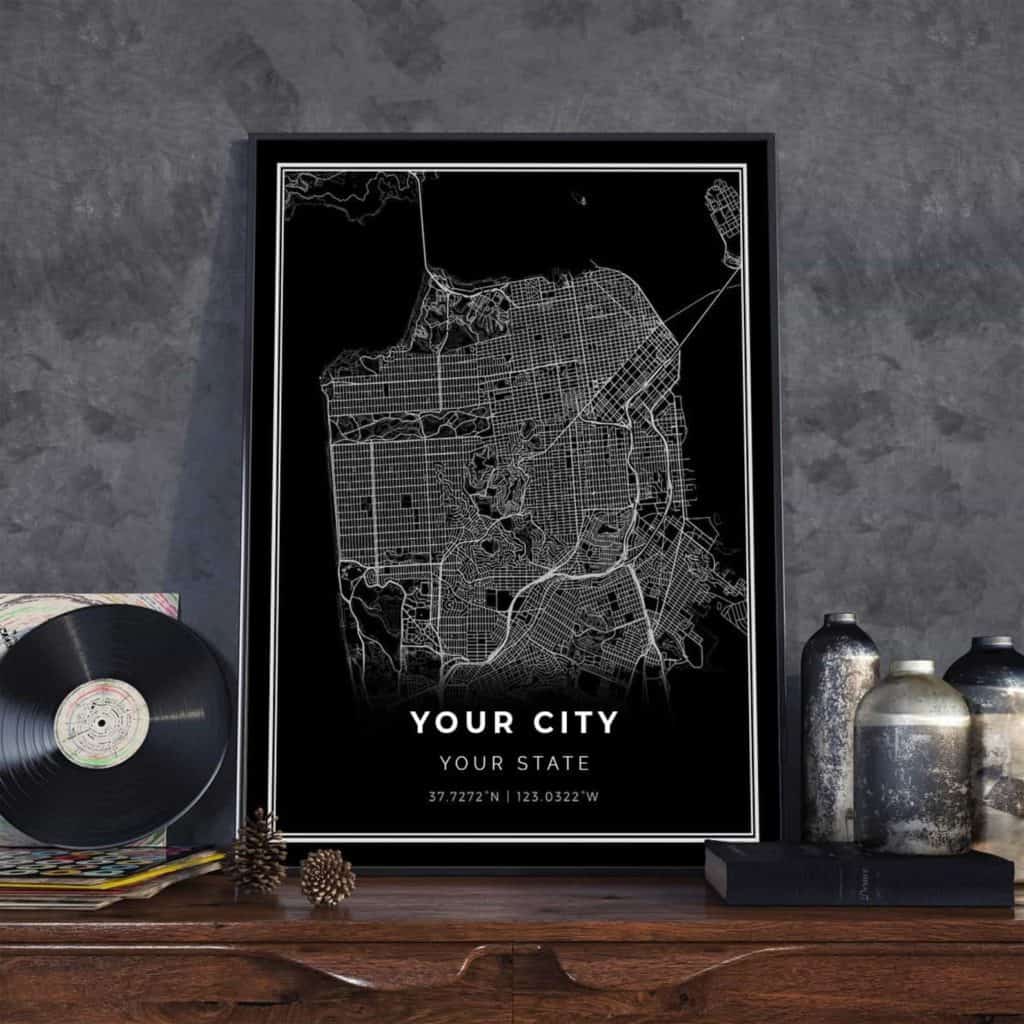 Custom Ornament
You'll find an ornament on nearly all of our gift guides because it's a meaningful and relatively inexpensive way to commemorate important events. He may not display his college diploma, but he'll put a memento on his tree–even if he doesn't decorate a tree for a few years.
Make this even more special by gifting the same ornament to his best friend from college. It won't cost much, but he'll appreciate the thoughtful gift now and the flood of memories that come when he hangs that ornament every year.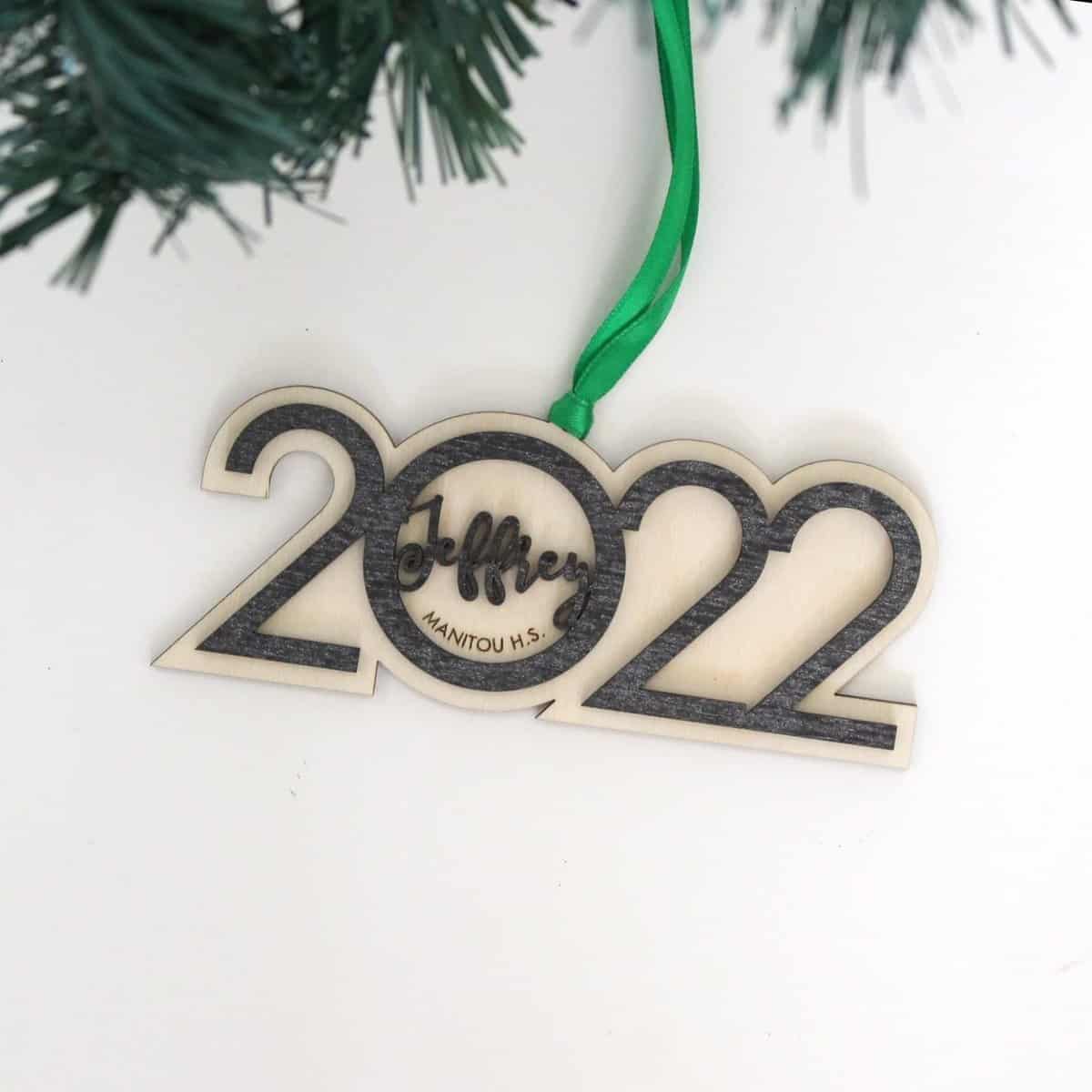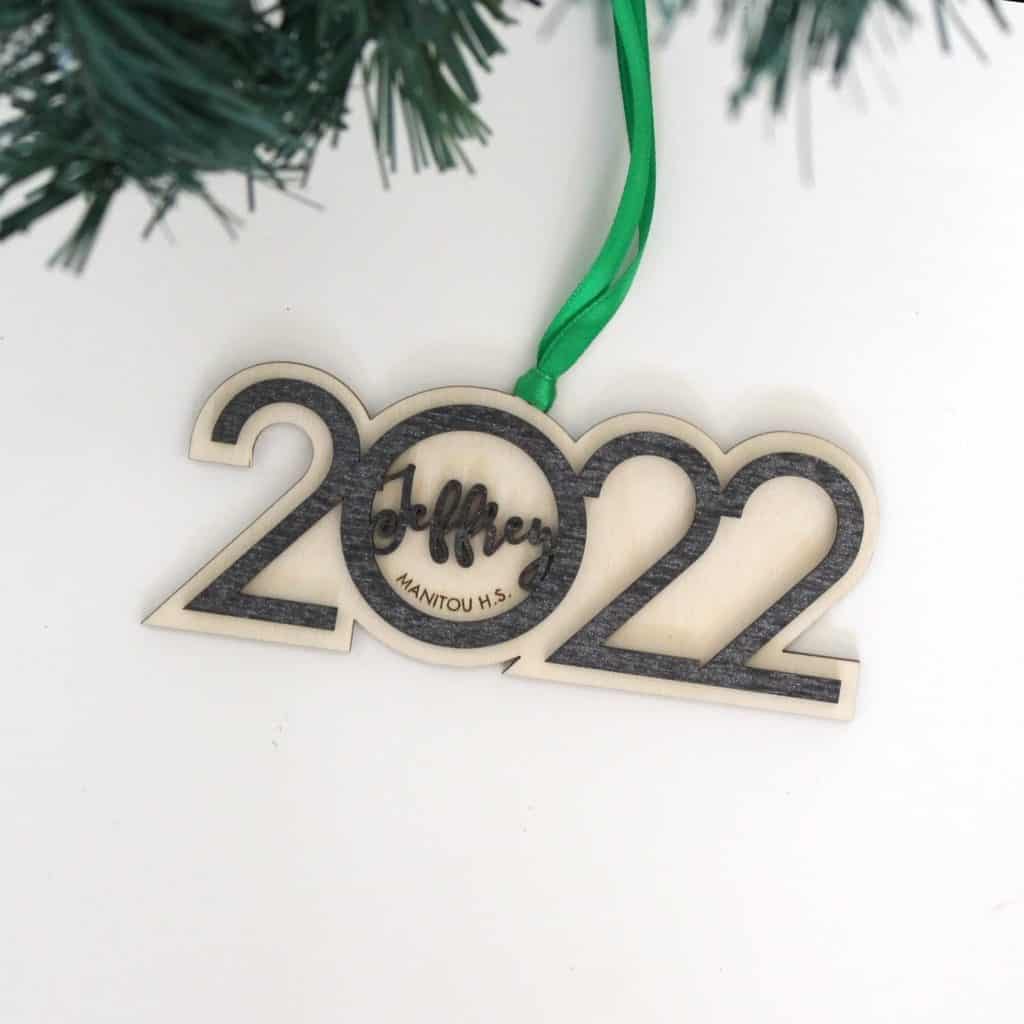 Cufflinks
Cufflinks are another keepsake gift that you can personalize for him. Depending on his career path, he may wear them all the time or only for important events.
My husband doesn't wear cufflinks often, but he cherishes the ones he received as a young man–both new ones and some that were passed down to him.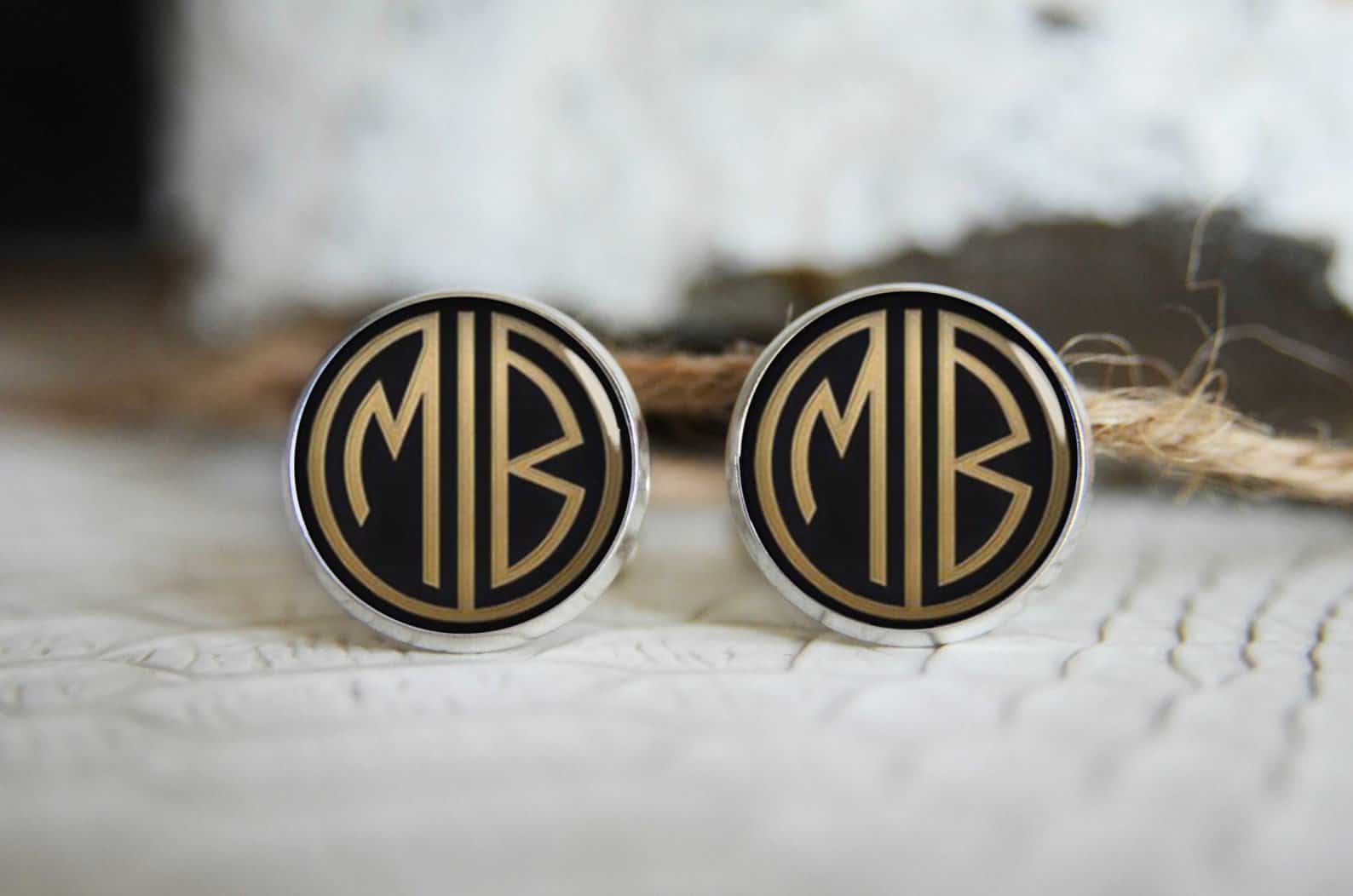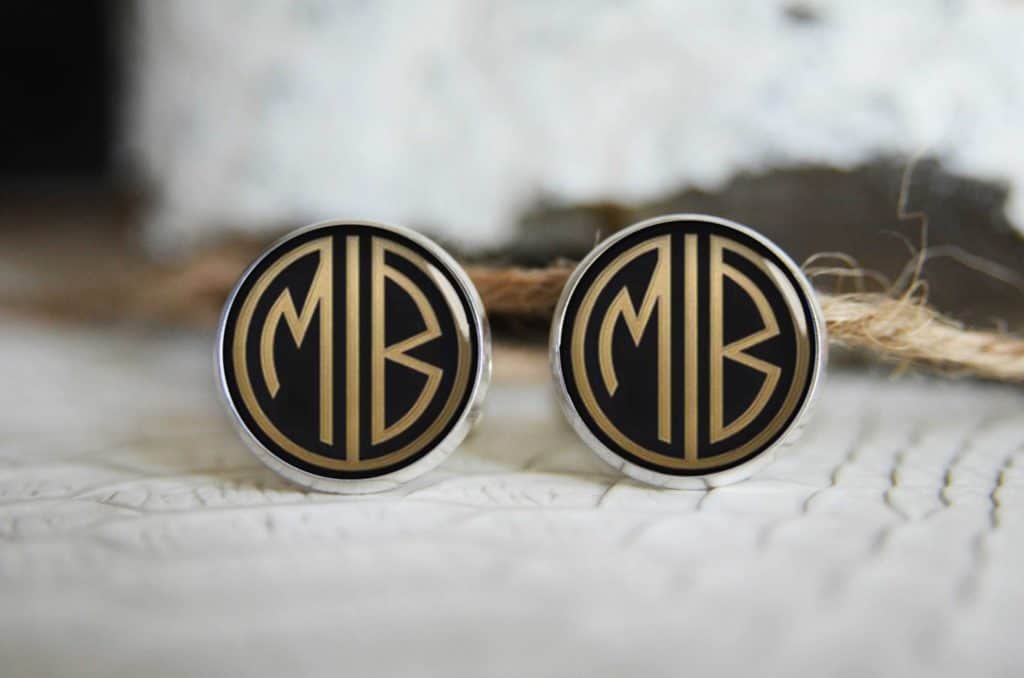 Meaningful Ways To Give Cash & Gift Cards For College Graduation
Cash is a popular gift because it's easy and graduates appreciate it, but you can make it more special with a few easy ideas. We also have a list of the 50 best gift card ideas for teens if you need suggestions.
Cards
Skip the Target card aisle and choose a custom or unique card he'll actually keep. You can tuck some cash inside and support a small business with your card purchase.
Personalized Graduate Card
When was the last time you gave a card that the recipient raved about? Created by a small business owner in North Carolina, this personalized card will be his favorite!
Choose the color of his suit, cap, gown and sash. You can also pick from various hair colors and styles, then add his name, college and degree.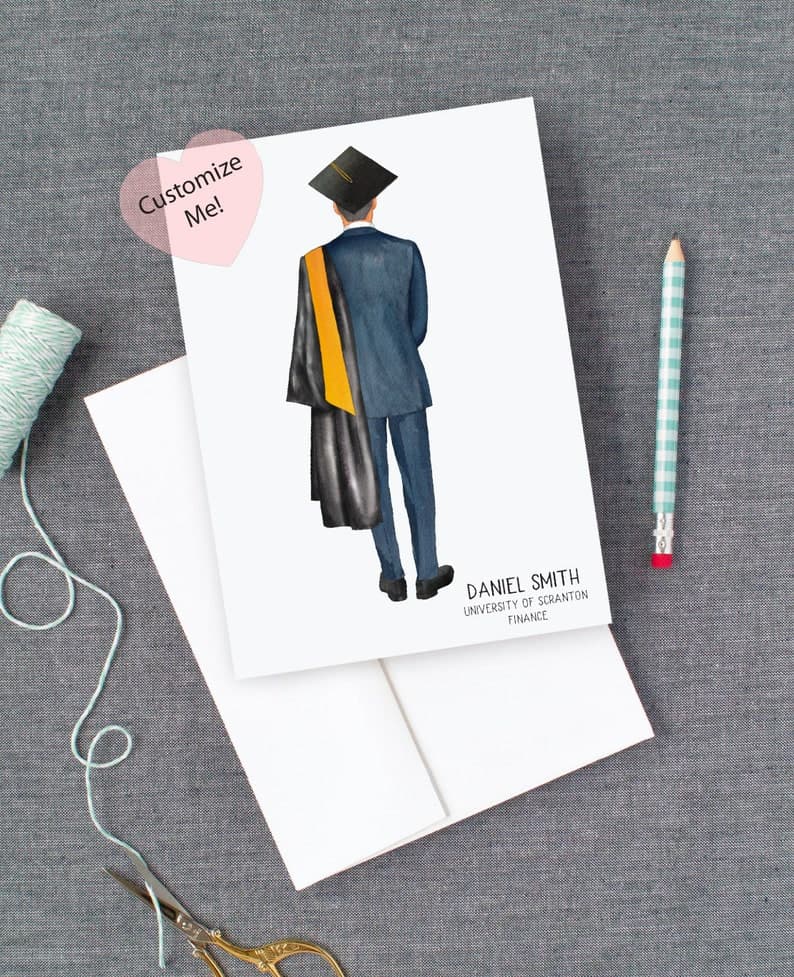 Original Hand-Lettered Card
Does he want to make a positive impact on the world? This card has original hand-lettering on beautiful white fine art paper. The sentiment will encourage and remind him that he can make the world a better place.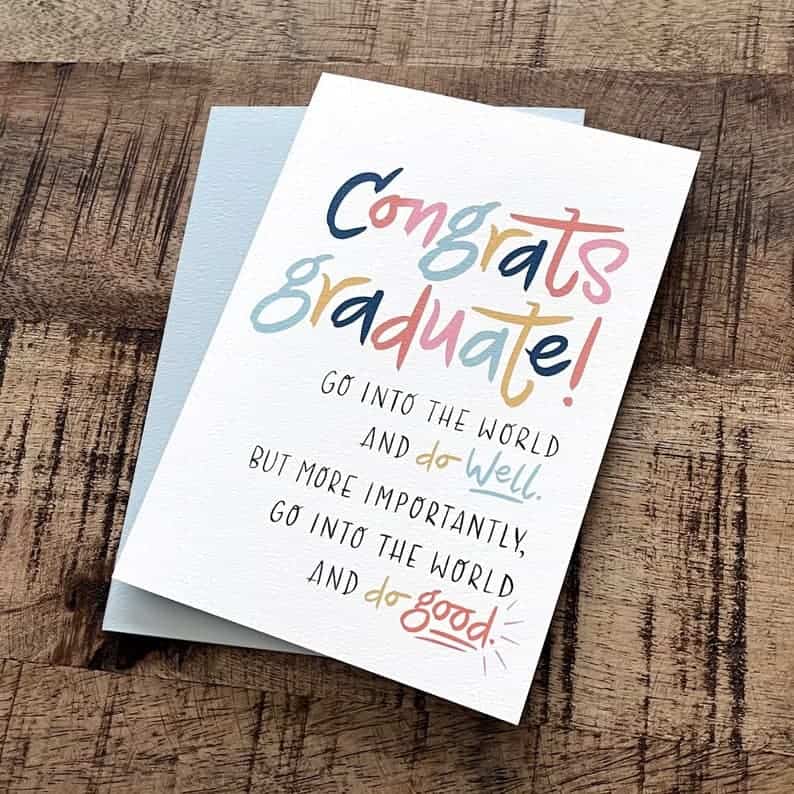 Graduation Card Set
You can buy a single card or get sets of 4, 8 or 15 if you're buying for multiple grads. I love the simplicity of these cards–but they're still more personal than store bought card. You can customize it with school colors and add the school name on the back.
These cards are hand lettered by Danielle Lopez Designs, a small business in New York.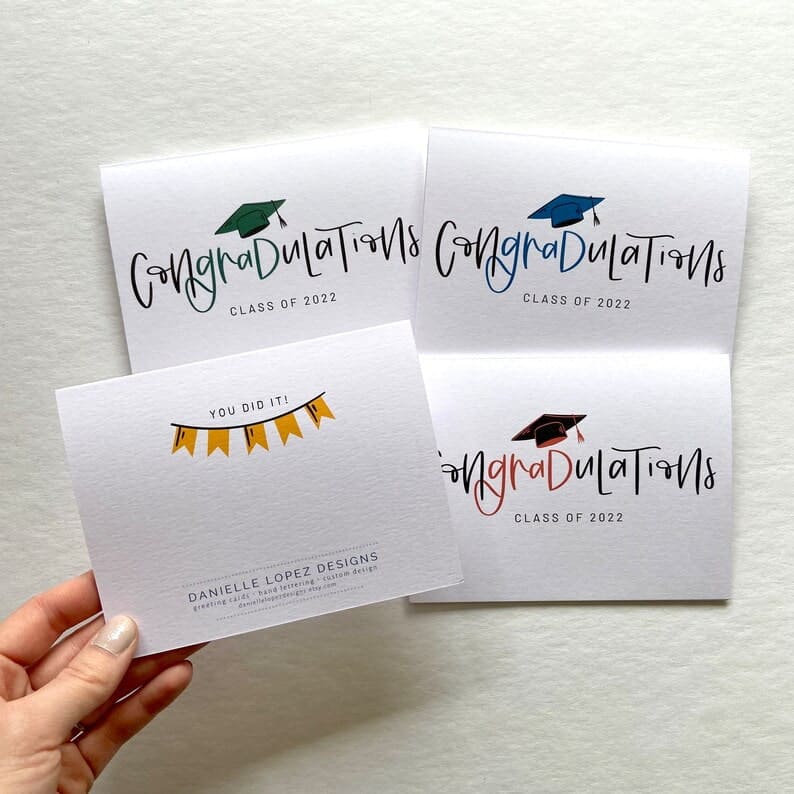 Pick up a bottle of wine or champagne and add a custom label like this one that's water-resistant and repositionable. It even works on a chilled bottle!
Add some personalization to the label and include your cash gift or gift card in a plain envelope.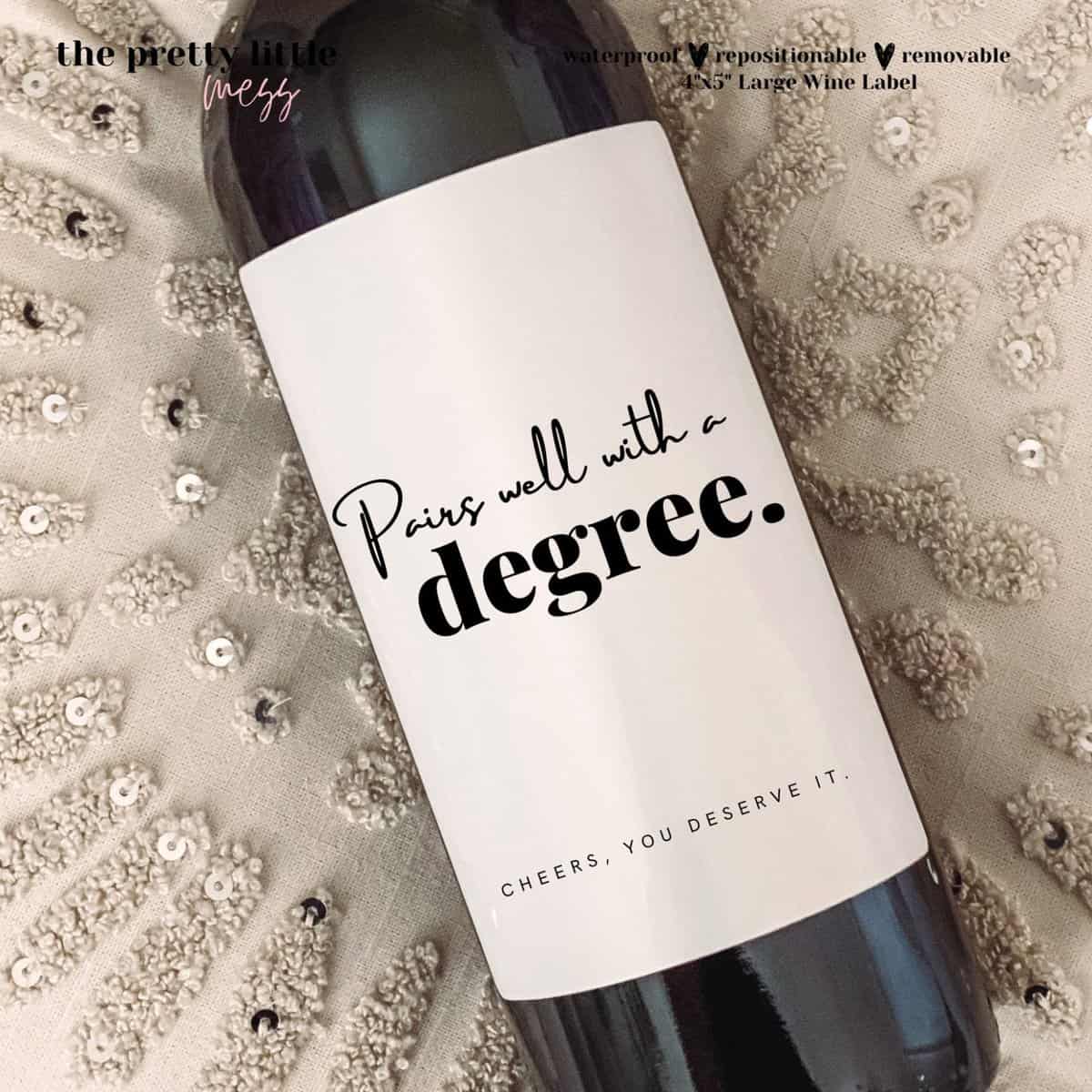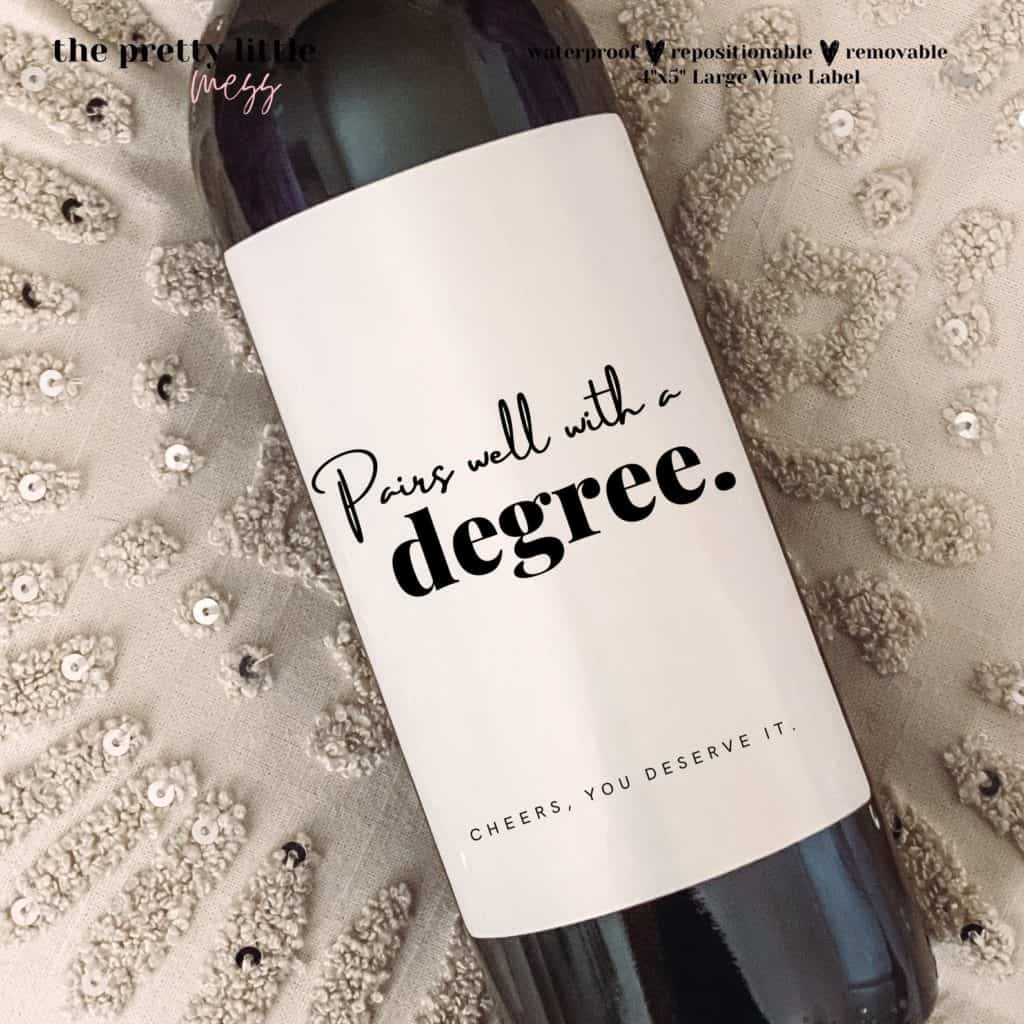 Books
As communication professors, we might be biased, but we think a good book is a great gift idea! It's a useful gift as grads head out into the world, and you can make it special by inscribing a brief note on the inside.
How Full Is Your Bucket?
This is my favorite book to give to my college students when they graduate! This #1 New York Times and BusinessWeek bestseller from Gallup was written by Tom Rath and his grandfather, Donald Clifton, founder of positive psychology and strengths.
It's easy to read, full of inspiring stories and includes strategies for increasing positive emotions in all areas of life. He'll find endless applications both personally and professionally.
Dare to Lead
My husband's company recommends lots of books for professional development and Brene Brown's work always makes the list. Dare to Lead is about how to stay curious, ask the right questions and see the potential in others.
As in most of her books, themes of empathy, connection and courage are prominent. She shares incredible and relatable stories in this #1 New York Times bestseller and Bloomberg's best books of the year.
This is a great option for leadership-minded college grads headed into the business world.
Atomic Habits
This book has taken the world by storm with over 3 million copies sold and over 68,000 5-star reviews on Amazon.
Author James Clear begins the book with a shocking and compelling story–I was riveted to the Audible version that he narrates–and then takes a fresh approach to habit formation with his own framework.
The tagline is "tiny changes, remarkable results" and that's exactly what this book delivers. An exceptional choice for every college graduate!
READ MORE >>> How Does Audible Work? [Guide to Audible]
FAQ About The Best College Graduation Gifts For Guys
What are some great gift ideas for college graduates?
Like all gifts that mark major life events, the best college graduation gifts for guys are ones that will be used in the next chapter of life.
What is the most popular graduation gift?
According to the National Retail Foundation's annual graduation survey, 51% of gift givers plan to give cash this year. Cash is always appreciated, but if you're close to the graduate, consider a more meaningful or practical gift like the ideas we've curated below.
How much money do you give for a college graduation gift?
The National Retail Foundation reports that people will spend an average of $119 on graduation gifts. There's no hard and fast rule about how much to give or spend.
Etiquette experts suggest taking the following things into consideration: your own budget, your relationship to the graduate and the grad's financial situation and future plans.
The Maralee McKee Etiquette School of America says that whether you give $20 or $500, "Give from your heart, and give only what you can afford."
RELATED POST >>> 42 Best Experience Gifts for Everyone on Your List