59 Favorite 5th Grade Reading Level Books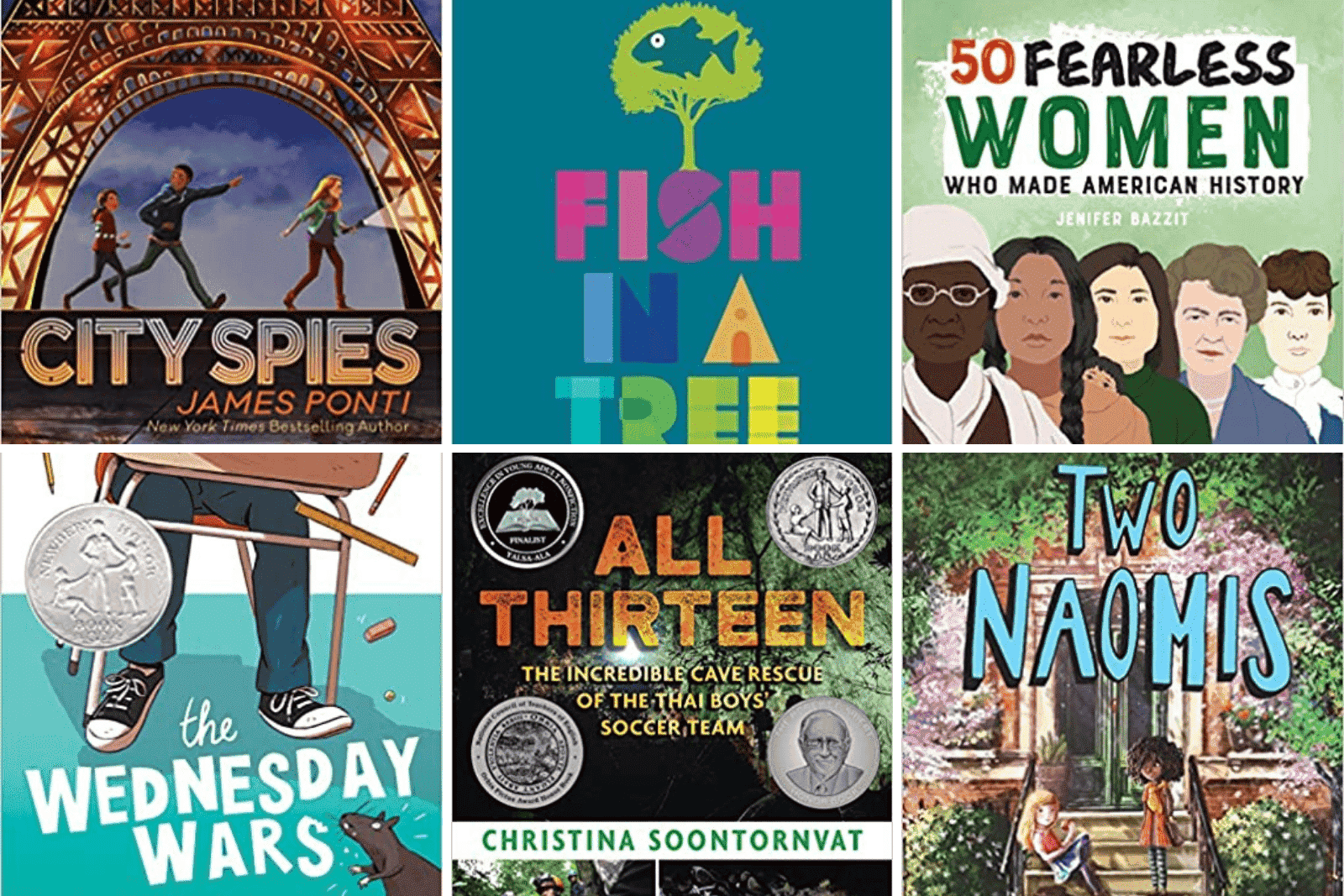 This list of 5th grade reading level books gives fiction and nonfiction books for a wide variety of reading levels and topics.
Some of the links below are affiliate links. This means that, at zero cost to you, we will earn an affiliate commission if you click the link and make a purchase. We appreciate your support!
Fifth graders are either the top dogs at an elementary school or bottom of the heap at a middle school. Either way, they're smack in the middle of years full of changing bodies, shifting friendships and growing independence. This list of 5th grade reading level books can help them navigate.
Fifth grade reading books can challenge young readers to think about things in new ways and help them process the life changes they are experiencing. They're able to read harder books and process harder concepts than a 4th grader or 3rd graders.
Finding the best books for middle grades can be tricky since some kids are strong readers or can process more challenging storylines while others need something a little simpler or more lighthearted. (We also have a 4th grade book list, a 6th grade book list and a 7th grade book list if those help.)
As fifth graders look toward sixth grade, characters in both nonfiction and fiction books can help them process situations they might face. The best fifth grade books do a wonderful job with this.
You can also scroll our master list of the 125 Best Books for Tweens if you want even more ideas.
Graphic Novels
Comic books and other graphic novels can be a great way to engage reluctant readers or struggling readers. Visuals and words together create a higher interest level and make for a fun read. And these graphic novels are absolutely still 5th grade reading level books. You'll be amazed how reading skills start to improve once kids find books they really enjoy reading.
Anne Frank's Diary: The Graphic Adaptation
The first book in our list of great graphic novels might surprise you. But adding visuals to this compelling story helps bring to life Anne's fantasies and emotions.
Mightier Than the Sword by Drew Callandar
This book allows readers to create their own adventure by writing and drawing the book to help the story unfold.
New Kid by Jerry Craft
Fitting in at a new school with not a lot of diversity is hard. The main character in this graphic novel finds a way to make it happen.
Roller Girl by Victoria Jamieson
This book about a young girl who uses roller derby as a way to make friends and survive the wild ride of middle school hit the New York Times best seller list.
El Deafo by Cece Bell
Being deaf wasn't as hard in a school full of deaf students, but now she's in a new school where she's the only deaf student. But then she notices her powerful hearing aid lets her hear what teachers are saying anywhere in the school, and it changes everything.
Awkward by Svetlana Chmakova
Struggling to survive life at a new school may require bending a few rules and deciding what rules are worth following.


Historical Fiction Books
Many lists of 5th grade reading level books forget to include suggestions for historical fiction. This genre has high interest for many 5th graders and teaches them a lot about major historical events.
The Mighty Miss Malone by Christopher Paul Curtis
A smart girl with a bright future sees life take an unexpected turn when the Great Depression hits her town and turns her world upside down. She has to prove that she really is the Mighty Miss Malone in this good book.
Beyond the Bright Sea by Lauren Wolk
Crow is an orphan, left drifting in a small boat as an infant. She is raised on remote islands by the man who found and raised her, but a mysterious fire appears across the water and starts her down a path to discovering her history. Beyond the Bright Sea is a Newbery Honor book written by the author of Echo Mountain.
Alice on the Island: A Pearl Harbor Survival Story (Girls Survive) by Mayumi Shimose Poe
Thirteen-year-old Alice enjoys her life in Hawaii, but on Dec. 7 everything changes when she experiences the bombing of Pearl Harbor.
Nine, Ten: A September 11 Story by Nora Raleigh Baskin
Four kids living in different parts of the country just before Sept. 11, 2001, don't realize their lives are about to intersect in very unexpected ways.
Ninth Ward by Jewell Parker Rhodes
Lanesha and her grandma Mama Ya-Ya don't have a fancy house, but they have a tight-knit community in New Orleans' Ninth Ward. Mama Ya-Ya has a vision of hurricane Katrina on it's way, and it's up to Lanesha to help them survive. No list of 5th grade books is complete without a selection from Jewell Parker Rhodes.
Allies by Alan Gratz
New York Times bestselling author Alan Gratz writes another amazing historical fiction novel in Allies, about D-Day during World War II. Books make great gifts and gift ideas is one of our specialties. Check out our list of the hottest gifts for tween and teen boys.
Chapter Books
This list of fifth grade reading level books combines a few classic books with newer favorites.
The Secret Garden by Francis Hodgson Burnett
This classic novel still delights young readers. Have fifth grade readers finish this great book and then watch the movie.
Esperanza Rising by Pam Muñoz Ryan
The story of a young girl named Esperanza and her mama, who must leave a good life in Mexico and move to a farm labor camp in California when the Depression hits.
The Ramona Collection by Beverly Cleary
Spunky Ramona gets herself into all kinds of funny, heartwarming and sometimes embarrassing situations. This collection includes four favorite Ramona titles.
My Side of the Mountain by Jean Craighead George
To escape his family's crowded New York City apartment, Sam heads into the mountains. Being alone is dangerous but he also discovers a lot about himself.
Smile, Sisters, and Guts: The Box by Raina Telgemeier
These bestselling memoirs follow Raina through some of the formative experiences of middle school: damaging her front two teeth, adding a baby sister and stomach troubles caused by worries about food, family, friendships and school.
Grab books to have on hand as great gifts. We also have lots of other ideas on our list of favorite gift ideas for tween and teen girls.
Big Nate by Lincoln Peirce
Nate's middle school escapades will keep 5th grade readers laughing. They can follow his adventures in 26 books that also have great illustrations. Big Nate makes all the reading lists for kids who love a funny story.
The Incredible Journey by Sheila Burnford
This book inspired the movie Homeward Bound about three pets braving the Canadian wilderness to find their owner. It's a great read for animal loving 5th graders.
Stuart Little by E.B. White
Charlotte's Web author E.B. White writes another classic tale with Stuart Little about a mouse on an adventure. This is another great one to read and then watch the movie.
Stanley Yelnats Survival Guide to Camp Green Lake by Louis Sachar
This author should look familiar to fifth graders who loved the Wayside School books. For fans of Holes, this is a must-read. A guide to surviving a juvenile detention center written by Holes character Stanley Yelnats.
Anne of Green Gables by L.M. Montgomery
The orphaned Anne is delivered to a couple who requested to adopt a young boy. Watching them become a family and seeing how Anne adapts to her new life with her feisty personality has made young readers fall in love with this series for years.
Peak (A Peak Marcello Adventure) by Roland Smith
Fourteen-year-old Peak Marcello finds himself taking on a dangerous challenge he didn't necessarily choose for himself: becoming the youngest person to climb Mt. Everest. Read the rest of his story in sequels The Edge, Ascent and Descent
The Top 10 Ways to Ruin the First Day of School (formerly The Top 10 Ways to Ruin the First Day of 5th Grade) by Ken Derby
Anthony Madison, aka Tony Baloney, is obsessed with the Late Show and wants to get from Kansas City to New York City to get himself on. He pulls some hilarious stunts on his journey to reach his dream.
Hank Zipzer by Henry Winkler
Parents might recognize this author as Fonzie from "Happy Days." The Hank Zipzer series is inspired by Winkler's real-life experiences as a kid with undiagnosed dyslexia. His antics teach lessons while he also has so much fun.
All the Impossible Things by Lindsay Lackey
This story about a young girl in the foster system has some magic, some adventure and some real lessons about belonging and family.
City Spies by James Ponti
Five kids from all over the world work to become spies who can slip into places where adults can't. For young readers who love Spy School, this is a great choice.
A book plus a game makes a wonderful gift. We have a kid-approved list of the best board games for tweens and teens.
The Vanderbeekers of 141st Street by Karina Yan Glaser
The Vanderbeeker children will lose their beloved brownstone home in New York City if they can't convince their grumpy and reclusive landlord to renew their family's lease.
Two Naomis by Olugbemisola Rhuday-Perkovich
Two girls are pushed into a friendship when their parents begin dating. And they're not happy about it.
Fish in a Tree by Lynda Mullaly Hunt
Ally is smart enough to cause trouble to hide her learning disability. But a new teacher sees through her behavior and helps her understand that her dyslexia is not something to be ashamed of.
Hatchet by Gary Paulsen
In the first of five books, a teen survives a plane crash in the Canadian wilderness and fights to survive on his own.
The Sign of the Beaver by Elizabeth George Speare
A young teen asks for the help of a boy from the Beaver tribe because he knows it's his only hope to survive on his own in the wilderness.


Fantasy World Books
No list of 5th grade reading level books is complete without some solid recommendations for fantasy books.
Alien Superstar by Henry Winkler
The adventures of a teenage alien who lands on earth, written by Emmy Award winner Henry Winkler from "Happy Days."
The Chronicles of Narnia by C.S. Lewis
Fifth grade readers should be able to handle the tougher writing style in this magical tale about four siblings who travel through the wardrobe and into the world of Narnia.
Matilda, BFG & Charlie & the Chocolate Factory by Roald Dahl
Books like Matilda, the BFG, James and the Giant Peach and Charlie and the Chocolate Factory might have their darker moments, but they also help kids process the unpredictability of life. Plus, kids absolutely love them. They are some of my son's favorite books.
Phantom Tollbooth by Norton Juster
Milo's boring life gets a little more interesting when a tollbooth suddenly appears in his room and he drives on through.
Percy Jackson & the Olympians by Rick Riordan
This five-book series is a must-read for fifth graders who love fantasy books. A middle school boy who struggles with a learning disability discovers that he actually has superpowers because his dad is the Greek god Poseidon. Suddenly his life changes. Percy's adventures continue in the five books of The Heroes of Olympus series.
Chronicles of Prydain by Lloyd Alexander
A best-selling fantasy adventure about Taran the Assistant Pig Keeper and his friends journeying through a magical land.
National Book Award and Other Award Winners
The fifth grade reading books pull from different genres, but all boast awards for their compelling writing and stories. You can't go wrong with this award-winning 5th grade reading level books.
Maniac Magee by Jerry Spinelli
A boy with no parents living with an unhappy aunt escapes by running…and running. Along the way he teaches the lives of a racially divided small town.
Mrs. Frisby and the Rats of NIMH by Robert C. O'Brien
A widowed mouse needs to get her four small children to their summer home. A sick child means she needs help from the very special rats of NIMH.
Where the Mountain Meets the Moon by Grace Lin
A magical journey of a young girl who grew up hearing old folktales of the Jade Dragon and the Old Man on the Moon and seeks to find the Old Man to change her family's fortune.
Old Yeller by Fred Gipson
A classic story and Newbery Honor Book about the friendship between a 14-year-old boy and a stray dog.
We Dream of Space by Erin Entrada Kelly
Three siblings with different struggles work on a project for their enthusiastic science teacher as the launch of the Challenger approaches. The day of the launch changes their lives and brings them together in unexpected ways.
The Wednesday Wars by Gary D. Schmidt
Seventh grader Holling Hoodhood feels like he just can't win, with a teacher who doesn't like him and a dad who doesn't have time for him. The Vietnam War starts to turn life upside down but Holling discovers some important lessons about himself.
The Bridge Home by Padma Venkatraman
Written by the author of Amal Unbound, this story follows four homeless children who find shelter on an abandoned bridge and become their own family.
The Dreamer by Pam Muñoz Ryan
A boy hears the call of a mysterious voice and follows it through the rain forest, into the sea and on a journey of self-discovery that changes both him and the world.
Hello Universe by Erin Entrada Kelly
A neighborhood adventure told from four intertwining points of view. A story about bullying, friendship and self-acceptance.
Other Words for Home by Jasmine Warga
When things become volatile in her hometown in Syria, Jude and her mother leave their family to live with family in America. Her new life brings unexpected surprises.
True Story Books
Fifth graders can learn a lot about the world by reading nonfiction books. This list of 5th grade reading level books includes everything from memoirs of amazing people to books around real events like the youth soccer team trapped in a cave in Thailand. Fifth graders will be captivated by these true story books from the first time they try them.
50 Fearless Women Who Made American History by Jenifer Bazzit
The true stories of 50 important women such as Susan B. Anthony, Sojourner Truth, Eleanor Roosevelt, Maya Angelou and Billie Jean King. These real life memoirs will teach young readers about historical events like the civil rights movement and the Depression.
The Boy Who Harnessed the Wind by William Kamkwamba (young readers edition)
A true and amazing story of a boy who helps his village survive by building a windmill from scrap metal and old bicycle parts to bring electricity and water to his village.
All Thirteen: The Incredible Rescue of the Thai Boys' Soccer Team by Christina Soontornvat
The rescue story of 12 young soccer players and their coach trapped in a cave in northern Thailand by rising flood waters. For readers who like current events book, this amazing rescue happened in 2018.
Someone Like Me: How One Undocumented Girl Fought for Her American Dream by Julissa Arce
The true story of a young girl raised in Texas as an undocumented immigrant who went on to be an honors college graduate and a vice president at Goldman Sachs.
Lost on a Mountain in Maine by Donn Fendler
A 12-year-old walks away from his Boy Scout troop for just a minute and finds himself lost in the mountains of Maine in this survival story.
Smile, Sisters, and Guts: The Box by Raina Telgemeier
These books read like novels, but they're true stories about Raina's middle school years filled with dental work, new siblings and stomach troubles.