90 of the Best 6th Grade Reading Books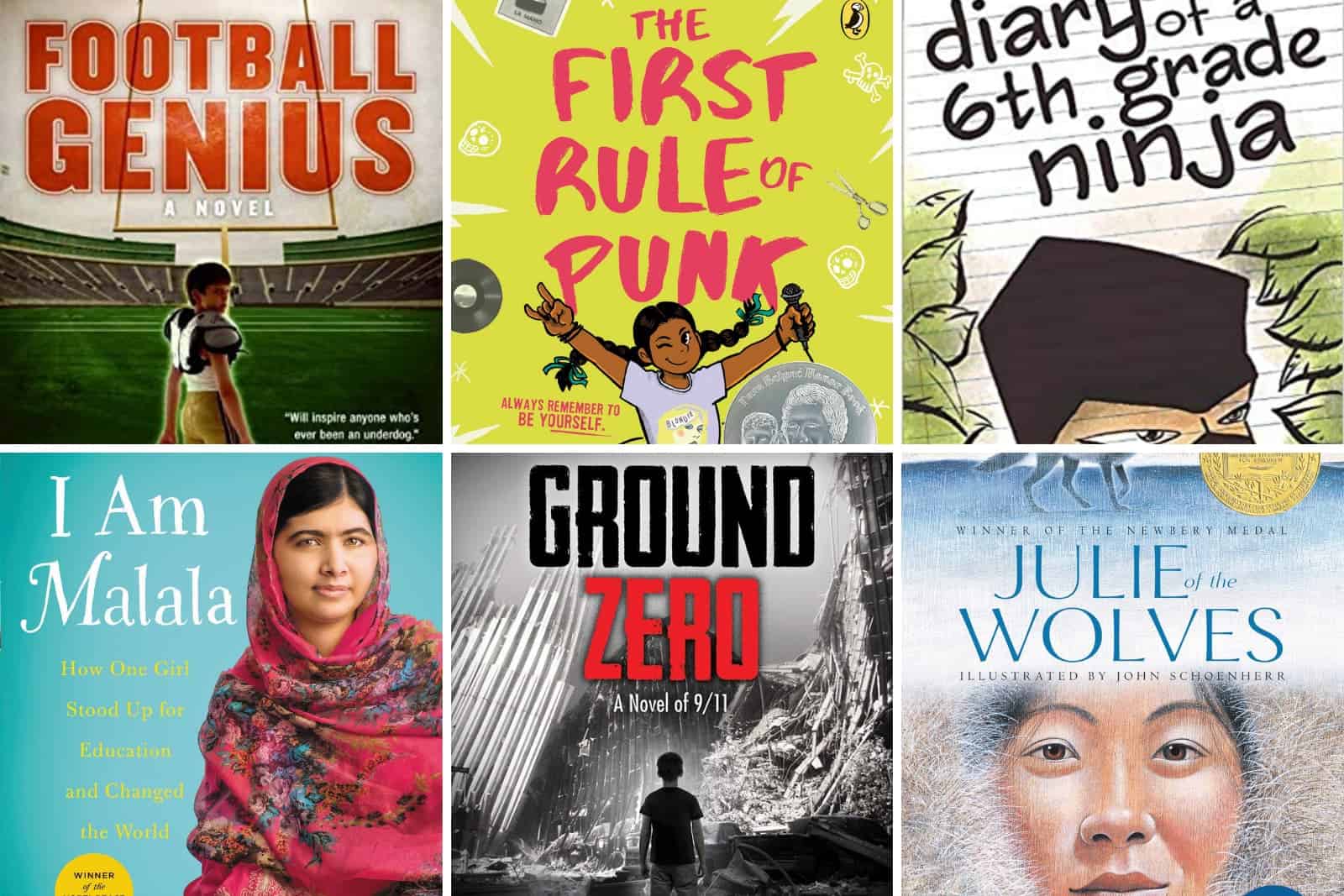 See our list of 90 of the best 6th grade reading books, compiled with suggestions from many moms of tweens, school librarians and teachers.
Some of the links below are affiliate links. This means that, at zero cost to you, we will earn an affiliate commission if you click the link and make a purchase. We appreciate your support!
These 6th grade students are in the sweet spot between childhood and true adolescence. Good 6th grade reading books can fill many important roles for kids in this grade level:
An entertaining escape when stress runs high
A way to process their life experiences as middle schoolers
A window into how others live and feel, which can build empathy and understanding
A broader view of history and the world we live in
We also have lists for 4th grade books, 5th grade books and 7th grade books.
Graphic Novels
Knucklehead by Jon Scieszka
Middle school students (especially if it's a 6th grade boy) will love reading this true story of the author's childhood as one of six brothers.
Mightier Than the Sword by Drew Callandar
This book invites readers to draw in the book as they help create the adventure.
New Kid by Jerry Craft
A story about starting over at a new school where diversity is low, making it hard to fit in.
Roller Girl by Victoria Jamieson
Any book list of graphic novels for tweens needs this Newbery Honor Award Winner and New York Times bestseller. See how roller derby becomes a way to make friends and survive the wild ride of middle school.
When Stars Are Scattered by Victoria Jamieson
Another winning graphic novel by the creator of Roller Girl, When Stars Are Scattered is the story of a former Somali refugee growing up in a refugee camp.
Amulet by Kazu Kibuishi
There are eight beautifully illustrated books in this New York Times best selling series. Two siblings move into their great-grandpa's mysterious home and dive into a mystical world trying to rescue their mom.
Estranged by Ethan M. Aldridge
Good books for fans of Amulet, Estranged has magic, drama and adventure. It also has hundred of pages of watercolor paintings.
El Deafo by Cece Bell
Cece moves from a school where her entire class was deaf to a new school where she's the only one. But she realizes her powerful hearing aid lets her hear what teachers are saying anywhere in the school, which gives her a unique super power This graphic novel is now an animated series on Apple TV+.
Nathan Hale's Hazardous Tales by Nathan Hale
There are multiple volumes in this series of true stories of American history. Unique graphic novels like this are a fun addition to the list of 6th grade reading books.
Awkward by Svetlana Chmakova
An Amazon "Teacher's Pick," this graphic novel explores how to survive life at a new school and what rules are really worth keeping if you want to survive middle school.


Historical Fiction
Girl in the Blue Coat by Monica Hesse
We list this as the first book under historical fiction on our list of 6th grade reading books because it's a bestseller. Set during World War II, it tells young readers the story of a young woman delivering black market goods who finds herself in a dangerous role looking for a Jewish teen that disappeared from her secret room.
Books by Alan Gratz
You're unlikely to find many 6th graders who haven't read anything by Alan Gratz , but kids who read one want to read more. Each tells a powerful story that also teaches readers about important historical events.
I Survived by Lauren Tarshis, 10 book set
These should definitely make it on the list of 6th grade reading books. Each of these books tell a fictional stories based on a real event:
The Little House by Laura Ingalls Wilder, 9 books
For readers who want to jump back into an interesting time in American history, these books send tweens back into the time of American pioneers.
Ghost Boys by Jewell Parker Rhodes
Ghost boys tells the story of a young boy mistakenly shot by police who think his toy gun is real. He watches the aftermath as a ghost. Rhodes blends real events and fictional characters to tell moving stories.
Other great books by Rhodes:
The War The Saved My Life by Kimberly Brubaker Bradley
In this Newbery Medal winner set during World War II, a young girl beats all the odds.
An Elephant in the Garden by Michael Morpurgo
My kids and I had a hard time putting this book down. We needed to know what happened after a zookeeper mom and her two kids flee with the local zoo's baby elephant after their city is bombed during World War II. The book is based on historical truths and a real photo.
Funny Books
Big Nate by Lincoln Peirce, 26 books
Sometimes a great way to push through a hard time is to escape into a book – especially one that makes you laugh. Big Nate delivers big laughs as the comic-style book follows a quirky middle schooler.
Jake the Fake Keeps is Real by Craig Robinson, 3 books
The story and the illustrations both deliver with Jake the Fake, written by comedian Craig Robinson (Daryl from The Office). The main character fakes his way into a new school for the gifted and talented, and the laughs go from there. Books make great gifts, but you can check out our complete list of the 95 best gifts for tween and teen boys if you're looking for other ideas.
Diary of a Wimpy Kid by Jeff Kinney, 15 books
This beloved realistic fiction series can help kids navigate the weird tween years, and hopefully laugh about it along the way. Start with Diary of a Wimpy Kid 1. Kinney tours for book signings and does some cool things on Facebook and YouTube, so explore his website if your tween likes this series.
Middle School Bites by Steven Banks
Ordinary life goes out the window for 11-year-old Tom Marks when he is bitten by a bat, a wolf, and a zombie. Another selling point is that the author is the head writer of SpongeBob SquarePants.
Fly on the Wall by Remy Lai
If Big Nate and Diary of a Wimpy Kid are also on your 6th grader's list of the best books, this book is a must-read. Henry Khoo feels invisible at school and babied at home. He starts a blog to spread gossip about his classmates and plans a surprise trip to visit his dad out of the country. What could go wrong?
The First Rule of Punk by Celia C. Pérez
Malu starts at a new school in a new place, but takes her love of punk music on her new journey.
Wayside School by Louis Sachar
Even the most reluctant readers in 5th grade or 6th grade will not be able to resist the funny tales from Wayside School.
Diary of a 6th Grade Ninja by Marcus Emerson
A funny thriller about a 6th grader recruited to be a ninja.
Realistic Fiction
Ghost by Jason Reynolds, 3 books
Reynolds comes up in nearly every list of great books for tweens, and it's a must-read for our list of 6th grade reading books. Ghost tells the story of a group of kids from very different backgrounds brought together to compete on an elite track team.
Heat by Mike Lupica
Newly-orphaned Michael Arroyo has an all-star pitching arm and wants to lead his baseball team to the Little League World Series. He's living with his older brother, trying to avoid the foster system until his brother turns 18. There's also a sequel: Strike Zone.
Amal Unbound by Aisha Saeed
My daughter and I read this great book about a young Pakistani girl forced into indentured servitude. It has an important message for young adults about the power of hope in difficult circumstances. Books make great gifts, and we have plenty of other ideas on our complete list of the 75 best gifts for tween and teen girls.
Amina's Voice by Hena Khan
After tragedy strikes in her community, a Pakistani-American Muslim girl struggles to stay true to her culture and still find a way to fit in at school.
Black Brother, Black Brother by Jewell Parker Rhodes
This story about a biracial boy who masters fencing to challenge a school bully was inspired in part by the true story of the author's son.
Blended by Sharon Draper
Isabella is biracial and a child of divorce. Bleded explores family dynamics, being an ally and real world issues like policy brutality.
Clean Getaway by Nic Stone
A canceled spring break leads to a road trip for one 11-year-old and his G'ma, where he learns things about the history of segregation in the American South that he never knew.
From the Front Desk of Zoe Washington by Janae Marks
A 12-year-old African American girl secretly writes to her incarcerated father. She believes him when he says he is innocent and works to prove the alibi his attorney failed to prove.
Rules by Cynthia Lord
This book was suggested by a teacher for my son's independent reading, and he was hooked. Twelve-year-old Cynthia wants a normal life, but feels like she just can't get that with an autistic brother. She ultimately questions her own interpretation of "normal."
Insignificant Events in the Life of a Cactus by Dusti Bowling
This story focuses on overcoming challenges. The main character is born without arms and her best friend is a boy with Tourette syndrome. There is also a sequel: Momentous Events in the Life of a Cactus. *Note for adoptive parents–the main character is adopted and some reviews note that the treatment of adoption is too simplistic.
Counting by 7s by Holly Goldberg Sloan
Willow Chance is a 12-year-old genius struggles to connect with anyone but her adoptive parents. After losing her parents in a tragic accident, she must find a way to push through her grief to find a surrogate family.
Restart by Gordon Korman
A boy who starts as a bully loses his memory and wakes up not liking what he learns about who he was before.
Anne of Green Gables by L.M. Montgomery
This timeless classic about a sassy orphan girl who finds a new family after she is delivered to a couple who requested a boy has captured young readers for decades.
The Crossover by Kwame Alexander
Twins Josh and Jordan love more than just basketball in this tale of brotherhood and rule-breaking. The two-book series is a middle school best-seller, winning the Newbery Medal and Coretta Scott King Award.


Adventure Books
Treasure Hunters by James Patterson, 7 books
Patterson has authored a long list of books, but the Treasure Hunters series about the kids of professional treasure hunters takes readers on a fun adventure.
Theodore Boone Series – John Grisham, 7 books
This fun series about a kid lawyer definitely belongs on any list of sixth grade chapter books.
Spy School Series by Stuart Gibbs, 8 books
These were among both of my sons' favorite books. Tween Ben Ripley leaves regular life to start a new school year at a special school: the CIA's Academy of Espionage.
York by Laura Ruby, 3 books
With their home at stake, three kids need to solve a treasure hunt laid into the very streets and buildings of New York City in this alternate history series.
Alex Rider series by Anthony Horowitz, 12 book
This James Bond for tweens series with kid spy Alex Rider is full of action and adventure.
Swindle by Gordon Kormon, 8 books
A motley crew of kids and a giant great dane combine their unique skill sets to solve mysteries in their small town.
39 Clues by Rick Riordan and other authors
The bestselling author of the Percy Jackson series delivers a totally different but equally compelling mystery series for tweens with 39 clues.
National Book Award & Other Award Winners
Al Capone Does My Shirts by Gennifer Choldenko
The story of a kid who moves to Alcatraz because his dad works there. This three-book series has won just about every award for tween books possible.
Julie of the Wolves by Jean Craighead George, 3 books
An Eskimo girl gets lost on the Alaskan tundra and is saved by some unlikely companions. The story continues in Book 2: Julie and Book 3: Julie's Wolf Pack. It's a Newbery Medal winner.
Hatchet by Gary Paulsen, 5 books
After surviving a plane crash in the Canadian wilderness, a teen must survive until he can be rescued. There are four follow-up books to the Newbery Medal-winning first book.
The Graveyard Book by Neil Gaiman
This Newbery Medal winner follows a boy who lives in a graveyard being raised by ghosts.
The Giver by Lois Lowry, 4 books
Twelve-year-old Jonas lives in a seemingly ideal world until his life assignment opens up the complex secrets behind his seemingly ideal community.
Look Both Ways by Jason Reynolds
To different stories about what happens after the dismissal bell rings come together into a single funny and poignant look at the detours we face on the walk home, and in life. Reynolds is the author of Ghost.
Genesis Begins Again by Alicia Williams
Genesis has a lot to deal with. Her father's gambling and alcohol addictions, and a family that looks down on her and her father's darker skin.
The Watsons Go to Birmingham by Christopher Paul Curtis
The Watson family travels to visit grandma in Birmingham, Alabama, during the civil rights movement. This wonderful, award-winning book will also leave tweens laughing.
Echo Mountain by Lauren Wolk
Ellie's family must leave their home in town and start over in the wilderness of Echo Mountain after losing almost everything in the Great Depression.
Echo by Pam Munez Ryan
Otto meets three mysterious sisters while lost and alone in the forest and finds himself entwined in a puzzling quest involving a prophecy, a promise, and a harmonica.
The Truth as Told by Mason Buttle by Leslie Buttle
Trouble seems to follow Mason Buttle, the biggest, sweatiest kid in his grade. His best friend turned up dead in Mason's family's orchard and police won't believe his story. When his new friend goes missing, Mason finds himself in trouble again.
Fantasy Books
Michael Vey by Richard Paul Evans, 7 books
An evil organization seeking world domination needs to get by a 14-year-old with Tourette's syndrome and electric powers.
Wings of Fire by Tui T. Sutherland, 10 books
This series is a favorite of tweens who enjoy fantasy. Get the first 5 books or books 6-10 as boxed sets.
The Boundless by Kenneth Oppel
The creepy factor in this book are just right for sixth graders as a a boy on the fastest train ever built facing monstrous tree people and other adventures on a race to find his dad.
Ranger's Apprentice by John Flanagan, 12 books
This series is good for sixth graders and older because it contains some violence, mild cursing and romance as the characters get older. But it's a captivating adventure about rangers trained to protect kings and villagers who value honor, community and courage. If your tween likes this series, Flanagan also authored Brotherband Chronicles.
Harry Potter by J.K. Rawling, 7 books
I encourage all tweens to give Harry Potter a chance, even if they don't tend to love fantasy or think the books look too daunting. Rawling is an outstanding author and the books are iconic (and honestly not hard to read!)
Eragon (The Inheritance Cycle) by Christopher Paolini, 4 books
These books are long and use harder vocabulary as they go – so they're better for sixth graders and older and for stronger readers. But the tweens who dive into the Inheritance Cycle say it tops their list of favorite books.
City of Ember series by Jeanne DuPrau, 4 books
The city of Ember was built as a last refuge for the human race, and the characters need to solve the mystery of how to save it.
The Night Gardener by Jonathan Auxier
Two abandoned Irish siblings travel to work as servants at a creepy, crumbling English manor house. But the house and its family are not quite what they seem. This story teaches lessons about greed and the power of storytelling.
Percy Jackson & the Olympians by Rick Riordan, 5 books
Rick Riordan is a favorite author among tweens (especially Harry Potter fans). The Percy Jackson series is a fun story of Greek mythology, adventure and friendship. Percy's adventures continue in the five books of The Heroes of Olympus series.
Magnus Chase by Rick Riordan, 3 books
Riordan dives into Norse mythology in this series, which follows demigod Magnus Chase.
Gregor the Overlander (The Underland Chronicles) by Suzanne Collins, 5 books
Hunger Games authors gets into fantasy in this story about a brother and sister who fall through the vent in their apartment building laundry room and discover a world below with royalty, giant beasts and prophecies.
The Hobbit and Lord of the Rings, by J.R.R. Tolkien, 4 books
Younger readers can likely handle The Hobbit, but Lords of the Rings makes our list of 6th grade reading books because older kids can handle the length and complexity of the series.
Ender's Game (The Ender Saga) by Orson Scott Card, 5 books
A science fiction series that scored serious awards and spun off into a major motion picture, comics and short stories.
Hunger Games by Suzanne Collins, 4 books
Sixth graders are more ready to enjoy this iconic series and understand some of the meaning behind the unusual plot.
Artemis Fowl by Eoin Colfer
A 12-year-old genius and his butler battle fairies in this popular science fiction book series. A movie based on the series was released in 2020.
Nonfiction Books
The Boy Who Harnessed the Wind by William Kamkwamba (young readers edition)
A boy's village is struck by drought, and he looks to books for a solution to help his family survive. He builds a windmill from scrap metal and old bicycle parts to bring electricity and water to his village. We chose this for our list of 6th grade reading books because there are some hard truths presented, but some amazing triumphs as well.
This Book is Anti-Racist: 20 Lessons on How to Wake Up, Take Action, and Do The Work by Tiffany Jewell
This book helps readers learn more about themselves and racial oppression with 20 activities to help readers think and consider how to grow with that knowledge.
Brown Girl Dreaming by Jacqueline Woodson
The story of Jacqueline, who was born in Ohio during the height of the Civil Rights Movement. It follows her life from birth to age 10.
The Case for Loving by Selina Alko
The true story of a couple married in Washington, D.C., and arrested in their hometown of Virginia for violating the state's laws against interracial marriage. They fought the law all the way to the Supreme Court, where they won.
Trevor Noah Born a Crime: Stories from South African Childhood (adapted for young readers) by Trevor Noah
The story of Trevor Noah, host of The Daily Show on Comedy Central. His mother was a black South African and his father a white European. The often-misbehaved Trevor used his keen smarts and humor to navigate a harsh life under a racist government.
I am Malala by Malala Yousafzai(young readers edition)
This young readers edition of the bestselling memoir by Malala Yousafzai is a great option for 6th grade reading books. Malala was raised in Pakistan. The Taliban took control of her region, and Malala survived being shot at point-blank range while riding the bus home from school. She is now the youngest ever Nobel Peace Prize winner.