62 Amazing Books: 7th Grade Reading List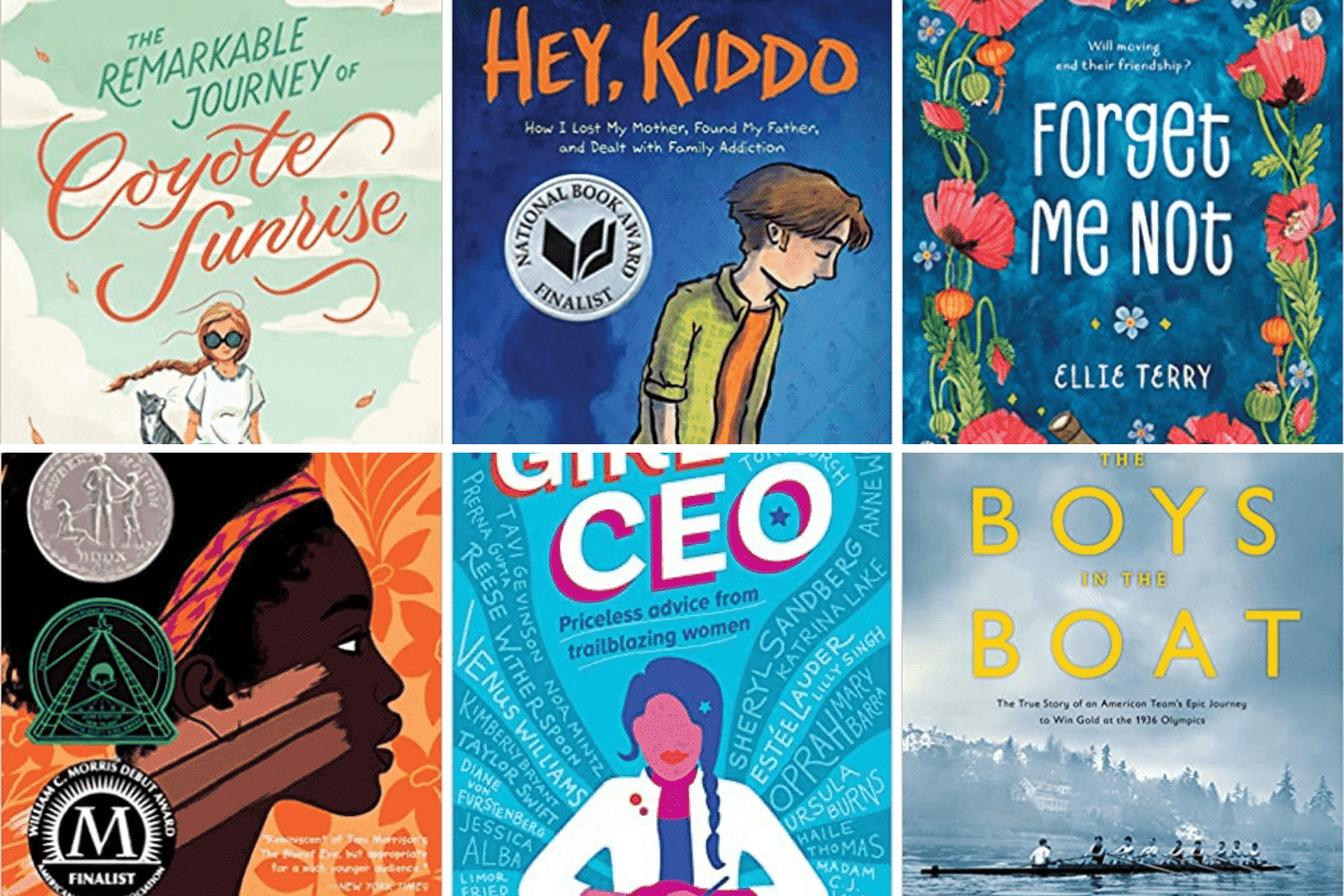 This list 7th grade reading list gives fiction and nonfiction books for a wide variety of reading levels and topics.
Some of the links below are affiliate links. This means that, at zero cost to you, we will earn an affiliate commission if you click the link and make a purchase. We appreciate your support!
Middle school readers can handle longer books and more complex topics. This opens up so many more options for a 7th grade reading list. Suddenly, book choices are less about grade level and more about personal interest.
Young adults face new issues and emotional changes in 6th grade and 7th grade. They can find a lot of comfort in reading about characters experiencing similar things. Anything from different family dynamics to addiction issues to changes in friendships to questions about identity.
Middle schoolers also become more independent and may not look to parents for answers to their every thought and question. Recommending a good book here and there can be a subtle way for parents to guide 7th graders or teach them things about history or the world.
If you're looking for books for other tweens, see our 4th grade reading list, 5th grade reading list or 6th grade reading list.
Graphic Novel Selections
For seventh grade readers who appreciate artwork or just like images when they read, these graphic novels tell a great story in both words and pictures. Graphic novels are also great for reluctant readers.
Hey, Kiddo by Jarrett Krosoczka
In this graphic memoir, Jarrett talks about growing up with a drug-addicted mother, a missing father and grandparents with strong opinions.
Real Friends by Shannon Hale
A book about good friends, and why they're worth all of the hard work.
Compass South by Hope Larson
This New York Times best seller offers pirates and adventure as 12-year-old twins escape one danger just to find the next.
The Girl Who Owned a City by O.T. Nelson
In a dangerous world, children on Grand Avenue need to work together to find food, shelter and protection. But how long can they keep themselves safe, and what will they have to do.
Nathan Hale's Hazardous Tales by Nathan Hale
These graphic novels tell true stories from American history. An addition to any 7th grade reading list that will entertain and teach readers.
Awkward by Svetlana Chmakova
A story about surviving life at a new middle school and what rules are really worth keeping.
Estranged by Ethan M. Aldridge
Full of magic, drama and adventure, Estranged has hundreds of pages of beautiful watercolor paintings.


Realistic Fiction Books
Lots of the best chapter book options for 7th grade readers fall in the realistic fiction category. Fill your 7th grade reading list with any of the options below and your young reader won't be disappointed.
Pair a book from this list with a game for a great gift (we have a list of the best board games for tweens and teens).
The Crossover and Booked by Kwame Alexander
For 7th grader readers who love sports, this award-winning series is a must-read. In Crossover, twin brothers learn about life and brotherhood through basketball. Booked follows 12-year-old Nick as he faces problems at home and learns about soccer, family, love and friendship. Alexander also wrote a prequel Rebound.
The Remarkable Journey of Coyote Sunrise by Dan Gemeinhart
After she loses her mom and two sisters in a car accident, Coyote and her dad start a new life on the road in an old school bus. She wants to get back to her hometown to retrieve a memory box she and her sisters buried. She and her dad pick up some other travelers during the 3,000-mile journey home. Maybe her hardest journey yet.
Shouting at the Rain by Lynda Mullaly Hunt
Middle schooler Deslie lives with her Grammy and loves tracking the weather. But she finds herself wishing for a more typical family and wondering why a best friend suddenly doesn't want to be friends any more. She learns she can weather any kind of storm.
All the Broken Pieces by Ann E Burg
Trying to forget his memories of war-torn Vietnam, Matt Pin now has a new home with an adoptive family in the United States. He has to confront his past and choose whether to blame or forgive.
The Only Road by Alexandra Diaz
When Jaime's small town in Guatemala is overrun by a powerful gang, he and his cousin leave to find a better life with his older brother in New Mexico. This book is inspired by true events.
Flipped by Wendelin Van Draanen
This rom-com for junior high readers is a comedy of errors told by two voices in alternating chapters. Others by this author might be better for high school readers.
Forget Me Not by Ellie Terry
When Calliope June starts at her new school, she tries to hide her Tourette syndrome. Kids begin to notice and she wonders whether her neighbor and friend will be willing to risk his popularity to show the school she's an interesting person and that they're true friends.
Ghost by Jason Reynolds
A group of kids from very different backgrounds come together to compete on an elite track team. The best-selling first book in the series is a National Book Award finalist and a parent-recommended addition to any 7th grade reading list .
My Seventh-Grade Life in Tights by Brooks Benjamin
Dillon's dad wants him to play football, but he wants to be a dancer. Things aren't simple with his freestyle dance crew either. Dillon wants to go after a summer scholarship but his crew says dance studios are only for sellouts.
House Arrest by K.A. Holt
Timothy is a good kid, but he screwed up and now he has a year of house arrest. Can he stay out of trouble and still help his struggling family?
The Unteachables by Gordon Korman
A superintendent decides to assign a classroom of misfits and delinquents to the most burned-out teacher in the school. It might be a disaster, but then again, it might mean redemption.
I Will Always Write Back by Liz Welch
An American girl and a boy from Zimbabwe become pen-pals through a class assignment. It began an exchange that changed both their lives.
Paradise on Fire by Jewell Parker Rhodes
Rhodes makes all of my middle school must-read book lists. She's a powerful storyteller who talks about important things in a way that really works for middle school readers. In Paradise on Fire, Addy loses her parents and goes to live with a grandmother. Years later she joins five other Black city kids at a summer wilderness program and faces a devastating forest fire.
The Science of Breakable Things by Tae Keller
Natalie's science teacher encourages her to enter an egg drop competition. She decides to go after the prize money to try to help her mother, who is suffering from depression. This story follows her uplifting journey about both science and love.
Genesis Begins Again by Alicia Williams
Genesis has a father with gambling and alcohol addictions. Her family also looks down on her and her father's darker skin. This award-winner follows a young woman dealing with real-world issues.
Those Kids from Fawn Creek by Erin Entrada Kelly
The 12 seventh graders at Fawn Creek Middle School have grown up together and know all of each other's secrets. When one kid moves away and another moves in, dynamics shift and the seventh grade class has to explore important lessons in friendship and being true to yourself. This author also wrote Newbery Medal winner Hello, Universe and Newbery Honor Book We Dream of Space.
The Shadow Children by Margaret Peterson Haddix
In a world where families are only allowed two children, illegal third children must live in the shadows. This bestselling series has seven books.
Fast Break by MIke Lupica
After his mom dies, 12-year-old Jayson avoids social services and the foster care system until he's caught stealing a pair of basketball shoes. Basketball and the family in his new foster home set him on a new journey.
Middle school readers rave about Mike Lupica, who also wrote:


Fantasy & SciFi Books
Encourage seventh graders to try out different genres. Don't listen even if they're "sure" they'll hate it. Put together a 7th grade summer reading list with a few books in each genre and ask that they choose at least one in each category.
Spirit Hunters by Ellen Oh
A chilling story for middle school readers about Harper Raine, a seventh grader in a new city hearing rumors that the Raine family's new house is haunted. She doesn't believe it until she finds herself facing down the dangerous ghosts that haunt her younger brother.
Roald Dahl's Book of Ghost Stories
Seventh grade readers who want to try out a riveting ghost story can start with this collection of spooky tales and great stories by an author they likely recognize (he wrote James and the Giant Peach and Charlie and the Chocolate Factory).
Uglies by Scott Westerfeld
A dystopian world where turning 16 means surgery to become amazingly pretty. And about the not-so-pretty side of this "pretty" world.
Michael Vey by Richard Paul Evans
A seven-book series about a 14-year-old with Tourette's syndrome who tries to take down an evil organization seeking world domination.
Eragon by Christopher Paolini
My son said these were his favorite books of all time as a middle school reader. They're long and the language can be a little daunting, but they're also magical if you have a book lover.
The Giver by Lois Lowry
Each of the four books in this series follows a different character until they all weave back together. It kicks off with the story of 12-year-old Jonas. His community and world seem perfect until he starts seeing more than the leaders want him to know. My son's middle school English teacher told him this was a great choice for a 7th grade reading list.
The Hunger Games by Suzanne Collins
This series is a must-read for older kids who are mature enough for a plotline that involves sending children to participate in an annual Hunger Games that involves a fight to the death on live TV. It is set in a dystopian world where a shining Capitol keeps its 12 surrounding districts in line by forcing them to provide one boy and one girl ages 12 to 18 each year for the games. Katniss Everdeen finds a way to play the game by her own rules.
Divergent by Veronica Roth
This is the first in a four-book series about a dystopian world where 16-year-olds must choose a community where they will spend the rest of their lives. Do they choose to live with the honest, the selfless, the brave, the peaceful or the intelligent? Or is there another choice altogether?
Harry Potter by J.K. Rawling
By 7th grade, the length of the Harry Potter series look less daunting. These books and movies are not just for readers who know they love fantasy. They have captivated audiences of many ages and genres. That's the mark of some of history's best books.
The Hobbit and Lord of the Rings, by J.R.R. Tolkien
Seventh grade readers can follow Bilbo Baggins from The Hobbit into the Lords of the Rings trilogy.
Ender's Game (The Ender Saga) by Orson Scott Card
This is an Amazon Teacher's Pick series. Government agencies are creating child geniuses and training them as soldiers to protect against potential alien attacks. Siblings Peter and Valentine don't make the final cut as soldiers. But they might still be the key to saving the world.
Percy Jackson & the Olympians by Rick Riordan
This Rick Riordan series is a favorite among middle school readers. Percy Jackson has trouble in school and doesn't get good grades. But then he learns he's the son of Poseidon and his life changes as he goes to live at a camp with the other children of Greek gods and goddesses. Percy's adventures continue in the five books of The Heroes of Olympus series.
Non-fiction Book Options
Nonfiction books transport young readers to different time periods. Reading about kids living during the Depression might shift perspectives – create more positive attitudes. Memoirs might offer different ways of thinking or doing things in a way that really gets through to young readers. Any 7th grade reading list should include some non-fiction options.
Trapped: How the World Rescued 33 Miners from 2,000 Feet Below Chilean Dessert by Marc Aronson
The 2010 story of 33 miners trapped for 69 days with limited resources after a Chilean mine collapses.
Hidden Figures Young Readers' Edition by Margot Lee Shetterly
The story of four African-American female mathematicians at NASA who help achieve important things in the space program. Read the book and then watch the movie.
The Making of America: Susan B. Anthony by Teri Kanefield
Seventh grade readers will learn about the life of Susan B. Anthony, a famous American suffragette. The Making of America series features other historical figures like Alexander Hamilton and Abraham Lincoln.
Girl CEO by Katherine Ellison
A collection of mini-biographies from top female entrepreneurs such as Oprah to Sheryl Sandberg. They share their stories and the lessons in life and leadership they learned along the way.
Escape from Alcatraz by Eric Braun
Two men escaped from Alcatraz in 1962 and were never found. This book details theories of what happened to them and facts provided first-hand by people who were involved with the men and this case.
The Boys in the Boat by Daniel James Brown
Seventh grade readers can likely handle the original version of this book, but there is an adapted version for younger readers as well. Set in the Great Depression, this is the true story of nine working-class American boys who fight their way to the 1936 Olympics.
Becoming: Adapted for Young Readers by Michelle Obama
This memoir of Michelle Obama shares her journey from a modest childhood in Chicago to being the First Lady of the United States.
The Boy Who Harnessed the Wind by William Kamkwamba (young readers edition)
A boy saves his village by building a windmill from scrap metal that provides electricity and water.
Trevor Noah Born a Crime: Stories from South African Childhood (adapted for young readers) by Trevor Noah
Trevor Noah, host of The Daily Show on Comedy Central, tells his story growing up with a black South African mother and a white European father. The ornery Trevor used his keen smarts and humor to navigate a harsh life under a racist government.