33 Best Teacher Retirement Gifts They'll Use & Love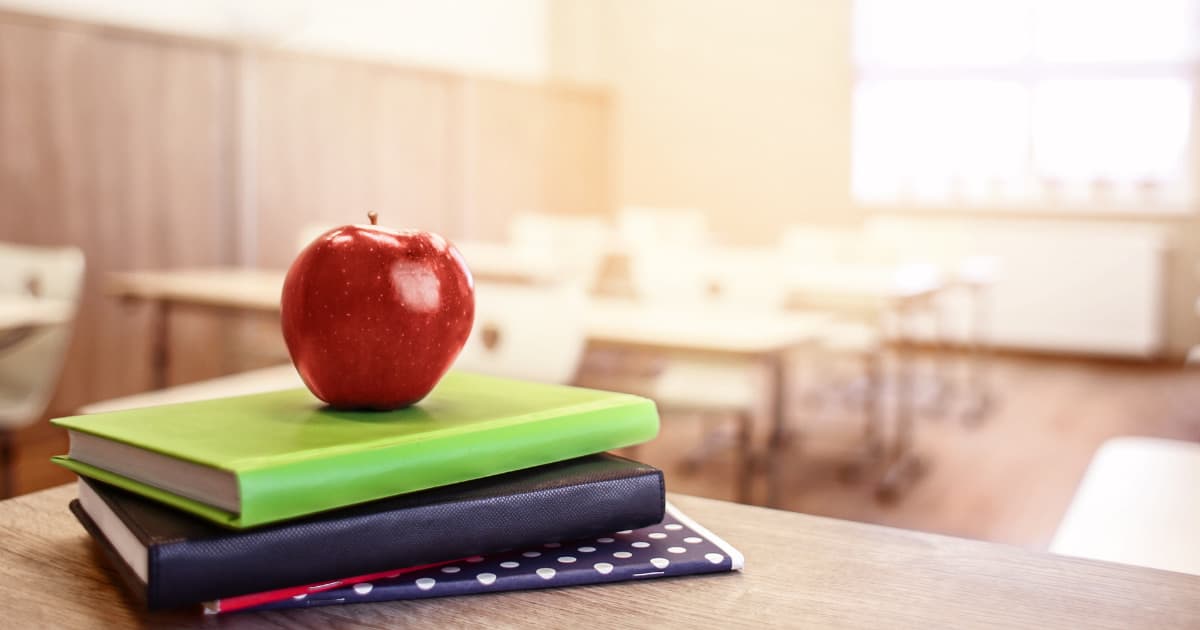 The best retirement gifts for teachers are useful, thoughtful, funny & unique gifts suggested by retired teachers themselves. Now that school's out forever, give the perfect retirement gift to honor that special teacher for their many years of service.
Updated 4/16/2023
This post contains affiliate links – we may earn paid commission if you purchase through our links, and we appreciate your support.
I'm from a long line of teachers, so I know the joy of helping students learn and watching them grow. That desire to make a difference helps teachers push through emotional exhaustion and a dysfunctional education system. So when the time comes for them to retire, they deserve a hero's farewell.
These retirement gifts for teachers will help you say thank you for their years of hard work and dedication to their students. We have great ideas for group gifts and gifts that will be really useful during retirement. Unique, thoughtful and funny gifts round out the list.
Unique Retirement Gifts for Teachers
Send retiring teachers out in style with a gift to keep them busy! The best gift is one that helps them enjoy all the things they haven't had time to pursue!
Travel Coffee Table Book
Say happy retirement with a book full of breathtaking images. This travel book is unique because it's organized by the best destinations for every month of the year. It's the perfect retirement gift for teachers who can now travel year-round!
Day of the Week Clock
This.is.genius. When summer hits, teachers can never keep days of the week straight. So imagine retirement! This unique handmade clock is the perfect solution. Shown here as a 14-inch clock, it can be ordered in any size, any color and with personalization–just message the creator. Rave reviews for this Etsy star seller!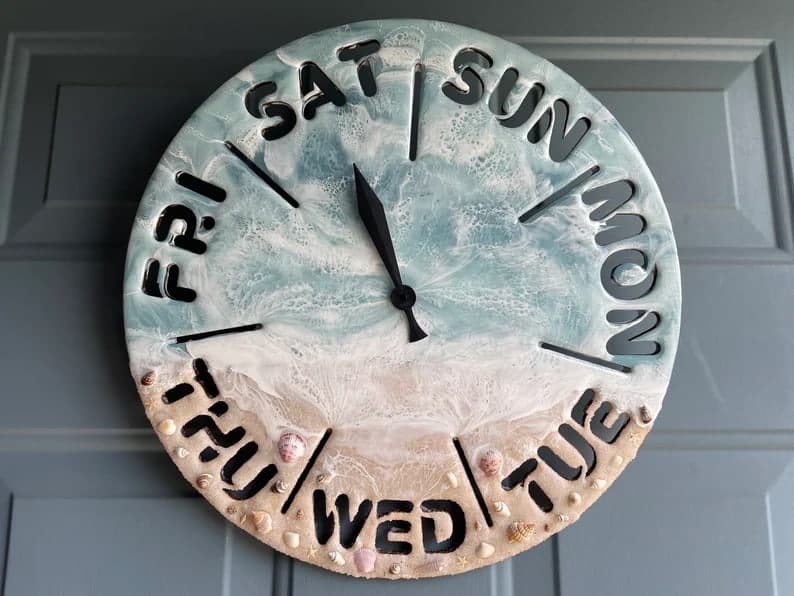 Old School Library Card Tote
It's time to retire those worn-out tote bags she's been carrying. How's this zippered tote for an upgrade? It will make her smile every time she uses it–and it will be a conversation piece wherever she goes. Even better, your purchase gives back to literacy programs and book donations.
READ MORE >>> Gifts Under $50 That Give Back For Everyone On Your List
Indoor Hydroponic Garden
Do they have a green thumb but need a new challenge? Or love fresh herbs and veggies year ground? This AeroGarden countertop garden includes a gourmet herb seed kit for six plants that grow in water, not soil. It's a great teacher gift because it will give them something to nourish and grow.
Cooler Sleeve for Golf Bag
This cooler is a great idea for retired teachers who can't wait to golf more often. It keeps up to 7 cans cold with a layer of insulation–no ice required! This discreet cooler sleeve comes in lots of colors and fits in nearly all types and styles of golf bags. Skip the monogrammed golf balls and get this useful gift instead.
Useful Gifts for Retiring Teachers
If you're searching for a more expensive gift for the special teacher in your life, look no further. Like most gifts at milestone moments, the best retirement gifts for teachers will These useful gifts are enjoyed by our own retired parents, in-laws and friends!
Kindle Paperwhite
If they're already reading books on a tablet or if they're willing to give the Kindle a try, this is absolutely worth the splurge. My mom (a retired teacher) loves that she can get on a plane without lugging heavy books, especially because she goes through a few books on every trip. It's also perfect for the pool or the beach because it's waterproof.

Choose the bundle without ads and with wifi, a leather cover and wireless charging. Don't forget to add Kindle Unlimited!
Solo Smokeless Fire Pit
Our friends have a smokeless fire pit and love it! It's easy to use and very portable if they love camping or going to the beach–or just want to move it around their yard. No gas or electricity required and almost zero smoke. If they're hoping to spend more time with grandkids, this will definitely be a hit!
Sony Noise Cancelling Headphones
These headphones are on almost every gift list we create. I know a few retirees with noise cancelling headphones who don't know what they'd do without them! They use them for listening to music, watching tv, mowing the lawn, talking on the phone and more.

They're easy to use, have up to 30 hours of battery life and they're compatible with Google Assistant and Alexa. Round out your gift with Amazon Music Unlimited or Audible Premium Plus!
READ MORE >>> How Does Audible Work? [Guide to Audible]
Thoughtful Retirement Gifts for Teachers
A retiring teacher has more heartwarming memories than they know what to do with. These gifts are a perfect way to highlight a teaching career. And remind them that they've touched the lives of many students.
Fantasy Mapmaking: Chart a Life Story Experience Gift
This is an unforgettable splurge-worthy gift for teachers who are retiring from a career they loved. Spend 90 minutes in a live virtual experience with an expert cartographer:

"Prior art experience is not required, but everybody will have some fun homework before class: listing the landmark events, passionate pursuits, and memorable moments that make up the history of their subject (these will become the map's geographic features)."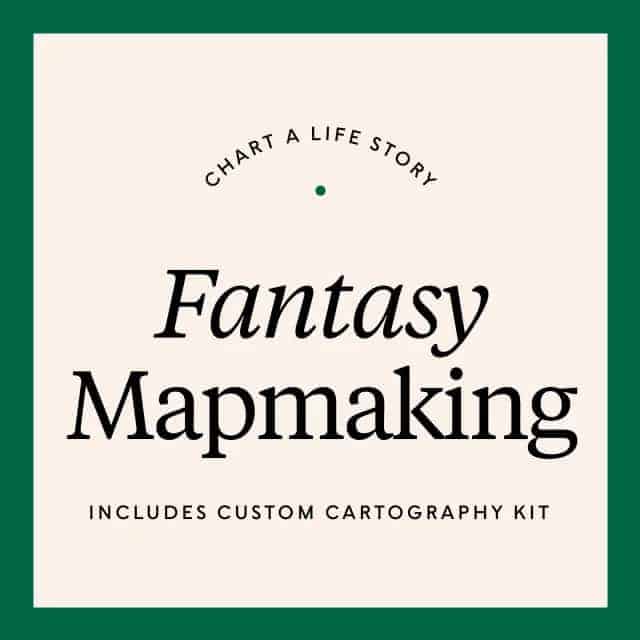 READ MORE >>> 42 Best Experience Gifts for Everyone on Your List
New York Times Custom Front Page Reprint
Choose an important date in their teaching career or a famous historical event for a unique retirement gift. Then get a reprint of the front page the New York Times, either framed or unframed. This high quality gift uses archival ink on archival paper. A great option for social studies or history teachers!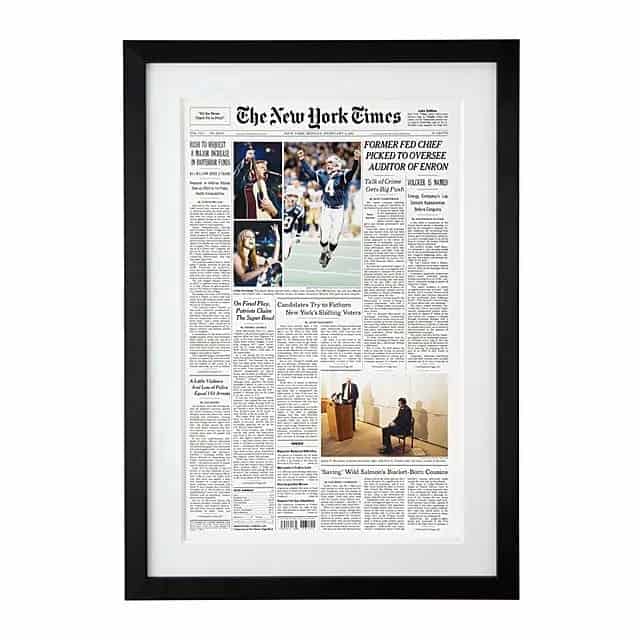 Happy Retirement Ring Dish
This pretty ring dish is a sentimental gift to remind her of years well spent and a career that made a difference in the lives of others. It's a simple gift, but an especially thoughtful one. It comes in a white gift box.
Best Teacher Ever Planters
Make sure she never forgets that she was your favorite teacher. These cute ceramic succulent pots will brighten up her space at home and help her add a little greenery inside. She could even put them in her kitchen because they're the perfect size for herbs. Note that the plants aren't included. We love this 3-pack of live succulents!
Funny Gifts for Retiring Teachers
If they have a great sense of humor, consider these funny retirement gift ideas. They'll get a great laugh out of a few unique gifts.
F in Exams
This book of hilariously wrong test answers will keep him laughing – and will probably also make him grateful his days of grading terrible exams are over! Plus, you can't go wrong with a good book. Take a minute to personalize it with a special message on the inside.
Stainless Steel Tumbler
Remind them of their legendary status as a teacher or coach with this laser engraved stainless steel tumbler. Choose from 16 ounces or 30 ounces and either black or red. This travel mug gets a perfect 5-star rating and comes with a gift box!
Literary Socks
These are perfect for any retired English teacher, reading teacher or librarian, from pre-K to college! You'll find socks with images from beloved children's books to popular fiction to classic novels. We love Out of Print, the company that creates bookish apparel–and these socks are available on Amazon!

Every purchase helps fund literacy programs and book donations to communities in need.
Retirement Gift Ideas from a Group
We think the best retirement gifts come from a group! Make a thoughtful gift even more special with a personal message from everyone in the group. It's a win every time.
Mixbook Photo Book
A photo book is a great way to celebrate a memorable teaching career. Mixbook's feature that allows collaboration on a photo book is pure gold! It's perfect for creating a group gift from a team of teachers. It's also ideal if you're working solo but want pictures and stories from a variety of people.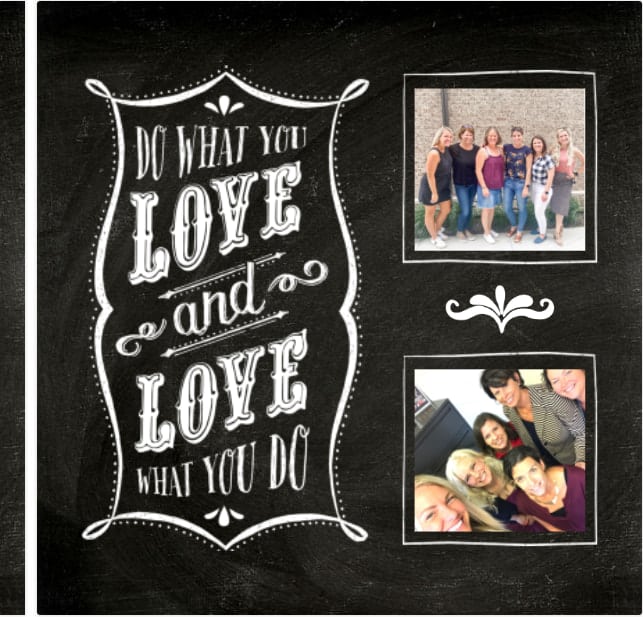 Group Memory Gift Box
Want something a little different that is especially personal? This memory gift box is an easy and beautiful way to gather memories from teaching colleagues, current and former students, friends, family members…the list goes on. You set up an account and invite people via email to write messages and/or upload photos. Every contribution ends up on a special card in a craftsman-quality gift box.

From people who received a box: "Greatest gift I've ever received" and "I love knowing that if I'm ever feeling down, I can open it up and feel loved."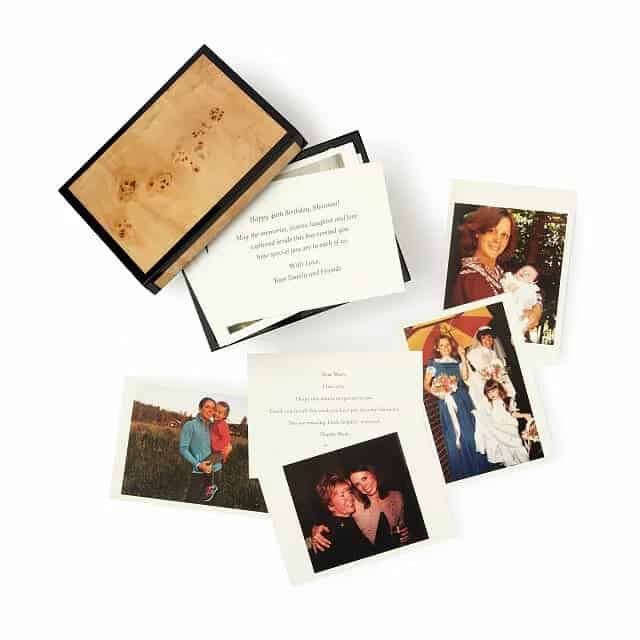 Personalized Flower Print
This print is gorgeous! Available in 6 sizes, you can customize with with up to 12 names. It's professionally printed on 230gsm matte premium paper and ships free from the UK (so give yourself a little extra time on this one). We love supporting small businesses and this is an Etsy best seller! Message the owner if you'd like a different flower.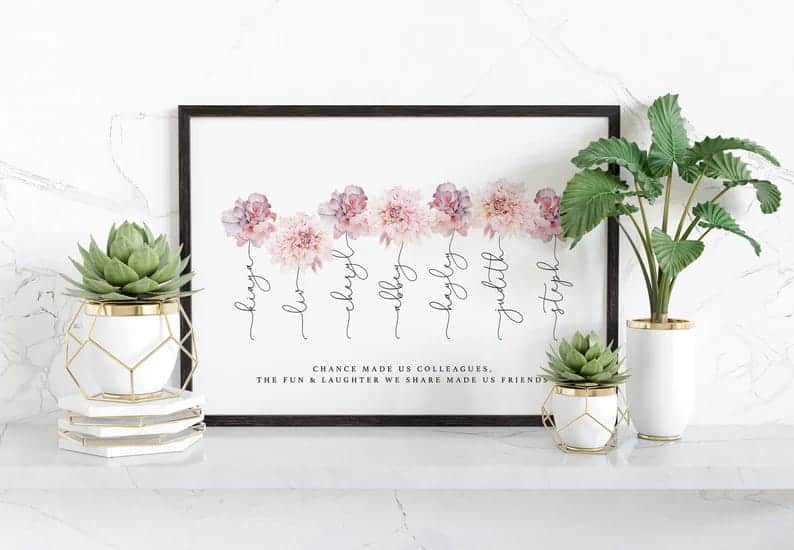 Fill-in-the-Blank Gift Book
This little book is a perfect group gift! Have the final class of students fill in the prompts about why he's the best or get in touch with former students and use their answers to make it personal. This would also be a fun and memorable gift from colleagues, best friends, or even a family member because they see things from a different perspective.
Personalized Picture Frame
If you can choose a favorite photo from the hundreds you've probably taken, add it to this frame for a really special gift. Choose from 17 different colors and 3 sizes. Each frame is handmade with wood, then sanded, distressed, stained and sealed.

You can personalize it with names, a quote, a custom message…whatever you want so it's just right. Perfect for a group gift or for a teacher best friend.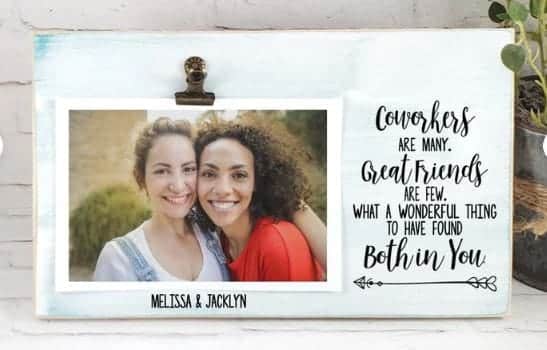 Gift Card
You can never go wrong with a gift card! An e-gift card is a great option, but a physical gift card is even better.
Teacher Retirement Party Ideas & Gifts
A celebration might be the best way to say farewell to a great teacher. Send your best wishes with these fun party decorations and must-haves.
Years of Service Print
Kick off the party with a look back at their teaching career! Send the details to Susan of beINKspired and she'll send you a digital file to print (and then frame if you want). This print captures years and dates of service, number and names of schools, grades and more. Choose from 4 sizes and 4 color schemes. Buyers rave about her responsiveness and willingness to customize.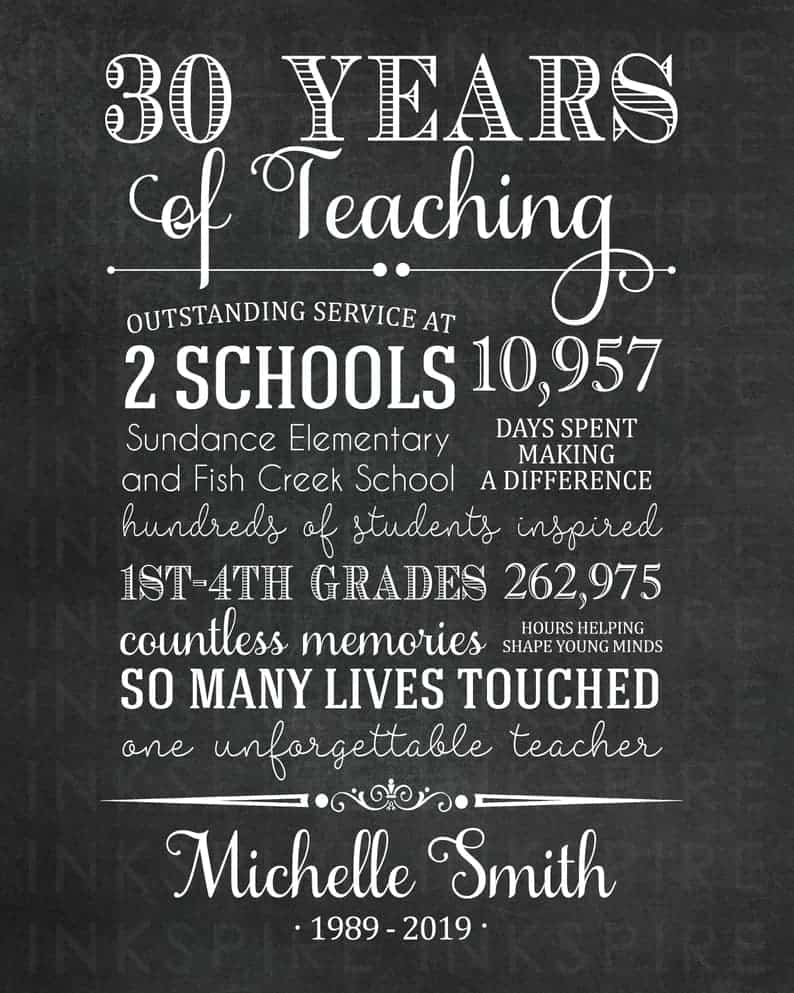 Retired Teacher Graphic Tee
Let your guest of honor know you'll have a t-shirt ready for her retirement party! One less decision she has to make. Choose from 16 colors of super soft Bella+Canvas tees.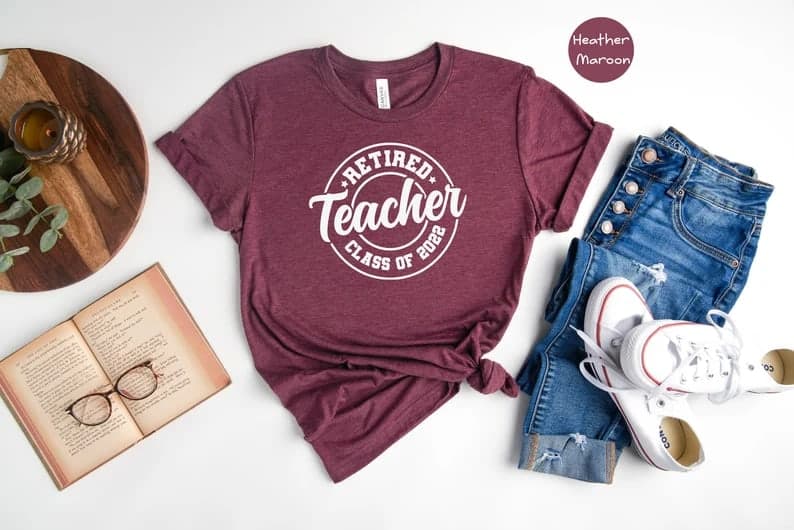 Personalized Photo Booth Props
Who doesn't love a good photo booth prop? You can even personalize this set! Shipping is fast and buyers love the quality.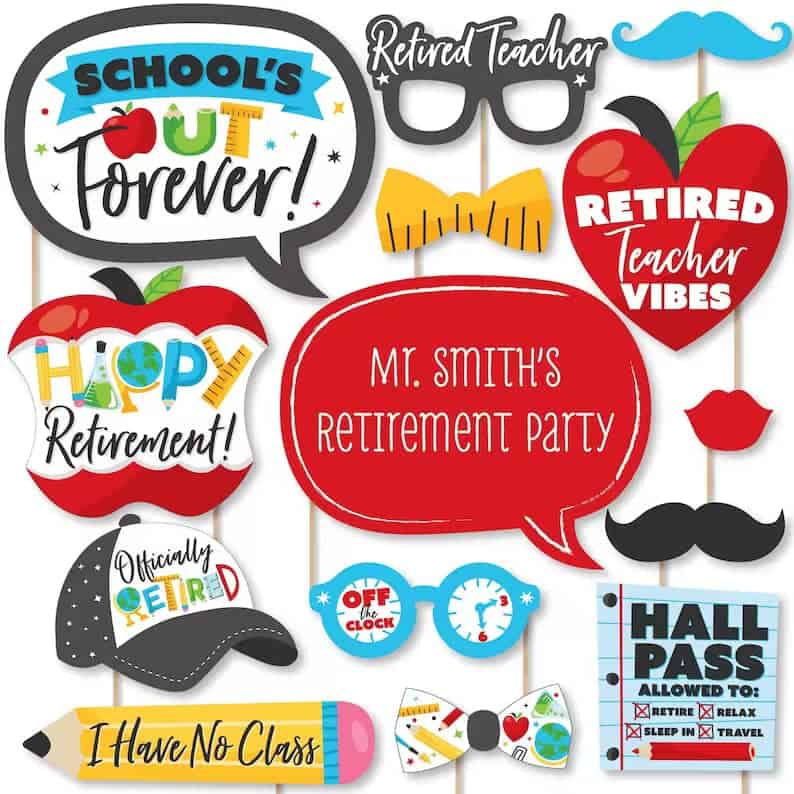 Retired Teacher Tote Bag
Make her laugh AND give her something that will carry her gifts and cards home from her teacher retirement party. Because there will be nothing better than carrying a tote full of nothing teacher-related.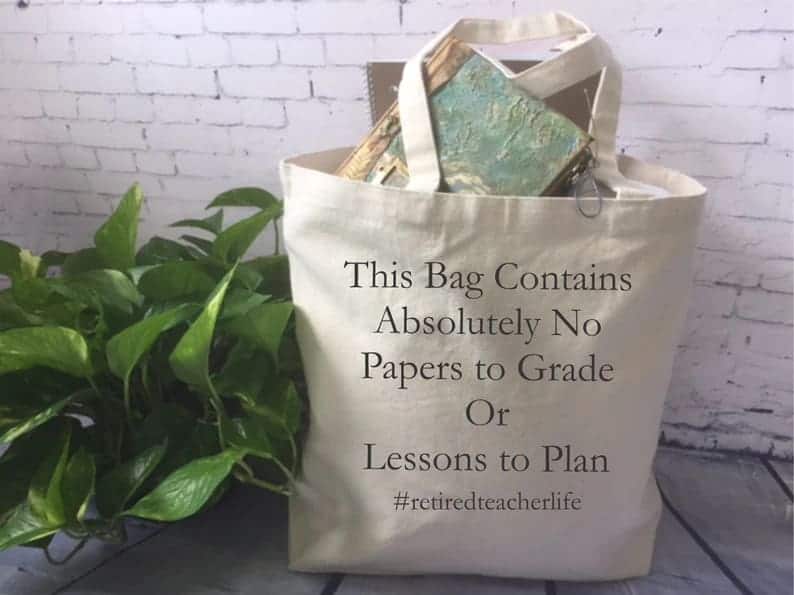 MORE GIFT IDEAS FOR TEACHERS >>>