23 Best Valentine Gift Ideas for Teen Boys (2023)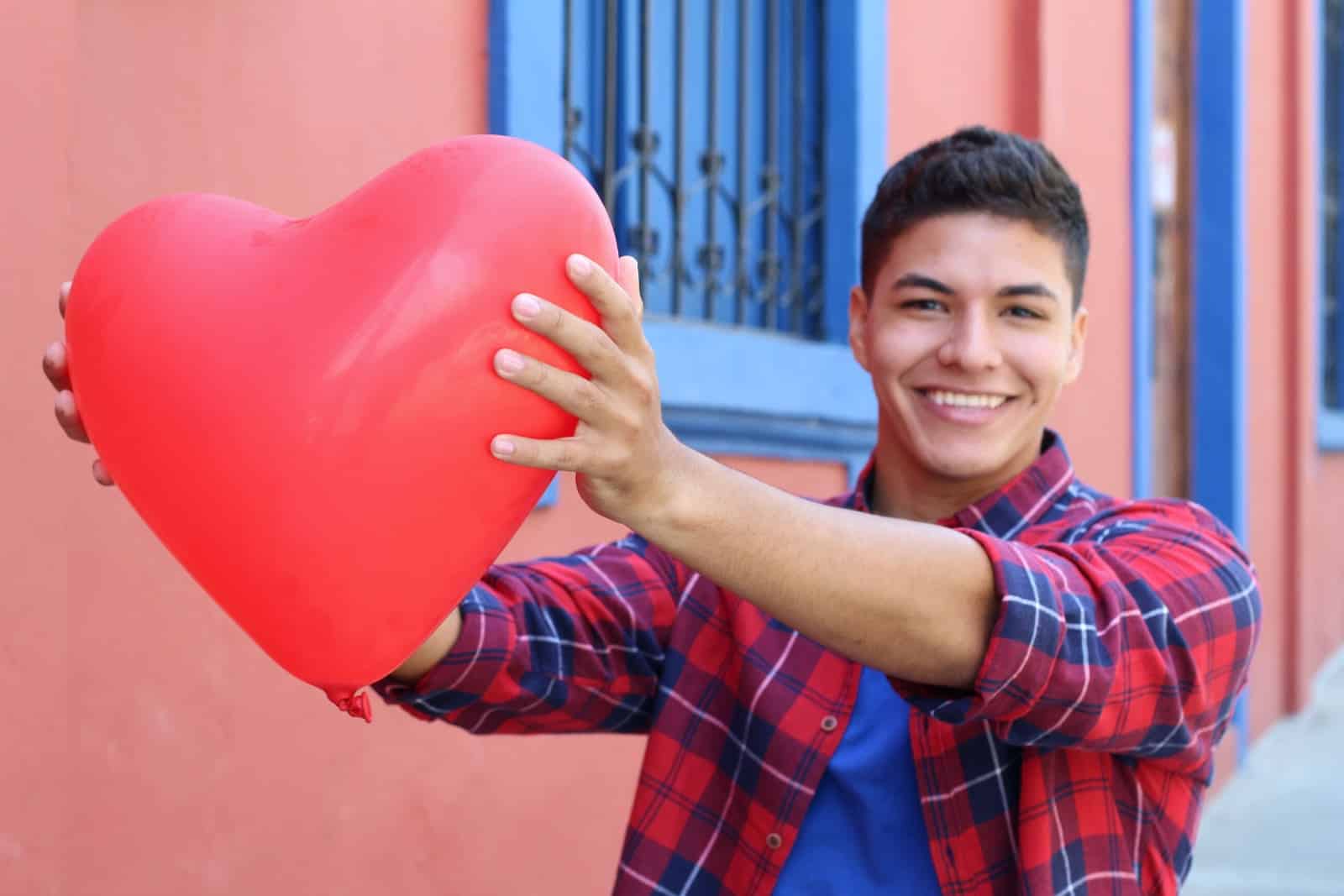 Whether you're shopping for your teenage son or teen boys in general, you'll find the perfect Valentine's Day gift here. Ideas are straight from our teen sons and our college students.
Some of the links below are affiliate links. This means that, at zero cost to you, we will earn an affiliate commission if you click the link and make a purchase. We appreciate your support!
I've given my teen boys a small gift for Valentine's Day since they were little. Now that they're older, I have to work harder to find something they actually want that isn't crazy expensive.
They know we're always working on gift guides here at SALT effect, so they weren't surprised when I asked for help with Valentine's Day gift ideas. I also included some of the best gifts suggested by my college students
.
(If you need ideas for teenage girls, take a look at our Valentine gift list for girls.)
Valentine Gift Ideas For Teen Boys Who Lose Everything
Especially if their bedroom is a black hole where phone chargers and cups go to die. Give him these gifts and you'll be helping yourself at the same time:
Apple AirTag
Gatorade water bottle
Portable charger
College hoodie
Wall charger surge protector
Tervis tumbler
Carhartt beanie
I stopped short of suggesting silverware as a Valentine gift idea for teenage son. Even though forks and spoons disappear from my kitchen at an impossible rate!
If you're an Apple family, the AirTag is a no-brainer. Don't forget the keychain!
A Tile Mate is another option and it works for any device. A plus is you don't need an extra keychain like you do for the AirTag. My teen has a Tile sticker on his AirPod case and I've never been so grateful.
Have you spent a small fortune on water bottles? I have two athletic teenage guys in my house, and I swear I buy a new Gatorade bottle every few months.
If you want to spend a little more, tuck a gift card or some cash inside with some of his favorite candy. We even have a list of the 50 best gift cards for tweens & teens.
My boys don't have to worry about finding or carrying anything else because it has three attached cables and a built-in plug. And they can help their friends because it works for iPhone and Samsung devices.
If he doesn't have a portable charger, this is my pick, hands down. It's an easy thing to stash in a glove box, backpack or even a coat pocket.
As crazy as it sounds, my boys LOVE this thing!
And I love that it's not a tiny cube and we don't need a million adapters for new charging cords or their friends who have different devices. Because they inevitably need a charger and never have one….
He can plug in all of his gaming devices, laptop, iPad or tablet, phone, lights… and it will always be in the right place when he needs it!
We're seeing a lot of Carhartt beanies on our college students this winter. Definitely one of the warmest hats you can buy!
Now, if only he can keep track of it….
Food Gifts For Always-Hungry Teenage Boys
Because they never.stop.eating. You're going to have to feed them anyway, so you might as well buy something fun to give them for Valentine's Day:
Reese's hearts & miniatures
Movie night gourmet popcorn
Valentine's Day care package
A sweet treat isn't just for a teen girl on Valentine's Day. Chocolate is always a perfect Valentine's Day gift. For anyone!
This is a perfect gift for him to share with friends or family on movie night! I like that you pop the non-GMO all natural kernels yourself and then add seasonings. It's a fresh option for popcorn lovers.
Are you shopping for a college student who's away at school? A care package is a great Valentine's Day gift when you're separated by distance.
I'm sometimes skeptical about boxes like this, but I sent one to my niece and she loved it!
If there are a few things he doesn't like, I'm sure his friends will be more than happy to help.
Valentine Gifts for the Kid Inside Your Teen Guy
These gift ideas are great for any teenage boy who appreciates practical gifts and loves fun gifts for the kid who is still inside:
LEGO Fender Stratocaster
3D pet pillow
Stuff You Should Know game
Speks magnetic fidget sphere
Air fryer cookbook
Laptop/water bottle stickers
Sports for the Soul book series
Playstation gift card
Buying for a musician or a guy who is into guitars? He will have so much fun putting this 1074-piece display set together! The detail is incredible and he can choose to make the guitar red or black.
It's a Trivial Pursuit game, but it comes with its own board, cards and pieces. Categories range from history and pop culture to conspiracies and technology.
You don't have to be familiar with the podcast to play–but I'll plug the podcast here because it's a fascinating listen!
My teenage son needs something to do or fidget with all the time, so this Speks sphere got my attention right away. It's a popular gift in our Gifts for Tween and Teen Boys Facebook group. One mom said her teen got one as a gift and is already saving up for a second.
Is it time for your teens to step up their air fryer game? If your house is like mine, that air fryer gets used more than anything else in the kitchen.
The step-by-step instructions will help him make easy meals and snacks. We love the charts and tips that help you get the most out of your air fryer. And that spiral binding means it will lay flat!
Each book in the series teaches life lessons through story, much like The Karate Kid or Field of Dreams movies. My boys don't read much anymore, so I'm always on the hunt for books that will keep them interested.
Gift cards sometimes feel impersonal, but it's actually a great idea for gamers. Our list of 50 of the best gift cards for tweens/teens has several options for gamers as well as other ideas.
They'll know exactly what they want for their game console. And you don't have to try to sort through all of the video games or membership options. Win win!
A KiwiCo subscription is one of the best gifts my boys have ever received. It's a high quality product that gives teens a chance to build fun projects and learn more about engineering and history.
Our teens love this massive streaming music library, especially because they can listen offline as well.