23 Best Valentine's Day Gifts for Teen Girls (2023)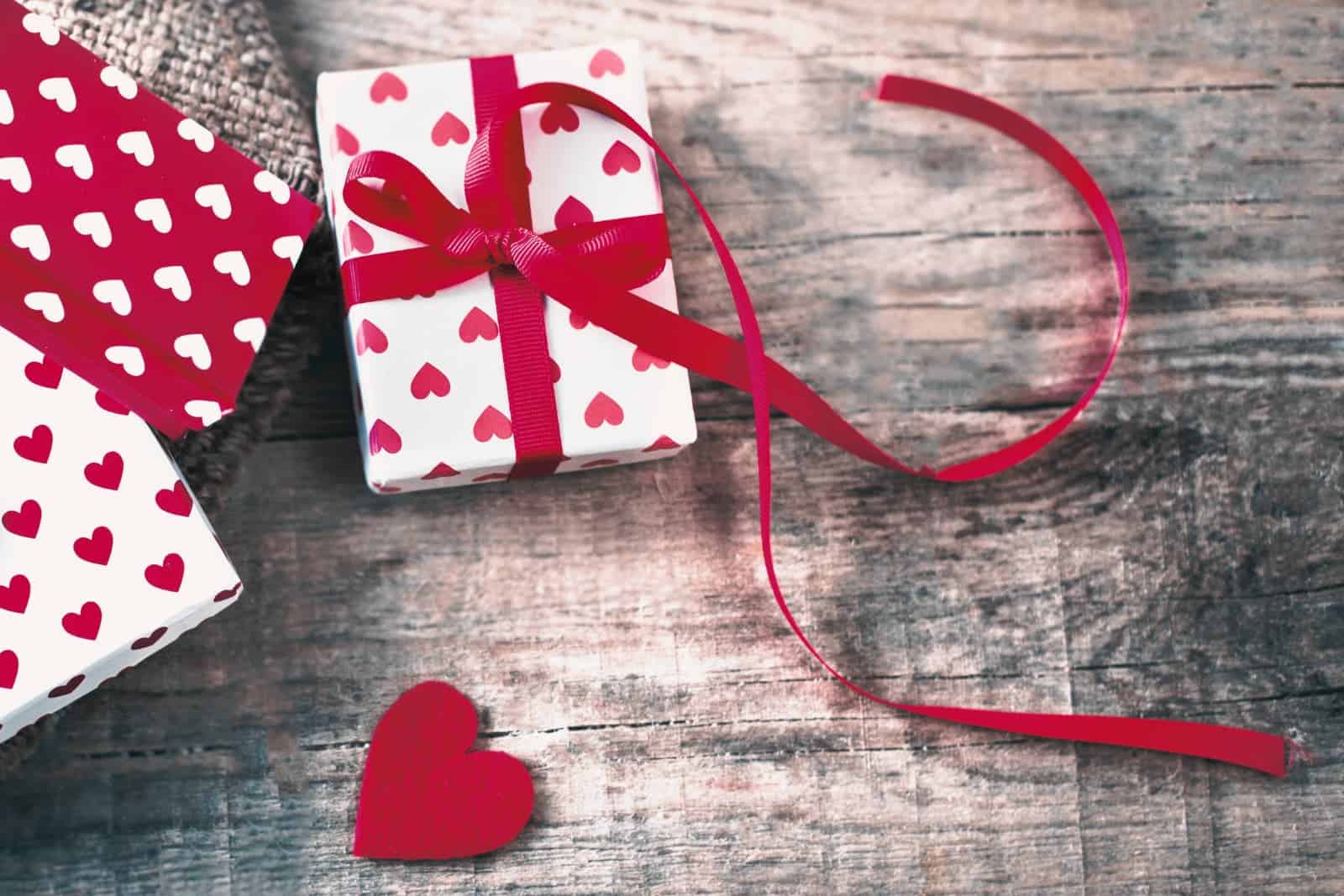 Choosing Valentine's gifts for teenage daughters doesn't have to be hard. Our list of gift ideas for teen girls includes top trends along with more traditional Valentine's Day gifts.
Some of the links below are affiliate links. This means that, at zero cost to you, we will earn an affiliate commission if you click the link and make a purchase. We appreciate your support!
Updated 1/14/23
A gift on Valentine's Day is a great way to remind your teen daughter how much you love her. Find the perfect teenage girl gift with our curated gift guide.
Most of our gift suggestions come from our community of over 2,000 moms of tween and teen girls! We share gift ideas and deals every day because we know it's not easy to find just the right thing for a teen girl.
We're also college professors and advisors, so we see and hear about favorite gifts and latest trends from our students.
(Need Valentine's Day gift ideas for boys? Check out our Valentine gifts for teenage boys.)
Gifts For Teenage Girls To Use
These Valentine's gifts for teenage daughters include tons of ideas that are useful and cute:
Stanley tumbler
Portable charger
eos lip balm
Bath bombs
Shower steamers
Diamond painting by number kit
Beach bag
Journal or planner pens
Stanley Tumbler
Want a huge hug from a teenage daughter on Valentine's Day? Get her a Stanley tumbler. We're seeing these all over our college campus! But be warned: they do sell out so you may need to browse all of the Stanley tumbler options to find one in stock.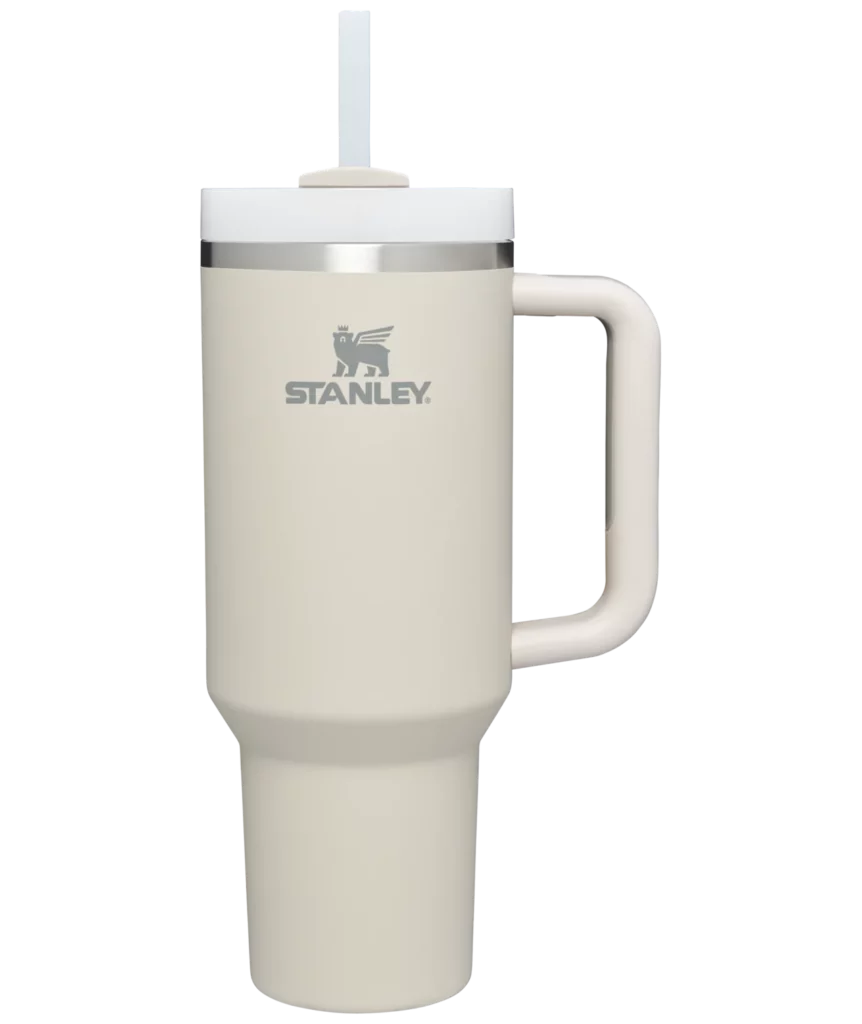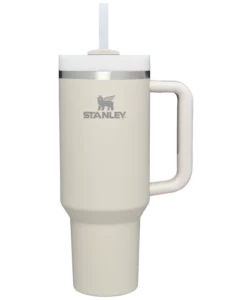 Portable Chargers
You'll worry about your teen daughter a little less if you know her smart phone won't die when she's out. This ultra slim charger is lightweight and has a built in lightning cable for Apple devices, so she doesn't need a spare cord.

Reviews note how easy it is to carry and how quickly it charges. Available in 3 colors. Try this best-selling charger for Samsung or Google phones.
eos Lip Balm
She can never have too many lip balms! eos is an always-popular brand that's 100% natural, hypoallergenic and sustainably sourced. Our students pull these out of backpacks all the time.
Bath Bombs
No list of Valentine gifts for teenage daughters would be complete without bath bombs! A few things we always look for: all-natural ingredients, individually wrapped, pretty scents (not perfume-y), and no stain in the bathtub.

These bath bombs are made in California, originally created because the founder wanted a moisturizing bath for her kids with all-natural, non-toxic ingredients. They're now shipped around the world!

If she's not a fan of baths, try these aromatherapy shower steamers instead.
Diamond Painting by Number Kits
Diamond painting is one of the most popular DIY trends. It's fun way to relax and she can do this kit at home without any other supplies.

We picked this one because the numbers are clear and easy to read (not true with all kits) and the diamonds are good quality. It's also a full drill diamond painting so the entire picture is covered in diamonds, not just a portion of it.
Beach Bag
This great gift idea is just in time for spring break trips! Or it will at least make it feel like summer is coming…sometime. She'll love this water resistant boho tote bag with rope handles and a zipper closure.

It includes a wetbag for damp clothes and a no-hassle guarantee from the small business seller. Choose from 3 colors and get free shipping!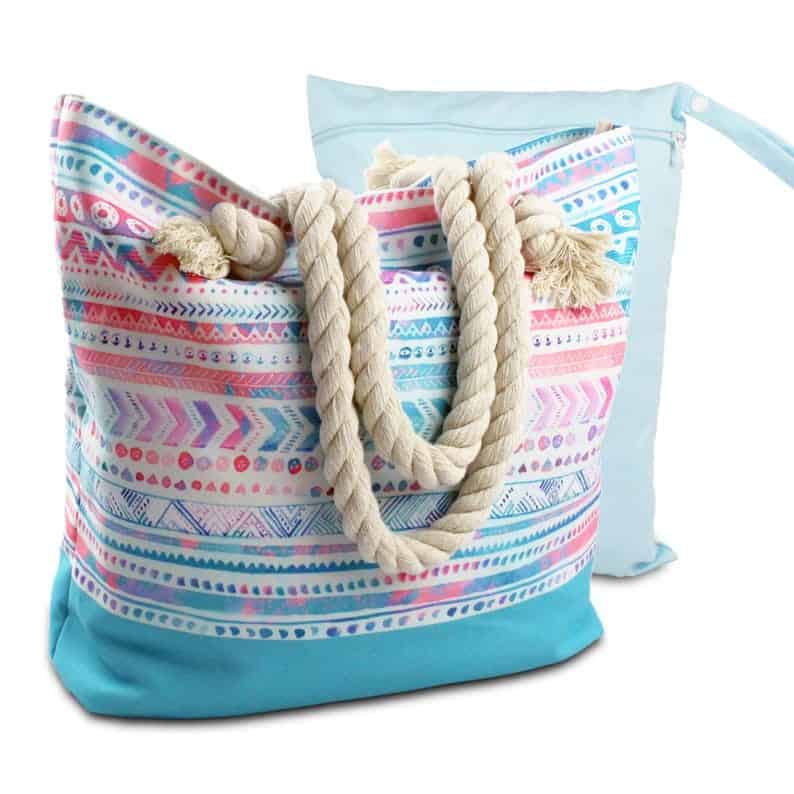 Journal or Planner Pens
Whether she needs pens for school supplies or just for fun, this is a fantastic set with 18 beautiful colors! These fine point pens are great for journaling, drawing, coloring, sketching, note taking and more. The best part is the water-based ink won't smear or bleed.


Gift Ideas For Teen Girls To Wear
Whether she loves dressing up to go out or being cozy to stay in, one of these Valentine's gifts is perfect for her:
Name necklace
Pura Vida bracelets
Cropped hoodie
Wearable blanket hoodie
Name Necklace
Name necklaces are a perfect Valentine's gift, and we've seen this style on our college students. The necklace is solid sterling silver and then you can choose from 3 finishes and 9 lengths.

We especially love this choice because it supports Caitlyn Minimalist, a small business with over 2 million sales.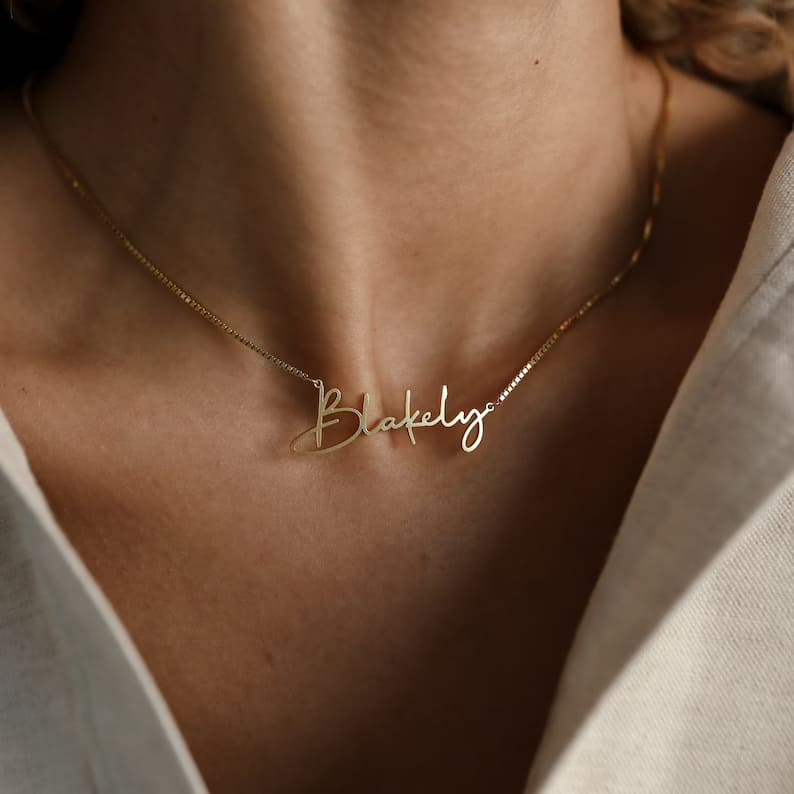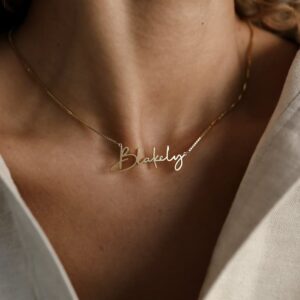 Pura Vida bracelet pack
With over 2 million Instagram followers, Pura Vida bracelets are always a popular choice for teen girls. We love the company because it provides sustainable jobs to artisans and gives back to a number of different charities.

I just complimented my cousin's teenage daughter on her Pura Vida shirt and bracelets this past Christmas. Her mom says it's one of her favorite brands.

This "by the sea" pack has beautiful colors to wear alone or together, and we especially love the rose gold wave bracelet.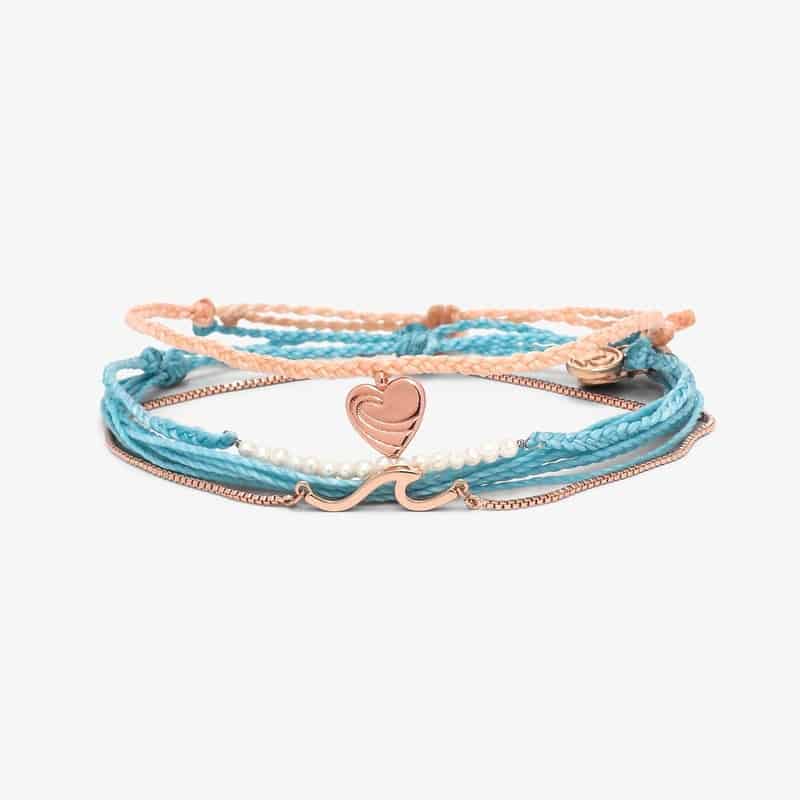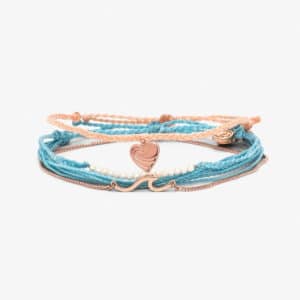 Cropped Hoodie
We're college profs, and cropped hoodies are everywhere. If your teen daughter has a favorite team or school, you'll find lots of sweatshirt options here–from cropped hoodies to crew necks.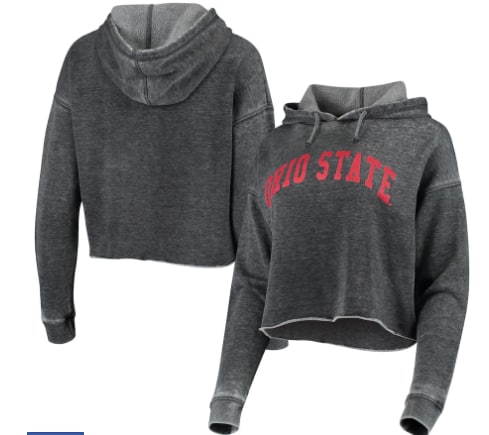 Oversized Blanket Hoodie
We love the original Comfy hoodie too, but this one is lightweight and insanely soft. Our friends have two teen daughters who fight over this blanket all the time. It's available in lots of colors!
Valentine's Gifts for Teenage Daughters in College
Older kids who are away at college love getting care packages from home:
Greyston Bakery brownies
Yeti water bottle
Crochet kit
Photo string lights
Gift cards
I do a gratitude exercise at the end of every class session and believe me…your kids LOVE anything that comes from or reminds them of home. Send an amazing gift to your teenage daughter and you might even get a phone call to thank you.
Benevolent Brownies from Greyston Bakery
We teach college students, so we know firsthand how much Gen Z loves supporting companies that give back. These amazing brownies (used in Ben & Jerry's ice cream!) are from a fellow B Corp that hires workers with no questions asked, bringing stability and alleviating poverty.

Get 4 flavors (3 of each one): brown sugar blondies, chocolate fudge brownies, snickerdoodle blondies and vegan fudge brownies. What college student wouldn't love a care package like this? She can share with her best friends!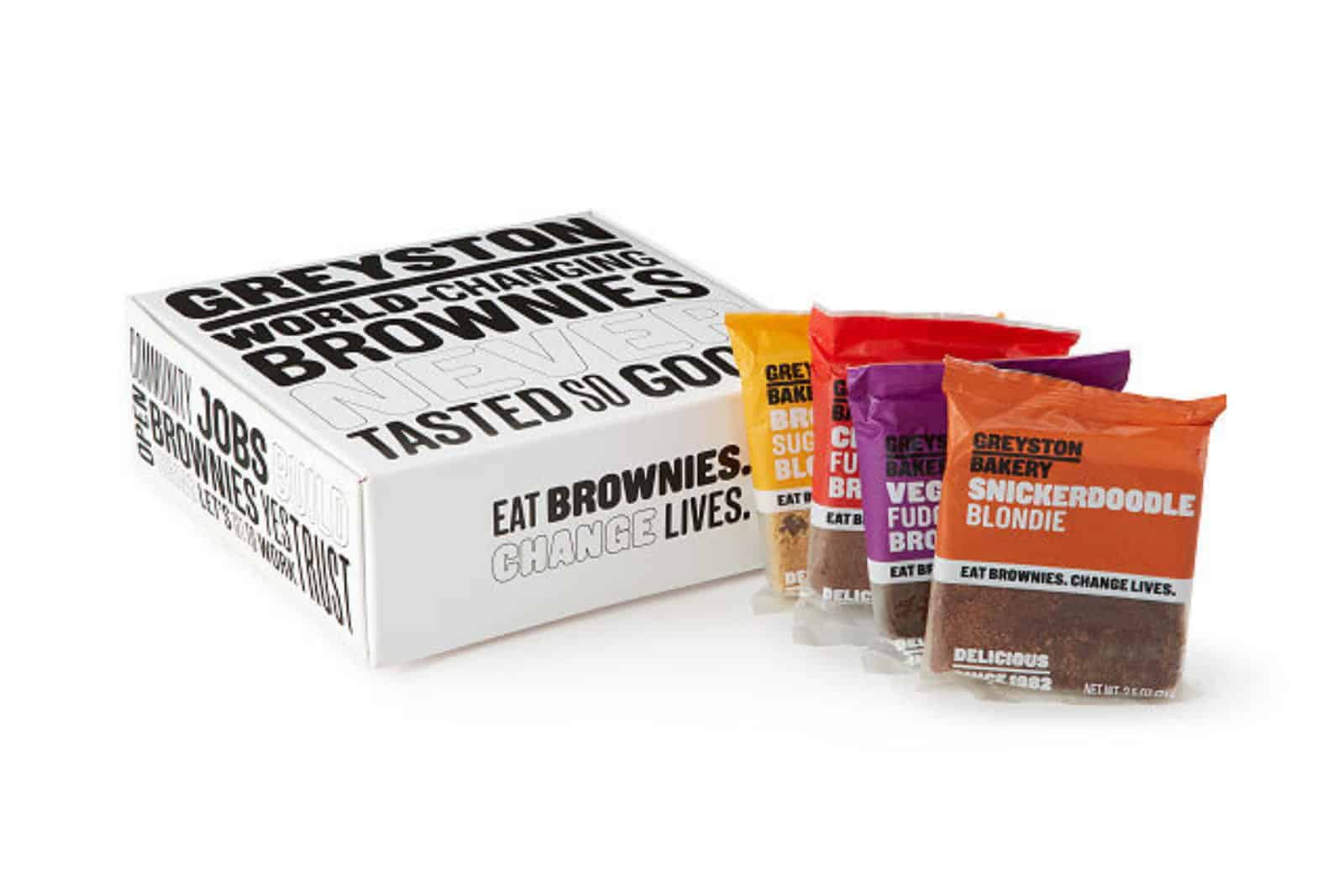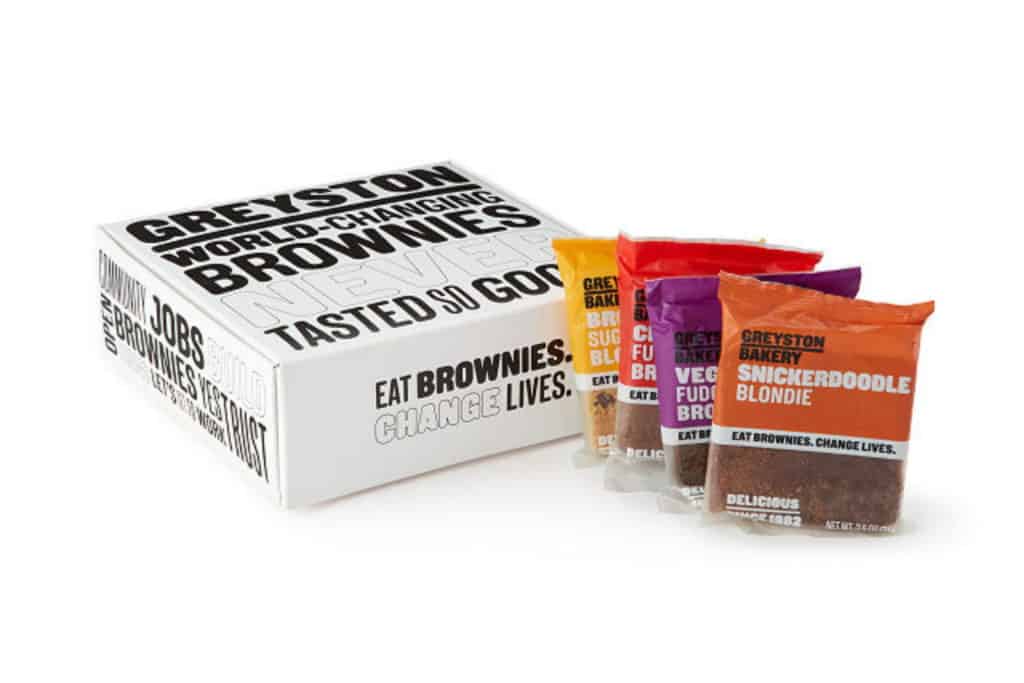 Gift Cards
Tuck a gift card inside a Valentine's Day card or send it via email. It's a perfect gift idea to let her splurge a little on coffee (Starbucks), makeup and hair products (Sephora and Ulta), shower gel and lotions (Bath & Body Works) or anything from Amazon.
Yeti Water Bottle
A Yeti water bottle always makes a great gift! We love the 18oz Yeti Rambler because of drinks stay the temperature they're supposed to. They also don't sweat and the DuraCoat color won't fade, peel or crack.

We see these water bottles in student backpacks all the time. They fit in standard size cup holders and come in so many different colors.
Beginners Crochet Kit
I had never seen these until a student gave a speech about how much she loves crochet kits! Like so many college students, she stopped doing a lot of the things that kept her busy in high school. She wanted a hobby that wouldn't be too time consuming. She tried this beginners kit and fell in love with crocheting.

If she loves to try new things, this is a perfect Valentine's Day gift!
Photo String Lights
Print some pictures from her social media or ask her to send you a few that she really likes. Include a favorite photo of your family, vacation spot or pet. We know how much they miss leaving their dogs and cats at home.

Send those pictures with a set of string lights for a perfect gift. We love this set for her dorm room because it comes with a remote control.
Traditional Valentine's Day Gifts
If she's easy to please, the best Valentine's gifts are often the simplest:
Dove chocolates
Candy bars with printable wrappers
Iced coffee or hot drink
Dinner at a restaurant
Homemade breakfast
Cards
Sweet treats are always perfect for Valentine's Day. Give her a Dove gift box of chocolate or pick up her favorite candy bar and make a unique gift with printable candy bar wrappers that you can personalize.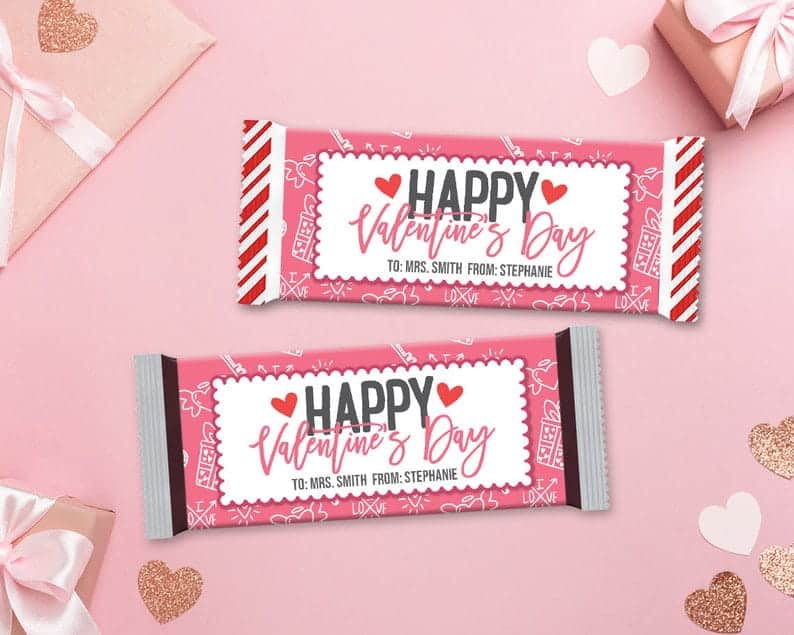 Treat her to her favorite iced coffee or hot drink before school. Head out to your favorite coffee shop while she's getting ready and bring it home for a sweet surprise. Or drive her to school and pick it up on the way.
Take her out for a Valentine's dinner. Another fun idea is a homemade Valentine's Day breakfast. Sometimes the best Valentine's Day gifts are all about spending quality time together.
And don't forget the Valentine's Day cards! I don't always remember to give a card, but I almost always save the ones I receive. So I know they matter.
You might think your teenage girls (and teen boys for that matter) already know you love them, but it never hurts to write it down. Be specific. What do you appreciate about your teen daughter? What do you admire about her?
Taking a few minutes to choose a card and write a heartfelt little note might be the most thoughtful gift you can give her.