65 Best Gifts for an 18-Year-Old Girl to Celebrate Any Special Occasion (2023)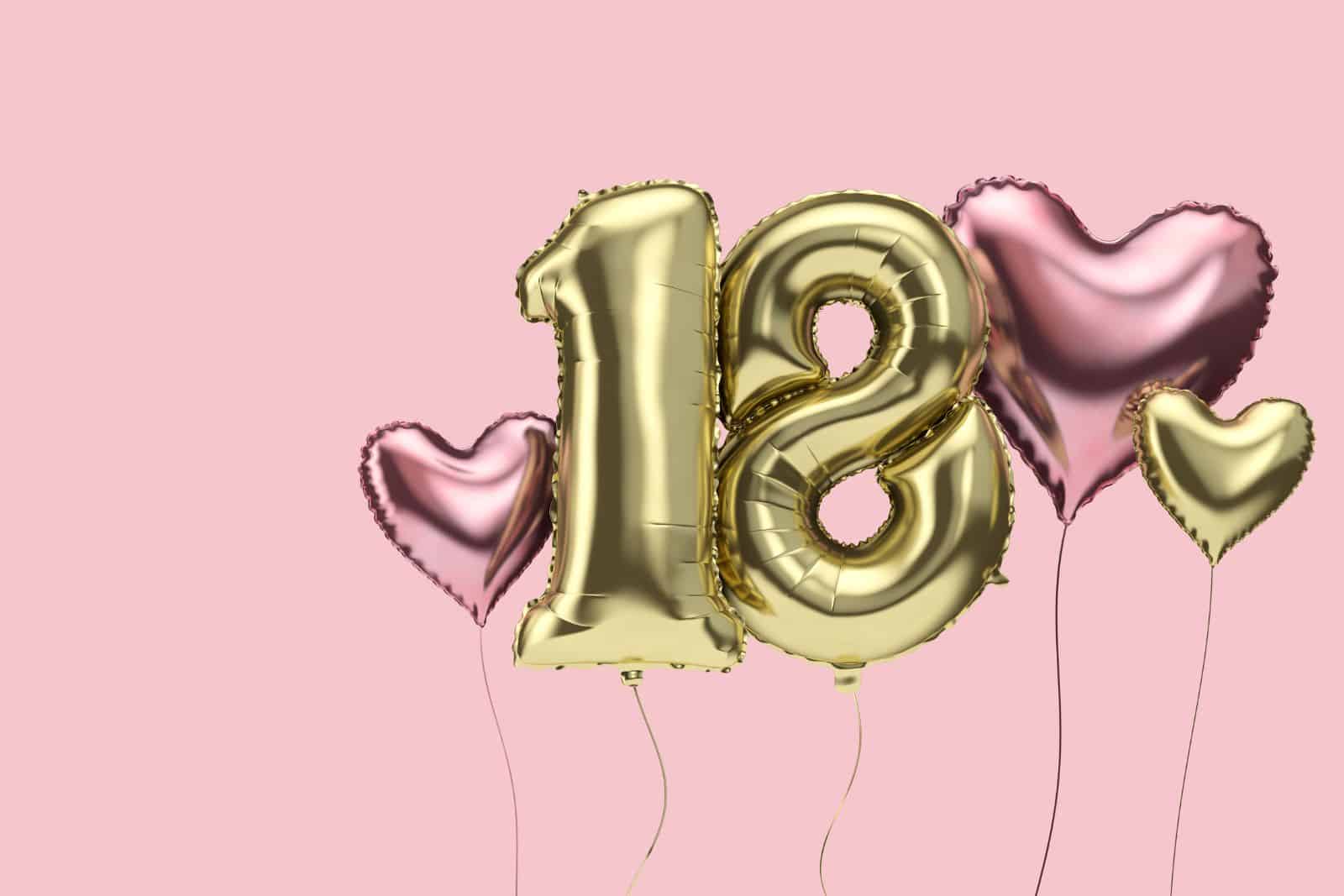 Whether you are looking for Christmas gifts, a gift to celebrate a special occasion or just a little something to celebrate an amazing accomplishment, this fantastic list is full of special gift ideas for 18-year-old girls.
This post contains affiliate links – we earn a small commission if you purchase through our links, and we appreciate your support.
Oh, to be 18 again! Such a magical time in life, with so many special occasions from high school graduations, to milestone birthdays, to college acceptances, and leaving the nest. But it's also stressful, as teens (and parents) feel like they are making a ton of life-changing decisions.
So, whether you are looking for Christmas gifts, a gift to celebrate a special occasion or just a little something to celebrate an amazing accomplishment, we've done the hard work for you. This fantastic list is full of special gift ideas.
My personal tip for gifting has always been to pick a theme and go from there. So, whether it's room decor, at-home spa, or something else, having a theme to work off really helps me zero in on items that would be of interest to my teenager. It also helps me to be more intentional with my purchases and gifting.
For instance, to celebrate completing all those college applications, maybe gift a few items themed around a relaxing movie night she could enjoy with friends. Plus it's a great way for 18 year olds to blow off steam after all that hard work! Or for her birthday, maybe some goodies in a basket for a spa day?
Adding a gift card to her favorite local independent bookstore or other shop is another great idea. I will sometimes pair this with other gift items I purchased to build around my theme. My daughter is a bookworm so a great gift idea for her would be a personalized basket of at-home spa treats and a gift card to pick out her next favorite read. (For more gift card ideas, scan our list of the 50 best gift cards for teens.)
Also, don't overlook how much teenage girls love fresh flowers. A stop at your local florist is another good choice. My daughter loves receiving flowers as a gift and will display these in her room till well past the bouquet's prime! Maybe it's a subtle hint to gift her these more often!
For those that can't have flowers due to pets or allergies, this Lego Flower set is a really cool piece she can build herself.
Fans of the hit show Abbott Elementary may recall a certain teacher purchasing these for Valentine's Day.
My daughter particularly loves this Lego succulent set we gifted her recently.
Turning 18 is a major milestone, and our list of top gift ideas has you covered with lots to choose from in a wide range of interests and price points. We've got you covered whether you're looking for the best 18th birthday gifts or special gifts to celebrate other accomplishments.
Personalized & Meaningful Gifts
Finding a personalized or meaningful gift seems like a perfect fit for a big birthday like 18 or a major event like a graduation.
Okay, remember that time when Kevin from "The Office" wished her a happy birthday? Am I the only one with a teenage girl who has spent exactly ZERO hours working in an office but is still obsessed with this show? I'm talking about a personalized message on video from a favorite actor, musician, athlete, or reality star via Cameo.
They have an enormous list of talent at a variety of prices so you are sure to find someone your teenager admires to share a personal message. Say happy 18th birthday by giving a gift you all will be talking about and re-watching for years to come. A really memorable gift!
Another personalized gift that will make a lasting impression is KindNotes. KindNotes truly is a jarful of smiles. Choose from a selection of decorative-themed jars filled with 31 notes – an uplifting word or special message that she can read daily to boost her spirits and feel loved. This would be great for any teenage girl. Who couldn't use some positive thoughts?
Gifts to Celebrate a New Adventure
Travel-related gifts are perfect for 18-year-olds taking a gap year to travel or planning an epic trip the summer after high school.
Celebrate her launch into the world as a young adult with a world traveler globe made of cork. The cool feature of this cork globe is she can track all her adventures by placing push pins on the globe for the locales she visits.
If she's like my daughter who loves to keep little mementos from her trips, gift her this travel stub diary. And extra bonus points if you toss in a pair of tickets to something like a concert, show, or another event.
For adventurous girls who love the outdoors, gift a National Parks Pass paired with a decorative parks scratch-off poster and this lovely illustrated parks water bottle to encourage her to keep exploring (and stay hydrated!)
The Stanley Quencher is so popular, my college students write class assignments about them. Stanley literally can't keep these in stock, and thousands of people wait on the email list to hear when they get a new shipment. (But new shipments come in fairly often.)
If you're putting together a fun gift basket for an adventurous teen, toss in a few pairs of Bombas socks – great for all that activity. Plus, for every pair you purchase, another is donated to those in need. We love a gift that also does good! (These also make a great stocking stuffer.)
And don't forget this top-rated instant camera to capture loads of memories from all those fun adventures she'll be having. She can pin her favorite images right to a bulletin board.
READ MORE >>> 42 Best Experience Gifts For Everyone on your List
A new piece of luggage like this one can be the perfect present that will last many years to come. We partnered with a travel-planning expert to create a guide to the best luggage for teens – it has hard-sided, soft-sided, carry-ons and helps you know what will work best for your teen.
Luggage can also be paired with the gift of a fun getaway. Plan a trip before she leaves the nest and create more bonding and memories for years to come. Great deals on flights, rental cars and lodging can always be found on Expedia.com. Did you know you can even book rental properties and vacation packages through Expedia?
Some of my daughter's favorite gifts have been the gifts of experience where we get to spend time together and enjoy something or someplace that she really enjoys. Check out what concerts or shows might be coming to your area to gift her tickets, or scan our list of experience gifts for other ideas.
Whether you have a weekend or a week, a travel adventure like a beachy getaway is always a perfect gift idea in my opinion. Don't forget to toss sunscreen into her luggage for that beach getaway. This Supergoop! Starter kit is a perfect add-on to a travel-themed gift and is TSA-friendly.
I remember the days of skating in my Strawberry Shortcake skates to the latest top 40 tunes in my best friend's basement growing up. Proving that everything old is cool once again, roller skating is now having a revival. In fact, my daughter and friends spent the evening at an area roller rink recently and had the best time. These roller skates from Impala have a cool, retro vibe, and I love the pink! A sweet gift she probably wouldn't think to buy herself. Not to mention it's great exercise.
Gifts to Wear & Accessorize
We know that girls can be picky when it comes to clothes and accessories, but you won't go wrong with these ideas (because teen girls tell us they're on point).
Could there be anything harder than trying to pick out clothes to gift an 18-year-old daughter? I'm pretty sure the answer is NO! A Stitch Fix gift card is the perfect solution. Stitch Fix lets her plug in sizes, styles and whatever she is looking for on their website or app, and then the wonderful Stitch Fix stylists work their magic!
Your teen gets a personally-curated box of five items and can keep whatever she loves and send back anything she isn't into (using a pre-paid shipping envelope that comes in the box). That's right, no need to drive to the mall and return a thing. High five to one less errand.🙌 My own hard-to-shop-for-clothes daughter raves about every Stitch Fix box she gets. Trust me, it's the real deal!
To go along with Stitch Fix finds you might want to add some trendy footwear like a pair of Vans or Dr. Martens or these dreamy cloud slippers.
You can never go wrong gifting teen girls anything and everything Lululemon. The athletic wear line has a super trendy belt bag in so many different colors.
Add the perfect accessory with these hair ties, hair clips, or headbands from Headbands for Hope, which donates to a child battling illness for every headband sold. Another product on a mission! Use code SALT_5off for $5 off.
This sterling silver Etsy birth month gemstone necklace would make a wonderful keepsake and great addition to any outfit!
Or this rose gold Kendra Scott pendant necklace is another thoughtful gift and super popular with teenage girls.
Do you have a girl that lives in T-shirts? I love this super soft 18th birthday t-shirt. It really makes me laugh and I'm sure you can relate to the message!! Yes, she may technically be an adult but she still needs us!
Fans of retro designs may like this cool vintage birthday t-shirt that lets you add her birth year. I like this so much I may just order one for myself, too, although I would really be really aging myself if I did.😉
Or to celebrate her inner princess here's another cute birthday tee.
At-Home Spa & Chill Gifts
A little pampering is always a much-needed and appreciated gift for any of us, but especially for 18-year-old girls. They are going through a lot at this time as they transition to the next chapter of their lives. It can be super stressful, so to help bring the anxiety level down, I like to arrange a thoughtful home spa gift. Get a decorative basket, box, or gift bag and fill it with an assortment of goodies she can use to rest and refresh.
These micro-fiber Turbie Twist hair towels are great at drying hair fast and taming frizz.
Toss in a pair of these super cozy and stylish UGG faux fur sandals. Great for lounging around the house.
Complete this relaxing theme with a luxuriously soft throw blanket and a DIY bubble tea set These items are all about the cozy feels.
Korean beauty products are all the rage, and these face masks from TONYMOLY are a must to include with any spa theme gift. Pair with this lip mask that totally lives up to the hype. Unlike makeup, with masks you don't need to worry about matching skin tones or choosing colors.
If she doesn't have a signature scent, this Sol De Janeiro body fragrance mist is lovely and really brings those vacation, beachy vibes.
For some fun experimenting with beauty products, you can never go wrong with gifting her a subscription box like one from Love Goodly, a favorite of SALT effect fans for their cruelty-free products.
Gifts to Create & Set Goals
These gift ideas aren't just for artists. They're perfect for any teens who love the look of a color-coded planner or getting a little creative for fun.
Help her de-stress more and get her creative juices flowing with a few art options like a mandala coloring book paired with coloring pencils or a lovely paint-by-numbers set.
A lettering and modern calligraphy beginner guide along with these brush pens may just foster a new creative outlet.
A really cool experience gift available through our friends at Uncommon Goods is the Make-Your-Own Vision Board. This one-time online class will teach her how to map out a specific goal as she embarks on young adulthood and her next big adventure in life. Pair this with a few craft supplies to help her build her own vision board. A truly perfect gift idea!
A bullet journal and colorful gel pens are an excellent gift choice. She can write or draw in her journal and use it to keep track and take notes of anything and everything from homework, college application deadlines, goals and so much more. This bullet journal comes in many different colors and is a personal favorite.
You could also go with a bullet journal kit that includes stickers, pens and a few other accessories.
Gifts to Personalize Decor & Organize
Let's face it, young adults spend a lot of time hanging out in their rooms. I'll be honest, sometimes they spend so much time in their room you may forget they are even home. And when they go off to college, their dorm room serves as an all-purpose bedroom, library, kitchen, and living room entertainment space. This isn't their childhood bedroom anymore, so gifts that can help them organize and spruce up the space while adding entertainment features and other personal touches can be super useful and fun ideas.
If she's looking for a little room decor, this piece of custom wall art is an excellent choice. Select her birthday, graduation date, or another momentous occasion to highlight with a star constellation map. You can select either a framed piece or just the art poster and have a lovely image to display the stars that shine bright on her special day!
Essential oil diffusers are super popular and a great gift to add a little calm, freshness, and homey decor to her space. This ceramic aromatherapy essential oil diffuser is so pretty and really blends well with any aesthetic. Pairing it with this essential oil set is a gift she's sure to love.
Movie, Music and Electronics Gifts
These gift ideas bring the fun. They're perfect for girls who like to spend time with friends, whether they're relaxing with a movie or dancing to Harry Styles.
My daughter loves hosting a movie night with friends. In the summer months, we hang a large screen in the backyard and set up some chairs and snacks for an at-home drive-in movie experience minus the car. This mini-projector is also great for when she wants to host a movie night in her dorm room or first apartment.
Gifting the mini-projector with some reusable retro popcorn boxes, a collapsible popcorn popper, your favorite kernels, and some yummy popcorn seasonings can make a fun themed gift. And to add to the movie theater feel, gift this cinema lightbox that she can use to create her own messages to display.
Vinyl is back (thanks Taylor Swift!) and this record player is such a cute design and comes in a ton of different colors so you can coordinate this nostalgic piece with her room decor.
This portable, waterproof speaker from JBL has been super popular with teenage girls who participate in sports and other activities. There's sure to always be at least one of these at a team dinner or on the sidelines getting kids pumped before a game. It's super durable and comes in many different colors.
To keep all their gear charged up in a flash, this reasonably priced portable power bank is the way to go. Another great gift idea that is also super practical.
Game Night Gifts
Games always make an amazing gift, and there are SO many good games out there. They can break them out for family game night or take them to a party to play with friends.
My daughter, like the rest of our household, loves a good game night. A few of her personal faves that your teen might also enjoy are Exploding Kittens, Half Truth, and Codenames.
And of course, the always popular Nintendo Switch is another favorite when she can pry it away from her twin brother! Maybe we need to buy another one?
Our master list of the best board games for teenagers has even more ideas if you you're looking.
Personal Gear Gifts
These are gifts teens can use now and probably for years to come as they step into their next chapter.
If you spend any time with young adults, you'll notice that so many are wearing AirPods On a recent college tour, we noted that every other student that passed us had these in while walking around campus to their own personal soundtrack.
If your teenager already has a pair, this super stylish Kate Spade rose gold glitter case to store them in is the perfect accessory.
Over the summer, we vacationed in Denmark and Norway and these adorable and bright-colored backpacks were everywhere. Fjallraven is a Swedish outdoor clothing and equipment company and their gear has become super popular stateside too with teenage girls. This classic backpack comes in a rainbow of different colors to choose from.
They might be new to you, but they aren't new to teens. We see them all over the college campus. That's why Fjallraven also made our list of the best backpacks for college students.
Our last gift idea is a useful and practical gift to promote safety. I love the Birdie personal safety device and plan on gifting this to my own daughter.
How does Birdie work? This empowering gift is all about safety. She clips the device onto her key ring or can just carry it with her when out. If ever she feels she may be in a threatening situation, all she needs to do is just activate the Birdie. A loud siren and flashing strobe light engage and help to draw attention to her, hopefully deterring a bad situation and getting needed help. This is also a gift that also gives a worrisome mom a little piece of mind when her girl flies the nest. Birdie is a female-owned company that gives back to organizations that support women's causes around safety, shelter, and health too. Again, we love a gift that gives back.
There really is a little something for every girl on this super-big list, no matter your budget or what special occasion you are celebrating. And check out our 42 Best Experiences Gift Guide complete with great options for fun experiences that are sure to be memory-making. You may also consider pairing an experience gift with a few suggested ideas from this list for teen girls to create a truly unique themed gift.
Written by Jennifer Donnelly, mom of twin teens.