43 Best Cute Backpacks for College Students (Our Picks for 2023)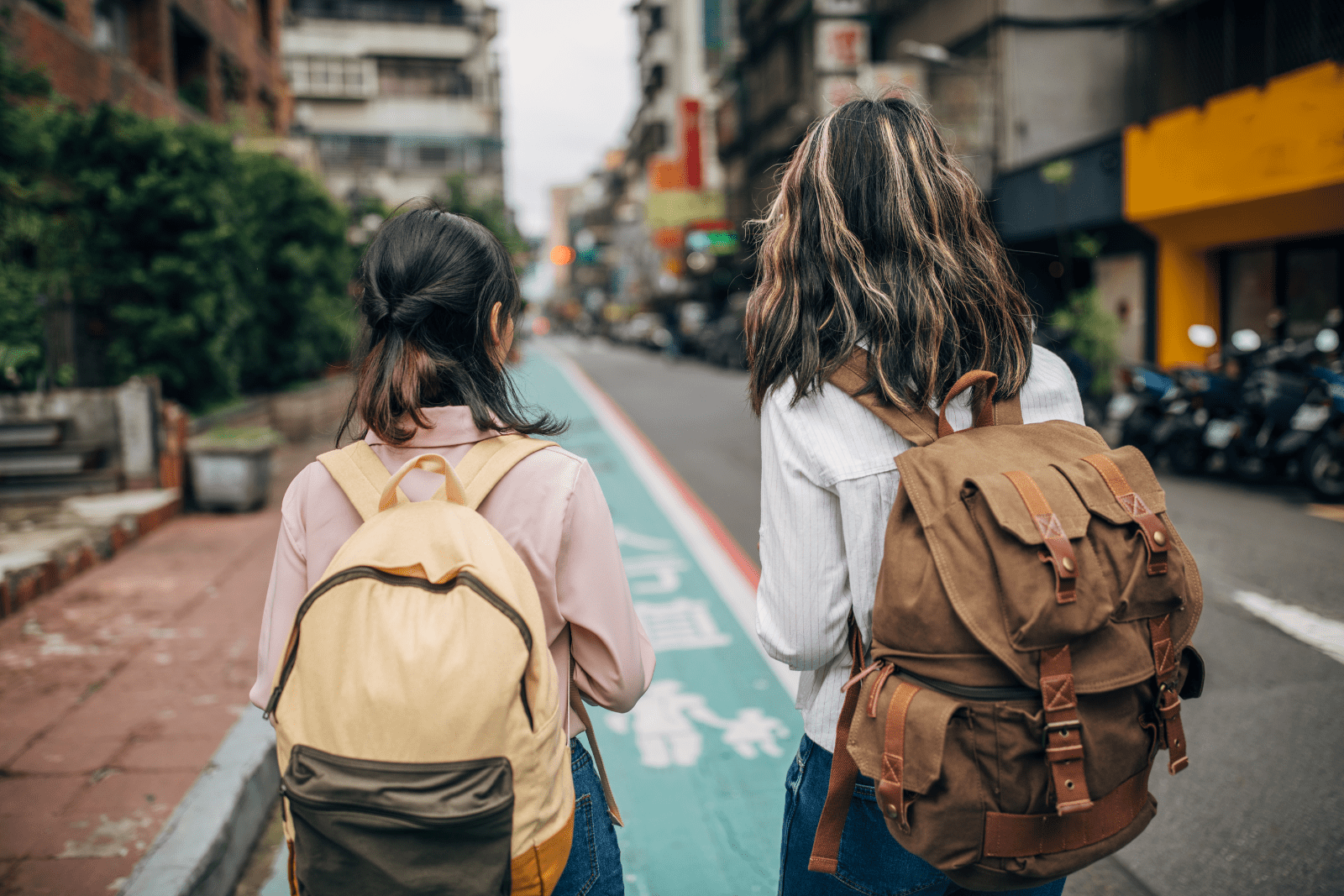 We teach college students, so we're always watching and listening for their favorite products. The ones that get rave reviews. Cute backpacks for college students are a must-have, but there are lots of different features to consider. The best college backpacks out there offer a wide range of options.
Some of the links below are affiliate links. This means that, at zero cost to you, we will earn an affiliate commission if you click the link and make a purchase. We appreciate your support!
Every student needs to cart around school supplies, but what they carry depends on their daily schedule and ability to stop home during the day. As students move from high school to college, or even as they move through college and have different needs, there are times that call for a new good backpack.
Consider What the College Students Will Carry
Cute backpacks for college students still should start with functionality. Ask key questions like:
Will you be carrying a laptop? If so, what size (typically 15-inch vs 17-inch)?
How many books and notebooks need to fit in the backpack before you can come home and reload?
Do you have lots of small items to store?
Is the backpack primarily for school or also for hiking or travel?
Some backpacks can crossover from lugging textbooks on campus to a weekend hike, but a classic backpacks and a travel backpack can vary a lot in terms of features. Understand the primary purpose of the backpack as you review features of the different bags below.
Best Backpacks for Comfort
Collegiate women may want to look for backpacks that are smaller or have adjustable straps or more comfortable straps if they'll be carrying them for longer days.
Adjustable shoulder straps or even a top carry handle can reduce the strain on the back of carrying heavy textbooks around campus. The American Chiropractic Association recommends that backpacks fit closely to the back to prevent injury. Backpacks with multiple pockets to distribute the weight of items can also help minimize the negative impact of daily use. Cute backpacks for college students should still come with comfort.
Cute Backpacks Still Need to Get the Job Done
Most backpacks include at least one large compartment along with side pockets (or side water bottle pockets) or a front pocket.
Some backpacks provide an external USB port or headphone jack. Others are made out of water resistant fabric or even waterproof material to protect electronics. Cute backpacks for college students can still be super functional.
Stylish Backpacks Do Exist
When you're looking for cute backpacks for college student, it really does come down to what your college student **thinks** looks cute. Does she like sporty? Floral? Color block? A certain color? A backpack that looks more like a suped-up purse? A great backpack that is also a stylish backpack is a win-win.
Brands Matter to College Students
College girls often like certain brands because they're trendy or known for high quality. Other brands catch their eye because they have a give-back mission. For example, the Ivory Ella backpack below helps protect elephants, and the Day Owl backpacks were created from recycled landfill-bound materials. Today's Gen Z college students care about brands and what they stand for.
Backpacks make great gifts for high school and college students. We consider ourselves experts on gifts for older kids, so jump over to our list of the best gifts for tween & teen girls if you're looking for other ideas.
The North Face Borealis
North Face is a staple when is comes to cute backpacks for college students. The Borealis is a top pick. It has a spacious large main pocket and mesh water bottle pockets. It's also created to be a laptop bag, with a padded laptop compartment. It also comes in different colors.
The North Face Women's Vault
The Women's Vault is also a laptop bag, but comes with added design specifically for comfort. The flexible shoulder straps and lumbar panel earn this bag an endorsement from the American Chiropractic Association. Many college students would point to North Face as the best choice in backpacks.
The North Face Surge
Don't let the sleek design fool you, the Surge has plenty of room for a day's worth of campus supplies. It's also endorsed by the American Chiropractic Association for its FlexVent suspension system to protect students' backs and shoulders when they're carrying a heavy load.
The North Face Women's Pivoter
This laptop backpack has a large main compartment plus a padded laptop sleeve. It's also engineered to fit women
The North Face Jester
The classic Jester pack was updated with a padded laptop sleeve and a tablet sleeve in the front compartment. It has the ability to stand up unsupported, and the best part might be that it carries an American Chiropractic Association endorsement.
JanSport SuperBreak One
The JanSport backpack has been around for years and still carries a lifetime warranty. This is their classic, durable bookbag with a large main compartment and front utility pocket with built-in organizer that provides small pockets. I still have my JanSport backpack from college — so I can vouch that they last a long time.
JanSport Big Student Backpack
This JanSport backpack has two large compartments with a double zipper and a 15-inch laptop sleeve for even more storage. As a big backpack, it has enough room for anything a college student needs to tote.
JanSport Mono SuperBreak Backpack
This monochrome bag looks a bit more urban and edgy, but still carries the JanSport lifetime warranty.
JanSport Cortlandt
The functionality of a traditional backpack with a few additional style elements, like vegan leather trim. JanSport backpacks are a staple on any college campus, and the accessory pocket on the front flap of this bag is a nice added feature.
Fjallraven Women's Kanken Backpack
The iconic Fjallraven design has lots of storage, and the high quality materials and other features are unique from other traditional backpacks. The water-resistant fabric makes it perfect for rainy days.
Fjallraven Kanken Laptop Backpack for Everyday
The classic style of the Fjallraven Kanken backpack with an added padded compartment for a laptop. It has offers three extra pockets to hold the various items needed for busy college days.
Fjallraven Re-Kanken Recycled and Recyclable Kanken Backpack for Everyday
This version of the iconic Kanken backpack is made from polyester recycled from 11 plastic water bottles. That's a pretty good reason to choose this great college backpack.
Day Owl The Backpack
Day Owl is all about sustainability. When you're ready for a new bag, send your current bag back and the company will find a way to give it new life. This bag has a lot of storage. Day Owl also offers this in a slim version for students who need less space.
Day Owl Slim Backpack
Smaller than the original Day Owl backpack, the slim backpack still offers a padded laptop pocket that fits up to a 14″ laptop. And college students will love that the brand is "100% circular," meaning that nothing goes to a landfill and the company takes back used backpacks.
Matein Travel Laptop Backpack
This backpack is great for students who also want to use backpacks for travel. Several features make it great for overnight travel or flights.
Osprey Fairview 40 Travel Pack
For college students with plans to travel, this Osprey backpack will double as a school backpack and a weekend travel pack. We also like that it's designed specifically for women.
Herschel Retreat Backpack
This popular Herschel backpack comes in several size options, but the standard fits up to a 15″ laptop. It's fashionable and functional.
Venture Pal
This backpack is more equipped for hiking and overnight trips and can easily store a change of clothes. It offers multiple compartments, including a waterproof pocket.
Patagonia Black Hole Travel Pack
This bag works for school or sport, with an internal padded sleeve that protects a laptop or a hydration reservoir. It's also made from recycled material.
Patagonia Atom Tote Pack
This pack fits a little smaller, which can be great for collegiate women. It also has removable tech storage with a padded laptop sleeve that comes out.
Lululemon City Adventurer
Lululemon is a top brand with college students, and they'll love this sleek backpack to tote anything from books to sweaty workout gear.
Himawari
This bag comes in tons of colors and opens up like a doctor's bag to give great access to everything inside. It's also the only waterproof backpack on the list (though many are water resistant).
Herschel Little America Laptop Backpack
This signature backpack comes in 24 colors, including some fun Andy Warhol inspired designs like this one with Warhol's famous Banana (this also became Velvet Undergound's debut album cover).
Herschel Heritage
The Heritage comes in 23 color options and fits a larger laptop, all with a sleek and minimal design. A modern take on a classic backpack style.
Herschel Settlement
The Settlement offers the signature Herschel style with the added benefit of the laptop sleeve.
Herschel Classic
The Herschel Classic comes in 8 colors and four sizes. Simple design and classic style.
Vera Bradley
Made of colorful, lightweight cotton, this backpack is styligsh and machine washable.
Adidas Foundation Backpack
A good looking backpack at a good price. This comes in multiple colors and carries a lifetime warranty.
The North Face Women's Recon Backpack
This is an update of an iconic North Face design, now with women-specific suspension and lots of organization options.
Kenneth Cole "Chelsea" Quilted Chevron Backpack
This stylish Kenneth Cole backpack transitions from campus to work to weekend bag, so it's a great option for older college students and a solid option for the list of cute backpacks for college students.
Bostanten Leather Laptop Backpack
This leather backpack makes it perfect for students heading to internships after class or preparing for post-grad jobs. We wanted to make sure our list of cute backpacks for college students included some professional options.
Lekesky Laptop Backpack
Water-repellent backpack with stylish top handles and front patterned pocket detail that gives it a chic design. The large opening at the top makes it easier to store and grab folders and textbooks.
Cluci Women's Backpack
This backpack purse has a detachable shoulder strap, giving it three different ways to be carried. A search for cute backpacks for college students won't turn up many others with this feature.
Dagne Dover
This smaller backpack fits all of the essentials, including a tablet. The neoprene fabric and monochromatic design give it a unique and modern look, so we had to include it on our list of cute backpacks for college students.
Adidas Women's VFA Backpack
This backpack is sized specifically for women and comes in four colors. It's a popular backpack because it's still large enough for a smaller laptop and other gear needed for busy college life.
Adidas 3 Stripes Backpack
The iconic 3-stripe Adidas is a spacious backpack has ample room for school work or travel.
Adidas Striker 2 Backpack
This durable and larger backpack is ready to take on larger loads of books, sports practice or weekend travel.
Ivory Ella Backpack
Ivory Ella is a give-back brand college women will love. Up to 50% of profits are donated to Save the Elephants and other charitable causes.
Pura Vida Sunset Backpack
College women will love the look of the Pura Vida bags. They'll also love that the company stands for something.
Pura Vida Color Block Backpack
A retro look from a give-back brand is a win-win when it comes to a cute backpack for college students.
Lovevook Laptop Backpack
This bag has both a padded laptop compartment and a separate padded pocket for a tablet. There are also two size options depending whether you want to fit a 15-inch laptop or a 17-inch laptop. The quilted detail on the front pocket adds a fun style element.
If you have a high schooler and stress about the college admissions process, we can help! We work at a major university, and Kristie is married to a former admissions counselor. Check out our expert advice on the college admissions process.