36 Affordable and Meaningful Gifts That Give Back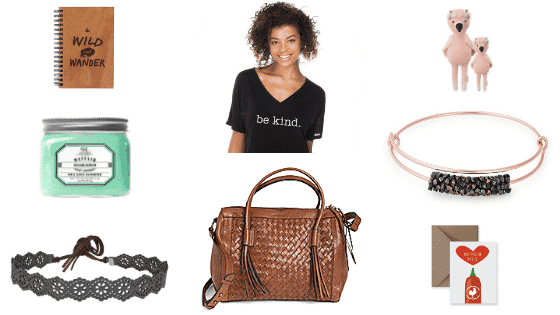 Introducing you to brands with a social mission is one of our favorite things to do! As a brand that gives back to partner nonprofits, we love to shine a spotlight on companies that are working hard to make the world a better place in so many different ways. As the holiday shopping season officially kicks off, we created the ultimate list of gifts that give back! You'll find many different causes to support along with a variety of give-back gifts for everyone on your list. And the best part is that everything on the list is $50 or less!
To make this as quick and easy as possible for you to browse, we put pictures, prices and links of give-back gifts below each cause and company name. If you want to read more about the companies behind these give-back gifts, their mission and their impact, you'll find that information later in the blog.
If you're looking for experience gifts, check out this post for 35 unique ideas!
Calypso Earrings $32.00
Geo Necklace, Triangle $38.00
Azamad Cuff $50.00
Jessica Honneger also has a new book called Imperfect Courage: Live a Life of Purpose by Leaving Comfort and Going Scared. If you know someone who has big dreams to make an impact on the world, this book and something from Noonday might be just what she needs!
Imperfect Courage $14.26
1 Bag of Regular Roast $11.00
Autism bracelet $38.00

Grey Choker Headband $15.85
Red Slouchy Beanie with Pom $32.85
"Give Hope to Sick Kids" family volunteer experience box $49.00
11-12. Children with Life-Threatening Illness: Mayfair Soap Foundry
Grapefruit Bergamot Sugar Scrub $8.99
Bath Salts in Sea Lily Jasmine $8.99
13. Developmental & Intellectual Disabilities: Alex And Ani
Best Buddies International bracelet $38.00
End Domestic Violence bracelet $38.00
Color Story bracelet $18.00
Matte Black necklace $42
Merry & Bright Tin Gift Candle Set $30
18-19. Human Trafficking: My Joy Tribe
Best.Day.Ever. sweatshirt $30.00
Tribe Vibes Collection Tee $28.00
20-22. Hunger: ImPaper
8×10 Print $15.00
2020 Food Puntastic Calendar $29.99
Wander Club Keychain $25, Tokens $6
23-24. Incarceration & Recidivism: I Have a Bean
Guatemala coffee $14.00
Elephant & Piggie kids tote bag $15.00
Book Nerd trucker cap $15.00
Library Card yellow mug $12.00
28-29. Mission of the Month: AbbyKate Home
Set of Farmhouse ornaments $9.00
State to State pillow $34.99
Wood Cover Pocket Journal $35
Wood Macbook Skin $35
"Get Outside" family volunteer experience box $49.00
Be the Change Canvas Tote $18.00
"Honoring Veterans" family volunteer experience box $49.00
Thirst: A Story of Redemption, Compassion, and a Mission to Bring Clean Water to the World by Scott Harrison $17.70
Argyle Socks that Give Water $14.95
Even as we shop for others, we know how easy it is to get caught up in all that we want. We need a little help to stay focused on what we have, so we created a Gratitude Photo Scavenger Hunt for December.
We know you'll love it!
More About the Companies that Give Back
Adoption: Noonday Collection
My family was created through adoption, so it's a cause close to our hearts. It changed my life and gave me a new perspective. (I wrote about it here.) Noonday Collection was founded by Jessica Honegger as a fundraiser to bring their son Jack home from Rwanda. If you host a trunk show for any of their gorgeous jewelry, bags or accessories, you can gift some of your sales to a local adopting family.
"To make a difference in some of the world's most vulnerable communities, we partner with Artisan Businesses that share our passion for building a flourishing world. We develop these businesses through fair trade, empowering them to grow sustainably and to create dignified jobs for people who need them. We empower women to become stylists, storytellers and social entrepreneurs we call Ambassadors. Over 1,700 women have joined our community and launched their own Ambassador businesses. By selling jewelry and accessories at Trunk Shows, these Ambassadors are styling their friends and changing the world!" (Noonday Collection)
Animal Rescue: Curly Tail Coffee
This coffee brand was launched on a love of coffee roasting and rescued animals. So far, Curly Tail Coffee has donated over $10,000 to animal rescue organizations. If you're ever near Pittsburgh, they even have a food truck! The founder has 3 pugs and a pig, so the origins of the name are pretty obvious. And a pig? I mean, what's not to love about this company?
"Curly Tail Coffee is a small batch coffee roaster located in Lower Burrell, PA. Each bag of coffee is roasted on a made-to-order basis so that ultimate freshness is guaranteed. Your purchase is benefitting Guardian Angels Pug Rescue in Latrobe, PA. $1 from each bag will be donated to this rescue."
Autism: Alex And Ani
Alex and Ani has donated $50 million to nonprofit organizations around the world. You can shop their site by cause or you can browse the extensive collection of beautiful bracelets that give back. Alex and Ani donates 20% of the purchase price. "We are a humanitarian company. Spreading POSITIVITY around the world through collaboration, determination, and inspiration."
About the National Autism Association: "Like a puzzle piece, every individual is shaped differently with unique talents, perspectives, and beliefs. Once we share the pieces of ourselves with each other and unite, positivity will spread and hope will endure. We are all interwoven parts of a greater masterpiece and connected by love."
Childhood Cancer: Headbands of Hope
Inspired by a summer internship at a wish-granting organization, Jess Ekstrom saw that kids loved to wear headbands after losing their hair to chemotherapy. She founded Headbands of Hope, which donates headbands to kids with cancer. She started the organization in her dorm room, and now these headbands are carried in thousands of stories around the world and have been featured on the TODAY Show, Vanity Fairy, and Seventeen Magazine. More important, Headbands of Hope has donated headbands to every children's hospital in America and 15 countries. For every item sold, they donate a headband to a children's hospital.
Children with Life-Threatening Illness: Mayfair Soap Foundry
"Melding posh British sensibility with modern design, Mayfair Soap foundry is a refined assortment of luxury bath and body care products crafted with premium ingredients, sophisticated scents, and a giveback philosophy. Mayfair delivers beautiful products to pause and pamper oneself in refined relaxation.
With each item purchased, Mayfair Soap Foundry helps provide moments of joy and normalcy, such as camp experiences, for American families going through difficult health challenges in partnership with Starlight Children's Foundation.

In year one, Mayfair aims to provide meaningful moments of fun relaxation at camp for thousands of American kids and families going through difficult health challenges."
Developmental and Intellectual Disabilities: Alex And Ani
Best Buddies International: "Its purpose is dedicated to establishing a global volunteer movement that creates opportunities for one-to-one friendships, integrated employment, and leadership development for people with intellectual and developmental disabilities."
Domestic Violence: Alex And Ani
Alex and Ani has donated $50 million to nonprofit organizations around the world. You can shop their site by cause or you can browse the extensive collection of beautiful bracelets that give back. Alex and Ani donates 20% of the purchase price. "We are a humanitarian company. Spreading POSITIVITY around the world through collaboration, determination, and inspiration."
About the National Network to End Domestic Violence (NNEDV) whose charitable purpose is to create a social, political, and economic environment in which violence against women no longer exists.38 "A symbol of hope and healing during challenging times, the paper crane is traditionally strung together or given as a gift. It is believed that 1,000 folded paper cranes result in one's wish coming true. Inspire hope in yourself and others, and let the paper crane bring the happiness you deserve."
Homelessness: The Giving Keys
"At The Giving Keys, we want to inspire the world to pay it forward, so we've built it into how we do business. Through our social impact employment model, every product you purchase supports job creation for people transitioning out of homelessness.
A good job is a long-term solution for breaking cycles of generational poverty and homelessness. That's why we place people on career paths and hand them the keys to unlock their fullest potential.
Through the purchase of your Pay It Forward products, The Giving Keys has generated 141,354 hours of work for people transitioning out of homelessness."
Human Trafficking: Eleventh Candle Co.
"Eleventh Candle Co. is a social enterprise in Columbus, Ohio partnering with Legacy to redeem, restore, empower and equip those vulnerable to human trafficking, abuse, exploitation and addiction.

A once trafficked woman in Columbus, Ohio is employed while a village in Ethiopia is supported and orphaned children there are welcomed into homes because you purchase our products. Legacy (a nonprofit) and Eleventh Candle Co. were founded out of the desire to bring hope to women both in the United States and in Ethiopia who've been vulnerable to human trafficking, abuse, exploitation and addiction."
Human Trafficking: My Joy Tribe
"We are on a mission to spread as much joy as possible and to create a brave, gracious, loving, and joyful community. God is so good and is doing big things through Joy Tribe! We couldn't do any of this without your love and support! Not only are you helping us spread joy but you are also supporting our family business! We are so thankful for you!

Ten percent of every purchase goes to one of our listed charities and YOU get to choose where to send your Joy. All you need to do is leave us a note at checkout letting us know which one you choose."
One charity supported by My Joy Tribe is A21: "We believe in a world without slavery. For 10 years now, we've rolled up our sleeves and set our feet to action. Why? Because in a single moment a number can turn into a name, a tragedy into a victory, and a belief into an action. Freedom. That's our goal for every human being on the planet. Our mission. Abolish slavery everywhere, forever."
Hunger: ImPaper
"ImPaper (Impact Paper) was designed to change lives. ImPaper is a social enterprise that incorporates sustainable and responsible practices into our daily actions. From making real-life social contributions to making sure that our paper products have minimal impact on carbon footprint, our commitment to you is that you can trust our company to reflect these values. We measure our success by the scale of impact we have on the world.
For every product purchased, Impact Paper makes a contribution towards a specific cause to help improve the lives of others. We aim to empower our customers to create a better future for those in need. By purchasing our products, your supporting a better today, a better tomorrow and a better life for someone.
There's enough food to go around the entire world, yet 1 in 6 people face hunger and starvation. We help give meals to low income families. Giving meals not only addresses hunger, but in turns allows extra capital to be used for things such as housing, transportation, education and health."
Hunger: The Wander Club
The Wander Club help travelers commemorate their trips with handcrafted Wanderchains – essentially a keychain version of your passport. Instead of collecting stamps, you collect engraved tokens for every country, state, or national park that you've wandered through.
Handmade in the USA, all Wanderchains and engraved tokens are crafted with the highest quality and most sustainable materials available.
For every order placed, The Wander Club donates a meal to a hungry child with the help of its non-profit partner, Rice Bowls.
Incarceration & Recidivism: I Have a Bean
"Second Chance Coffee Company, LLC is a coffee roasting business that was formed in 2007 to accomplish two things—roast and distribute truly exceptional coffee, and help transform the lives of post-prison people in the process. The company roasts and distributes coffee under the brand name "I Have a Bean". Our model is simple: We meticulously select beans from the top 1% of coffee in the world and then roast and deliver coffee within hours of it being ordered.
Over 20,000 prisoners are released from Illinois State corrections facilities into the Chicago area every year. More than 12,000 of those ex-prisoners are re-incarcerated within three years of release. The cycle of recidivism is a ubiquitous tale of wasted lives and victimized communities that is repeated among the nearly 1,000,000 post-prison people in communities across our nation each year.

Employment is just one of the keys to gaining a new life. While the purpose of our company addresses this part of the issue head-on, we know that this group of people need more help than can be provided by an employer. The majority of people leaving prison did not finish high school and have little legitimate work experience. Many have drug abuse or psychological problems that must be treated before they are able to hold a regular job. Recognizing that what we offer only addresses part of the problem, I Have a Bean also works closely with post-prison support organizations that provide the help that we cannot. These organizations share in the work of our mission, providing counseling, mentoring, life skills training and a supportive community for post prison people."
Literacy: Out of Print
"Since 2010, Out of Print's mission has been to spread the joy of reading by transforming literary classics into bookish apparel and accessories. With every purchase, you help us to donate books and support literacy programs around the world. Out of Print has donated over 3 million books to communities in need and supported a variety of literacy initiatives. With every purchase, you help us to make a difference, while also supporting the authors, publishers, and artists who helped bring these iconic works to life."
Mission of the Month: AbbyKate Home
"We are Ben, Abby, Zach and Zane Granger and we started this business to raise funds for a family mission trip we took with our church to the Domincan Republic in June of 2015! We enjoyed it so much that we decided to keep it going and now share proceeds from our business with a different a mission-of-the-month.

What started out with pillows on an Etsy shop has grown to wholesale and consignment sales, booths at large regional markets and a growing product line including furniture and small wooden goods."
Planting Trees & Reforestation: Woodchuck USA & SALT effect
We are huge fans of Woodchuck USA! They are "a technology-driven wood products manufacturer specializing in customization. WOODCHUCK USA was founded with a simple mission, put nature back into people's lives. We are meant to have a deep connection with the Earth, and we want to be a daily reminder of that with our real wood products. It's also important to us to bring jobs to America while bringing quality products to consumers. With every product sold, we plant a tree. It's our way of making a better world for future generations. It's not about us, it's about our planet and how we can make a difference now."
Veterans: Sevenly and SALT effect
Sevenly has donated over $5 million to a variety of causes. It "was founded in 2011 with the mission of leading a generation toward generosity. Based on a simple, core belief that 'People Matter,' the Sevenly team activated the now global 'cause art' movement and started creating 7-day cause campaigns, inviting customers to purchase advocacy art, apparel and accessories that donate to non-profits. Each campaign and every product would also create conversations. Now widely recognized as one of the world's leading 'social good' companies, Sevenly activates its signature 7-Day Campaigns and curates ongoing, cause-themed Collections created to change lives by raising funding, awareness and followers for the world's greatest causes."
Water: Charity Water
The sale of Thirst has resulted in clean water for over 7000 people; "At 28 years old, Scott Harrison had it all. A top nightclub promoter in New York City, his life was an endless cycle of drugs, booze, models—repeat. But 10 years in, desperately unhappy and morally bankrupt, he asked himself, "What would the exact opposite of my life look like?" Walking away from everything, Harrison spent the next 16 months on a hospital ship in West Africa and discovered his true calling. In 2006, with no money and less than no experience, Harrison founded charity: water. Today, his organization has raised over $300 million to bring clean drinking water to more than 8.4 million people around the globe.

In Thirst, Harrison recounts the twists and turns that built charity: water into one of the most trusted and admired nonprofits in the world. Renowned for its 100% donation model, bold storytelling, imaginative branding, and radical commitment to transparency, charity: water has disrupted how social entrepreneurs work while inspiring millions of people to join its mission of bringing clean water to everyone on the planet within our lifetime."
Water: Conscious Step
Conscious Step: Ordinary Purchase, Extraordinary Purpose
For every pair of socks purchased, a donation goes directly to a non-profit. 80,775 months of clean water Conscious Step socks are organic, vegan and Fairtrade certified "Our classic Socks that Give Water got an upgrade! Now featuring soft blues and grays, these sophisticated, argyle socks are the perfect statement for your work wardrobe. Made with Fairtrade Certified, organic cotton, each pair of these men's crew socks provides 18 months of safe water through the wonderful work of water.org."