How to Simplify Christmas – Traditions to Stop Doing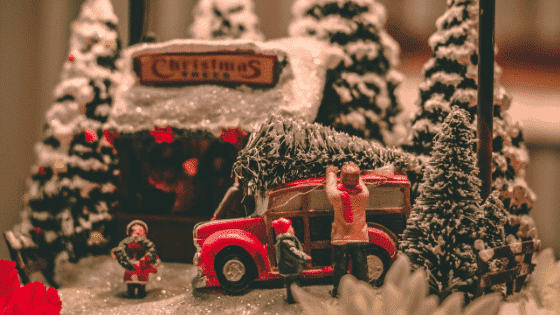 We love traditions. We even wrote a whole blog post about traditions that are worth your time because they forge memories and build relationships. But traditions do come at a cost: your time and effort. Add too many cherished family traditions and the scales can tip in an unhealthy direction. If you're wading into the holiday season with a calendar so packed you're not sure you'll even get a night free to watch Love Actually (or Hallmark movies if that's how you roll), this post is for you.
The goal of holiday traditions IS NOT:
Sleep deprived parents

Whining kids who have seen Santa, zoo lights, a Christmas tree farm, the Nutcracker and four school plays, yet don't seem to be oozing holiday spirit

Massive debt (any guesses on how much holiday debt the average American racks up each year?

Check your answer

.)

FOMO as you scroll through Facebook and see how friends are celebrating the holidays (If you struggle with this comparison game, we get it. We dug into it in our post

How to Stop the Comparison Game for Good

)
A researcher at George Washington University summed it up in a way I'd never considered:
"A lot of people experience the holidays as a stressful time, and we know that stressful events tend to trigger depression and sadness." (The full article talks about other aspects of holiday depression.)
So we've compiled a list of traditions to stop doing to simplify Christmas. For some of these, you may just opt to scale back rather than stop. You may choose a few Christmas traditions to skip just for one year. And others might come to a permanent halt. The phrase we like to use in our house is "creating a margin." If there's no margin, activities start to feel like a chore rather than a reward. Suddenly we aren't available to say yes to spontaneous invitations or ideas, or to help out friends and neighbors. We can't consider new traditions (like the gratitude photo scavenger hunt Kristie created that I've printed, but haven't started yet).
Quit (or Curb) Some Daily To Do's
Elf on The Shelf
I jump on quite a few bandwagons, but I said no to Elf on the Shelf from the start. This decision didn't come without complaints and questions from my kids. "Can we have an elf?" "Why don't we have an elf?" "All my friends have elves!" I just shrug, tell them we just don't have an elf, and move on to other things. If you don't already have an elf, you don't have to start.
If you do have an elf, you can give your elf permission to not make a daily move. Maybe he moves every few days and the kids can get excited when they realize he's found a new spot. He also doesn't have to find himself in a series of elaborate, Pinterest-worthy adventures if it's getting to be too much.

NOTE: If you're my sister, you may not stop Elf on The Shelf because I'm pretty sure the inside of your brain actually does look like Pinterest, and this type of stuff is your calling. How cute is this?!
If you think your elf's time has come, the elf can also say his goodbyes to your family and take his magic to another home. I got a kick out this Good Housekeeping article with ideas for sending the elf on his merry way. I laughed out loud at this blog post titled 5 Ways to Off The Elf on the Shelf.
If your kids have just outgrown this tradition, you can replace it with something a little bit lower maintenance. We created a printable with 24 Christmas lunch box note cards with tweens and teens in mind (so many out there look little kid-ish), and many focus on gratitude. You grab the instant download for $4.99, print them at home or a local print shop, cut them out, and stick put them in lunches or books kids are reading or coat pockets. 
Advent Activities
I am a fan of our advent calendar, with the little wooden doors for each day of December. I put a piece of candy for each kid inside all the openings, and over time I've also added slips of paper with an event or activity for the day. It started out as a fun little thing we did and turned into a daily to-do on steroids. Some good ideas I pull straight from the family calendar, like go to the neighborhood Christmas party or elementary strings concert. Then there are fun things at the house like finding hidden candy canes or playing Rudolph-themed Operation.
And things for others: take treats to the neighbors, buy presents, deliver hand-made cards to a nursing home.
The advent calendar is a favorite daily activity in our house until I'm pawing through those doors after kids are in bed swapping out activities because we just don't have much time to visit the grocery store bell ringer or do whatever activity I originally planned for the next day.
The honest truth is that the kids still love the calendar even if some days just have candy and no slip of paper. The important thing here is to give the daily planned activities a breather. Plan less, or at least give yourself a little grace if you miss a day here and there. It's ok! You can make it up the next day, or JUST MISS A DAY. (I'm talking to straight to my obsessive self here, because I know I'll say to do this and then be tempted to sneak away to jam a scribbled paper back into the calendar at 1 a.m.)
Chillax on the Roast Beast
Family food traditions are awesome and often very specific. A few years ago, I decided to make cinnamon rolls from scratch to eat on Christmas morning. This sounds homey and touching if you don't know me, but my definition of from-scratch cooking usually means I stirred up the box mix myself. But I knocked this one out of the park, thanks to Pioneer Woman's Cinnamon Rolls 101 recipe. This recipe makes me feel like a master baker, produces cinnamon rolls straight from the gates of heaven, and it makes seven pans so I can share my once-a-year culinary prowess with friends and family. I don't want to give up this tradition, and I won't. But there are cooking corners I am more than willing to cut.
Here are a few ideas and you can pick and choose depending on which traditions really matter to you and your family:
Fancy china creates a beautifully set table and a boat-load of dishes. If it's not a legacy to use grandma's china, switch to disposable. There are some beautiful and affordable designs. These look like my actual china:
And these look even a little fancier.
Make really easy or special foods and order others. Local bakeries make pies, rolls and other desserts. Many restaurants also sell meats and side dishes for easy pick-up. We have a friend that orders a couple pans of lasagna and salads from a local restaurant for her family gathering and everyone chips in a few dollars.
If you typically cook a Christmas dinner for family, or only ask that others bring wine or desserts, think about making the switch to a potluck style. You can still set the menu and make specific assignments so the meal will come together. Signupgenius has pre-set themes for holiday meals and lets you create a list of needed items or allow guests to fill in what they plan to bring.
Long-Standing Traditions Worth Trimming
The Tree
Real trees smell nice and might make you think of your childhood. Spruce candles also smell pretty darn close to the real thing. If you want to get an artificial tree and eliminate the mess and need to pay for and go get a tree every year, do it. We still like to get a real tree, but we just didn't have the time this year to drive 45 minutes outside of town to cut down our own tree. We missed the first part of the Michigan/Ohio State football game last year because we were out getting a tree and my husband is still traumatized. So this year we took one hour on a sunny Sunday afternoon and drove to the nursery down the street. We picked one of the 50 pre-cut hanging trees in about five minutes, took a horse-drawn carriage ride in the parking lot of our suburban nursery and got free hot chocolate packets. #winning

Please note the cars parked behind our carriage – because we're in the nursery parking lot. But real horses made for one happy 5-year-old.
The Travel
Many of our friends struggle with when and how to change long-held traditions to attend a family Christmas Eve gathering or have Christmas lunch at grandma's as they work to build new traditions with their own kids. I don't have an easy answer on this one, but I'll give you a couple things to keep in mind:
It's ok to say no for a year, or let extended family know you need to carve out time for new traditions in your household. Once our kids were old enough to really understand Christmas, we let both sets of grandparents know we would like to be home for Christmas Eve and Christmas morning every year and would be happy for them to join us or to load up the car and head their way later in the day.  They were all so gracious about it, and we've both hosted and traveled on Christmas Day since that switch.
Consider a change of venue and ask family to come to you. As parents and grandparents age, it might be a welcome change that they don't need to clean and cook even though it will feel different at first (and don't stress about the meal – see tips above for handling that).
Ask your kids how they would like to spend the holidays, and what really matters to them. Be careful to let them know their opinions won't
necessarily dictate the final plan, but they'll appreciate having a voice and it may give you important food for thought as you consider how to evolve traditions for your family.
The Christmas Gifts
As family trees grow, they often branch out. Two parents with three kids become two grandparents with three kids, three spouses and eight grandchildren (plus grand-pets). At some point it may be worth moving away from the everybody gives to everybody gift giving strategy. Some families just give gifts to all kids under a certain age and adults either draw names and only give to one other adult/couple, or choose not to do Christmas gifts for the adults. Technology can help if you want to draw names without making things complicated. Elfster.com lets you set spending limits, invite participants and add gift exchange dates and  instructions. It will even do random name drawings and send them out to keep things anonymous and unbiased.
I have a fair number of gifts to give, and something that helped me was just a mindset shift about choosing the "perfect" gift. I finally accepted that gifts ordered online and delivered to my house, or gifts taken directly from family members' wish lists BECAUSE THAT'S WHAT THEY WANT (including gift cards), are not cop-outs or thoughtless gifts. I heart you Amazon Prime. I now enjoy the times each season when I see that perfect gift that really makes me think of someone and buy it, but I don't try to make that the standard for every gift on my Christmas list. The same goes for homemade gifts (by you or your children). They can be wonderful, but they're not required. And they're certainly not an every-year necessity.
The Christmas Cards
If you send holiday cards, here are a few ways to simplify the process:
Distribute the workload. Put on a Christmas movie, clear the kitchen table, spread out supplies, and assign kids to stuff, address, seal and stamp envelopes.
Don't expect perfection. Grab a few favorite photos from the year rather than doing a holiday family photo shoot. Set a 10-minute timer so you don't sift through hundreds of card designs. When the timer goes off, you choose your favorite and move forward. I asked my brother-in-law to snap a photo of our family over Thanksgiving and I time-boxed myself to get them ordered online in an hour – including the note on the back.
Trim down your list. If there are friends who see your pictures weekly on Facebook, consider whether they really need a card. Extended family and close friends who might post pictures on their fridge stay on our list, as well as others that we know don't see our social media posts.
Change up the Christmas card tradition. Do Thanksgiving cards or New Year's cards instead. You'll get cards at a discount, and if you send them after Christmas they can also double as thank-you cards and be done at a less frazzled time of year.
Dontsendmeacard.com lets you take the money you would have spent on cards and donate it to a cause. You can then enter up to 100 email addresses and choose a template and the site will send a message with your well wishes and a note about where you donated your card money.
Traditions That Might Need A Year Off
Every holiday season has a slightly different cadence. Family vacations or kids choosing to play sports or audition for holiday productions might throw a wrench in the schedule. Some years it might be something major, like the loss of a family member, that changes standing traditions. The following traditions can take a year off and cycle back in when you're ready. You can always do them next year:
Outdoor Christmas decorations
Dinners with certain friend groups
Cool local events (things like The Nutcracker, Holidays at the Pops, zoo lights, community tree lightings, neighborhood Christmas lights)
We hope we've given you ideas, or even permission, to scale down your holiday traditions with the goal of enjoying what you do that much more. These suggestions can help reduce overwhelm, but they're not a remedy for more serious holiday anxiety or depression. The Cleveland Clinic offers good resources for managing holiday stress.
Did you like this post? We can send you a note when we add new stuff. Jump on our email list!