The Best Lesson I Ever Brought Home From My Classroom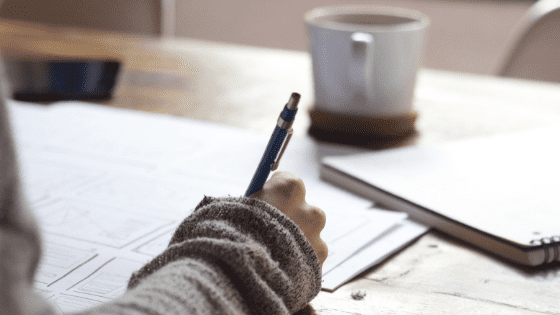 The benefits of volunteering are endless. The research to back up the claim that helping others actually improves our own lives is plentiful. We know kindness matters on an individual and global level. We understand the golden rule. So why do so many other things in our life take center stage when volunteering and giving back deserve the spotlight? And what can we do to fix it? I discovered the answer in the midst of teaching my students and brought it home to my family.
Who I Want My Kids to Be (because that's what the world needs)
I have some pretty clear goals as a parent. I want to raise them to notice a need and find a way to fill it, to recognize their privilege and use it to benefit others. I want to raise young men who are willing to see the world through the eyes of others with very different life experiences. I want to raise them to be empathetic and selfless.
These goals feel pretty lofty and I honestly wonder daily if I'm ever going to get there. It's so easy to get bogged down in the day-to-day and end up discouraged because they weren't nice to another kid or complained (again!) about doing some chores. I regularly wonder if I'm getting through to them when they ask for another video game or a new pair of shoes. Their fights and frustrations feel so trivial to me in the face of what others in our world are suffering through, and I question my ability to help them see the depth of need around them.
I could stay there. And convince myself that nothing I'm doing is making a difference. And believe me, I've done that plenty. I could also take a look in the mirror and see all the ways I fall short too.
But none of that helps anyone. It doesn't move us forward.
How to Get Them There (lessons from a college classroom)
So I go into my classroom and do what I can to convince my students to start or continue serving. It's easier for me to tackle things at work because I have more confidence there than in my role as a mom. I've seen the growth of my students, I know the value of what I'm teaching them, and I've heard their stories about how my class has changed them.
Mary and I had both of these young women in class. They invited us to be special guests for their senior day. (If you've never been to a field hockey game, you're missing out!)
It's been nearly a decade since I started teaching full-time at a university. My first act was to overhaul the course I was assigned to teach and supervise. I decided to create a framework that was based on social issues and volunteerism. I wanted my students to be more aware of the needs around them, and to realize that making a difference requires very little of them. To be honest, I'm more concerned with the big life lessons they take away from my course than I am with what theories they can name at the end of the semester.
Almost 10 years later, I'm still teaching and supervising that same course. The delivery method is changing–we now have traditional, hybrid, and online sections of the course–but my goal has remained the same. I'm surprised I still love it as much as I do, but I know why: there's nothing better than watching my students grow.
I don't require them to actually do the volunteering, donating or advocating as part of the course, but many take that extra step and it gives me chills every time. When I can see that they get it? I LOVE IT.
In the words of a student: To be a good global citizen, it is important to be able to recognize the experiences of different people, especially people with very different experiences than our own. Learning about problems in our country and city, as well as what is being done to solve them, was a profound and humbling experience. I realized how powerful we are as college students to make an immediate impact on our communities right now.
I get really, really excited about transformations like this!
I take my job as an educator very seriously–I want to excel as a teacher and I want my students to learn to be better communicators so they can impact their own communities in a positive way. Learning how to be a persuasive communicator has less value when they're not using it in meaningful ways. And the "other" lessons they learn in my class–about world issues and nonprofits and the work they're doing–probably impact their lives more than the textbook content I'm charged with teaching. I want them to get involved, to volunteer, to donate, to advocate for an organization that is doing amazing, hard work every day.
Why Excuses Get in the Way (it happens to all of us)
To move my students from lacking awareness to taking action, I have to deal with a lot of objections and uncertainty. So, before I go any further, I want to stop here. Don't just read on ahead. Take a few minutes to think about the answer to this question: If you want to volunteer with your family more often than you do, what is getting in the way?
My reasons for not volunteering, and maybe yours too, sound eerily similar to the reasons my college students give:
These young men and women are only 8-10 years ahead of my kids, and if I can see a change in 15 short weeks, why don't I see the powerful impact I can have on my own family through these tween and teen years? I have no trouble facing these concerns head on and helping my students figure out ways to overcome them. If I spend energy convincing my students that they can make time to volunteer because it's important and life-changing, why don't I spend that same energy figuring out how to make it work with my husband and kids?
We know the objections, but we also know the incredible rewards—can't wait to share those below!—when we overcome these objections and push forward into service. It deserves a spot on our calendar along with after-school activities, practices, lessons and meetings.
We volunteered with The Lunch Box Ohio and it sparked meaningful conversations.
How To Overcome the Objections (it will always be worth it)
Objection #1: We don't have enough time!
About a year ago, I looked at my family and realized that we weren't doing enough volunteer work. I had a million excuses and could justify every one of them, but the bottom line was this: If I honestly looked at how we lived and what we did, volunteering and service weren't a priority.
That was a hard thing to admit. Here I was, teaching my students about the importance of volunteering and donating, but I wasn't doing the same for my own kids. My husband and I volunteered and sometimes involved our boys, but it wasn't a regular occurrence. And I honestly don't remember spending much time talking to them about why we volunteer, or why we care about the people around us.
This decision led me to approach Mary about starting SALT effect. At the time–a year ago–I was consumed with my work, my husband's job transition, and figuring out how to care for my dad who had been diagnosed with dementia.
I was completely overwhelmed. I felt like I was doing a terrible job everywhere I turned…work, home, church, my boys' school, helping my dad…so, I decided to do something that helps me every single time I get too focused on my own stuff: I turned my attention outward and looked for ways to be grateful. And in this case, I also wanted to do something more. I was either going to spend the next year with every spare thought going to my own frustrations, or going to something that I could create to benefit other people.
I chose the latter because I knew it would work. I knew it had value. I asked the other busiest mom I knew if she was interested in partnering with me on a new business to help other crazy busy families serve together. We wanted to make it as easy as possible.
Here are a few suggestions to help you find time:
Objection #2: We don't know how to find family-friendly volunteer opportunities!
I admit, I don't struggle with this one as much because Mary and I love tracking down information about nonprofit organizations. We also happen to work at a university that provides opportunities to serve and connections to groups that need help. We realize this makes things easier for us, but we also recognize that it's a real concern for many parents. It's another reason we started SALT effect–to overcome the barriers to volunteering and introduce you to some unique ways to serve.
I can't believe some of the amazing work we've uncovered…organizations like Honor Flight who helps veterans find healing and closure, Seed Your Future who inspires kids to see the power of plants to solve the world's problems, Beads of Courage and A Kid Again who bring bravery and joy to seriously ill kids and their families.
Mary and I took our families to welcome home Honor Flight 89. The flight was delayed which meant we were at the airport for several hours until almost 11pm. Our kids were restless and hungry, and we were about to send them all home with our husbands, but my son said, "Mom, they sacrificed so much for our country. We can wait a few hours to thank them." (This had nothing to do with me…and everything to do with what he learned and saw through this experience.)
We discovered simple ways to serve alongside these organizations, and we learned about why it matters. And then we boxed it all up to send to you. If you're willing to set aside the time with your family, your kids will reap the benefits of serving others. It's powerful. And the impact lasts long after the service project is over. Click below for an unforgettable experience:
In the words of a student: I realized my time spent working at the Star House, the nonprofit I had not formally researched until this class, was incredibly impactful for both bad and good. As I learned more about the young people through this class project, I realized I had a lot of misconceptions going into my volunteer service years ago. I regret not having done the proper research to understand and taking the time to properly get to know the people I worked with beyond asking them simple questions about their life. To be the best community servant and mentor I can be, I need to understand the community I am working with to best serve their needs and meet them where they want to be met.
We're confident our boxes can help your family, but our primary goal is to help you learn and serve with your family! Here are some other organizations dedicated to connecting you with volunteer opportunities that are age appropriate:
Why All of This Matters (the moments we live for)
In the words of a student: Change starts with individuals advocating for what they believe in, and those individuals do not have to be elected officials or community leaders. This course forced every student to seriously engage with a societal problem and convince others why they should care. That kind of cognitive engagement mobilizes people and helps them realize their self-efficacy, which fosters a society conducive to progress. I hope other students found this class to be as impactful as I did.
I know it matters. For the past decade, I have seen the difference that one class can make. One experience that requires students to dig deep into something that may be unfamiliar and uncomfortable.
We've taken advantage of inconvenient and sometimes time-consuming volunteer experiences with our kids. And you know what? We know the amazing conversations that result and the lifelong learning that takes place. We live for those light bulb moments when our kids finally get it.