41 Best Kitchen and Cooking Gadget Gifts (2023)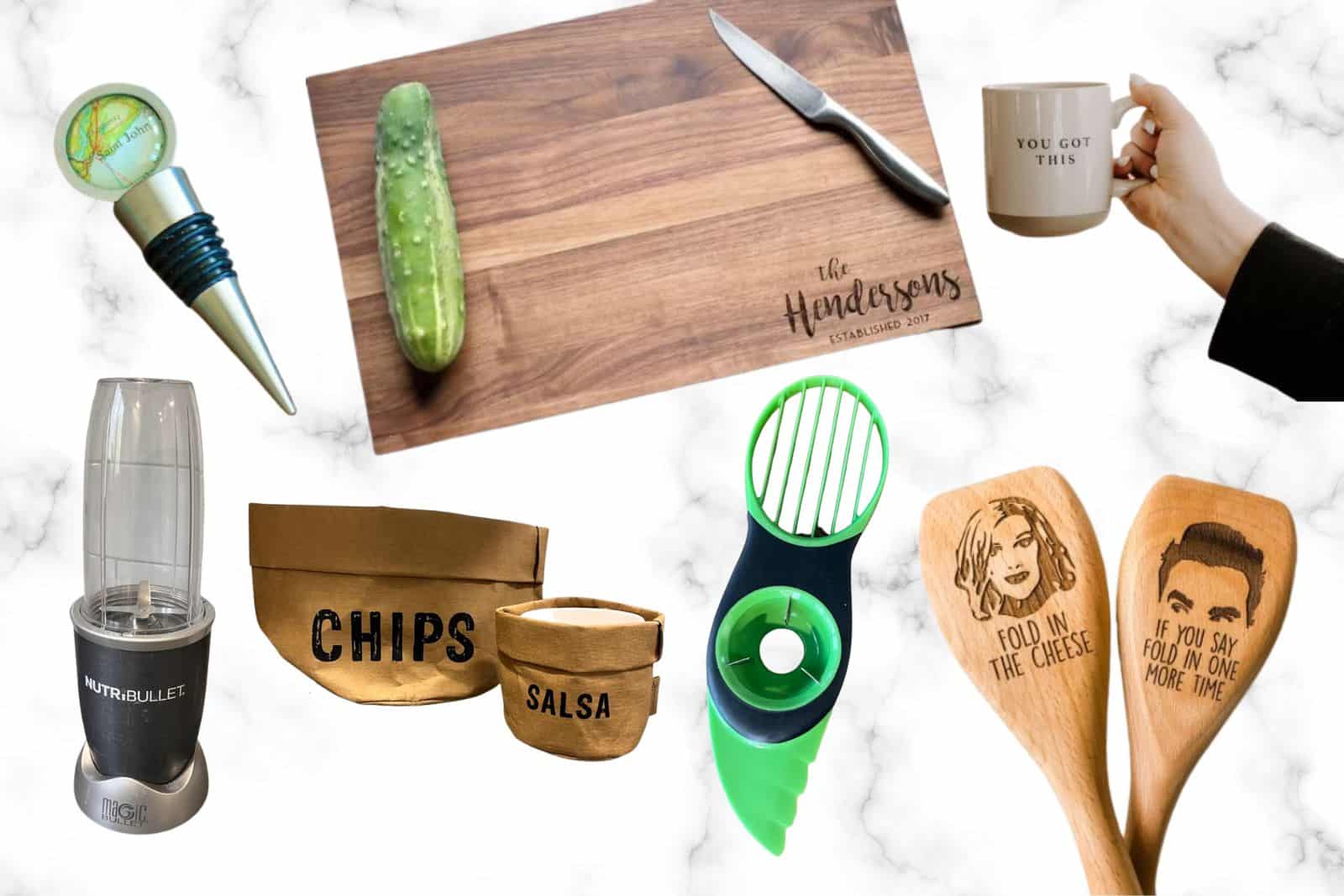 Kitchen items make a great gift for a foodie friend or a useful gift for a college student preparing for life in a first apartment. This gift list ranges from some must-have kitchen items to some really cool kitchen and cooking gadgets. Some useful gadgets that might seem a little boring make great kitchen gifts if you pair them with a personalized dish towel or gift card.
Some of the links below may be affiliate links. At no additional cost to you, we may earn a commission if you click through and make a purchase. Thanks for supporting us!
Small Appliances
These magical kitchen tools are a bit pricier, but they make the best kitchen gifts because they get used all the time. Some take counter space, but there are plenty of great options even for those with a small kitchen.
Mary kept hearing from friends that one of the best gifts they received (or gave themselves) was an air fryer. They claimed they use it almost daily. We finally gave in and asked for one as a family Christmas gift. It's pretty awesome. We really do use it just about every day. Our model folds up for easy storage.
The french fries we made in the air fryer beat out the deep fried version in our family taste test.
Kristie has air fried everything from vegetables to wings to taquitos and other frozen appetizers. It reheats pizza so it tastes like the day you made or bought it, and you can do a few pieces of toast or even a small batch of cookies. She did a ton of research and loves her model.
The slow cooker is a game changer for working adults who want to throw raw ingredients together in the morning and come home from work to a hot meal. This is a great gift for someone with a new home or apartment.
Reserve the sous vide as a gift for the foodie friend that fancies themselves a legit home cook. I have a friend whose high school son is super into cooking – and really good at it. A sous vide was on his wish list.
People rave about the magic of a pressure cooker. The food cooks SO FAST. This Instant Pot pressure cooker also functions as a slow cooker and a rice cooker.
The different colors and sizes of Keurig coffee machines make them a fun and personalized gift idea. Gift a small and colorful model to a high school grad so she can make a cup of coffee in her dorm room before dashing to class. Gift a larger model with some flavor k-cups to a friend who wants to fill a travel mug on his way to work. The bigger model above is programmable and can brew 6 to 10 oz cups.
gift cards – Great kitchen items can get pricey, so you can grab a personalized dish towel and give a gift card with a note that it can go toward a more expensive appliance.
My 10-year-old makes smoothies almost every morning–it's a new habit that started with his braces. His daily recipe is orange juice, a banana, yogurt and frozen fruit (whatever kind we have on hand).
I have a Ninja blender that I swear by, but this version is small enough to sit on your kitchen counter and lightweight enough to store in a cupboard even for daily use. All the pieces are dishwasher safe. If you need a few new smoothie recipes, check out number 9 on our Top 10 Back-To-School Freezer Meals For Busy Moms.
A small coffee grinder, a bag of local coffee beans and a personalized mugs is one of our top picks as a gift idea for a coffee lover.
A Bluetooth meat thermometer is a great gift idea for a dad, brother, uncle, grandpa or adult son who loves to grill. These were the go-to gift idea in my family for several years because they're amazing. My husband uses it for meat on the grill and we also use it in pot roast and turkey in the oven. We can monitor the temperature the meat without ever opening the grill or oven.
A breakfast sandwich maker is a perfect gift for teens looking to eat more protein. Kristie's teen sons use theirs all the time.
Smart Kitchen Tools
Great kitchen gifts are things that make it easier or more fun to cook. The gift ideas below are wide ranging, but in what they do and in price range. Consider who you're buying for, how much they like to cook and the size of their kitchen (mostly in terms of storage).
Le Creuset is a trusted brand in cookware and a worthwhile investment for a skillet that will be used often. In fact, I might put this cast iron skillet on my Mother's Day wish list right now. I keep hearing amazing things about the Le Creuset pans, and as an added bonus, they come in different colors and they're pretty enough to leave on display on the stovetop.
I suppose no one "needs" a crepe pan, but that's what makes it a fun gift. Grab a pint of strawberries, a jar of Nutella and package this up to give the gift of sweet treats.
Coffee drinkers who like the good stuff will appreciate a French press, so they can make quality coffee at home. Pair it with a personalized mug for a thoughtful gift idea.
My teen boys eat lots of eggs. The DASH rapid egg cooker comes in multiple colors and cooks six eggs at a time to the firmness of your choosing. It's perfect for a dorm, apartment or smaller kitchen (or just for saving time and water in any kitchen).
Food tastes oh-so-good, and cast iron pans are also great for friends who like to camp or cook over a fire.
I ordered two of these for my utensil drawer and they've made a huge difference. I've managed to collect at least three different styles of silverware over the years, so trying to stack them in a traditional drawer organizer wasn't working very well. This was the perfect solution! Now I just need to figure out why we never seem to have enough spoons….
Our Echo was a Christmas gift from my in-laws and we loved it so much that we gifted one to them a year later. We had an epic dance party in their kitchen that night because Alexa played every song we requested—unlimited Amazon music is less expensive for Echo owners and it has an app for our phones so we can download and listen anywhere.
Aside from the music, we use Alexa in the kitchen for weather reports, sports updates, local and national radio stations, nightly Jeopardy games, a kitchen timer and more. If you level up to the Echo Show, you can see recipes right on the screen.
We have even more ideas on our Top 10 Cool Things Moms Can Do With Amazon Echo.
I shared this idea in our last post: Best Parenting Hacks Guaranteed to Save You Time. Our friend Sally Kuzemchak at Real Mom Nutrition shared this genius hack on her Instagram stories and I immediately bought a shoe organizer for our water bottles to hang on our pantry door. Wrangling all those in a cupboard is a nightmare and I don't need to waste energy being frustrated every time we empty the dishwasher. Problem solved for only 10 bucks!
This mop cleans without chemicals and the pads are washable! My son (who hates chores) absolutely loves using this thing. It's lightweight and easy to use, and my kitchen floors look amazing!
Cool Kitchen Gadgets
These are some of the best gadgets we've given or received as gifts. There's a good reason they made the list – we love them ourselves or have gotten rave reviews from others.
A good chef's knife will last a long time and can be used for preparing just about anything in the kitchen. This stainless steel 8-inch chef's knife makes it a great gift for someone with a new apartment or house.
For a friend who likes to entertain, an ice cream maker is a fun gift that churns out tasty treats for guests. This 4-quart model gets great reviews and makes enough homemade ice cream for a crowd.
If you don't want to use plastic straws anymore, but you're not sure what you'll like as a replacement, I recommend these FDA-approved reusable steel straws. This package has curved and straight straws of different lengths, and removable silicone tips in case you're not crazy about drinking straight from a steel straw. And they're dishwasher safe!
It drives me crazy to throw out lettuce or vegetables, but I'm also not a fan of running to the grocery store multiple times a week. I don't know what I'd do without my salad spinner! My lettuce lasts so much longer! I buy a few bunches of leaf lettuce at the beginning of the week, clean it all and store it in the salad spinner. I know there are less expensive versions, but this is the one I have had for a long time.
This is Mary's recommendation for the best type of wine bottle opener because it's quick and effortless to open a bottle of wine. Grab a bottle of wine to go with, and you've got a solid gift. Just make sure to check whether the person enjoys a white wine or a red wine.
This avocado slicer is one of the fun kitchen gadgets my mom has gifted me over the years, and I use it all the time. It cuts the avocado, removes the pit and slices it right onto my plate.
This pineapple corer is just a fun little tool for someone who loves fresh pineapple. A good size to stick in a drawer.
My sister is a watermelon fiend and as soon as I saw this super cool tool, I knew I had to get it for her.
A friend brought this to a recent girls weekend and we all agreed it might be one of the best kitchen gadgets we've ever seen. She was slicing tomatoes and onions with it, and another friend says she uses her to chop all of the ingredients for fruit salsa.
My college students (the girls) tell me that a milk frother is a super fun gift idea. They can use it to make homemade lattes into coffee shop quality creations. Plus, look at all of the colors!
If you're looking for other gifts for 18-year-old girls, we have a whole post full of ideas.
This is one of the best gadgets out there if you're giving a gift a whole family (or an apartment full of roommates) can enjoy. Put some kernels and oil into this bowl and it pops the popcorn in your microwave like magic. This bowl and a Netflix gift card = perfect gift. It's also collapsible so storage doesn't take much space.
These taco holders paired with a fun hot sauce or salsa makes a great gift for a friend or kid who loves Mexican food.
This might sound silly, but this meat chopper is one of my favorite kitchen gadgets and I get comments on it every time a friend sees me use it. It's the perfect tool for browning ground beef. Toss it in with a personalized dish towel and a favorite family recipe for a great gift.
This sounds silly, but we actually love our cherry pitter. It pops the pit right through the fresh cherries and they're ready to eat (you can also use it for olives, but honestly, I don't usually buy olives with pits).
Special Gifts
Special occasion gifts like weddings or first homes or apartments might call for a more personalized gift. You spend more time in the kitchen than nearly every other room in the house, so it's the right place for a meaningful gift.
The personalized cutting boards on Etsy make beautiful and meaningful gifts. Get a board engraved with a cherished family recipe, or with a new last name for a beautiful wedding gift.
A recipe book from a favorite chef for some new ideas in the kitchen or even to display makes a great gift. I know we can grab recipes online, but these recipes aren't going to disappear and sometimes it's nice to just have a cookbook sitting on the counter while you cook.
For a tea lover, check out unique tea infusers to see if something is the perfect fit.
For anything from a first apartment to a wedding gift, this personalized serving platter will be a heartwarming keepsake.
There are so many fun wine stoppers out there that you can personalize this to almost anyone who enjoys wine. A stopper that shows state pride or even a local map. Or maybe go with a colorful monogrammed glass stopper, or a stopper that has custom engraving.
We have other personalized gifts specifically for moms, if that's who you're shopping for.
These Schitt's Creek wooden spoons crack me up.
Grab some fresh potted herbs and then gift this herb stripper as an easy way to transfer herbs right to a meal (it also comes with a card that tells how to use and clean it).
A fun gift for a friend who likes to bike. I can see this being a cute shelf-sitter that also gets used on pizza night.
This emoji pancake pan with a packet of either store-bought or homemade pancake mix would make a fun gift. We use my grandma's recipe to make pancakes from scratch. You could package up the dry ingredients with a copy of the recipe and instructions on what to add for guaranteed tasty pancakes.
Grammy's Pancakes
2 c flour
4 T white sugar
2 t baking powder
Dash salt
2 c milk
2 eggs
2 T melted butter
Mix dry ingredients. Add wet ingredients (and maybe some mini chocolate chips). Batter will be somewhat runny and maybe a little lumpy and that's ok. Add oil to your skillet and get cooking.