51 Self-Esteem Activities for Teens That Really Work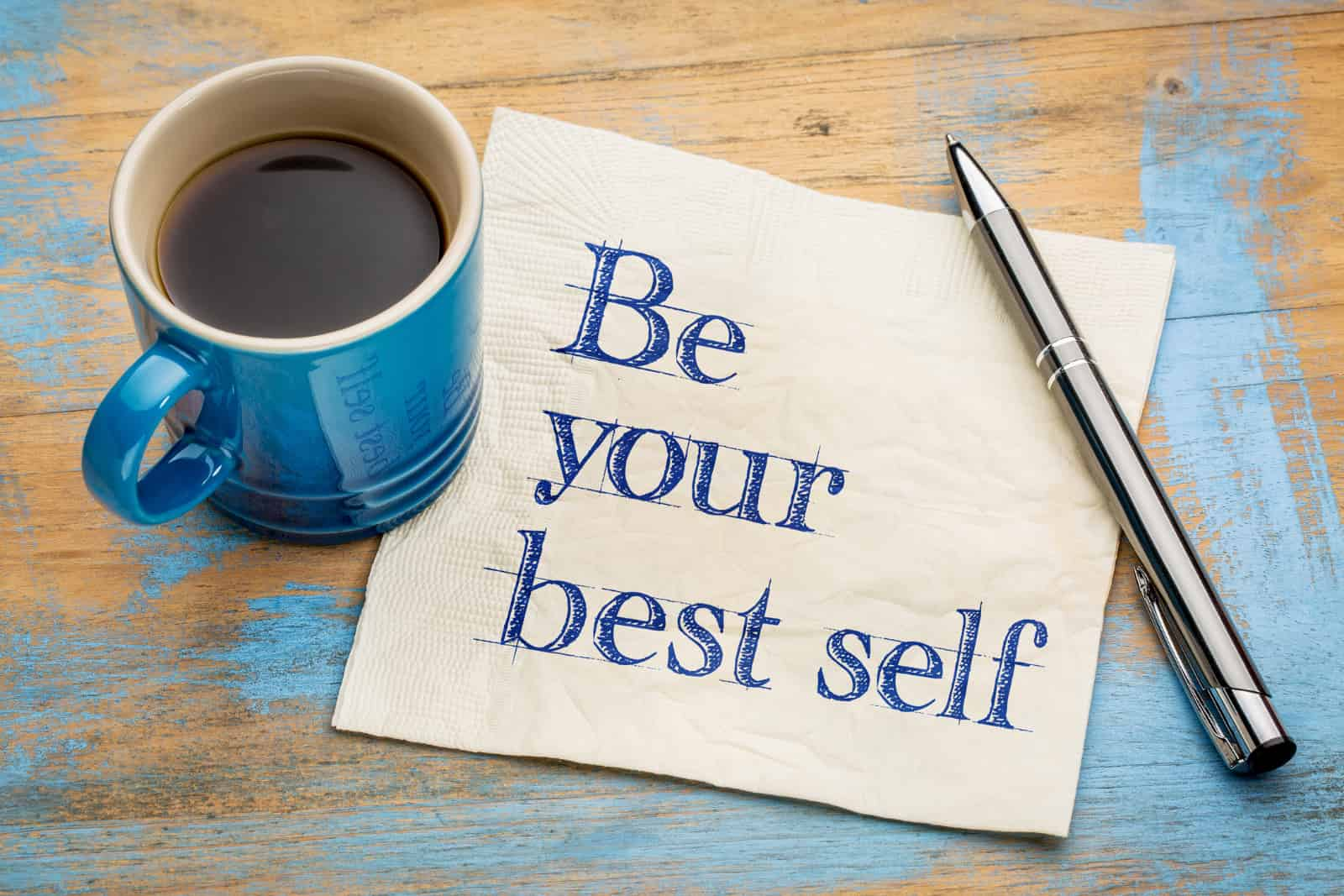 We relied on the latest research and our decades of teaching experience to gather these self-esteem activities for teenagers. Discover effective activities in these categories: affirm strengths, be active, get creative, improve emotional intelligence, volunteer and practice gratitude. These ideas will build healthy self-esteem, self-awareness, resilience and overall well-being in teens.
This post contains affiliate links – we earn a small commission if you purchase through our links, and we appreciate your support.
I've worked with teenagers for over 20 years as a teacher, coach, professor and mentor. Low self-esteem has always been a concern. I mean, it's adolescence. Some degree of doubt about who we are and where we belong is bound to happen.
But the self-esteem problem is even more significant for Generation Z.
The Journal of Adolescence found that teens are lonelier at school than ever before. A sharp increase from 2012-2018 corresponded to a rise in smartphone and internet use.
A brand and social impact agency working with some of the largest companies in the world says Gen Z are "too often unhappy, lonely, lack confidence and are unsatisfied with life."
We'll focus on specific teen self esteem activities in this post, but you can read some of our other articles based on the latest research:
Self Esteem Activities That Really Work
If you search online for good things to help teenagers develop healthy self-esteem, you'll find plenty of activities, self-esteem worksheets and other suggestions.
Our list is different.
It's primarily organized around 11 science-backed strategies that increase self-esteem. The self-esteem activities we share are based on the latest research along with our experience with students, so we know they really work.
Affirm Strengths & Strengthen Identity (7 Activities)
Positive psychology encourages people to develop their positive traits and strengths rather than fix their negative ones. That, along with understanding their purpose in the world, can boost teens' self esteem.
The activities below will help teenagers improve their lives and self esteem by identifying their strengths.
CliftonStrengths Assessment
The CliftonStrengths Assessment is one of the best ways to help high schoolers identify, affirm and develop their unique talents. Developed by Dr. Don Clifton and Gallup, the strengths themes "explain the ways you most naturally think, feel and behave."
I love CliftonStrengths! Along with 30 million people who have taken it. It's my favorite self-assessment because it's supported by science and helpful in every area of life: personal growth, relationships, at work and school.
But how do I know CliftonStrengths is one of the most powerful tools available?
My husband studied strengths and earned his doctorate at Azusa Pacific University, where Dr. Clifton taught. Mary and I have used a strengths-based approach with our college students. And we've also relied on it to understand and support our own teens.
Teens can buy the CliftonStrengths for Students Top 5, get a code and use that code to take the assessment. They'll find out their Top 5 strengths and get resources that explain how those strengths can make them stand out.
How CliftonStrengths Can Help Teenagers
Identifying and developing strengths in teens:
increases engagement
improves well-being
improves self-awareness
sets students up for success in school and beyond
People who use CliftonStrengths are more likely to be happy and have plenty of energy. They're also less likely to experience worry, stress, sadness and anger.
I love author Jack Canfield's definition of self-esteem: "Self-esteem is made up primarily of two things: feeling lovable and feeling capable." Everything we've discussed about CliftonStrengths would absolutely help our teens feel lovable and capable.
VIA Character Strengths Survey
The VIA Character Strengths Survey identifies your best qualities. It's a free survey that takes about 15 minutes. I first learned about it when I mentored some students at the university where I teach. I loved doing the survey and activities with them!
When you register for an account, you'll be able to select the Youth Character Strengths Survey that's specifically for young people during the teenage years.
I'm a big fan of personality tests because they reveal things that help us better understand ourselves. This survey is perfect for teens with low self esteem because it will help them identify the best parts of who they are.
You can get free results that identify and define the top 5 character strengths. Check out these activities for ways to help young people capitalize on their strengths.
For $10, you can purchase a Youth Report that includes a personalized list of all 24 character strengths. The report also includes research-based information about their top 5 character strengths and suggestions for using all of their strengths.
How The VIA Activity Affects Self Esteem
The VIA Institute encourages teenagers to know their personal strengths because "they are more confident, resilient and better prepared to handle life challenges." And all of that leads to better self esteem!
Positive Goals Diary
Teens already know goals are important, but they may not understand how important it is to write them down. They can call it whatever they want – a positive goals diary, chart, list – as long as it's written down somewhere.
Help your teen write SMART goals (specific, measurable, attainable, realistic, in a timeframe). They've probably heard about these in school. Focus on goals that will stretch them and help them grow.
Now it's time for the "diary" part of this activity. Teens should write about their progress and achievements pretty regularly. This exercise will reinforce positive thinking and foster a sense of accomplishment.
Take it one step further and have your teen share their weekly progress with you, a good friend, a mentor or a relative. (A Rocketbook wave smart notebook makes it easy to share notes virtually.)
Research shows that 76% of people who wrote down their goals, tracked their progress and shared weekly with a friend were successful in achieving their goals. Compare this those who didn't write down their goals – only 43% achieved those goals.
You might get some push back from teens about tracking and sharing their progress. Consider doing a positive goals diary along with them. You'll achieve some goals and strengthen your relationship with your teen at the same time.
Positive Psychology Movies
What teenager wouldn't want to watch a great movie? If you're trying to figure out how to get your teen interested in some of these new activities, I'd consider starting here.
Watching movies or tv together is one of my favorite ways to connect with my own teens in a natural, relaxed way. Positive psychology movies take that experience one step further.
Simply watching these movies can be encouraging, but they'll make an even bigger difference if you can talk about them with your teen.
5 Ways Movies Can Impact Self-Esteem
The power of movies with positive psychology themes should not be overlooked. These movies have some important things in common that can be helpful to teen self-esteem:
Inspiring role models

Characters in these movies often show resilience, strength and personal growth. Teens can learn from watching characters overcome challenges and believe in themselves.
Identification and relatability

When teens see characters experiencing similar issues, they can identify with those experiences and emotions. This realization can lead to an awareness that they're not alone in what they're dealing with.
Emotional engagement

Movies can evoke powerful emotions and bring feelings to the surface. Teens may feel a range of emotions as they watch movies with uplifting themes. Engaging with their emotions can inspire reflection and self-awareness.
Positive messages

These movies emphasize themes like self-acceptance, resilience, compassion and finding meaning and purpose in life. Messages like this can challenge negative beliefs about themselves and help teenagers develop a more positive outlook.
Shared experience and discussion

Simply watching these movies can be encouraging, but they'll make an even bigger difference if you can talk about them with your teen. The shared experience can strengthen connections and encourage open communication.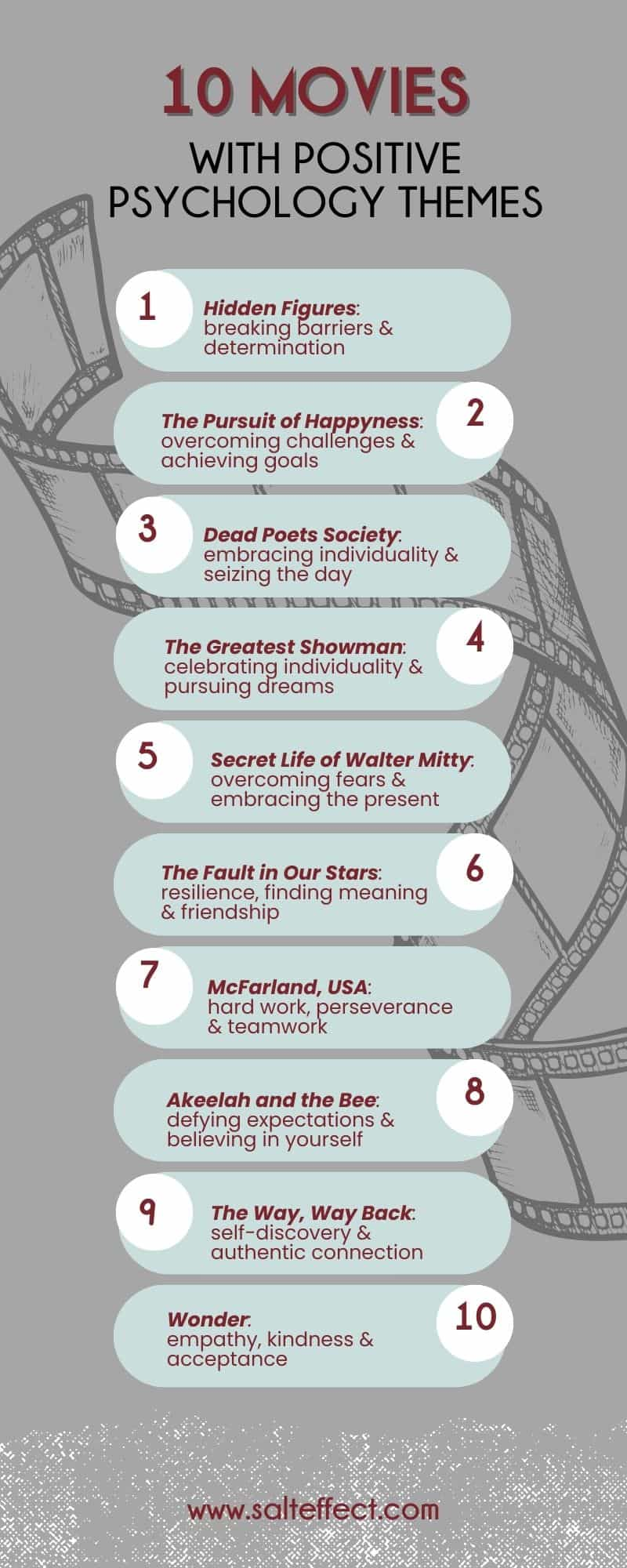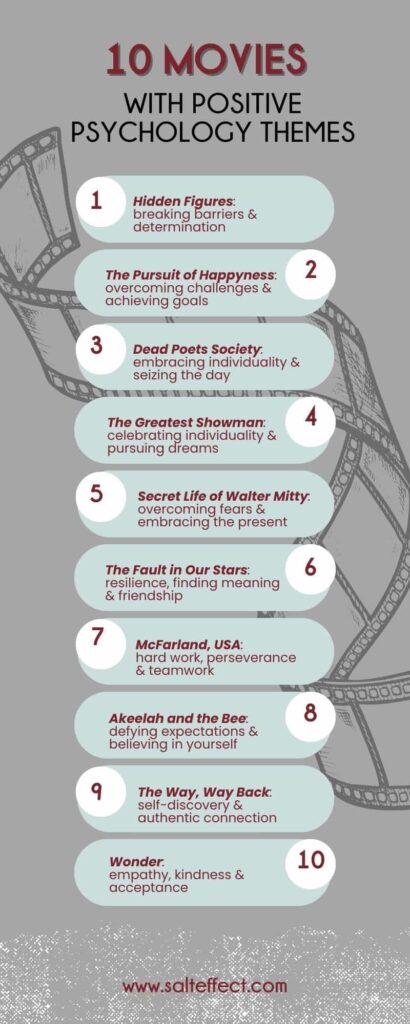 Wins Chart
A wins chart is similar to a positive goals diary, but it's focused on the achievement rather than the progress and achievement.
The important thing here is to consider things that are genuinely important wins for your teen, no matter how small it might seem.
Some of the best parenting advice I've ever received happened in a group class when my oldest was in kindergarten. We were reminded that kids vary tremendously in terms of development, abilities and readiness.
To help our kids be successful, we need to meet them where they are instead of where we think they should be. A win for one person at a specific age might be too big or too small for someone else at the same age.
(If you have more than one kid, you know what I mean.)
For example, completing and submitting all homework assignments for a week might be a major win for one teen. (I speak from experience here…) A win for a different teenager might be an A for the semester.
So include wins on their chart that make the most sense for your teenager. Consider achievements or successes in extracurriculars, academics, social situations, at work and more.
Find a place to display or keep the chart so it's always top of mind and you don't forget to celebrate the wins.
Core Beliefs Challenge
Challenging negative core beliefs is a powerful way to improve self-esteem. It's definitely not a quick fix, but it can lead to long-lasting positive change.
Core beliefs are deeply ingrained ideas that we hold about ourselves, others and the world around us. They're often based on experiences we've had or on messages we've received from other people.
When I lecture about this to my college persuasion classes, I emphasize to my students that their core beliefs are really hard to change and closely tied to their identity.
Negative core beliefs can lead to feelings of inadequacy, self doubt and low self esteem. Constant access to social media has contributed to all kinds of negative thoughts for teenagers, particularly teen girls.
5 Steps to Turn Negative Core Beliefs Into Positive Ones
So how do we help teenagers challenge their negative core beliefs and turn them into positive ones? With these 5 steps:
Identify negative core beliefs. What negative things do they believe about themselves related to their abilities, appearance or worth as a person? Here are a few examples:

Nobody likes me.
I always fail at everything I do.
I'm not smart enough to achieve my goals.
I can't trust anyone.
Question the evidence. Teens need to critically examine the evidence and logic behind their negative core beliefs. As questions like:

Is the belief accurate and rational?
Is it based on objective facts or subjective interpretations?
How would a trusted friend or mentor evaluate this belief?
Gather counter-evidence. To reframe negative core beliefs, teens need consider evidence that suggests they're not as bad as they think they are. Help your teen intentionally focus on instances where they've:

succeeded
received positive feedback
demonstrated their strengths and capabilities
Note: That third step is hard work! If a teenager is struggling with self-esteem issues, it's not easy for them to identify positive evidence. Be patient. Ask questions that will lead them to see what they're capable of and why they matter.
Reframe negative core beliefs as positive ones. Help them develop affirming and constructive beliefs that reflect their true worth and potential. Teenagers will probably need help with reframing, so here are some examples:

"Nobody likes me" to I have people in my life (including …) who appreciate and care about me.
"I always fail at everything I do" to I've had successes and I can learn and grow from my failures.
"I'm not smart enough to achieve my goals" to I'm capable of working hard to overcome new challenges so I can achieve my goals.
"I can't trust anyone" to I can develop relationships with trustworthy people who have my best interests at heart.
Repeat, repeat, repeat. Unlearning beliefs that teens have said to themselves over and over again (sometimes for years) is a process. They'll need to practice saying the new positive statements and paying attention to evidence that supports those statements. Then their self esteem can improve over time.
Personal Values Exercise
Encouraging teenagers to identify their own personal values is an important exercise for self esteem. Values are closely tied to our identity and naming them can have a powerful impact.
We've written before about the importance of values to success: they guide and simplify decision-making, and they give people a greater sense of purpose.
When teenagers can name their values, they're more likely to act in ways that are true to themselves. This builds confidence and sense of self-worth. It also encourages authentic relationships.
Encourage teens to reflect on what matters most to them. What activities or circumstances bring them joy or a sense of purpose? What activities do they lose themselves in? When do they feel most like themselves?
Then help them shift those answers to values that match. Keeping a list of personal values to 5 or 6 will is best because they'll be easier to recall and put into action.
Be Active (12 Activities)
The older I get, the more I recognize that physical activity helps just about everything. There's plenty of science to support the endless benefits of moving your body more. It's a great way for teens to build or maintain positive self-esteem.
Team Sports
Participating in team sports can boost self-esteem, enhance self confidence and improve social skills. Teens who play a team sport learn how to handle winning and losing, navigate new experiences and form new friendships.
If your teenager is already on a team, encourage them to continue. If they're not, look for opportunities for them to join a team.
If they're not interested in really competitive sports, try rec sports or school intramurals. You can also check with your local school district about no-cut sports.
Individual Physical Activities
Physical activity on its own can improve self esteem by boosting confidence, improving mood and reducing stress. Get creative about ways to encourage teenagers to move more.
These ideas can all be done alone, but they're also great things to encourage connection with one or two other people.
Yoga: Research shows that adolescents who practice yoga have better self-esteem. Yoga also helps improve resilience, mood, attention abilities and self-regulation.
Horseback Riding: This activity gives teens an opportunity to spend time outside and with an animal. Riding horses also leads to a more positive self-image because teens who ride and control a powerful animal feel a sense of accomplishment.
Biking: Bike riding or cycling offers independence and autonomy for teens, in addition to improved physical fitness and stamina.
Walking or Running: Setting aside a regular time to run or walk is a commitment that can build self-discipline along with physical fitness. It's one of the best ways to release endorphins that help teens feel happier, more relaxed and less stressed.
Walking a Dog: Bringing a dog along on a walk or run has added benefits like a sense of purpose and responsibility. Dogs are also a non-judgmental presence that can feel comforting.
If teens could use some help easing into social interactions, walking a dog can lead to casual conversations. When my teens walk our dogs, they always come home with at least one story about talking to a neighbor.
Dancing: Moving to the sound of music is a fun way to be stronger and more fit. It engages the brain by tapping into memory, planning and focus. Teens can dance competitively (and get some social benefits) or just for fun.
Swimming Laps: I was on a swim team for years and I still find swimming laps to be both invigorating and relaxing. It's a skill that can boost confidence, improve mental health and relieve stress. Swimming is also an aerobic exercise that teens can do throughout their lives.
Playing Tennis: Tennis is a perfect activity for teens who prefer to spend time with a friend or even a family member. It requires focus and a "short memory" because players need to handle mistakes and manage emotions. Building those resilience muscles helps self-esteem.
Golfing: Golf is a low-impact activity that can enhance self-esteem and be enjoyed for a lifetime. It's also a great way to spend more time outside and take in all the benefits of nature. When teens play golf, they learn about discipline, patience and perseverance.
Fitness Classes: Joining a fitness class that has a supportive environment can help teenagers reap the physical, mental and social benefits of exercise. A study found that students in group classes reported higher self-concept, hope and happiness.
Weight Training: Getting stronger and even feeling stronger from strength training significantly increases self-esteem, self-confidence and body image. Lifting weights teaches teenagers to set and work toward goals and to overcome challenges.
Get Creative (19 Activities)
Research has found that creative activities can lead to improved self-esteem. When teens and young adults are creative, they form something new and valuable.
Creativity also requires a growth mindset. This is the belief that we can develop and improve our abilities. During the creative process, they have to deal with mistakes and failure. They have to be willing to try again and solve problems along the way.
A study in Humanities & Social Sciences Reviews explains that as adolescents develop, they begin to form "abstract, energetic, independent and creative thinking." It's the perfect time to develop and practice creativity!
The other thing to keep in mind is that the process of being creative is where the benefits lie…not in the finished product. You know that feeling when you get completely lost in what you're doing? It's called "flow state."
A creative outlet gives teenagers a chance to experience flow state (or being in the zone). That means more positivity, productivity and a sense of accomplishment. Plus, a better chance of high self-esteem.
How Music Impacts Self-Esteem
Teens who sing or play musical instruments explore different sounds, melodies and rhythms which often leads to their own unique interpretations.
They experience a sense of accomplishment as they learn new skills and practice toward mastery. Music is also an emotional experience and can offer a sense of belonging.
Musical Activities for Teens
Music therapy is an option for adolescents who could use help beyond the self esteem activities listed here.
According to Cleveland Clinic, music therapy can be used in the teen years to help with behavior, mood or anxiety disorders, ADHD, ASD, trauma and substance abuse disorders.
Self-Esteem Benefits of Artistic expression
Creating something in a visual or tangible form gives teens an opportunity for platform for self-expression, personal growth and creative problem-solving.
Experimenting with different mediums requires risk that leads to new possibilities. Art can also be therapeutic as a safe space to express emotions and focus on the present moment.
Creative expression through art can take many forms. Encourage teenagers to try some of these types of artistic expression:
drawing and sketching
painting
sculpture
photography
digital art
ceramics
textiles
performance art
Art Activities for Teens
Like music therapy, art therapy can have a powerful impact on a teenager's mental health and self-esteem. It can also feel less threatening than talking to a therapist, but it can still help teens learn better coping methods and work through problems.
According to VeryWell Mind, art therapy can benefit people who have experienced trauma, physical violence, anxiety, depression and other mental health issues. It can also help teens and young adults with learning disabilities and behavioral or social problems.
How Creative Writing Helps Self-Esteem
Creative writing can help teen self-esteem in a number of ways. Teenagers can strengthen their creative muscles and process their thoughts and feelings.
Writing can help them make sense of their experiences and explore their values, beliefs and goals. Positive feedback about their writing improves self-confidence. It can also help them connect with other people and feel more supported or understood.
Creative Writing Activities
Improve Emotional Intelligence (4 Activities)
People with high emotional intelligence (EI) are able to recognize, understand, manage and express emotions effectively in themselves and others. EI includes 5 factors: self-awareness, self-regulation, motivation, empathy and social skills.
Research shows that teens who have higher EI have higher self-esteem. They're less stressed and happier with life in general.
Another study suggests they're less likely to be victims of bullying. They're also better equipped to handle peer pressure and other difficult situations.
EI is also linked to academic success in high school, and students with higher EI can more easily transition to college life.
Emotional Intelligence Activities
These activities can help teenagers have healthy self-esteem by improving their emotional intelligence.
Emotional intelligence assessment from the Institute for Health and Human Potential. Get results along with recommendations to improve emotional intelligence.
Emotional intelligence quiz from the Greater Good Science Center. This quiz focuses on reading body language effectively.
Emotional intelligence skill-building worksheet from Florida State University. Teens are encouraged to think about their relationships and their own self-awareness and self-management.
Emotional intelligence exercise from KQED Public Media. This activity is published in MindShift, a newsletter for teachers, and is something for a group of teens to do together.
Volunteer (5 Activities)
Volunteering is a great way for teenagers to discover ways they can contribute to their community. It covers at least 4 of the 7 Cs of resilience: competence, connection, contribution and character.
Research supports the near-endless benefits of volunteering. Teens can improve leadership, communication and problem-solving skills while they build empathy, meet new people and gain a sense of purpose.
But here at SALT effect, we believe it's important to reframe what it means to volunteer. We owe a big thanks to my mom and aunt for the SERVE acrostic below.
Volunteer Activities
Volunteering doesn't have to mean coordinating with a nonprofit for an event. Teens can volunteer their time and SERVE others in so many different ways!
Share: 39 Simple Ways to Help Others
Be willing to give others what you have, including your time, especially if you have excess.
Encourage: 24 Unexpected Ways to Show Kindness
Be generous with positive and encouraging words when people least expect it. Do random acts of kindness for others.
Respond: 12 Thoughtful Ways to Respond to a Need
When you notice a need, find a way to meet it. And notice more often.
Volunteer: 18 Ways to Volunteer with Nonprofits
Participate in organized volunteer or community service projects. Invite others to join you.
Enrich: 24 Long-Term Ways to Make a Difference
Make a long-term or larger commitment to a person, cause or organization. Focus on relationships.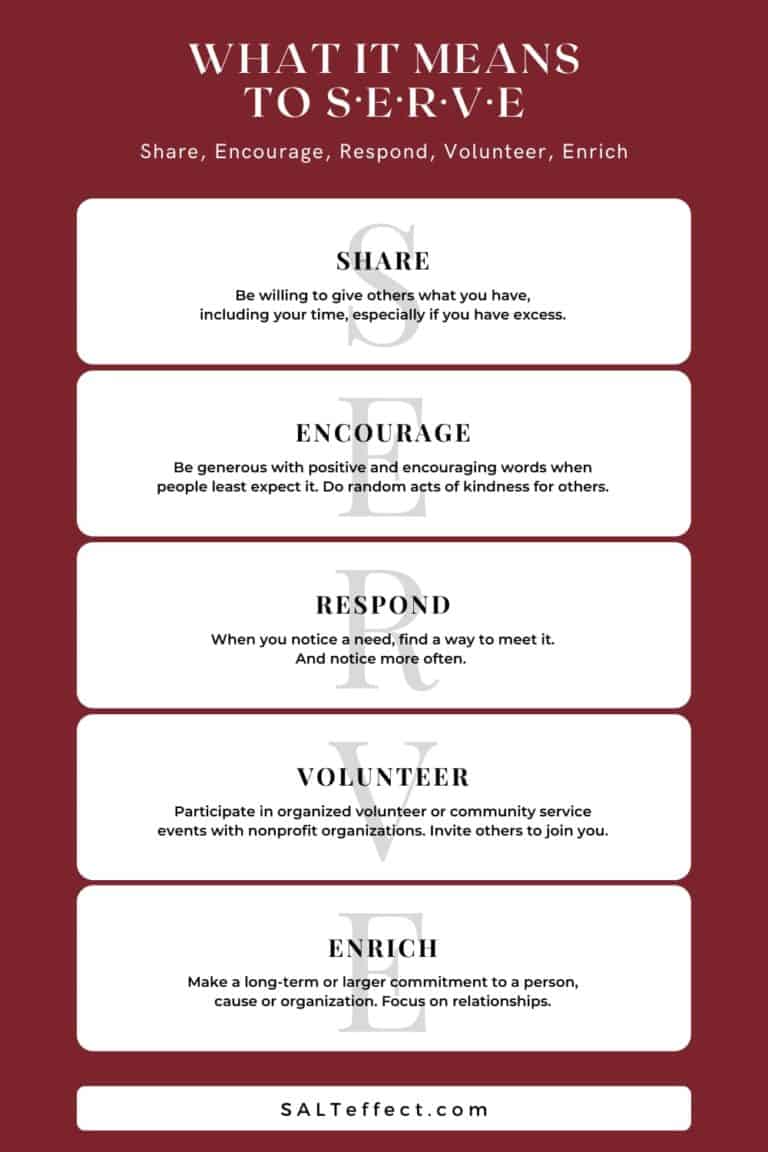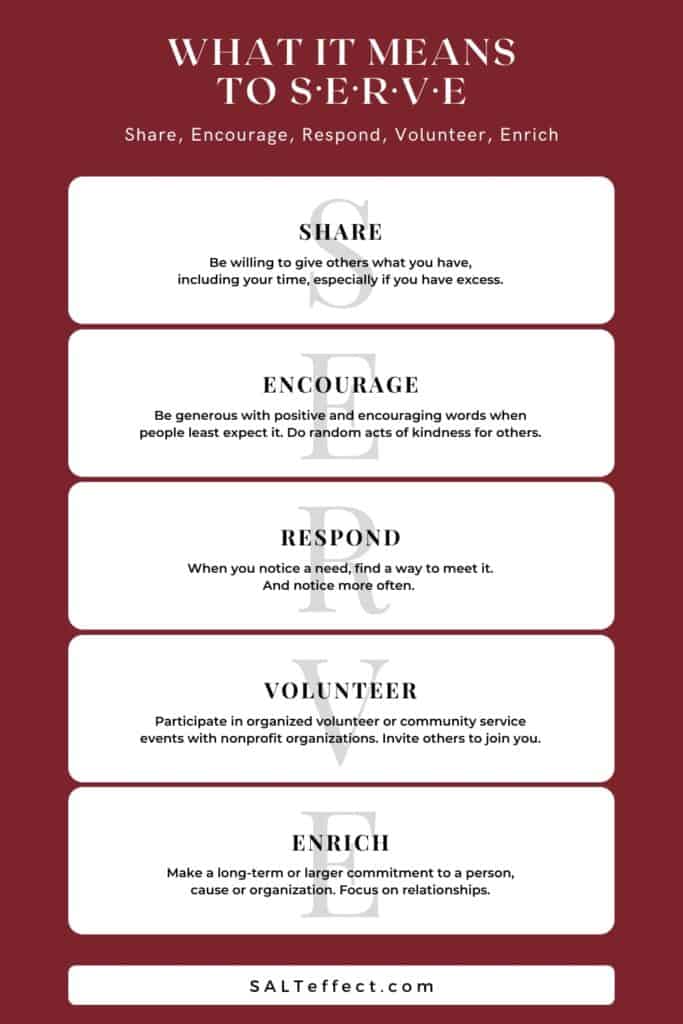 Practice Gratitude (4 Activities)
Research shows that gratitude improves every area of life, including self-esteem. Research shows that being more grateful improves our emotional, social, physical, spiritual and intellectual lives.
Teachers and professors have been keenly aware of the steep decline in student mental health since the pandemic. To help combat this in some small way, I started doing a gratitude exercise at the end of every class session.
My students loved it! It improved their mood and helped them refocus on who and what they have in their lives. Some of them texted parents or friends to say thanks after class and others started journaling or meditating.
I'll never stop talking about the difference gratitude makes.
Gratitude is instant perspective.
Gratitude Activities
Gratitude Photo Scavenger Hunt: It's easier to be grateful when it involves something fun! And this has a bonus for teens because they get to use their phone.
We created this to be used in many different ways: alone or in groups, to connect or compete, for holidays or seasons, as discussion starters or reflection exercises. Teens will take pictures of the view from their window, their favorite food, a family tradition and more.
Gratitude Journal: Many gratitude journals have space for morning and evening reflection and some even have daily prompts. This can work well for many people, but it can also be discouraging and guilt-inducing if we forget a day or even a week.
Encourage teens to write positive things in a blank journal whenever they think of something to be grateful for. Another option is this calendar journal that has a short line for each day. Perfect for a self-esteem boost.
Thank You Texts or Notes: Going beyond a private expression of gratitude can bring additional benefits for the self-esteem of teenagers. Research shows that it can encourage people to help others more often. It's also helpful in building relationships.
Encourage teens to send a text just to say thank you. Or put a handwritten thank you note in the mail. It will be unexpected and always appreciated – research tells us that too.
They might need some help deciding who to thank. Some suggestions are parents, friends, extended family members, teachers, coaches and coworkers.
Three Good Things Activity: Did your teen take our advice to complete the VIA Character Strengths Survey (see the first section of this post)? The Three Good Things activity combines a focus on their best qualities with a daily gratitude practice.
Our Favorite Journals for Teens
These are the top journals we recommend for teenagers.
Self-Esteem Books We Recommend
We mentioned several excellent books in this post and wanted to put them all in one place for you.