Best Gifts for Your Father-In-Law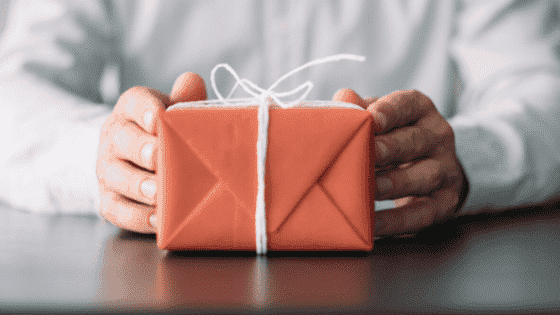 Is your father-in-law impossible to buy for? Maybe he doesn't want anything and he doesn't need anything, so you're on your own to figure out what to get him. We've been there! We rounded up our very best father-in-law gifts so you can give your father-in-law the perfect gift for Father's Day, Christmas or his birthday. From sentimental to practical gift ideas for him–you'll find them here!
This post contains affiliate links – we earn a small commission if you purchase through our links, and we appreciate your support.
Song Lyrics Print
Turn the lyrics of a song into a family keepsake! Score some major points because he'll love that you know one of his favorite songs. This design is printed on linen or cotton and framed in your choice of 2 sizes and 3 frames. Choose block or script font and personalize it with his name and a date. These stunning prints are made by Bella Grey Vintage, a small business with over 20,000 sales and a 5-star rating!
Bucket List Journal
Inspire him to make his goals or dreams a reality with a personalized bucket list journal. With 30 bucket list prompts, this journal from Custom Journal Designs will help him organize his ideas, figure out how to make each list happen and keep track of his favorite memories. Choose from hard cover or soft cover in 11 colors and 2 sizes, then personalize it with his name.
Tervis Tumbler
I have a lot of Tervis cups because they keep drinks cold, they're freezer and dishwasher safe, and they have an endless number of designs. They also have an unconditional lifetime guarantee! We've gifted a few to my father-in-law and he uses them all the time. Choose from NFL, NBA, NHL and collegiate designs along with lots of other collections. They're perfect for game day!

Gourmet Coffee & Biscotti
If your father-in-law is a coffee lover and likes to try different coffees, this gift basket is perfect! We love it because he can sample 7 different coffees (4 flavored and 3 original/house blend) and 4 handmade biscotti from an Ohio gourmet coffee house and bakery. Choose whole bean or ground coffee and pick a ribbon color for his gift. Meeting Place Coffee has over 7,000 sales and a perfect 5-star rating on Etsy, along with lots of great reviews from customers who bought gift baskets for the men in their life.

Remote Control Grill Thermometer
Mary's dad got this grill thermometer as a gift and loved it. Put the thermometer in the meat, put the meat in the grill or smoker, and then carry around your fancy remote thermometer and know the exact temperature of the meat. Your father-in-law will be able to grill without opening anything and messing with the perfect grill job.

Echo Studio
We bought an Echo for my father-in-law and immediately had an impromptu dance party with all the grandkids when he opened it. Moments like that will always be remembered, a sure sign that a gift was perfect. The sound quality of the Echo Studio is exceptional and it's Alexa enabled with a built-in smart hub. We also gave my father-in-law a 30-day free trial to Amazon Prime Music and he's been a subscriber ever since. You can't beat unlimited, ad-free streaming of over a million songs and free 2-day shipping!


Funny Socks
My father-in-law has a great sense of humor and I know he'd get a kick out of these socks! They're perfect if you need a smaller gift or just want something fun.


The Story of The Masters
Published in 2021, this year-by-year history of The Masters relies on recent reporting and source material to tell the story of "drama, joy and heartbreak at golf's most iconic tournament." David Barrett, a professional golf writer for over three decades, shares unknown and forgotten stories of golf greats. Reviews are excellent! If your father-in-law is a golfer, he needs this on his shelf.

Pillow
Does he have a favorite chair? Maybe even a chair that nobody else EVER sits in because it's his? This pillow is a perfect gift for any father-in-law with a sense of humor. We've gifted a few pillows from Abby Kate Home and we're always impressed. She does incredible, detailed work and she gives back a percentage of sales to mission organizations. The lettering on this photo is black, but other colors are available too.


State Wooden Jigsaw Puzzle
Here's a unique gift for any father-in-law who enjoys puzzles and appreciates craftsmanship. Choose the state where he lives or loves to visit. These beautiful puzzles have about 100 "non-traditionally shaped pieces" and include a few unique shapes that represent each state (a guitar for the Rock and Roll Hall of Fame, a longhorn for Texas, a race car for the Indianapolis Motor Speedway). Pieces can be stored inside the box. Reviewers describe these puzzles as true keepsakes and beautiful display pieces.