Family Camping Packing List (free printable checklist)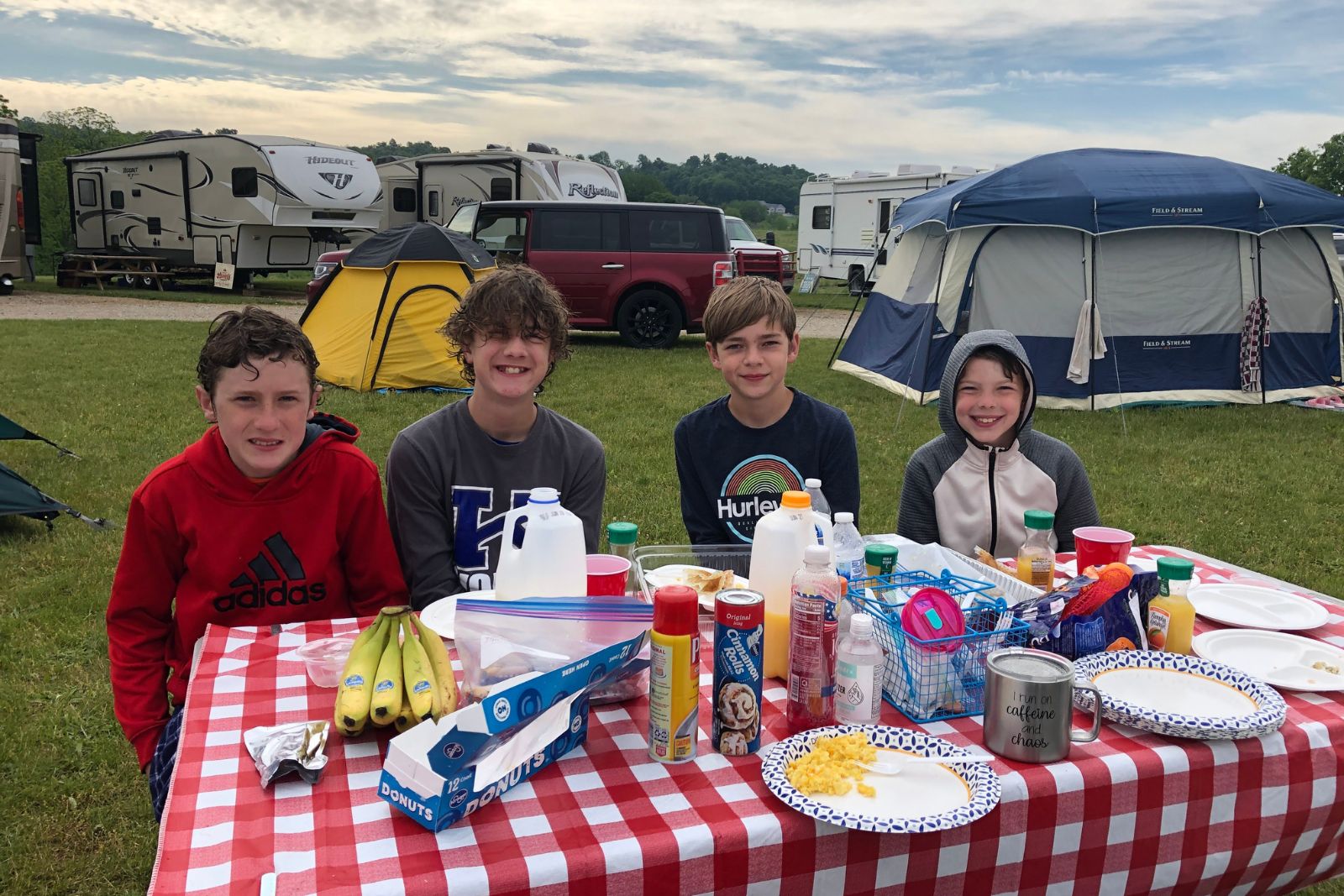 Camping is a great way to spend time together as a whole family. Below are the top tips and things to pack for a successful family camping adventure. You don't need expensive gear, but you need the right gear. Learn from our past camping experience and grab our printable list of family camping essentials.
Some of the links below are affiliate links. This means that, at zero cost to you, we will earn an affiliate commission if you click the link and make a purchase. We appreciate your support!
My family tent camps at least twice a year. So I wouldn't call us insanely outdoorsy, but we've braved weather from frigid to super hot. From water dripping on my face in the middle of the night to Wizard of Oz winds (note the ponchos covering our gear in the photo below, and know that we were in wet sleeping bags).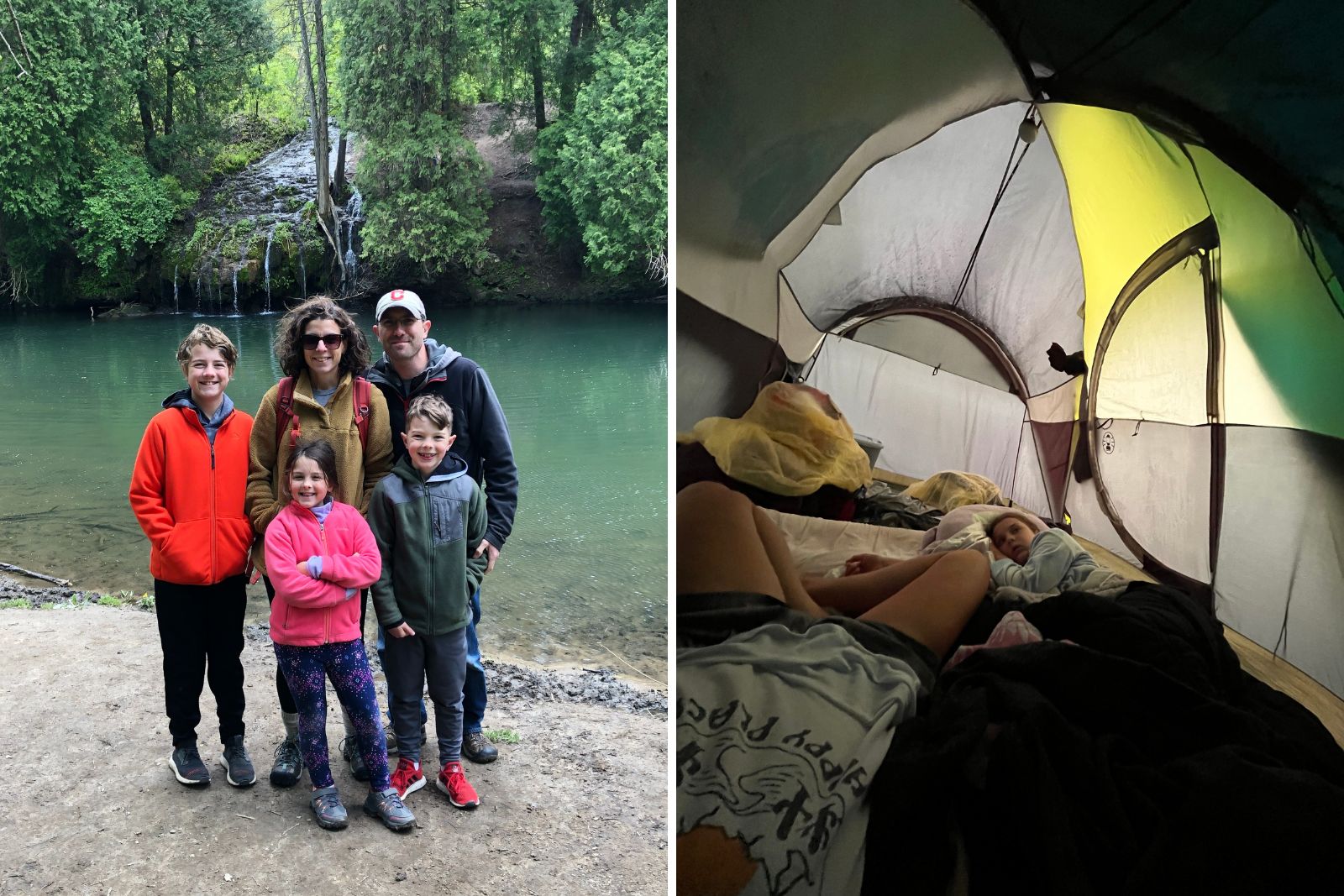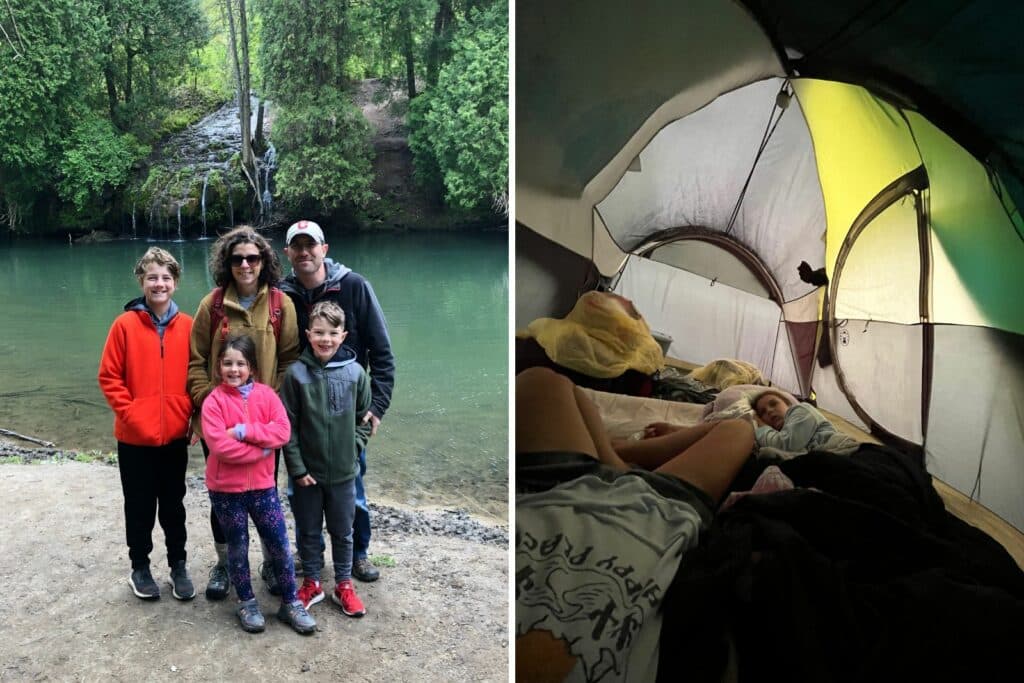 We started camping as a family when our oldest was a toddler. So we took babies in Pack 'n Plays. Then we had a tent full of young children. And now our teens sleep in their own tents. (One year they even slept in hammocks with bug nets – see photographic evidence below.)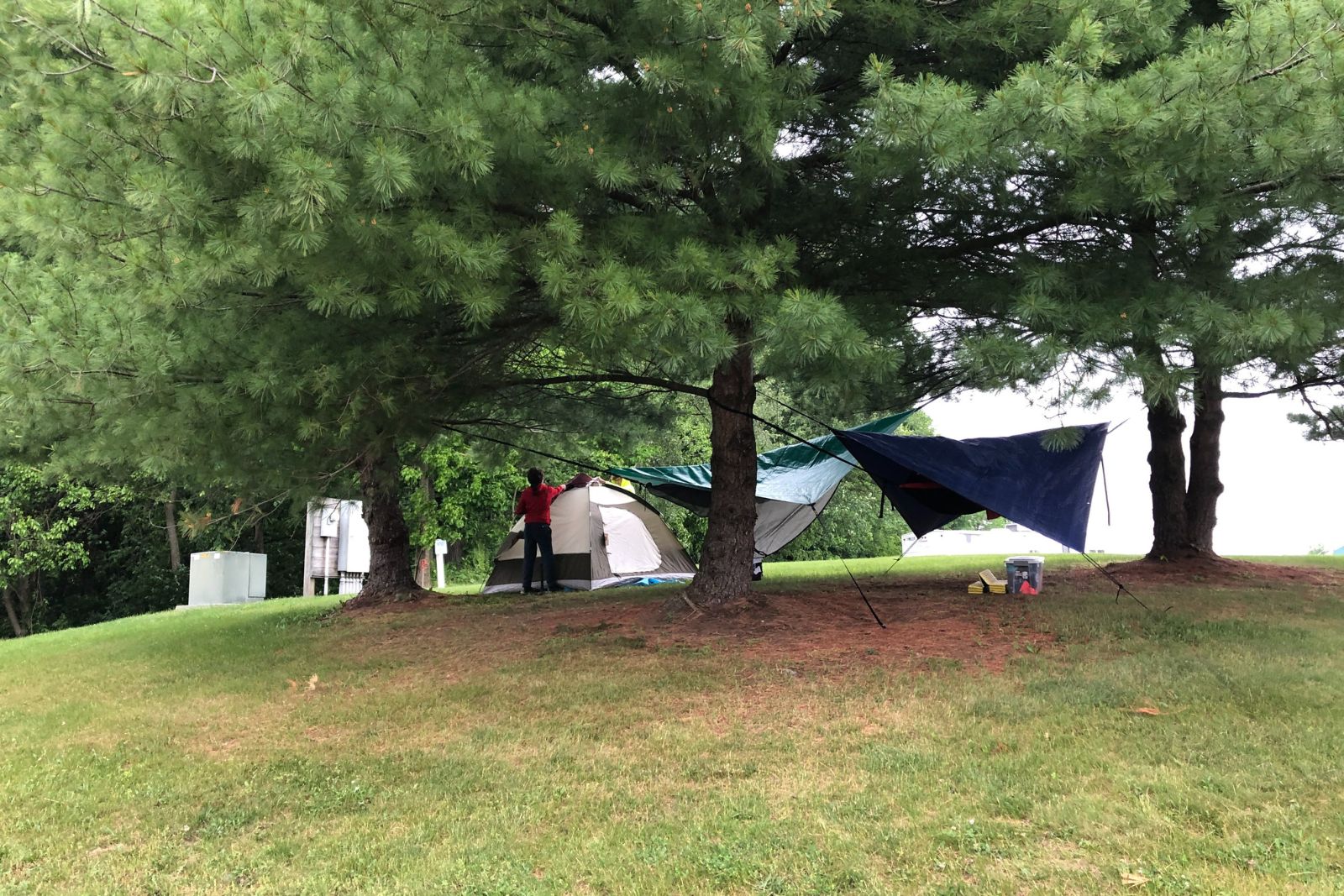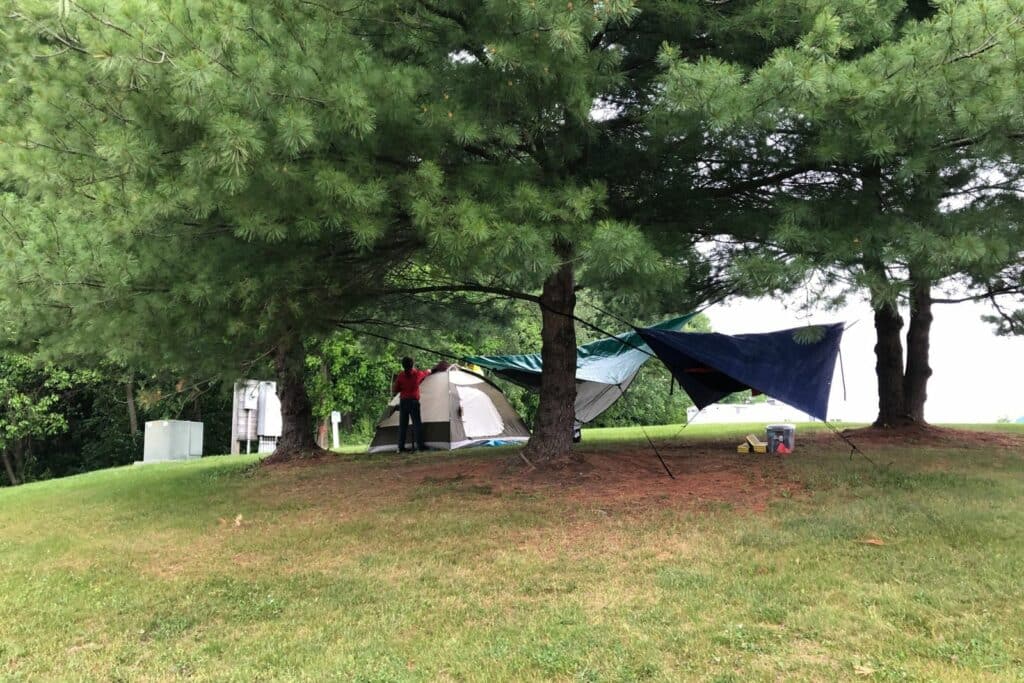 Our family camping experiences are up there among my favorite memories as a mom.
Whether you're a campaign newbie on your first camping trip or you're an expert at the great outdoors, we've got some suggestions that will help you have a great experience. Your first family camping trip can be with young kids or with teens. Different, but fun either way.
Camping is a lot of work, but trust us when we say that the quality time you spend together in even one weekend of camping is worth it. It's also an activity that unites the entire family, with fun things for everyone from younger children to older kids to do depending on the camping spot you choose and the supplies you bring.
The key to successful camping is solid planning. Consider whether you want to camp at an established campground where you have more amenities or at a remote camp site in one of the national parks with beautiful scenery. Then look at the weather forecast and create a family camping checklist (or print our free camping packing checklist).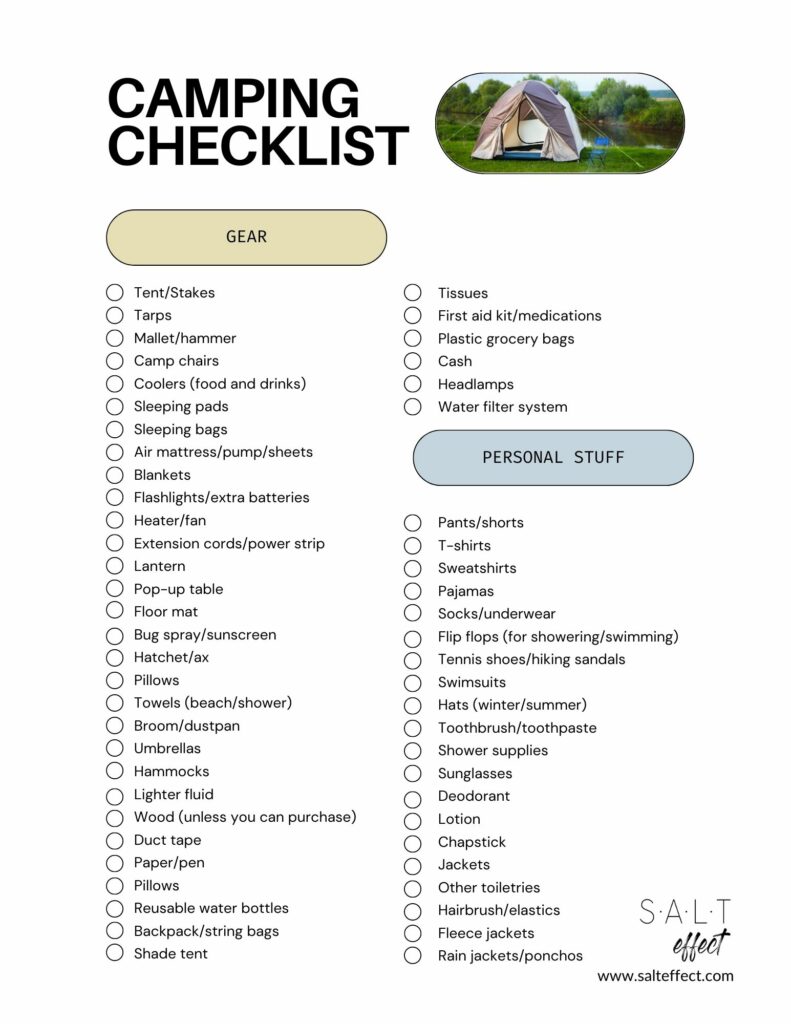 There are two other things I did years ago that make camping prep SO much easier every single time we go.
Camping Hack #1: Use a packing list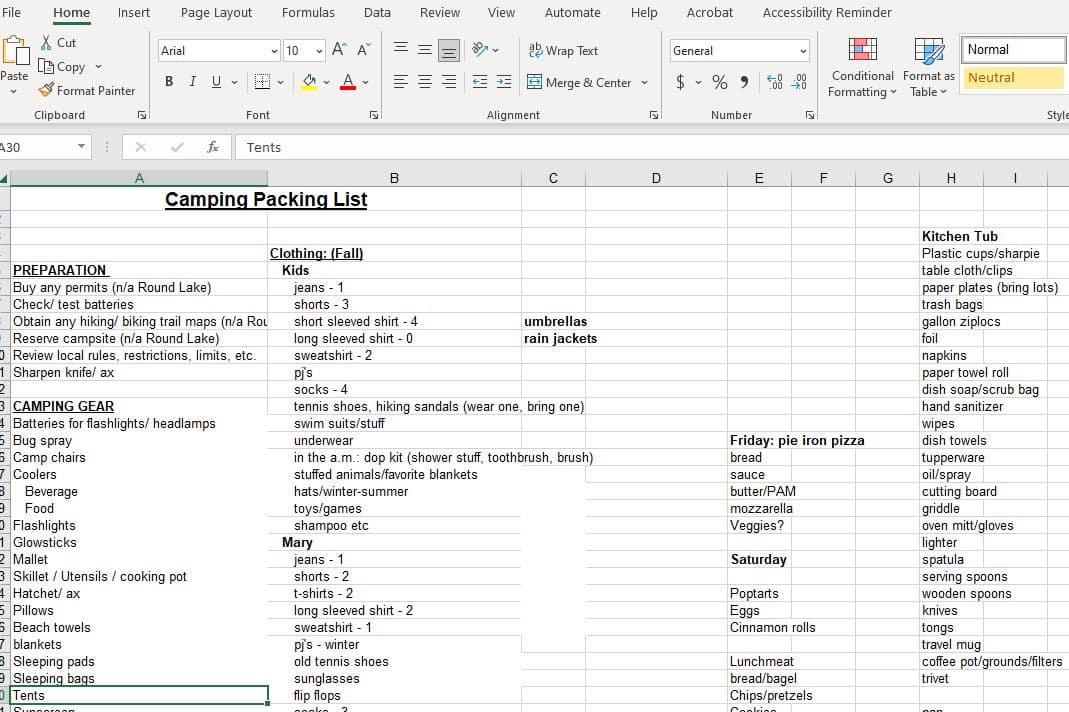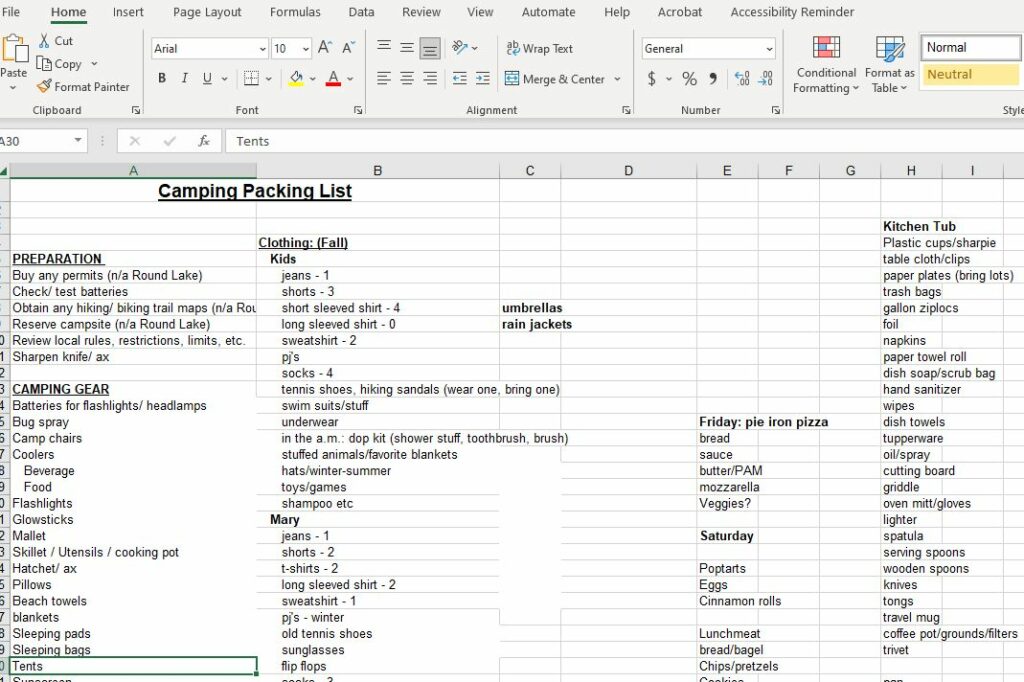 Creating a packing list spreadsheet might be the best thing I ever did to make camping prep less stressful (ok, so I stole it from an even more Type A friend – but I definitely modified).
You need quite a bit of stuff for a really fun family camping trip. Being ready for different weather, having everything needed for meals, and planning a few fun activities for kids makes for a great trip.
I open my trusty spreadsheet before each trip, make a few modifications and I'm ready to go. Honestly, the hardest part is updating the meal and food planning. The rest stays much the same campout to campout.
Grab our free printable family camping packing list as a starting point.
Camping Hack #2: Store a stash of dedicated camping supplies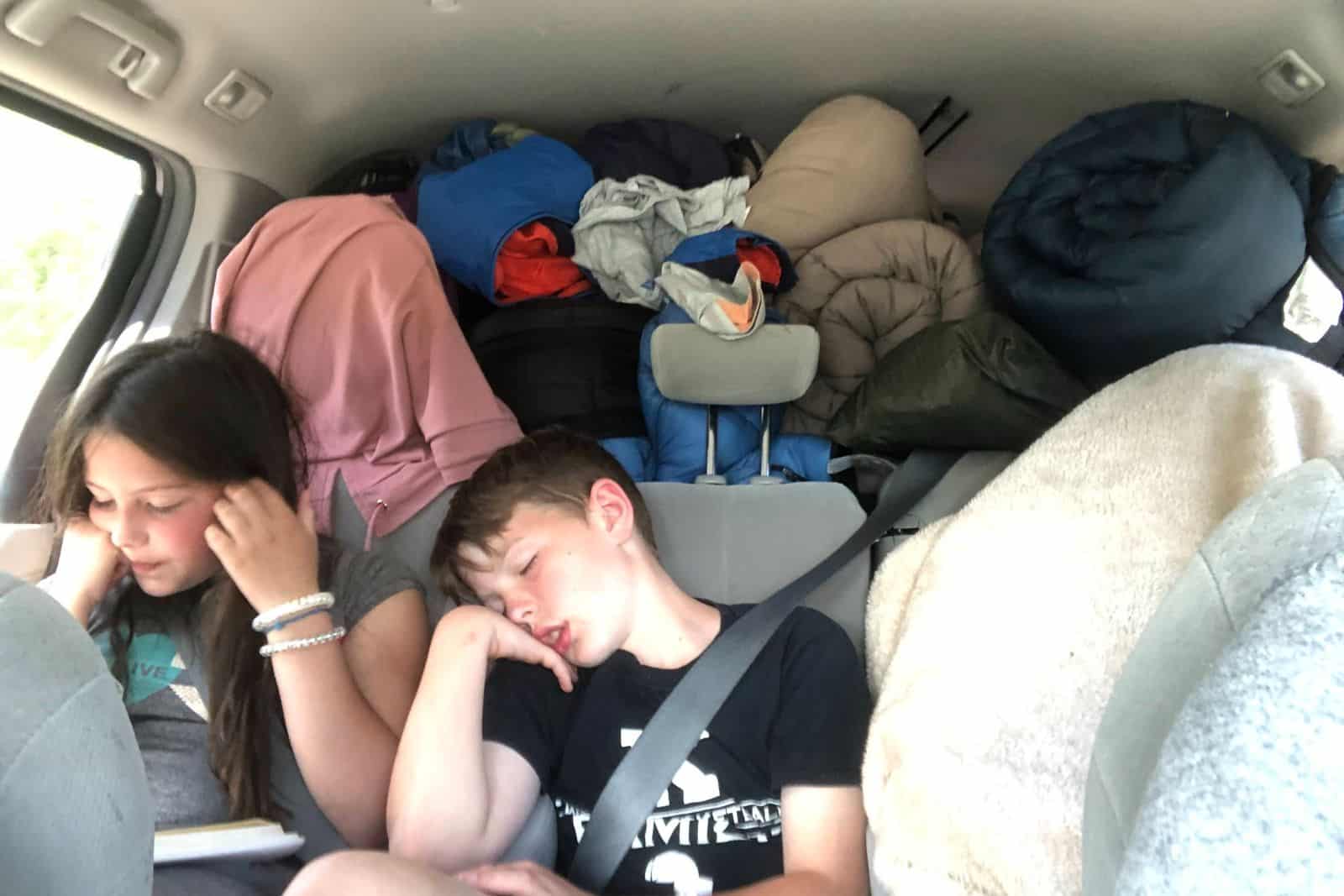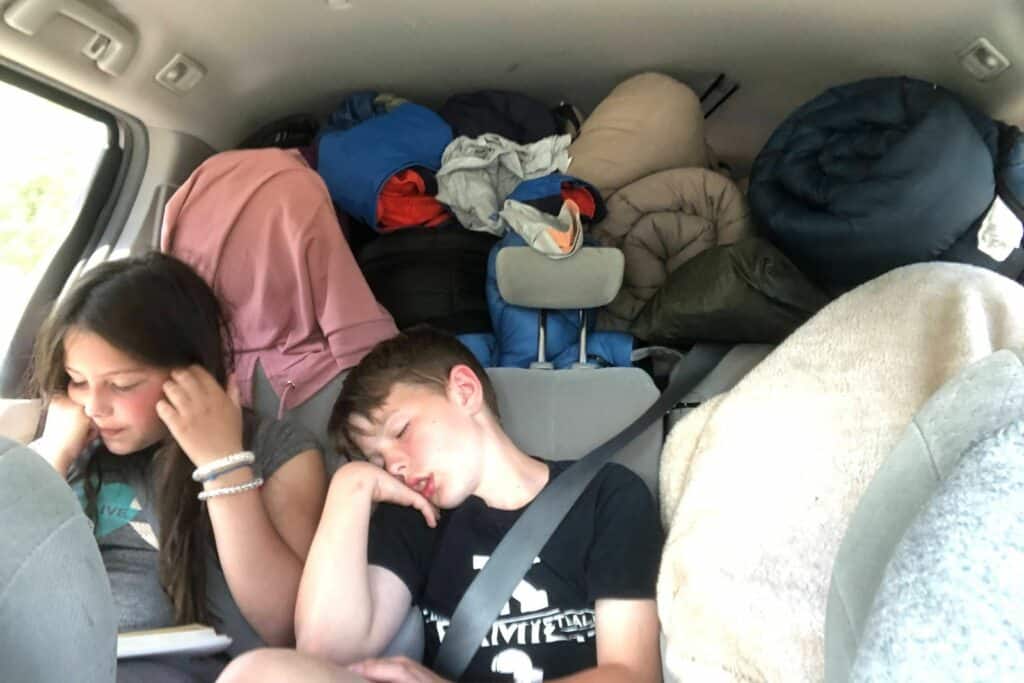 Camping prep magically became easier the minute I filled plastic tubs with supplies permanently dedicated to camping. I have a Kitchen Tub and a Tent Tub. They live in my crawl space between camping trips and hold almost everything I need.
This means I invested a little bit of money to duplicate kitchen items I use for camping so they can stay in my camping tubs full-time. Things like a spatula, can opener, a couple knives, cheap cutting boards, a roll of foil and hot pads. I can't tell you how much time and effort I save by having a separate stash of camping supplies rather than raiding my kitchen to gather what I need every time.
I keep a running document listing what goes in each tub. When we get home from a camping trip, I wash things and take inventory of what we used. Then I restock and pack away full tubs that are ready for the next trip. I tuck the printed list in each tub and reprint when it starts to get really grubby. Our free printable Family Camping Packing Checklist includes my Tent Tub and Kitchen Tub lists.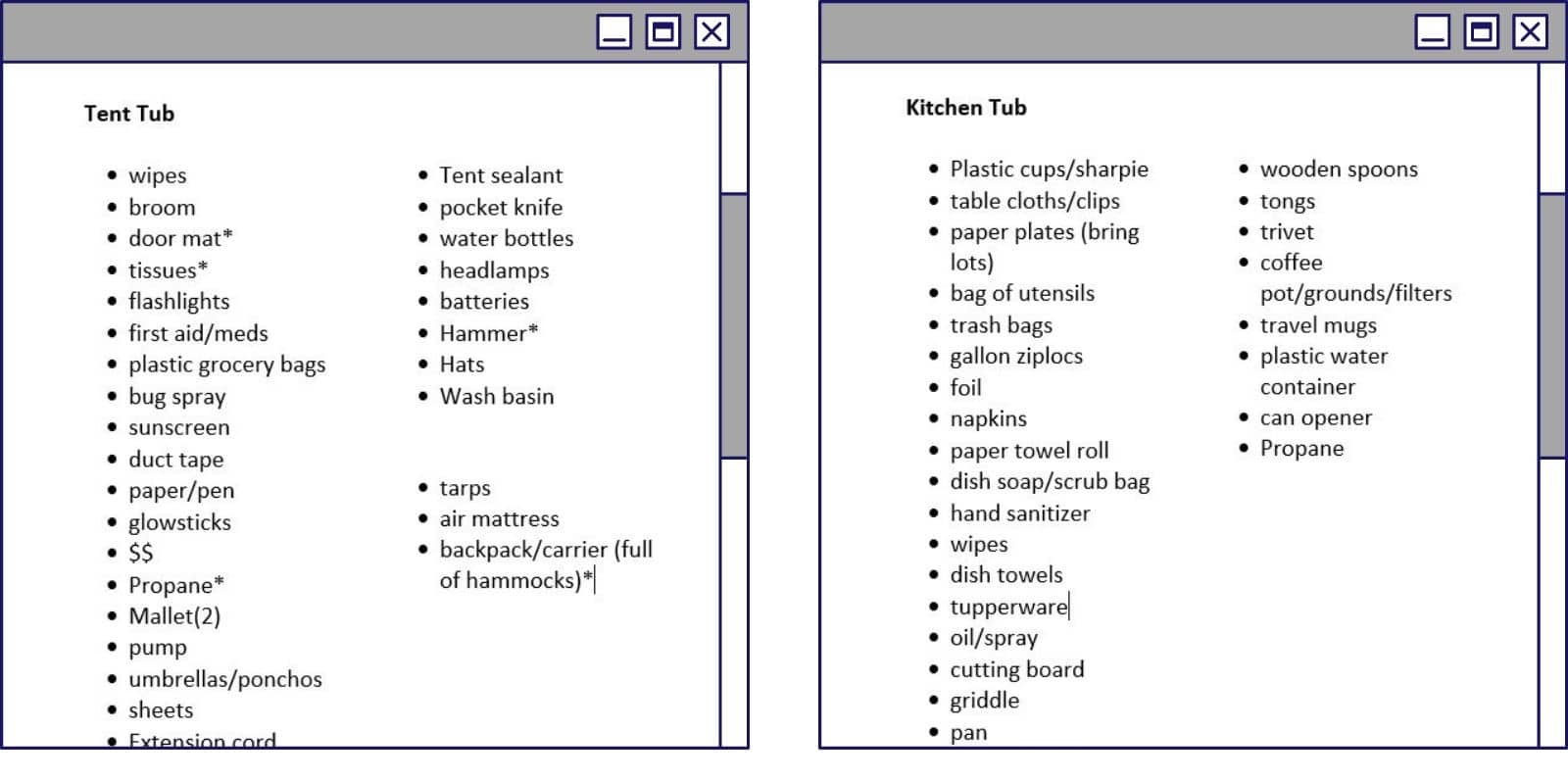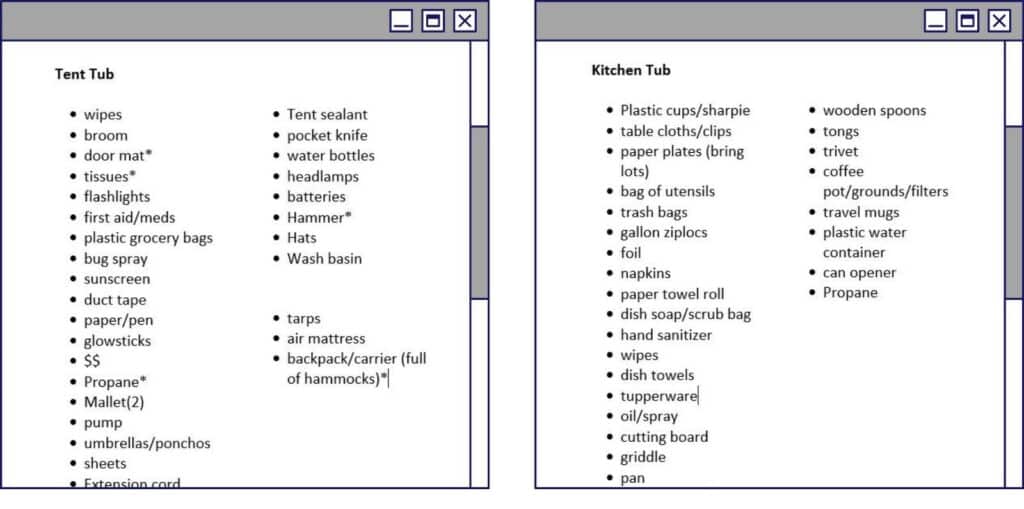 This family camping packing list does not include clothing and toiletry items. I'm focused on the essential items you need to set up your campsite, cook and have fun as a family over a camping weekend (or a week if you're really brave).
Housing Supplies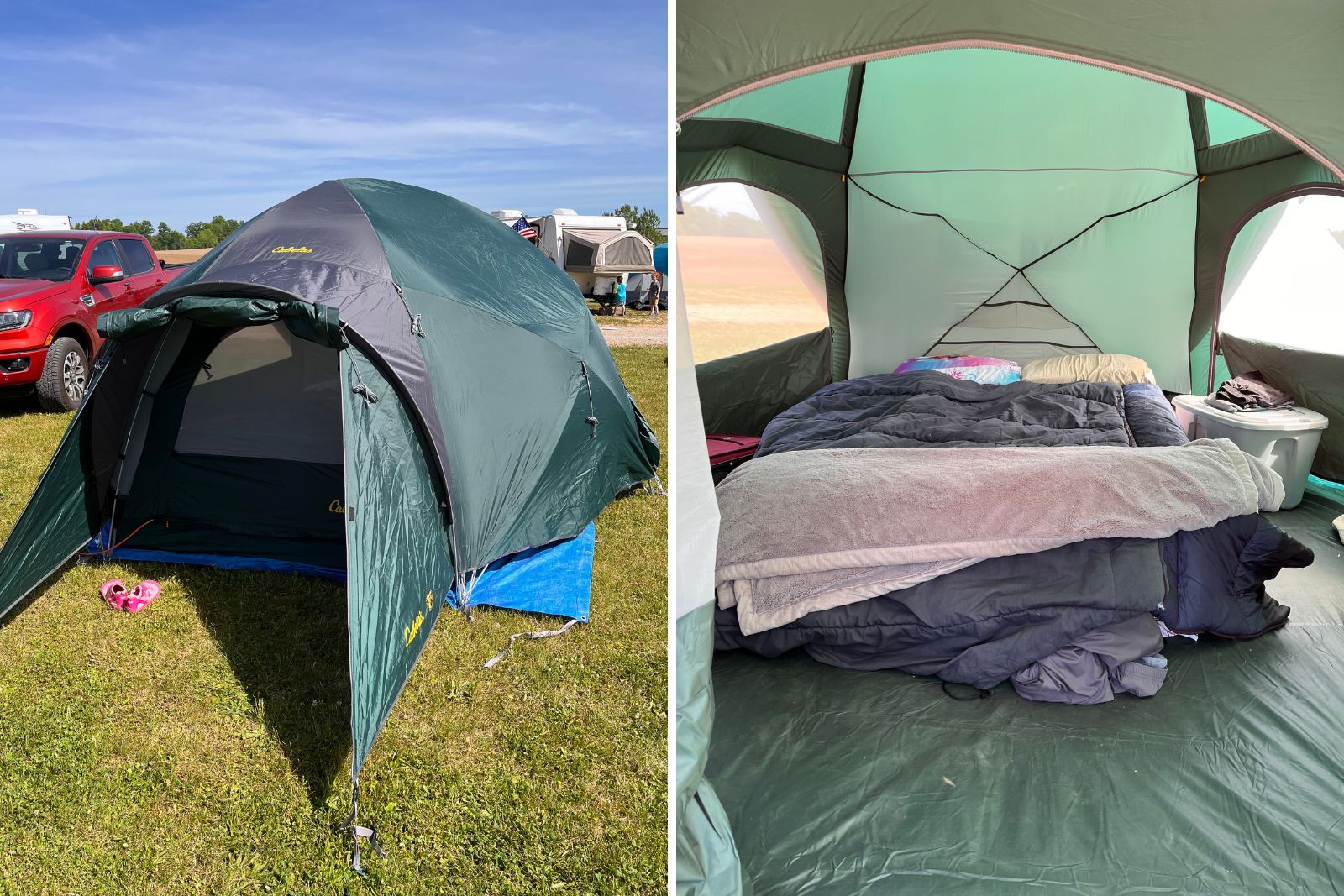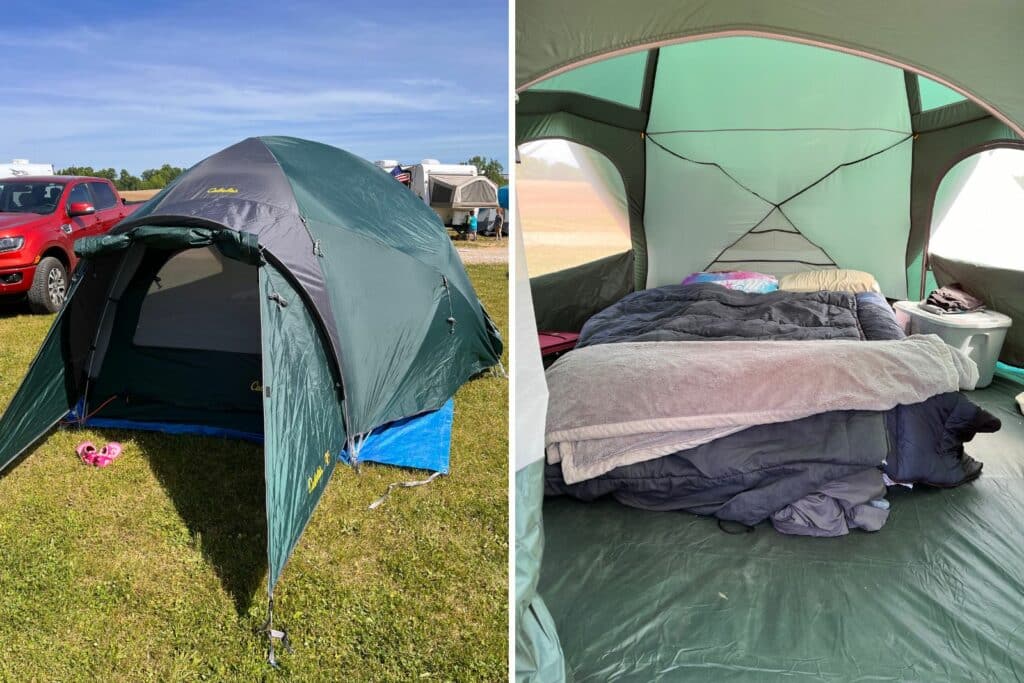 Unless you're bringing a camper, you'll need a trustworthy family tent. We registered for a Coleman 6-person tent similar to the one below when we got married, and it lasted us 20 years. It's an affordable choice if you want to try camping out during moderate weather. But it's a summer tent and not equipped to handle colder weather or rain.
After one too many summer rains, we finally invested in a more weather-proof model as a second option: Cabela's Alaskan Guide Model. Two friends had this tent and loved it. I also did a ton of research and ultimately came back to the same tent. We've taken it on its inaugural trip and it was super solid and DRY even in rainy conditions.
If you're camping in cold weather or taking a fall camping trip, please please invest in at least a three season tent. Water dripping on your face in the middle of the night and kids freezing in wet clothes do not make for happy family campers.
Pictured below is our 6-person tent next to our friends' 8-person. The 8-person is definitely bigger and the extra height is especially nice in the entrance and when you're trying to stand in the tent.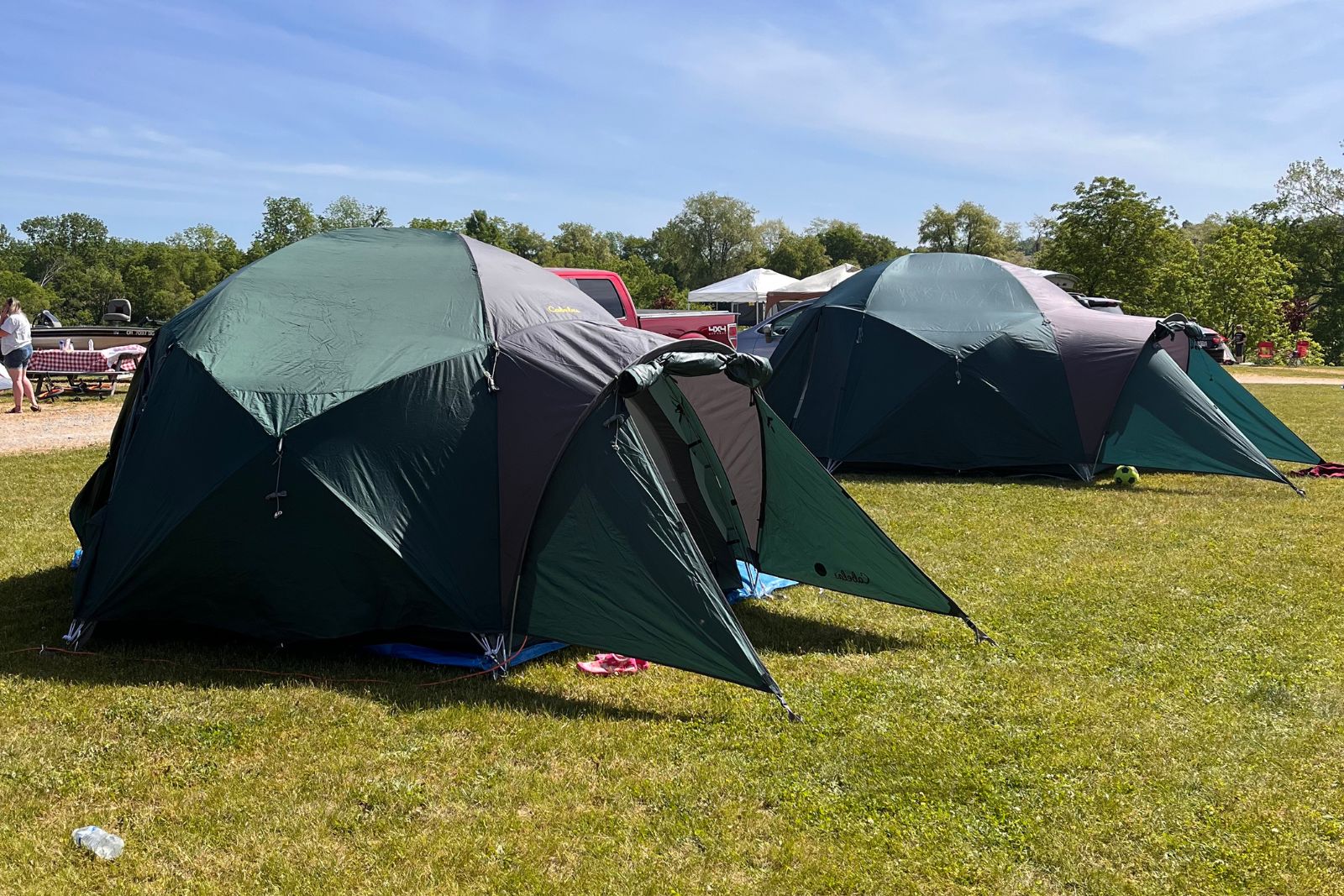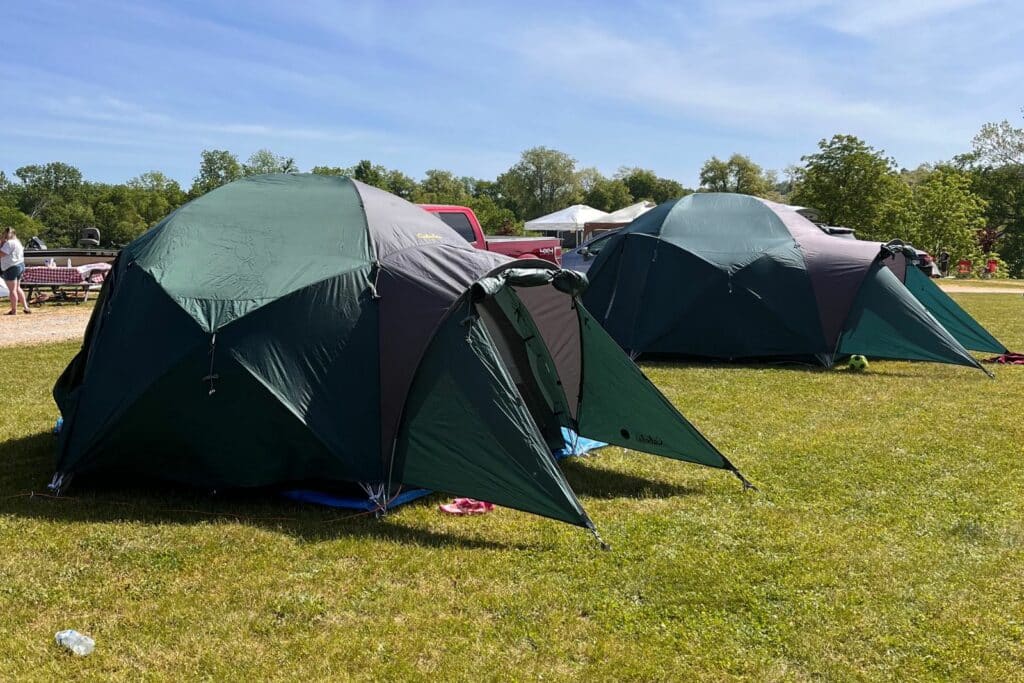 We also own this 3-person Coleman tent. This is where our teens and their friends like to sleep when we camp. It's super affordable and easy to set up. And it kept the kids dry even during storms.
Make sure to bring bedding:
One sleeping bag per camper (I bring sheets for my air mattress and use sleeping bags as blankets)
Air mattresses or a sleeping pad to ensure a good night's sleep (not only for cushion but to keep bodies off the potentially cold ground of the tent floor). We recently bought the air mattress with a built-in pump below and I LOVE IT. So much easier than finding the pump and attachment in the dark to add a little more air before bed. The kids use the sleeping pads.
Pillows (our family members are particular about having their own pillows)
Extra blankets
Lights to hang from the ceiling and a lantern to light your tent at night. The hanging lantern below has a clip to hang inside the top of your tent and also a small fan to circulate air.
Mallets and a hammer to pound in tent stakes
Extension cord so you can run electric to the tent to charge air mattresses, run fans or heaters or charge phones
Heater/fan depending on the weather. If you have an electric hookup, these are a game changer when weather is really hot or cold.
Floormat to put right outside the tent door for shoes
Dustpan and broom to clean up during the campout and especially at the end of your trip so that you're packing up a clean tent for next time.
Tarps to put under the tent to protect against the wet and cold ground.
Food Supplies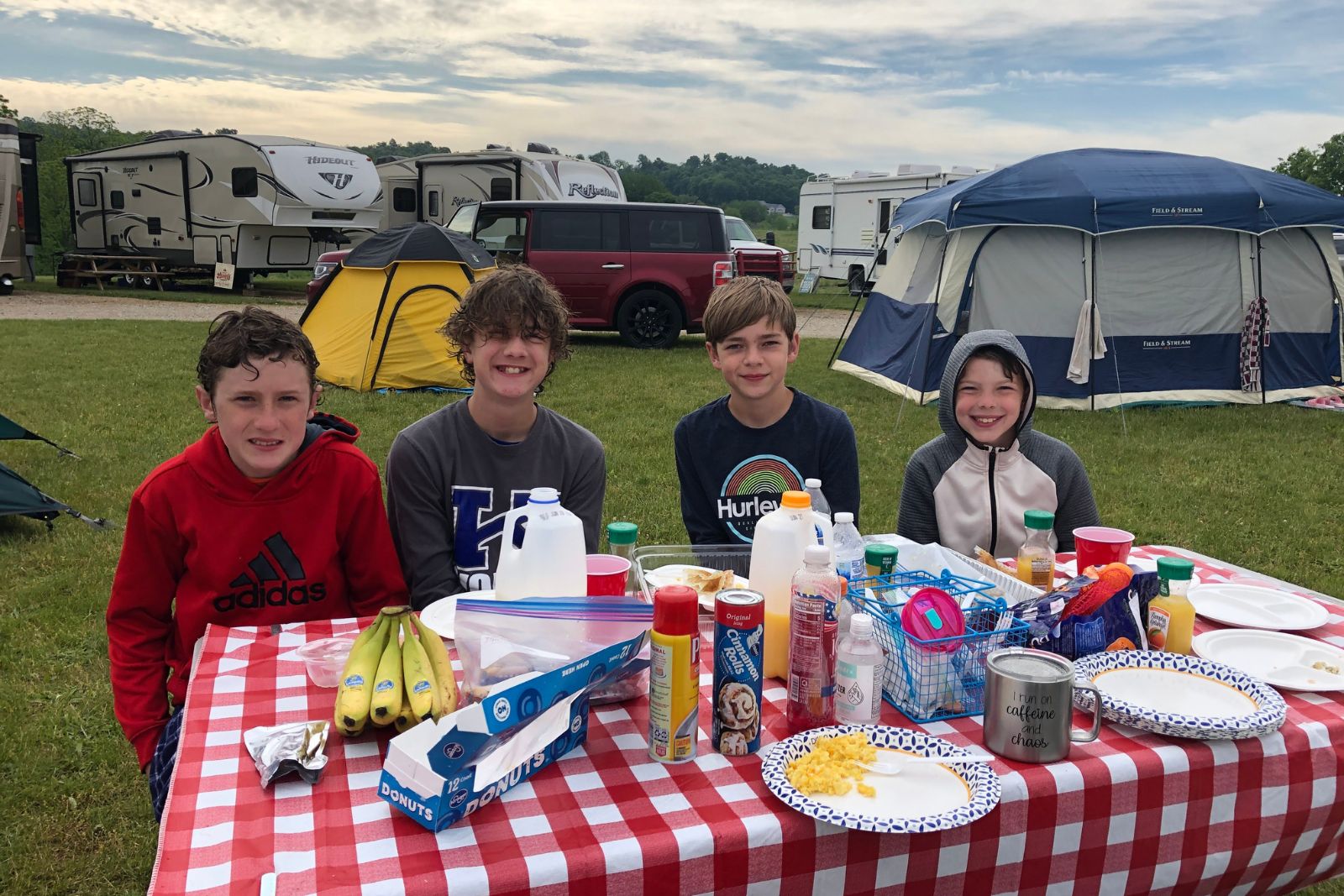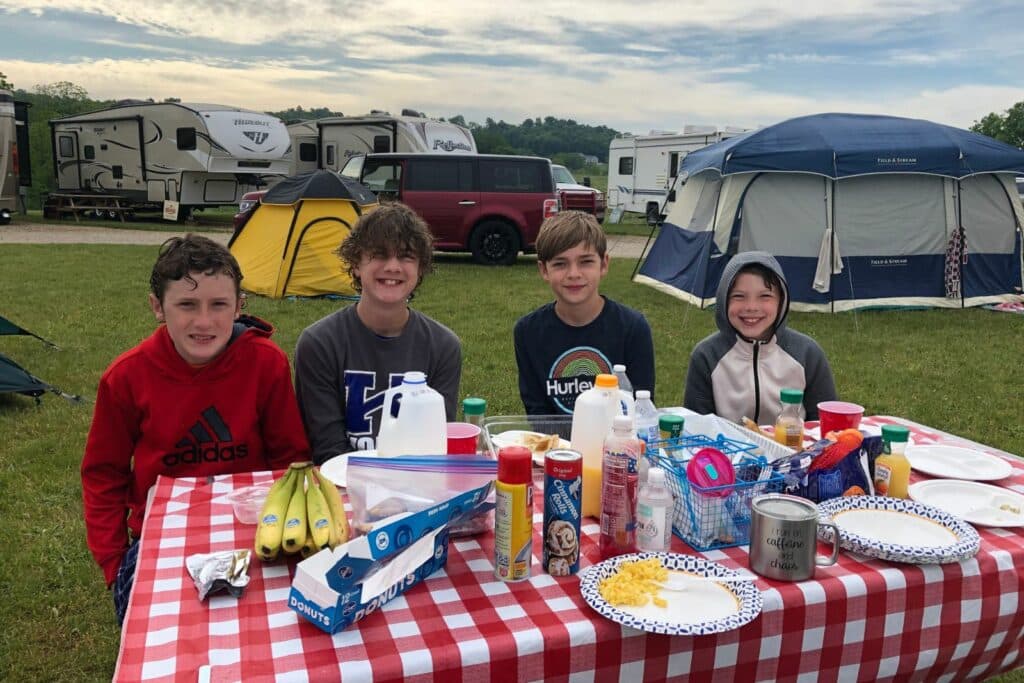 Most campsites provide a picnic table that can kind of serve as a home base for cooking. We also have a pop-up table that was well worth what we paid. It doubles as a lemonade stand and all kinds of other things at home when we're not camping.
We set up the pop-up table with a camp stove on top and the bin of camp kitchen gear and coolers with food items underneath. A Coleman portable stove and the camp fire are all you need if you do some food prep and planning at home before you leave.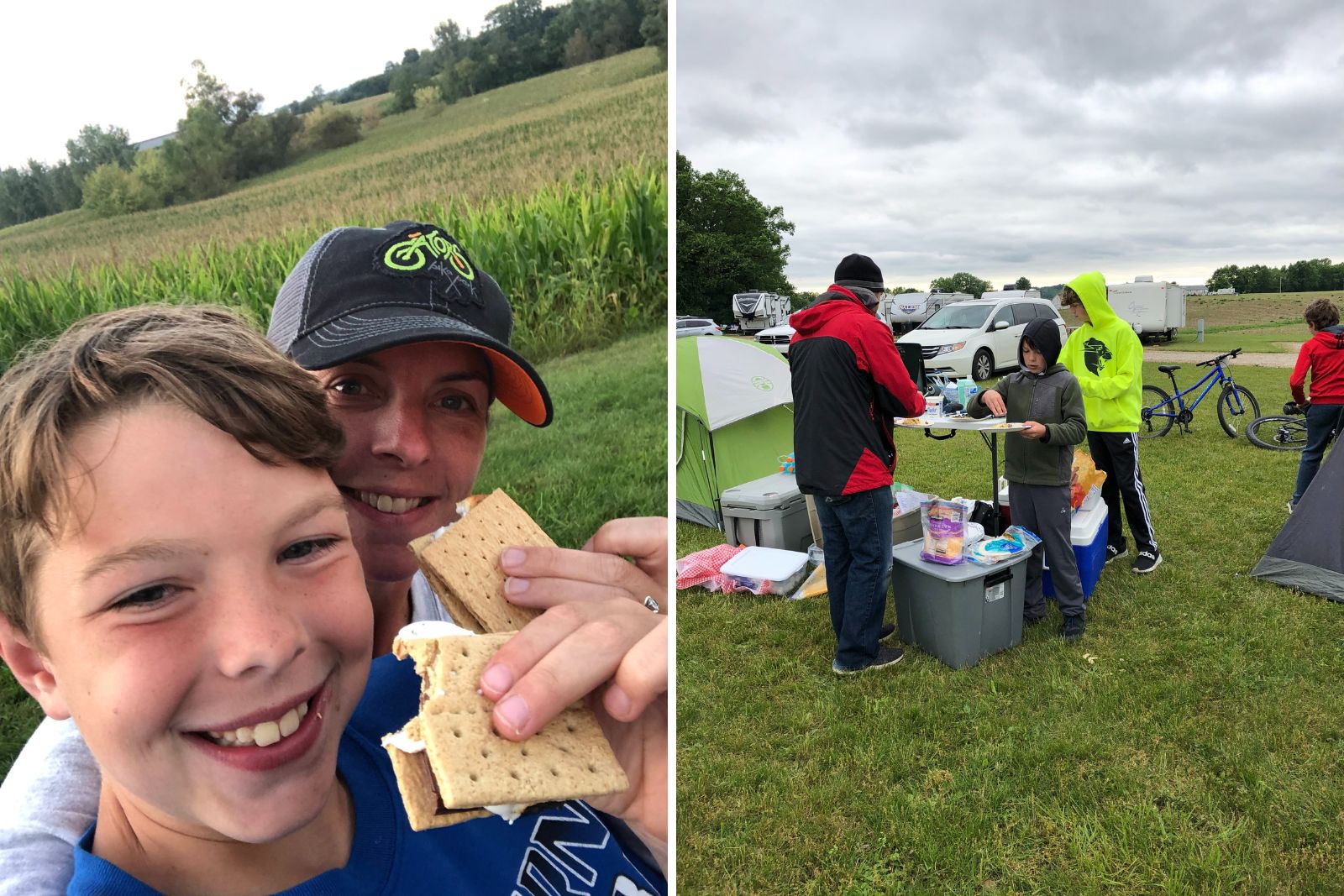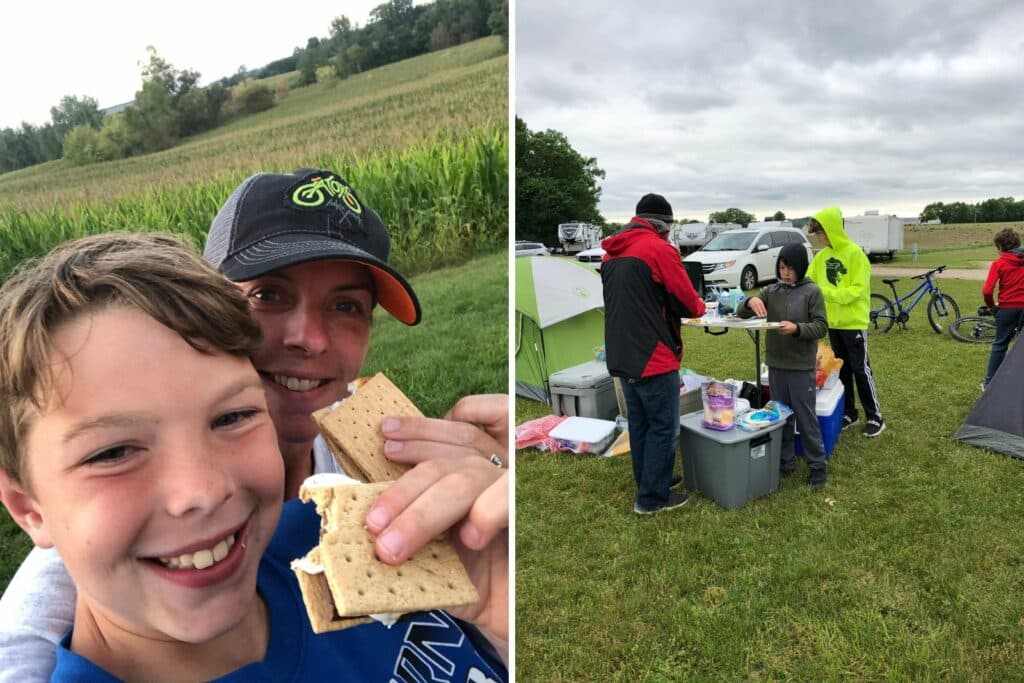 I meal plan our camp meals and prep before we leave. Things like taco meat, chili, pulled pork and hamburger patties are things you can prep in advance and then you're just reheating on the camp stove or cooking over the open flame. I also freeze pre-cooked meat so it lasts longer in the cooler and helps keep other fresh food cold.
Research your campsite so you know if there is a water source nearby. You can bring plastic water bottles or a filled water jug (or water jugs) for water storage and refill water bottles from that jug throughout your campout. If you're camping for a longer period of time and can't bring enough water, you can also bring a water filter.
Other cooking gear to have on hand:
A cooler for food and a cooler for drinks. We asked for a heavy duty cooler as a family Christmas gift, and it's a game changer for camping. I feel safer about my food and there's still ice in the cooler after two days even when weather is hot. I use a more basic cooler for drinks and just replace ice as I'm able.
Cooling rack or trivet
Skillet and other pans
Hatchet/ax for splitting wood to keep the fire going
Paper towels
Plates, silverware and napkins
Can opener
Knives
Ziplock bags (gallon and baggie)
Utensil caddy (I got a wire one at the dollar store and it's maybe our most-used piece of camp gear because it sits on the table for the entire campout)
Plastic/metal mugs for coffee and hot chocolate
Small propane canisters for the cook stove
Lighter
Spatula
Serving spoons
Tongs
Cutting board or mats
Grill gloves
Roasting sticks
Pie irons (spray these with oil and use bread and filling to make grilled cheese, pizza sandwiches or even fruit pie filling treats)
Coffee pot – my camp percolator coffee pot makes my favorite coffee of all time. I put it on the camp stove first thing every morning.
Plastic table cloth and picnic table clips
Foil
Hand sanitizer/wipes
Dish towels
Tupperware to store leftovers
Cooking oil/spray
Griddle (if you have access to electric and need it for your meal plan)
Wooden spoons
Graham crackers, chocolate and marshmallows for s'mores (I keep my graham crackers and marshmallows in a small bin and the chocolate in the cooler. That way I can find the supplies at dark and it can be left out overnight without getting stale or waterlogged.)
Salt and pepper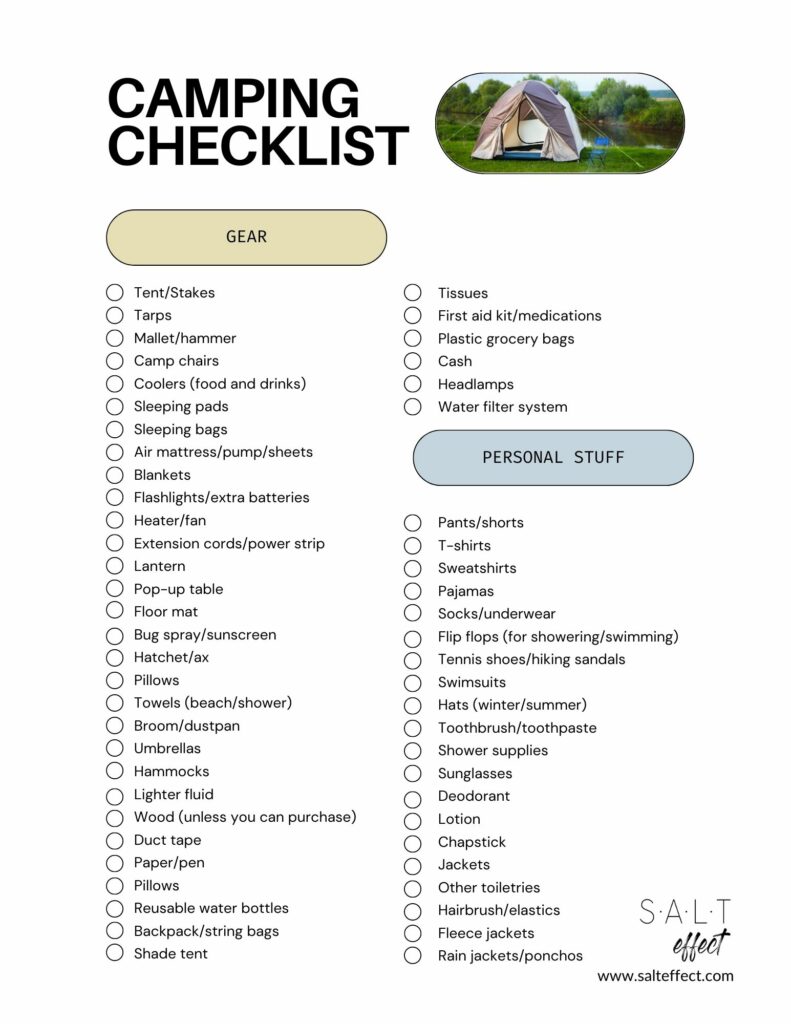 Cleaning Supplies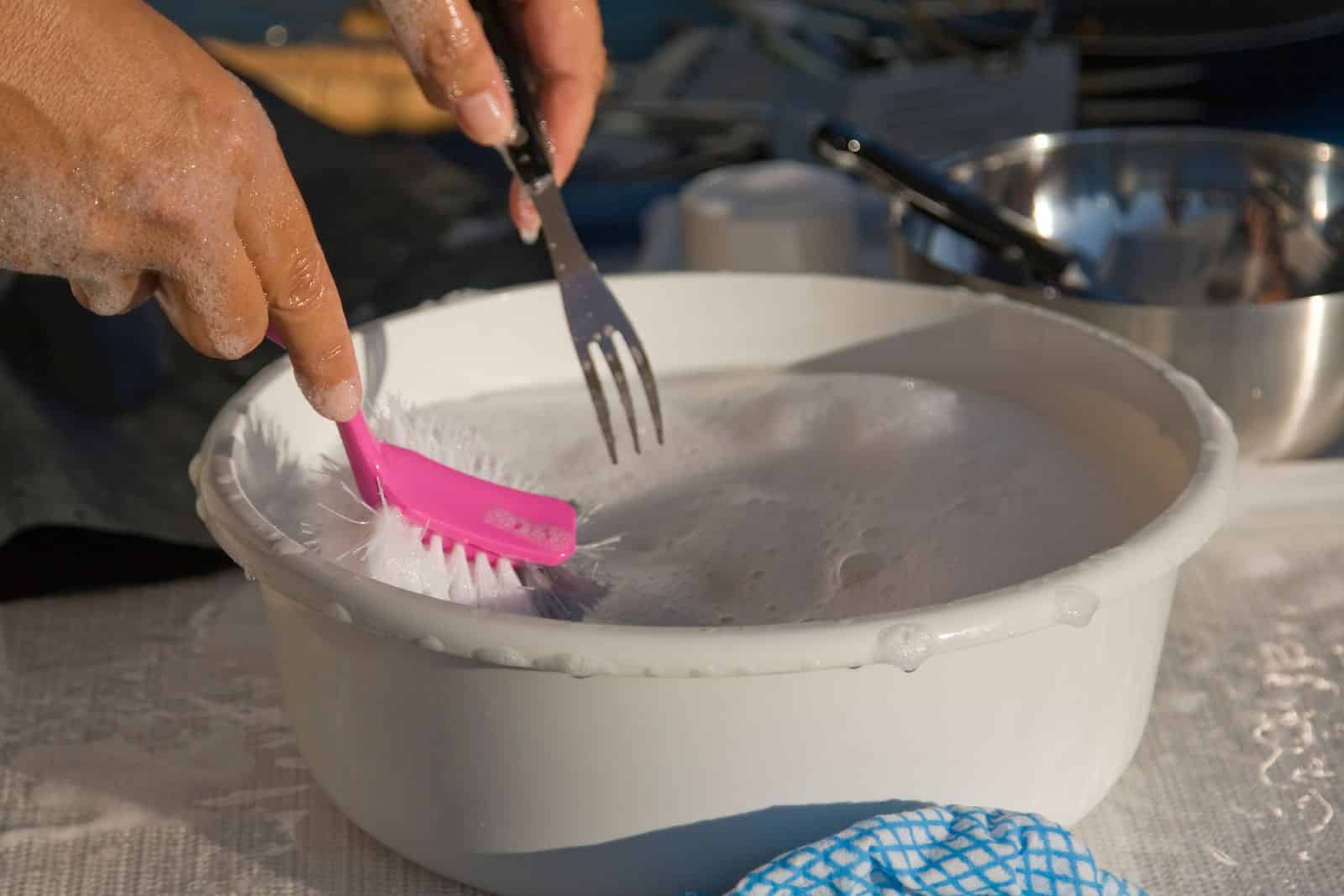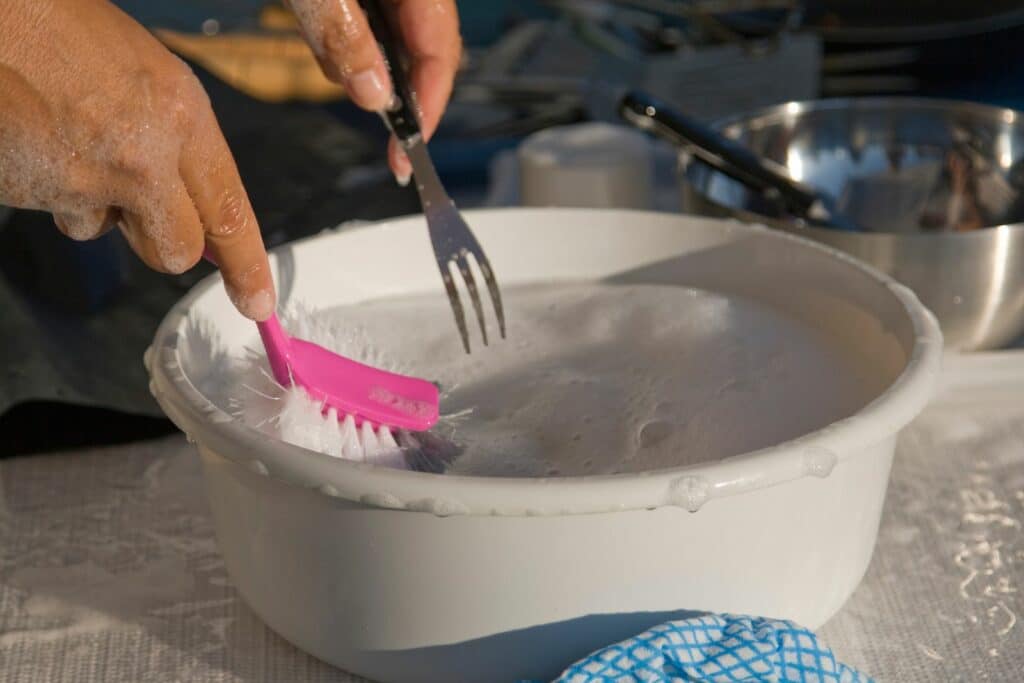 Cleaning up after meals and washing dirty dishes in the wild kind of stinks when you're camping, but it's a necessary evil. We bring plastic tubs to fill with dish soap and water along with scouring pads and towels.
We tend to use paper plates, but other friends have plastic or metal camp dishes that they wash each meal.
We also bring Lysol wipes and hand sanitizer to keep the campsite as clean as possible. And the handheld broom and dustbin stay in the tent so we can clean out big things we track in throughout the campout.
Fun and Game Supplies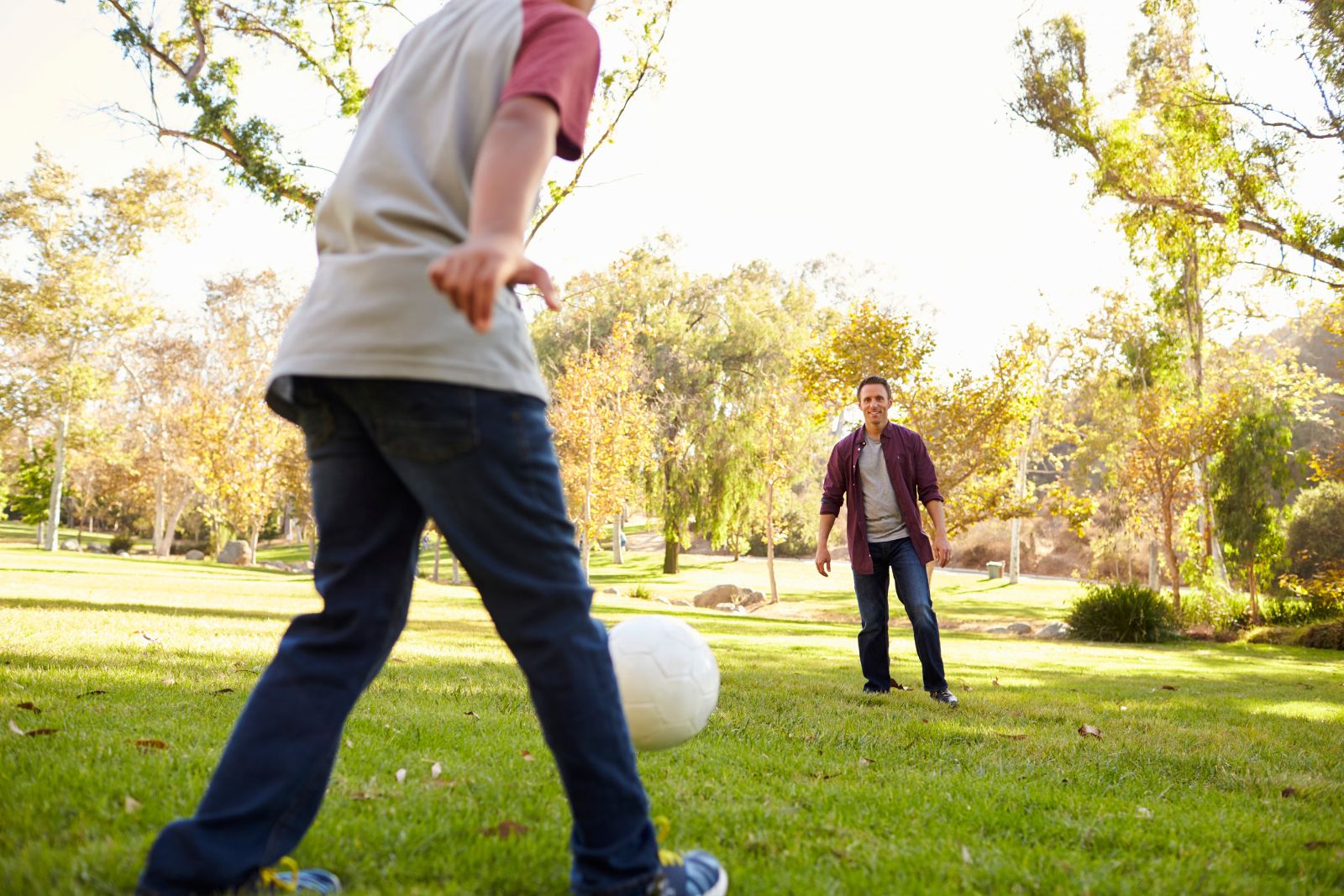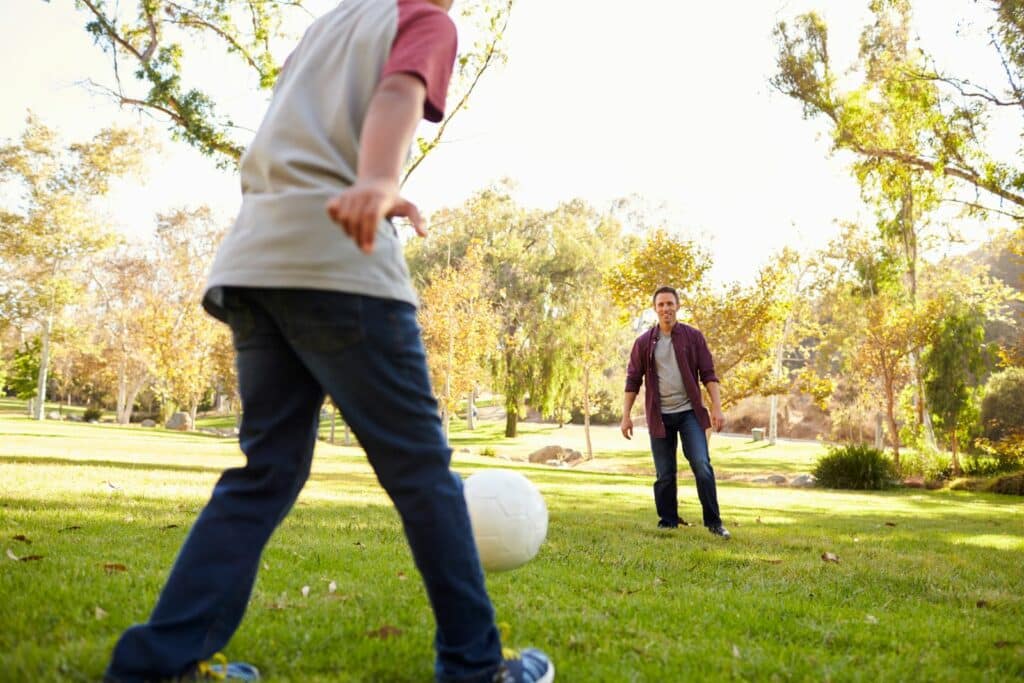 It's easy to get caught up in all the supplies you need to live and eat while you're camping, but you don't want to forget to bring things to do.
Your campsite might offer good hiking, swimming or other activities for your free time. That's great, but it can also be fun to bring some things to do around your own site, after dark or if bad weather strikes.
Outdoor games and outdoor activities like Spikeball, wiffle ball or a kickball are easy to bring along. We also usually bring a stash of board games and card games along with a speaker to add some music to the site.
If you plan to camp near a lake, bring life jackets, fishing gear (with bait) and towels.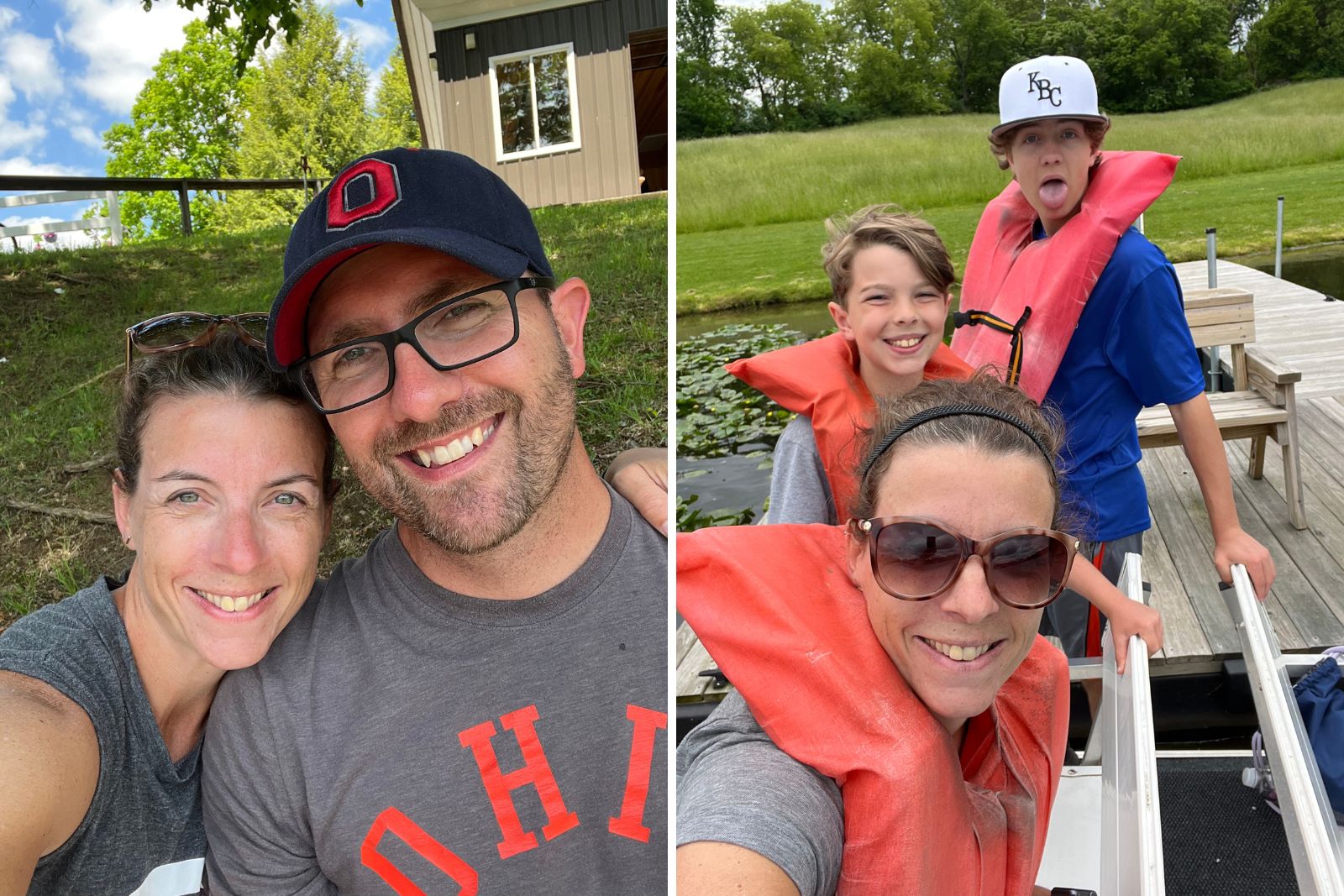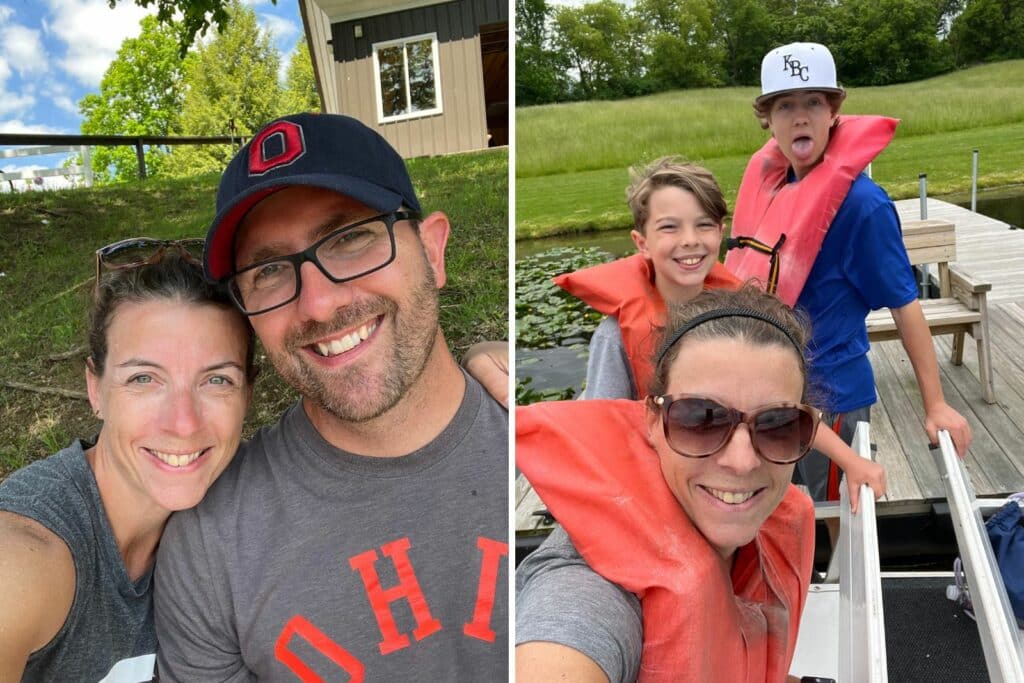 For after dark, make sure to have camp chairs to circle around the fire for s'mores and glow sticks if you have younger kids who want to run around the campsite. Flashlights and headlamps are also a must-have, especially if bathrooms are a bit of a walk from your site.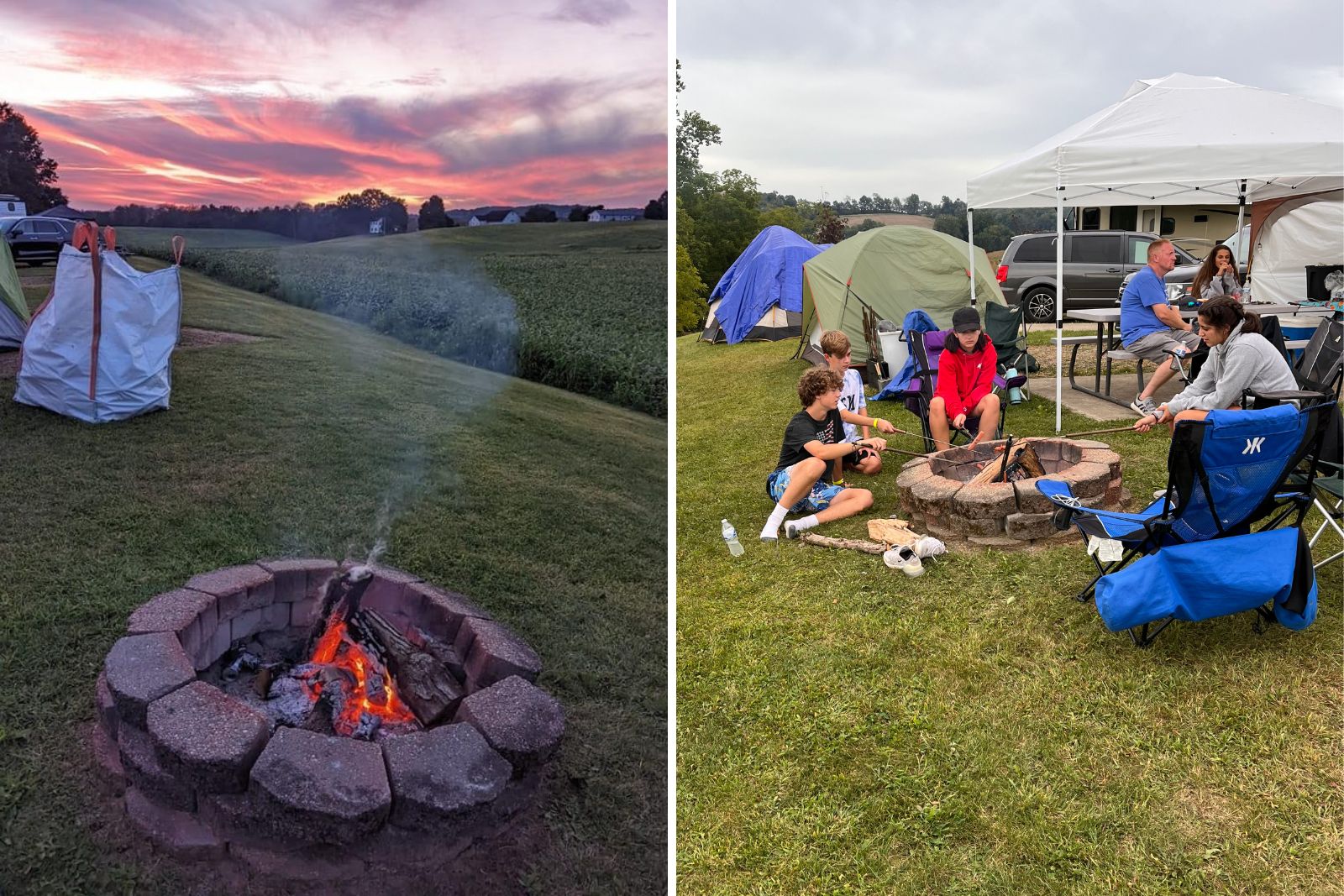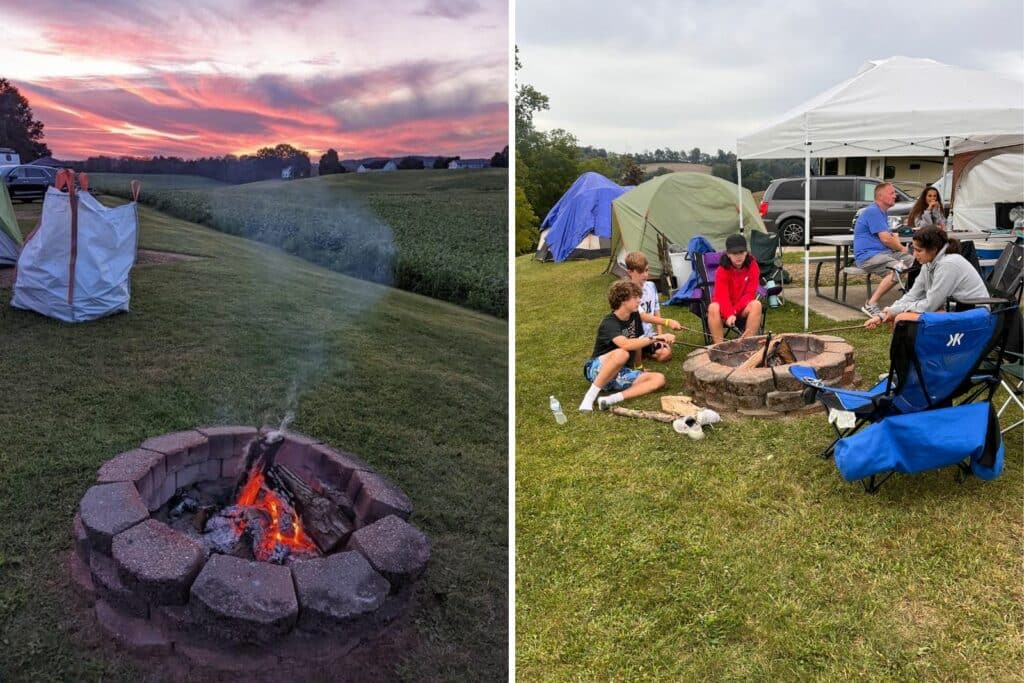 Camping is also a great time to relax and recover, so think about bringing some books and hammocks.
Other Supplies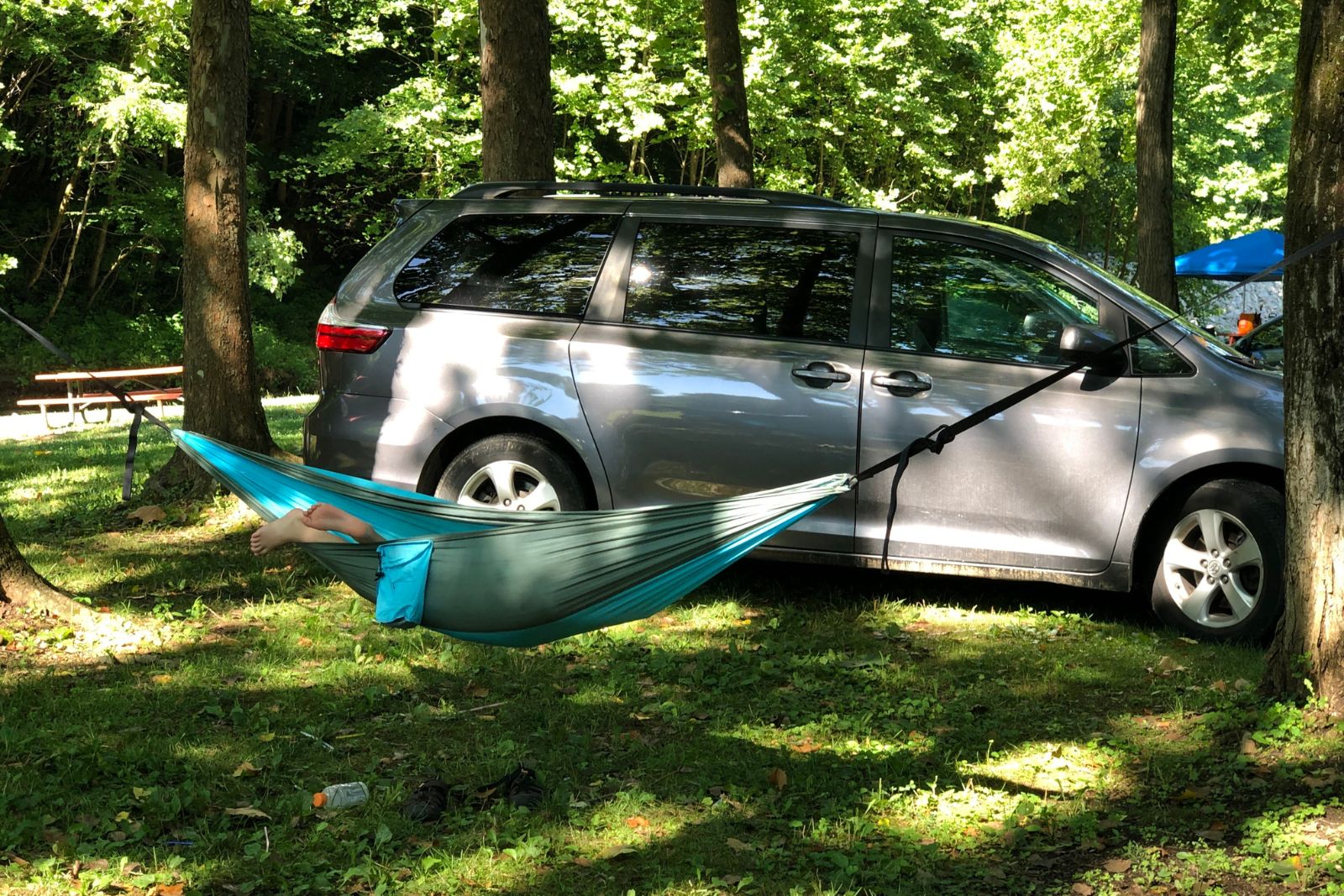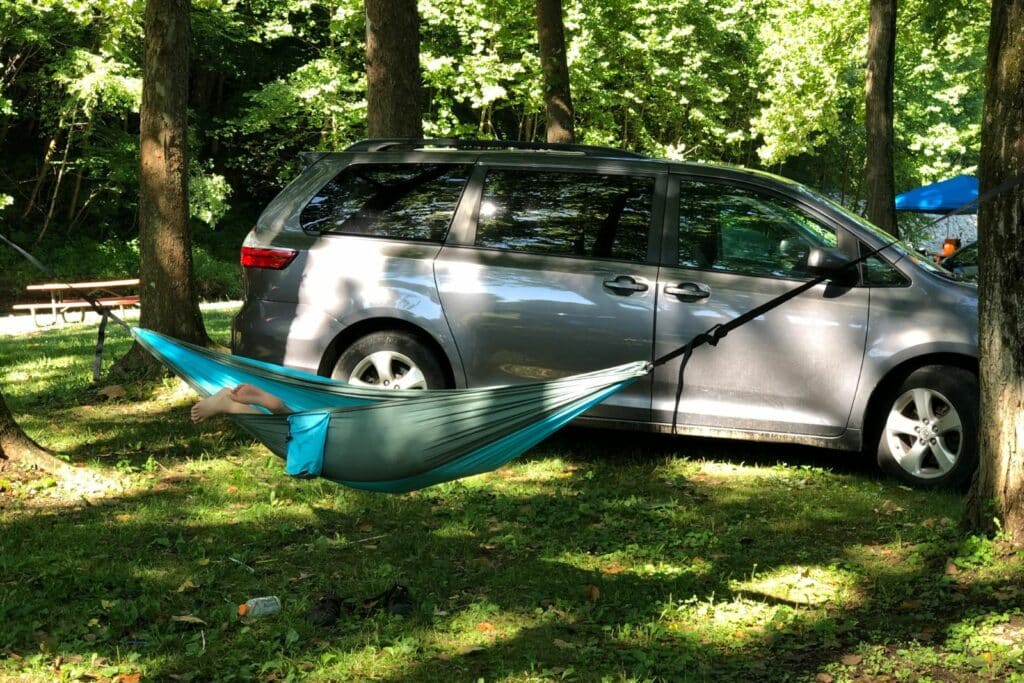 Here is a list of important things and extra gear we always bring along on camping trips, depending when and where you're camping.
Hammocks
First aid kit and some key medications (like anti-itch meds for poison ivy itch)
Duct tape
Toilet paper
Bug spray
Pocket knife or Swiss Army knife
Extra batteries
Lip balm
Sunscreen
Rain jackets or fleece jackets
Packing cubes can be a helpful tool and another way to keep clothes organized and dry when you pack as a family
Trashbags
Umbrella
Family Camping Packing List (free printable)
Get our free printable Family Camping Packing List for your next camping trip.