How to Know if Your Family is Overscheduled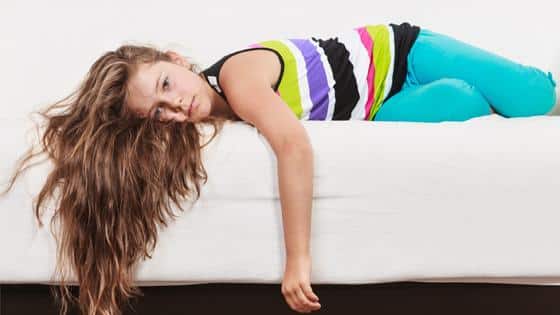 When we talk to working moms about their day-to-day, we hear phrases like "survival mode" and "rat race" and "hamster wheel." Many of us are pretty busy and fairly stressed. Moms typically control the family schedule, and overscheduling yourself or your kids can carry some dangerous consequences. But research also shows benefits to scheduled activities for kids. Read on to see how to strike the best balance for your household.
As a working mom with three kids in school, there are a few areas where my mom-guilt flares up on a fairly regular rotation. Let me add as a caveat that in general, I'm not a very guilt-ridden person. I don't really stew on things – that's just the way I'm wired. But when I get too busy or tired or overwhelmed, the annoying mom guilt gets even louder in my ear. I don't think any mom completely escapes it, regardless of personality type or number of kids or family structure.
Do any of these sound familiar?
Guilty Mom Thought #1: I'm not spending enough time daily with my kids, or with each individual kid.
On work days, I'm trying to pack some quality time or at least a conversation with three kids into a 3-4-hour evening window that also includes dinner, showers, homework and most nights outside activities. I'm no math wizard, but I'm not sure any beautiful mind could crunch these numbers in a way that soothes my guilt. Just tonight, I cut short evening reading time because I got home late from a meeting, and I didn't realize until bedtime prayer that my son now has a student teacher. Sigh.

This is how I would like to end every single day. Most days we can make it happen, but not always.
Guilty Mom Thought #2: Any of my own evening or weekend activities – for work, for volunteer commitments, to sneak in a workout, to meet up with friends — take me away from my family.
I'm proud of the example I'm setting for my kids as a hard-working mom who also values giving back and her own health, interests and friends. But our time is finite. When we give time to something or someone outside of our house, we're taking time away from our kids. It's a tricky balance that seems to require constant mental re-negotiation.
Guilty Mom Thought #3: My kids are tired and crabby from too much running around and I'm the one who keeps this cycle going.
We're an on-the-go family that often likes to say yes to activities. When I'm not careful — ok, fine, most weeks — I look down at my planner and think: "What the heck? How do we have something going on every single evening? When and why did we agree to all of this?"
Soccer sign ups sounded like a great idea last month when I was off work for the summer. That volunteer commitment was "only" twice a month, so I agreed because I wanted to help. And then. And then. And then.
When I reflect on the things that cause me the most mom-guilt, they all revolve around time. That might partially be because my love language is quality time. [Note: If you haven't read The 5 Love Languages, buy it and read it now. Please disregard the sappy cover and give it a chance. This book impacted lots of relationships in my life, not just my marriage.]
I see time as the most valuable thing I give and receive, so I feel guilty when I'm not giving enough to the people I care about the most. Even for moms with different love languages (words of affirmation, gifts, acts of service, physical touch), doing or receiving any of these things TAKES TIME. If our families or our kids are overscheduled, we may be giving away too much of our most valuable resource.
How scheduled is overscheduled? Unfortunately there's no single or simple answer. The research below gives some compelling things to consider, but the final call for your house depends on the people and structure of your family, things like kids' ages and the different personalities in the mix.
Is Being a Schedule-Driven Family a Bad Thing?
It can be…
If left unchecked, sports and other activities can get in the way of family time and create tired and grumpy kids. Research bears this out. In a Cleveland Clinic article, pediatrician Deb Lonzer, MD, warns families against letting their calendar run their life and advises that kids not have scheduled activities every night of the week. Research from the American College of Pediatricians shows that more time spent in activities directly relates to higher levels of anxiety.
There's even a US Play Coalition – a collection of doctors, psychologists, educators and business people – dedicated to recognizing play as a valuable and necessary part of a healthy and productive life. The group's latest white paper presents a research-based case for more recess in U.S. schools, which is a different topic for a different day, but listen to this:
Many other countries, some of them top-ranking in standardized tests, give their children more frequent or extensive play breaks than does the United States. English primary children have breaks in the morning and in the afternoon as well as a long lunch break. Japanese children get 10-20-minute breaks between 45 minute lessons or five minute breaks and a long lunch. Finnish and Turkish children have 15 minutes of play after each 45 minutes of work.
Translation: American kids already have less play and free time in their day than other kids around the world even before they get home from school and head to other activities.
Last year, the coalition wrote about play and health. A developmental psychologist shares research correlating anxiety and depression in young people with lack of control over their own lives. He says, "those who believe they are in charge of their own fate are much less likely to become anxious or depressed than those who believe they are victims of circumstances beyond their control." Being able to initiate and direct their own play is an important way for kids to feel in control of themselves and their environment.
My kids do love those evenings when they ask what we have going on and I say we're just home. Their next question is usually about whether they can ask a neighbor to play or pull out a game they've been wanting to play. I've never thought about it as them having "control" over their time and actions, but that's really what it is.

When my sister and her kids visited from out of town, we halted scheduled activities and spent more time at home. The result was some fun creativity. The above note speaks for itself. Thanks for the tunes Imagine Dragons.

And this is a tent built from every pillow in our house – including the couch pillows.
But scheduled activities also have up-sides…
Many educators, researchers and parents look at scheduled activities as an intentional weapon against the growing number of hours kids spend on screens. In a Mario Brother's minute, down time for kids morphs into screen time – or an epic battle around why they can't be on screens or when they can next be on screens.
A Washington Post article asks whether being busy actually is bad for kids, and points to research showing that most kids are not overscheduled and that scheduled activities benefit kids in many ways:
Supportive relationships with peers and adults
Skill building
Lower rates of drug and alcohol abuse over time (except athletes)
Higher self-esteem
Sense of purpose

Participating in activities has taught our kids big lessons in camaraderie, hard work and confidence. She's got spirit, yes she does.
It also notes that kids in activities for the most part still find time for schoolwork and other unscheduled activities like games, chores and TV.
Balanced families rely on organized activities as one of several alternatives to kids spending hours a day on screens.
The bigger problem is kids who end up spending way too many hours on a screen due to lack of alternatives – scheduled activities or otherwise.
Clinical psychologist Dr. Mary Rooney points out in a childmind.org article that for middle and high schoolers, the couple hours right after school are the highest risk time for dangerous behaviors because it's the biggest chunk of unmonitored time they have. This is a place where after school activities present a solution rather than a problem.
Are Your Kids Overscheduled?
The following questions can give you a read on whether you're flirting with a dangerous number of activities in your household:
Do you spend more time in your minivan or SUV than at your house? Has it become your new kitchen table both in terms of a place for conversations and the place your family typically eats meals?
Have you eaten a meal together as a family in your house over the last few days, or even week?
Do your kids have time to hang out with friends on regular basis (invite friends over or play with neighborhood friends)?
Do you ever see your kids sitting around just doing nothing?
Are there activities your kids used to like that they just don't think are fun anymore?
Do your kids have time to do their homework and still get at least eight hours of sleep every night?
When you put yourself in the shoes of each of your kids, how many hours a day is he/she gone? Keep in mind siblings that go along to watch games or site on the sidelines at practices.
The answers to these questions tell you more about whether your kids are overscheduled than a tally of your family's activities. Even one super time-intensive commitment like a high-level sport or participating in a theater production could be too much if it begins to impact how a child feels or how a family functions.

This poor child gets dragged to more of her big brothers' practices and games. This night we took her brother to bike team and then hunted fish bones and other treasures at the reservoir. But in general, I need to watch how much of her time is spent running siblings around.
Are You An Overscheduled Mom?
If work or working out or volunteering or social events have a place on your calendar, your kids' activities are just part of your family's bigger calendar. Let's add a few more questions to the above list related to how you feel about your own schedule:
Are you exhausted at the end of a typical day in your household?
Do you look at your calendar for the week and see more energy-depleting activities than energy-creating activities (things you enjoy like reading, watching TV, doing a devotion)?
What percentage of household tasks (cleaning, cooking, laundry, etc) do you typically pick up?
Do you share responsibilities to drive kids to evening activities with a spouse or at least one other adult?
I have a weekly Wednesday evening commitment for work during the school year. I can miss one here or there if needed, but in general on Wednesdays I'm out of commission. I depend on my husband, friends and neighbors to drive, watch, play/read with my kids and generally keep my household running. For that reason, I carefully consider before I commit any other weeknights to my activities. I rarely go to PTA (sorry friends!) and I'll intentionally book social dinners so I'm not gone back-to-back nights or three nights in a single week. That lowers my guilt and stress, which generally translates into less anxiety across my entire household.
How Can We Find the Right Balance for Our Families?
Set healthy boundaries on scheduled activities up front. I have three kids, so our general rule is that each kid may (but doesn't have to) choose one activity per season and no more. Once you put practices and games on the schedule, and layer on other family commitments, that's already a monster schedule. After years of talk, none of my kids have taken a single piano lesson. We've also made some difficult decisions about if and when our kids can participate in travel and club sports leagues.
Consider the time commitment of activities as you make decisions. This includes things like drive time or lack of other friends on the team for carpooling purposes. It might mean you choose a different activity or team to be closer to home or have more families to share rides so you and the rest of the family can have a night at home.
Schedule no-activity home evenings at least twice a month and work around them with the same fervor you haul the kids to practice. Put them on the actual Cozi or Google calendar and be clear with anyone who adds events to the schedule that they are to be respected.
Schedule 20 minutes, five times a week, as family time for playing games or just hanging out. This advice comes from a physician at The Cleveland Clinic.
Find a balance of activities among family members. This helps ensure everyone is getting down time somewhere, and it can help the mom guilt about not spending time with individual kids. You're all gone sometimes, but no one's gone all the time.
Embrace the no. It feels so unnatural to decline an invitation unless I have a direct conflict. But I try to remind myself it's ok to keep a night free just to recharge and be home. Think about personalities and stress levels before you sign on or say yes to new things.
Keep in mind the simple acronym PDF from Christine Carter of Greater Good Science Center, who recommends that kids get some PDF every day: Play time, Down time and Family time.
Make sure every week includes time outside, weather permitting. Fresh air and nature naturally lower stress levels.
I'll close with a book mention. I haven't read this one, but I'm intrigued not only as a parent, but as a college teacher. Julie Lythcott-Haims, former Stanford freshman dean, wrote the book How to Raise an Adult: Break Free of the Overparenting Trap and Prepare Your Kid for Success.
She talks about parents wanting their kids to have a "checklist childhood" full of enriching experiences. I'm so guilty as charged on that one.
She sees parents doing this as a way to ultimately get their kids into a good college. Honestly, that's not my motivator. That said, I can't actually pinpoint the source of my compulsion to let me kids try and do things. But I do see my job as raising adults and preparing my kids for success, so I want to give this one a read as I consider the balance in our household at the start of each new season.