4 Traditions That Are Worth Your Time (Every Time)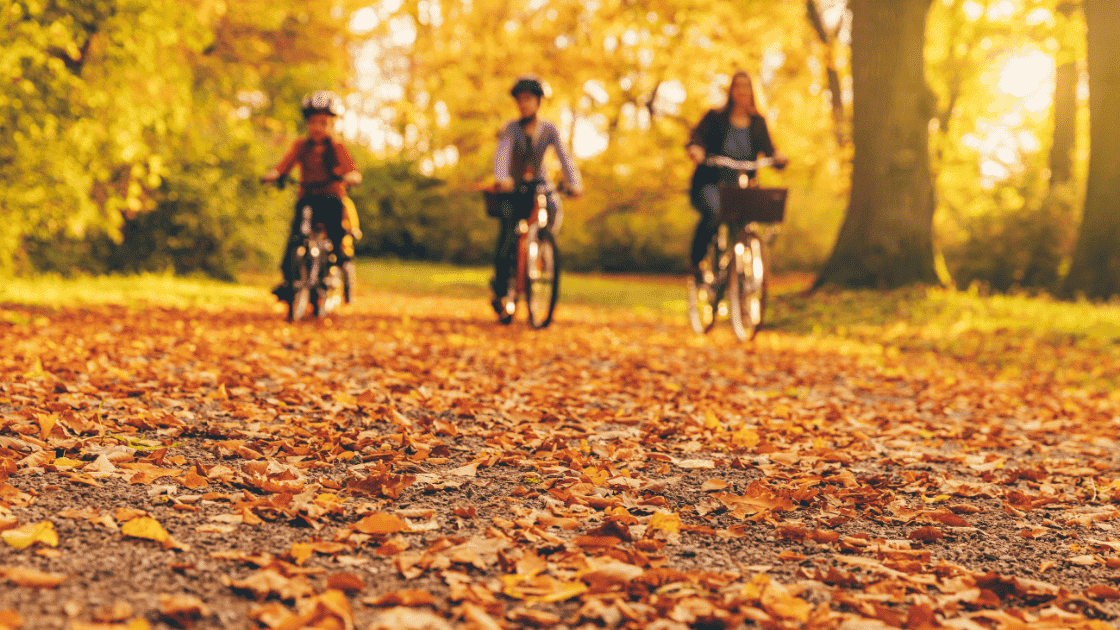 During a year when so many of our traditions have been disrupted, we looked at our favorite fall traditions with fresh eyes. We explored why traditions mean so much to us, and why it hurts when they change and grind to a halt. What we found made us realize that the value of solid traditions goes way beyond the "feel-good" factor: they can make us healthier, strengthen our relationships with friends and neighbors, and create memories that link generations together. Bottom line: some traditions are worth the time even when time is the one thing we never seem to have.
Updated 9/23/2020
This post contains affiliate links – we earn a small commission if you purchase through our links, and we appreciate your support.
The creatures in my house and in my classroom love habit. I know doctors say it's healthier to stick to the same sleep schedule every day. I know my kids find security in the "sameness" of a daily routine, and my students like knowing that "Friday is always quiz day." But to be honest, my kids at home and at school often don't get the routines they crave because life just gets in the way – sports practices disrupt family dinners, vacations keep us from church two weeks in a row, a lesson takes longer than expected and the quiz moves from Friday to Monday. And obviously…COVID.
Life in a busy family requires flexibility with the day-to-day, but I dig in my heels when it comes to some favorite traditions. Maybe I'm just an old softy (raised by an even bigger and wiser softy – hi mom!), but creating and upholding traditions – both silly and serious – can keep us healthier, strengthen our relationships with friends and neighbors, and create memories that link generations together.
Kristie and I pooled our favorite fall traditions and explored why they mean so much to us. What we found made us realize that the value of solid traditions goes way beyond the "feel-good" factor.
Bottom line: some traditions are worth the time even when time is the one thing we never seem to have.
And if you don't believe us, take it from Jen Hatmaker, who nails it in her book Of Mess and Moxie:
"Never fear, Mamas, the energy you are logging toward any tradition will not return void. You are building something special, and your kids will not forget.

While their bodies and minds and friends and classes are a swirling vortex of volatility, while they are constantly required to adjust and shift and recalibrate and flex, providing a familiar touchpoint week after week or year after year is an anchor that keeps them grounded and a buffer against the scary winds of change. It says to them: Yes, everything is fluctuating, but you can count on this thing we do, this place we go, this meal we share, this memory we make."
So let us save you some time hunting. We'll share our top fall traditions and some steal-able ideas that are really worth your while.
FOOD TRADITIONS
If you make it, they will come
For the record, I loved all things pumpkin and spice before Starbucks opened its first store. Pumpkin, apple cider and chili just SCREAM fall to me. There's muscle memory when it comes to food. Every year I still make the pumpkin cookies my babysitter (that word doesn't cover it – how about almost-grandma) made when I was a kid. I'm not sure my family even likes them all that much, and I certainly don't need to eat three dozen pumpkin cookies by myself, but those cookies are HAPPENING! The smell, the taste and the process of making and sharing them marks the change of the season, giving my family a signpost for fall.
Food seems to have a direct connection to not only the brain, but the heart. When Kristie and her husband Ken were raising funds to adopt their son Gabe, they created a cookbook called Family Traditions. Friends and family submitted recipes for the foods that must be on the table to make key holidays complete. The cookbook isn't organized under headings like appetizers, entrees and desserts, but by holiday. It's a collection of deeply-loved memories given in honor of Kristie and Ken starting their own family and traditions.
Gabe is 13 years old now, and the Texas sheet cake Kristie makes every year for his birthday comes from the Family Traditions cookbook (12-year-old Sam gets mint Oreo pudding dessert).
Food traditions can come from the past, or be something you kick off for the future. I've got one in the hopper I'm excited about even though it's gonna mean a table full of pre-teen boys making a mess of my kitchen very early in the morning on a regular basis. I'll admit I stole it from my aunt, who raised two boys. I loved it the moment I heard it. My aunt was a home-ec major who made amazing Halloween costumes for my cousins every year and might be the best hostess I've ever met. And I'm…not either of those things. But I think I have a fun and welcoming house where the food may not be anything special, but the company makes up for it.
So I'm going to steal Aunt Susan's tradition of inviting the neighborhood boys and all their smelly socks over for pancake breakfasts on Friday mornings. Once a month, the boys may also get sausage or bacon (she warned me it would break the bank to feed the boys meat every week). The tradition is borrowed, but the family recipe I'll use for the homemade pancakes is all mine. (No offense, Bisquick. I still love you for biscuits.)

Steal-worthy idea: Create a tradition with food
Earmark a few recipes that mean something to your family – maybe attached to different holidays or the change of seasons – and commit to making them year after year.
ACTIVITY TRADITIONS
Actions speak louder than words
Tis the season for birthdays in my house when the little humans head back to school and we pull jeans and sweaters out of storage. My husband and two sons all have birthdays between Aug. 22 and Sept. 12 – and our anniversary comes and goes somewhere in there as well. What a joy as a mom and a teacher to have three family birthdays lumped in with the insanity of back to school. That comment was dripping with sarcasm in case you missed it. Since it's such a busy season in our house, our traditions are small, but consistent. For every birthday, I break out the dry-erase markers and write a message on the bathroom mirror to be the first thing our kiddo sees in the morning.
My husband also chooses a new bible verse every year for each kid and I print it with an image from that year's birthday theme and update the frame that sits on their bedroom dresser. And every year I flip through the other verses – pictures of Barbie, Legos, Sophia the First, Harry Potter and Pokemon – and remember.
This year we celebrated a 13th birthday and a 10th birthday during a global pandemic. There aren't enough stressed out-looking emojis to cover my emotions during this time. There are also no pictures posted to my social media accounts for fear of 1) judgment on having a get-together of any kind during a pandemic, and 2) hurt feelings from anyone I wasn't able to include as we worked to keep groups really small. But the mirror message and bible verses still happened!
Living in the Midwest, fall traditions in the Sterenberg and Sigler households also include football games, trips to the pumpkin patch and apple orchards, and bonfires. We're squeaking through this year because three of our traditions are outside and the fourth, well, if you live in the continental U.S. you probably heard the collective cheer go up when the Big 10 voted to play a fall season.
Steal-worthy idea: Create a tradition with pictures
Kristie takes a picture of her boys in the same location every year. The "Numbers Park" on Ohio State's campus where we teach is an iconic and meaningful spot for her family. She and her husband graduated from Ohio State, and the boys bleed scarlet and grey. She now has photos representing her boys' childhood – the background stays the same as the boys continue to grow.
I'm never organized enough to have pictures of my kids holding chalkboards or clever print-outs on the first day of school, but I have iPhone photos of each kid in front of our red front door every year – because that's what I have time to do and it's enough for me. Facebook is a great place to get ideas for family traditions, but it's also a place to feel like your traditions aren't enough. Let that go, and stick with what works for your family.
Steal-worthy

idea:

Create a tradition with service
A lot of our traditions are selfish, and that's ok. But to raise the kids we want to raise, some of our traditions need to focus on others. I wish I could say that my kids and I get up every Christmas morning and serve food at a local homeless shelter (a shout-out to my friend who did this with her three kids last year!), but we don't and may never. But when a friend celebrates a birth or mourns a death, we take a meal and visit the baby or attend the funeral. Kristie's family regularly adds to a Gratitude Wall in their house to keep thankfulness a front-and-center value.
Kristie did this herself with chalkboard paint. Isn't she amazing?!
We still aren't where we want to be with establishing traditions of service for our families. It's a big reason we founded SALT effect. We make time for a lot of traditions in our life, and yet we don't always prioritize serving. Still working on this one.
HANDED-DOWN TRADITIONS
Shared experiences to knit together generations
I teach at a university, where I spend a lot of time helping students land internships and jobs. Sometimes students get burned by perceptions of Gen Z as entitled or unwilling to "put in their time." For the majority of my students it's just not true.
But there's definitely something to the shared traits and "personalities" of the different generations. A Forbes article looked at research on generational differences in the workplace, and do you know what it found? Only 7 percent of business leaders felt there were "no differences" among employees from different generations. I'm wondering if those 7 percent aren't really paying attention – or maybe they don't think it's PC to highlight those differences.
Finding common ground among generations can take a little extra effort, but it's oh-so-worth it! I will always treasure the memory of my kids dancing to my grandpa's cassette tapes of big band and jazz music. His house didn't have toys, and the kids sometimes got a little bored. My grandpa probably didn't love their noise level or tiny hands on his glass cabinets, but his house had M&Ms and music, and on those things the generations could unite. My grandpa is gone now, but my daughter, who never even met him, asks to listen to "great-grandpa's CD" many nights because her brothers schooled her on the Frank Sinatra CD from great grandpa's house.
My kids are growing up making some of the same road trips and having some of the same adventures I did. I love it, and they love it.
On the left are me and my sisters on the lake at my grandparent's house. On the right are my kiddos in Minnesota this summer at the lake by my aunt and uncle's house. Told you she was the best hostess – they even have a boat!
Steal-worthy idea: Create a tradition that strengthens the bond between generations
Make time for extended family (even when you haven't seen your bestie for margaritas in many months). Start an ongoing extended family conversation via text or the video-chatting tool Marco Polo or institute a monthly Zoom call to connect. Make the effort to attend a family reunion even when it means a long drive, a missed soccer game or an awkward conversation with strange Uncle Ed.

Foster hobbies and conversations that transcend age – playing golf, cooking, running family sports pools, teaching family favorite games.
RELATIONSHIP-BUILDING TRADITIONS
Time spent trumps money spent
I am so thankful to the people in our life who helps us create the traditions that translated into some of our best friendships and memories as my family. Our close friends host a Thanxmas gathering every year between Thanksgiving and Christmas. We all plan around it and never miss it. With these friends, we've walked through some seriously epic and good life experiences as well as the lowest times of losing parents and losing children.
My family also camps every Memorial Day and Labor Day weekend with friends, continuing the tradition of a close friend who grew up visiting this family camp. Our kids slept in Pack-in-Plays as babies and now sleep in a separate tent with buddies. They ride bikes, swim in the lake, eat frozen lemonades and listen to the parents laughing by the fire late at night.
I love that my kids have these memories, and research points to a host of benefits from shared family rituals. A review of 32 studies all showed traditions have a connection to stronger parenting, better-adjusted kids and stronger marriages. Other studies show links to higher academic success, happiness, and emotional skills.
Be still my heart. That baby on the left is now 10 years old. On the right, you can see Little Miss at 1 year and 5 years. Also, notice how my husband is eating cake and smiling, and I'm trying to survive an ice-cold night
on the ground!
Steal-worthy idea:

Create a tradition with friends
My beautiful co-workers and I take a picture each fall, holding up fingers for how many years we've been teaching together. It takes three seconds. The hardest part is getting us all in the same room.
My colleague had to get creative for the 2020 photo, but COVID didn't stop our tradition.
My neighbors and I have talked about doing a neighborhood photo scavenger hunt. We're checking out GooseChase as a way to set it up. You can enter your hunt items (a license plate that adds up to 10; a video of a team member doing a cartwheel on a baseball field; a selfie with a cat) and assign point values for each. Using the live hunt, teams can compete head-to-head and watch other teams upload photos and videos and gain points. If we make the time to do this, what friendships will form or deepen?
If you're intrigued and want more info, we love this post from the blog "Acculturated" on other ways kids benefit from family traditions. Especially this quote from psychologist Donna Rockwell that:
being part of a family tradition "connects [children] to that greater whole and leads to heightened empathy, a more fulfilling happiness and the development of engaged citizenship." A family tradition can be simple and modest. It might involve a certain book, movie, game, activity, meal, or outing. It might happen on a certain day of the week, or a certain day or time of the year.
We're also intrigued by this Simply Tradition book with 70 fun and easy holiday traditions for families.
Fall is a great time to create and commit to some traditions, we gathered bonus ideas and put them into a printable worksheet to help you think through what traditions are worth your time.
What are your favorite fall traditions? Comment below or email me at msterenberg@salteffect.com.