Top 10 Back-To-School Freezer Meals For Busy Moms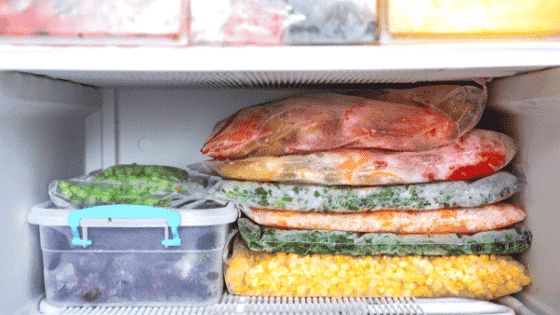 Ready or not, it's back-to-school time! You'll guarantee a smoother transition into fall if you set aside time to make freezer meals. We have great meal planning hacks to help you, especially if meal planning seems like an unattainable dream. We've gathered our favorite recipes and links to make this doable for you!
This post contains some affiliate links – we earn a small commission if you purchase through our links, and we appreciate your support.
1. The Best Meal Planning Hacks and Recipes for Busy Moms from SALT effect
If you have no time to meal plan or hate cooking, you're going to love this download. We're two working moms who want to feed our kids well without spending hours planning or cooking, so we created this guide with you in mind! These simple hacks and recipes will make meal time quicker and easier – from our messy kitchens to yours!
2. Freezer Chicken Tenders from The Lean Green Bean
I found this recipe after reading through a post about healthy freezer meals from our friend Sally at Real Mom Nutrition. (Mary interviewed her for our blog post 7 Simple Ways To Eat Healthier On The Go.) This recipe from Lindsay Livingston, a registered dietitian here in Columbus, is a great idea for an easy weeknight meal. Our tweens and teens could grab a few of these from the freezer and make their own dinner!
3. Breakfast Muffins with Hash Brown Crust from Play.Party.Plan.
This is my go-to freezer breakfast recipe. My oldest is never hungry in the morning but needs to have protein, and who has time to cook when everyone is trying to get out the door? You can add whatever you want to the muffins to change things up–sausage, spinach, tomatoes. (Bonus tip: My boys will scramble a dozen eggs at the beginning of the week and use those to make breakfast burritos all week long.)
4. Chicken Fajitas
I've used this recipe for so long, I don't have any idea where I first saw it. I also never take pictures of what I cook, so the recipe itself will have to do! I put all the ingredients in a ziploc bag to freeze. My go-to recipes are stored in my Cozi app–below is a screen shot. We use Cozi for our family schedule and I can add recipes to the calendar and easily create grocery lists for recipes I choose.
5. Slow Cooker Shredded BBQ Beef Sandwiches from Thriving Home
Sandwiches are an easy meal, especially if you need something quick for kids who are running to and from after-school activities, or if you wait until everyone is home to eat dinner (like we do) and by then, you're pretty wiped out. It's worth the effort and inconvenience to eat together–see our post 9 Powerful Reasons To Make Time For Family Meals–and is even more important for tweens and teens to regularly connect with family. We follow Thriving Home on Instagram @thrivinghome and love this feed from two other working moms!
6. Slow Cooker Verde Chicken Chili from Simply Stacie
Homemade soup is a staple in our house. We have some at the beginning of almost every week because it's great for leftovers and it takes care of all the food groups at once. I'm a fan of white chicken chili and it freezes really well–more details about freezing at the link.
7. Stir Fry Freezer Packs from Cool Mom Eats
When I have a little more time in the evening, I love to make stir fry. Prepping and freezing the vegetables, rice and sauce cuts down on so much time! This link has a few different sauces to try–I love the maple ginger stir fry sauce.
8. Crockpot Italian Pork Roast from Family Freezer
I love the flavors in this recipe, and you can serve it over pasta or with crusty bread and a salad. Leftovers can be used later in the week for sandwiches.
9. DIY Freezer Smoothie Packs from Live Simply
Here's another great option for a quick and easy breakfast or an after-school snack that older kids can make on their own. My youngest son is 10 and he makes smoothies almost every morning because eating granola is a pain now that he has braces. This link has 5 recipes with only a few ingredients–no reason to make this complicated.
10. Chicken Pot Pie
This is not a healthy recipe, but it's delicious and disappears in no time at my house. It's also a great recipe to have on hand in case you want to send a meal to a new mom, a grieving family or a friend who could just use a break! I usually buy a rotisserie chicken and shred it for this recipe. Working Mother has some good tips for freezing chicken pot pie.
2 cans (10 3/4 oz.) cream of potato soup
1 bag frozen mixed vegetables
2 c. cooked, diced chicken
1/2 c. milk
1/2 tsp. thyme
1/4 tsp. black pepper
2 9-in. frozen deep dish pie crusts
1 egg, slightly beaten (optional)
Combine first 6 ingredients. Spoon into prepared pie crusts Cover with top crust; crimp edges to seal. Slit top crust and brush with egg, if desired. Bake at 375 degrees for 40 minutes. Cool 10 minutes.