Top Tips for a Family Trip to Yellowstone and Grand Tetons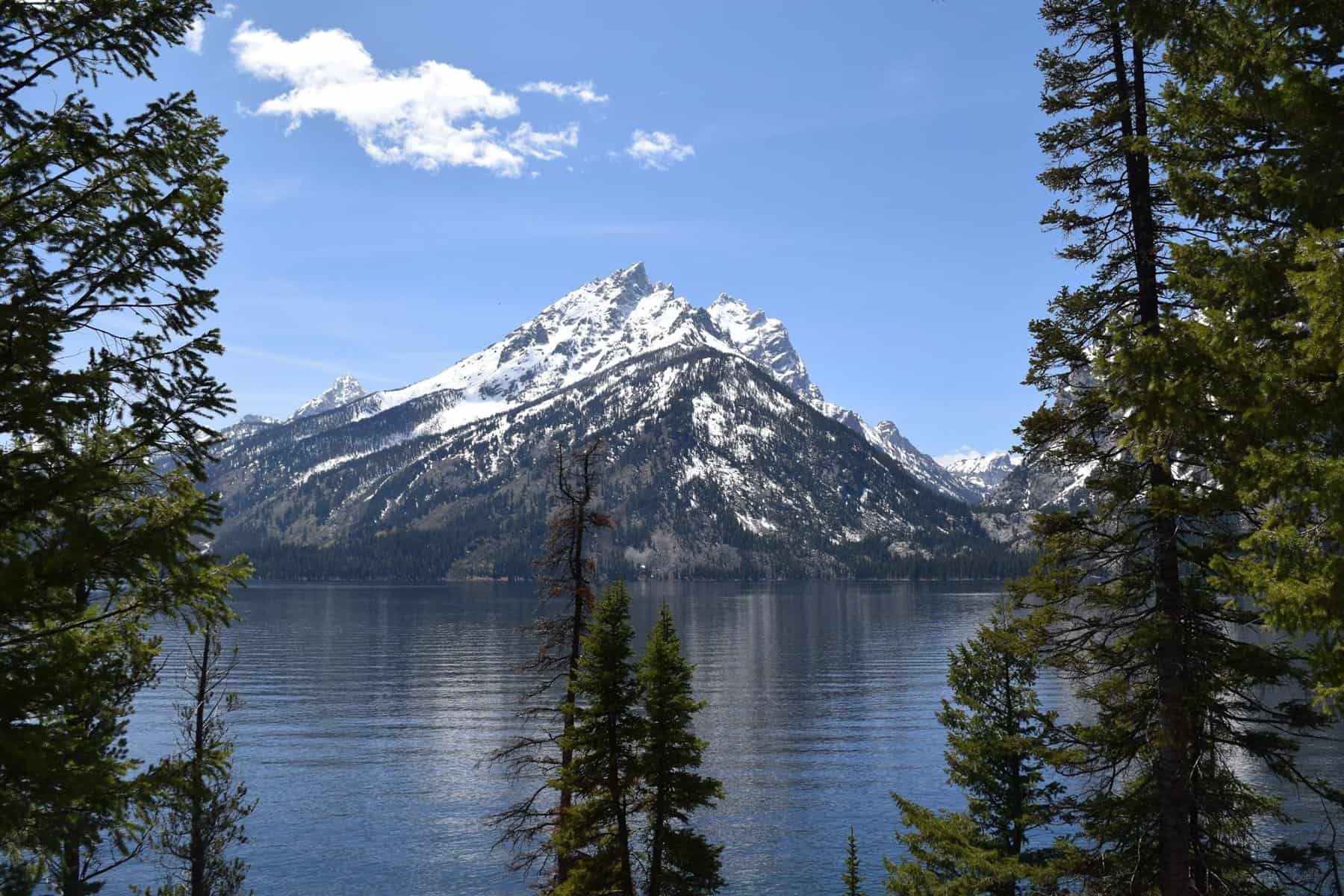 My family of five took a 12-day family trip with another family to visit National Parks in the western U.S. — the longest family vacation we've taken in years and the absolute best time. I'll share my top tips for a family trip to Yellowstone and the Grant Tetons along with some must-dos for all of the nine parks we visited.
My house was built in the '80s. Ten years after we moved in we still had the original windows and honey-colored wood cabinets. They didn't look retro or vintage. They looked downright dated. I would look at my worn and stained carpet and daydream about new wood flooring (well, something that looks like wood but is indestructible). I would wipe off my cream colored Formica counter tops and envision marbled quartz. My lack of home upgrades was primarily because the family budget usually comes down to either travel or home improvement, and travel wins nearly every time.
We prioritize family travel because one of our family values is adventure. And I have to say that our trip to Yellowstone National Park, Grand Teton National Park and seven other national parks was epic.
3,000 Miles in a Van Caravan
Adventure might be the perfect word to sum up this family trip – we planned and geared up for almost two years. A 12-day road trip tour through nine national parks in the Western U.S. with some family friends. Between two families, we brought six kids ages five to 16.
We flew out the evening of the last day of school because a field day, preschool graduation and elementary school clap-out weren't enough excitement for one day. Over the next 12 days, we logged 3,000 miles in a 15-passenger van and a minivan. Try to contain your jealousy.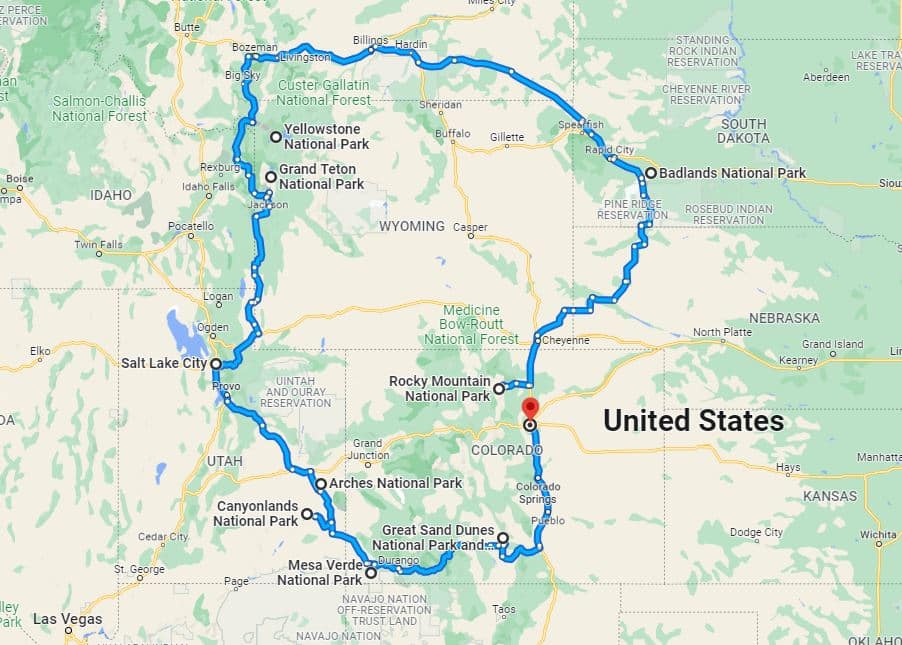 Feel free to jump right down to info on Yellowstone and Grand Teton if that's helpful, but here's the outline of our whole trip in case you're looking for a larger trip. We flew in and out of Denver, Colorado, and this was our basic itinerary:
I came back with plenty of bumps and bruises, over 1,000 photos and some treasured memories. But as I reflected on the trip, I realized my biggest takeaways as a busy mom came from the perspective I gained just taking a break from regular life and being in a different place with different people doing different things.
Below are my biggest tips for Yellowstone and Grand Teton (as well as the other seven National Parks we visited). I also included some of the bigger life lessons I brought back from the breathtaking mountains and big sky.
Rocky Mountain National Park
Top tips: Pack warm gear and be ready to take a snowy winter hike to an icicle-lined waterfall if you travel late spring or fall. Hike Bear Lake and Trail Ridge Road if you visit in the summer months.
Life lesson learned: A change of scenery – or companions – can give you new appreciation for what you have.
I live in Ohio. Ohio has snow. But anyone watching our group's giddy snowball fight in the parking lot of Rocky Mountain National Park in late May probably assumed we were from the deep south. The snow we knew was lingering in the Rocky Mountains created the annoying need to bring an entire suitcase of winter coats and gear we didn't need for the remaining 11 days of the trip. It also closed the popular Trail Ridge Road trail.
But the snow quickly became the most memorable part of this park. The kids loved the short hike in the snow – it felt so different from the rest of our hikes. They slid down icy hills and aimed snowballs at the icicles hanging over the rushing water.
The snow-covered pines and rosy laughing faces in Rocky Mountain put a new face on the snow I was cursing just a few months before at home.
Badlands National Park
Top tips: Pull off on the roadside if you see trailheads and go for an impromptu hike. We made our way to a peak that looked impossibly high from the ground, but wasn't too difficult. The view of the red-striped hills across the horizon beat anything we saw from the ground.
Life lesson learned: If I want to raise independent and confident kids, I need to find safe places to loosen my grip in what can feel like a scary world.
On our trip we saw blasting geysers and baby elk and the towering red arch featured in an Indiana Jones movie. But the kids all agreed that Badlands National Park and Devil's Tower were their favorite stops. They liked the areas where they climbed over boulders and had the freedom to wander and explore. There was an element of risk that helped fuel their fun – they felt proud of what they accomplished on their own.
We let the kids climb to some precarious places because they're pretty strong and confident climbers. My youngest broke her arm at 18 months old climbing out of her crib, so I learned long ago there's virtually no way to avoid all risk of injury.

This may not look all that high, but we took a photo from the bottom for perspective. See below.

This is the peak we reached in the above picture.
It's scary and stressful to let our kids do and try things that stretch them. The best I can do is weigh the risk and make the best decision I can with the information I have (I stole this from our post on making better, easier choices).
If I always play it safe, I run a different risk: that my kids won't develop coping mechanisms or the ability to problem solve or process hurt feelings. Life requires those skills from all of us eventually.
Wind Cave National Park & Jewel Cave National Monument

Doesn't it look like a piece of bacon?
Biggest tips: Take the tour of Jewel Cave with its unique "cave bacon" formation. Pack a picnic lunch to eat at Wind Cave National Park.
Lesson learned: What you see, or think you know, is probably only about 5% of what is actually there.
Standing outside elevators that would take us 300 feet into the Earth, we listened as our Jewel Cave National Monument tour guide Dorothy told us it's the third longest cave in the world. She pointed to a map of the spiderwebbing caverns and said experts think they've still only uncovered about 5% of the total cave. Cavers can only stay underground for four days before they run out of supplies.
It would be easy to look at the miles of explored cave and think we know all there is to know about Jewel Cave.
I'm guilty of this in my life. I hit points where I think I know what I'm doing, or that I understand how marriage or parenting works. And then the bottom drops out. Or I see Instagram posts of beautiful people and stainless kids and wonder how these people do it.
Well, I'm seeing their 5%. The other 95 probably has a few smudges, just like my life. If you understand this struggle only too well, you may want to check out our post on how to stop the comparison game.
We also packed a picnic to eat in Wind Cave National Park. We opted to not do the formal tour here, but stopped at the Visitor Center.
Yellowstone National Park

Artist Point at the Grand Canyon of Yellowstone.
Biggest tips: Plan your Yellowstone itinerary based on 1) how you're entering and exiting the park (with hopefully multiple days in between) 2) where you're staying, and 3) the things you care most and have time to see. This park is HUGE with tons of unique features, and travel can be super slow. Plan plenty of time or understand the need to limit what you'll see.
Lesson learned: Boundaries create stability and safety. Fun and adventure can still thrive within healthy boundaries.
Tip 1: Stay just outside the park the night before your first day in the park
Depending how you plan to come into the park, you can save some money if you stay just outside the park on the way in: West Yellowstone on the west side of the park or Cody, Wyoming (where we stayed) on the east side.
We got an early start out of Cody and came into Yellowstone from the East to a gorgeous view of Yellowstone Lake. We spent several days in the park and made a point to visit the North entrance of the park and step foot in Montana through the Roosevelt Arch. Then we made our way south and exited through the South entrance on our way toward Grand Teton.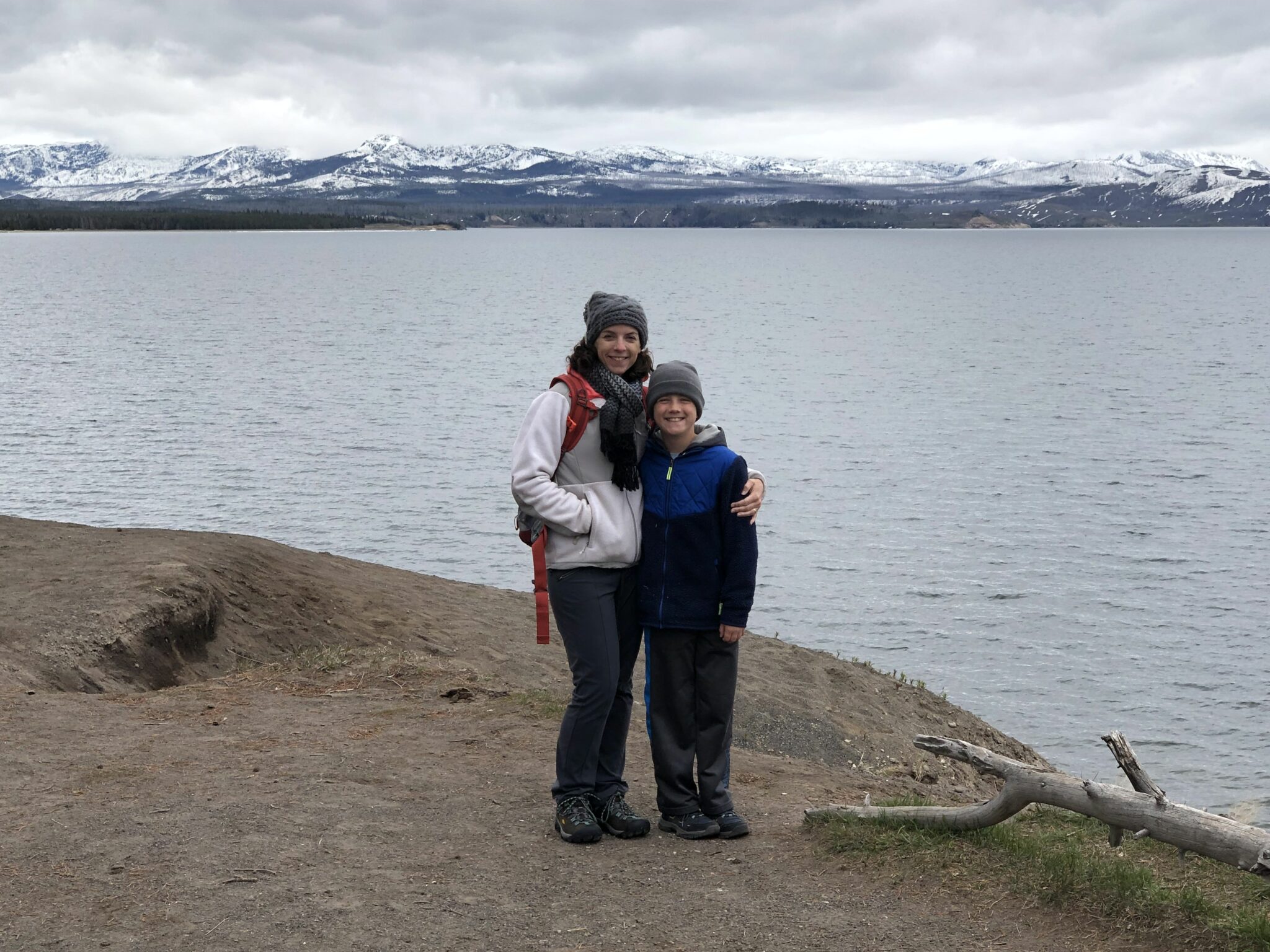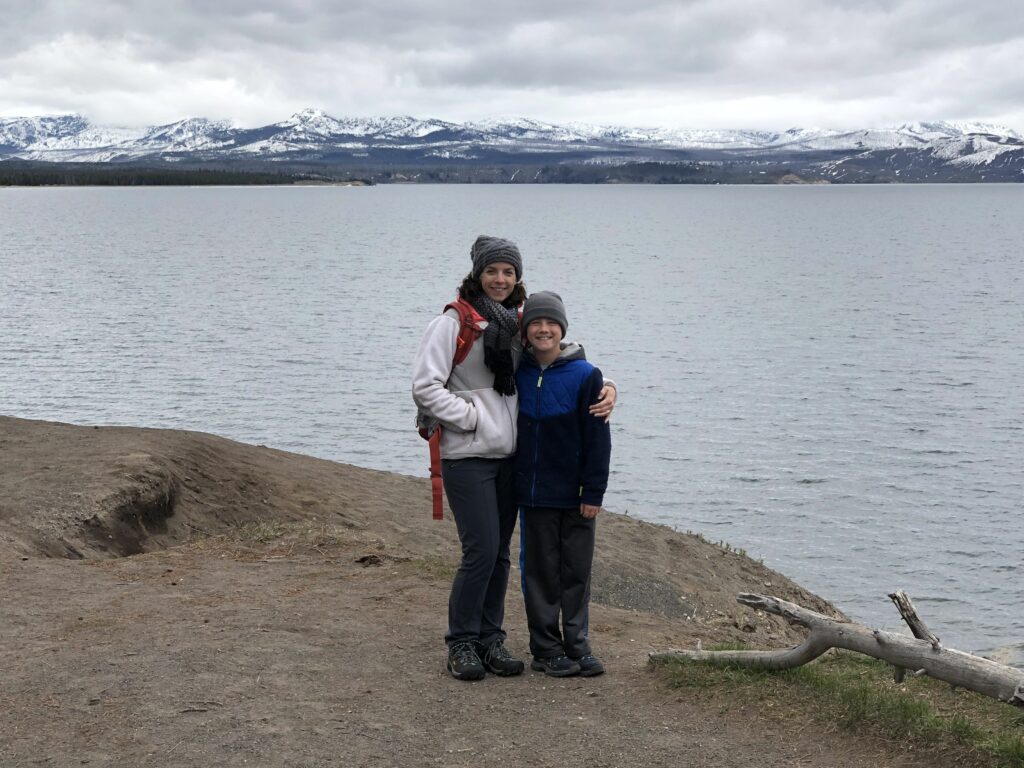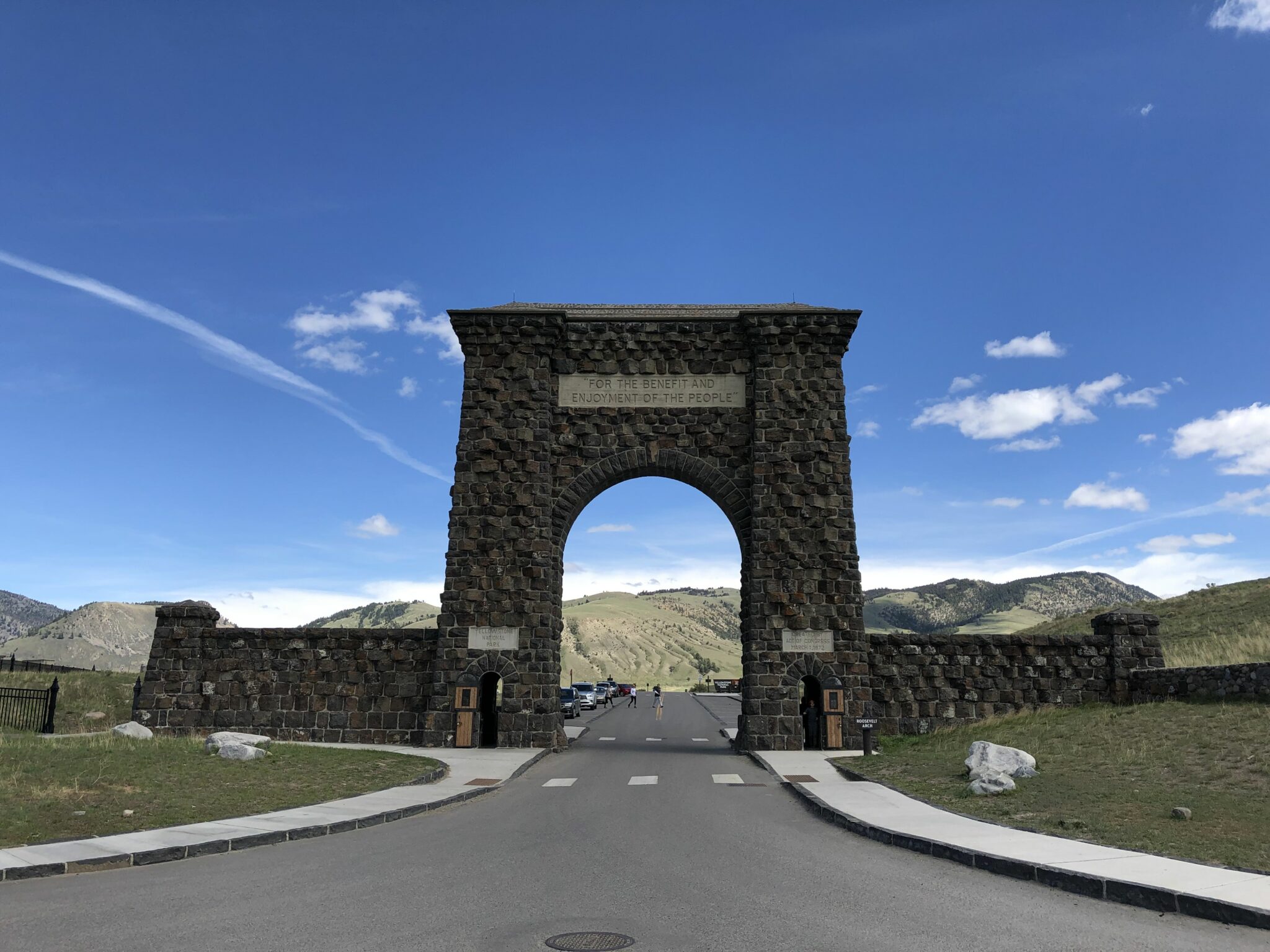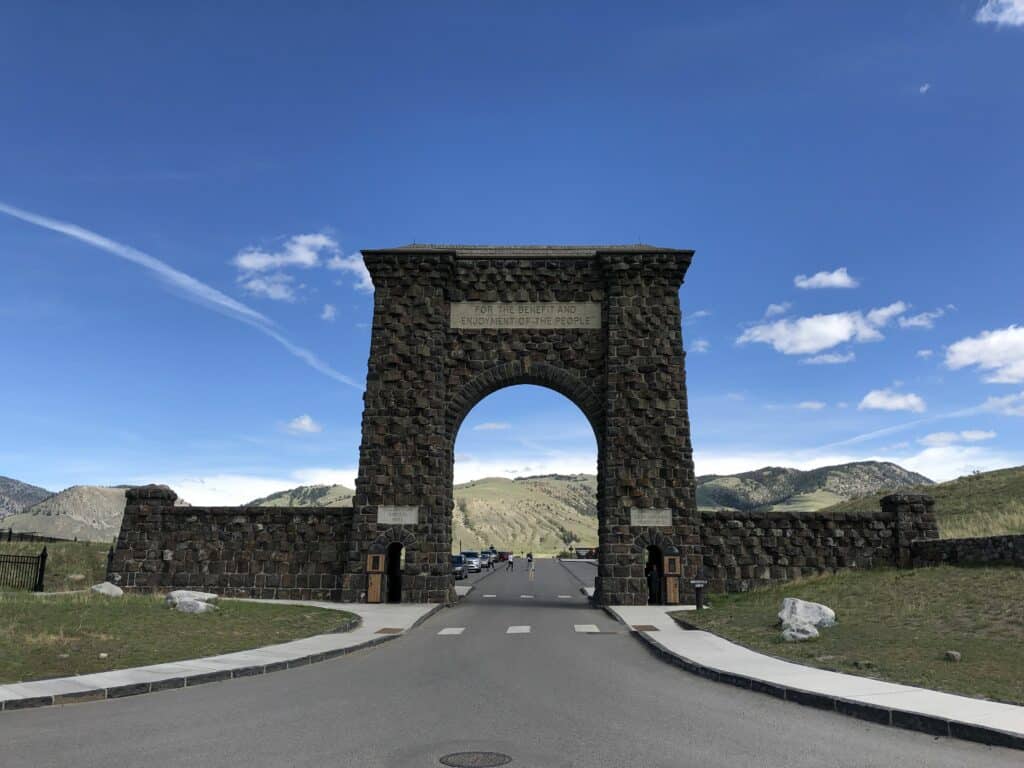 Tip 2: Try to stay at least a couple nights in the park.
This park is huge and wildlife often makes for a very slow scenic drive. In-park reservations open on May 1 each year. We were dialing the minute they opened and still didn't get our first choice. But people also reserve and cancel, so you can call back throughout the year to try to grab rooms when they open up.
We stayed in the cabins of Canyon Lodge & Cabins and loved the location and accommodations. Know that you can make a stop at the iconic Old Faithful Inn for a meal without staying there.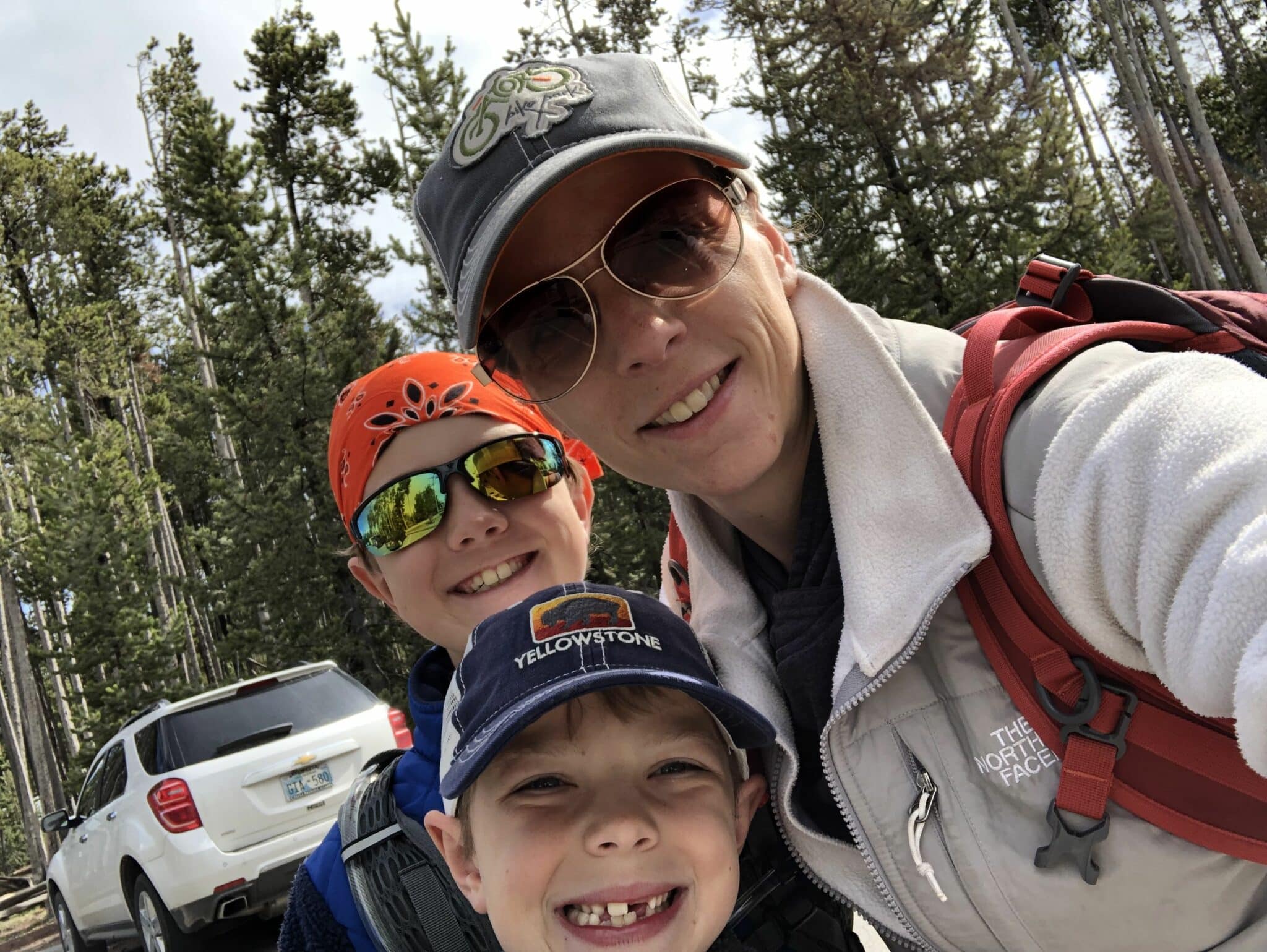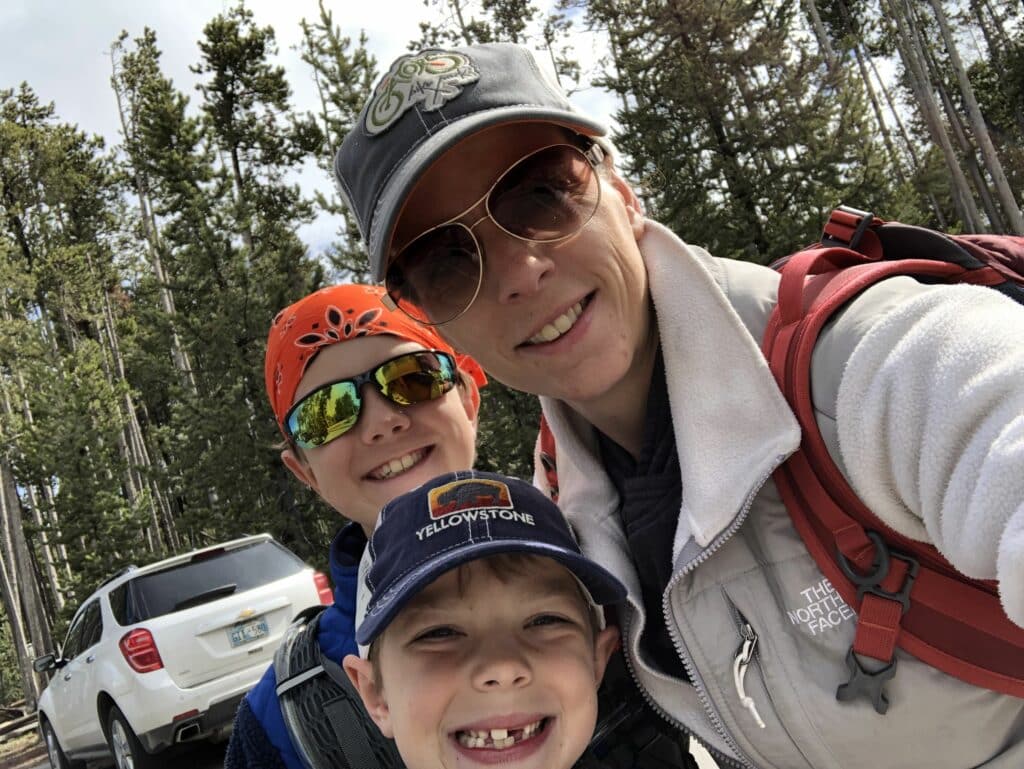 Tip 3: Shell out a few bucks for the narrated expert guide app
We used the GyPSy Guide app in Yellowstone and several other park. It narrated while we drove, giving us history on the sites we passed and suggestions on what stops were worth the time.
We named the narrator Serge and made a fair number of jokes about his warnings not to step off paths because it could "bust the crust."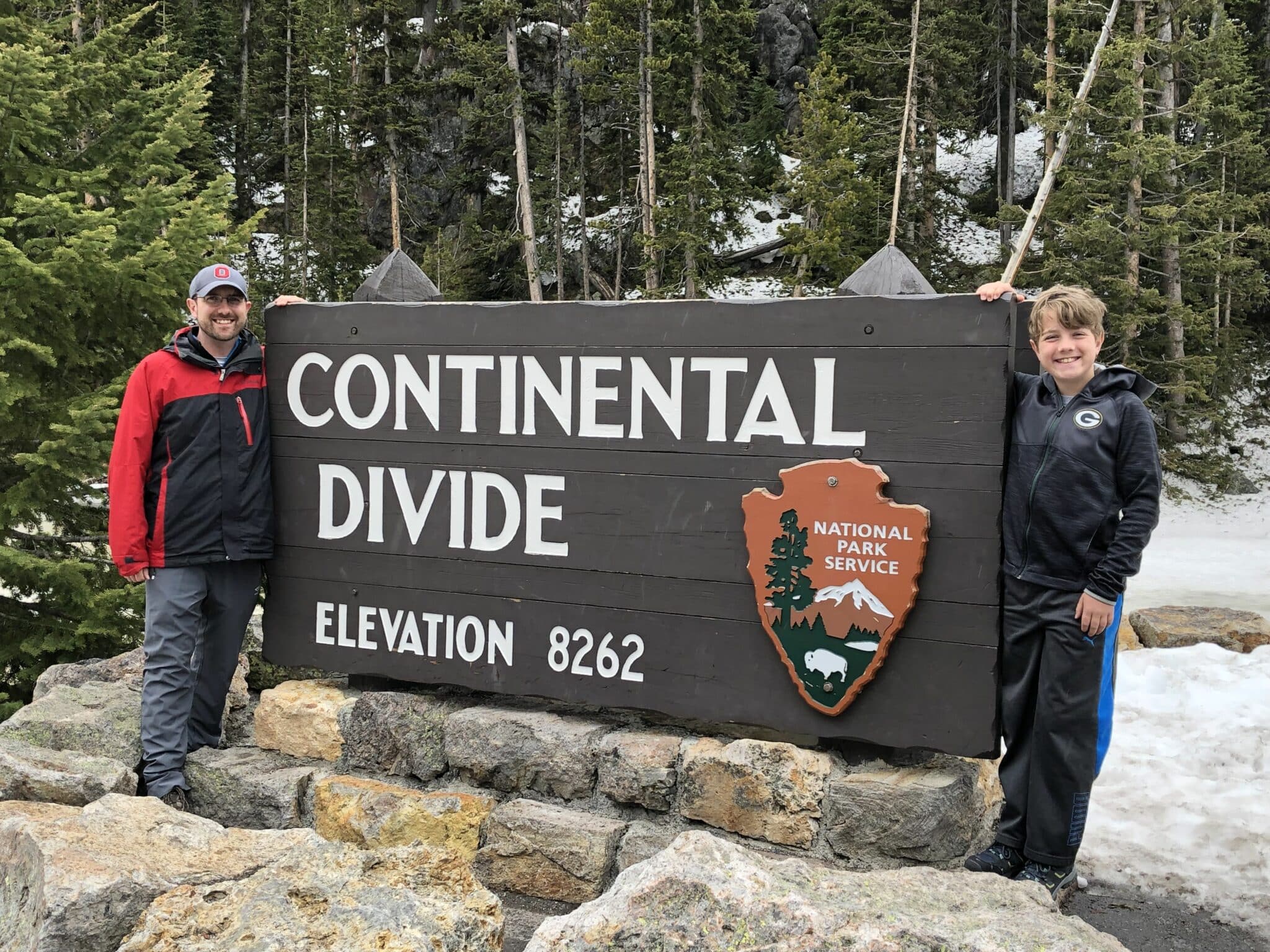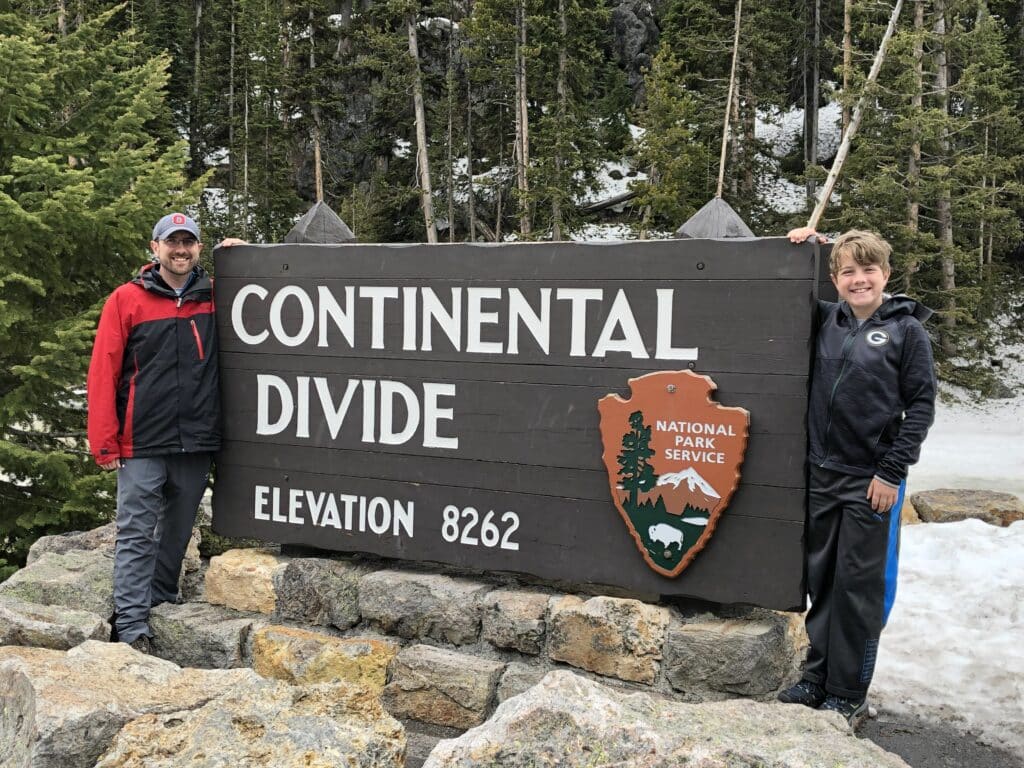 Tip 4: Visit Artist Point
Artist Point is a picturesque overlook of the Grand Canyon of the Yellowstone River. It's an iconic Yellowstone view with a cascading waterfall, and there's pretty easy to access down a set of stairs. Look to see if Red Rocks Path is closed. It winds to a lookout as the base of the falls, but was closed during our late spring trip.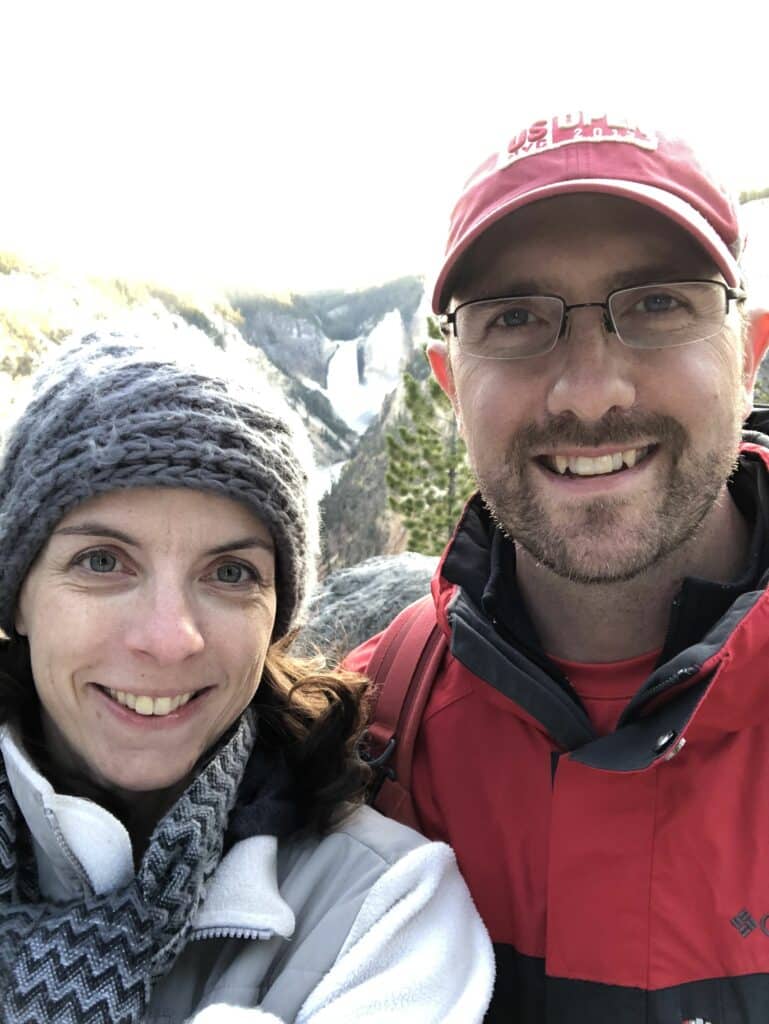 Tip 5: Take Fairy Trail to the Grand Prismatic Spring and follow all of the rules
The weather was dreary and gross the day we visited the Prismatic Spring in the Midway Geyser Basin, and the rainbow-colored springs were STILL breathtakingly amazing. We discovered Fairy Trail by accident when we couldn't find a parking spot. The 20-minute hike brought us to an overlook of the spring with a better view than we would have gotten on the boardwalk.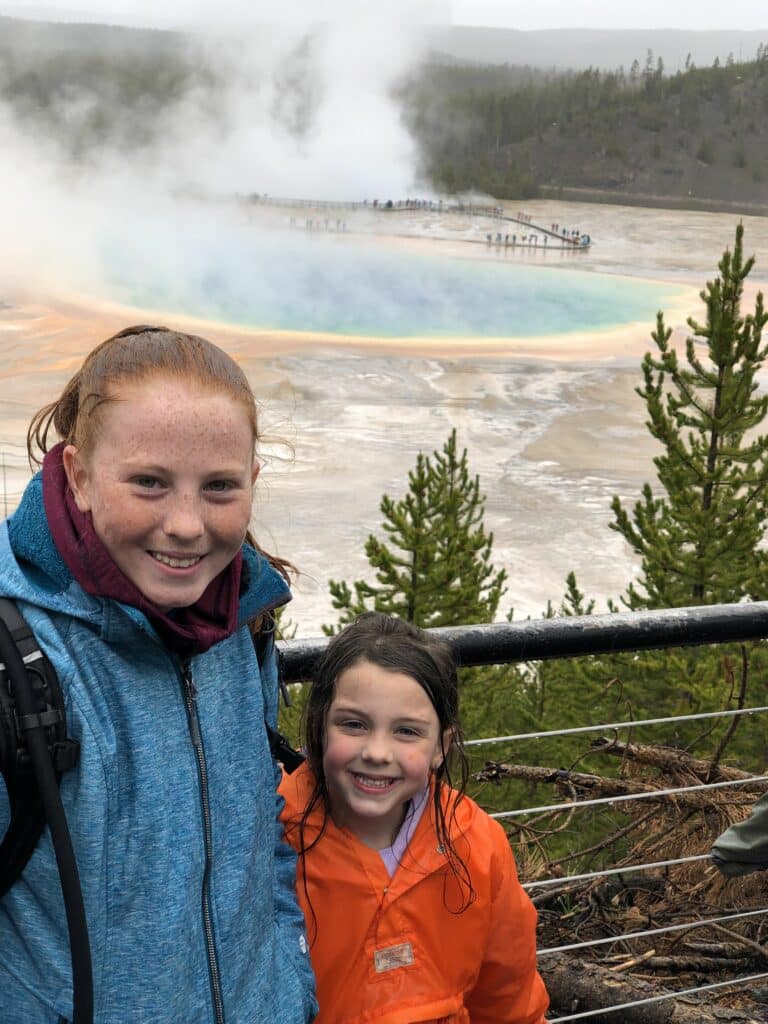 It's easy to forget that the super-hot activity underground can be dangerous, so make sure kids know this is not an area for exploring.
Not long after we got home, we saw this video on the news of a man who ignored more than five signs, jumped barriers and went walking across the Prismatic Spring area. He's facing thousands in fines and possible jail time, and is lucky he wasn't seriously burned.
Tip 6: Check out multiple geysers (not just Old Faithful)
Yellowstone National Park is home to all kinds of geothermal activity, which leads to things like Steamboat Geyser in Norris Geyser Basin blowing hot water 300 feet in the air every five to seven days. Some geysers are clear emerald green and others look like chocolate milk. So explore!
Check the Old Faithful schedule for the day as you make your general plan. It is located in the Upper Geyser Basin. There are boardwalks and paved and dirt trails in this area to explore other geysers.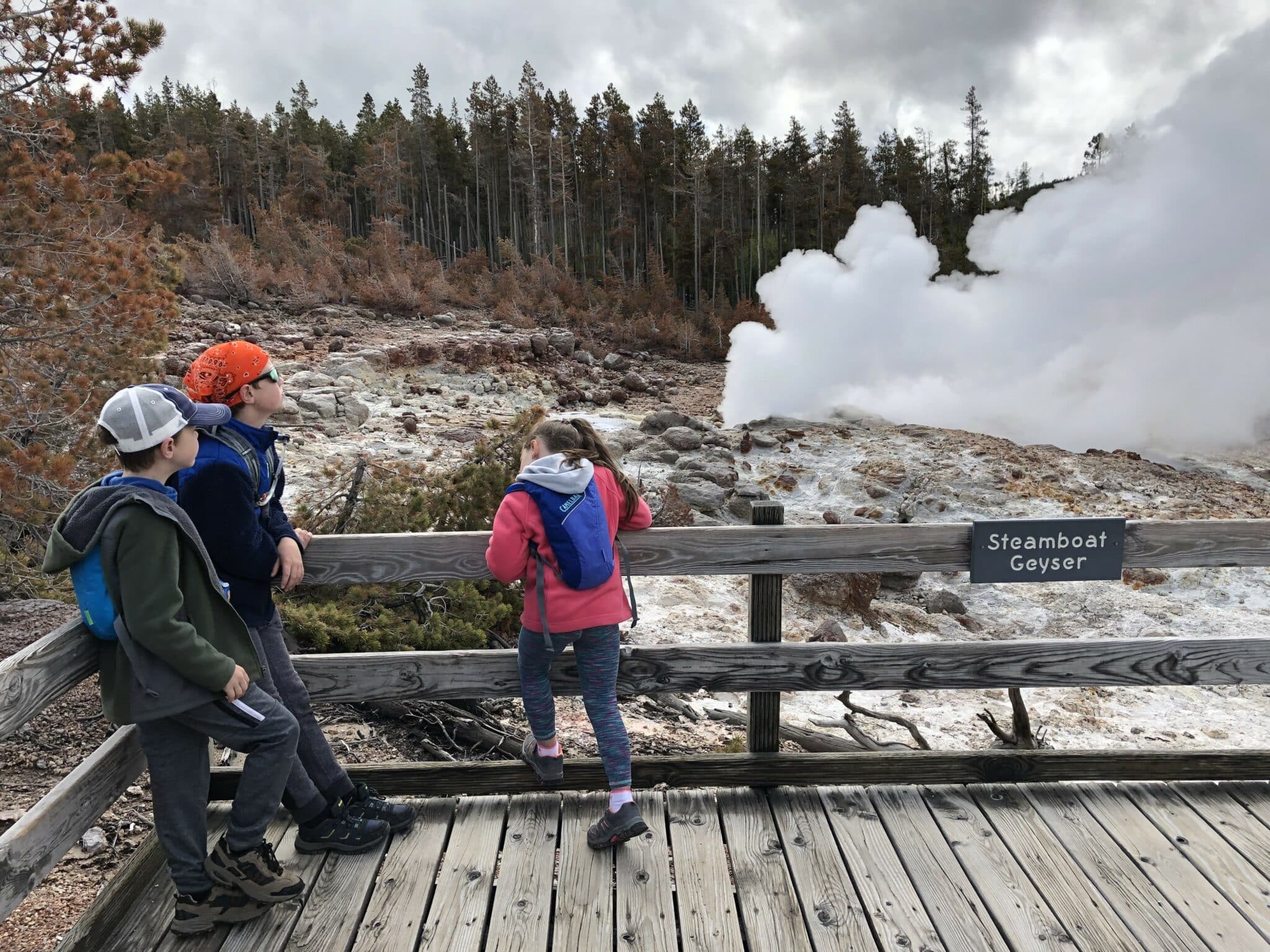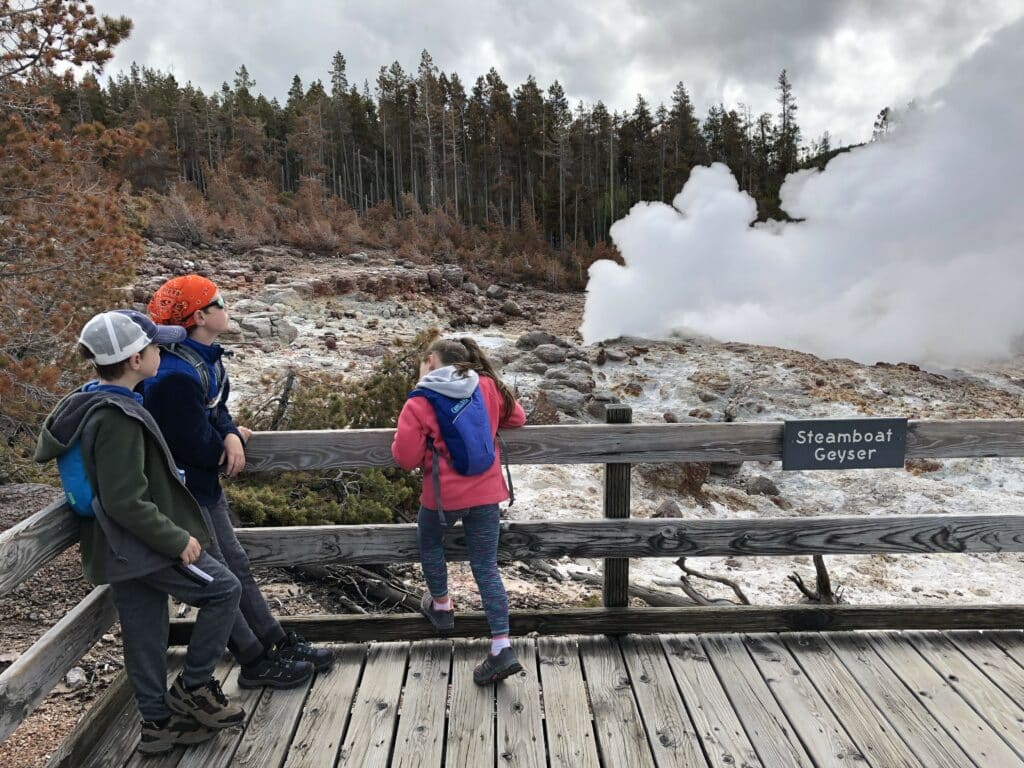 Tip 7: Follow the Great Loop to Mammoth Hot Springs
These look totally different from the geysers, with water dripping down over tiers of orange and white rock. The village there has a General Store and a restaurant. Grab a huckleberry ice cream and watch out for the bison and elk grazing right on the lawn.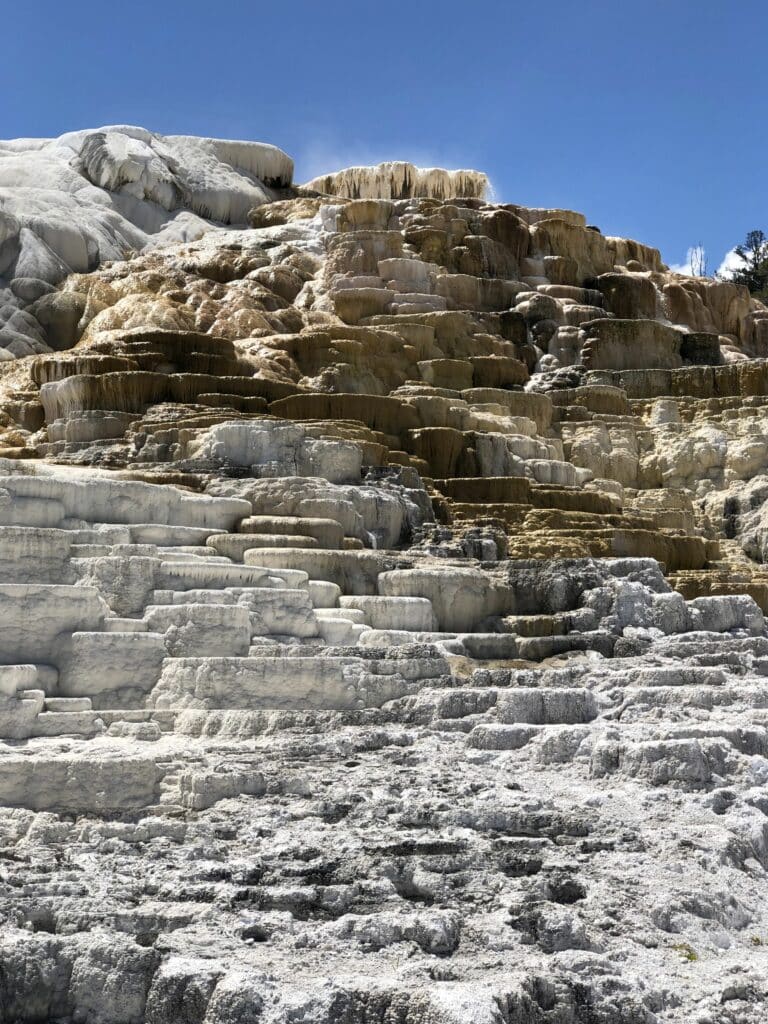 Tip 8: Make a stop at the mud pots
Be warned that this area does smell like rotten eggs and kids might complain, but these unique and cool-looking mud pots are something worth seeing. Some are bubbling and brewing and others create neat formations.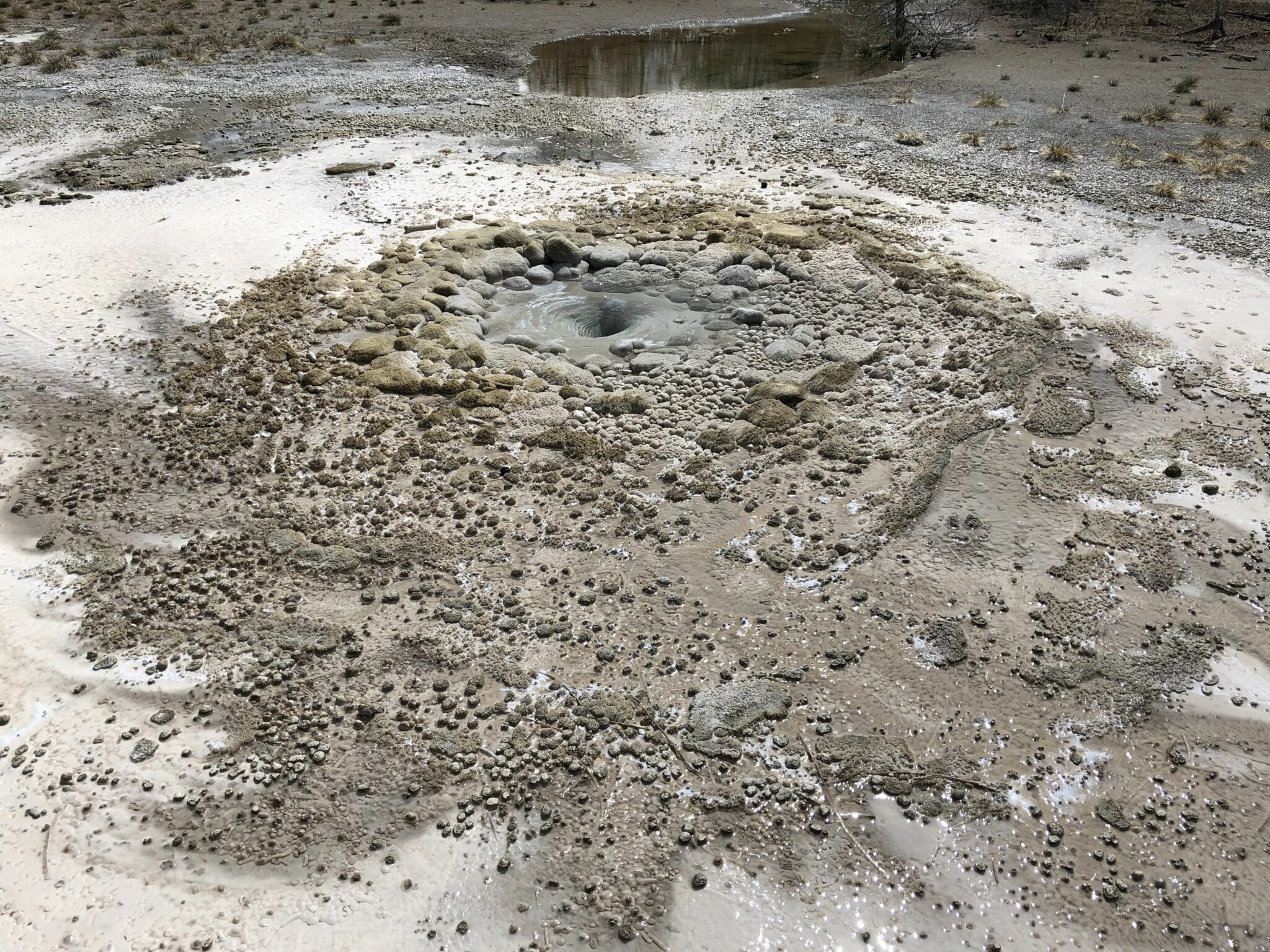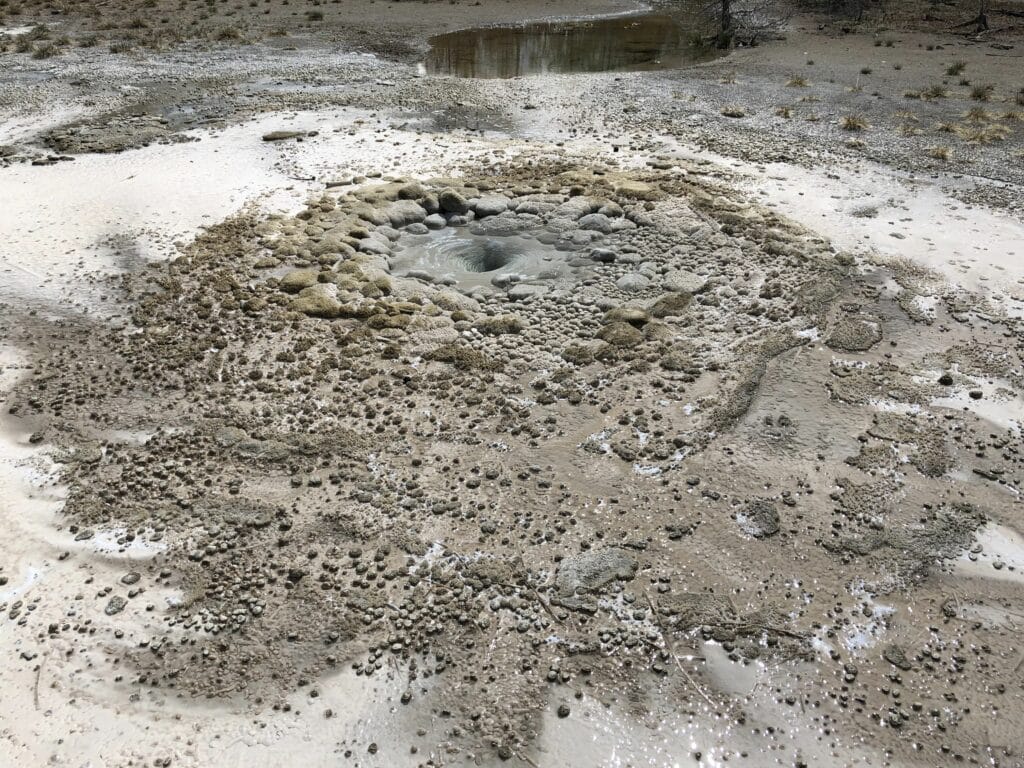 Tip 9: Expect and respect the wildlife
Yellowstone might have some of the best wildlife viewing of any National Park I've ever visited. Bison and elk roam even in populated areas and can stop traffic in the park for hours. You may see grizzly bears or black bears from afar in the car window, or a mother bear and her cubs might run across the road right in front of you (I never saw my friend move as fast as when she was taking a picture and those bears came running toward us.) We also saw yellow-bellied marmots, prong-horn sheep, coyote, bald eagles and foxes in their natural habitat.
If you see other cars pulled over, PULL OVER to spot wildlife because that's why the cars are stopped. So start looking.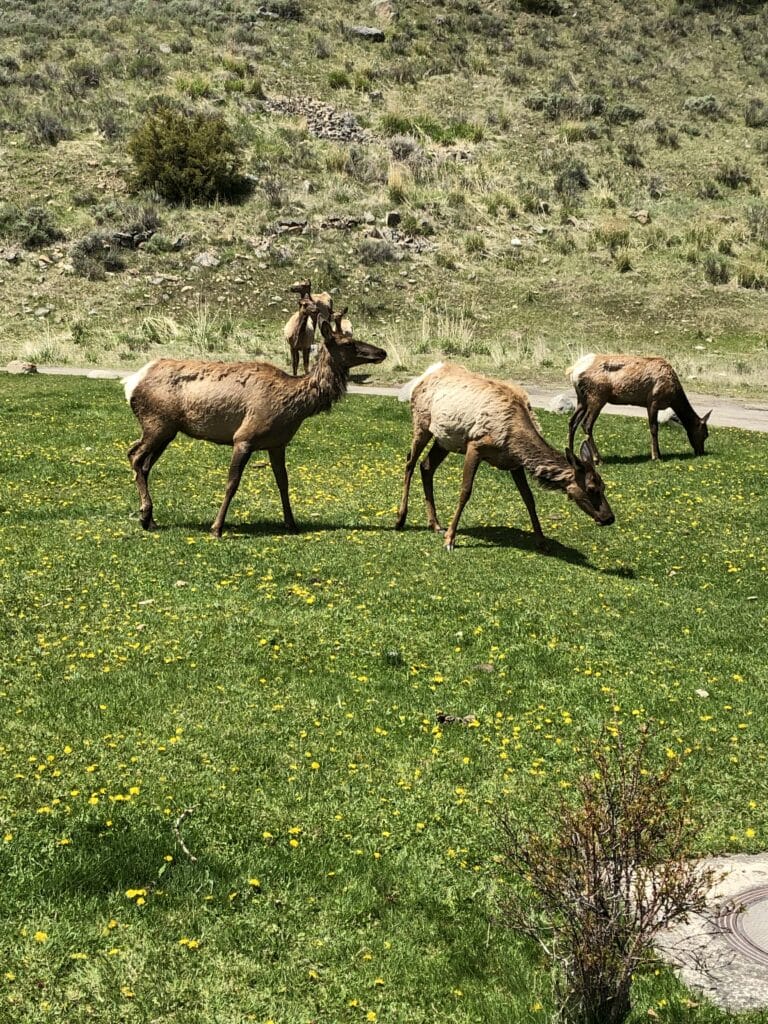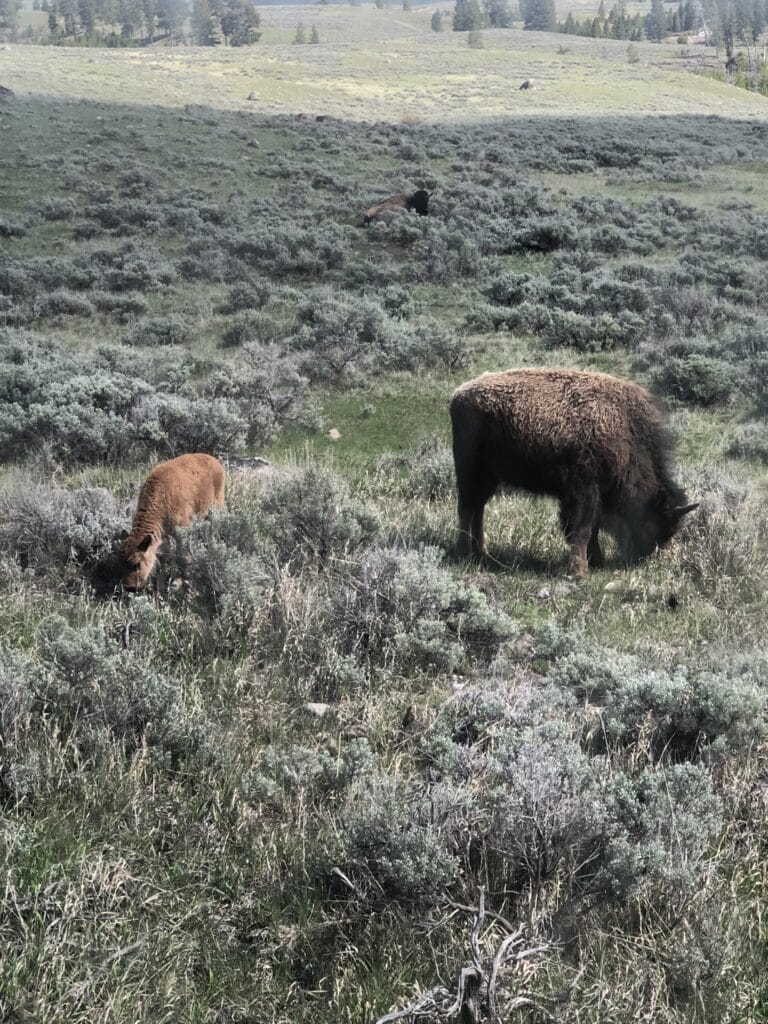 Remind kids continually that the animals may seem tame because they come close, but they are not. In general, our kids self-patrolled themselves to stay on the path and keep a safe distance from wildlife. Well, mostly.

He's playing it safe compared to the tourists who think selfies with bison are a great idea.
We saw plenty of tourists saunter right up to bison for a photo opp. Or inch up to a mother elk to get a better view of her adorable fawn. Days after we left the Mammoth Hot Springs area of the park, we saw news reports of a Yellowstone employee injured by the elk that spend time grazing in that area.
Grand Teton National Park
Best tips: Plan time to hike around Jenny Lake, but start the Jenny Lake Loop at a northern point and avoid parking at the Visitor Center because it's super busy and traffic can get bad. Plan time to ride the Jackson Hole Ariel Tram and eat Top of the World Waffles and huckleberry milkshakes.
Lesson learned: There's always someone better, braver or more equipped. That's no reason not to try or enjoy.
The breathtaking views of the snow-capped Grand Teton Mountain Range behind Jenny Lake in Grand Teton National Park might have been my favorite of the entire trip. The kids skipped rocks and climbed from stone to stone on the edge of the lake. This picture of my daughter is framed in my front hall.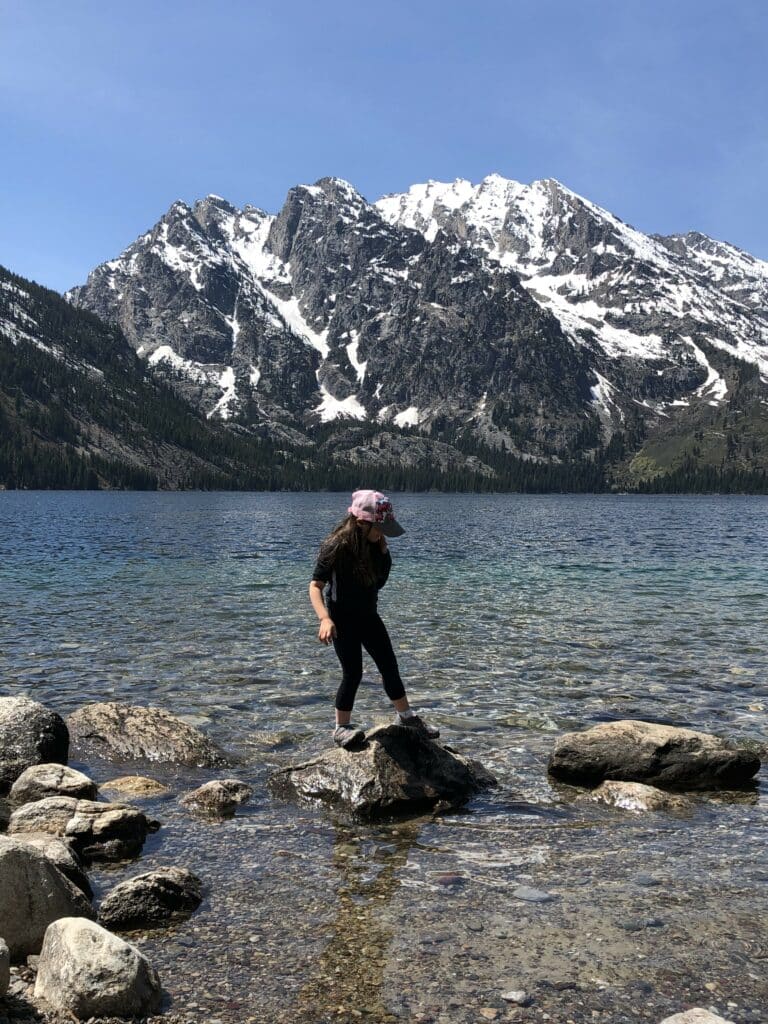 Our itinerary didn't leave much time for exploring the park itself, and that's one of my few regrets of the trip. But here are the things that will definitely make my Grand Teton itinerary whenever I go back:
Hike to Hidden Falls and Inspiration Point to see scenic views of Jenny Lake from above as well as a waterfall and the Jackson Hole Valley. If you take the shuttle boat across the lake, it's an easy 1.8 mile hike with not much elevation change. If you hike from the South Jenny Lake Loop Trail, it's a 5.7 mile round trip hike.
Take a horseback ride through the park. The rides often leave from Jackson Lake Lodge, and it would be fun to see that even if I don't stay there. Jackson Lake Lodge and Signal Mountain Lodge are the only two lodges within the park.
Though our time in the park was short, we did carve out time to visit the nearby historic town of Jackson. Avoid arriving in the late afternoon because you want to ride the Jackson Hole Ariel Tram, and it only runs until 5. The tram runs every 15 minutes, and you ascend 10,000 feet in 12 minutes. During ski season the tram packs 100 skiers and their gear on each trip.
At the top of the mountain, you're greeted with panoramic views and a random eating spot: Top of the World Waffles (which stops serving at 4:30 p.m.)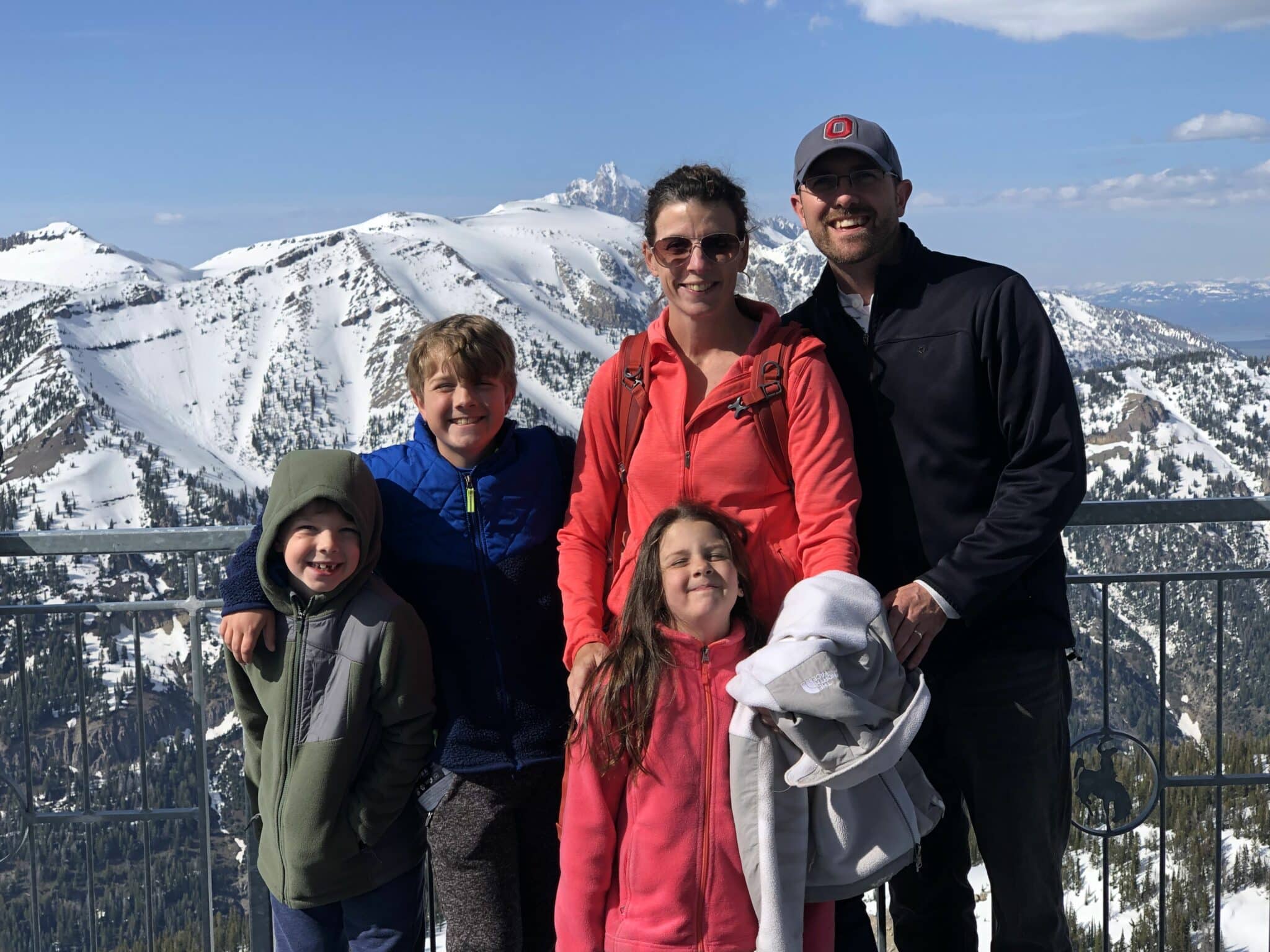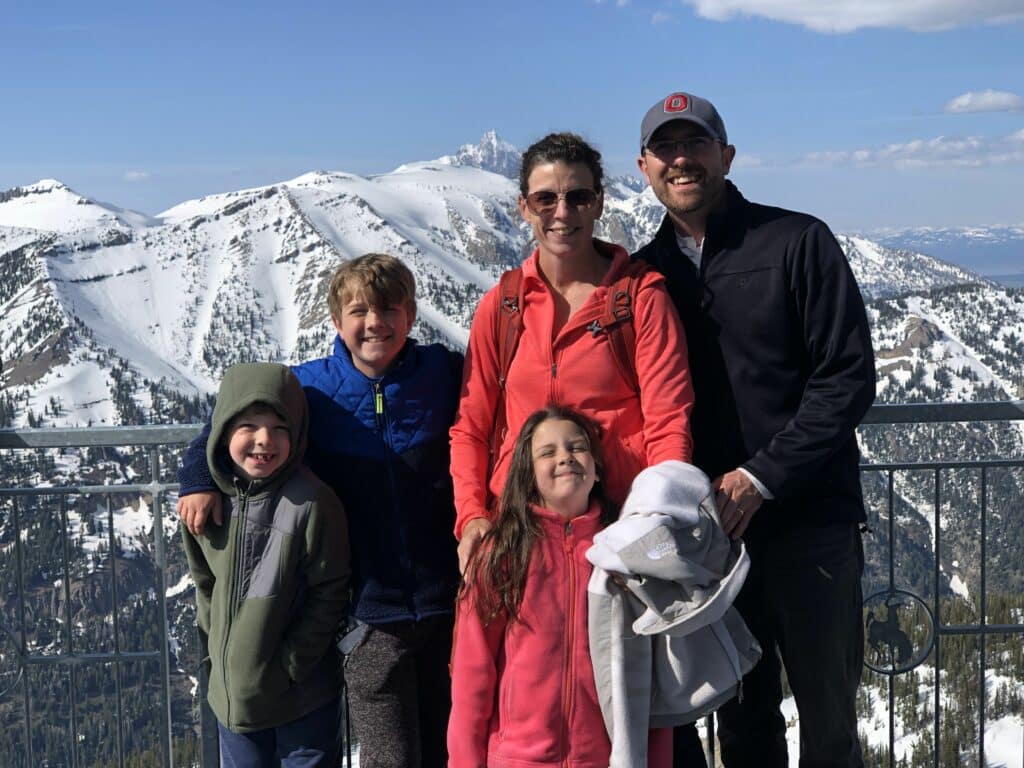 Check the weather before you go. We were in T-shirts in Jackson, but brought jackets for the top of the mountain. The kids were jumping off giant snow drifts.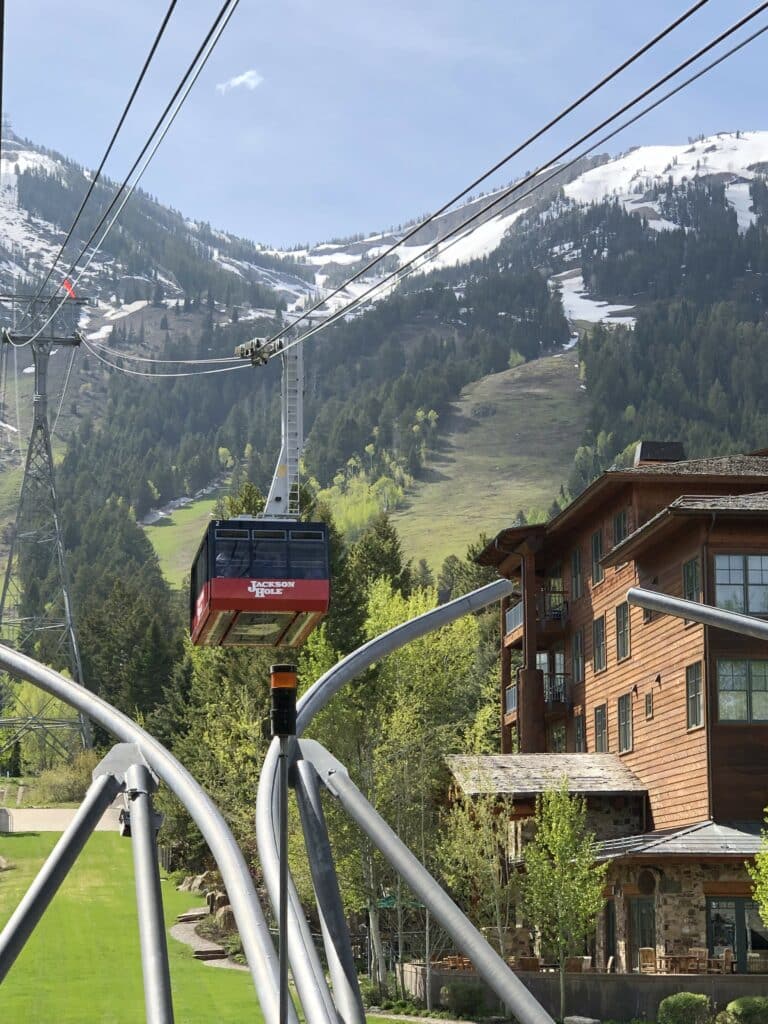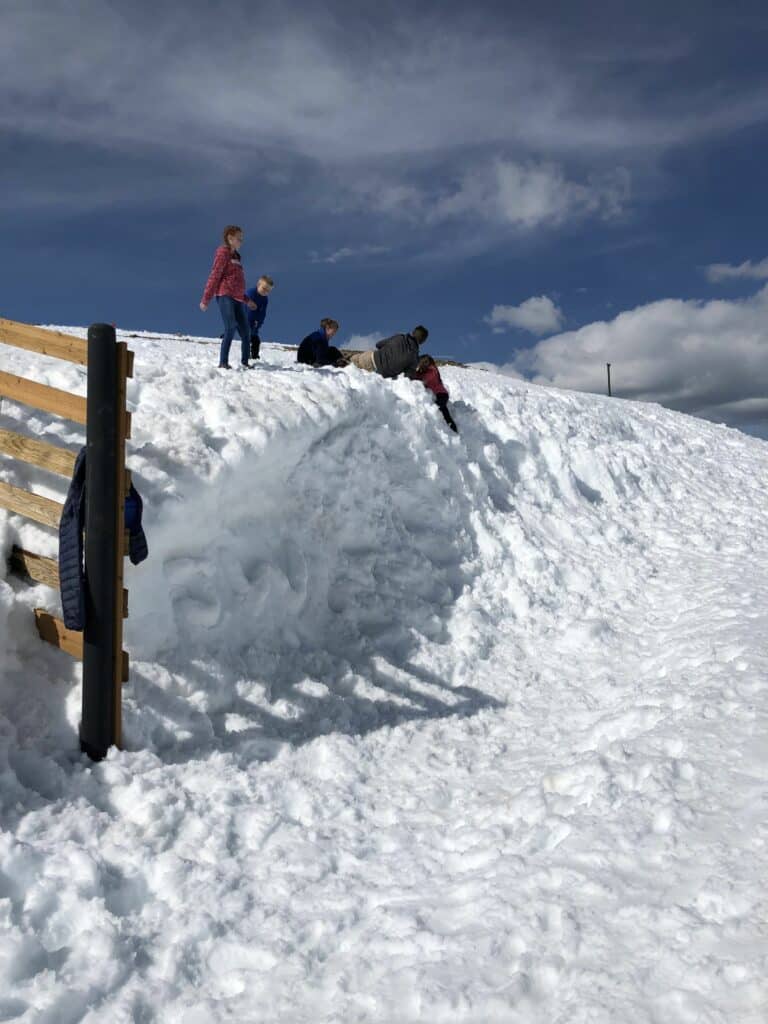 As we traveled up the mountain, I looked at crescent ski tracks on what looked like vertical cliffs and my stomach flipped. I thought back to the rock climbers hanging from the face of Devil's Tower and the backpackers high in the mountains and felt a twinge about my role as a tourist in these parks – not someone who belongs in the way these true outdoorsmen do.
It's ok to do things I enjoy or think I might enjoy, even if I'm not the best at it. There's not enough time in life to master everything. Doesn't mean I can't have fun dabbling.
We grabbed dinner and finished the day with Huckleberry Milkshakes at Jackson Drug, a cute soda shop and local restaurant.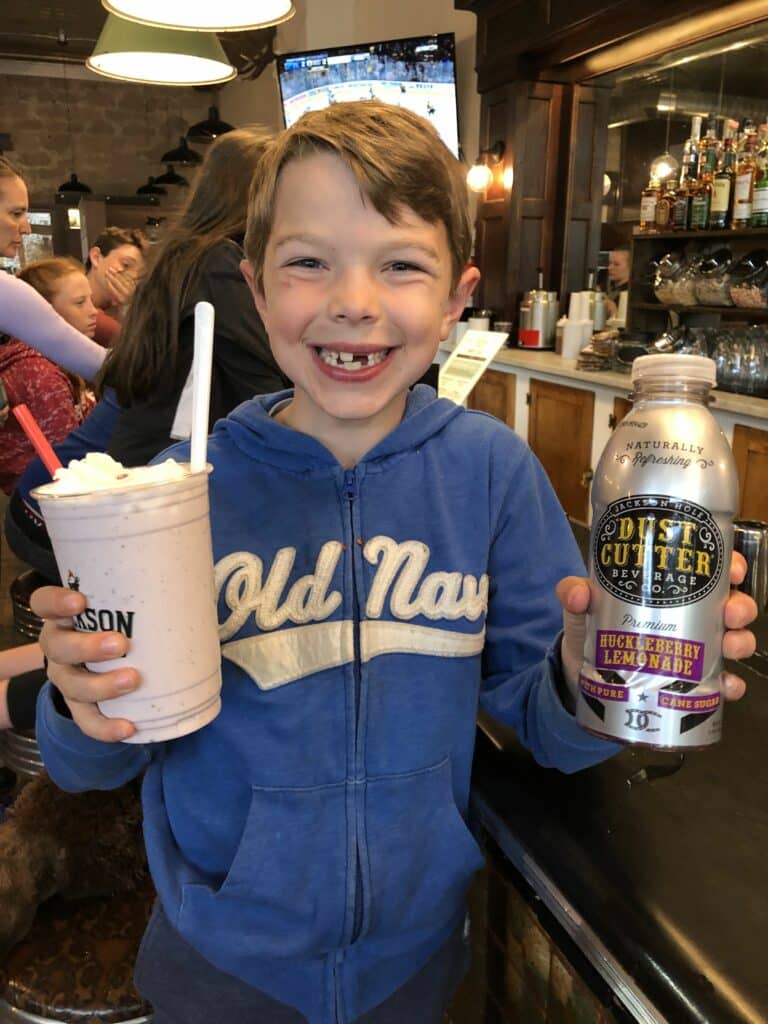 We headed toward a Salt Lake City stop next, on our way to Arches National Park.
Arches National Park
Top tips: Balanced Rock, Delicate Arch and the Windows area are must-dos. If you have enough time, take a guided tour of Fiery Furnace. Get the GyPSy Guide app for Arches and Canyonlands.
Life lesson learned: Just because something seems impossible doesn't mean it is.
The Delicate Arch and Balanced Rock top the list of postcard-worthy images at Arches National Park. Both look physically impossible. But yet, there they are. I'm so guilty of facing problems and deeming them impossible situations. Thinking I can see every possible outcome and feeling helpless when I don't like a single one.
Impossible situations can replace joy with hopelessness. Productivity with defeat.
The red rocks at Arches serve as towering reminders that the impossible has been happening for thousands of years. There are explanations we don't understand and solutions beyond our imagination – that's a recipe for hope.
Canyonlands National Park
Best tip: Soak up the initial view from the lookout across from the Visitor Center at the Island in the Sky area of the park.
Lesson learned: Teaching our kids to be kind matters more than any adventure.
This biggest lesson we learned in Canyonlands National Park came from another visitor. A mom who swore and flipped off two of our kids because she saw them throw a rock near an arch. First point: our kids shouldn't have thrown rocks. Second point: this woman dropped an F-bomb and flipped the bird at a high school and elementary school kid over a thrown rock. Really?!
Canyonlands offers panoramic vistas and lizards and blooming cacti – but that women's outburst was the ONLY thing our kids talked about the rest of the day. What a bummer. I treasure the national parks, and I wasn't happy about the rock throwing, but showing love, kindness and respect to other people trumps even the parks.
Mesa Verde National Park
Top tip: Take the $5-per-person guided tours as the best way to view the well-preserved Ancestral Puebloan housing nestled right into the cliffs.
Life lesson learned: Community means making time to share meals with others, help others, connect with different generations and honor those who came before.
The guide for our tour in Mesa Verde was native Puebloan and started the tour by tossing four laminated pictures in the dust and asking us to stand by the image we thought best illustrated "community." One was a table filled with food, the second an older hand holding a younger one, the third the white headstones at Arlington National Cemetery and the fourth, people building a house.
Our guide made the point that community has meant the same thing throughout the centuries. That people in a healthy community still share meals together, help one another, and honor different generations and their fallen comrades.
I don't invite neighbors or friends to dinner as much as I should because the thought of getting the house and food ready can be daunting. My family sometimes misses opportunities to serve our community or help others because we're busy running to kid activities. People have depended on their communities for hundreds of years, and the building blocks of those communities stand the test of time.
There's nothing wrong with my kids' activities, but the time we made last summer to welcome home veterans traveling with Honor Flight deeply impacted my kids. It also honored previous generations and all the things we've learned as a country through their sacrifices. I need to be more intentional about building community in these type of ways.
Great Sand Dunes National Park
Great Sand Dunes National Park
Top tips: Sled and surf down the dunes on rented boards. Grab the boards from The Oasis on the way into the park.
Life lesson learned: The decision to have a good attitude makes unplanned twists an adventure rather than a stressful experience.
Our day at Great Sand Dunes National Park presented some challenges. We watched the black clouds in the distance as we drove in and rented our sand sleds and surf boards at $20 apiece. We stood with purchased sleds/boards and watched lightning bolts behind the dunes. We comforted crying children with sand in their eyes and welts on their legs from sand hitting them at 15 miles an hour. This could have felt like a bad day.
But there was a 45-minute window of warmth and calm winds where we sledded and surfed. We took pictures as the storms rolled in and rolled out. We admired the dunes lying at the base of the mountains in landlocked Colorado.
We left with great memories because we decided to have a good day. Embracing the unexpected is not usually one of my strengths. Being with friends kept my attitude in check, and hopefully this memory will nudge me the next time things don't go according to my plan.
I didn't come back from this trip rested, but I came back in a much better place mentally. The fun, adventure and perspective will keep my bucket filled until the next trip comes along.

Until next time National Parks!