Top 10 Tips to Work From Home and Supervise Your Kids' eLearning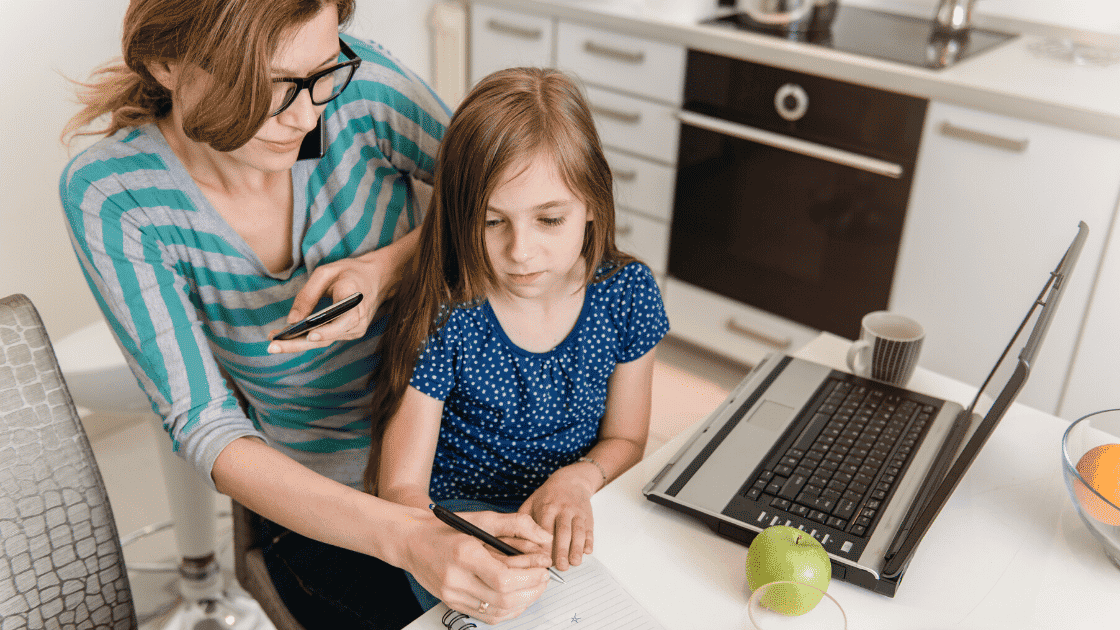 Working parents, including teachers, are suddenly trying to figure out how to work or teach from home while helping their own kids adjust to online learning. We're sharing our best tips as moms who have taught online for years, who are now transitioning all of our in-person college courses online and who have built a business in the evenings and summers with kids at home. These tips for working from home have worked for us, so we recommend being intentional with this transition because it's the new normal for a while.
This post contains some affiliate links – we earn a small commission if you purchase through our links, and we appreciate your support.
1. Figure out when you're naturally most productive.
If you have some flexibility in when you work, start here. Depending on your circadian rhythm, you're naturally either an early bird or a night owl or somewhere in between. It's biology. It's also your chronotype: your tendency toward "morningness or eveningness." You probably already have a pretty good idea of where you fall, but I always love a good quiz! There's plenty of research to support the results of the The Automated Morningness-Eveningness Questionnaire and you don't have to enter your email for results and specific suggestions.
I wrote a blog last year, fully intending to advise moms to get up earlier. But I found that the research didn't always support that–hence the title "Get Up Earlier" Is The Wrong Message.
2. Consider the age of your kids.
I tend to be a morning person, but when my boys were little, I worked more at night after they went to bed because the house was quiet. Now that they're older and stay up later, I try to get some work done before they wake up in the morning. If your kids are school age and will be doing e-learning activities during school closures, find out when they are expected to be online. If there's not a specific schedule from your school, you can make adjustments based on your own work.
3. Make a daily schedule for yourself and your kids.
As college professors, Mary and I teach both in person and online so we don't need to be in the office every day. Now that we have to move everything online and our kids will be home, we have huge blocks of time to organize. Lack of a plan tanks productivity every time. What's that quote? "A goal without a plan is just a wish."
Now that you've considered your most productive time and the age of your kids, create a daily schedule with those things in mind. Do your kids need to be actively supervised when they are doing school work? If so, don't schedule that on top of your most productive work time.
Mary is a master of efficiency and shared her strategies here: The Top Way To Get More Done Each Day.
4. Clarify expectations with your boss or team and your family.
Make sure you know what's expected of you when it comes to working from home. And then communicate those expectations to your family so they understand. Be clear about how you expect your kids to spend their time, and make listening to their concerns and feedback a priority. This is a huge adjustment for everyone, so communication is key–it's the only way to be aware of problems so you can respond and resolve them.
5. Designate a work space for you and for your kids.
Choose a specific spot in your home to be your work space. (I tend to get tired of working in the same location in my house, so I have a few designated–and I love taking my laptop outside when the weather allows it. This goes against most advice about having one spot. Do what works for you.)
Ideally, your space should be free from distraction, but that's not always realistic, especially when you're working from home and you also have to keep track of your kids' online learning. Make sure your internet is reliable from the location you choose. If you can set up something near a window or have some plants nearby, that will help. The Spruce has some good tips about setting up a workable home office. And this funny article from House Beautiful with pictures of makeshift work-from-home desks that will prove that we just need to do what works right now!
If you don't already have a homework spot for your kids, designate that space too. Get them involved in making decisions about where they'll work so they buy into this new normal. If they're working in a space near yours (which my tween and teen need to do so they stay on task), I strongly recommend earbuds or headphones for everyone!
We subscribe to Amazon unlimited music so we can listen to our own music even if we're working in the same spot and nobody gets distracted by ads. Several plans are available and price is reduced if you have an Echo, Echo Dot or Echo Show.
6. Get dressed.
This may sound like a crazy suggestion, but there's some research to support it, including this study from Northwestern University and The Golden Apple: Redefining Work-Life Balance for a Diverse Workforce. It also makes a difference in my own focus and productivity when I work from home. I'm not suggesting you need to get dressed up to work from home, but save your pjs for later in the evening when your work is done.
Getting dressed also helps you separate work time and home time as much as possible because it's easy for that line to blur. It may also be helpful for your kids to see you dressed a little differently during your normal workday–it's a visual cue that you're working.
7. Use productivity apps and online tools to stay focused.
If you're used to going to work and not working from home, you'll find that you have to be intentional about staying on task. It's easy to get off track, especially if you're also trying to oversee homework and online learning for your kids. Multitasking is not an effective way to manage your time, so you need to block time for certain tasks and largely ignore chores around the house during your designated workday. These apps and tools have free versions, and will be helpful for both you and your kids.
8. Take breaks.
You'll go crazy if you don't take breaks. Good mental breaks can help keep you focused and be more productive. They help reduce stress which means improved physical and emotional health. Breaks can also restore motivation, increase creativity and improve learning. To get you started, here's our list of 61 Easy Ways You Can Relieve Stress Right Now.
9. Give yourself and your kids plenty of grace, and make adjustments.
This is an unprecedented situation and it's constantly changing. If working from home is new to you, don't expect to get it right the first time. It's going to work some days and be incredibly frustrating on other days. If you acknowledge that ahead of time, it's a little easier to handle those hard moments when they inevitably happen. Make adjustments to your schedule and work space until you find something that works pretty well. We're all on edge, and families will have to rely on each other to navigate this new normal and be stronger in the end.
10. Look for ways to be grateful.
We believe in the power of gratitude to get through anything in life, so here are our Top 10 Fun Ways to Be a More Grateful Family.