Top 10 Ways To Help Children At The Border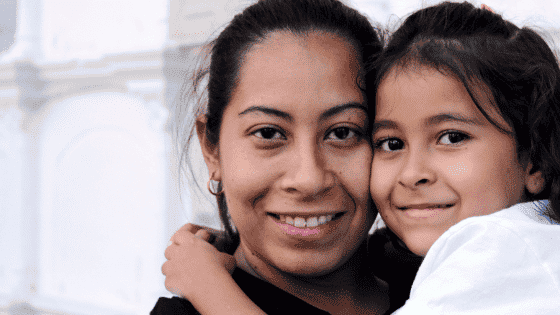 Children at the border are experiencing trauma right now that will have lifelong effects. They didn't choose this life, but it will impact them, their friends, their future spouses, their children. Which means it will affect this entire generation of kids, including our own. As our world gets smaller and media brings everything to the palm of our hand, we should feel compelled to act. It's not across the world anymore. It's here. These unaccompanied minors need our help so they can be reunited with their families. Here's what we can do.
My family just returned from a trip to Guatemala. Our son was born there, and this was his first trip back to his home country. We wanted to show him the very best of the country and the culture because it is a breathtaking place. (More about our adoption journey here.)
My family in Panajachel on Lake Atitlan in Guatemala.
Over 20 years ago, my husband and I traveled to Guatemala on separate mission trips and fell in love with it. The seed for adoption was planted then, and we brought our baby boy home 10 years later.
Everyone is passionate about something, and for us, it was an overwhelming desire to give a home to a child who needed one. And in our case, we had seen devastating poverty and desperate families–when Ken visited in 1999, a woman begged him to take her child home with him to the US.
Her life was so far beyond our comprehension…it's easy to react with quick judgment. It's hard to find compassion because that requires us to be uncomfortable in nearly impossible efforts to understand.
Which brings me to the heartbreaking reports of inhumane conditions for children at the border. I don't enjoy talking politics because I get frustrated by the polarizing positions and difficulty finding unbiased, factual information. But as a mom–especially the mom of a Latino child–I am compelled to say something and do something.
My perspective has shifted dramatically over the last 12 years because my world has been rocked to the core, and nearly everything I knew has been challenged.
One of our goals here is to bring you a balanced perspective based on what the best research says and what our lived experience has taught us. I honestly don't know how to do that with excellence this time. It's so hard to filter through the information…and I've been reading everything I can find from all angles.
A friend of mine called a detention center about 15 minutes from her home and learned that no children are housed there. According to the chaplain, over 1600 people who speak 32 languages are sharing space with a prison. They will likely be there for 6 months to a year, but there are hundreds of programs in place to help during that time. So that sounds promising compared to what we've seen: the news reports of the dad and daughter who drowned, the firsthand accounts from some of the facilities, the unspeakable messages in a secret Facebook group of border agents and the scandal in Clint, Texas.
So, my bottom line is this: children at the border are experiencing trauma right now that will have lifelong effects. They didn't choose this life, but it will impact them, their friends, their future spouses, their children. Which means it will affect this entire generation of kids, including our own. As our world gets smaller and media brings everything to the palm of our hand, we should feel compelled to act. It's not across the world anymore. It's here.
Below are the best ways I found to help children at the border. If you know of others, please comment so we can add those to the post.
1. Call your representatives.
Tell them you're calling about detained immigrant children, and explain that you want soap, toothbrushes and beds provided for them right now. Facilities are supposed to be "safe and sanitary" (according to the 1985 case Jenny Lisette Flores v. Edwin Meese) and that's not happening.
The number for the US Capitol switchboard is 202-224-3121. Ask for your senators and representatives by name. If you're not sure who they are, you can search the House or Senate directory.
2. Share this information and encourage others to call.
The more people who call, the more attention the issue receives. It makes a difference. My family needed help with a passport before we left for Guatemala–it arrived less than 24 hours before our flight–and the only reason it showed up on time was because of the help we received from our senator's office. Our elected officials care about what's important to us, so call and encourage others to do the same.
3. Purchase the Coloring Without Borders coloring book.
All proceeds from this 176-page book support Families Belong Together. The book includes illustrations from 80 professional artists around the world, and each book includes English and Spanish.
Families Belong Together "includes nearly 250 organizations representing Americans from all backgrounds who have joined together to fight family separation and promote dignity, unity, and compassion for all children and families….The coalition has raised millions of dollars for immigrant children and families, mobilized hundreds of thousands of people in all 50 states to take action, and helped to reunite thousands of families."
4. Donate or create an online fundraiser through KIND (Kids In Need of Defense).
KIND "is the leading national organization that works to ensure that no refugee or immigrant child faces immigration court alone. We provide them with high quality representation in their deportation proceedings. KIND promotes protection of children in countries of origin and transit countries and works to address the root causes of child migration from Central America. KIND also advocates to change law, policy, and practices to improve the protection of unaccompanied children in the United States, by educating policymakers, the media, and the broader public about the violence that is driving children out of Central America and their need for protection."
You can easily start or support a fundraiser on their site–options include amounts needed for child protection, mental health resources, education opportunities, interpreter costs, school supplies and public transit passes.
5. Volunteer as a Child Advocate through the Young Center.
The Child Advocate Program is an option if you live in Chicago, Houston, San Antonio, Harlingen, Phoenix, Los Angeles, New York or Washington, D.C. You would "spend time with and advocate on behalf of an unaccompanied immigrant child while he or she is subject to deportation proceedings. We welcome volunteers from all cultures, professions, races, ethnicities and social backgrounds."
About the Young Center: "Guided by the principles of the Convention on the Rights of the Child, the Young Center has developed the only program in the nation that provides independent Child Advocates, whose job it is to advocate for the child's best interests—safety and well-being."
6. Read about immigration and the immigrant experience.
One of the best things we can do for ourselves and our kids is to better understand the experiences of others. We become a lot less fearful and a lot more compassionate. This book list is from a website for teachers and suggests fiction and nonfiction titles from elementary age through adult.
7. Make a memorial or tribute gift to Lutheran Immigration and Refugee Service.
Lutheran Immigration and Refugee Service (LIRS) has been around for over 80 years, helping refugee and migrant children through the entire process of family reunification, including loving foster care. When you give in honor or memory of someone else, LIRS will send an eCard or a physical card to notify family or friends of the gift.
8. Become a transitional foster parent for an unaccompanied child.
Specialized foster care services are being provided around the country by Lutheran Immigration and Refugee Service and United States Conference of Catholic Bishops.
I learned about the Transitional Foster Care Program through Bethany Christian Services from Shannan Martin, a writer and adoptive mom who is passionate about social justice and everyday ministry. The program is an option if you live in Indiana, Michigan, Tennessee, Maryland or Pennsylvania: "As a transitional foster parent, you'll provide a safe and loving temporary home for a child until they can be reunited with a family member. You'll also provide the guidance and emotional support children need to begin healing from their past trauma and grieving the loss of their homeland." This article from an Indiana news station provides more details about Bethany and the program.
9. Donate knitted hats or sewn teddy bears to Refugee and Immigrant Center for Education and Legal Services (RAICES).
RAICES will accept these and some other in-kind donations like food, clothing, toys, etc. Be sure to email first (donations@raicestexas.org) to make sure your donations are needed and to find out where to send them.
RAICES provides "free and low-cost legal services to underserved immigrant children, families, and refugees….Founded in 1986, RAICES has grown to be the largest immigration legal services provider in Texas. In 2017, our staff closed 51,000 cases at no cost to the client."
10. Pray.
I don't know about you, but prayer is the first thing I do when I feel helpless. I think sometimes we toss around the idea of prayer without giving it the weight it really deserves. It's one of the most powerful tools we have, and we need to use it in earnest more often. Here are some Bible verses to help guide you.
We would love to hear from you! Let us know how you've helped, or what suggestions you have for other volunteer or donation opportunities. Comment below or email us at support@salteffect.com