5 Life Lessons Courtesy of Netflix's Tidying Up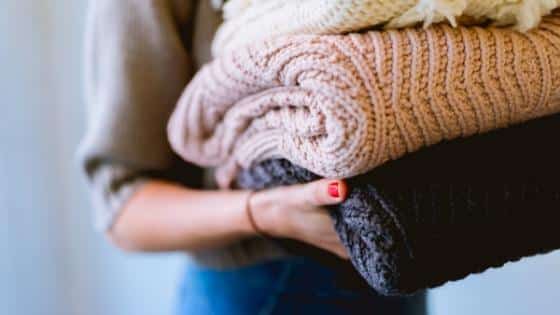 My husband and I finally cut cable last week. We've been talking about it for approximately two years. We would get mad, threaten and research…and then I would complain that I rarely sit and watch TV and just want my shows to be waiting on the DVR when I finally sit (with my pile of laundry to fold). We justified that we couldn't find an option that included sports ranging from the U.S. Open tennis tournament to college football for my sports-watching husband. So the cable kept on keeping on in our house.
We're not old school or unwilling to change in general – just with cable. We were early adopters on dropping our home phone. I don't think we've had a landline in maybe 10 years. But man, we clung to cable. Until now. So I've been polling friends and other moms on basketball court sidelines about shows I should check out on Netflix, Hulu or Amazon, because these are now my options. I'm the weirdo woman who would choose Die Hard or The Fast and the Furious over a Hallmark movie or reality shows any day of the week, but I kept hearing about the show Tidying Up, and my curiously kicked in. So I pulled out the laundry piles last week, called the hubs over and queued up the first episode. Then it automatically started the second episode, and it felt rude not to watch that one, too.
After 10 minutes of scoffing at how much stuff these people have and eye-rolling at the dramatized marital spat over clutter, Tidying Up sucked us right in. We grudgingly admitted that the clothes folding technique was amazing. [Note: my middle son and I MIGHT have refolded all of the pants in his drawer and stacked them vertically because this suggestion was pure genius.]

You can see every pair of pants without digging!
I haven't actually read the book that inspired Tidying Up (The Life-Changing Magic of Tidying Up by Marie Kondo) but after two episodes of the show, I truly did see the impact of this KonMari method on personal stress and relationships – the marriages, the parents and kids – that made me stop and think. I learned some lessons that apply to life well beyond de-cluttering my house.
Lesson 1: Acknowledge and be grateful for what you have
The show's guru Marie Kondo starts each episode by finding a spot to kneel and greet the family's house, thanking it for protecting and providing a good home to its occupants. It's the first thing she does, and it sets the stage before she even tours the house to see the extent of the clutter or gives a single suggestion.
Kristie and I talk a lot about the impact of gratitude. Numerous scientific studies tell us that the benefits of gratitude are endless: increased happiness, better health, career advancement, optimism, more self-esteem, generosity, improved sleep, longer life, more energy, resilience, stronger friendships, more fulfilling marriage, better mental health.
We've learned that while gratitude journals can produce these benefits, it's even better to actually write a thank you note. Kristie and I committed to writing one thank you card each week for the next two months. We'll report back to let you know how it goes!
Another tip if you want to try this yourself: Put stamps on the envelopes and throw the blank cards in your bag or purse, or even in your car. I'll admit this is a better use of my time than scrolling through Instagram while I wait to pick up kids at practice or from school.
You can also grab our Ultimate Guide to Raising Grateful Kids for more suggestions related specifically to fostering gratitude in your kids.
Related post: The Secret to Contentment in a Season of Selfishness
Lesson 2: Tackle things one category at a time
In each episode of Tidying Up, the homeowners plow through their clutter one category at a time: clothes, kitchen utensils, garage items, sentimental items and photographs.
Big name coaches from Dave Ramsey to Tony Robbins talk about the concept of the Wheel of Life to illustrate the different parts of our lives and the importance of balance in these areas. Though there are variations, the areas that consistently appear on this Wheel of Life are:
Career
Personal finances
Spiritual growth
Physical health
Intellectual growth
Family
Social relationships
Reflecting on how we're doing in each of these areas can help us set priorities, decide where to start and move forward with intention. Marie starts with clothes because they are less sentimental, so maybe start with a category that seems less daunting. Spend some dedicated time exploring how to address problems and improve in just this area. Then move on to the next category.
This Entrepreur.com article offers a seven-step formula for reaching goals. Basically, it says you should:
Know what you want in a certain area (a CATEGORY) and create a measurable and specific goal
Set a deadline
List out all of the tasks needed to accomplish the goal (Marie comes back over several weeks and gives homework each week, like going through all of the clothes and deciding what to keep and what to toss)
Organize your list into an actual action plan
Identify obstacles or limitations
Take the first action
Do something every day to move toward the goal
This idea of tackling one category or goal at a time also appears in the bestseller The ONE Thing: The Surprisingly Simple Truth Behind Extraordinary Results by Gary Keller and Jay Papasan. I haven't read it yet, but I heard Papasan on a podcast talking about the strong research behind the method, and it's now on my to-read list. The book description says "In The ONE Thing, you'll learn to * cut through the clutter * achieve better results in less time * build momentum toward your goal* dial down the stress * overcome that overwhelmed feeling * revive your energy * stay on track * master what matters to you. The ONE Thing delivers extraordinary results in every area of your life–work, personal, family, and spiritual."
It sounds like science supports this idea of tackling one major goal at a time.
Lesson 3: Confront the whole, big, ugly problem
Marie asks homeowners to start the Tidying Up process by piling every piece of clothing they own on one bed. Then they pull out every kitchen utensil and lay in on the counter. Then she simply says, "You need to be confronted with how much you have. Then you realize what you need to do."
I'm often guilty of avoiding stressful situations or problems and issues that just seem overwhelming. It feels easier in the moment to ignore or delay rather than stare the source of my stress in the face. The American Psychological Association published a 2017 report on Stress in America. A couple interesting findings:
The most common sources of stress were 1) The future of our nation 2) money 3) work 4) current political climate 5) violence and crime
Women historically report higher stress levels than men, but the gap widened in the most recent report. Women's stress levels went up while men's went down.
Gen Xers ages 39-52 report the highest levels of stress
Americans reported increased incidence of lying awake at night, anxiety, anger and fatigue due to stress
Regardless of the cause of the stress – whether it's piles of dirty dishes in the sink or deep concerns about our nation – avoidance is not a healthy coping mechanism. Psychology Today boils it down:
avoidance just doesn't work and can actually hurt both your health and relationships
Lesson 4: Embrace the power of purging
If you've ever cleaned out a junk drawer, you understand the concept of "it gets worse before it gets better." But man, does purging feel good in the end. In the second episode of Tidying Up, empty nesters who are borderline hoarders find a family journal with a hand-written entry from Pearl Harbor and play pool together on a table that isn't covered in junk for the first time in years.
I've had two recent euphoric Tidying Up moments in my house. Last year, spring break where I teach was a different week than spring break for my kids. So I spent part of my week at home emptying the built-in cabinets that flank our fireplace, painting the 80's honey-colored wood a more modern white, and putting the shelves back together with about 80% less stuff on the shelves. AND I LOVE THEM. It still makes me happy to look at them a year later. This room is where we spend almost all of our family time, and the room looks bigger, lighter and just nicer without the clutter.
Over the holidays this year, I opened our front hall closet to get out a pair of kid's gloves. Cue the avalanche. I went kamikaze and bought enough canvas bins to line the top shelf of both the front closet and the spare room closet – another danger zone of falling extra sheets and pillowcases. I didn't actually eliminate much stuff, but it's contained, organized and not visible or a physical hazard when I open the closet doors.
Confronting all that baggage we've been avoiding one category at a time, filling up garbage bags and getting it out makes a world of difference. When it comes to heavier-duty life baggage, having a concrete list of family values can help you make difficult decisions about what stays and what goes. This applies whether you're talking about possessions, activities or even commitments. Check out our post about choosing family values and worksheet to guide you through a simple process if this is something you'd like to do in your family.
Lesson 5: Choose things that spark joy
Marie instructs homeowners to go through their things and keep only the things that "spark joy." I want to use this lens as I look at the things I choose to do, the things I choose to spend my money on, and the people I choose to spend time with. And I want to make sure they spark joy, rather than just temporary happiness. To be clear, they're not the same thing. [Caveat: sometimes we're the one who sparks joy for someone else, or responsibility simply requires things of us that don't spark joy – I'm talking about making sure we are choosing things when we can that help fill our joy tank.]
The average American home has more TV sets than people, and the TV is on for more than a third of the day (over 8 hours). My kids will tell you it makes them happy to watch TV, and they ask for screen time approximately 342 times per day. But the spontaneous dance parties, conversations over 1,000-piece puzzles, books read and cookies baked when we aren't watching TV seem to spark a whole lot more joy. Don't get me wrong, we watch our fair share of TV – even without cable. But I want to say no to screens more than I say yes, whether it's to do things with my kids or just to send them off to make their own fun because I've got other stuff to do.
So I'm challenged to examine what creates joy, rather than just happiness, and then to make sure I'm proactively choosing those things when I can. This means I will sleep in tomorrow (the first snow day my school has called in five years) when I have other things I should be doing, and I'll be off to a girls weekend next month even though I'm missing a couple of my kids' games and falling behind on my grading. Time to tidy up.