6 Steps to a Routine that Really Works for Families Stuck at Home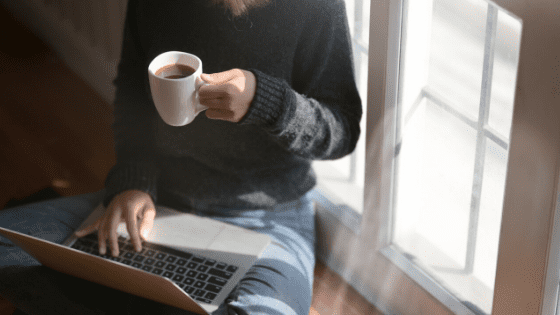 Like a lot of other moms right now, we've been thrown into an alternate universe where we work from home while our kids are also home from school. The internet has exploded with pictures of idealistic at-home routines, but a one-size-fits-all approach doesn't work. Routines will need to look different for each family and they'll need to be flexible, but our kids really do need them (and moms do, too!)
I'm a runner. Kind of. I've run lots of 5ks, quite a few half marathons and one marathon. I run because it's the cheapest, most efficient workout during these crazy, busy years of raising kids.
I'm a slow and steady runner. I don't stop and walk because I struggle to start back up again, and I just like to know I ran a race without stopping. In every longer race I've run, there's always at least one person who keeps stopping to walk before picking the run back up again. They pass me over and over as they toggle between walking and running, and usually finish ahead of me even though I never stopped. It drives me a little crazy. There are entire training programs out there built around the walk/run method.
I know that plan can really work, but it doesn't work for me. This got me thinking while I ran in the rain this week about how people can work toward the same goals in such different ways.
I was running in the rain because I needed a break from my house.
Like a lot of other moms right now, I've been thrown into an alternate universe where I work from home and my kids don't go to school.
As we struggle to adapt as moms, the internet has exploded with pictures of at-home routines and color-coded daily schedules. I jumped on that train and taped a basic printout of a schedule to our basement door. I'm a big believer in structure and planning, and I was geared up to write a post about routines – why to have them and how to make one in this crazy new life we're living.

This schedule now has scribbles and post-it notes all over it. And we still change it up most days.
And then I saw it. A thread in a working moms Facebook group where moms were railing against all of the posts about ideal family routines in the wake of coronavirus. These moms talked about needing to work during the day (some required to clock in and out at certain times) in ways that don't let them homeschool or host craft hour or do a family workout. The shared that the best they can do right now is put their kids on Scholastic.com for six hours a day while they try to get work done and not lose income.
My heart went out to these moms as I saw the stress and guilt and frustration oozing from every post.
I'm a teacher, and I'm thankful that I have some flexibility as I work remotely, but I start back to teaching my college students virtually next week. Our household has deviated from our "schedule" every day for the first three days it's existed, so we'll see how my work schedule next week shakes things up even more in my house.
I like routines, and the nature of my job gives me some ability to work before my kids get up in the morning and after they go to bed at night. That's not true for other moms. I like to run slow and steady without stopping, and other moms like to (or have to) run fast, stop for a break, then run fast again. There are different ways to finish the race. But there are also some bottom line things we all need to do if we want to see the finish line.
1. Redefine Routine
My kids have nothing on the calendar for the next three weeks. No school, no sports and no activities. When I wake up each morning, my Apple watch says "No more events today." That just doesn't happen for my on-the-go family with two working parents and three active school-age kids.
The forced slow-down will have some positives, but one of the hardest parts will be the limitations on what we can go and do.
I'm notorious for filling most of our free time.
Free Saturday? We should check out that event I saw on Facebook. Or maybe invite the neighbors over for dinner.
Birthday party invitation for Sunday at 3 p.m? I think we can squeeze that in between church and flag football.
I'm a little uncomfortable when I see "no more events today." Spending every day at my house is not a life my kids or I have ever known. I know the importance of structure – for myself and my kids – and suddenly I am responsible for replacing the structure previously created by external things like work and school and activities.
Routines will need to look different for different families and they'll need to be flexible, but our kids really do need them.
The Centers for Disease Control and Prevention has been a top source of information on the coronavirus, but they also tout the benefits of a consistent routine for both parents and children in managing stress and anxiety.
I teach college students, and my university was one of the first to announce students and faculty wouldn't be coming back to campus after spring break. We moved to a virtual format and my inbox exploded with questions from students. This particular comment stood out:

"Everything is so crazy, every one I've talked to is already craving a routine and some sense of normalcy among this chaos. Nothing feels real at this point. I hope in the next coming weeks things will start getting better, but doubtful."
Find a routine that works for you and your family, even if it looks different from what you see on Facebook or what your neighbors are doing. It might be as simple as setting by-whens for things like meals, sleep and health habits as anchors to hold together a basic structure. For example, "everyone will be up and dressed with teeth brushed by 9 a.m."
Creating a routine also doesn't mean you can't designate a PJ day or let kids sleep in one day because the house is quiet and you're getting a lot done. But if you stick to the plan four days out of every five, you and your family still gain all of the benefits that come along with the consistency of routines.
2. Mix Things Up
We have a children's book at home called Yummy, Yucky. My kids are all too old for it, but we just can't get rid of it. A bald little boy eats all kinds of things. He announces that "blueberries are yummy" but "blue crayons are yucky," and that "mommy's cookies are yummy" but "mommy's coffee is yucky." Near the end, he realizes that "ice cream is yummy" but "too much ice cream is yucky," and he looks a little green and sick.
Moral of the story?
YouTube and Playstation…working on my computer…art projects…reading…homework…snacks. They get kinda yucky when you do them too much.
Sometimes it's a small change. My sister couldn't listen to my nephew watching someone else play Minecraft on YouTube for one more second, so she moved him over to the Art for Kids Hub YouTube channel where he can learn to draw Disney characters and Lamborghinis.

Here are my kids watching an Art for Kids Hub drawing tutorial of leprechauns for Saint Patrick's Day.
Other times, we need a bigger switch. I worked all morning while the kids "did schoolwork" and played video games, but then we broke to eat lunch and take a jog around the neighborhood.
Whatever it looks like for your routine, make sure you plan to or spontaneously mix things up. Have a list of ideas ready for when you or your kids need a change of pace:
Exercise (there are free workouts posted to Facebook and on YouTube or you can head outside to walk or run, shoot hoops, or kick or juggle a soccer ball)

School work (most kids have assignments or direction from teachers)

Snacks or even cooking (I've still got a brownie mix in the cupboard calling my kids' names)

Chores

Quiet time (reading, games, puzzles, devotions)

Free time/Screen time

Projects (clean out a closet, fill a donation box, reorganize spice cabinet or pantry, create an online photo album of a recent trip/school year)

Creative projects (Check out how-to YouTube channels, bust out the Play-doh and tell them you'll be back in 30 minutes to judge their creations or send kids on a virtual museum tour. I saw that an art studio in our state McHarper Manor is doing projects via Facebook Live

every day at 1 p.m. EST. T

hey post the projects and supply lists at the start of the week. My kids aren't super artsy, but the pastel chalk and modeling clay projects looked hopeful so I made an Amazon order. The kids liked openings the boxes when they showed up, and I won't let them touch the supplies under later this week when the projects go live, so they're actually getting excited.)
3. Be Flexible
I can be a tad rigid. It makes me dependable because if I say I'll do something, it gets done. But it also makes me change-averse. When things need to shift, I've been known to cop an attitude or resist or maybe even throw a tantrum.
I tried to go into the idea of a new family routine understanding that other members of my family may not view it with my level of commitment. I tried to remember that real-life things would disrupt that schedule. There have been some wins and some losses where my attitude is concerned already, but I'm really trying. My current evidence is that two children are at this moment sleeping in their self-made blanket fort in my front room instead of their beds. I'm displaced from my usual night-time working location in the dining room, but look how flexible I'm being in these trying times!
This is actually two children, just in case you're scratching your head how a human body could actually bend like this.
4. Get Outside
Do what you can to get yourself and your kids outside every day if weather permits. The fresh air and sunshine (if we're lucky) have magical healing powers. One study of college students proved that even looking at nature helped "restore" students who were fatigued and get them re-focused. All kinds of research shows that time outdoors reduces stress, depression and anxiety. Being in nature lowers levels of the stress-associated chemical cortisol, and it also can give tweens and teens an a-ha reminder to be grateful.
It's also amazing what smiling at a stranger or waving to a neighbor actually does for the mood.
My neighborhood – and lots of others judging by social media – did a Shamrock Hunt for Saint Patrick's Day. Kids colored shamrocks and taped them inside front windows. A walk around the neighborhood then became a hunt for shamrocks. My kids counted 140, but they also included the shamrocks on every wreath and yard flag. The neighborhood is planning to continue the hunt weekly while we're on lockdown with new themes each week. My kids suggested Harry Potter and sports teams, so we'll see if their ideas make the cut.
I saw another neighborhood that set up a workout path. People posted a quick exercise on their mailbox on orange poster board – "do 10 jumping jacks" or "do the floss dance for 10 seconds" – so families walking the neighborhood could look for the signs and pause for a quick exercise break.

My husband took the kids to a nearby park to do an outdoor scavenger hunt.
Download the outdoor photo scavenger hunt I created for my kids.
5. Connect…even if you have to get creative
My coworkers and I were texting today about some developments at work since we're all working remotely now. My phone rang, and it was the coworker whose office sits right next to mine. She was answering my question, but then just said, "I really miss you guys." As teachers, we don't sit together in an office space all day. But we pass each other going to and from classes and squeeze in quick lunches or doorway chats when office hours and free time overlap. It's only been a week, and we're already feeling the void.
It's a little overwhelming to check my email, text messages, GroupMe messages, Marco Polo video messages, Facebook and Instagram throughout the day. It's not the same as seeing people and real conversations. I miss my neighbors and my bible study girls and my coworkers and my other friends and my students, gosh darn it!
Physical isolation can't mean no social interaction, so it's time to get creative. (We did a whole post on how important it is to make time for friends if you need any more convincing.) The neighborhood moms are planning a virtual happy hour and my bible study girls have a Zoom video chat set up for Sunday night. My extended family sends video chats back and forth each day via the Marco Polo app, so we sit and watch them after breakfast every day. We got to hear about the earthquake in Utah straight from the sweet mouth of my 3-year-old niece in her Little Mermaid pajamas and see my littlest niece almost starting to crawl. My third-grader even Facetimed a friend hoping to play Battleship over screens today.
6. Show Grace and Gratitude
So simple to say, yet so hard to execute. This is not going to be easy, moms. I shared some of my wins from this week, but this time at home will likely go on much longer than my list of fun projects or creative ideas. Trying to work from home when I miss my coworkers and students will wear on me. Having the kids home week after week, away from their teachers and friends and activities, will become less than ideal for me as a work-at-home home who never wanted to be a stay-at-home or home-schooling mom. I don't even have my usual coping mechanisms – I can't meet a friend for coffee or drinks, or take a trip to Target or send the kids out to play in the neighborhood to buy me an hour of guilt-free quiet.
So it's going to take grit to show myself, my kids, my husband and the crazy people on Facebook doing things that make me roll my eyes some grace. It will need to be a conscious choice to not beat myself up about my kids' screen time. To not freak out when my ingrate children complain about setting the table for dinner after two hours on Netflix. To look for reasons to be grateful instead of being anxious or irritated.
The best way I know to control my attitude so I can actually do this is to focus on gratitude. I want to look for the hopeful stories and the people helping and focus on those. I want to be a person who looks for ways to do good. If you need some ideas, take a look at our post on 10 Fun Ways to Be a More Grateful Family.
I'm grateful this week for a neighbor who is organizing volunteers to help others in our neighborhood. We'll be putting flyers in mailboxes in the coming days to let older and immune-suppressed neighbors know there are others standing ready to help. I'm grateful for my coworker who is providing healthy food to kids in our area who depend on school meals the most. I'm grateful for my friends who are health care workers, putting in long shifts and late hours away from their kids while I'm navigating life stuck at home.
I know I'll have plenty of not-so-good mom moments in the coming weeks, but looking for things to be grateful for will protect my attitude and help me be the example I want to be for my kids during this crisis.
We loved the idea behind this T-shirt created by our favorite local T-shirt shop Homage so much that we decided to run a giveaway to help celebrate someone who is giving back during this coronavirus pandemic.