7 Simple Ways To Eat Healthier On The Go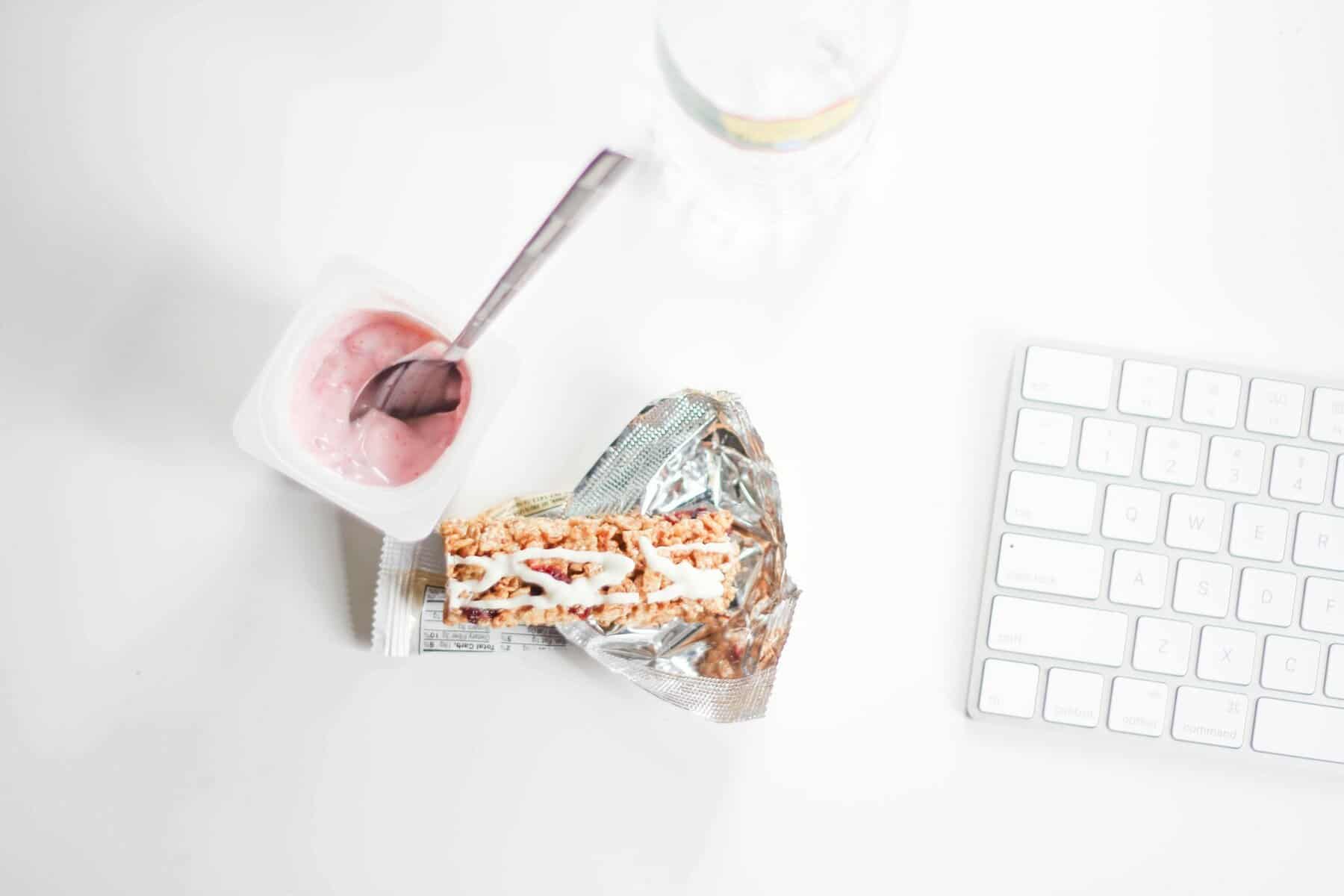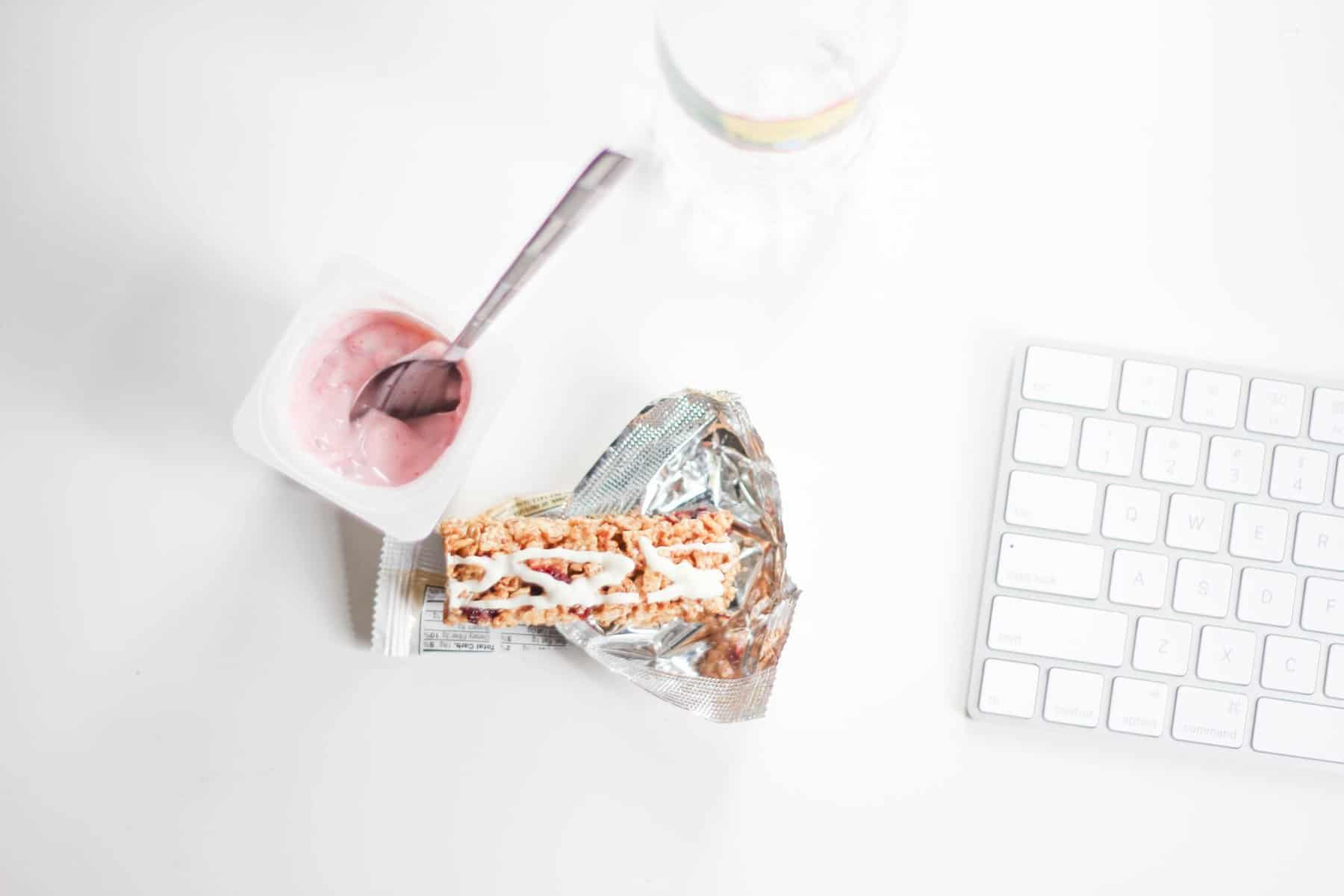 Busy moms need realistic advice for healthy eating on the go. Whether you find yourself eating breakfast on the go or needing recipes for quick healthy meals or healthy snacks, there are ways to make healthy eating quick and easy. If it's not simple, we just won't do it.
This post contains affiliate links – we earn a small commission if you purchase through our links, and we appreciate your support.
I ate dry Honey Nut Cheerios out of a baggie on my way to work at least two days this week. I fed my kids healthy breakfasts, put them on the bus with balanced lunches and then ran out the door with my coffee and a sad little baggie of Cheerios as my in-transit breakfast. This is just the start of a few bad eating habits I've picked up as a busy mom.
Let's take a quick poll. Which of the following have you done in the last week:
Eaten any leftover food from my kid's plate

Eaten standing up
Eaten in the car
Eaten fast food
Eaten because I was stressed
Eaten (a meal or snacks) after the kids were in bed
Eaten something unhealthy because it was the quickest option
Missed a meal and overcompensated later in the day
Decided not to cook a recipe you like because the kids would complain
Eaten a pre-packaged, processed snack
Made it until mid-afternoon without eating a fruit or vegetable
Based on my answers to the list above, I need to make a few changes. I need solutions that will fit into the busy and on-the-go life that causes some of my biggest problems, because the pace of life isn't slowing.
I reached out to registered dietician and mom Sally Kuzemchak, M.S., R.D., who runs the blog Real Mom Nutrition as a "no-judgments zone about feeding a family." She's also author of the Cooking Light Dinnertime Survival Guide. I got the feeling she would have some realistic suggestions for me and other busy moms who want to do our best to eat and serve healthy and food while factoring in our family's revolving door lifestyle.


Sally Kuzemchak, MS, RD
Real Mom Nutrition
So I asked Sally my biggest questions about eating healthier on the go:

What are the biggest things moms do for quick meals/snacks that they think are healthy but really aren't?
Sally: I don't believe in demonizing foods and would never say people should avoid all processed foods. But I think both adults and kids can fall into the trap of thinking about "snack foods" and "meal foods" and feeling like snacks are things in packages, and meals are whole foods–when really snacks can and should be regular whole foods, too! I know a lot of moms grab energy bars and protein bars as snacks, and I get that those are very convenient and easy options. But doing bars less often in favor of whole foods would be a great move if you're looking to improve your day nutritionally.
My side note: I worried I wasn't clear what Sally meant by "whole foods" so I looked it up. Whole foods are foods that are as close to their natural state as possible – for example fruits, vegetables and whole grains. Now back to Sally…
How important is portion control if you're choosing healthy snacks?
Sally: There is so much emphasis on "clean eating" and I see people talking online about how you don't have to think about calories if you're eating "clean." But the truth is, calories do matter for most of us. And as we age, metabolism changes mean that our bodies may not need as many calories as they used to, and if we're scooping natural nut butter from the jar and pouring coconut oil on everything, those calories can catch up with us. I'm all for mindful eating and choosing foods based on what tastes good to us (not what we feel we "should" or "shouldn't" eat) but being cognizant of portion sizes of these foods is just good common sense.
My side note: Real Mom Nutrition has a post with more on why calories still count even when you're eating healthy
What are potential consequences of less healthy on-the-go meals and snacks?
Sally: I don't think anyone should feel like their diet has to look a certain way 100 percent of the time. There's room for everything. But the truth is, as we age, we may notice that our bodies don't respond the way they used to with certain kinds of food. Maybe that means you feel tired after a starch-heavy breakfast or you get a headache from very sugary sweets. So I encourage women to ask themselves "How do I feel after eating xyz?" Then you can make better decisions based on those answers. For instance, I love donuts. But if we happen to have some at home and I eat one for breakfast, I will want to go to sleep instead of working! So I'm more inclined to eat one (or half of one) after dinner for dessert instead and have something like oatmeal or a light smoothie for breakfast. I'm not depriving myself of something I enjoy, I'm just respecting how my body feels and making adjustments.
What are realistic ways to eat healthy food on-the-go?
Sally: I'm a big proponent of food prep and making things in advance when you DO have the time. For most people, that's the weekend when spouses and children are around to help. Making batches of things in advance can really save you once the week heats up and you feel busy and time-crunched. Think about what you have the MOST trouble with–maybe that's snacks, lunches, or dinners. Then focus on that: What could you do to help yourself with that trouble spot? Maybe it's cooking a lot of chicken in the Instant Pot on Sunday so you have shredded chicken for tacos and soups that week. Maybe it's packing three jarred salads for the work week. Or maybe it's making some snack bars or snack boxes to grab throughout the week. Don't feel like you have to do it ALL. Do what will help you the MOST.
7 Ways to Eat Healthier on the Go
Based on Sally's suggestions and some other problem areas in my own eating patterns as a busy mom, I created a list of seven was to eat healthier on the go.
1. Choose whole snacks
Remember that whole foods are things that haven't been processed and are basically in their natural state. Sally made a couple great recommendations for whole foods that make easy snacks:
Grab some nuts and dried fruit at the store, then portion them into bags for each day of the week.

Hard-boil a batch of eggs.

Make your own snack bars and bites with a few simple ingredients (Sally has a post with

27 recipes

).

Try to fit a fruit and/or veggie into most snacks.
2. Plan ahead
Whenever Kristie and I ask working moms what they dread doing the most each week, meal planning always makes it into the top three answers. We get it. It's a never-ending and often thankless cycle, and most of us just don't have a lot of energy left for it at the end of the day. But spending a little extra time planning on the front end can mean fewer decisions, less time and healthier meals on manic weeknights.The busiest moms are usually the most organized – that's how they get everything done and ensure no child is left sitting on a curb after practice. Most of this planning sorcery goes toward family and work scheduling, but it can also be a game-changer for improving the nutrition in your household. We even created a list of our best Meal Planning Hacks (and Recipes) for Busy Moms where we share the things we do that honestly save us time and effort in the long run.
I consider my week in advance, tentatively slating meals based on each evening's plans. This helps me plan quick meals for busy nights that are still healthier than a drive-through run. Sally's weekly newsletter includes her meal plan for the week, and she lives up to her Real Mom Nutrition promise with reasonable meal ideas that fit her family's schedule. My favorite is when she lists "scrounge night." This is called leftovers night in my house, even when we don't have any leftovers. (Microwaved cheese quesadilla, anyone?)
Planning can also extend to snacks. Prep or portion them out in advance. Kristie's mom always kept cut, ready-to-eat veggies in her fridge. They're sitting front and center when kids fling open the fridge and stare in looking for a snack idea. Every couple months, my kids and I will make these 5-ingredient energy bites and stick them in the fridge for an easy snack. Bottom line: make finding healthy snacks and food easy and quick or you won't do it.
My personal nemesis with planning meals ahead is lunch. That sounds so dumb because lunch should be easy, right? Not for me. I'm usually rushing to get the kids and myself out the door in the morning and I'm just not good about packing my lunch the evening before. This lack of preparation paired with a teaching schedule that doesn't leave me much of a lunch break has created some seriously subpar lunches. Things I often fling in my lunch bag while sprinting out the door: cheese sticks, granola bars, applesauce cups, Diet Coke, fruit snacks. My co-workers have a running joke about my hodge-podge, elementary school lunch choices.
My lack of planning means I'm eating tons of sugar and processed food. The worst part is that I don't really even enjoy the food, and I'm hungry and snacking by the time I get home and start dinner. So this week I aimed my planning prowess back at lunches. I went to the lunch idea motherboard – Pinterest – and found this gem: Light 'n Health Lunch Ideas for Busy Moms.
I actually got inspired, and I'm not typically very inspired by food. I took a homemade Lunchable today with whole wheat pita triangles, turkey pepperoni, tomato sauce and fresh mozzarella balls (and my coworkers didn't even get to see my very adult lunch because students were sitting in my office while I scarfed it down).
I also have ingredients on hand this week for egg salad on rice cakes and yogurt granola parfaits.
3. Set out a fruit bowl
Sally gave the simple but genius suggestion to station a fruit bowl on the counter with pre-washed apples, pears or other fruit. Buy seven pieces of fruit on Sunday and eat one every day (you can do this at work, too). This gives you easy access to whole snacks and also encourages kids to choose fruit rather than rummaging through the pantry when hunger strikes.
4. Pay attention to portion sizes
Apparently a portion and a serving are two different things – I never really thought about it. Food nutrition labels list the serving size, but the portion is how much you choose to eat at a given time. Whether the listed serving size is an appropriate portion size for you depends on all kinds of factors: your age, weight, gender, level of activity. This U.S. Department of Health and Human Services article on food portions has soon good information and links if you want to dig in to specifics on the right portion sizes for you.
Portion sizes can sneak up when busy moms do things like:
Eat snacks (or cereal) directly from the bag/box

Eat while working or doing other things (yep, I've finished entire bags of popcorn while grading. Oops.)

Finish food on your kids' plates after or even in lieu of your own meal
5. Listen to your body
Sally has a great post about her top trick for eating right. Spoiler alert: it's asking yourself how you'll feel after eating it. She knows she'll get a headache if she pounds a handful of candy corn, so it just isn't worth it for her anymore. For me, listening to my body usually means asking whether I'm hungry at all. On days I work from home, I have to fight the urge to snack when I'm just looking for an excuse to get up from my computer and take a break.
6. Tame the sweet tooth
Another thing that gets me in trouble is my sweet tooth, and it gets worse when I'm busier. I go long stretches without eating (and sometimes sleeping) and stress runs higher. Suddenly, that bag of Twizzlers or bowl of ice cream sounds like a delicious and energizing reward for my hard work. According to the American Heart Association, women should eat less than six teaspoons of sugar a day and men should eat less than nine teaspoons daily. Most Americans eat double that, to the tune of about 500 extra calories a day. For perspective, this Medical News Today article gives a snapshot of the amount of sugar in different foods:
Milk chocolate M&Ms packet: 5.68 teaspoons of sugar

Coca Cola: 7.25 teaspoons

Old Jamaica Ginger Beer (one can): 10:18 teaspoons of sugar [thanks for ruining my Moscow Mules, Medical News Today]

Raisin Bran: 6.35 teaspoons

Special K: 2.57 teaspoons

Honey Nut Cheerios: 6.67 teaspoons [ok, so I need to re-think my daily breakfast choice]

Bananas: 2.48 teaspoons

Grapes: 3.14 teaspoons

Strawberries: 0.99 teaspoons
The USDA also provides a searchable online database where you can find not only sugar but other nutrients in hundreds of thousands of foods. Anything from raw broccoli to my beloved Honey Nut Cheerios in a baggie. Keep in mind that four grams of sugar equals one teaspoon.
7. Watch what you drink
I saved my weakest area for last. I don't drink nearly enough water, and I drink too much other stuff (Diet Coke, coffee, sigh). I know I need to work on the water thing. When I'm training for a race, I'm much better, because I've learned my lesson on the dangers of dehydration. I just need reminders of the benefits of drinking water on typical days when I don't feel as thirsty or just get caught up doing other things.
Drinking water:

Makes your skin look better

Can help with weight loss

Helps you digest food like you should (less constipation, heartburn and ulcers)

Helps prevent kidney stones
Those are pretty compelling. I take a water bottle to work daily, and I drink it. But that's about it other than a glass of water with dinner. I need to start refilling throughout the day.
Over-indulging on drinks with sugar, artificial sweeteners, caffeine and alcohol can be a quick and sneaky paths to an unhealthy lifestyle. I'll keep that in mind, but I'm not giving up my morning coffee with creamer or my daily Diet Coke, at least not in the near future.
—
For more from Sally, check out her Cooking Light Dinnertime Survival Guide
Check out the recording of our Facebook live for a couple bonus ways to eat healthier on the go!
Related posts: