When Being Grateful is the Last Thing You Want to Do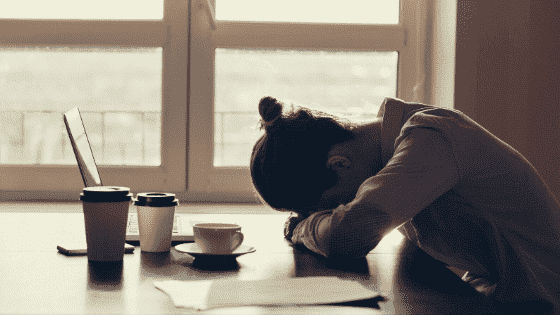 We're living through a pandemic crisis and it's not bringing out the best in us. It's hard to look for the good when it feels like bad news keeps rolling in. I have lived through crisis…more than once. Serious, life-altering, world-shattering crisis. I remember other times when I've felt weary tired like this. And I've learned that I have to ask myself two questions and focus on one thing that has the power to shift my perspective.
Updated July 30, 2020
The endless repetition of days has finally worn me down. I'm tired. Like…weary tired.
It feels different from the before-this-pandemic-tired that I used to feel. You know—sleepy tired because I stayed up too late working or reading or watching tv after the kids went to bed. Or exhausted tired from running back and forth between work and practices and any errands I can squeeze in while listening to podcasts, calling my mom or brainstorming with Mary about the blog I need to write.
The reality is finally settling in. Life is different. And there's no timeline for getting back to anything resembling normal. Mary wrote about waking up in an alternate reality and I thought there would be an end in sight, but there's not.
I'm tired of not knowing what day it is.
I'm tired of trying to wake up my middle schooler who hates school, knowing I need to be battle-ready to get him logged in on time. Of getting a call from the school that he hasn't logged in to his next class because he fell asleep while my husband and I were on work calls. Of constantly arguing and yelling about homework.
I'm tired of the inevitable announcement from my other son at around 9 a.m. that he's finished with all of his school work when our workdays have just started and I'm trying to get motivated to grade hundreds of papers and speeches.
I'm tired of the cold and dreary weather, and freeze warnings that kill the pretty blooms outside my window.
I'm tired of making decisions about three meals a day and multiple snacks that will satisfy all members of my family. Of doing dishes every time I turn around. Of dreading grocery shopping because of the hour it takes to sanitize and put things away. (I chose popcorn and Coke Zero tonight for dinner while I write because I just don't care. Might have jelly beans for dessert.)
I'm tired of wearing ear buds all the time for Zoom calls and phone calls and music to block out the noise of other people's conference calls and online learning and gaming.
I'm tired of staring at my closet in the morning and deciding between the blue crew neck or the gray hoodie.
I'm tired of wondering when I'll hug my mom again or play games in real life with my in-laws or have nights out with my husband and friends.
I'm tired of monitoring screen time. Of all the time I'm wasting on my own phone. Of the news that rarely seems to have a bright spot.
BUT.
I've been here before and I know what to do.
No, I obviously haven't lived through a pandemic or quarantine, or a life where phrases like social distancing and flattening the curve and PPE are just part of daily conversation.
But I have lived through crisis…more than once. Serious, life-altering, world-shattering crisis. I remember those times when I've felt weary tired.
And I've learned that I have to ask myself two questions.
Two Questions I've Learned To Ask
1. What can you be grateful for right now, in this moment?
2. What can you learn from this?
Thanks to the wisdom we gain as we get older along with years of counseling and a deep faith, I get to those questions more quickly in a crisis than I used to.
They bring me back to the center, and they help me realize my privilege. Approaching life with a focus on gratitude and growth doesn't mean I never get discouraged or deny the reality of how I feel. Did you read the beginning of this post?
One of my favorite Bible verses is 1 Thessalonians 5:16-18 "Rejoice always, pray continually, give thanks in all circumstances."
The grammar-loving nerd in me is going to come out here because the preposition in that sentence is critical. It says give thanks IN all circumstances, not give thanks FOR all circumstances.
It doesn't suggest a blind gratitude that overlooks devastating circumstances. No, it reminds us—maybe even commands us—to always be intentional about thankfulness. There's ALWAYS something to be thankful for.
The practice of gratitude is an intentional answer rooted in science and repeated throughout scripture. It's that powerful.
Download our Gratitude Photo Scavenger Hunt for an easy way practice gratitude with your family and see the benefits right away! We have seasonal scavenger hunts too!
You may see yourself in the scenarios below, or someone you care about may come immediately to mind. Later, I share how gratitude can help based on science, my own experience and suggestions from people who have been where you are or who understand what others are going through.
Why We Need Gratitude During a Pandemic
Are you barely breathing because a death is so recent you can't imagine how you'll get to the next day or hour or even minute? Maybe you weren't able to be there during their last moments because visitors are prohibited. Or maybe the funeral doesn't look the same because you can't gather to honor or celebrate the life of a loved one.
Are you spending your days and nights in the hospital or clinic, putting on a brave face for the patients in your care, and then letting the tears flow at home in the dark? Or staying away from the ones you adore because you want to keep them safe?
Are you feeling anxious about a job loss or furlough as you watch your savings dwindle and face one hurdle after another to get unemployment? Maybe you're checking job placement boards and carrying the weight of decisions between a paycheck and your safety.
Are you struggling to balance the demands of working, parenting and homeschooling at the same time? Maybe you're a teacher who feels drained by everyone's expectations and the realization that those kids might never come back to your classroom.
Are you staring down this quarantine as a single parent for the first time, and wondering how the broken pieces of your marriage used to fit together? Or maybe arguments with your spouse are magnified because of all the hours you're together when you're both stressed and worried.
Are you worried about loved ones who are essential workers, imagining the worst if you hear them cough or struggle to catch their breath? Or maybe you're watching them suffer with Coronavirus and you feel helpless because there's nothing you can do.
Are you struggling to manage expectations of family or friends who want to get together and are angry that you refuse? Or maybe your kids are complaining that their friends get to see each other so why won't you let them do the same.
Are you living in a new home or city and wishing for the comfort of something or someone familiar? Maybe the isolation feels overwhelming because you're spending all your days alone.
Are you fighting through the haze of depression that settles over you for reasons you can't explain? Or struggling to manage the anxiety of so much uncertainty and fear about what the future holds.
Are you missing major events in the lives of your kids or your family because everything has been canceled or postponed? Maybe you want to lash out at people making those decisions because you don't know where else your anger should go.
Our home state of Ohio was one of the first to announce a "stay at home" order. Governor Mike DeWine and Dr. Amy Action, director of the Ohio Department of Health, regularly focus on hope, positivity and gratitude in their daily 2pm press conferences.
3 Benefits of Gratitude
Life feels like it's unraveling right now, but we need to keep moving forward and remember that we really ARE in this together. Focusing on gratitude and growth—asking yourself those two questions I mentioned—can help you shift your perspective.
It's also an important lesson to teach our kids right now. We need to let them see our weary tired selves, and then see our grateful selves—even if it's just a small effort and it's not really that pretty. In times like these, gratitude can literally be your lifeline.
1. Gratitude Changes Our Perspective
Gratitude turns what we have into enough.

Gratitude changes everything.

In everything give thanks. ~ 1 Thessalonians 5:18
Even when we can't change our circumstances, we can change our response to them. It's never easy, but gratitude can help change our perspective. The research on gratitude consistently shows increased optimism and greater levels of psychological well-being. It decreases symptoms of depression and anxiety when practiced consistently and it develops resilience so we're better equipped to cope with difficulties in life. It may also help counteract suicidal thoughts. The practice of gratitude actually changes the molecular structure of the brain, which makes it easier to be more grateful and reap all the benefits of gratitude.
2. Gratitude Leads to Happiness
If we magnified blessings as much as we magnify disappointments, we would all be much happier. ~ John Wooden

Gratitude unlocks the fullness of life. It turns what we have into enough, and more. It turns denial into acceptance, chaos to order, confusion to clarity. It can turn a meal into a feast, a house into a home, a stranger into a friend. ~ Melody Beattie
I continue to be amazed at the amount of research out there about gratitude and happiness. I've come to the conclusion that happy people are grateful people first. When happiness feels elusive, gratitude helps us turn our focus outward to the goodness in our lives. We feel more positive emotions and we build stronger relationships. When we're grateful, we're less likely to be envious and more likely to handle stress in a healthy way.
3. Gratitude Gives Back
We must find time to stop and thank the people who make a difference in our lives. ~ JFK

Feeling gratitude and not expressing it is like wrapping a present and not giving it. ~ William Arthur Ward

God gave you a gift of 86,400 seconds today. Have you used one to say, thank you? ~ William Arthur Ward
When we're grateful, the amount of good we can do and bring to the world is endless, and that's something everyone needs during this pandemic. Gratitude makes us aware of how precious life is and we're less likely to take it for granted. Gratitude helps us create community and connections, which leads to a wider social network and more friends. When we're grateful, we're also more agreeable and able to forgive and trust others. Grateful people also have more empathy for others, a key ingredient for a community or society to thrive. And when we take time to thank others, they're more than twice as likely to spend more time helping and to help more people, including strangers.
How to Be More Grateful
I'm well aware that being grateful is probably one of the last things you want to do. It's a lot easier to stay in the "I'm tired" stage at the beginning of this blog. But gratitude can be a gift you give yourself—and your family.
Here are a few ways to be more grateful and reap the benefits of gratitude. We need those benefits now more than ever.
Keep a daily gratitude journal.
Take a gratitude walk.
Send a card or a quick text to someone who has been helpful or encouraging.
Read a book about gratitude so it's on your mind.
Listen to a podcast about gratitude.
Be intentional about noticing the small, everyday things you might otherwise overlook.
Connect with people you love—phone, text, email, FaceTime, Zoom, etc. See the new state-wide Ohio Strive for 5 Challenge initiative for ideas and motivation to keep checking in with others.