How Adoption Led to a Breathtaking View of Life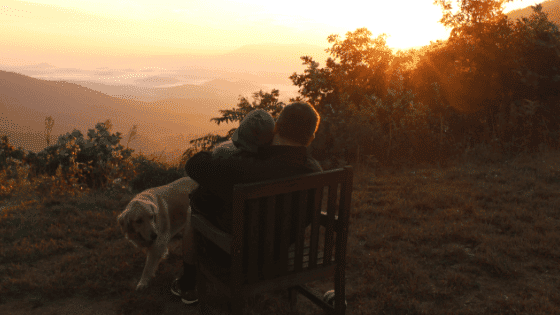 It's National Adoption Month, and a chance for me to share a decision that changed my life. And to encourage you to take risks and say yes to "tightrope" opportunities – things that seem too big, too hard and just too risky. It's a scary balancing act, but the view will take your breath away.
When I first watched The Greatest Showman and then immediately downloaded the soundtrack, I had no idea that one of the songs I basically overlooked would suddenly give me perspective.
Michelle Williams sings "Tightrope" at a slower point in the movie and it wasn't until I really listened to the words that it started to become one of my favorites.
I have always loved music, but lyrics are what really get me. The wordplay, the imagery, the storytelling….
Not long ago, I turned off the radio in the car in the middle of "Tightrope" to talk about it with my pre-teen boys. I'm sure they were thrilled. But I didn't care. So we talked about the difference between choosing a life that is safe and predictable or one that is adventurous and risky.
And there it was.
My Tightrope: An Adoption Journey
I have been learning to walk the tightrope with my oldest son since we brought him home from Guatemala at six months old.
After teaching high school for about 5 years, I had decided to pursue my master's degree and was determined to earn it before I turned 30. During that time, Ken and I decided that adoption was how we wanted to start our family, years after we got married at age 22.
We weren't dealing with infertility, although I'm sure many people wondered if that was the case because we were married for so long before kids. We had been praying about adoption with a group from our church because we wanted to be sure it was the right choice.
On Valentine's Day, I read a devotion from a compilation by my alma mater, Malone University, about the Biblical perspective and example of adoption. As soon as I finished reading, I knew what we would do.
But the timing was terrible.
Deciding To Climb Up, Knowing We Might Fall
I was a full-time master's student at Ohio State in a highly-ranked program. I was making almost no money with large student loans looming. I was also writing my thesis and applying to a Ph.D. program.
My husband was working for a local university and traveled a lot. He had also just started a doctoral program that took him to California for a month every year.
An adoption from Guatemala–a place we had both visited and loved–was expensive and uncertain.
How in the world were we going to pay for this?
And when were we going to find time to get through the long adoption process?
How would our families respond?
What would people think about our decision to adopt internationally?
But we said yes, and started walking the tightrope.
Taking the First Step and Seeing the Breathtaking View
Over the next 18 months, we filled out endless paperwork, attended classes, earned certifications, and got fingerprinted.
There were many moments of fear and doubt–when we stared at the cost breakdown, when our entire dossier (months of work and documents about every personal part of our lives) was lost on its way to the embassy in Chicago, when my beloved grandmother unexpectedly passed away, when I had to decide between a PhD program and staying at home.
The best parts of the story, though, are about the breathtaking view that only came from walking that tightrope.
We asked family and friends to contribute to a cookbook fundraiser, and were stunned by how many recipes and stories we received.
We raised nearly $6000 with a "Family Traditions" cookbook, family favorites organized by holidays and special occasions–you know, those dishes that have to be on the table or it's not really Christmas. It's still my go-to cookbook over a decade later.
We also decided to sell my Ohio State vs. Michigan tickets, which honestly wasn't easy for these diehard, football loving Buckeye fans. But it was "The Game" in 2006, the teams were ranked 1 and 2, and I had amazing seats even as a grad student
Maybe this could be a cool part of our son's story someday.
I told a friend at Malone about our ticket sale fundraiser, and she contacted another alum who was a local reporter for the Canton newspaper. When he called for an interview, I was thrilled! Little did I know what was about to happen.
That reporter put the article on the AP wire and suddenly our story appeared on media outlets around the world. We had local media crews in our small condo, we were doing radio interviews at all hours of the day, and we found ourselves at a local tv studio for live interviews with ESPN, CNN, and FOX.
Talk about a breathtaking view.
But then we found out that our tickets had been removed from the website because we labeled our sale as a fundraiser when we weren't a nonprofit organization. It was heartstopping. I was worried people would think we lied, that we were frauds.
Leaning On Others for Balance
People at ESPN tried to help us get the tickets back online with no luck. This was 2006, so the options to sell online at the time were limited.
Enter DreamSeats, a local independent ticket agency. They offered to help us sell the tickets at no cost.
Then we received this email: "My husband and I have always been interested in international adoption, and we are moving to El Salvador in January to serve as missionaries for one year (we will be approximately a 2-3 hour drive to Guatemala). I went online to make a bid on your OSU tickets and found them to be no longer available. If you haven't sold them, please let me know as we would like to make a generous bid on them. May God bless you as you continue on this new journey in your life. We will keep you in our prayers."
I still get chills when I read that email. It made absolutely no sense. Why in the world would a couple heading to the mission field buy these tickets? They had to be raising their own money!
That's the couple who bought the tickets for $2000. Unreal. They said the Lord had blessed them on the sale of their home, and they wanted to support us.
It gets even better.
They told us to go to the game.
What?? But we sold you the tickets! Go anyway. Consider it a donation. Make the game part of your son's story.
This still amazes me. What if we had said no to this journey? What if we had been unwilling to climb up to the tightrope because we had no guarantee that we wouldn't fall?
We went to the game with our dear friends and did a pre-game interview on ESPN Radio College Gameday. Ohio State won a thrilling game, 42-39. It was a storybook ending.
(Fast forward 10 years, and my husband took our son to his first Ohio State-Michigan game. He still lights up–and probably always will–when he talks about witnessing that overtime win with his dad.)
Experiencing Fear and Moving Forward Anyway
But then in December, when all of our paperwork and classes and fingerprinting were complete and I put original copies of everything in our life into an envelope bound for the Guatemalan embassy in Chicago, we were told it had been lost. It was the Christmas holiday and nobody would be able to help us for a few weeks.
I couldn't breathe.
What were we going to do? Everything ran through my mind…no adoption, no little boy, fundraising money wasted, possible identity theft….
So I prayed.
I pulled myself back up to stand on that tightrope and kept moving.
Now as I reflect, I don't even remember all of the details, but we somehow managed to find a woman who specialized in handling the dossiers of adoptive couples when they had difficulty with foreign embassies.
She tracked down our dossier. I'm pretty sure "angel" was part of her business name, and that's exactly what she was to us.
And then a few days later, my grandmother died. My husband was in California. It would take pages to explain how much she meant to me. I was devastated. She would never meet my son.
When my mom and I were packing up my grandma's belongings, we found her prayer journal. I found entries where she prayed for our son and I remembered telling her that we would probably name him Gabriel. It was a name we chose because of what the angel Gabriel told Mary, "For with God nothing shall be impossible."
Gabriel was born the same month my grandma died. We got "the call" from our adoption agency on Valentine's Day, exactly one year after I read the devotion that set all of this in motion.
Getting Another Beautiful Glimpse of the World
We took a trip to visit Gabe in Guatemala when he was 5 months old. My mom and aunt traveled with us, another remarkable part of the story because of their reconciliation after 20 years. Hearing them laugh together was a gift I will never forget.
It had taken a lot of courage to invite my aunt but I'm still seeing the blessings of that decision.
We met Gabe's foster mom and spent a few days with him. One of the hardest things we have ever done was saying goodbye to him and coming back to the US, having no idea when we would see him again.
But God was moving ahead of us, and the process went much more quickly than we anticipated. It was time to pay our remaining fees. Our own savings plus what we had raised got us about halfway there, but we still owed a lot and had no idea what to do.
An unexpected check from my grandmother's estate took care of the rest.
Now THAT was an adventure.
Little did I know, it was just the start!
Balancing More and Stumbling Along
I thought I was prepared for life with a baby. I did everything that was suggested by our adoption agency and social worker. I asked for help and advice from the moms I knew and those I met online in adoption forums.
I remember one particular suggestion because we had a dog: practice walking your dog with a stroller because it will not be an easy transition for you or the dog.
Oh, sure. That won't be weird at all. Who's that lady–who is clearly not pregnant–walking her dog with an empty stroller?
We didn't get to have those first six months with Gabe, but we thought we could ease into things a little. Ha! He only slept 20-30 minutes twice a day and he took his first steps before he was 11 months old.
I remember being at Target when a woman did a double take as she walked by us. She couldn't believe such a little boy was already walking.
He was into everything. It took all the imagination I had to figure out how to babyproof our house because nothing from the store seemed to work. I resorted to yardsticks through drawer handles in the kitchen, stacks of boxes to keep him out of rooms, rubber bands around doorknobs on the pantry…. 
We had just moved from Ohio to NC for my husband's job, away from all of our family and everyone we knew–only a few months after we brought Gabe home.
Our families weren't too happy about us moving several states away, but Ken wanted to eliminate most of his travel so he could be home more often, and this job promised us more time.
I was teaching online and writing curriculum so I could be at home–something I never thought I would do. As part of the process with our adoption agency, we had to read a book called Attaching in Adoption by Deborah Gray.
Without getting into too much detail here, secure attachment is critical for children and is often challenging for kids who are adopted. After reading the book and doing some of my own research online, I knew I wouldn't be able to juggle what this baby boy needed along with an intense PhD program.
For someone who never wanted to stay at home, it was incredibly difficult to turn down the grad school offer. But I knew it was the right decision for me and for our family.
And then I was pregnant by the time Gabe turned one.
When Sam was born, Gabe was 19 months old. I had no idea how much life was going to change! Sometimes I wonder how Sam survived his first year with a brother who approached life with such energy and abandon. But oh, how they loved each other.
Sam's first word was "Gabe." If I'm sentimental, it's because of the bond they quickly developed. If I'm realistic, it's because that's the word Sam heard us yell–uh, say–more than anything else.
Looking Back at the Risk and Appreciating the View
We're still on that tightrope, living life from a perspective unlike anything I imagined. Sometimes it's overwhelming, exhausting, infuriating, and perplexing.
When I don't know how to answer hard questions about race or have to confront my own implicit biases…
When I struggle to put myself in the position of a child with ADHD who struggles in school when it came easily to me…
When I don't have the words to comfort a boy who misses his birth mom and whose grief I don't truly understand…
When I wonder how to best manage normal sibling rivalry that has an added complexity…
When I simply can't function after their bedtime because I'm so emotionally drained and worried that I'm doing it all wrong….
At those times, I have to literally stop, take time to pray and intentionally adjust my focus–to consider what my view has given me.
Yes, life is all the things I listed above, but it's also energizing, fulfilling, enlightening, and fun.
I love to learn, and this life is going to give me endless opportunities to learn more about things I may otherwise never have explored. I'm not afraid of things that are hard because I know those experiences can refine and grow our family into more resilient and compassionate people.
I've always used laughter as a way to survive and I'm able to see most things at home through a lens of humor…eventually. And this past year, I've embraced being brave (I wrote about it here) which is probably why Tightrope really caught my attention.
I am grateful for the adventure I'm on because my view is breathtaking. I hope I always take time to notice.